Report / Peru
Driven by success
An app-based solution to Lima's dangerous roads.
In 2018 a leisurely outdoor coffee for Giancarlo Ratti, then head of innovation at Peru's largest insurance company, was interrupted by an impatient driver who, upset by a fellow driver's choice to obey a red traffic light, laid a heavy hand on the horn. It wasn't an isolated incident. That year the country's capital, Lima, was ranked the world's third-worst city to drive in, according to metrics from navigation company Tomtom. "I would say that congestion is due 30 per cent  to [poor] infrastructure and 70 per cent to bad behaviour," says Ratti. As his ears were filled with honking, he had an idea: what if he recorded the rule-breaking driver? He could then send the video evidence to the municipality, which could issue a fine.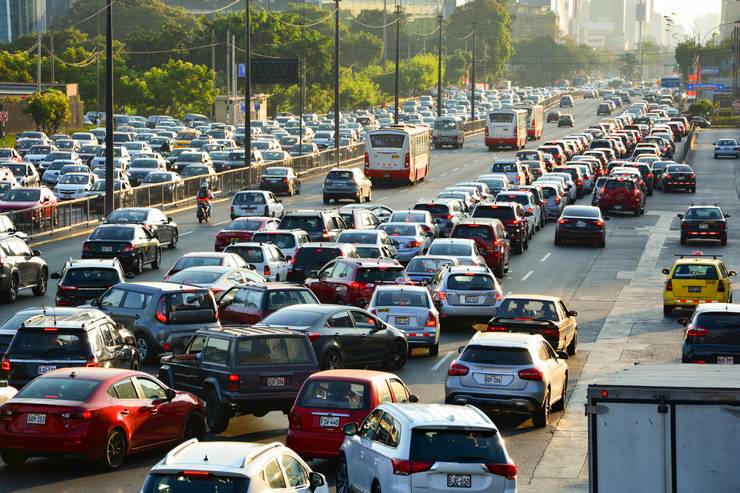 Just a year later, Lima slotted in at a still unenviable seventh place, although the city's traffic is set to improve further now that new app Vipa has launched. Co-founded by Ratti, it outsources the policing of bad driving to smartphone-wielding citizens. Users can record a bad parking job or a reckless manoeuvre and send it to the city. "People just want order," says Ratti, explaining that spending on traffic cameras and wardens isn't a cost-effective solution for curbing congestion caused by bad driving. "The only way to solve this problem is to involve the citizens."
Vipa's first full month in action saw more than 122,000 tip-offs of violations in Lima. According to Ratti, the threat of being reported has nearly eradicated bad parking in several areas. Traffic violations might have tailed off during Lima's coronavirus lockdown but the downtime revealed new possibilities: users shared videos of other infrastructure in need of fixing, from parks to potholes. Lima's city officials are using the data to, for example, install bins in areas where rubbish often accumulates.
Vipa's success has led to an expansion into Ecuador, and even a potential pilot project in New York. But Ratti hasn't lost focus on his initial goal: unlocking Lima's gridlock. He plans to remove the Peruvian capital from the top 20 worst cities to drive in by 2022. Full speed ahead. 
The most congested cities, according to Tomtom's 2019 Traffic Index:
1. Bangalore
2. Manila
3. Bogotá
4. Mumbai
5. Pune
6. Moscow (region), 
7. Lima
8. New Delhi
9. Istanbul
10. Jakarta