Top 20 / Global
Finely chiselled
Change starts at home, so we select 20 pieces, people and studios creating products that will enhance your environment and improve with age. Sitting comfortably?
(01 — 20)
Monolog stool
Ligne Roset
France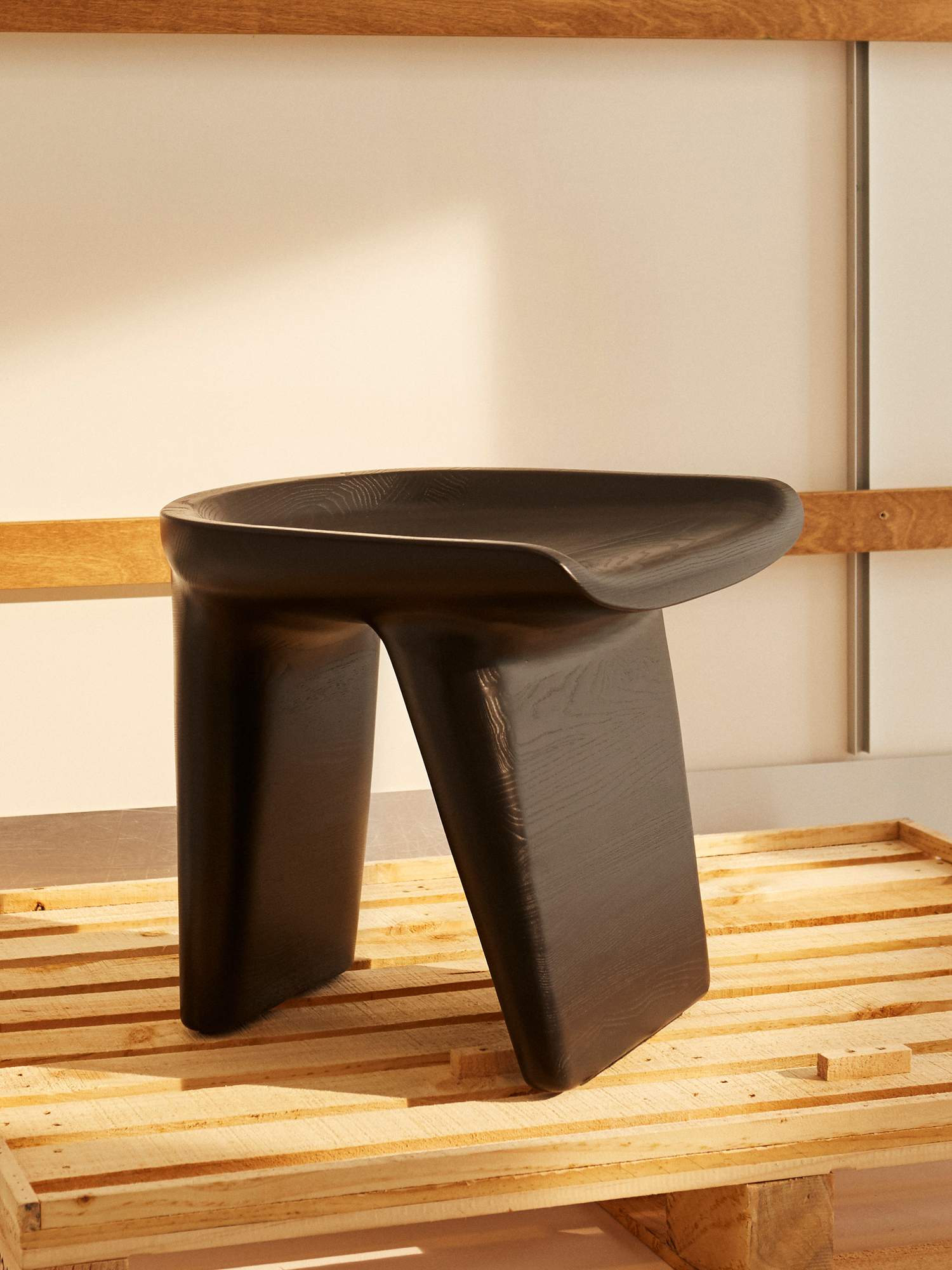 Can there be anything more timeless than a stool inspired by the first chairs used in human history? Parisian designer Pieter Maes is fascinated by ancient artefacts, focusing his practice on the use of pure forms. Made from solid black-stained ash, his Monolog stool for Ligne Roset features raw, organic lines with rounded edges and two wide legs, which are seemingly growing out of the seat. The shape makes for a comfortable sitting experience, eliminating the need for a backrest.
ligne-roset.com
---
(02 — 20)
Series 7 chair
Fritz Hansen
Denmark
One of the most famous pieces in the history of Fritz Hansen, the Series 7 chair was designed by Arne Jacobsen in 1955. Now the Danish brand has introduced 16 new colours, launched in collaboration with Italian gallerist Carla Sozzani. While the series was drew upon a natural and primary palette, the new range includes pops of colour and a wider selection of pastel tones, from dusty pink to canary yellow and deep green. 
fritzhansen.com
---
(03 — 20)
Elephant side table
Karimoke New Standard
Japan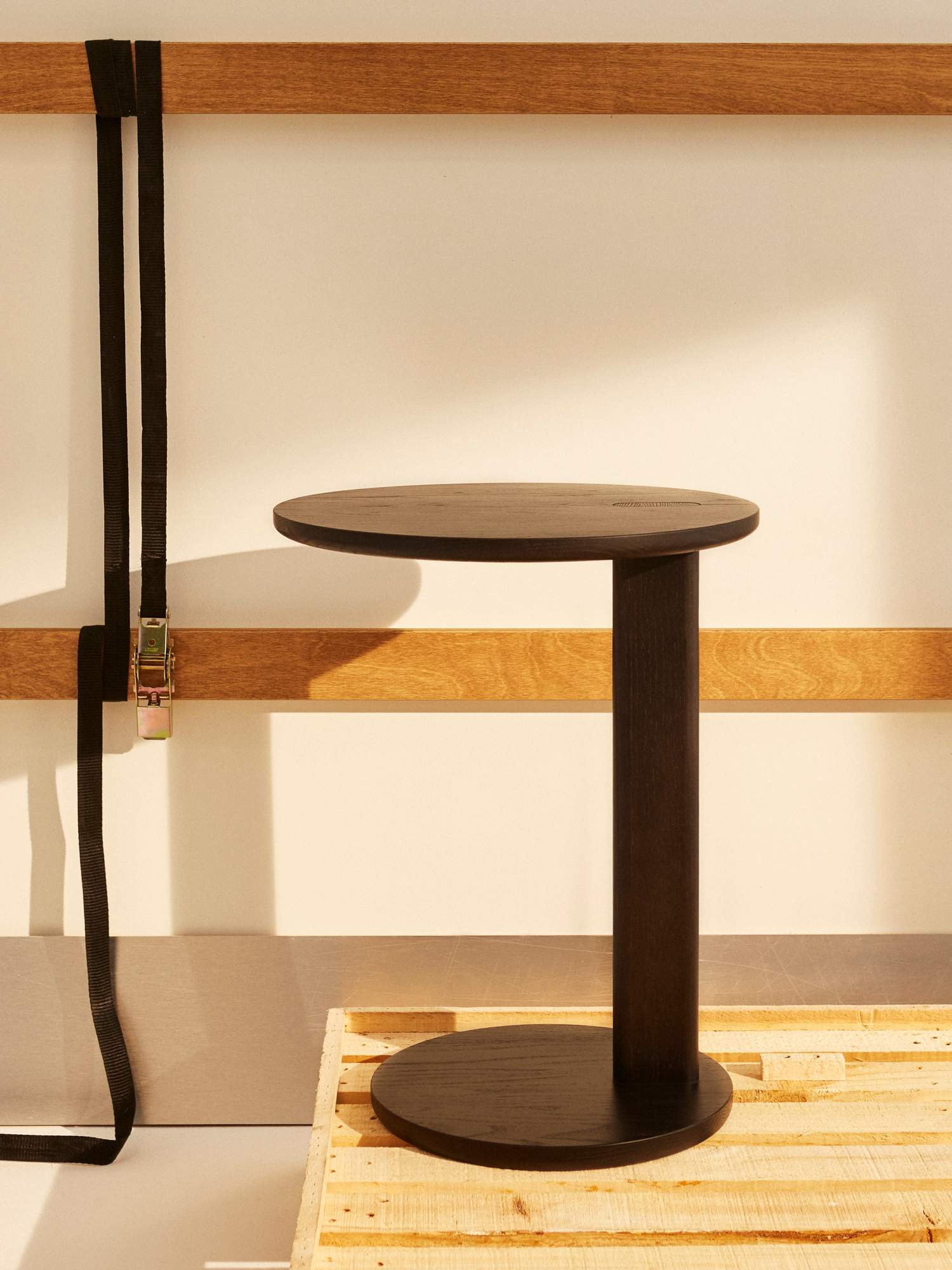 The Elephant side table, made from sustainably grown Japanese chestnut wood with a natural or black finish, complements the Elephant upholstery series for Japan's visionary manufacturer Karimoku New Standard. The asymmetrical leg of the petite table allows it to be pulled in over a sofa seat, supporting a laptop or a coffee cup and magazine. 
karimoku-newstandard.jp
---
(04 — 20)
Periferia sauna stool
Nikari
Finland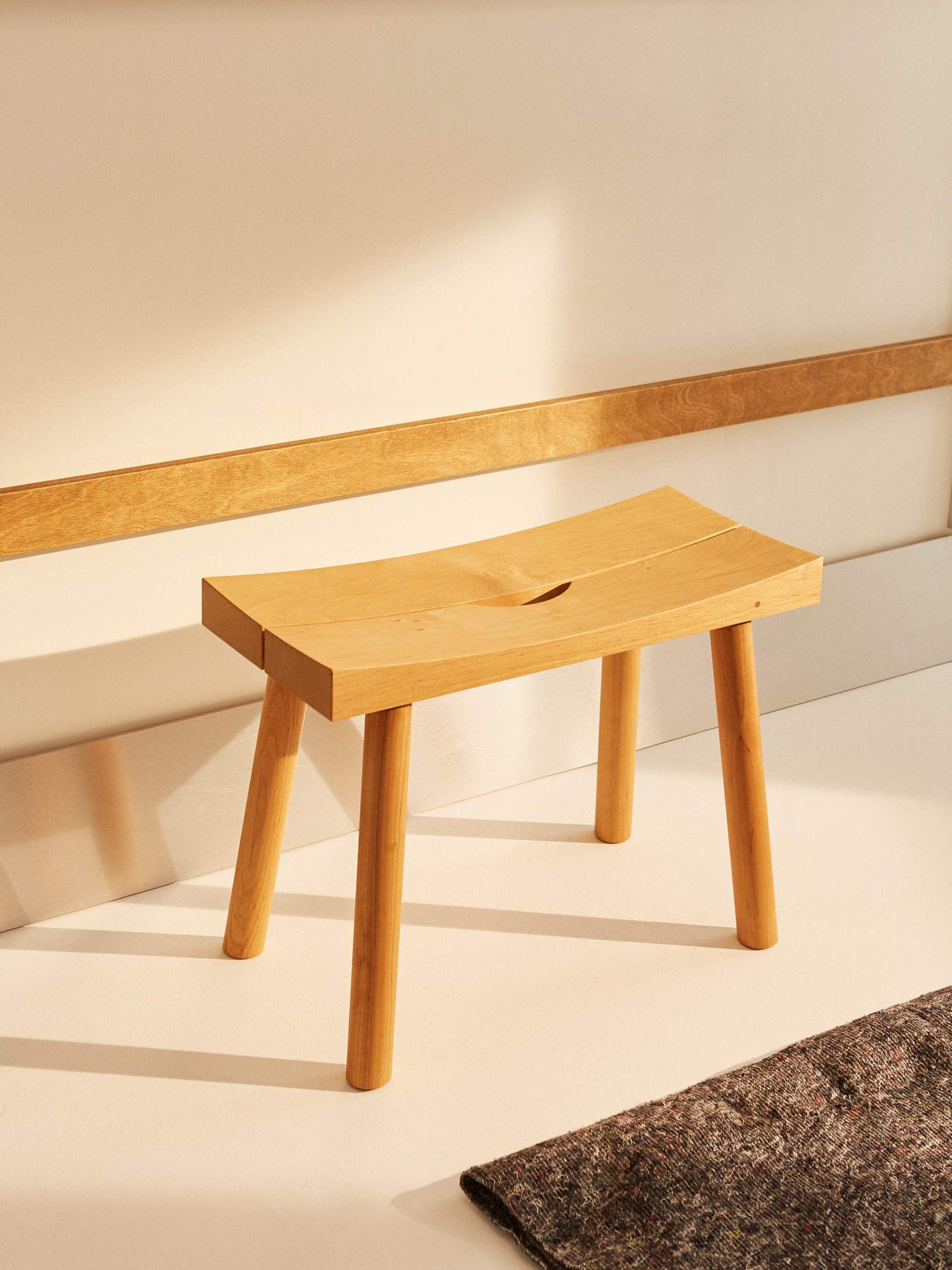 Designed by Nikari founder Kari Virtanen, the sauna stool (below left)has a beautiful, slightly concave seat and is made from sturdy alder. 
nikari.fi
---
(05 — 20)
Ayno table lamp
Midgard
Germany
After celebrating its centenary last year, Hamburg-based lighting company Midgard is expanding its collection for the first time in 70 years. The newly introduced Ayno series (pictured, below) is the work of Munich-based designer Stefan Diez and includes this curved black table lamp. Built from recyclable steel and fibre-glass, the design continues Midgard's tradition of "Made in Germany" lamps.
midgard.com
---
(06 — 20)
Islets side table
Fredericia
Denmark
Established in the early 1900s as a chair factory, brand Fredericia has teamed up with local designer Maria Bruun to craft the Islets series of tables as part of a new line of functional, material-driven pieces. Made from handsome oak, Bruun's Islets side table is a simple and elegant addition to any space.
fredericia.com
---
(07 — 20)
Nightstand lamp
Pacific Furniture Service
Japan
Japan's PFS has been making, importing and selling furniture since 1988. What started as a pottery base for this lamp was soon pared back as the in-house woodworkers realised that the rectangular timber mould was a more noble proposition. 
unitedpacifics.com
---
(08 — 20)
Profile: Studio Haos
Sophie Gelinet & Cedric Gepner
France
In 2017, Sophie Gelinet was growing frustrated with her graphic-design studio and her clients' demands. Her partner Cedric Gepner (pictured, with Gelinet), an entrepreneur with a passion for design, suggested that she start making objects instead. "I told her, 'People will either like it or they won't," he says. "But you'll get to make it exactly the way you want to." What followed was Studio Haos, founded by the couple in Paris. They started with a ceramic, brass and blown-glass table lamp, which quickly became a success. When orders started pouring in from New York to Tokyo, they quit their jobs to devote themselves to a whole collection.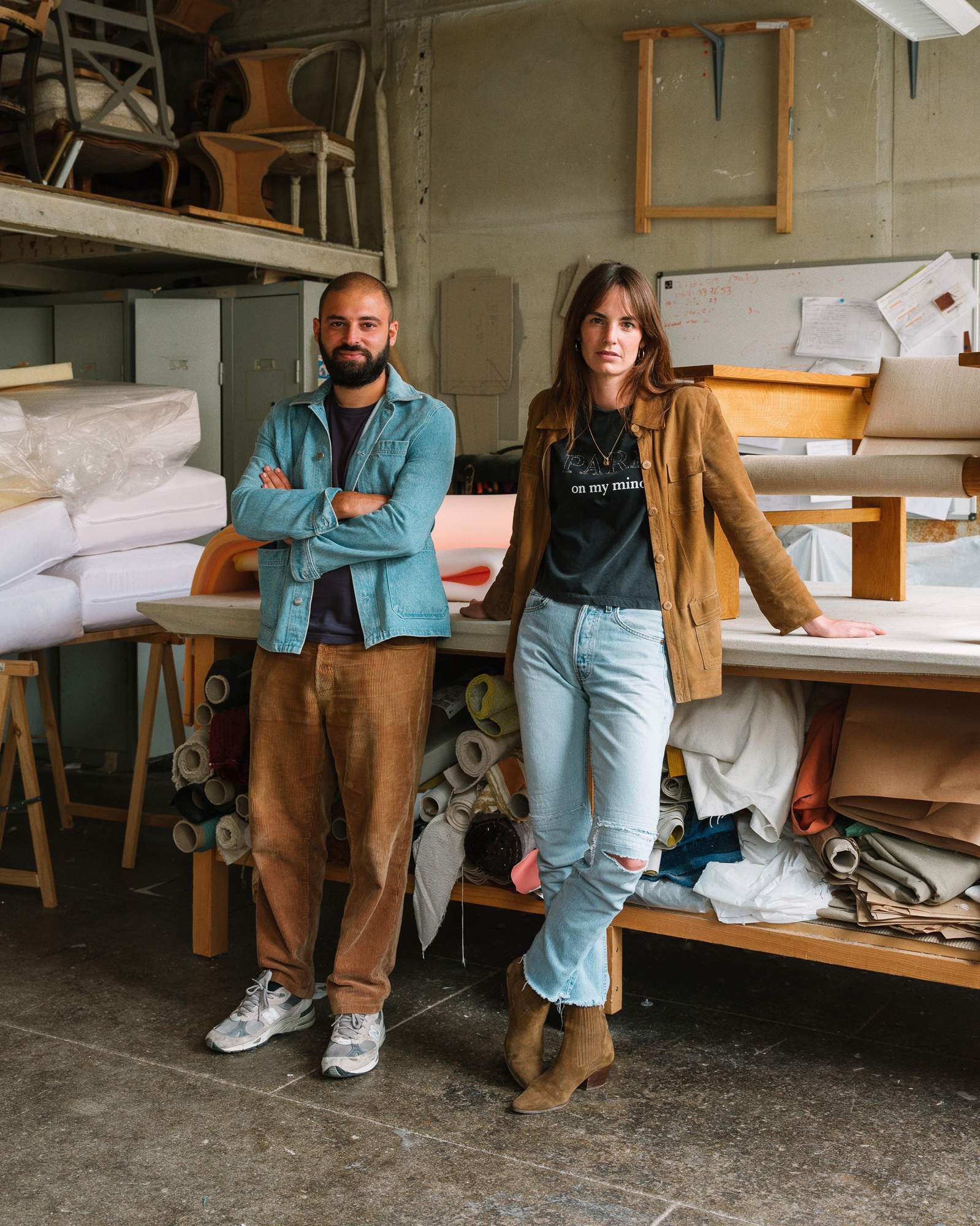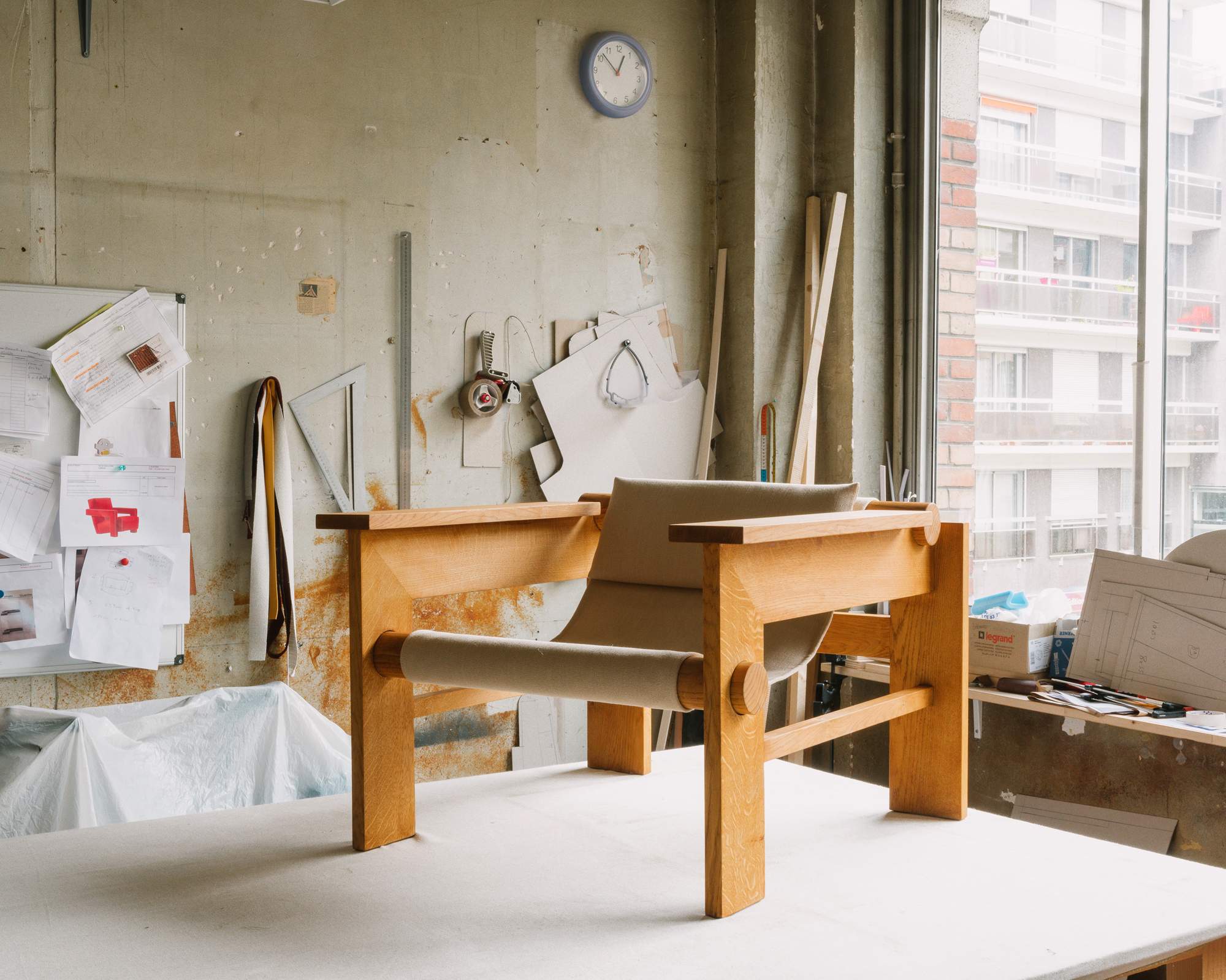 Their portfolio now includes a bench, floor lamp, coffee table and armchairs, all designed with the long term in mind. "We try not to be influenced by current trends and make pieces that feel new, singular, without being too contemporary," says Gepner. Remarkably, neither of them have any formal design training. "Paradoxically, not being an expert and not knowing all the constraints associated with each material gives us more creative freedom," adds Gepner. 
studiohaos.com
---
(09 — 20)
Telares rug
Nanimarquina
Spain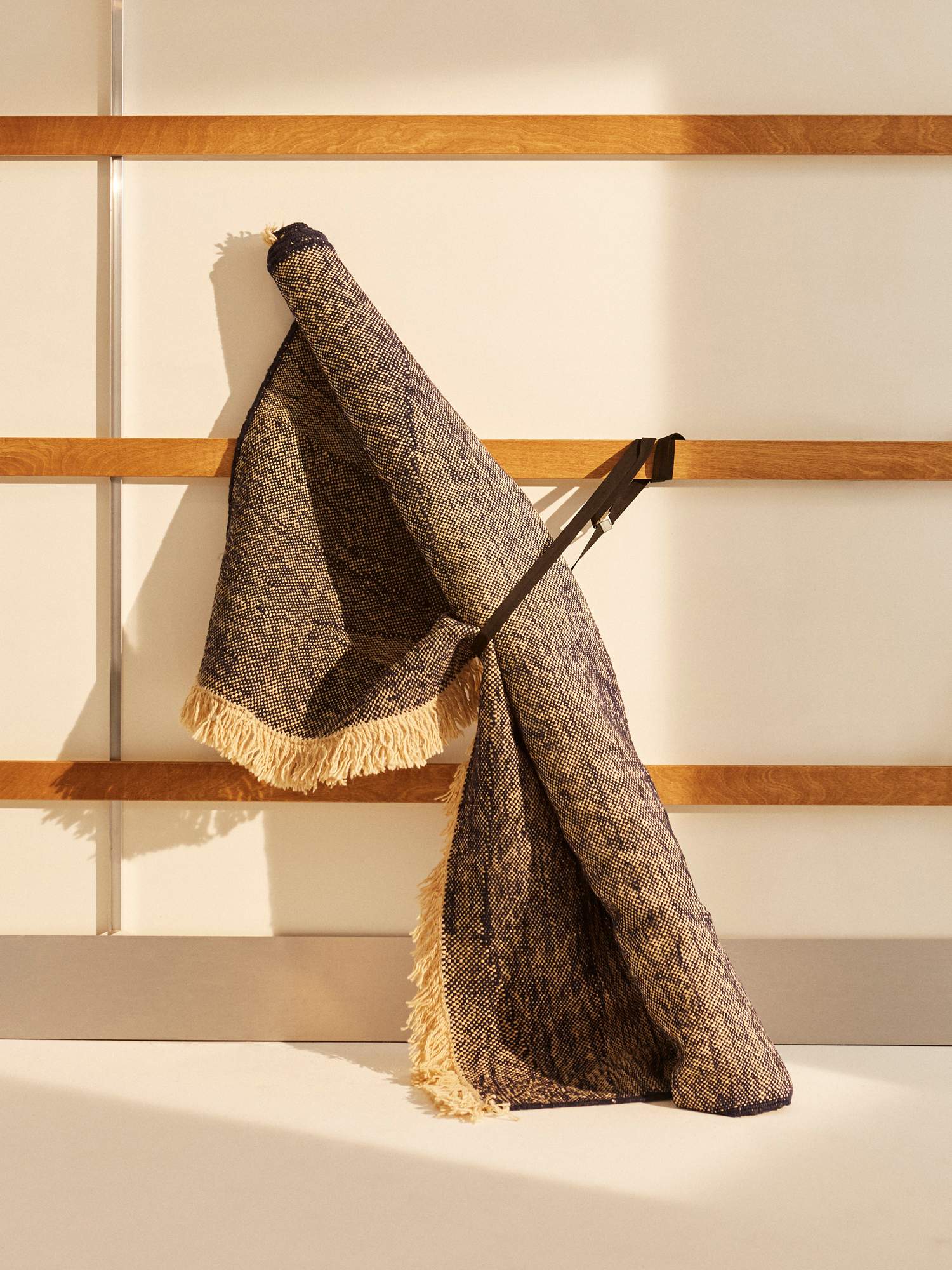 The designers and artisans behind Barcelona brand Nanimarquina have combined the techniques used in central and south Asian weaving to create the Telares collection. Each hand-loomed piece features unique textures and curved shapes, providing a new take on geometrically patterned kilims and dhurries. The rawness of the natural-dyed Afghan wool gives the rugs a rustic yet contemporary appearance and makes them an easy fit for country homes and urban lofts alike. 
nanimarquina.com
---
(10 — 20)
Canvas cabinet
Ercol
UK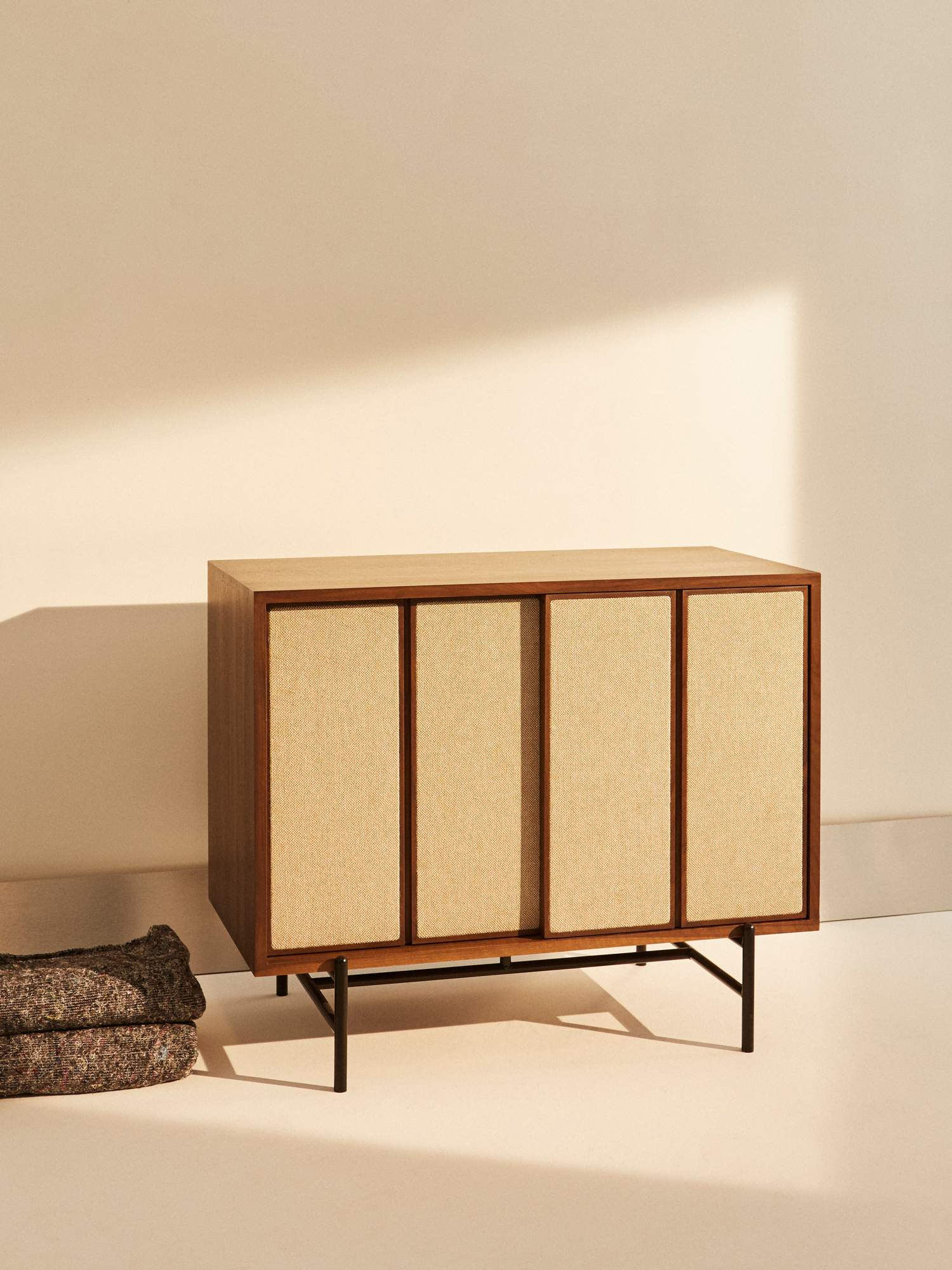 Tuscan-born designer Lucian Ercolani started his furniture-making company in the UK a century ago, pursuing his passion for crafting well-designed and long-lasting pieces. Today, Ercol remains a family-run business and is behind this collection of fabric-covered wood cabinets. Designed in collaboration with Copenhagen firm Norm Architects and produced in the UK, these ash-and-walnut cabinets have connected fabric-coated sliding doors and are available in a number of sizes, finishes and colour combinations. 
ercol.com
---
(11 — 20)
Profile: Industrial Facility
Kim Colin and Sam Hecht
UK
Although Industrial Facility, one of the world's most respected industrial-design companies, is based in London, founders Kim Colin and Sam Hecht (both pictured, Colin on left) note that they don't have many UK clients. What makes this base special, though, is the international buzz and London's many challenges. "As a designer you are constantly solving problems, whether that is determining the best cycle route to avoid traffic or working out where to get the best coffee," says Hecht.
In 2020 they have focused on evolving Italian furniture company Mattiazzi as its art directors. The northern Italian firm works largely with timber, combining machine manufacturing with artisanal skills. "At Mattiazzi, and in Italy more broadly, the designer is an authoritative part of the delivery of a product. Working in this way, alongside the manufacturer, you can create incredible things," says Hecht.
Although they've called on big names such as Jasper Morrisson, Ronan and Erwan Bouroullec, and Foster + Partners to enhance the company's collection, it's the next generation of designers that Colin and Hecht are particularly interested in working with. They have just launched a home accessories division within Mattiazzi called Collection Objects, with German designer Max Frommeld, Belgium's Julien Renault and France's Julie Richoz. 
industrialfacility.co.uk
---
(12 — 20)
Cooper table
SCP
UK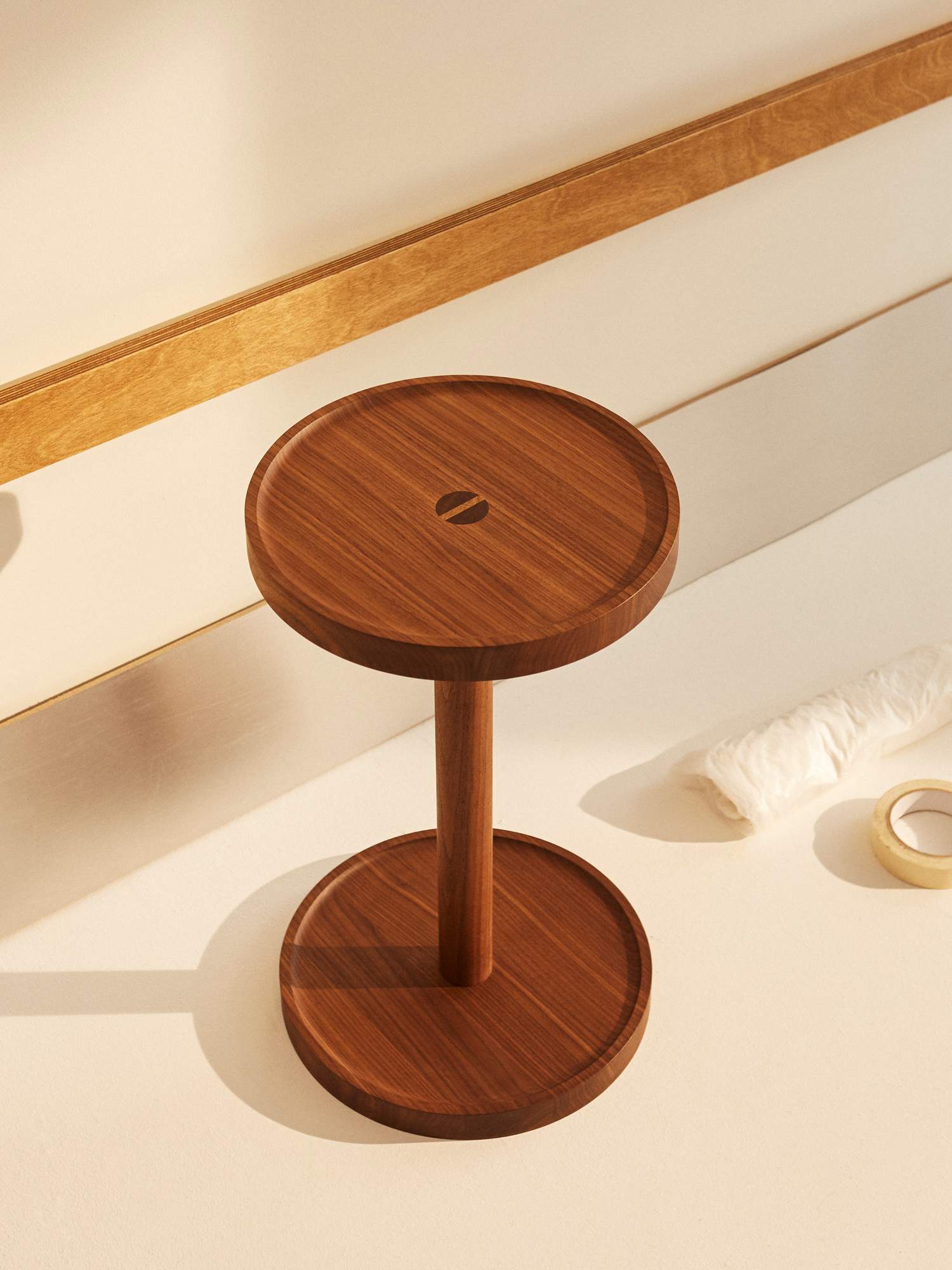 London's Matthew Hilton Studio has launched this sturdy little number designed to be easily transportable within the home and to suit multiple uses. In fact, its underside has been designed to provide perfect handgrips so you can pick up and plonk down the walnut table beside the sofa, bed or wherever else works. 
scp.co.uk
---
(13 — 20)
Candid chair
Zilio A&C
Italy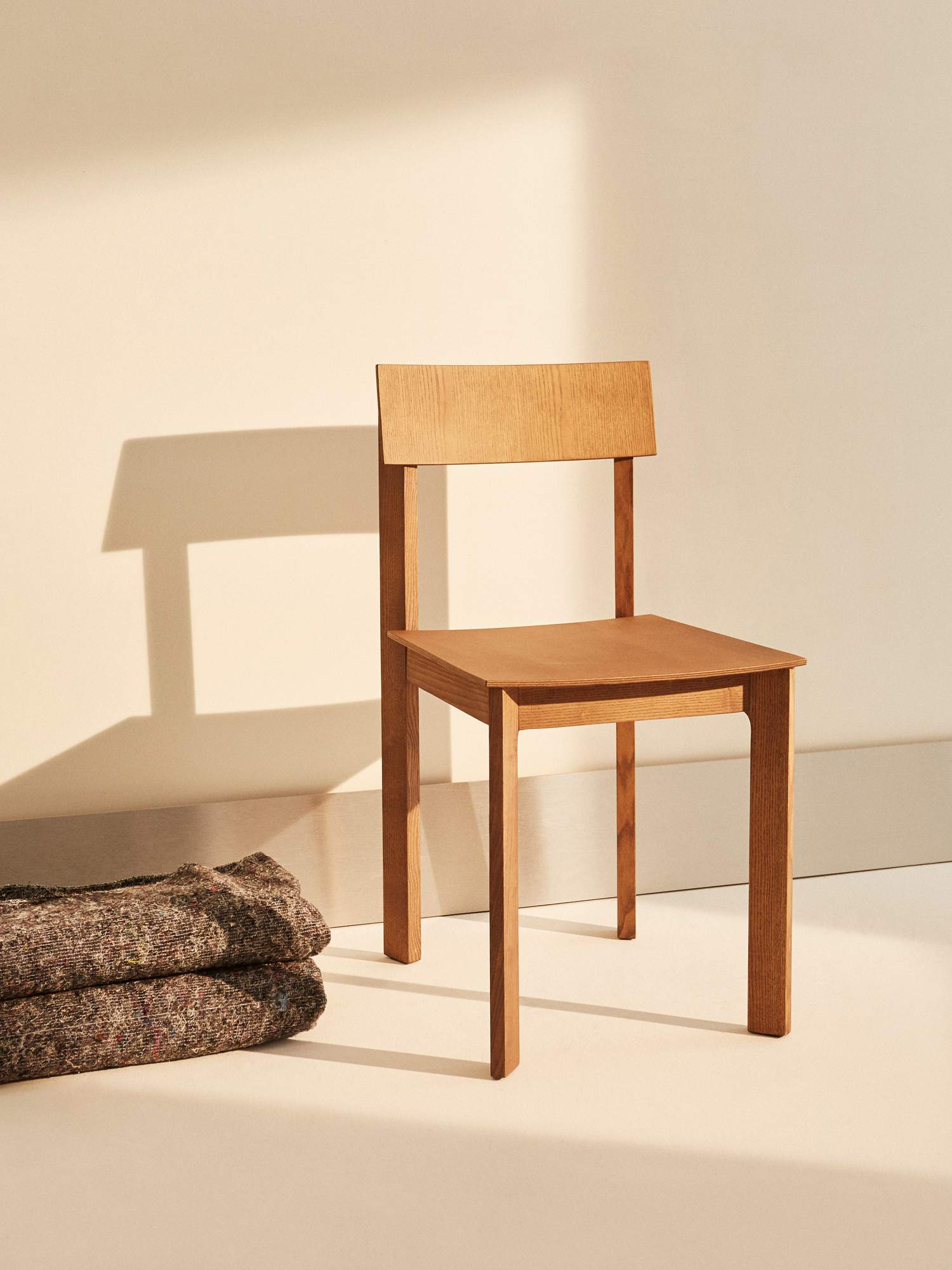 The Candid dining chair in stained ash (pictured, above right) was created by Stockholm-based studio Note for Italian manufacturer Zilio. It's notable for its silhouette: its legs are angled towards the centre of the seat. "We sketched on thin and angled elements that would catch the light in a dynamic way and change expression depending on the viewpoint," says Malin Engvall, one of the chair's designers. 
zilioaldo.it
---
(14 — 20)
Side table
String Furniture
Sweden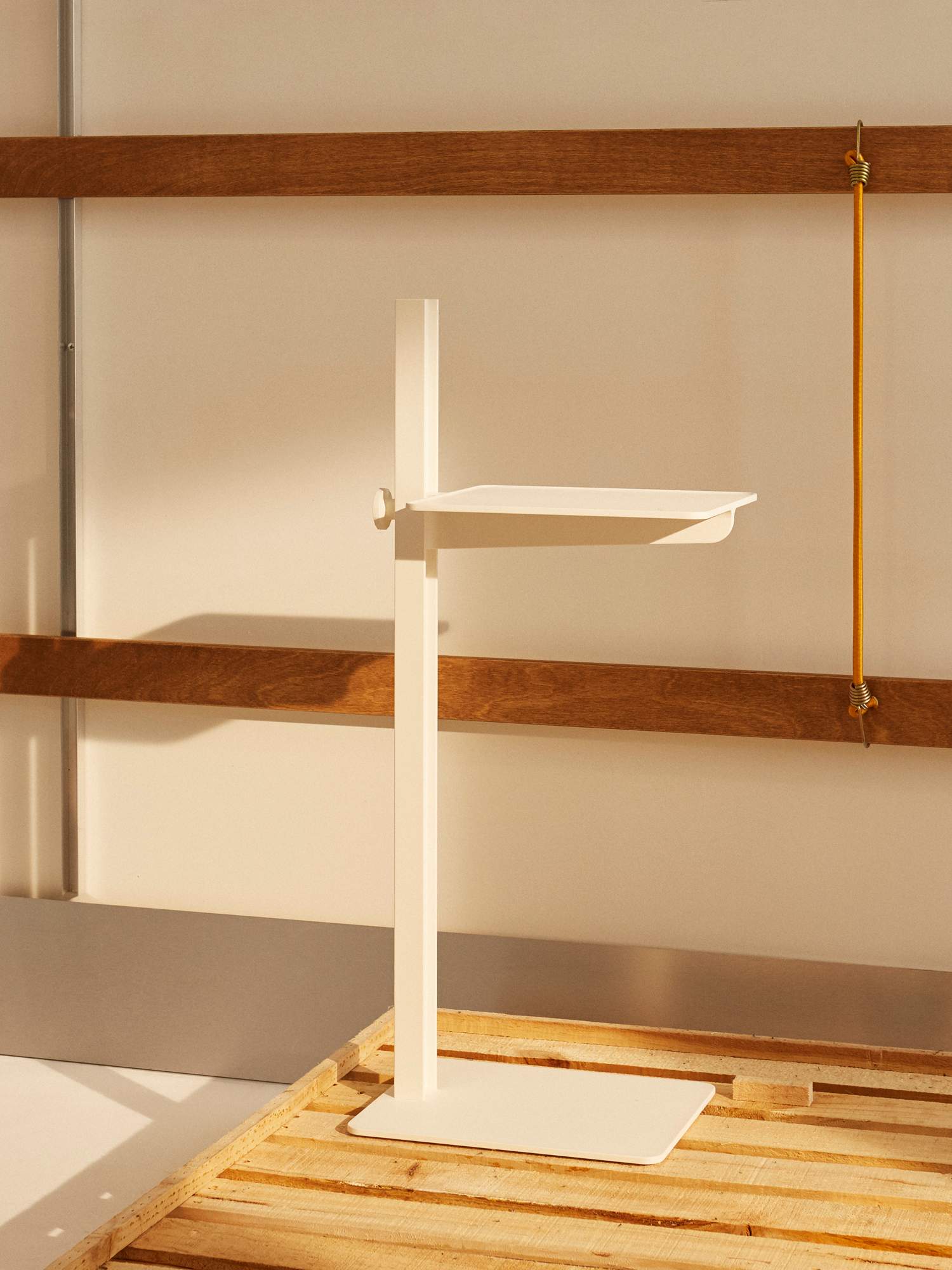 Swedish shelving specialist String Furniture is expanding its remit with this newly launched adjustable side table (right), which shows the brand's knack for making functional pieces. The firm had help from Stockholm's Taf Studio, whose design of the textured coated-aluminium and steel table is all about bringing out the best of that which is placed upon it, rather than taking centre stage. 
stringfurniture.com
---
(15 — 20)
Profile: Breuer Estudio
Joel Escalona
Mexico
Mexico City furniture company Breuer was founded in 1993 by Arturo Verástegui and has since become one of the country's top manufacturers specialising in carpentry. The brand regularly collaborates with designers and architects on collections presented at the Mexican capital's biannual art fair, Zonamaco, but is only just starting to make a name for itself internationally.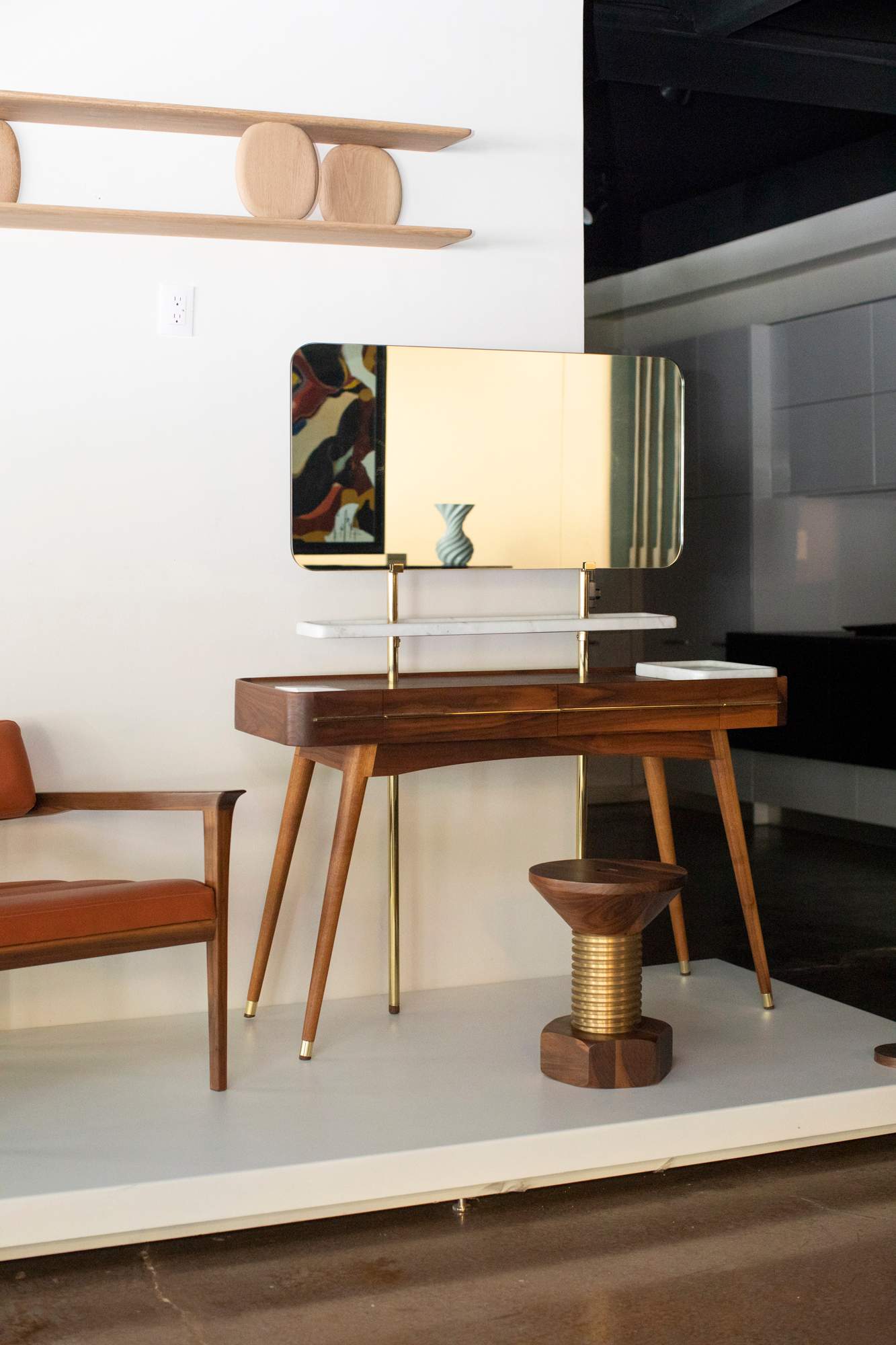 After collaborating on a collection as a guest designer, Joel Escalona joined the company as creative director last year to establish the brand's vision. "In Mexico we have several designers who are setting up their own companies. This is the other way around: it's a business that is interested in becoming a benchmark of Mexican design," he says.
His first collection in his new role, Noviembre, is a series of wooden benches, tables and decorative pieces inspired by influential Romanian sculptor Constantin Brancusi. "It's totally different to what I usually do, which is often straight lines and orthogonal shapes," says Escalona, who is passionate about sculpture and recently went back to university to study contemporary art. "This is much slower and heavier: pieces that take their time as though they were moving very slowly."
Breuer exports to the US and is slowly starting to draw attention further afield, with new customers in cities including Hong Kong. 
breuerstudio.com
---
(16 — 20)
Revolt chair
Hay
Denmark
A 1950s design from Dutch mid-century maestro Friso Kramer has been given a new lease of life, re-released at this year's 3 Days of Design festival in Copenhagen. Its no-fuss look and hardy bent-steel frame are offset by colour choices, including blues, greys and yellows. The result (pictured, above) is an appealing piece suitable for the workplace or the home. 
hay.dk
---
(17 — 20)
Jiro swivel chair
Resident
New Zealand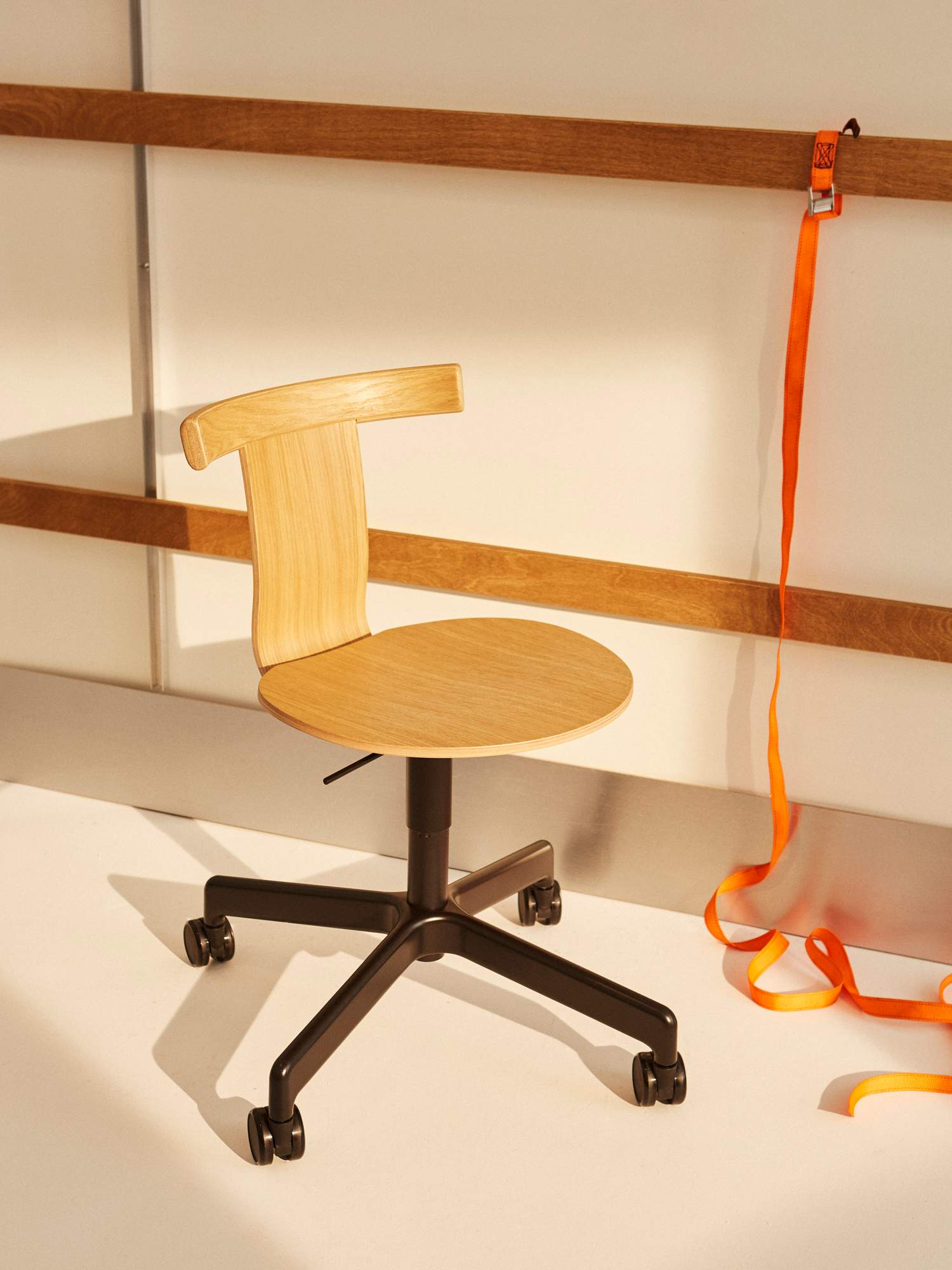 This Kiwi furniture company and the minimalistic pieces it produces are becoming increasingly coveted in the furniture industry. With an aesthetic that nods to both Scandinavia and Japan, this timber swivel chair (pictured, right) fits seamlessly into any home or office and comes in either natural oak finishes or a sophisticated all-black option.
resident.co.nz
---
(18 — 20)
K6 Trolley
Tecta
Germany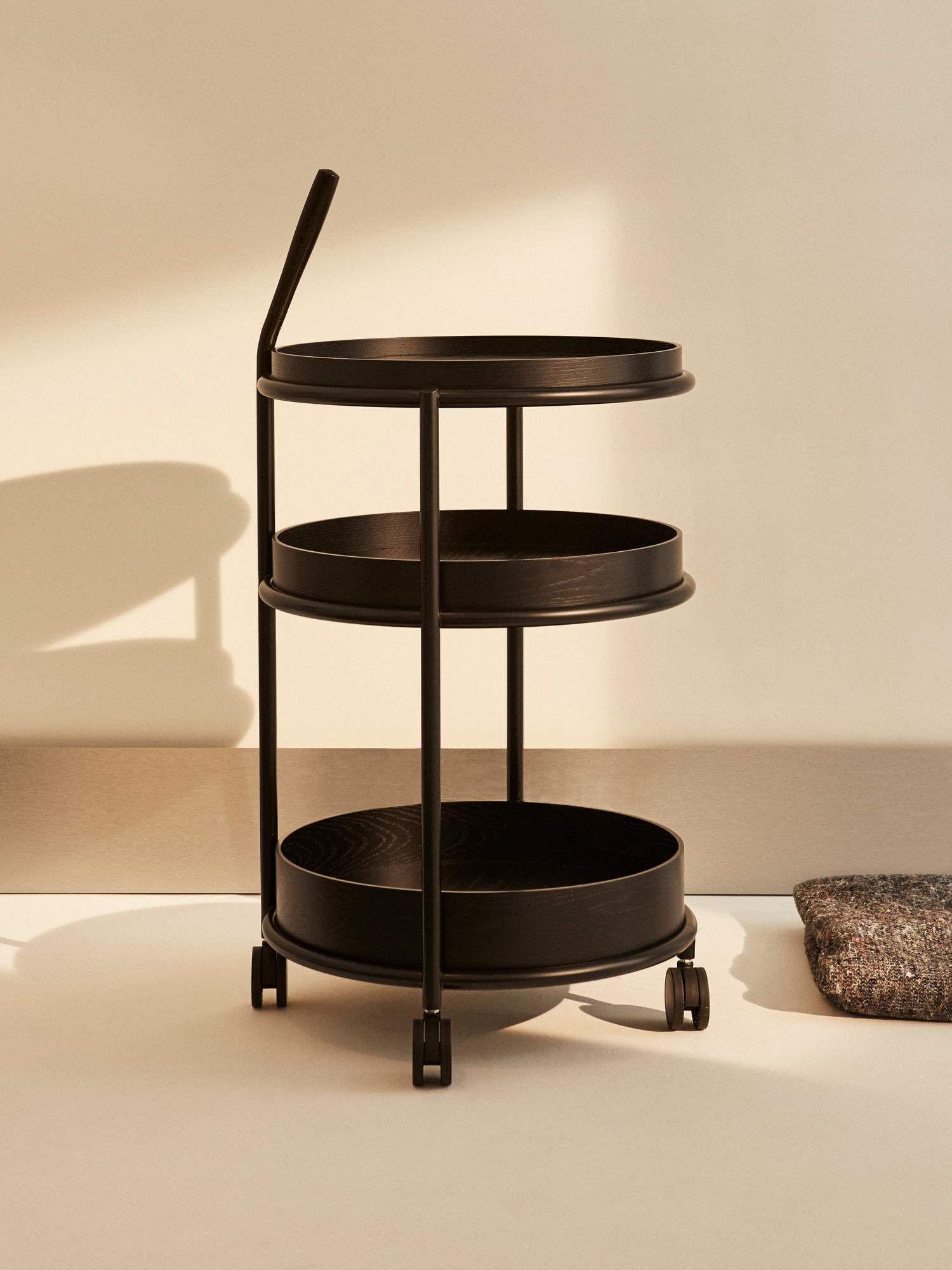 Dress up cocktail hour with this versatile trolley by Porto-based industrial designer Christian Haas. Made from chrome-plated or powder-coated tubes, it glides smoothly and features three ash-veneered plywood trays that can be removed or added at different heights. This piece is not simply functional: it also speaks to Haas's ever-thoughtful approach that melds subtlety and elegance with longevity. It's playful too: the varnished wood handle is a cheeky nod to airline drinks trolleys. 
tecta.de
---
(19 — 20)
Profile: Maruni
Takeshi Yamanaka
Japan
When Naoto Fukasawa, design legend and art director of furniture company Maruni's collection, designed the Hiroshima chair, he couldn't have known that it would become a classic. His wooden seat is now everywhere, from restaurants and residences to Apple's Cupertino HQ. For Maruni, established in 1928, it has been a thrilling ride from prewar bentwood chairs, three-piece suites and near-bankruptcy in the 1990s to today's success.
"More people are working at home so we can serve that audience with our furniture"
President Takeshi Yamanaka (pictured), whose grandfather's brother was the founder, can be credited with reversing the company's fortunes, slimming down the operation and homing in on new products that brought Maruni to the attention of the design world. Hiring Fukasawa was a big part of that turnaround. He quickly identified that Maruni and other makers were masking the natural beauty of their wood with layers of varnish. "When you see a piece of solid wood, you feel like you want to carve it, touch it or see what shape could be made with it," Yamanaka says.
The new Maruni is all about showcasing the raw material. The company has a famously skilled workforce and occupies a niche that Japan excels at: industrialised craft – industrial production with a hand finish. Fukasawa's offering for 2020 is the Tako (Octopus) chair (pictured, centre), which has a curvy form and perfectly smooth arms that demand to be stroked. There is also a new lobby version of Jasper Morrison's Fugu (blowfish) chair (pictured, right) in ash or oak and an accompanying low table.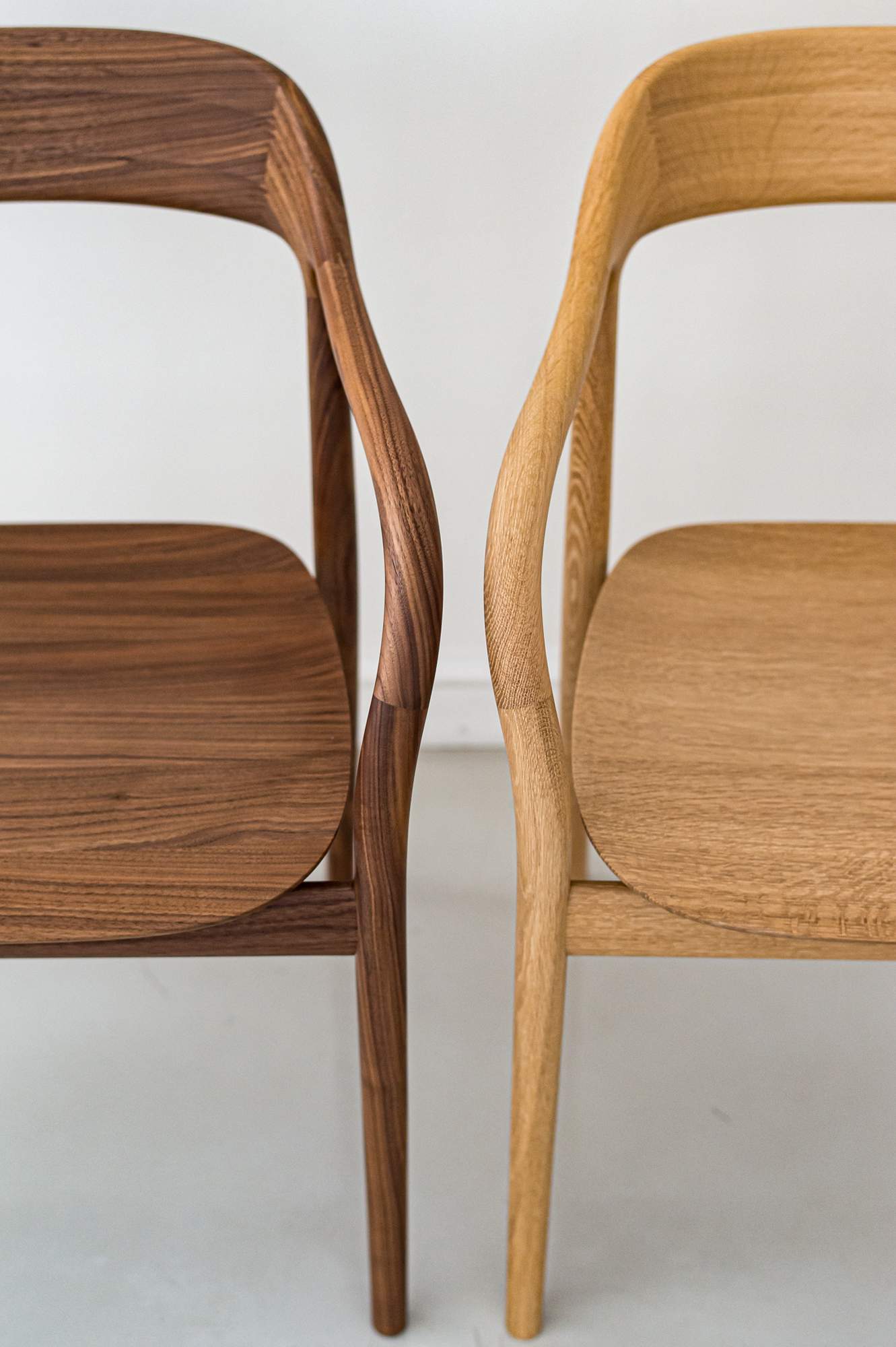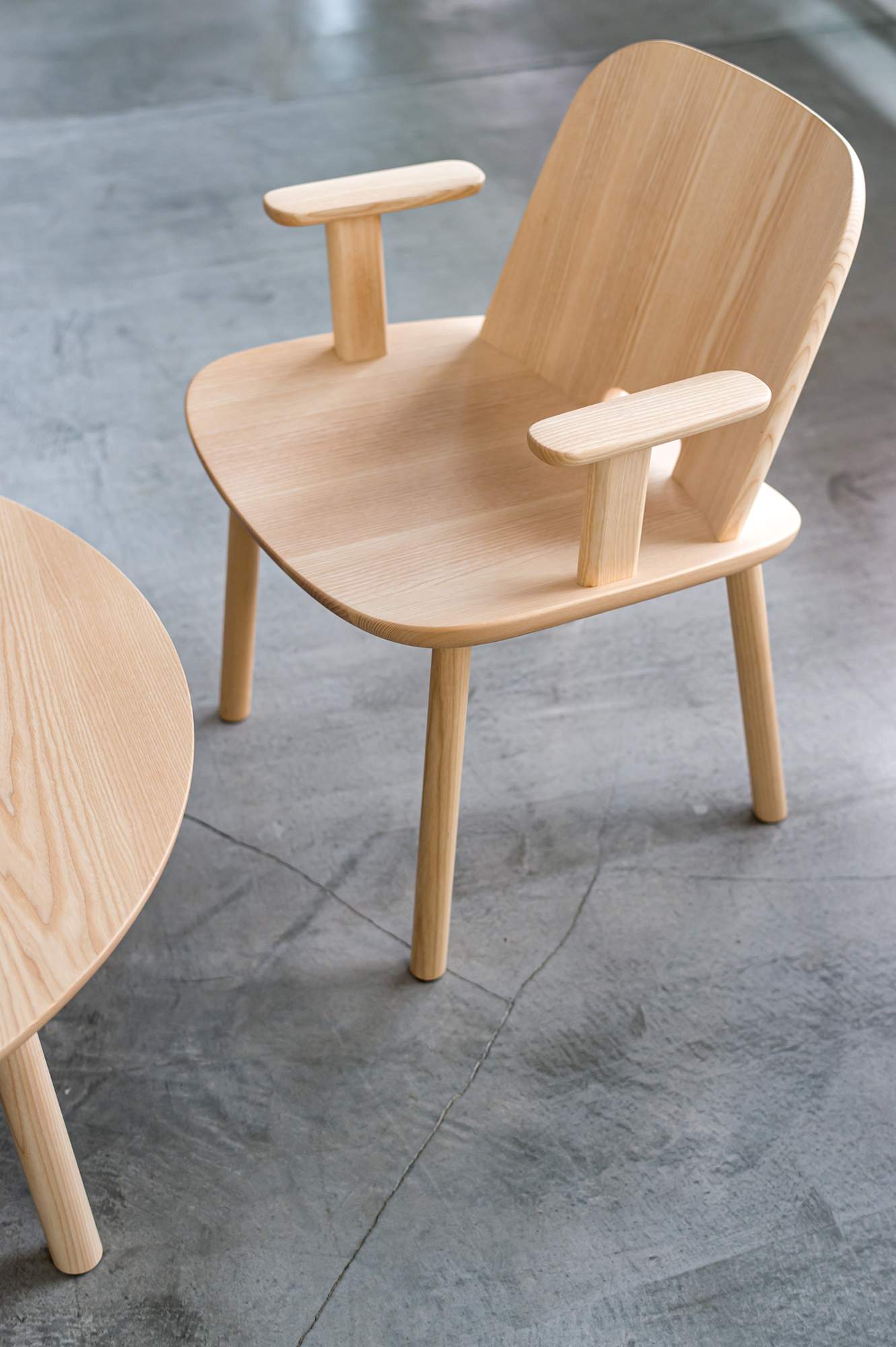 "More people are working at home so we can serve that audience with our furniture," says Yamanaka. Fukasawa thinks that friendly, organic forms are the future and Yamanaka has great hopes for the Tako, which comes in walnut or oak. Yamanaka's dream is for Fukasawa to design a new Maruni HQ in forested Hiroshima to celebrate the company's centenary in 2028. 
maruni.com
---
(20 — 20)
Q&A: Åke Axelsson
Meet the architect
Sweden
As one of Sweden's most important interior architects, Åke Axelsson (pictured), now 88, has created a large array of public environments during an impressive career, which has spanned more than 60 years. With no sign of slowing down, Axelsson is actively working on museums, churches, town halls and restaurants, alongside a small crafts collection, handmade and sold from his studio on the island of Resarö in Stockholm. A new retrospective exhibition of his work offers a personal journey through some of Sweden's most significant interiors.
Over your career, how has your relationship with the public realm evolved?
When I began my career in the 1950s, there was a general focus on building and enforcing the public realm: libraries and community centres were being built across Sweden. But today we have to constantly argue for these civic places to exist and be financially viable – something I see as a continuous problem. In my work I meet people who are deeply interested in public spaces. It's a question of learning how to take care of and listen to these voices and explore what that engagement might hold. 
"Knowing carpentry has been fundamental to me as I am able to sketch in wood and visualise usability"
Do you ever visit past community projects to see how they are holding up?
Of course. My favourite is a Medborgarhus, a civic house and community space in Örebro, built in 1965. Whenever I visit I can feel how it's being cared for with sensitivity. For me it's an important reminder: returning to something I made 55 years ago and experiencing how basic social needs remain the same.
Seeing the full retrospective on show in Copenhagen, are there pieces you are particularly happy to show?
Moving the studio felt impossible at first; even on the verge of madness. But the entirety, thankfully, allows me to show pieces that people normally don't get to see. For instance, a pinewood chair that I made as a student in 1953 highlighting the importance of learning your craft. I never saw myself as a designer but a maker of bruksmöbler, or utility furniture. Knowing carpentry has been fundamental to me as I am able to sketch in wood, visualise usability and share simple but all-embracing ideas with people in the community.
apetersen.dk
'Welcome home, Åke!' is currently being shown at A Petersen in Copenhagen.
Photographer: Alex Cretey Systermans, Ana Hop, Harry MItchell, Kohei Take, Felix Odell