Cosy corner / Washington
Pet's corner
Months of lockdown-induced reflection brought about a new career direction for 'Washington Post' fashion critic Robin Givhan. Her favourite diversion is a day with her dog in a Capitol Hill cemetery.
If you visit Washington's Congressional Cemetery on a Sunday afternoon, you're likely to find Robin Givhan poring over headstones while Oscar, her German shorthaired pointer "mystery" mix, frolics in the grass. "I've always been fascinated with cemeteries because they're filled with stories, some grand and some very intimate," says Givhan, the Pulitzer prize-winning fashion critic who has just embarked on a new role as senior critic-at-large for The Washington Post.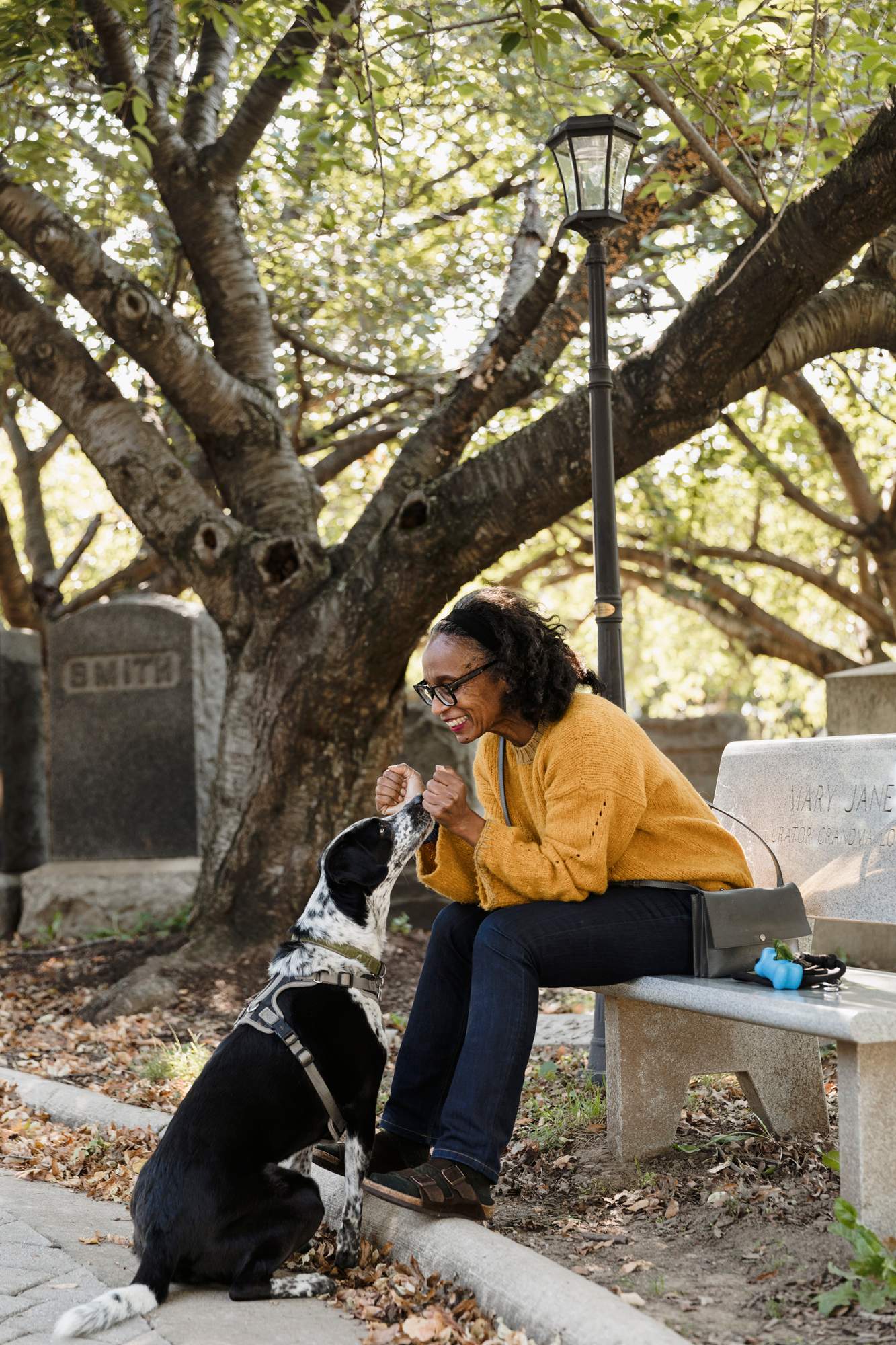 At the cemetery, a leafy expanse in the Capitol Hill neighbourhood that's welcome to a select group of off-leash dogs (there's a years-long waitlist for pooches wanting to gain access to its 35 acres), a wide range of folks have been laid to rest. There's a section for lgbtq pioneers; headstones for animal lovers that are like "monuments to pets"; an "overwrought mausoleum" to Marion Barry, Washington's larger-than-life former mayor; and a monument to victims of the September 11 attacks. "It's a beautiful and fascinating place full of quirks," she says. She and Oscar also enjoy the fresh air. "I think whenever you live in a city, you always savour those patches of green."
This year, Givhan has had more time to wander the cemetery given that she's been grounded in Washington rather than attending European fashion shows. And the lockdown period inspired a career shift. "It gave me more time to write about the strange turn of events – about what it felt and sounded like to be in the midst of a lockdown in a city," she says. "Then there were all these protests and the racial unrest. I was able to write about [those things], sometimes through the filter of fashion and public image, and sometimes not. Being able to write about so many different pressing things, I felt overwhelmingly like I wanted to weigh in."
"Being able to write about so many different pressing things, I felt overwhelmingly like I wanted to weigh in"
Givhan is "moving away from fashion" and will cover stories in politics, race, business and the arts. It's a significant change given that she has been the newspaper's fashion critic since 1995 (with a four-year hiatus) and is one of the industry's most revered voices. Yet, in other ways, it's not an enormous leap insofar as Givhan's writing has always been about more than fashion: her columns have considered topics in the realms of politics or culture, viewed through the lens of style, as often as they have passed judgement on runway shows. She was the first fashion writer to receive the Pulitzer prize for criticism, back in 2006. With a mix of lyricism and candour, she's commented on matters including Michelle Obama's style of advocacy and President Trump's carefully constructed image. "Politics permeates everything in this city and I was interested in the way fashion is used as a form of public communication at the highest levels," she says.
Despite the move, Givhan insists that she doesn't intend to "completely abandon my analysis of the way the industry is evolving." A recent piece for the Post Magazine, for instance, is about "the way fashion is engaging with race and with the broader culture," she says. "It's a topic I plan on continuing to pursue." This will come as a relief to many: the fashion world would be much poorer were it no longer being held to account by Givhan's clear-headed prose.