Editor's letter / Global
Train teaser
It's smooth railing for Tyler Brûlé, who has house news and Christmas plans to share.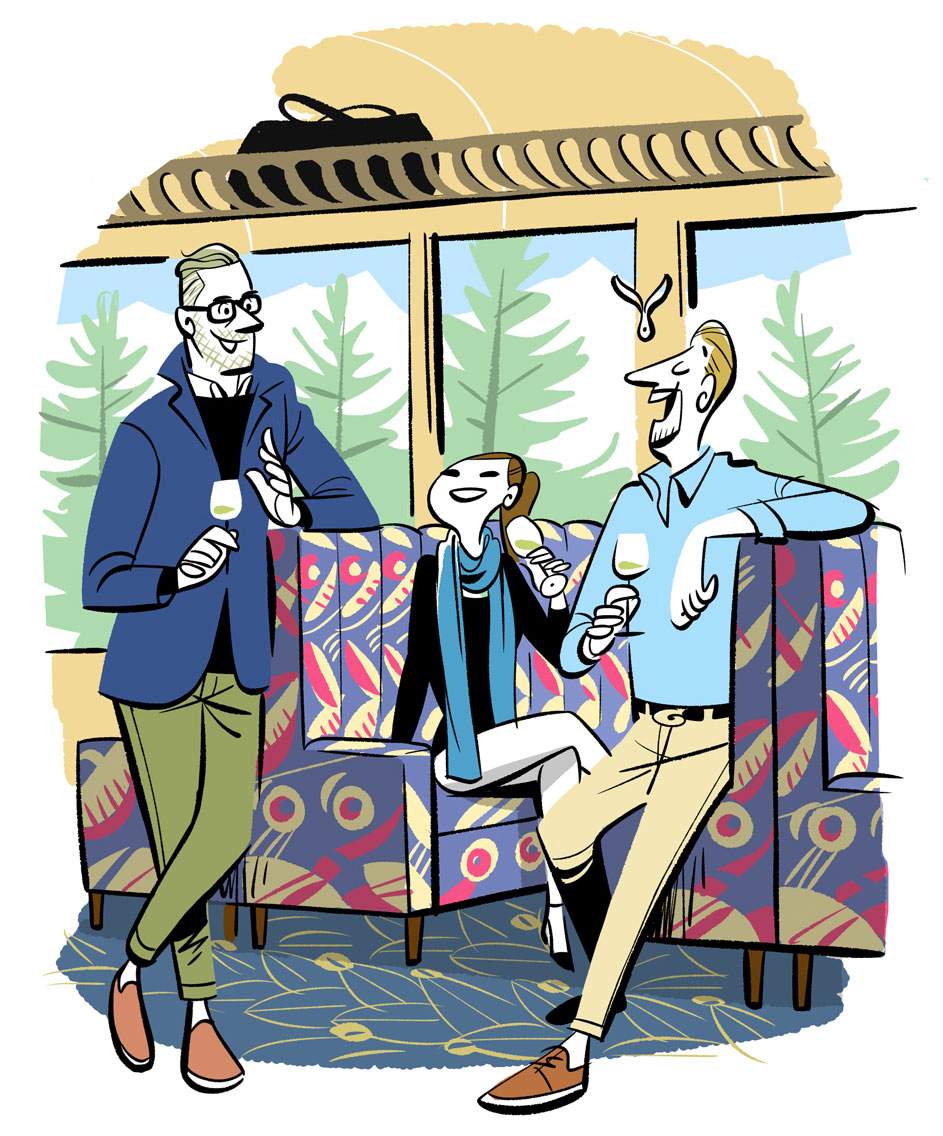 "Previously in monocle..." (to be read aloud as though you're catching up on a political-thriller series) the editor in chief was hoping for an extension to outdoor dining and seating in Zürich, documenting the sunny spirit of early-autumn Vienna, calling for a rethink of neighbourhoods and wondering what will become of all those empty offices that "experts" say will remain empty.
We'll start with some good news. First, Zürich made the bold move to extend its "dine outdoors" allowance not just until the end of the season but for a full year. This is a blessing but comes with the caveat that if the pandemic is brought to heel then the pavements will need to be restored as regular thoroughfares. Or will they? One thing mayors the world over are learning is that extra space for sunning and sipping has not seen democracies unravel. In many instances it has allowed communities to come together in breezy, outdoor settings.
In monocle's case, we're covered no matter what happens as we're expanding our Mitteleuropa footprint by taking another floor in our Dufourstrasse building, which will allow us to have a few more tables and chairs – inside and out. Meanwhile over in London, we're happy to report that we're sticking around Chiltern Street and will remain at Midori House for a few more years. To all of those readers who caught wind that we were considering a move and offered real-estate suggestions: a huge thank you. Back in Zürich (Küsnacht to be exact) we're opening a new café and kiosk just in time for the festive season – think a cosy place for morning coffee with your favourite mags and a full kitchen so we can also look after special birthdays or easy-style Christmas gatherings. For more details, contact Linda Hüsser at lhu@monocle.com.
When the pandemic hit, we didn't think we'd end up being quite so social but being close to our audience at events, markets and summits has been invaluable for gathering story tips, hearing about business leads and simply enjoying the company of people with similar yet varied interests. In the train carriage up to The Chiefs conference in St Moritz (windows open, hairstyles going sideways, fine Swiss wine flowing), I was wondering why the lounge or club car ever disappeared from rail set-ups. Who doesn't want to speed along in a plush, upholstered setting with monocle staff looking after all the details? Could we be on to a completely new business extension? "Monocle Club" carriages attached to trains on all of Europe and North America's most important routes? Imagine how much more pleasant the Acela between Washington and New York would be with soothing lighting, big swivel chairs and a handsome pair of baristas manning the nozzles. Or what about on pokier routes, such as Zürich to Munich? But let's pull into the station, stride down the platform and get back to our core business: journalism.
As we head towards the end of the year, you'll notice a few editorial additions. If you're signed up to our newsletters, you'll now be receiving The Monocle Minute On Design every Wednesday from our senior editor, Nolan Giles. Now based in our Zürich HQ, Nolan sits next door to our new style director, Marcela Palek (all retail and fashion tips should be sent her way at mp@monocle.com) who, along with editor Sophie Grove, will be setting the tone for our new sister title Konfekt – out on 18 November. Full of elegant looks, fine interiors, exceptional vineyards, smart regimes and places to stay, the magazine will be a quarterly accompaniment to monocle. (As Konfekt will have more limited newsstand distribution, you can order an advance copy via monocle.com/shop or, if you are a current monocle subscriber, you can head to monocle.com/subscribe/top-up and add Konfekt to your subscription plan.)
And finally, yes, dear reader, there is a Santa – we just don't know how he's going to cope outside sparsely populated northern Finland. Many of you have been asking whether we're going to be hosting Christmas markets in London and Zürich this year. For the moment, Zürich is a go, while we're waiting to see if the situation on gatherings in the UK changes. As this has been a tradition for a decade, we would like to press forward, so please be on standby at your spontaneous best and keep up via our newsletters (sign up at: monocle.com/minute). As ever, thank you for all your support and words of encouragement these past few months and cheers to getting together before the year is out.