Architecture / Canberra
Safe haven
The modernist Swiss embassy in Canberra is a paean to the possibilities that concrete offered its gifted architects.

Legend has it that the concrete and brick exterior of the Swiss embassy in Canberra isn't only so tough-looking for aesthetic reasons. The 1975 modernist building's hardy outer shell is supposedly meant to shelter the Swiss government if it was ever forced into exile and had to flee to Australia. Yet this is no fortress. The embassy and official residence, which blends into a landscape of grey-trunked eucalyptus trees on a large suburban plot, exudes openness. On approach visitors are greeted by an elegant cantilevered concrete feature, beckoning them inside. "It is supposed to be inviting, like a welcoming gesture," says Jürg Graser, a Zürich-based architect who has studied the embassy for the Swiss Federal Office for Buildings and Logistics.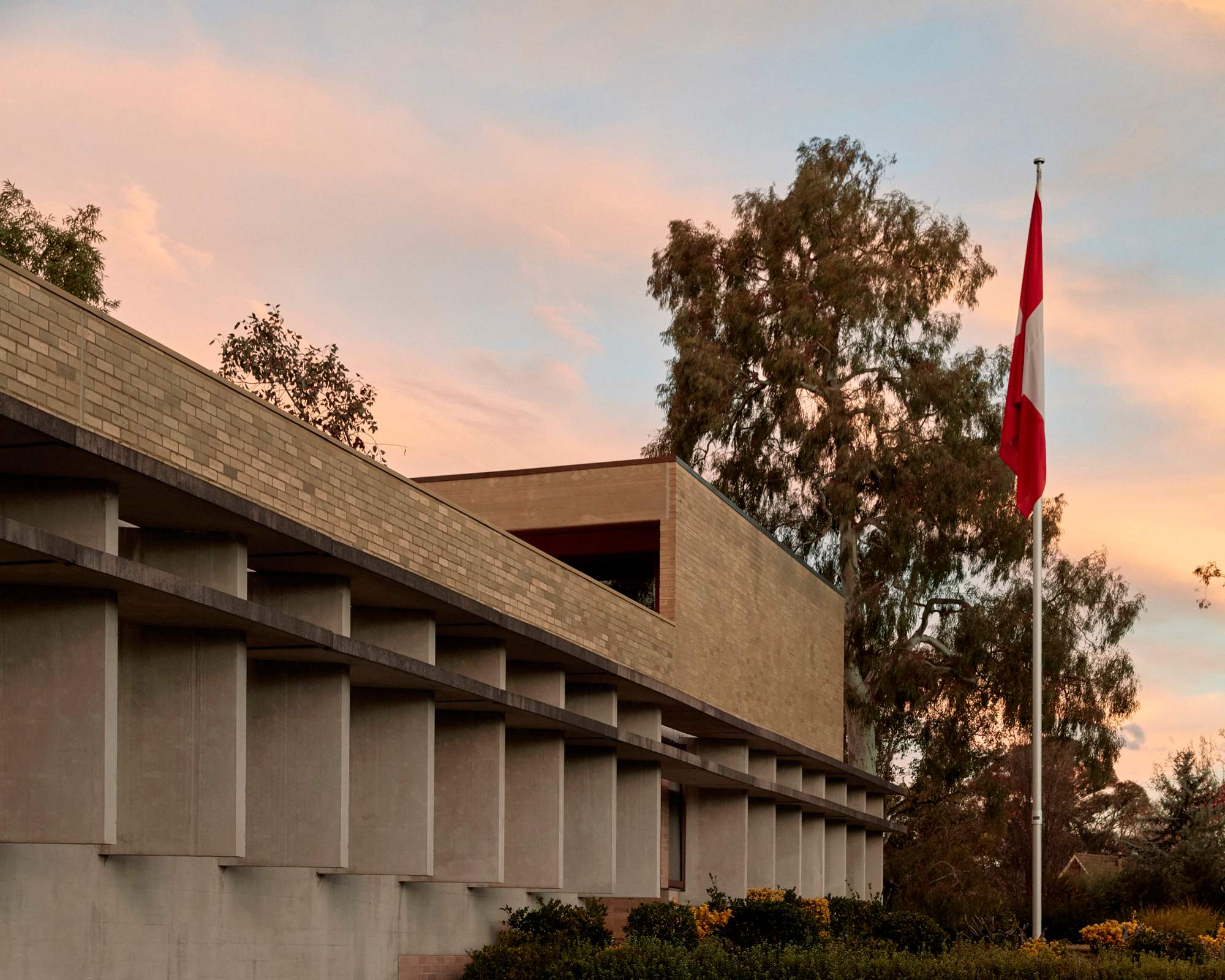 The structure was designed in 1969 by a father-son duo, Hermann and Hans Peter Baur. While Hermann Baur had already established himself as a master of concrete architecture in his homeland, his son was inexperienced. Yet the two were drawn together by a shared enthusiasm for the work of compatriot Le Corbusier and took inspiration from the modernist maestro's convent of La Tourette, near Lyon, when realising their embassy project. Inspired by the convent, the architects used concrete – a tough but malleable material – to give the embassy its asymmetrical form, immediately capturing the attention of those who visit.
Once inside the building, the monastic feel becomes more pronounced. The space is lofty with minimalist furnishings set sparsely across stone floors and flanked by high concrete beams. But rather than worship, it's entertaining that happens here, with the open lounge and dining areas all overlooking a lush garden through beautiful floor-to-ceiling mountain ash-framed windows. "There is nothing that's here by chance," says the ambassador, highlighting the interior's cleverly hidden sliding doors that can divide the sprawling space but tend to be left open. Beyond the wide glass windows, the gaze is drawn outside to a wheel-like sculpture that consists of stones sourced from various regions of Switzerland. Incorporating art and architecture was a common trait of Baur senior's work; his most revered project is the majestic, curved concrete St Vinzenz church in Germany.
Global reach
The architectural stock within major cities the world over has been improved through additions of new Swiss embassy buildings. The Swiss continue to invest in embassy architecture and, as Ivo Sieber, Swiss ambassador to Vietnam puts it, offers "a sense of welcome and allure". "The significance of Swiss architecture and design in projecting Swissness and generating these emotions cannot be overstated," he says. Most of Bern's 88 embassies favour an open approach. The new Swiss embassy in Seoul, for example, references the city's traditional Hanok buildings.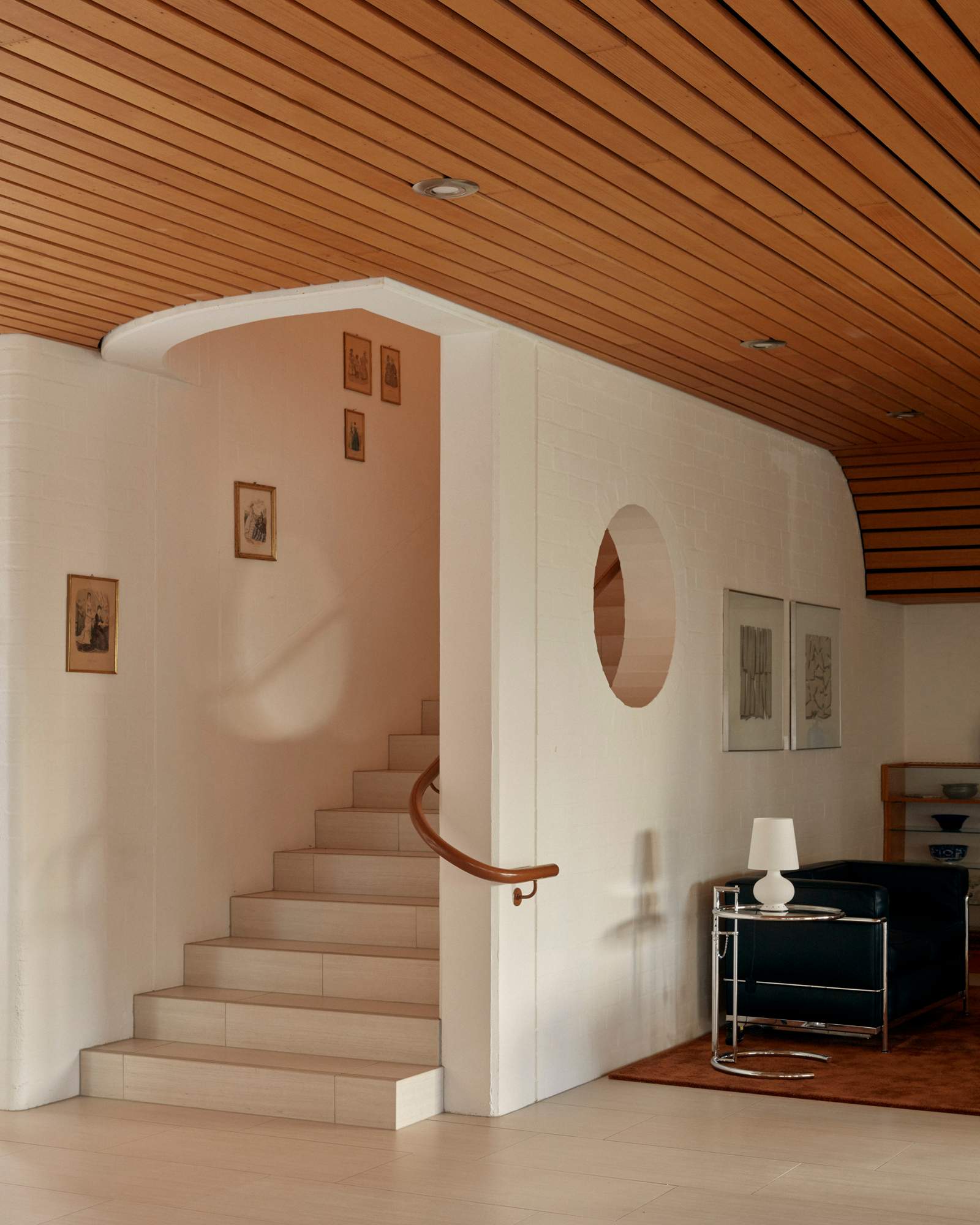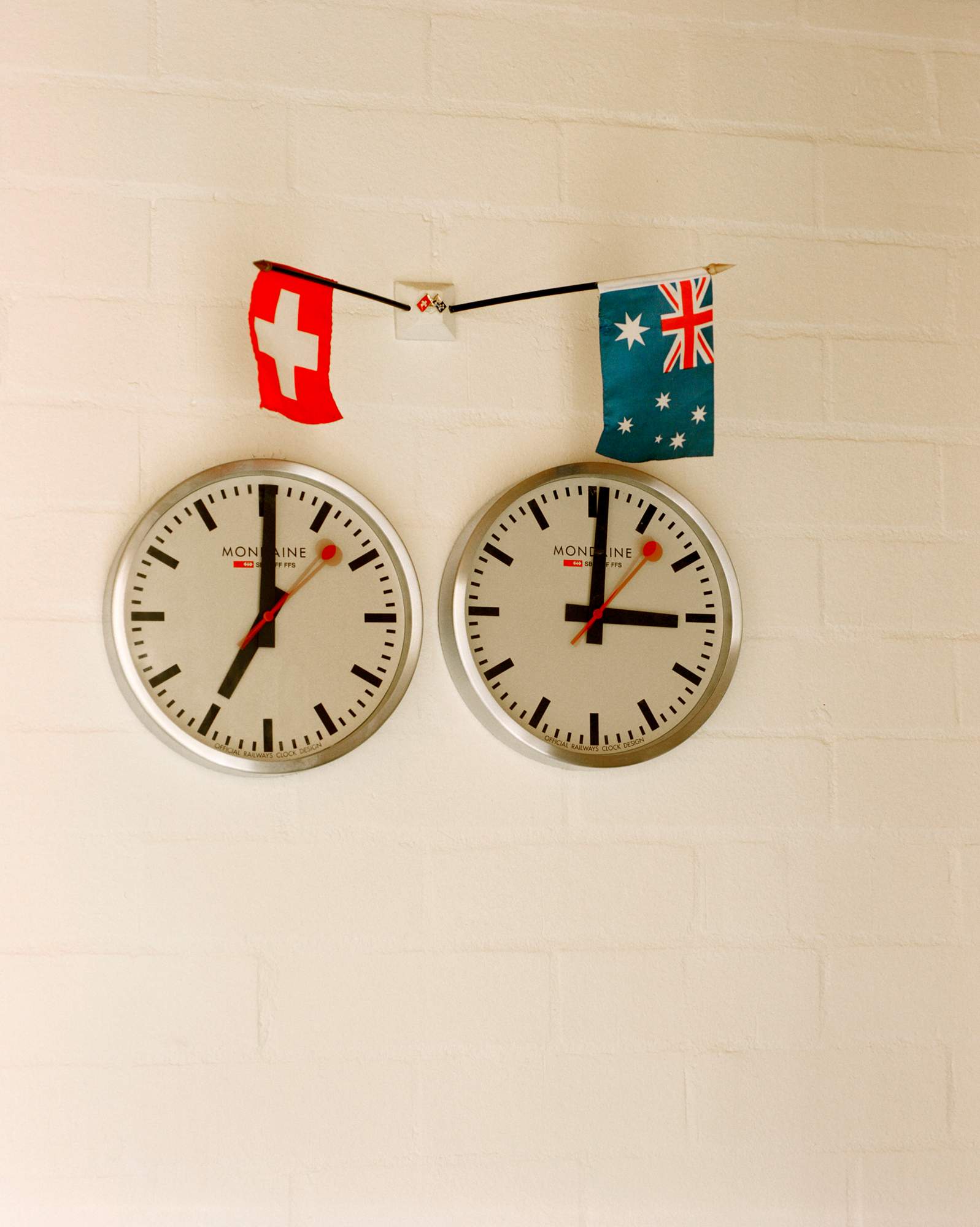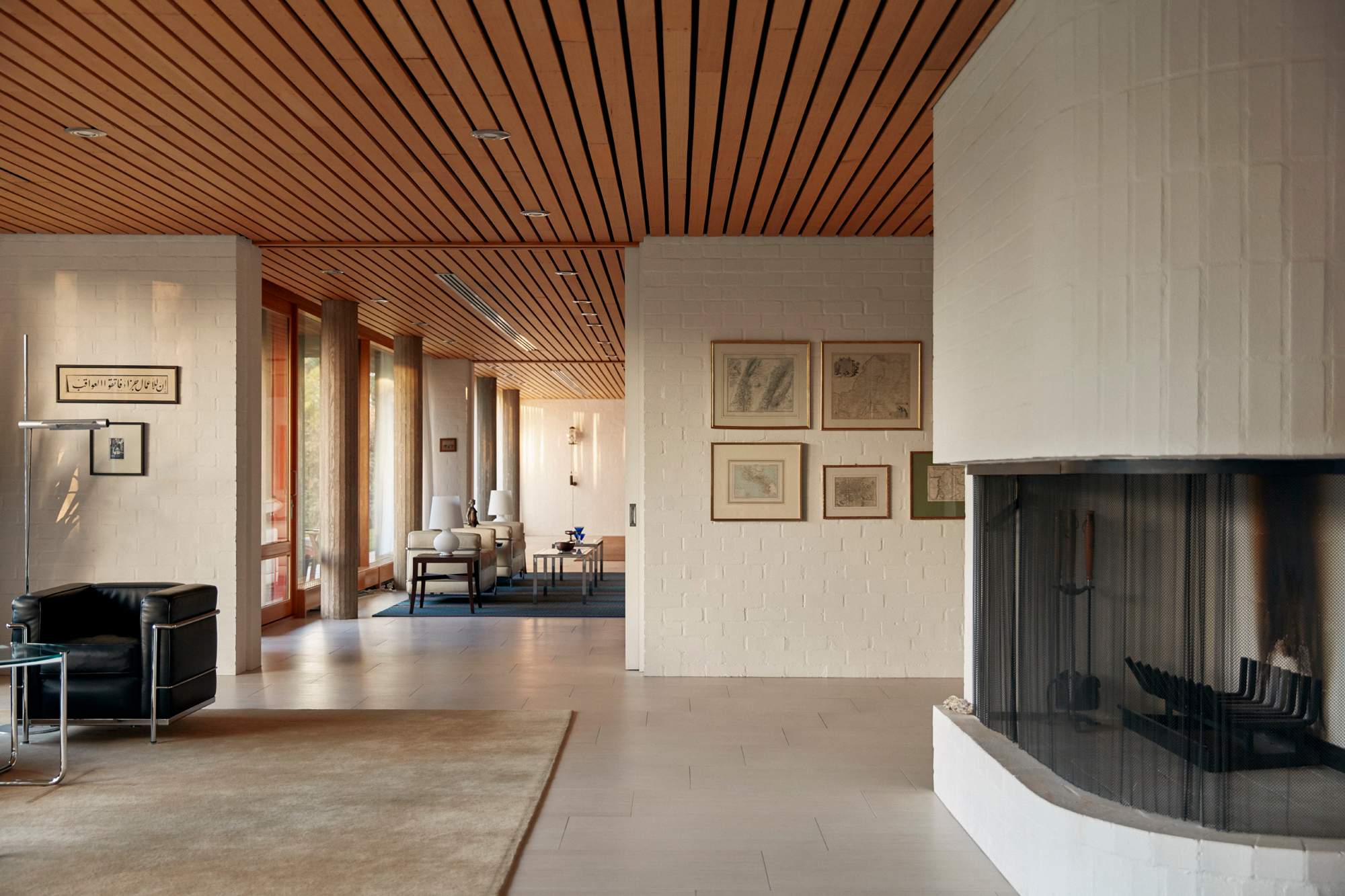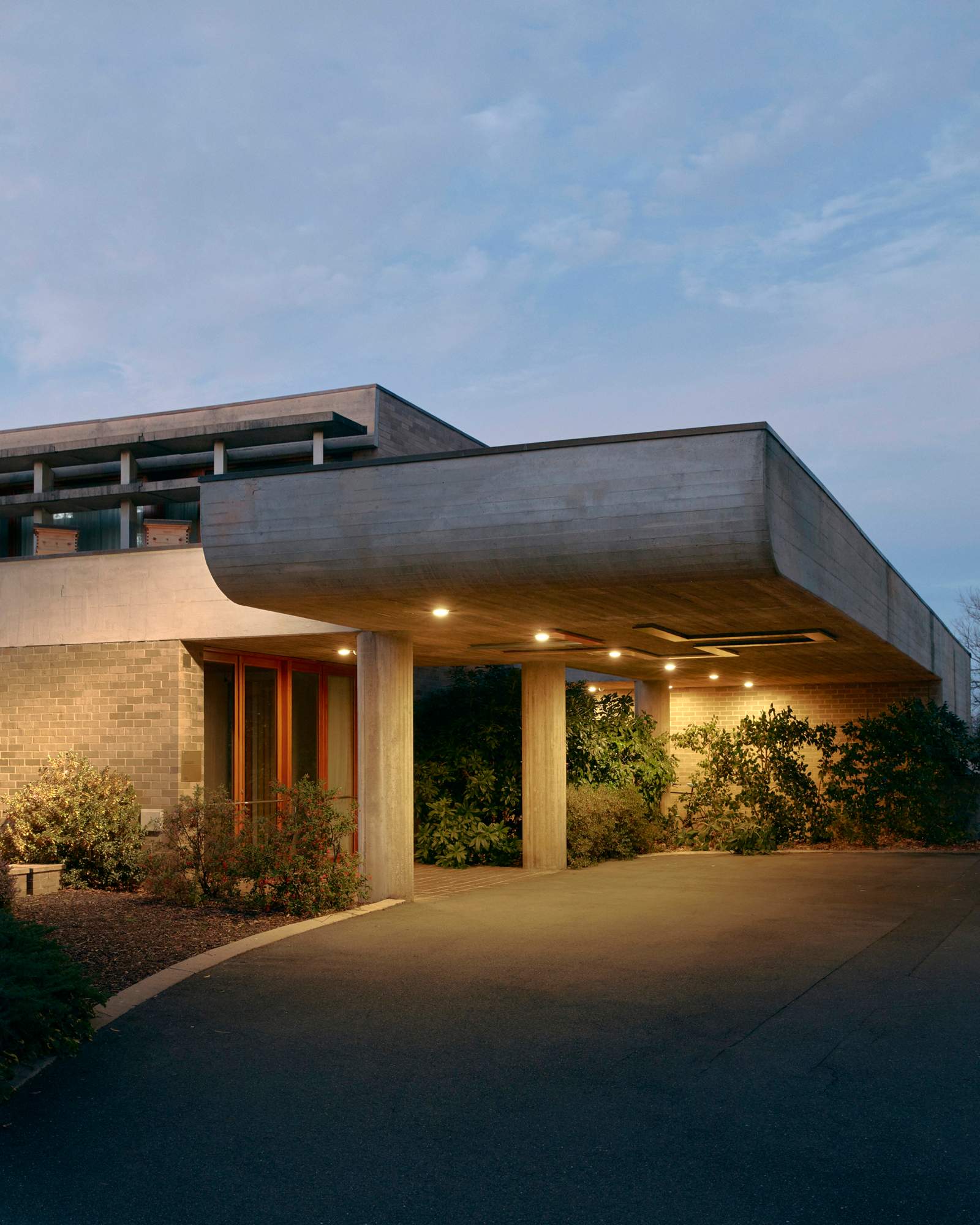 The furniture is remarkably well kept here, with most pieces exemplifying the understated charm of mid-century Swiss design. There's a Chesterfield chair in cognac leather with tubular steel legs by Robert and Trix Haussmann (the same design duo behind Zürich's beloved Kronenhalle Bar), which is complemented by Le Corbusier's LC2 armchairs in black leather. The handsome light-brown cantilever chairs by the long meeting table are reminiscent of those from Bauhaus master Mies van der Rohe. However, it is believed that these pieces were devised by Hermann Baur.
Breaking free from the mix of brown hues, the space's most audacious show of colour is a large cherry-red painting by Swiss abstractionist Jean-François Comment. Despite the wealth of Swiss design and art in the embassy and Zwahlen's private quarters above, the ambassador says that he feels most at home when looking up at the warm ash ceiling. "If you look closely, you can see where the knots were cut off on the trees," he says of the timber planks that bring warmth into the concrete space. "This is not some exotic material; it reminds me of the simple Swiss chalet I grew up in."
More than 40 years after its inception, it is difficult to imagine that this fine Swiss building, bathed in the Australian sun, almost never saw the light of day. "At that time, when administrative processes were simpler, the project might have been given to a star architect who had connections to Australia," says Jodok Brunner, head of foreign buildings at the Swiss Federal Office for Buildings and Logistics. And such was the plan. An original ill-fated contract was given to Harry Seidler, the popular Austrian-Australian protégé of Oscar Niemeyer, but his ideas were too lavish for the Swiss foreign ministry's tastes. Their second choice, however, provided a more suitable solution. "In the end, what sets Swiss design apart is not extravagance or opulence but careful planning and execution to stand the test of time," says Brunner.
monocle can't imagine that those seated in Bern will be exiled anytime soon. But they can rest easy in the knowledge that their refuge in the Australian sun is one that is truly worthy of their home nation.