Architecture/Design / Global
Architecture/Design
Briefing
Swedish summer houses, a Portuguese museum and an interview with Philipp Mainzer of e15.
­­Swedish architects Franson Wreland perfect the summer retreat with this one-bedroom cabin outside Stockholm. Crafted in wood with a larch façade, the house has floor-to-ceiling sliding glass doors. The design is based on a modular "snowflake" concept, so called because of the crystal-like formations you can create by bolting on new units as needed. Come the autumn, the owners plan to add an extension. This is slow architecture.
fransonwreland.com
With its low-lying, partially concealed structure crafted from local granite, this new extension for the Geira Museum in Portugal, designed by Portuguese architects Carvalho Araújo, quietly blends in to the serene surrounding landscape. Nestled in Gerês national park in north-western Portugal, the museum has an airy, informal feel – exhibition spaces, a children's play area and an internet café are linked by a series of interior patios. Large windows ensure plenty of natural light. With construction just completed, the museum is expected to open later this year. A competition is being held to decide who will exhibit at the first show.
carvalhoaraujo.com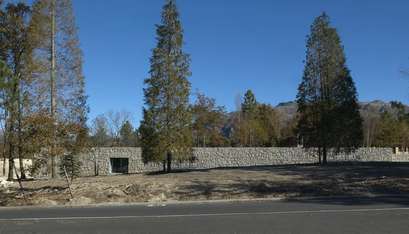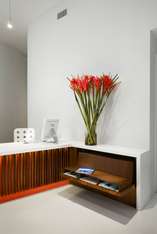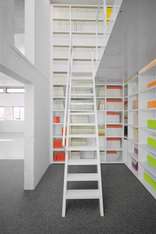 New York-based design practice UM Project proves that editing suites need not be dark, cramped places with this ­interior for New York production company The Station. There are no nasty wires here, editing equipment is stored inside bent-teak cupboards. Architects Two Ton collaborated on the project.
umproject.com
Q&A - Philipp Mainzer
Architect, Germany
Design practice e15 was founded by architect Philipp Mainzer and product designer Florian Asche in 1995. With headquarters in Oberursel just outside Frankfurt, the company specialises in designing furniture and interiors. The team has recently put the finishing touches to offices for Frankfurt-based graphic design consultancy Sign Kommunication.
Can you tell us about this project?
The office runs over three floors and is in an old steam-cooling station. The intention was to maintain the character of the building and pay tribute to its existing structure. We've combined white lacquer wand e15 products with lots of exposed concrete and walnut panelling, which gives a warm feeling to the space. We've also added a new walnut staircase to access a "think tank" room, and a library and an updated entrance.
What makes a great office space?
It's not always about being inspired, it's also about feeling relaxed and comfortable. You can do this through materials, the use of light and general spatial expertise in the design.
How did you find the Salone this year?
There was a real energy and so many people. It's really nice to see how people get along, like a big family. You have to focus on which events you really want to go to – you can't do everything. e15.com
For more on the Salone furniture fair, read our report on page 126.