Baselworld 2008 / Basel
Show time
Baselworld watch fair is where manufacturers unveil the new timepieces that often take years to craft. There are no quick sales either; brands eager to retain exclusivity don't sell to any old oligarch.
"This one is black on black because we don't care if you can read what time it is," bellows Jean-Claude Biver, as he points at his Big Bang All Black. The CEO and hurricane-proportioned personality behind Hublot is on bullish form at Basel's watch fair. "You don't buy a watch to read the time – you buy it to look at and for other people to look at!" One can't often say this of Basel, the sleepy antidote to the madness of Zürich – but it's showtime. Little wonder Biver was on such fine form as he must have been very close to signing a deal with LVMH, who snapped up the brand two weeks after the close of fair.
Last year, CHF16bn (€10bn) of orders were taken at Baselworld, a 50 per cent rise over the figure for the previous four years. The event now accounts for 90 per cent of the Swiss watch export market. Despite the spectre of recession rearing its head, the high-end watch industry is in rude health. And 2008 was another record-breaking year. "Despite the economic climate, orders have far exceeded our expectations," says Françoise Bezzola, international communication director of TAG Heuer, after the fair.
The exhibition halls are named emotively, erotically, nonsensically: the Halls of Desires, Fascinations and Emotions are lorded over by the Hall of Dreams where the big players pitch their tents and will have been doing so for up to three months before the fair. Zenith and Movado moodily hustle the entrance with dark-lit stands; Rolex and Patek Philippe are gatekeepers to the Sunset Strip of premium brands. These huge "booths", replete with aquariums (Breitling), branded interactive games (Tissot) and moustachioed mojito-mixers (Cuervo y Sobrinos, established Havana, 1882) are the size of houses and cost the same amount.
The stands are an investment in brand identity; theme-park re-imaginings of Fifth Avenue, spot-lit strolls down Bond Street. The finery of Patek Philippe's crystal palace backs on to Chopard's triple-storey townhouse, an exercise in haute-bourgeois good taste. Rolex is a sleek country pile, its east and west wings linked by a footbridge beneath which a CGI moat glimmers with ripples. The odd dolphin reflects the inspiration for the brand's Basel launch – its new Submariner series diver's watch.
These Basel launches are the talk of the fair and are often the product of at least a year of research and development, craft and fine-tuning. Patek Philippe added to its Nautilus series with pavé and baguette diamond-set pieces. At €93,000 and €49,000 respectively, these models are aimed to appeal to a new market.
"It's not just men in the Middle and Far East who want diamonds on their watches," says Liz Allister, Patek's British representative at Basel. "A lot of British men are wanting to buy into jewellery." One of the trends at the fair seems to be watches, even classic shapes, getting the dripping-in-diamonds treatment. It's been surmised that brands do this simply to increase the price and improve their margins. "We can't follow trends," says Allister. "Some of our models take five years from design to production." Meanwhile the Nautilus, first seen in 1976, glitters, albeit manfully, at front of house.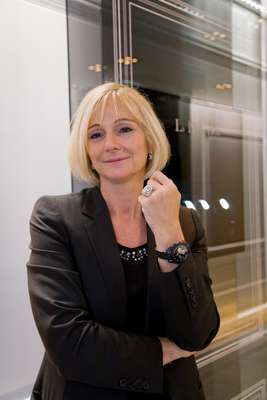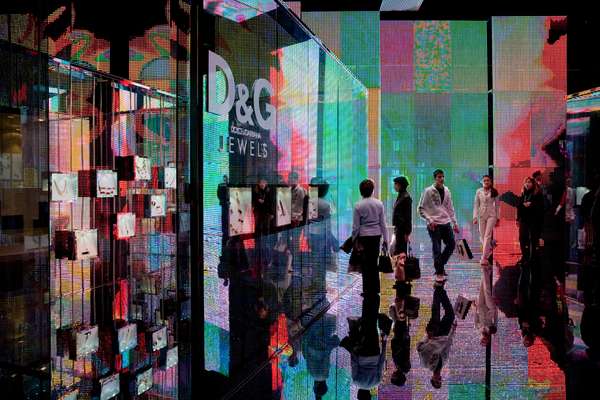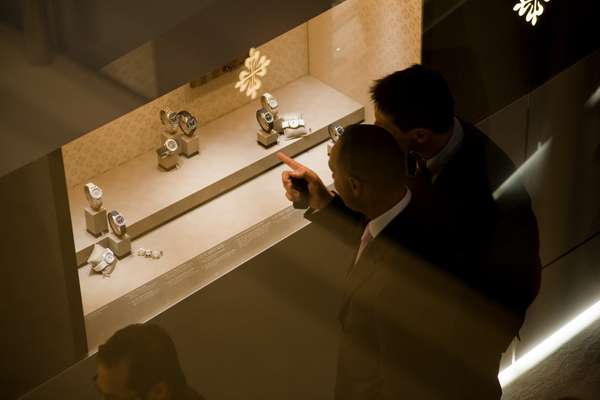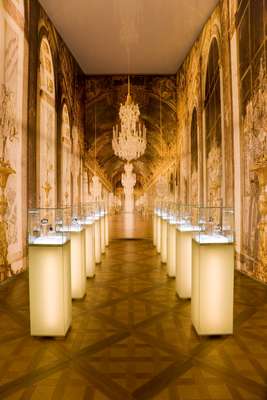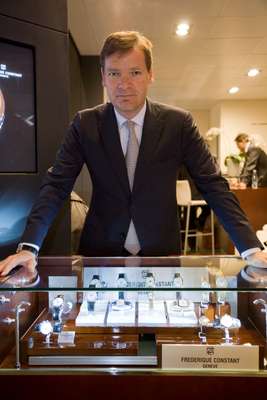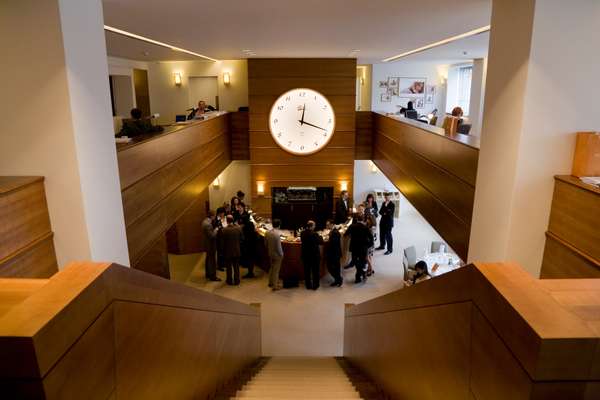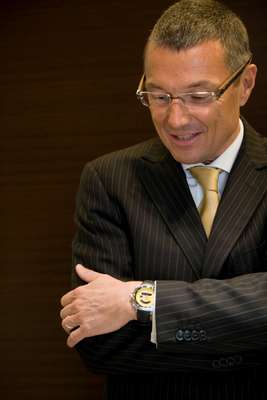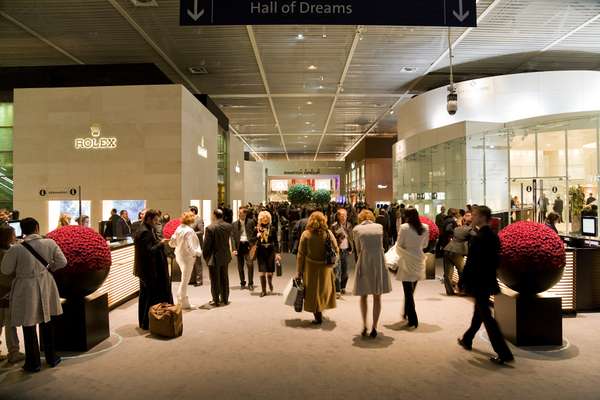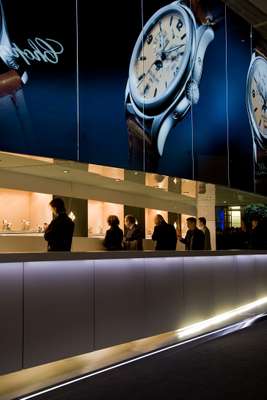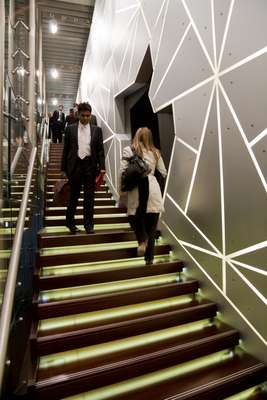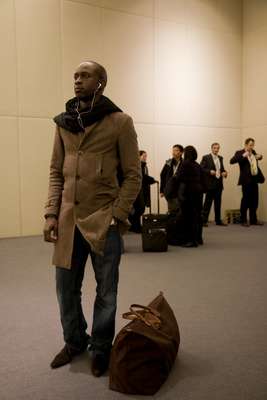 Omega has been busy. The brand, approaching its 160th birthday, introduced 170 new references (variations on models within a range) for Baselworld, as well as three entirely new movements. The Seamaster, Omega's rock solid design classic, is set to celebrate its 60th birthday with a bejewelled makeover too.
"We are introducing a jewellery concept," says Gregory Kissling, product and research manager for the Swiss firm, sweat building on his brow as he handles a piece comprising 1,840 diamonds (and retailing at €250,000). Kissling is candid about the marketplace: "Sure, our reference is the past but we look to the future. We analyse trends, but it's actually our Swissness that's the important thing."
At the centre of Basel's horological party is an intricate courtship dance undertaken by manufacturers and retailers: watches need to be sold, but in the right number and environment to keep brands rare and luxurious, while retailers only attain high-end status by carrying certain brands. This strict diet of supply gets complicated when it comes to the new-money markets of India, China and Russia whose young entrepreneurs want Swiss but often want it with a cherry on top – jewels, pink gold, platinum. To avoid Burberry bikini syndrome, Swiss watchmakers have an eye on the long game.
"Retailers send us a list of what they would like and we send them back a list of what we'll give them," says Allister at Patek. "We're actually closing points of sale to tighten distribution and protect our brand," she adds.
Brand is all. Legitimacy takes a while to achieve but is something that all the manufacturers on display either flaunt, albeit in a sleeves-down Swiss way, or are still trying to attain. Fashion houses have an uphill struggle, but clearly want a slice of the market – Ferragamo and Fendi launched lines at this year's Basel and even the most haute of all couture houses, Dior, recognises the limitations.
"We are not necessarily a watchmaker, but we behave like we are," says Laurence Nicolas, president of Dior Montres. "Everything is produced in La Chaux-de-Fonds and we are proud of the inside our watches." Chanel and Versace are also focusing on craftsmanship while Gucci watches aim wide with price points from €620 up to €45,000.
Back at Hublot, Biver is raising a toast. "We have the best Chateau Latour '89; the best cheese in Switzerland; we even have 100-year-old eggs from China!" he roars. Biver's roof terrace offers views of the back of the Rolex fort. Of the strict hierarchy of placement, he is dismissive. "We don't enjoy our position in the market – we're young and they don't like innovation," he shrugs, offering a fist to the old guard while banging a CHF24,900 (€15,500) watch on the table.
"This is the new Bullet Bang, he says, tossing around the handsome, meaty watch. "It's made from ceramic and tantalum, the stuff used in bullet-proof vests and rockets – it's indestructible and looks brilliant!" he booms, before whispering, "You can't have one; we keep supply scarce – we meet only 60 per cent of demand – keep them hungry!"
Having bagged supermodel Gisele for its advertising campaign, Ebel is going one better for the boys by staying away from the high seas (no regattas for them) and putting its sponsorship efforts into football. "It's the ideal forum for the continued growth of our business," says Marc Michel-Amadry, Ebel's vice president of marketing. Having secured a deal with Arsenal, Ebel is set to sign exclusive deals with a clutch of top European clubs. With the World Cup just two years away, expect rivals to start signing more clubs and top players.
Seiko
The Japanese maker's big launch was the Spring Drive Spacewalk, the first watch designed specifically for "extra-vehicular activities in space". The watch will make its maiden blast-off around the wrist of Richard Garriott, an entrepreneur who paid $45m for the trip. The huge case is light, due to its high-intensity titanium; the price weighs in at €21,000. Only 100 will be made.

Rolex
Carrying on Rolex's diving watch tradition is the new Oyster Perpetual Submariner Date. Hewn from a block of solid 18ct yellow gold, the case, water resistant to 300m, features a new unidirectional rotating bezel with a blue cerachrome disc and a 120-notch anti-reverse click system and retails at €17,485.

Hublot
Hublot's new Bullet Bang features a self-winding chronograph movement with column-wheel and a case and bezel in cermet – a new fusion of ceramic and heavy metals, that is 30 per cent lighter than steel. Hublot boss Jean-Claude Biver was ebullient about the €17,600 watch: "We know 3,000 people will want one, so we're making 500 – we want to create 2,500 frustrated people!"
TAG Heuer
The Grand Carrera Calibre 36 RS Caliper is the first watch to inspire a car. Ken Okuyama's K.O. 7 sportscar is a high-performance piece of engineering and is a limited edition. The watch, set for a 2009 launch, will have no restricted supply.

Patek Philippe
Reflecting a handcraft-focused manufacturing process, the World Time in yellow gold features a dial in cloisonné enamel, indicating 24 zones. The enamelling on the €35,140 piece, inspired by a 1940s museum model, takes three months alone.

Dior
The limited-edition Christal is made from amethyst and sapphire crystal and restricted to just 25 pieces. The precious stone tally is sobering: 193 amethysts, 30 diamonds and 60 pink sapphires. The Christal will cost €120,000.
The business of 'Swissness'
Swiss watch brands are patriotic to a fault. Rolex is one of the few high-end Swiss manufacturers that does not stamp "Swiss Made" on the watch face in the belief that Rolex defines Switzerland rather than the other way around. "It's simple – watches are Swiss," says Laurence Nicolas of Dior Montres. "If you want to enter a new market without being Swiss you will be seen to lower standards." Jean-Claude Biver at Hublot agrees. "It's fundamental to be Swiss. China and India – they want it, they need it. It's a banner."
Baselworld is just that – the world squeezed into pint-sized Basel. Geneva's Salon International de la Haute Horlogerie (SIHH) is a cream-coloured oasis dominated by the Richemont group and is a more low-key, easy to manage affair; the non-stop catering along the boulevards makes the viewing and oohing that much easier. At Cartier there was an emphasis on staying true to classic forms while upping the complication of stone settings. Where many brands have strayed beyond their core brand DNA to please emerging markets, Cartier has evolved classic styles by increasing the gem count. Nearby at Panerai, the Milan-based watchmaker combined matte ceramic and hues of chocolate to tasty effect.
Away from the airside trade fair Danish upstart Linde Werdelin moved from slope to ocean floor with its Sea Instrument. Having already attracted well-heeled skiers and climbers with their click-on Land Instrument (for guidance), Linde Werdelin is challenging the sector by offering sportif timepieces that can shift swiftly and gracefully to more challenging assignments. For urbanists, a Running Instrument can't be far off.