Recipe / Global
33. Rich pickings
A little time spent learning a recipe will yield fine food and new skills to sate even the fussiest of friends.
If you find yourself repeating the same batch of recipes, perhaps now is the time to try something new. Why not start with our suggestion of a mushroom stroganoff with potato rösti, which is as much a nudge as a recipe. The beauty of widening your culinary repertoire is also about seeking out prime produce, preparing the meal and then assembling around a table with loved ones.
Taking time to digest the day's events (without screens or interruptions) is a lost art but one that should be revisited and revived. Taking time to consider what we consume applies to what we eat but also where we do it – not every meal should be eaten from a bowl perched on the arm of a sofa.
So hit the market and get cooking.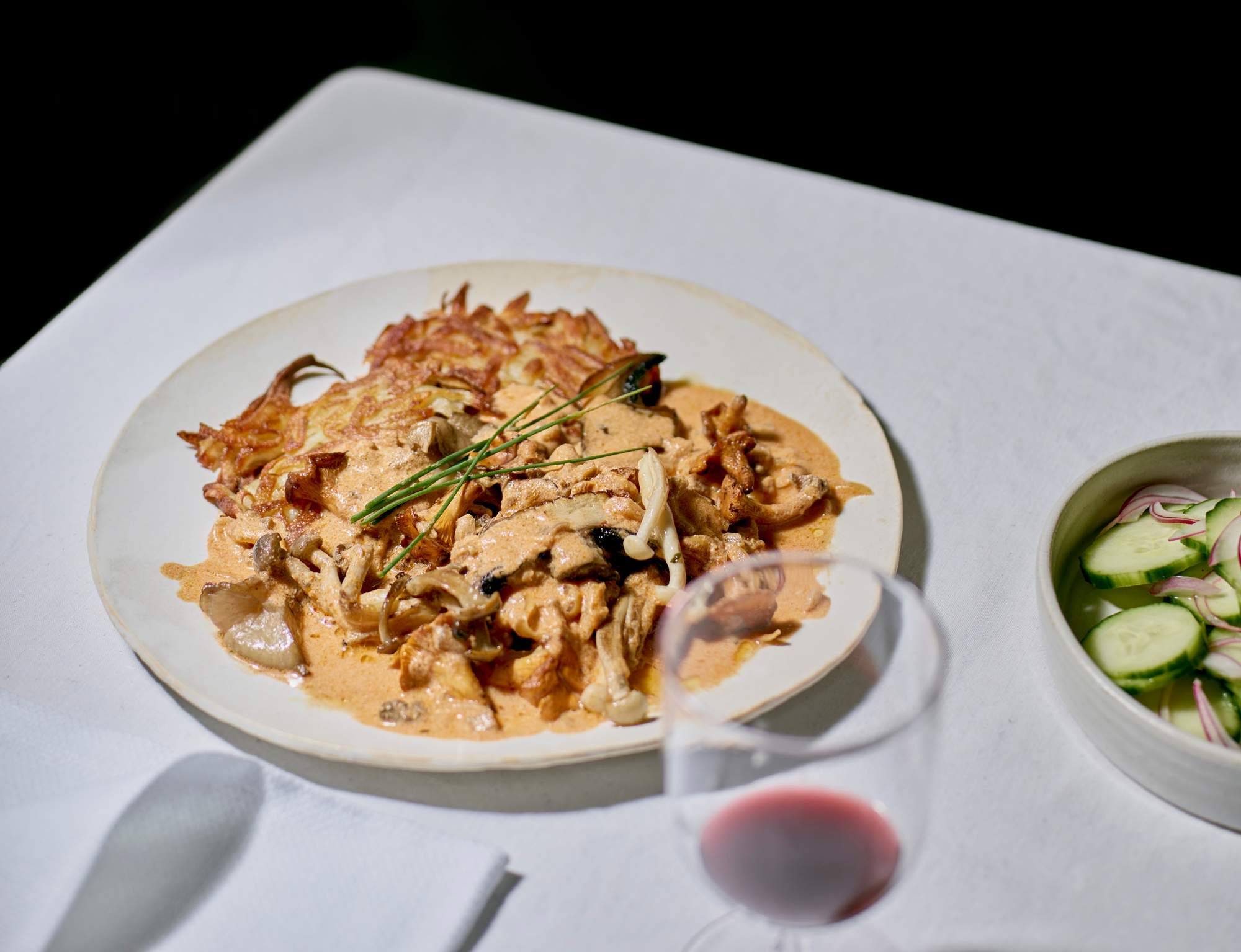 Creamy mushroom stroganoff and rösti 
(Serves 2)
For the stroganoff:
45g unsalted butter
1 onion, finely sliced
4 garlic cloves, crushed
3 sprigs fresh thyme
500g mixed mushrooms (such as portobello sliced into 1cm pieces, chestnut mushrooms halved or quartered, or girolles torn in half if they are large)
250ml vegetable stock
12g dried mushroom mix
½ tbsp tomato purée
1 tsp paprika
2 tsps Dijon mustard
200ml sour cream
salt
10g chives, finely chopped, lemon zest from half unwaxed lemon, extra sour cream, freshly ground black pepper (optional)
For the rösti:
500g floury potatoes
½ tsp salt
Black pepper
30ml olive oil
30g unsalted butter
Method:
1.
Soak the dried mushrooms in 125ml water for at least 30 minutes (or use hot water and soak for 15 min). Finely chop the hydrated mushrooms; save the soaking liquid.
2.
Melt the butter in a frying pan over a medium heat, add onion, garlic and thyme, sauté until the onion is slightly caramelised and golden.
3.
Remove the onion from the pan and pan-fry the mushrooms in small batches; try not to overfill the pan as this will result in the mushrooms releasing too much water. Brown them on both sides; remove half and set aside.
4.
Add the sautéed onion, hot stock, hydrated mushrooms with liquid, tomato purée and paprika. Bring it to a simmer and cook for 5 minutes. Set it aside until the rösti is ready.
5.
Peel the potato and grate with the coarse side of a box grater. Squeeze out water from the grated potato with your hands. Place the potato in a bowl and season with salt and pepper; mix well.
6.
Put 1 tbsp of olive oil and 15g of butter in a frying pan, and place over a medium-low heat. When the butter melts, divide the potato mixture into six and spoon three portions into the pan; flatten each one to 8cm circles. Cook until crispy and golden (about 5 minutes), then flip and cook for 4-5 minutes. Remove from pan and place over kitchen paper to get rid of excess oil. Repeat with the rest of the mix. You'll need to top up olive oil and butter.
7.
When the rösti is ready, heat the stroganoff back to a simmer. Add the rest of the mushroom, mustard and sour cream, and heat through; season with salt.
8.
Serve stroganoff with chopped chives, lemon zest, fresh black pepper and a drop of extra sour cream, if you like.
ayanishimura.com