Travel / Greece
43. Hop to it
Go on a journey, take your time, slow down, feel the sea breeze.Here's how.
As Greek poet CP Cavafy put it, it's not about the destination but the journey. While you can jet into many Greek islands (Mykonos, Santorini, Naxos and Paros, to name just a few), there's something special about navigating the outcrops by sea. Whether you're booking yourself onto one of the many ferry routes or renting your own sailboat, there's nothing like soaking in the atmosphere as you come into port. And travelling this way you feel more off-grid, more able to reset body and mind for what lies ahead.
The southern Aegean is home to the Cyclades and Dodecanese, two sets of islands that can be both wild and charming; the proximity of one island to another means you can pack in a lot. To an untrained eye they might all look the same: stucco-built towns of white and blue, churches, village squares and pretty beaches. But every island has its own claim to fame that sets it apart from the rest and, if you're willing to cast your net a little wider and holiday like a local, there's much to explore besides Mykonos and Santorini.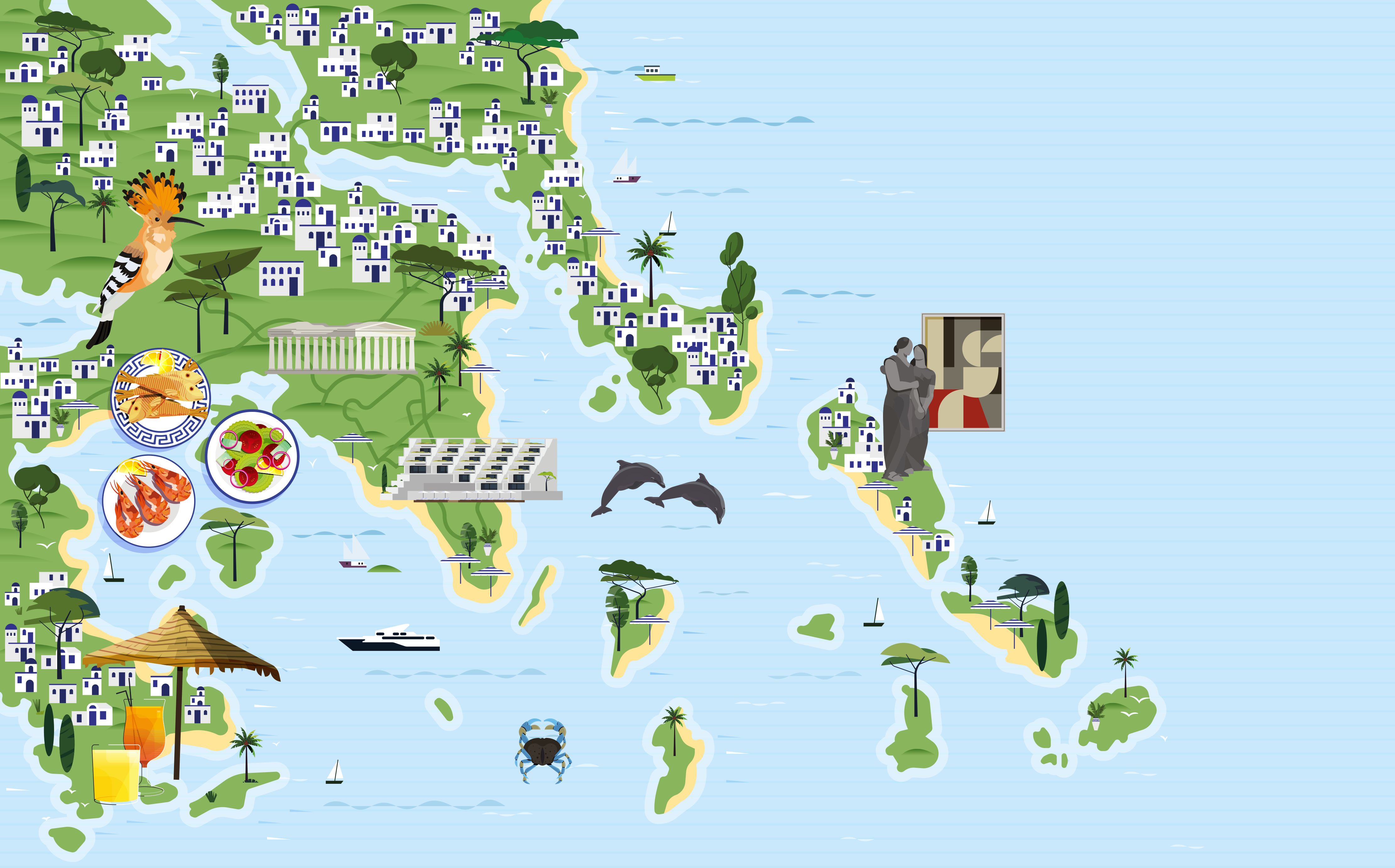 From a café and cocktail bar built into rocks jutting out to sea, to the island known for its year-round hiking and contemporary art, via the beaches putting Greece on the surfing map, we highlight some stops you need to check off your list. Just don't forget to enjoy the journey as you're carried along by the meltemia (summer winds). It's time to set sail.
---
For Greeks, nothing signals the start of summer more than catching that first salty breeze as you cross through the gates into Piraeus port. While rushing to catch the ferry is almost a tradition for locals, it's worth arriving early to spend a few hours in Piraeus. Visit the much-loved taverna Margaro, tucked next to the naval academy, for a no-fuss menu serving only the staples: feta salad, fried shrimp and fried red mullet.
margaro-restaurant.com
---
2.
Hydronetta café and bar, Hydra 
A daytrip favourite and under two hours from Athens, Hydra, one of the smaller territories, packs the best of island life into one neat package: a tranquil old town with stone houses and tiled roofs, delicious cuisine and no cars. No wonder artists and musicians such as Leonard Cohen made it their home in the 1960s. While Hydra lacks sandy beaches, the alternative makes up for it. Hydronetta café and bar perches on a rocky outcrop above the sea, with stone steps leading down to the water.
---
3.
Museum of Contemporary Art, Andros
There's plenty more to Greek islands than tavernas and sun-soaked beaches – and Andros, the northernmost of the Cyclades, is a case in point. A hiker's paradise with year-round trails, it's also an artistic paradise: the Museum of Contemporary Art, which opened in 1979, has hosted works by Picasso, Rodin and Matisse, alongside Greek greats Michael Tombros and kinetic artist Takis. Don't miss the roof garden. 
goulandris.gr
---
4.
Modern villas to rent, Antiparos 
Southwest of Paros, its laid-back sibling Antiparos has gathered a loyal fanbase of Greek and international visitors. The island, which counts Tom Hanks as a summertime resident, has built a community around a modern-architecture movement. Many of its summer houses are reinterpretations of traditional Cycladic architecture, with contemporary villas designed by the likes of Tokyo-based Atelier Bow-Wow, Swiss firm Harry Gugger Studio and Greece-based Deca Architecture. Check out the Helix, Gia12 and Cliffhanger villas, all available to rent through Oliaros Properties. 
oliarosproperties.com
---
Polyaigos is a tranquil mid-sea meeting point for anyone with a boat around the islands of Milos, Kimolos, Sifnos and beyond. As one of the largest uninhabited islands in the Mediterranean, it has some of the richest blue waters you'll find and an impressive chain of sea-level caves. Rent a boat from neighbouring Milos and head for the islet's southern tip. The literal translation of Polyaigos is "many goats", after its only full-time residents.
---
6.
Estate Argyros winery, Santorini 
The Aegean islands have been active in viticulture since ancient times and a slew of family-run wineries are continuing those traditions. Estate Argyros, one of Santorini's oldest continually running wineries, was founded in 1903 and is now overseen by the fourth generation. Don't be fooled by the island's volcanic soil: Santorini is fertile ground for delicious indigenous varieties. Book a tour of the estate's minimalist main building, designed by local architecture studio Oikos, and try the naturally sweet vinsanto dessert wine.
estateargyros.com
---
Koufonisia is unassuming, with kaikia (wooden fishing boats) moored along its coast and fewer than 400 year-round inhabitants. Its relaxed charm draws to its golden sand. Rent a bike and cycle from one end of the island to the other in an hour, passing by the beaches of Pori, Italida, Finikas and Ammos – and be sure to visit Gala cave.
---
8.
Ikaria Surf School, Ikaria 
Greece isn't considered a prime destination for surfing, unless you know where to look. Come August keen surfers flock to Ikaria, which is steadily building a reputation for its waves. Playing its part is Ikaria Surf School on the northern beach of Messakti, where help from the meltemia makes the waves ideal for both advanced and beginner surfers. While you're there, check out Blue Zone for climbing and bouldering classes. 
ikariasurfschool.com
---
9.
Mylos Fish Restaurant, Leros 
It's worthxa taking a detour when food is involved. Leros is part of the Dodecanese island complex in the southeastern Aegean and home to Mylos Fish Restaurant. This family affair run by brothers Giorgos and Marios gives a contemporary take on classic dishes. The common denominator is always fresh fish – think octopus carpaccio, tuna sashimi, kataifi cheese rolls and calamari in pesto sauce, or just the humble catch of the day. Plus, thanks to the waterfront setting, you can listen to the soft waves breaking on the shore as you eat. 
mylosexperience.gr
---
10.
Astir Palace, Athenian Riviera 
The Astir Peninsula on the southern coast of Athens is an easy escape, being just 30 minutes by car from the city centre. Its crowning jewel is Astir Palace, a hotel that was bought by Four Seasons in 2018. With 303 rooms, it's one of the nation's only big internationally run hotels. Renovated by Greek practices Aeter and K-Studio, the original buildings have been preserved, while the interiors have been given a facelift. Among other attractions here you will find three lounges, a taverna, a spa and 2,000 contemporary Greek artworks. 
fourseasons.com