Culture / Global
49. Lead a merry dance
Welcome your guests, pour a large one and find your groove – let's make yours a party to remember.
Even if it's a few months away, it's never too early to plan a party. After all, a proper bash requires preparation. There are guest lists to think about, caterers to book and music to select. The most memorable parties are busy, boozy and bold. They bring together your beloved friends and people who you haven't come to know yet; they encourage random encounters, which in turn inspire kisses by bedtime; and they're the perfect occasion to play cupid or to let your hair down. A little decadence, paired with smart outfits and a few thoughtful details, will help to make it an evening (and possibly a hangover) that lives long in the memory.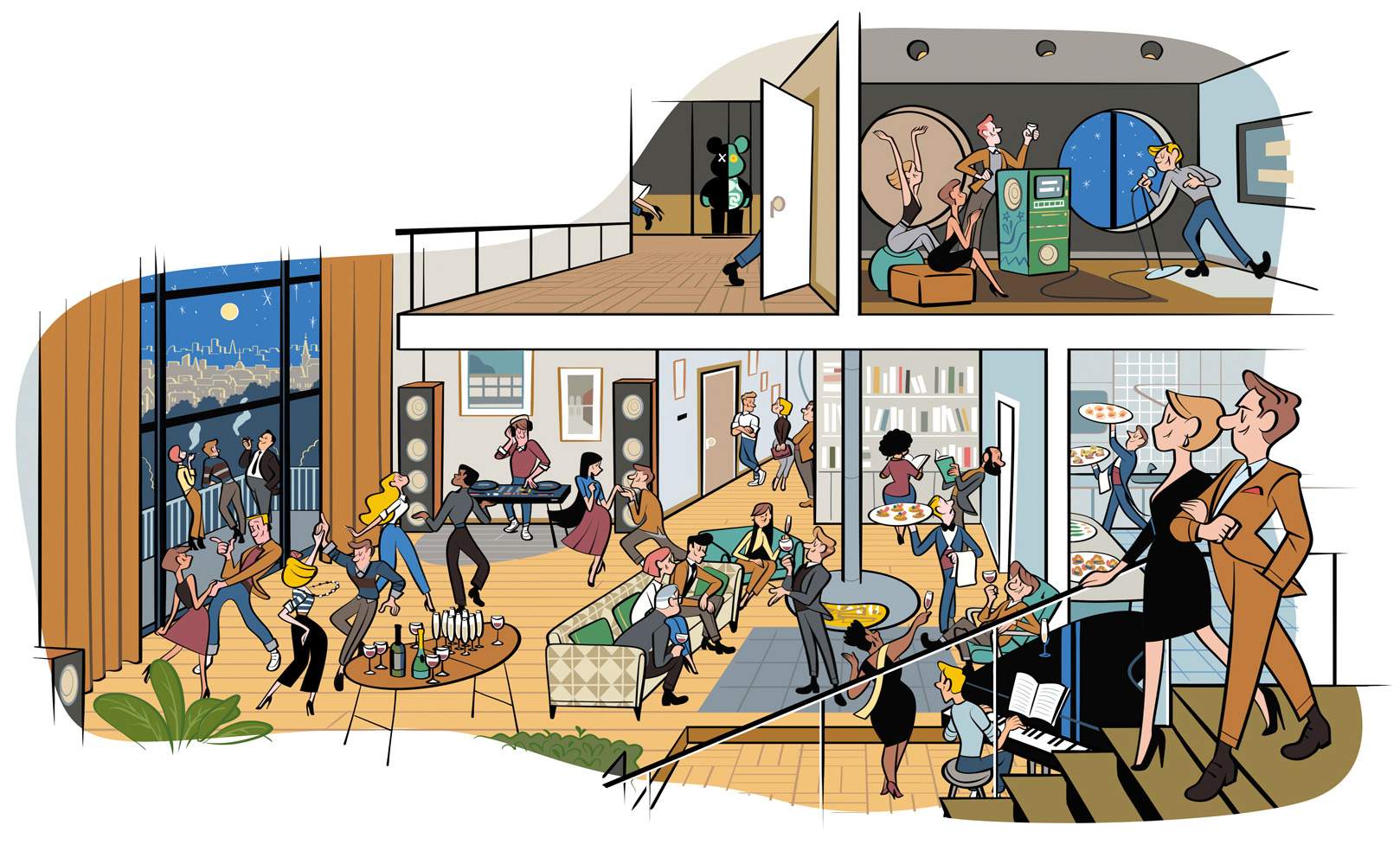 1.
Romero Ferro & Luiz Caldas "Love Por Você"
2.
Whale Island "Ain't Nobody Straight in LA"
3.
Nova Miller "Mi Amor"
4.
Satin Jackets "Think About It (Jack Tennis 80s Dub Remix)"
5.
Lola Le Lann "Portofino"
6.
Engelwood "Dance Dance"
7.
Bosh "Slide"
8.
Poolside "Getting There from Here"
9.
Kylie Minogue "Real Groove"
10.
Fatima Yamaha "Day We Met"
11.
Hervé "Addenda"
12.
The Pirouettes "Il N'y a Que Toi"
13.
Elodie "Guaranà"
14.
Dornik "Do You Wanna (featuring Gavin Turek)"
15.
Yelle "Karaté"
On the button
If you don't have a DJ, or just want to give them a break, then a well-edited playlist is one way to keep your guests moving. After all, you don't want to be lining up songs all the way through the night or, worse, allow your friends with the poorest taste to take control of the music with their questionable fascination for 1980s hair metal or experimental jazz-flute solos. monocle's music team has put together a few fresh recommendations that should keep toes tapping and hips swinging for the evening. It's a truly international affair, encompassing sounds from Scandinavia and Italy to the US via Brazil – not to mention a certain Aussie pop queen. So just press play. 
Tips for hosts:
1.
Make room for a dancefloor
Move sofas and rugs out of the way so you won't stifle pirouettes, shaking hips or, heaven forbid, the late-night impromptu conga line.
2.
Plan a cosy chatter station
Those who need a break from the action (or prefer gossip to the gambol) need a soft, upholstered corner in which to unwind.
3.
Show off your keys
Your piano will never get as much action as tonight. So let the amateurs have a go – you might be shocked to discover that your work colleague is something of a secret Chopin.
4.
Hire a professional
A seasoned DJ who's an old hand on the decks will know how to read the dancefloor and keep the party guests spinning.
5.
Set the bar high
Ease of pouring is important when setting up your drinks station. Keep it simple: one variety of red, one white, some bubbles and fail-safe gin and tonics.
6.
Get some fresh air
The smokers among you will need a balcony on which to indulge their addiction (and, of course, to have the longest and most meaningful conversations).
7.
Fill up the belly
Sustenance is key. Other than dinky canapés with the aperitif, remember that few things are as well-received as a midnight snack.
8.
Make an exit
Passion is best consumed off the dancefloor and is one of the few excuses for not saying your goodbyes to everyone. It won't be long until someone asks: "Where did they go?"
9.
Sing your heart out
We've always been partial to a karaoke session. Set up your booth in a separate room, in case your performers are not quite ready for the stage.
10.
Be patient
The queue outside the bathroom door famously sparks chinwags, friendships and the occasional inspired idea. Embrace it – who knows who you'll be stood next to?