Politics / ASIA
Asian provocateurs
Across Asia, progressive politicians and activists are challenging long-established power brokers and accepted norms. We assess the policies and prospects of nine of these men and women to find out whether they offer the potential for genuine change.
Position: Co-founder, Malaysian United Democratic Alliance
Malaysia is set to lower its voting age from 21 to 18 when a constitutional reform comes into effect later this year. This will allow millions more young people to vote, which could propel new faces to the forefront and finally retire the same group of politicians that has led the country for decades. Malaysia's candidate-in-chief for change is Syed Saddiq. The 28-year-old MP is backed by swathes of the country's disgruntled youth and his appeal is causing concern in the halls of power.
Saddiq was formerly the youth and sports minister in Pakatan Harapan, Malaysia's "hope coalition". The multiracial, reform-based alliance achieved the seemingly impossible in 2018 by unseating the United Malays National Organisation (umno) from power after more than 60 years. Saddiq played a big part in lowering the voting age, which was his proudest achievement while in government.
"For this party to succeed, it must treat diversity as Malaysia's greatest asset"
However, after 22 months, the coalition imploded, undermined by infighting, and umno ended up back in government without an election. "It was a betrayal of the people's mandate," says Saddiq, who admits to feeling "disgusted and disappointed" by his senior colleagues, including former prime minister Mahathir Mohamad and successor Muhyiddin Yassin.
Instead of walking away from politics, Saddiq ended 2020 back in opposition with his own party, planning to change Malaysia's broken democracy. Party funding is one murky tradition in his sights. "It's one of the root causes of corruption in Malaysia," says Saddiq, sporting a black T-shirt emblazoned with "Muda", an acronym for his party, the Malaysian United Democratic Alliance. Big donors contribute large amounts of money that's often funnelled through personal accounts. "In Malaysia we do not even have a political funding act."
Starting afresh has allowed Saddiq to replace Mohamad and Yassin's race-based Malay populism with a more progressive agenda. "For this party to succeed, it must treat diversity as Malaysia's greatest asset," he says. Pragmatism plays well in conservative Malaysia and Saddiq wants to capture the centre ground. He cites Thailand's Future Forward Party (ffp) as an inspiration. ffp came third in that country's last election by mobilising the youth vote.
Can Muda do the same? "We can if we get our party registration done," he says. Saddiq is taking legal action after his application to register Muda was rejected – a sure sign that he has rattled the old guard. With elections expected once the pandemic is under control, the next government is likely to involve the same characters, corruption and cronyism. But Saddiq has time on his side and millions of potential new voters eager to see a lasting change in Malaysian politics.
---
Position: Mayor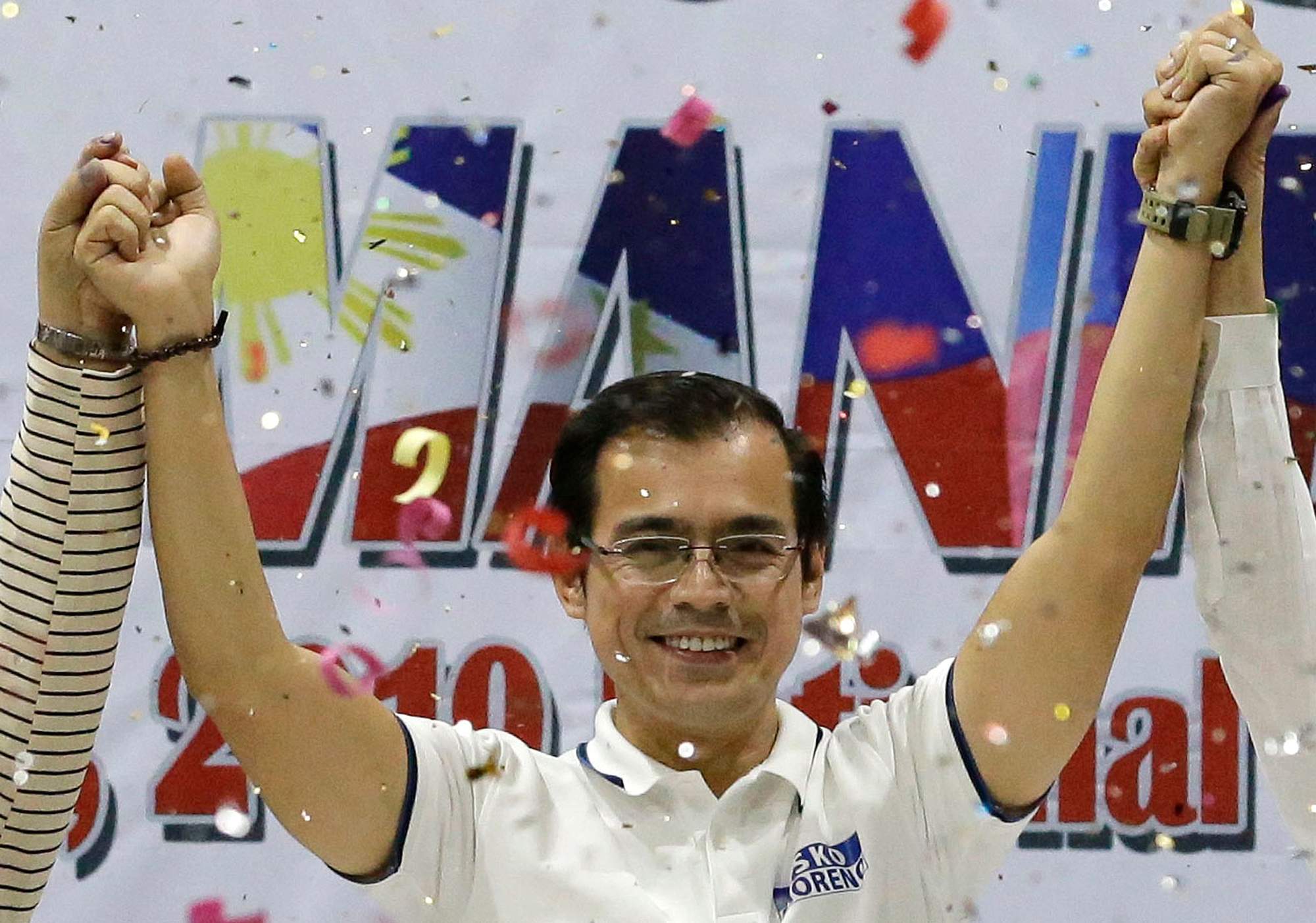 As next year's race to replace Rodrigo Duterte as president of the Philippines gathers pace, the early favourites are two city leaders: Duterte's daughter Sara, the mayor of Davao; and Francisco Domagoso, the mayor of Manila – a former actor who goes by his stage name, Isko Moreno.
"Every politician wishes to be the president," says Moreno, while stopping short of announcing a run. Some business leaders looking beyond the Duterte-era are already rallying behind him but the presidential election in 2022 might come too soon. By then he'll have served only one term at city hall.
In 2019, Moreno defeated the tainted incumbent, Joseph Estrada. A "poor boy" who grew up scavenging for garbage, Moreno promised voters a "different Manila" and won by a landslide. Since then he's championed open government and has focused on improving the living standards of his underprivileged constituents.
Current projects include building public housing, clearing the cluttered streets and cracking down on crime. His methods, while tough, suggest that there is a vote-winning alternative to Duterte's murder squads. Moreno mandated that police officers must bring suspects in alive. "It's an insult to our judicial system to take matters into our own hands," he says.
The energetic 46-year-old wants at least another three years to continue his turnaround of the capital. "Within 10 years, Manila will be back on the map as a competitive city," he says.
---
Position: Chief deputy secretary-general, Liberal Democratic Party
Seiko Noda has a spacious office in the Tokyo headquarters of the Liberal Democratic Party (ldp), which has ruled Japan almost continuously since the 1950s. Noda has been elected nine times since 1993, in addition to representing her Gifu constituency in central Japan, and has held several cabinet positions. The party's chief deputy secretary-general is frank about the choices that women in Japanese politics have to make. "You can either be practical and get things done or stand in direct opposition to male-dominated politics," she says. Noda prefers pragmatism.
"The ldp is a man's party; 10 per cent of the cabinet is female," she says. "Push 'female' agendas and you will be crushed." That hasn't stopped Noda talking about her struggles with infertility – she gave birth at 50 – her disabled son or the right of Japanese women to retain their maiden name when they marry. "It's barely even feminist," she says, laughing. Her candour isn't always well received. "I've taken 100 times the flak that most people do."
"It's ingrained into children's minds at a young age that politics, like Sumo wrestling, is a man's world"
Japan ranks low on female parliamentary representation and Noda says that Japanese women too often assume that they're not qualified to enter the political arena. "It's subliminally ingrained into children's minds at a very young age that politics, like Sumo wrestling, is a man's world." She set up a school to encourage would-be female politicians and wants equal pay to be the norm. "The problems that women face connect to much larger societal issues," she says. "If they were corrected, it would benefit the livelihoods of everyone, including men."
Her work is getting noticed. As prime minister Yoshihide Suga's ratings sink, Noda is being spoken of as a serious contender in this September's leadership election. She says that she will take every chance to run for the job of prime minister. "If you're a Diet member, you have to strive for the top or you will lose the drive to serve the nation properly. You always need to think with a leader's mindset."
---
Park Young-sun
south korea
Position: Seoul mayoral candidate 
Elected: Parliamentarian since 2004 but appointed to the cabinet in 2019
Background: Before entering politics, Park was a journalist for more than 20 years, including a role at broadcaster mbc. Since 2004, she has served four consecutive terms for some of South Korea's main left-leaning parties. 
Media profile: One of the more prominent women in South Korea's male-dominated political jungle, Park is a key figure in president Moon Jae-in's Democratic Party. Many expect her profile to rise further in Seoul's forthcoming mayoral elections.
Key ambitions: Her top priority is creating a fair marketplace in the digital economy, where a few online platforms dominate. She wants to encourage smaller businesses to adapt to new technologies, connect to more consumers and thus close the widening gap between them and the big corporations. 
Biggest achievement to date: Park is known as a "chaebol sniper", keeping in check family-owned conglomerates that dominate the South Korean economy. She led the Chaebol Reform Special Committee in 2015, passing laws that regulate criminal activities by top companies, including tax evasion and illegal transfers of power.
Up next: If Park wins the Seoul elections in April, she'll be the first woman to become mayor – and one of the most prominent politicians in the country.
Monocle view: Park's presence in South Korean politics offers much-needed gender balance. She's knowledgeable in business and open-minded about new technologies. Whether or not she becomes Seoul's mayor, Park is here to stay. 
Arya Rajendran
thiruvananthapuram, india
Position: Mayor
Elected: December 2020
Background: The 21-year-old college student officially became the youngest mayor in India's history when she won the election in Kerala's capital, Thiruvananthapuram. As the daughter of Communist Party of India activists, politics is in her blood. She has also held several positions in the student wing of the party.
Media profile: Though eyebrows were raised when she was announced as a candidate, Rajendran became the darling of the media with her clear and confident answers to the many questions fired her way.
Key ambitions: Tackling waste management is her top priority, though she also wants to increase health facilities, work on women's issues and establish programmes for youth in the city. She'd also like to finish her degree in public administration.
Biggest achievement to date: Winning the mayoral election. India is no stranger to strong female politicians, although most come from powerful political families. The fact that Rajendran won the mayoral election at such a young age, while coming from a more humble, activist family, could very well inspire other young women to enter the political fray.
Up next: Rajendran has her work cut out: being high profile for reasons of age and gender means that she'll have to work hard to prove she's more than a passing anomaly.
Monocle view: As a political firebrand with a high media profile, Rajendran will face plenty of scrutiny in the coming years. But she already counts past mayors, well-known business owners and even celebrities among her fans. 
Nadiem Anwar Makarim
indonesia
Position: Minister of education and culture
Appointed: October 2019 
Background: In 2010, Nadiem Anwar Makarim founded Gojek, Indonesia's first $10bn (€8.3bn) start-up, which began as a Jakarta ride-hailing call centre with 20 ojek (motorcycle taxis). By 2019 there were two million drivers throughout Indonesia. He resigned as ceo in 2019 to join the cabinet of president Joko Widodo. 
Media profile: There's plenty of press interest in Makarim and his wife, Franka Franklin, who is the ceo of a jewellery company. His many media awards include "Asian of the Year" from The Straits Times.
Key ambitions: Set to be in office until 2024, Makarim has laid out four areas of educational reform, with more focus on assessment and less on exams. Inspired by Peter Jackson's success in New Zealand, Makarim also hopes to turn Indonesia into an attractive location for film-makers.
Biggest achievement to date: The youngest minister in recent Indonesian history – he is 36 – quickly made his mark in the education sector by abolishing the high-pressure annual National Examination, which was seen to prioritise memory over competence. 
Up next: Like most nations, Indonesia's schools face challenges due to the pandemic. Riding out that storm while overhauling the education system will be a big test.
Monocle view: The entrepreneur turned politician is bringing his business brain to the education system, along with a strong sense of public duty. His high profile and success in the private sector suggest a long future in politics. 
Position: Leader of the opposition; secretary-general of the Workers' Party
Elected: Member of parliament since 2011
Background: After military service and university at home and in the UK, Singh qualified as a lawyer before entering politics aged 33. He rose up through the Workers' Party during his decade in parliament and was elected leader, unopposed, in 2018.
Media profile: A humble, family oriented man of the people, the leader of the centre-left party identifies with blue-collar workers and has campaigned for a minimum wage. Singh has kept a low international profile so far but his exposure, as the official leader of the opposition, should increase.
Key ambitions: Building a "first-world parliament" for a first-world country. Singapore's political development over the past 50 years has not kept pace with its economic miracle and its parliament is still dominated by the family of late statesman Lee Kuan Yew and his People's Action Party.
Biggest achievement to date: Leading his party to its most successful electoral performance in last year's general election. Winning 10 out of 93 seats prompted prime minister Lee Hsien Loong to recognise Singh as the official leader of the opposition – a first for Singapore.
Up next: A new-look government. Prime minister Lee has postponed his retirement until after the pandemic but Singaporeans are starting to look beyond the Lee family.
Monocle view: Taking on the entrenched government is never going to be a fair fight but forthcoming leadership changes should give Singh a leg up. He would do well to refresh his party's image and adopt a more progressive agenda.
Position: Former spokeswoman for the now-banned Future Forward Party
Appointed: 2018
Background: A former television anchor at the Voice TV network, one of the few liberal channels to survive in Thailand, Wanich was instrumental in getting the opposition Future Forward Party off the ground and galvanising support before it was dissolved by the constitutional court in 2020 (which many say was down to military interference).
Media profile: Due to her previous role in TV, Wanich is well-known. She is busy on social media and has nearly a million followers on Twitter. Her outspokenness translates well on the platform as she offers incisive criticism of the government.
Key ambitions: Apart from broader sympathies with the vast array of concerns raised by the recent anti-government protests, all eyes are on the Bangkok governor elections later this year. 
Biggest achievement to date: Getting Future Forward, which was only founded in 2018, to become the third-largest party in 2019, despite the difficulty of entering a political world of vote-buying, bribery and provincial family dynasties.
Up next: When the constitutional court dissolved the party in 2020, Wanich was handed a 10-year ban from politics. However, her behind-the-scenes involvement with the latest incarnation of her party, Move Forward, is well-known.
Monocle view: Even though her role in frontline politics has ended for the foreseeable future, Wanich remains a prominent figure for millions of young voters. In a time of increasingly turbulent politics, all is still to play for. 
Position: Member of the Legislative Yuan (national lawmaker)
Elected: 2016 and 2020
Background: Political royalty. Chiang would bleed blue – the colour of the now-opposition Kuomintang (kmt) party that ruled Taiwan for most of the postwar period. The son of a senior kmt official, Chiang is also the great-grandson of former president Chiang Kai-shek. He returned to Taiwan in 2013 after a decade as a lawyer in the US.
Media profile: The 42-year-old is seen as the rising star of the kmt and he attracts plenty of cameras and microphones, both for his famous lineage and his popularity with female voters. Chiang has inherited his great-grandfather's good looks.
Key ambitions: Reforming the kmt. The nationalist party is floundering in opposition without strong leadership or an obvious route back to power. Chiang wants to inject new blood into the party and break with some traditional tenets that have become toxic at the ballot box.
Biggest achievement to date: Re-election to his Taipei constituency by a convincing margin in 2020. Chiang won in the face of an ascendent Democratic Progressive Party (dpp) under president Tsai Ing-wen.   
Up next: Taipei's mayoral election in 2022. Party officials are already talking up Chiang's candidacy for the high-profile position – a potential stepping stone to the presidency. Recent polling puts him in front. 
Monocle view: Chiang's proven ability to compete with the dpp for the votes of centrists, liberals and urbanites makes him a serious candidate to become the next mayor of Taipei and could lead the kmt back to effective opposition. 
Photographers: Tetsuo Kashiwada, Paulius Staniunas