Recipes / Global
Food
&

Drink
Briefing
The desire to "do better" can bear fruit (and vegetables and many other tasty things besides) in the kitchen. Perfecting a recipe is a simple step to improving your quality of life. As such, we've laid on a spread of five tried-and-tested dishes to try your hand at. Expect wraps with a Korean twist and a satisfying cod risotto, plus dumplings from Italy and a hearty clam chowder, not to mention a tasty mixed tempura from Japan to kick things off.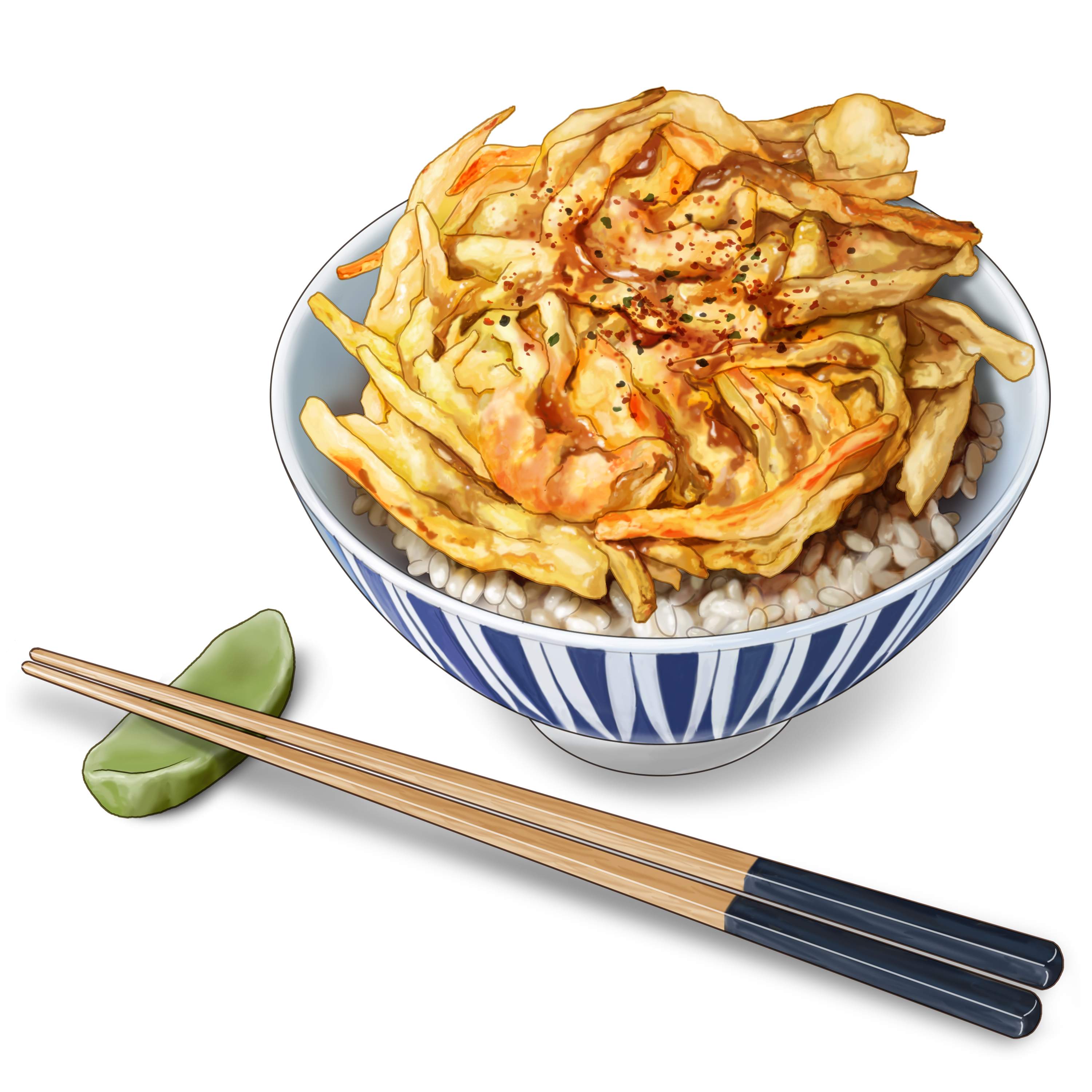 Kakiage, our recipe-writer tells us, is a type of tempura – a light Japanese batter. It's normally made with shredded vegetables and seafood (particularly prawns) coated in the batter and deep-fried. Add rice if you're planning to make a meal of it. We've added aonori, a seaweed powder, which is available in most supermarkets or Japanese food shops. You could also blitz a sheet of nori into powder in the food processor but don't worry if you can't find it – the recipe works with or without.
150g Japanese short-grain rice (often sold as "sushi rice")
175ml water
100g prawns
100g butternut squash or sweet potato, cut into 5mm matchsticks
1 medium carrot (about 100g), cut into 3mm matchsticks
1 medium onion, sliced thinly
2 tsps aonori powder
400ml sunflower oil
75g plain flour, plus extra for dusting
1½ tsps baking powder
180ml ice-cold water
For the sauce:
150ml dashi stock. (If you are using powdered dashi, dissolve it in hot water. Or if you are using a dashi pack, which is available in teabag form, soak in water, bring it to a boil and let it infuse for a few minutes. The method and quantity varies depending on the brand, so follow the packet instructions.)
4 tbsps soy sauce
1½ tbsps mirin
3 tbsps light brown sugar
Optional extra:
Shichimi togarashi powder, a Japanese seven-spice mix and great pantry staple
Wash the rice in a sieve over a bowl, changing the water a few times until it runs clear. Drain in the sieve to remove excess water and leave it for 15-30 minutes.
Place the rice in a pot (ideally cast iron). Add 175ml water, cover with a lid and bring to a boil over high heat. As soon as you hear a vigorous boiling sound, reduce the heat and cook for 11 minutes. When the time is up, keep the lid on and leave to steam for a further 10 minutes. Then fluff the rice lightly with a wooden spoon. Put the lid back and keep warm.
As the rice is cooking, prepare the sauce. Place all the sauce ingredients in a small saucepan and bring to a simmer. Once the sugar is dissolved, turn off the heat and set it aside in a warm place.
Heat the oil in a medium-sized pot. Put prawn, squash, carrots, onion, aonori powder and 2 tbsps of the flour in a bowl, and toss lightly to coat all of the ingredients.
Sieve the rest of the flour and baking powder into a bowl, then add the ice-cold water. Use a whisk to mix very lightly. It doesn't need to be incorporated perfectly so don't worry if there are a few lumps.
Test the oil temperature by dropping in a small amount of the batter. If the batter sinks a little then floats to the surface of the oil quickly, it is ready (180c if you have a thermometer).
Coat a large metal spoon with oil then scoop a quarter of the mixture into a loose fritter and drop gently into the oil. The mixture tends to split up, so carefully use the spoon to keep it together until the mixture is half-cooked and set. Repeat with the rest of the mixture (another three fritters/kakiage). Flip each fritter after 1 minute and cook on the other side for 1 minute until all are cooked. When each kakiage looks crispy and golden, lift it out with a slotted spoon and place it over a metal rack, lined over the kitchen paper.
Heat the sauce. Divide the rice between 2 bowls, drizzle over a bit of sauce, then place 2 kakiage fritters in each bowl. Pour over more sauce, sprinkle with shichimi togarashi and eat immediately. 
---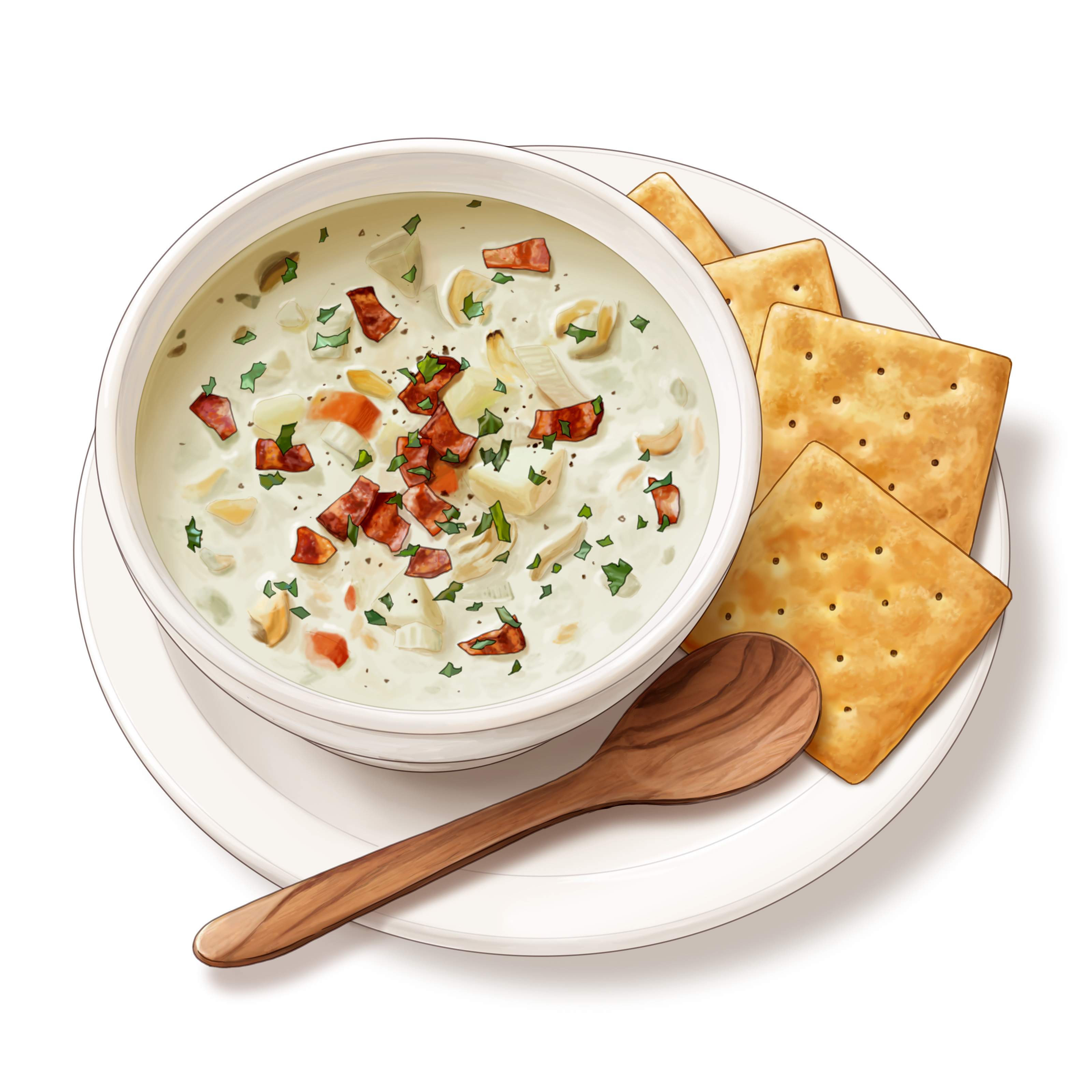 The subtle flavour of seafood with the bite of bacon. We'd recommend crackers to dip or a good loaf cut into generous slices to soak up the soup. Clam stock is quite salty so taste before seasoning to see if it needs it.
750g clams
1 tbsp salt
25g unsalted butter
4 slices smoked, streaky bacon, cut into small pieces
1 small onion, finely chopped
2 garlic cloves, finely chopped
3 tbsps plain flour
300ml whole milk, warmed
1 bay leaf
2 floury potatoes (300g approx), cut into 1cm cubes
1 carrot, cut into 1cm cubes
To serve:
Chopped curly parsley
Crushed black pepper
Sprinkle of extra crispy bacon
Squeeze of lemon juice
Cream crackers or crusty bread
Wash the clams in water to rid the outer shells of dirt. Place in a deep baking tray.
Measure 600ml of water, add 1 tbsp salt and mix until dissolved. Pour the salted water over the clams, cover with a tea towel and leave at room temperature for 1 hour to help the clams to release sand.
Drain the clams and wash again. Place in a medium pot with 300ml water. Bring to a boil, cover with a lid and cook until the shells open (about 3 minutes). Drain the clam stock through a sieve over a bowl and set it aside. Pick the clam meat and discard the shells (along with any unopened shells). Set the meat aside.
Place butter and bacon in the same pot that you used to cook the clams. Cook until the bacon becomes crispy, then remove about a quarter and set aside. Add onion and garlic, and cook until onions become translucent, then add flour and cook for 1 minute. Add the clam stock and warm milk, turn up the heat and bring it to a boil. Scrape up the burnt bits with a wooden spoon. Add a bay leaf, potatoes and carrots, and turn down the heat to low, cover with lid and cook for 20 to 30 minutes. When ready to serve, add the clam meat and stir through. 
---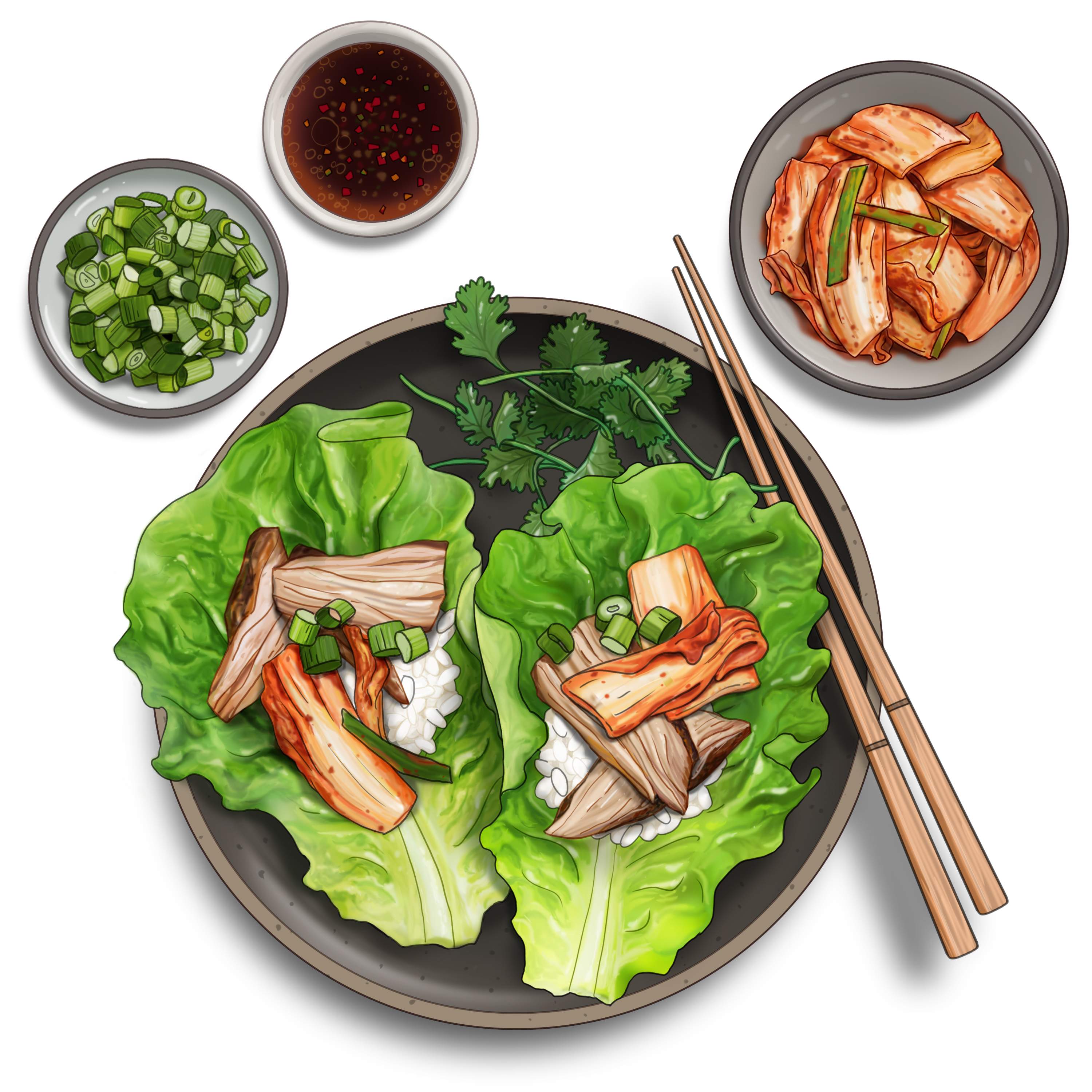 This Asian riff on a tortilla substitutes lettuce for the wrap. Our recipe is for beef but pork works just as well. Be warned: this is a slow-burn option, so check the cooking times well in advance and buy some pickles or kimchee to top off the dish. A little sticky rice goes well if a starchy side dish or extra stuffing is in order too.
For the pulled beef:
1 beef shoulder tip, 2.5kg
100g cane sugar
100g salt
3 tbsps of oil
For the spicy ginger vinaigrette:
30g of ginger
1 chilli
1 garlic clove
15g coriander
5 tbsps soy sauce
5 tbsps rice vinegar
5 tbsps rapeseed oil
1 tsps powdered sugar
For the wraps:
Fresh lettuce leaves
Extras:
Kimchee or pickles
Diced spring onions
Mint or coriander
For the beef: place the meat in a bowl and rub with cane sugar and salt. Cover and leave to marinate in the refrigerator for at least 10 hours.
Preheat oven to 130c. Use a cloth to remove the salt-and-sugar mixture from the marinated meat and place it in an ovenproof dish. Drizzle with the oil.
Cook for approximately 6 hours.
Turn off the oven and let the meat rest, keeping it warm until serving.
For the vinaigrette: peel the ginger. Deseed the chilli. Finely chop the ginger, chilli, garlic, coriander (including stalks) and mix with the remaining ingredients. Pour the sauce into a small bowl.
To serve: load up the lettuce leaves with the beef. Add rice, kimchee and pickles if you have them, and enjoy. 
---
Swiss chef Ralph Schelling channels South Tyrol, the German-speaking region of northern Italy, where he encountered Schlutzkrapfen: a pasta-like stuffed parcel bursting with spinach and cheese.
For the dough:
150g rye flour
100g plain flour
1 egg
3 tbsps lukewarm water
1 tbsp olive oil
Pinch of salt
For the filling:
150g spinach
1 small onion, finely diced
1 garlic clove, finely diced
1 tbsp butter
100g cottage cheese or quark
2 tbsps grated parmesan
2 tbsps chives
¼ tsp nutmeg, finely grated
Black pepper from the mill, to taste
Pinch of salt
To serve:
1 tbsp parmesan, grated
1 tsp brown butter
Chives cut into 1mm pieces
Knead the ingredients for the parcels, by hand or with a machine, to a smooth dough. Cover and let it rest for about 1 hour, ideally in the fridge.
For the filling, dice the spinach. Sauté the onion and garlic with butter in a pan until translucent but not browned or burnt. Add the spinach and leave to cool. Add quark, parmesan and chives, then season with nutmeg, salt and pepper, and mix. Leave to cool.
Roll out the dough thinly with a rolling pin or pasta machine. Cut out with a round cookie cutter (approximately 6cm in diameter) or with the rim of a cup. This should make 30 or so parcels.
Put 1 tsp of filling in the centre of every parcel. Moisten the edge slightly with water and fold it into a crescent shape – ensuring that it is sealed and watertight.
Cook the Schlutzkrapfen by submerging them in boiling salted water for 3 to 4 minutes. Drain and arrange on a plate. Add parmesan, melted brown butter and scatter with chives. Serve.
---
recipe 05
Risotto with smoked cod and bitter leaves
A filling favourite comprising bright (and slightly bitter) radicchio, smoked cod and a reassuringly warming risotto. The key to any good one? Just keep stirring.
500g smoked cod, deboned
450ml milk
2 bay leaves
Black pepper from the mill
1 shallot
50g butter
200g risotto rice
100ml white wine
500ml hot vegetable broth
2 large handfuls of radicchio leaves
Salt to taste
Put the fish in a pan and cover with the milk and bay leaves. Add pepper, bring to the boil once then simmer for 5 minutes on the lowest heat. Remove the cod and set aside, saving some of the milk.
Finely chop the shallot and sauté in the butter in another pan. Turn up the heat to medium, add the rice to the shallots and deglaze with white wine for about 45 seconds so some of the alcohol cooks off. Keep stirring. Add the vegetable stock and cook to packet instructions until it's almost completely absorbed – then add in the milk you saved. When the risotto is done (keep stirring) add in the cod and the chopped radicchio leaves.
Season to taste and enjoy.