Media / Global
Safe in the knowledge
How can media sustain us? Keep conversations simple, challenge untruths, fix neighbourhoods? We visit three projects that are good for their environments.
sustaining self-education
Deichman Bjørvika library
Oslo
This waterside library sets the standard in making culture accessible, while being an exemplar of enironmentally conscious design.
"Libraries ceased to be dusty book-storage facilities a long time ago," says Knut Skansen, the director of Oslo's new Deichman Bjørvika library. "Today they are first and foremost about the future. To move into a building that is all about protecting that future sits extremely well with what a library is all about."
When Oslo's city planners set out to replace the unfit-for-purpose brick building that had served as the Norwegian capital's public library since 1933, they wanted to create an environmentally friendly structure for the readers of tomorrow.
"Energy efficiency, reduced emissions and design have been closely inter-woven all the way from the planning stage through to the construction phase and in the finished building," says Vibeke Johnsen, the City of Oslo's head of project. Having opened last summer, the library now sits proudly on the seafront next to the Opera House.
Norway's capital can be a place of climate extremes, with temperatures sometimes reaching 30c in summer and plummeting to minus 20c in winter. Ordinarily, regulating the temperature of a six-storey open-plan structure would be a costly and energy-intensive affair but this building's bill is just a fraction of that which would normally be expected for a construction of comparable size.
Home to about 450,000 titles, the library also has a cinema, an auditorium, a restaurant and offices
"We had two aims when we started," says Johnsen. "That the finished building's net energy need should not exceed 85 kilowatt hours per square metre, and the total emissions from materials, construction and daily use should be 50 per cent lower than for a project of a similar size."
Both of these objectives were surpassed. The energy need was measured at 75.6 kilowatt hours per square metre and the choice of building materials, including low-carbon concrete, has helped to cut emissions by nearly 70 per cent.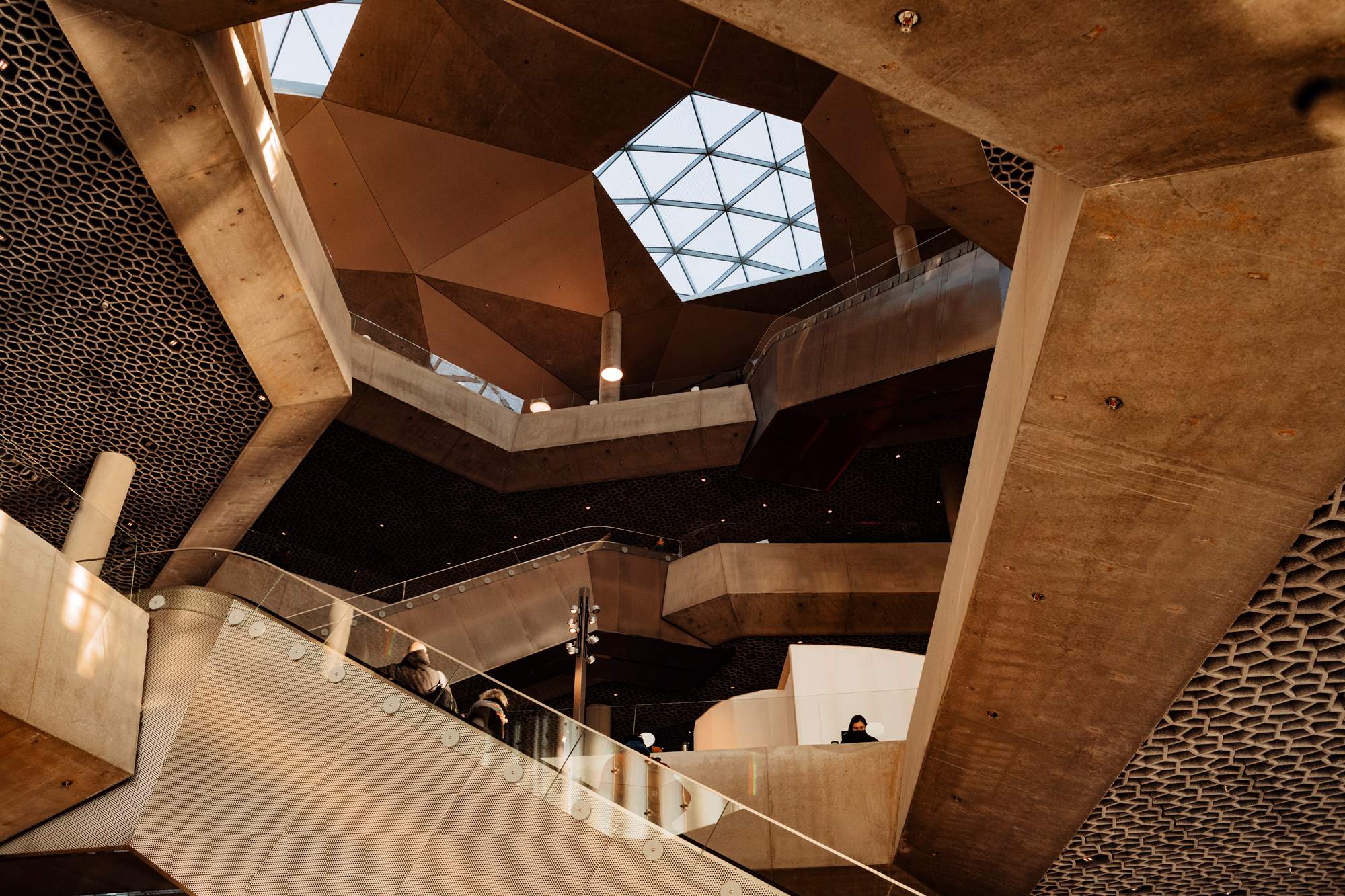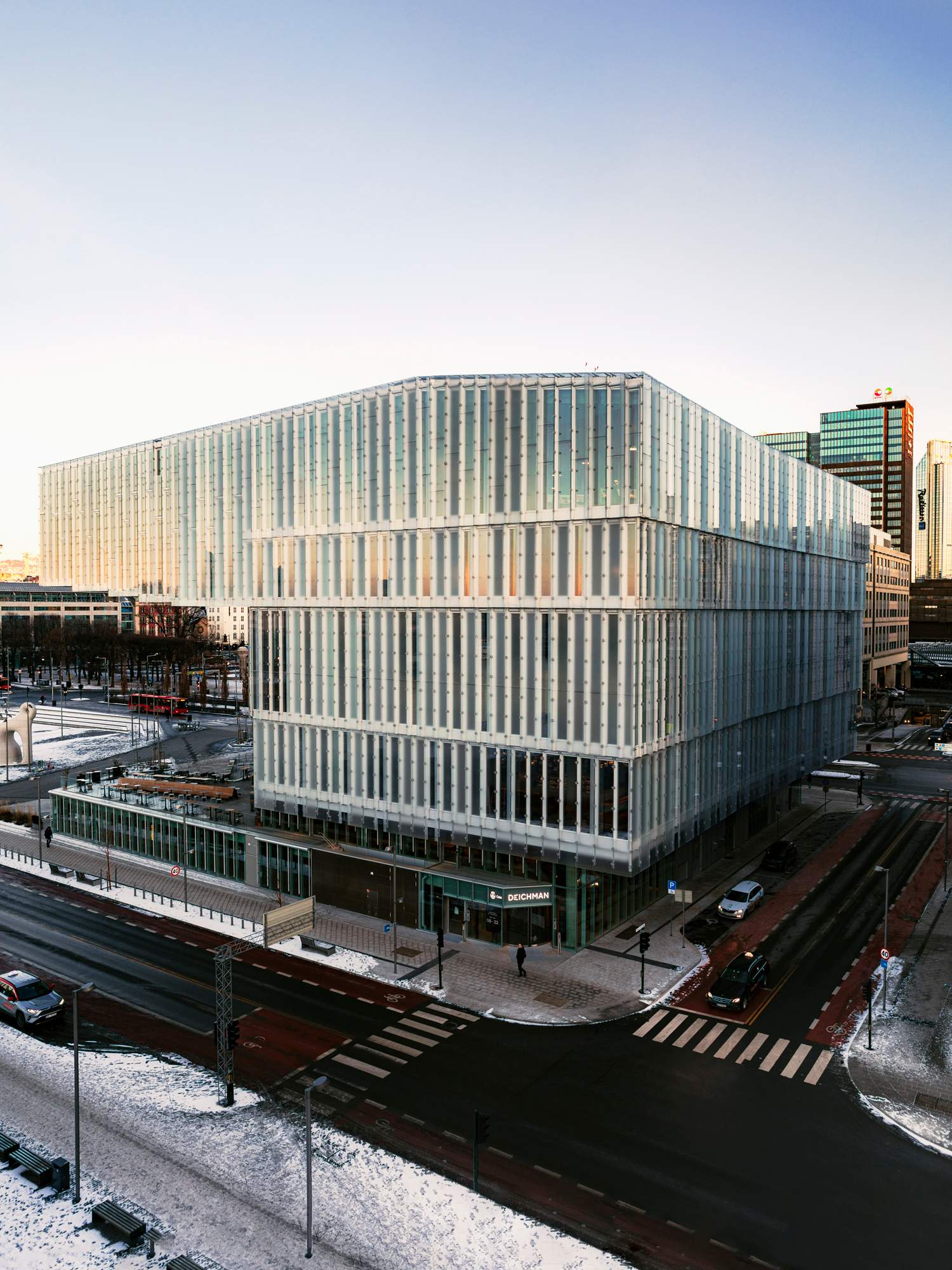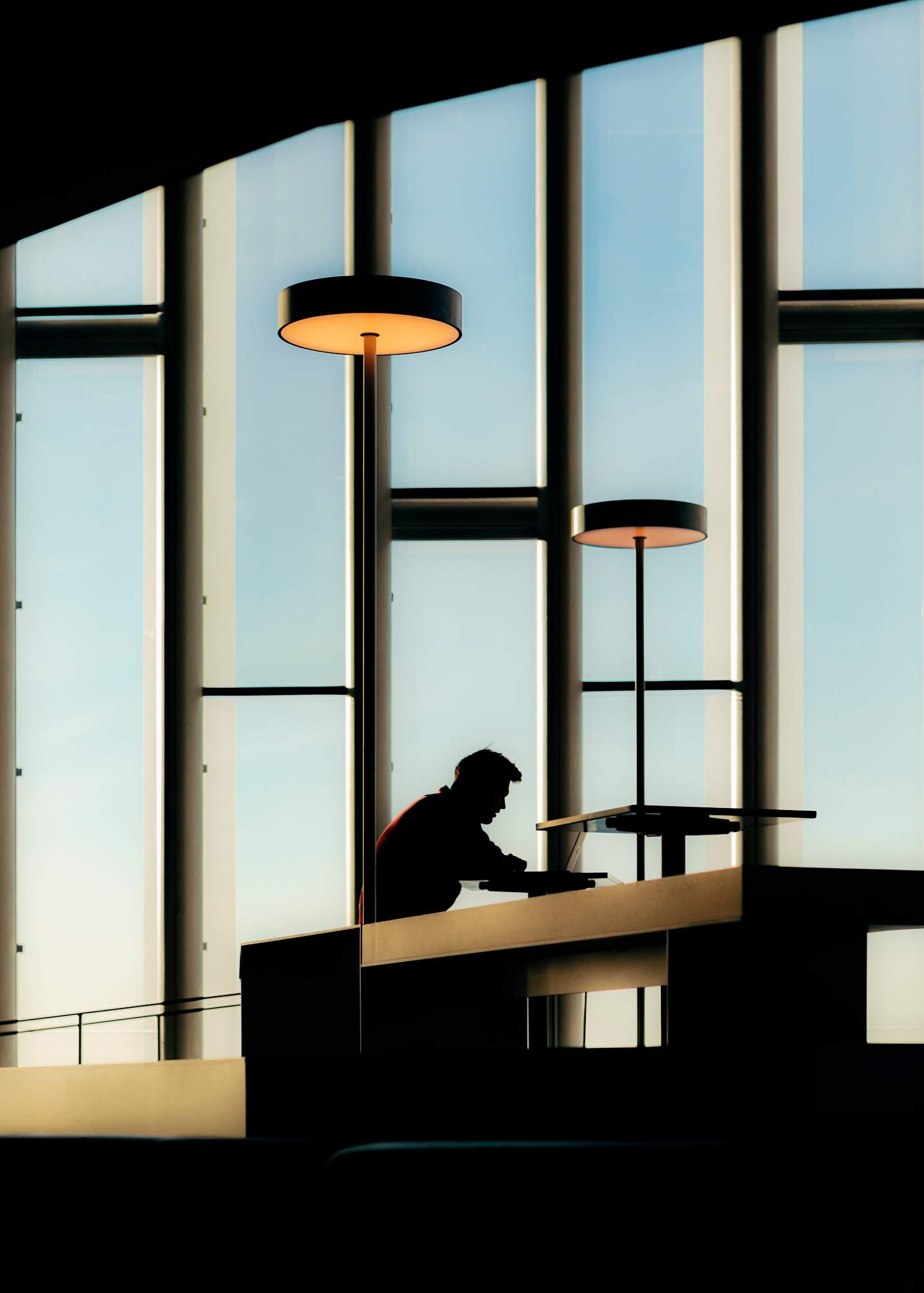 From the outside, the building manages to appear both imposing and inviting, with large glass walls that let in as much daylight as possible. The top two floors cantilever over the lower half, offering views of the fjord and city. More daylight floods in from three large louvred windows in the roof and is then distributed down through the floors via diagonal light shafts that reduce the need for artificial illumination. Warming and cooling pipes are built into the floors, while the exposed concrete functions as a heat sink that cools the building in summer.
Home to about 450,000 titles, the library also has a cinema, an auditorium, a restaurant and offices. The lower floors have been set up to encourage interaction, while the upper levels are intended as quiet spaces. Here you'll find reading rooms and the Future Library project, an ongoing collection of works of fiction published between 2014 and 2114. These are printed in limited editions using wood from 1,000 trees specially planted for the purpose.
Library director Skansen hopes to soon be able to host regular public talks, workshops and other events once again. Some of these will focus on the future of Oslo – and the planet. "Libraries are the world's oldest sharing economy," he says. "Now the community can come here to share ideas on a sustainable society." 
deichman.no
---
sustaining hard conversations
My Country Talks
Germany
The media has a responsibility to foster dialogue, civil debate and democracy, not shouting matches or echo chambers. Hanna Israel joined Zeit Online's initiative to do just that – and the idea is catching on.
Hanna Israel (pictured) is project manager for My Country Talks. The scheme was born out of an experiment that was launched in Germany in 2017 by media outlet Zeit Online, which contacted people on opposite sides of the political spectrum and invited them to have a one-on-one conversation. The idea was to encourage a more constructive approach to dialogue than the one found in online comments sections. Multiple European media partners, including Italy's La Repubblica and France 24, have since brought the initiative to their own countries. Like-minded events are planned this year in the US, Thailand and elsewhere. 
How did you get involved with My Country Talks?
Before joining I was working for one of the biggest German TV talk shows, Anne Will, a polarising form of debate between Germany's top figures and politicians. I was always questioning what effect such debate formats have on political discourse and polarisation, which is something that I think we all have to deal with in Europe at the moment. So I decided to do something different. Now I'm dealing with debates on a very different level.
Why is it important for media organisations to take the lead in a project like this?
The basic idea was really to help people restart conversations. It was motivated by the frustration of seeing Western countries becoming polarised, which threatens democratic discourse and thus the functioning of democratic society. As a big media outlet you don't want to lose large parts of society, you want to reach them. It's also about helping media outlets re-establish trust. We're not only bringing people back into the dialogue but we're reporting on it. People are gaining a voice via an outlet where they might not normally be represented.
Does the format of the debates differ depending on the country?
We're putting a lot of trust in our media partners, who can decide what the best approach is within their respective context. For example, we're developing a co-operation with a public broadcaster from Thailand. But right at the beginning the broadcaster said that it's important to have these discussions moderated by a third person. This was because they didn't think that just by answering controversial questions people would directly go into an open discussion once they met. So there's a lot of room for every media partner to develop something that is adjusted to their context. However, the idea to have people of differing political opinions talking to each other is the key. That's what we're exporting to the world.
---
sustain your neighbourhood
Reinventing the newsstand
Barcelona
Contemporary community 'quioscos' are once again flying the flag for the power of print.
When Pablo Pardo, Davide Datti and Gautier Robial realised that newsstands in Barcelona were selling more gadgetry, sugary snacks and garish flamenco costumes than magazines and newspapers, they realised that something had to be done. Many of the older faces behind their counters seemed clueless to the world of resurgent print, including the many internationally successful titles edited in Barcelona. In the previous decade, 120 of the city's 399 quioscos had closed or disappeared altogether.
So in 2019 the team launched News & Coffee. Sat on the Passeig Sant Joan in El Born, stacked with hard-to-find titles and serving La Marzocco-brewed coffee, this small stall offers inspiration, escapism and human connection – a quiosco recast as a community lifeline.
The trio now sell more than 650 copies every month and have since opened two more stalls. Locally published magazines such as Apartamento, Openhouse and Perdiz are popular purchases.
"We want to be the best," says Yaël Hupert, who chooses the evolving selection of titles. There are plans for a radio station, subscription services and pop-up newsstands in hotels. The aim, she says, is to keep "people entertained, amazed and amused".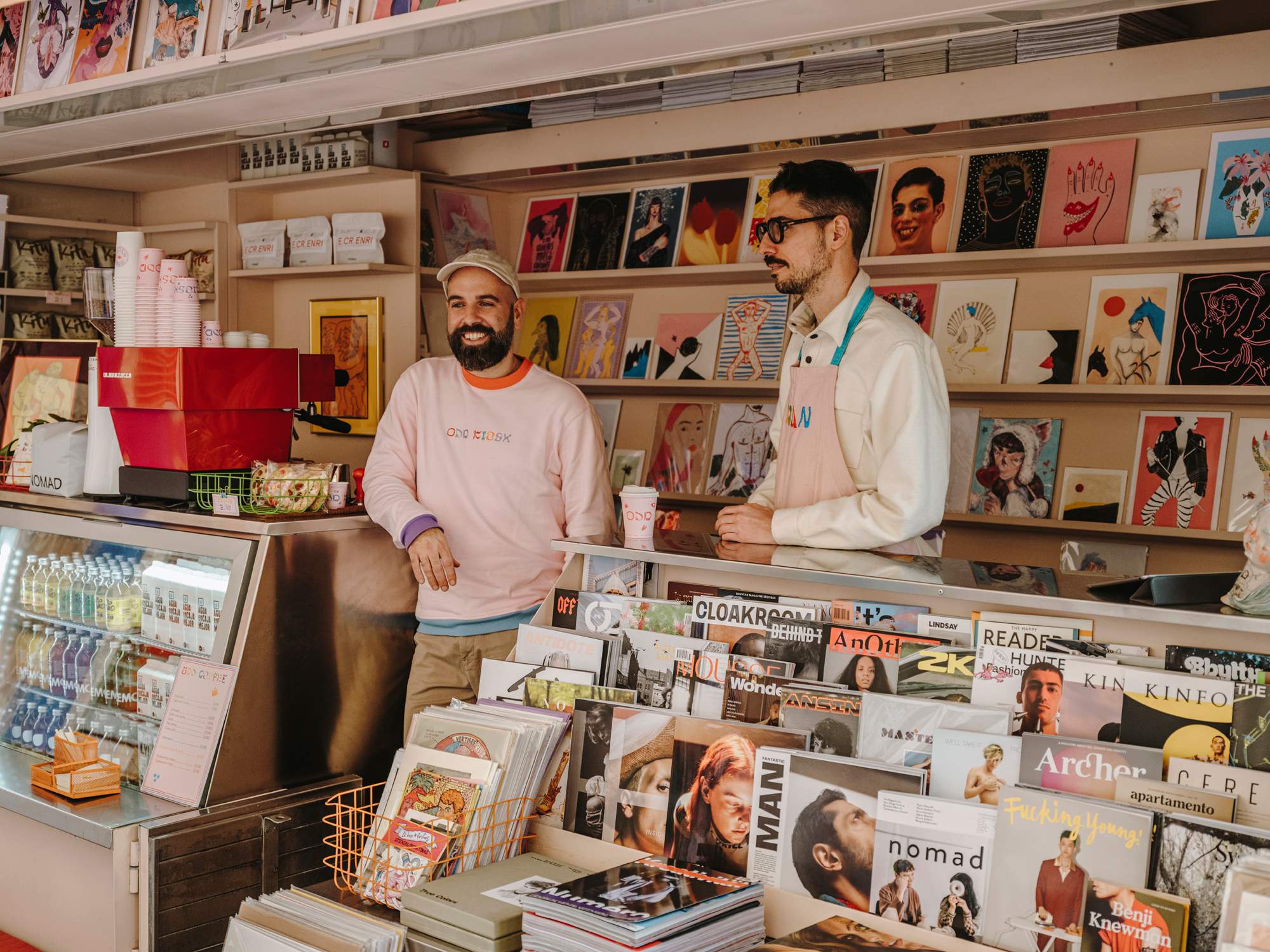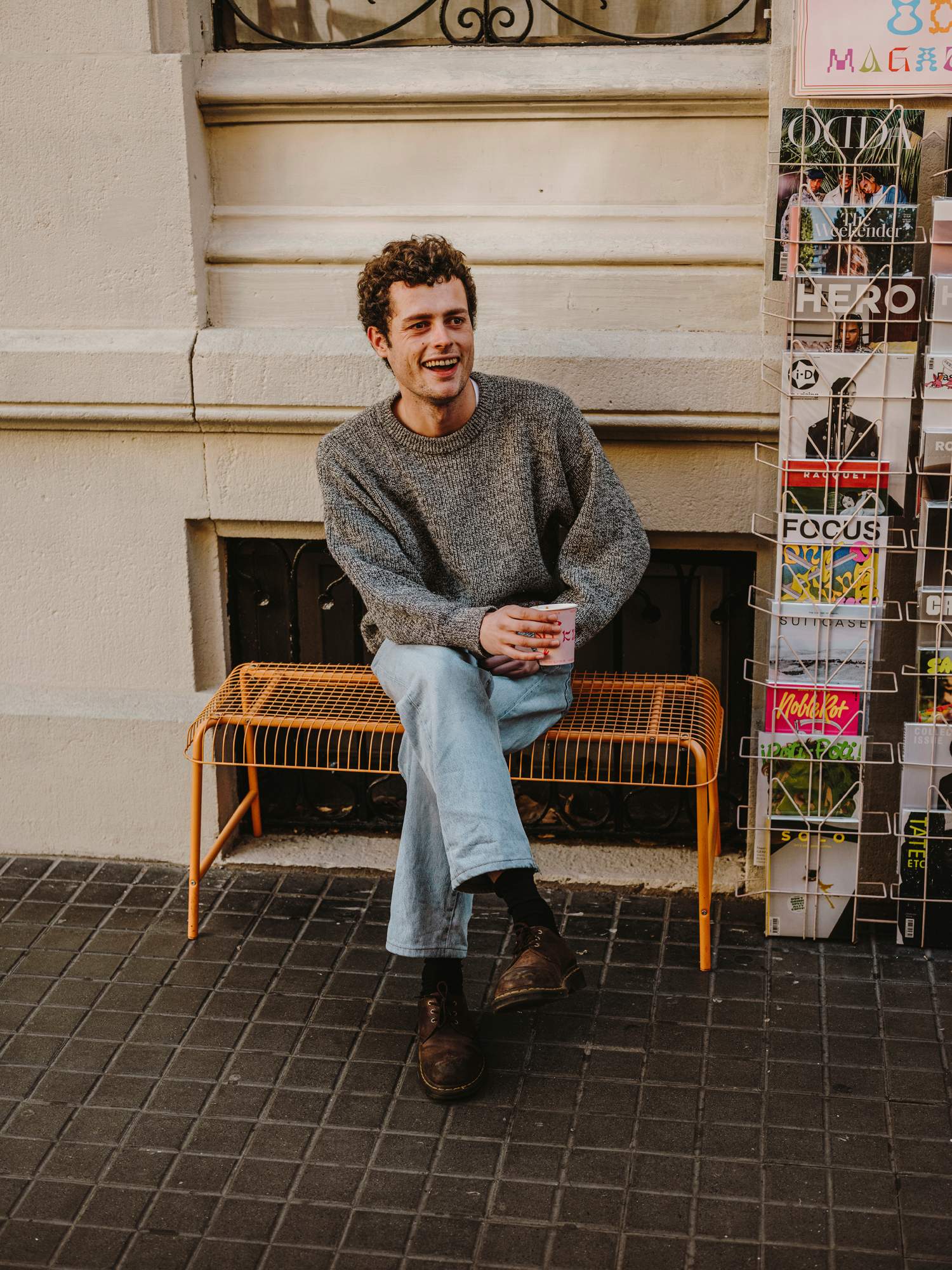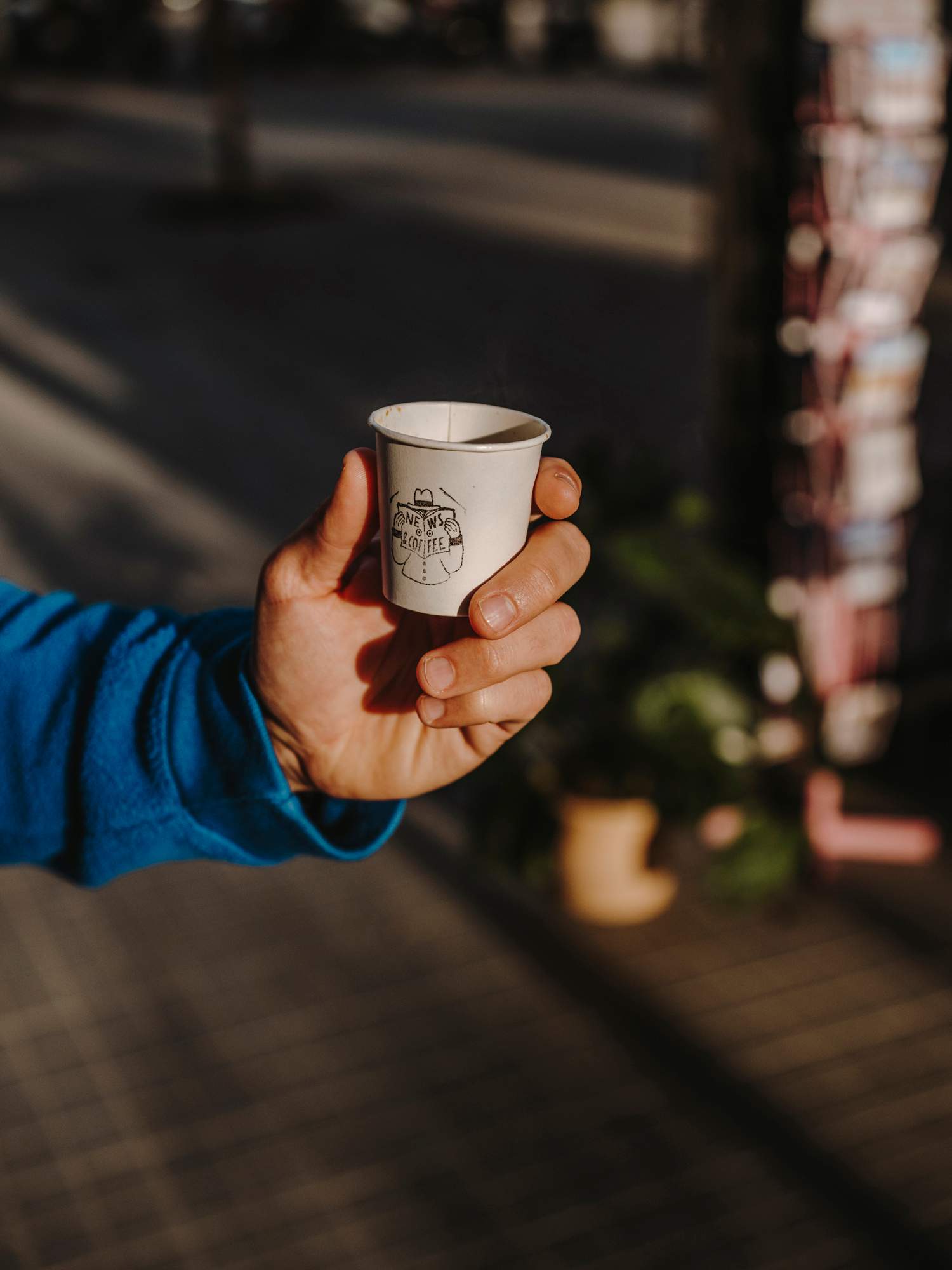 Others in the city have emulated their idea. In affluent Sarriá, a group of friends rebranded a corner quiosco into the aptly named Good News, mainly offering publications with a positive spin. "We were overwhelmed with negativity and wanted to change the narrative," says co-founder Lucas de Gispert. The friends recently opened in a second location, encouraging customers to share a good news story with them to get a 20 per cent discount on their coffee.
Odd Kiosk, another newsstand, is the work of graphic designer Ivan Jiménez and architect Txema Montero. Here the shelves mix traditional press with queer-culture titles and slightly provocative prints. This sets the scene for some intriguing interactions: white-haired señoras collecting their dailies chat with youngsters flicking through a fashion quarterly. "We're bringing art, visibility and colour to the streets," says Jiménez.
It was in 1888 that Barcelona's first newsstand opened to much fanfare. More than a century later, if reading habits at these revamped quioscos are any indication, the appetite for well-spun stories remains strong.
Photographers: Thomas Ekström, Ben Roberts, Salva López