Recipes / Global
Food
&

Drink Recipes
Five top dishes to try from monocle's recipe writers, including Turkish wraps and a one-pot pasta.
Exploring flavours and textures from distant lands can be a fine way to whet the wanderlust for those currently grounded. This month we're flitting from a spice-scented Turkish market for a warm flatbread wrap, to a downtown Tokyo izakaya, to partake of miso-glazed aubergine with a sticky 'dengaku' sauce. Then to an Italian family dining table for a convivial one-pot pasta dish, and the corner of a cosy UK pub for a few fennel-spiced sausage rolls. If you still have room, never fear: a brisk hop to Switzerland brings us a slice of cream cheese-frosted carrot cake for afters.
recipe 01
Turkish-style grilled chicken with spicy tomato sauce
Ideally, the chicken needs marinating overnight – or for a minimum of a few hours if you're short on time – so start this recipe well in advance to allow the subtle flavours of cinnamon and sumac to mingle with the fresh vegetables and spicy tomato sauce. It's a slow starter but all comes together in a flash, so there's not too much to do on the night if you're entertaining. This is a dish best devoured hot. Enjoy.
For the chicken and marinade:

570g chicken breasts, cut into large bite-sized pieces
1 tbsp lemon juice
Zest of 1 lemon
3 tbsps yoghurt
1 tbsp paprika
2 cloves of garlic, grated
2 tbsps olive oil
1 tbsp grated fresh ginger
1 tbsp tomato paste
Large pinch of cinnamon
½ tsp salt
For the spicy tomato sauce:
3 tbsps olive oil
1 medium onion, finely chopped
1 red chilli, finely chopped, with or without seeds
3 garlic cloves, crushed
2 tbsps tomato purée
1 tin of chopped tomato (400g)
1 tsp salt
1.5 tsps sugar
4 tbsps lemon juice
1½ tsps sumac
For the yoghurt sauce:
100g plain yoghurt
½ garlic clove, finely chopped
¼ tsp salt
To serve:
2 heads of gem lettuce, shredded
Turkish flatbread or pitta
1 red onion, very thinly sliced
Large pinch of salt
1 tbsp olive oil
½ tsp sumac
Mix the marinade ingredients and cover the chicken pieces for at least 2 hours, or ideally overnight, in the fridge.
For the spicy tomato sauce, heat the oil in a small pan, add the onion, chilli and garlic, and cook over a low heat for 5 minutes. Add the tomato purée, the tin of chopped tomatoes, salt and sugar, and cook for 10 minutes. Remove from the heat. Once it's cooled, add the lemon juice and sumac.
While the sauce is cooking, mix the yoghurt ingredients together and set them aside.
Toss the sliced red onion, salt, olive oil and sumac together in a small bowl to serve alongside.
Heat a grill pan until smoky. Remove the chicken from the marinade and toss with 1 tbsp of olive oil. Cook for 2 to 3 minutes on each side, until cooked.
Once the chicken is ready, spread the sauces on warm flatbread. Top with lettuce, shredded onion and chicken. Wrap and eat straight away. Be ready to heat another round of bread for hungry guests. 
---
recipe 02
Spaghetti with ricotta, lemon, bacon and spinach
Entertaining needn't always be a fiddly affair and this crowd-pleasing one-pot pasta is proof. The smoked bacon and parmesan add a salty touch that's balanced by the zing of lemon zest and the reassuring addition of creamy ricotta. It might sound unusual to add the bacon and cheese before the water but go with us on this one – and tuck in.
1 tbsp olive oil
250g ricotta
35g parmesan
Zest of 1 lemon
100g cubed smoked bacon
200g spaghetti
½ tsp salt
700ml boiling water
2 big handfuls baby spinach (approx 125g)
Crushed black pepper
A lidded frying pan or pot, wide enough to spread the spaghetti flat along the bottom.
Put the pasta in the pan, then add the rest of the ingredients except the spinach and black pepper.
Pour in boiling water and cover with a lid. Bring it to a boil, then remove the lid and stir occasionally. Cook for 8 minutes until the water evaporates and sauce thickens; the pasta should be al dente by this time. Add the spinach and stir until wilted.
Turn off the heat. Divide it into pasta bowls and serve with plenty of freshly ground black pepper.
---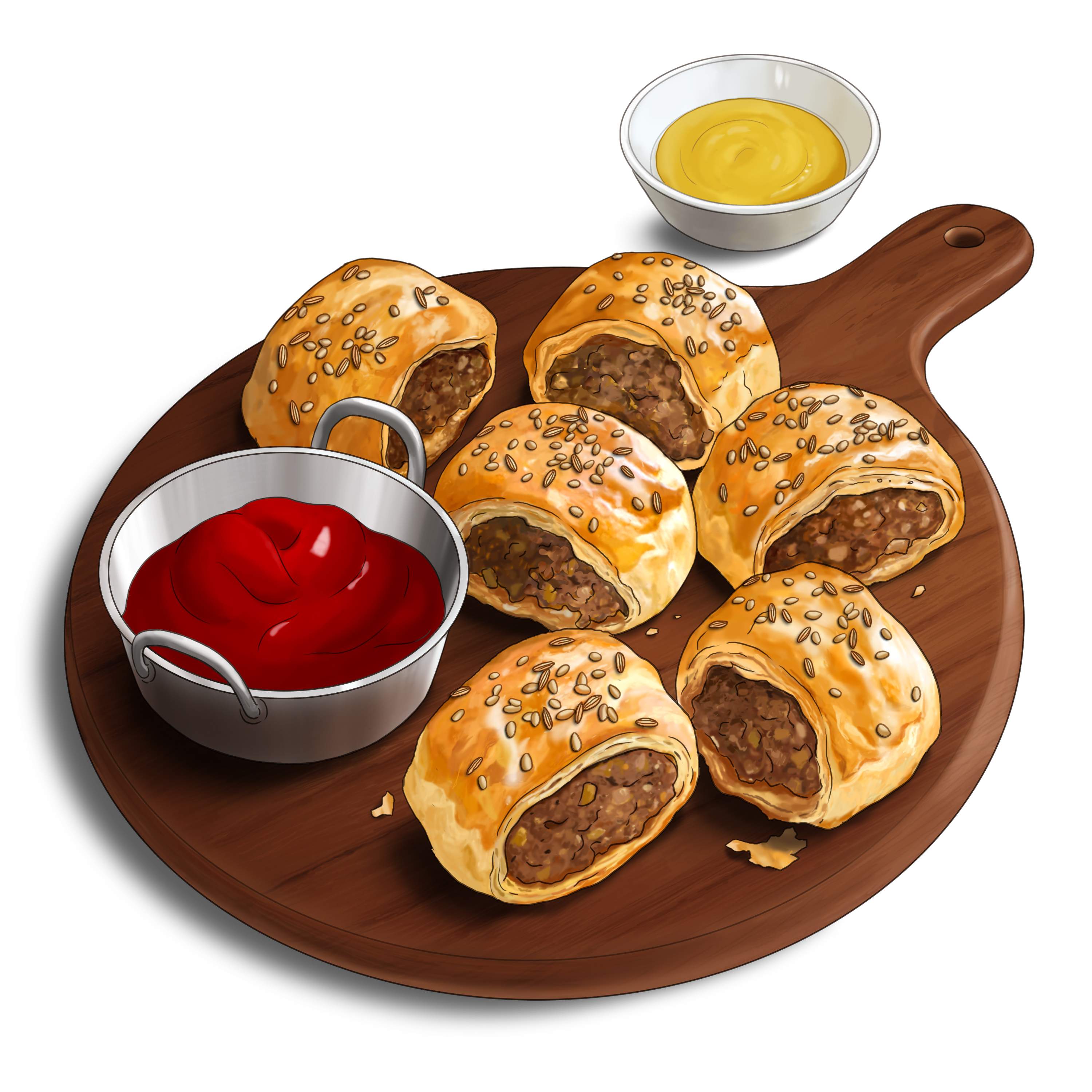 recipe 03
Apple and fennel sausage rolls
Pubs might be closed in some countries but those craving a snack could well find solace by making a sausage roll from scratch. Our recipe writer's version has a fresh twist, with the inclusion of apple and the subtle flavour of anise from a fennel bulb.
1 small fennel bulb (about 120g) diced into 5mm cubes
2 tsps olive oil
1 granny smith apple, diced into 5mm cubes
3 tbsps breadcrumbs
350g sausage meat
Large pinch of freshly ground black pepper
Large pinch of sea salt
230g all-butter puff pastry
1 small egg
1 tsp sesame seeds
1 tsp fennel seeds (optional)
Preheat oven to 200C.
Heat the olive oil in a small frying pan and sauté the chopped fennel until it looks slightly transparent. Turn off the heat and leave to cool.
Tip the sausage meat into a bowl with the fennel, apple, breadcrumbs, salt and pepper. Combine well by hand.
Remove the puff pastry from the fridge and lay it on a tray lined with baking paper. Spread the sausage meat along the pastry from left to right, about 7cm from the bottom edge. It should be about 7cm thick and 3cm high. Leave 2cm on each end empty.
Lift the bottom of the pastry and drape it over the sausage meat, roll and place it sealed-side down. Then seal both ends of the pastry by wetting it with a little water and pressing together.
Beat the egg in a small bowl and paint the sausage roll with a pastry brush. Sprinkle with sesame seeds and fennel seeds.
Bake for 30 minutes.
Rest for 5 to 10 minutes. Slice. Serve warm with mustard or ketchup. 
---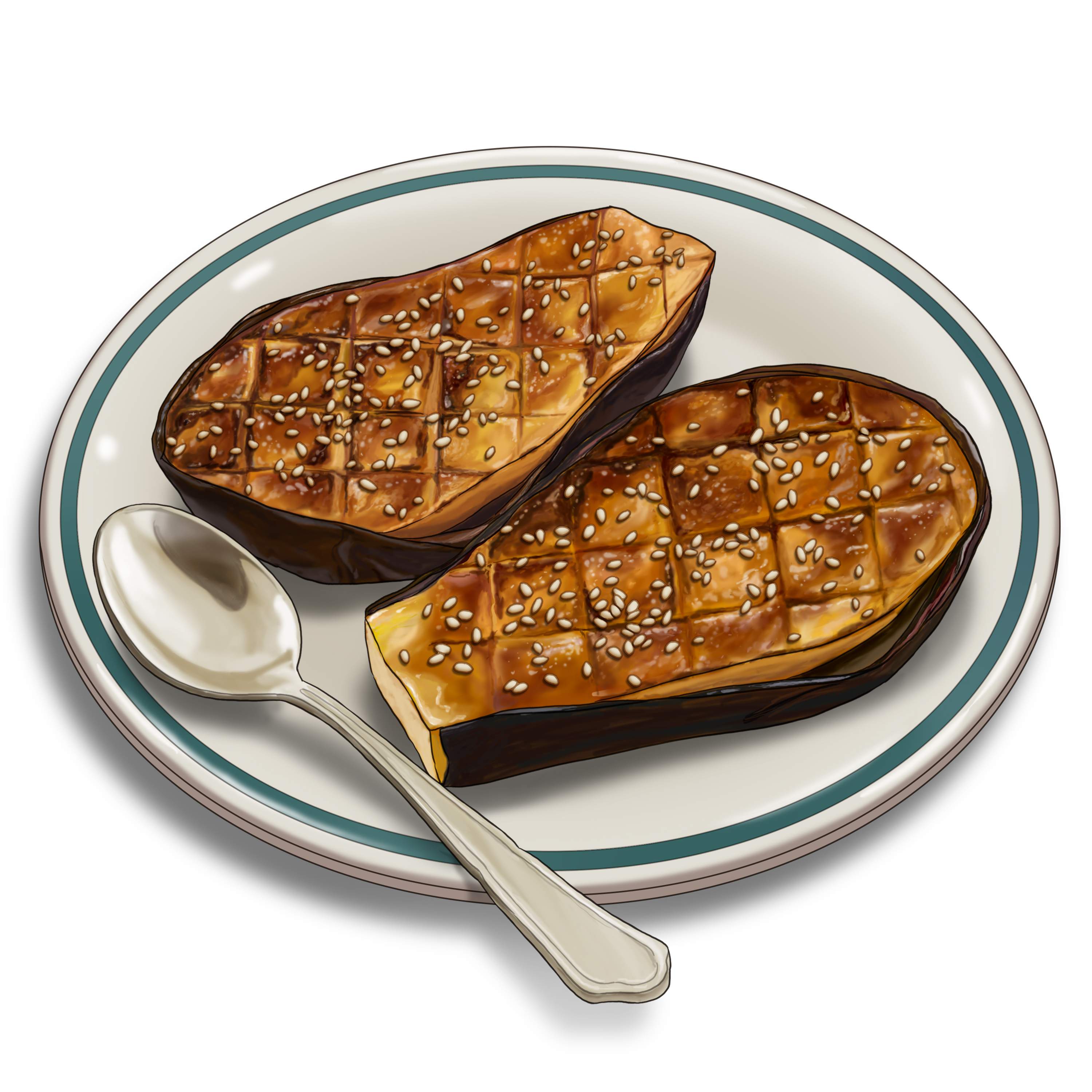 recipe 04
Baked aubergine with 'dengaku' miso sauce
Aubergines can be a pain to get right (just soft enough to keep their shape but seared enough for a little crunch), so our recipe writer suggests a swift sauté in a pan before adding a rich miso sauce and giving it a grilling. This works well as a snack or side.
1 large aubergine
2 tbsps vegetable oil
2 tsps sesame seeds
For the 'dengaku' miso sauce:
3 tbsps red miso (other kinds of miso are OK too)
2 tbsps mirin
½ tbsp maple syrup or honey
Preheat grill to 230C.
Cut the aubergine in half, lengthways. Score the skin with a criss-cross pattern.
Heat vegetable oil in a frying pan on a medium heat, lay the aubergine cut-side down and fry for 5 minutes. Turn it and put a lid on, then cook for another 5 minutes. Turn it again and cover with the lid. Cook for 3 to 5 more minutes until the aubergine's flesh is soft but hard enough to hold its shape.
While the aubergine is cooking, mix the dengaku sauce ingredients in a bowl until they're combined.
Place the prepared aubergine on a baking tray, cut-side up. Spread the miso sauce on the flesh.
Place it under the grill and cook for 2 to 3 minutes, until the sauce starts to bubble. Miso burns easily so keep an eye on it.
Remove from the grill when cooked. Sprinkle on the sesame seeds and serve immediately. Eat it with a spoon. 
---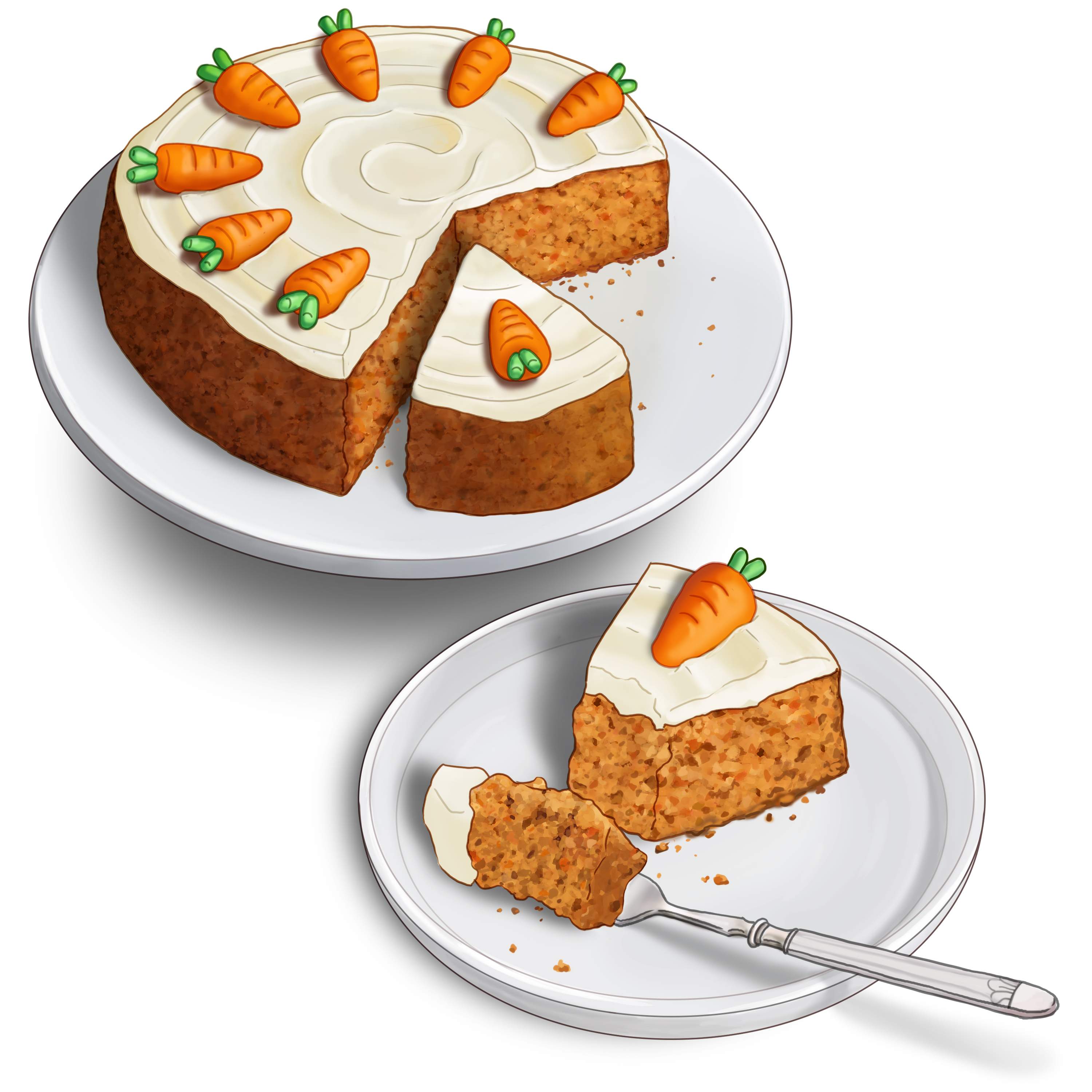 Chef Ralph Schelling here gives us his riff on a seasonless Swiss favourite, carrot cake.
For the dough:
50g soft butter
5 eggs, separated
200g cane sugar
Zest of half a lemon
200g ground hazelnuts
250g grated carrots
100g plain white flour
½ tsp baking powder
½ tsp cardamom powder
1 pinch clove powder
2 pinches of salt
For the icing:
200g cheese curd
150g natural cream cheese
60g icing sugar
Carrot slivers, marzipan carrots or fresh carrot tops (the green bit) for decoration
Preheat the oven to 180C. Mix the butter, egg yolk, sugar and lemon zest in a food processor or by hand until combined. Add the hazelnuts, grated carrot, flour, baking powder, spices and incorporate.
In a separate bowl beat the egg white with salt until stiff. This can take a few minutes – you'll know that it's ready when you can turn the bowl upside down over your head without the contents slopping out.
Fold the mixture into the eggs carefully while trying to keep the air in the mixture.
Pour into a buttered or lined springform tin (ours is 24cm) and bake for about 50 minutes until browned and a skewer comes out clean. Take out and leave to cool then remove from the tin.
Mix the icing ingredients in a bowl until creamy. Halve the cake and wait for it to cool before filling with icing or spreading it on top. Decorate with carrot-top fronds or whatever takes your fancy.
Hungry for more? You're in luck. For weekly recipes, plus repartée, entertaining news and food scoops, sign up for monocle's free Sunday Weekend Edition newsletter. Subscribe at monocle.com/minute.