Briefing / Global
Food
&

Drink
Briefing
This month's food scoops include an elegant Berlin bakery on the rise; the saucy condiments setting Hong Kong on fire; and a Cretan food brand putting graphic grannies back in the kitchen. And we're fishing for compliments at a Los Angeles food truck.
In a city stuffed with culinary high points, Sanbongi Shoten is one of the hardest to book. It's on a residential backstreet in Marutamachi, near the Kamo River: "The area used to be a hanamachi [geisha district]," says Fumihiko Kono. The Kyoto-born chef-patron honed his skills in restaurants specialising in traditional Japanese, French and Portuguese food. "The charcoal grilling at Vinpicoeur in Tokyo left the greatest impact on my cooking style," he says.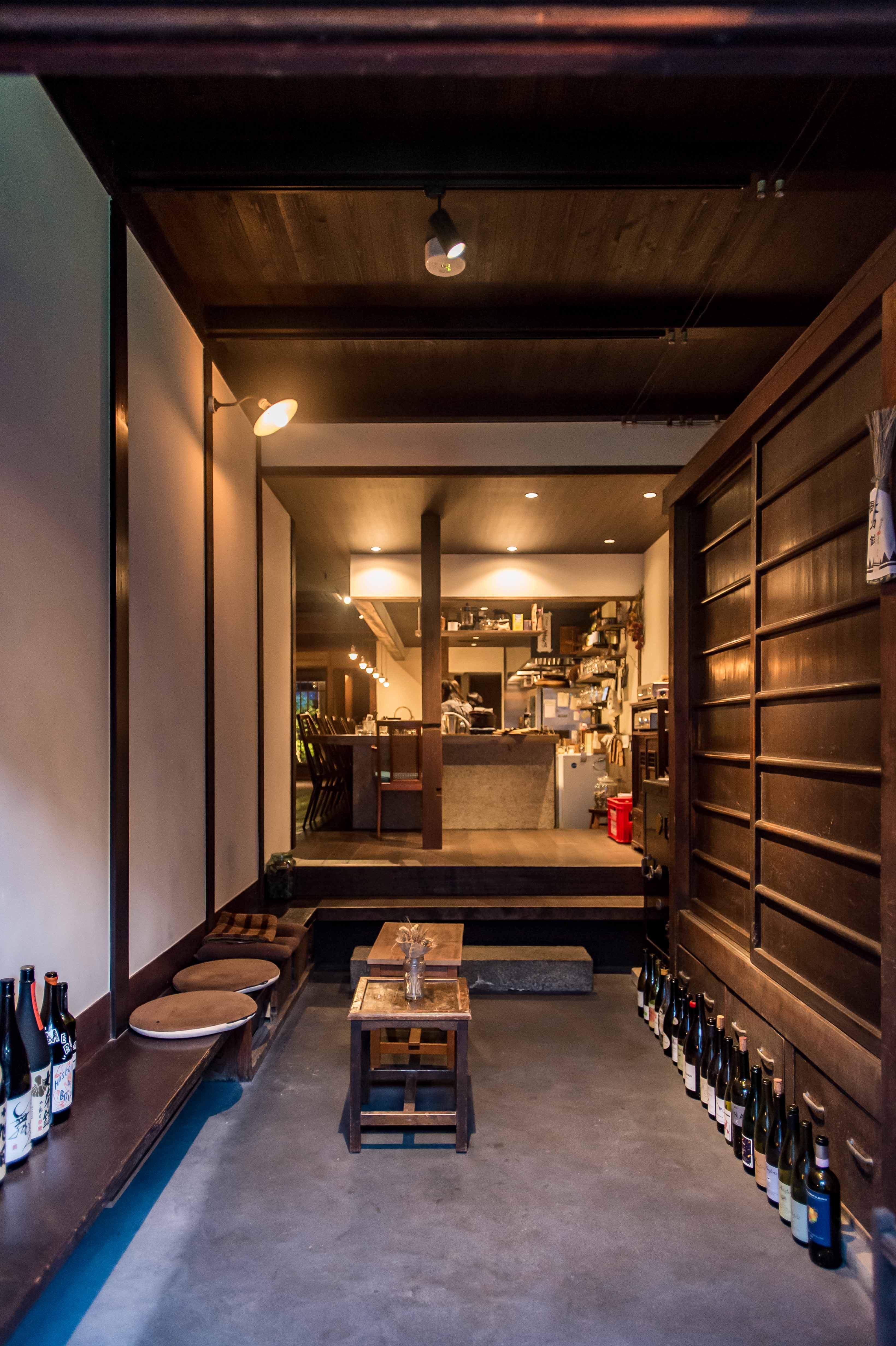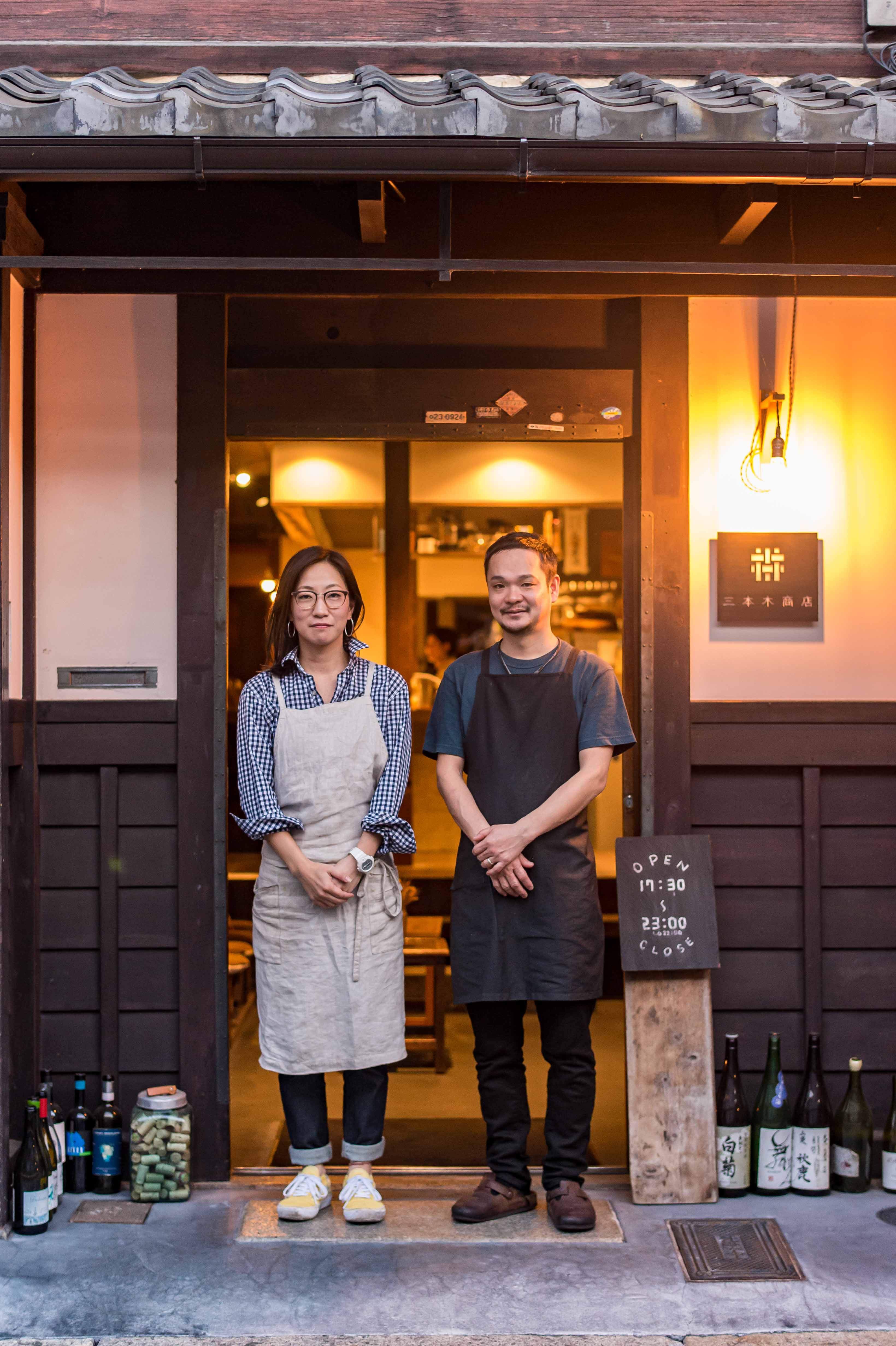 Returning to his hometown, Kono and his wife, Yuki, opened the 21-seat restaurant in 2019 in a grand townhouse – once his grandmother's home. Kono is the master of the charcoal fire in the kitchen, dishing up venison, kurobuta black pork and duck, while Yuki is in charge of drinks, specialising in natural wine and sake. The menu reflects the changing seasons and might include a sensational seared-tuna dish with aubergine purée. "I visit producers whenever possible to decide where to source the ingredients," says Kono. And Yuki makes sure to stock up the basement cellar, which used to be the air-raid shelter for this 100-year-old house.
Finished with natural materials and cosy lighting, the interior is snug and warm. "We're increasingly seeing restaurants like ours open in Kyoto," says Kono. Delicious news.
sanbongi-shoten.com
---
Some like it hot
hong kong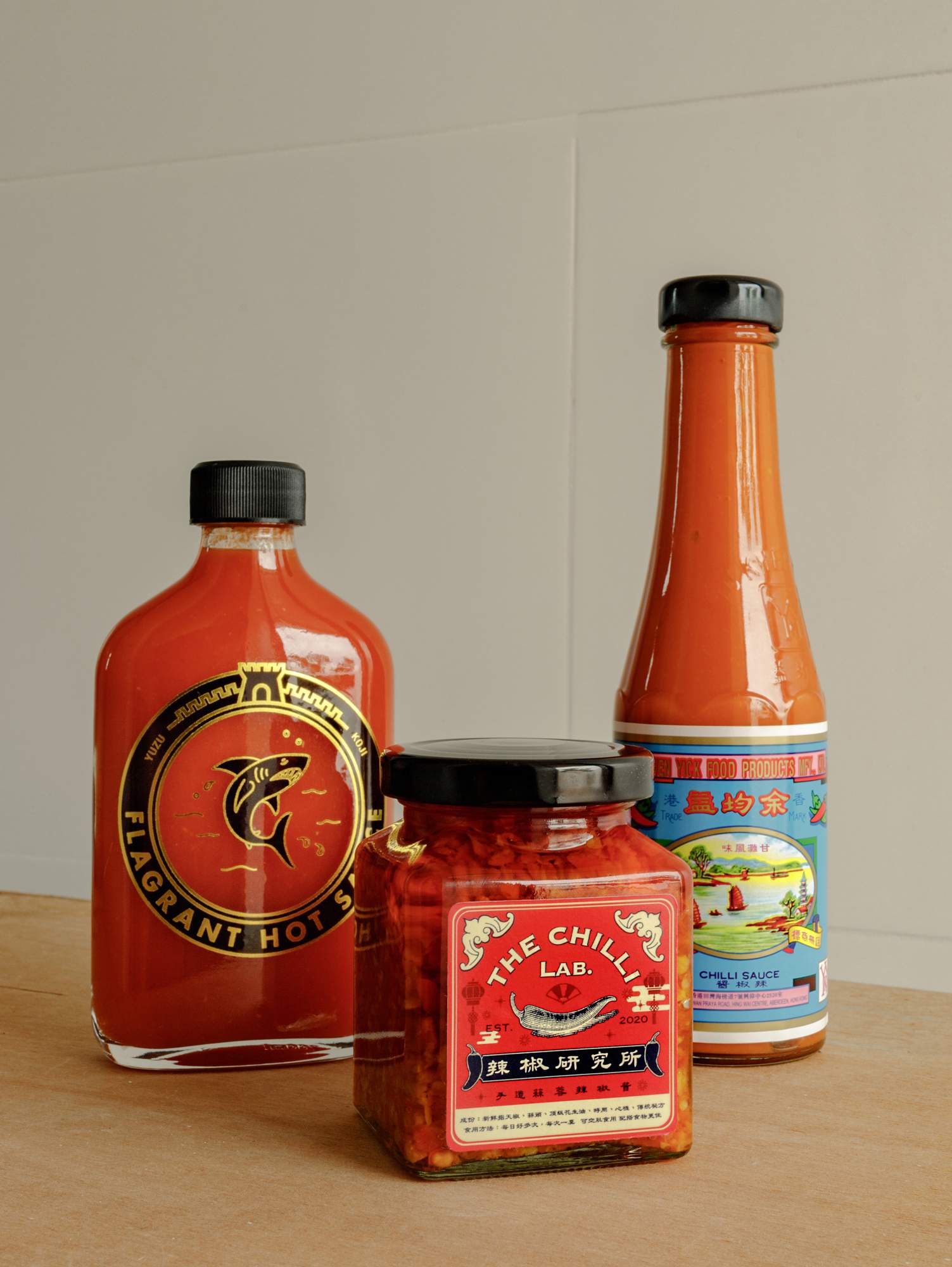 Hong Kong's homegrown hot-sauce market is aflame. Yu Kwen Yick chillisauce has been around for a century and is a favourite with fried noodles and turnip cake. Yet newcomers such as Flagrant Hot Sauce are causing the market to hot up. "We wanted to create an easy East-meets-West sauce with a unique Asian citrus component," says Kiyoshi Hoshimi-Caines, whose sauce incorporates Vietnamese chilli and Japanese vinegar, koji and yuzu to create a balanced sweet, sour and spicy condiment. "Our sauce has an Asian spirit but it's more accessible than traditional chilli sauces," he says. Another relative newcomer also made on the island, The Chilli Lab's garlic-inflected chilli sauce is winning fans fast.
yukwenyick.com.hk, flagrantsauce.com, thechillilab.hk
---
What started out as a much-loved neighbourhood pop-up at the Berlin restaurant Lode & Stijn has become a permanent new bakery in Mitte. Sofi is a collaboration between Danish chef Frederik Bille Brahe and Slow, a hospitality venture from Design Hotels founder Claus Sendlinger. On the menu are a mixed-wheat Berliner loaf, Danish rugbrød, morning buns with cardamom and orange, and buns made with traditional handwerker cheese. Other alluring draws include great coffee, chocolate sourdough cake, twice-baked croissants and Italian focaccia. Customers can also choose from a selection of ceramic homewares, natural wines and flour from Denmark's Kørnby mill if they're inspired to try a spot of home baking.
The inviting space, in a former brick factory, has been revamped by Danish architects Mathias Mentze and Alexander Vedel Ottenstein, in tandem with Berlin design studio Dreimeta. Those many hands have made light work of the refit, with solid elm furniture, communal tables and splashes of colour. 
sofiberlin.com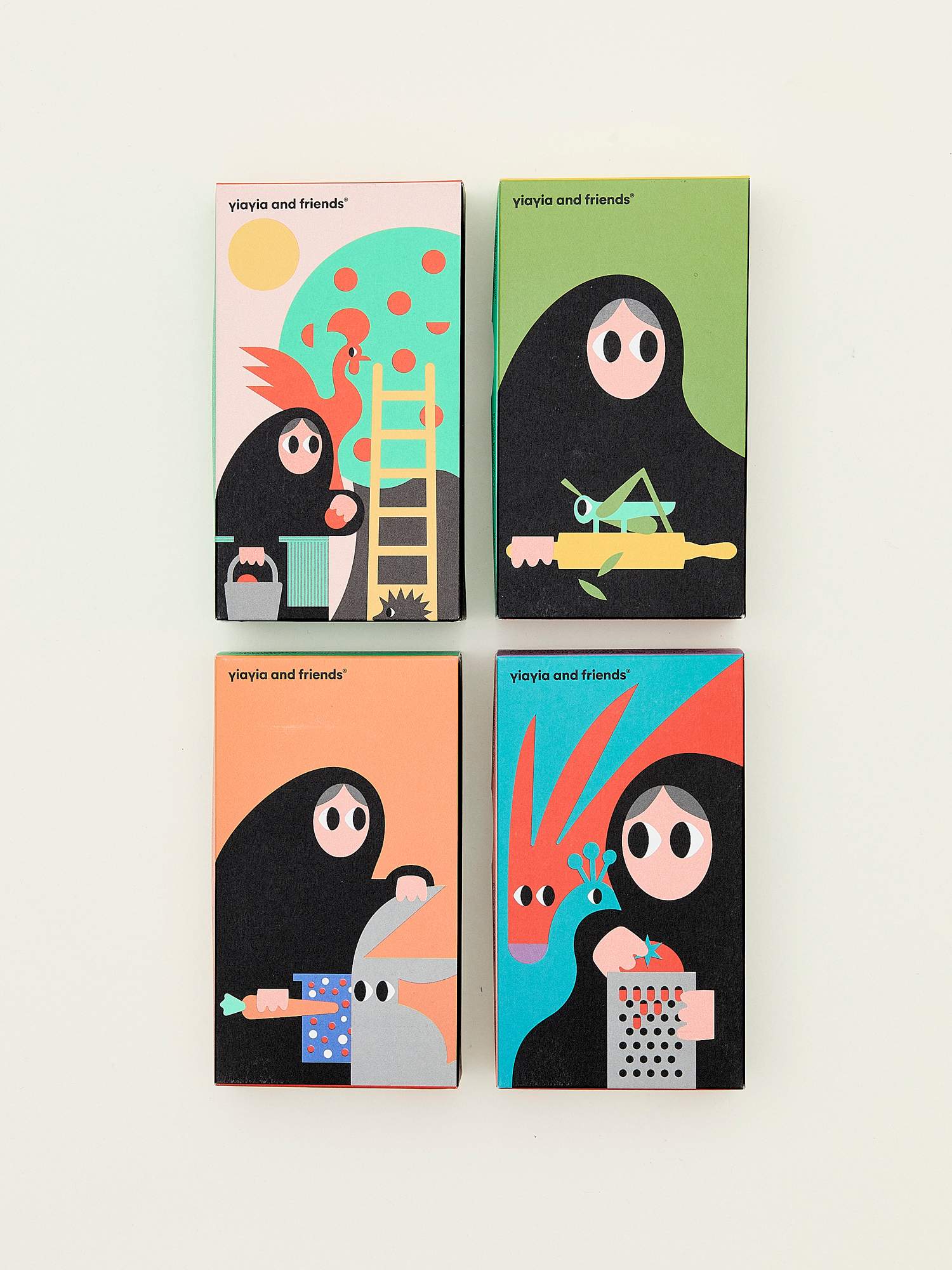 Not everyone's grandmother is a gatekeeper of great – or even edible – recipes, but Cretan food firm Yiayia and Friends ("yiayia" means "granny") has co-opted the idea of the loving Greek grandma to produce olive oil, sundried tomato and onion rusks, mandarin biscuits and more. "Yiayia would never make it through a typical marketing process," says Konstantinos Poulopoulos of communications agency Beetroot, whose designs adorn the packaging. Yiayia and Friends will open a shop in Thessaloniki later this year and is working on an educational programme on diet and sustainability for children. "The story, the visuals and the values are what matters for conscious consumers," says Poulopoulos. Proof that yiayia knows best. 
yiayiaandfriends.com
While he waits for his LA restaurant in the Arts District to be finished, Junya Yamasaki is cooking from a bright orange food truck parked outside. Yess Aquatic riffs on southern California's fish: even the van's bright hue is a playful nod to the vermilion rockfish. Since 2015, Yamasaki has spent time in Japan, cooking and studying. "In Zen philosophy, what you eat is important. It is provided to you by nature, so it is important to focus on where food comes from," he says. "I didn't see quality local fish, so I started teaching fishermen Japanese fishing techniques." The hinoki- smoked black cod in Yess Aquatic is caught and served within 24 hours. Or try the fish katsu sandwich (with nori and tartare sauce), served with chips, homemade mayonnaise and horseradish.
yessaquatic.com
Legendary Dinners
anne petersen
Dinner parties are far better attended than documented. That said, the comely book Legendary Dinners focuses on the capacity for a party to be enjoyable but also to sum up a cultural moment. Drawing on accounts, menus, recipes and scraps, it charts 20 feasts, from Napoleon's wedding to Truman Capote's polished Black and White Ball buffet.
These intertwining social histories, prepared by Salon editor Anne Petersen, are a pleasing mix of table talk, intrigue and a liberal glug of something stronger: an investigation of the power and politics involved in breaking bread. By turns glitzy and domestic, stories also veer from tasteful to odd: the Bauhaus pyramids of puréed lentils are perhaps more cultural artefact than "I'll-have-a-go".
prestel.com