Music / Italy
Sound effects
The rise of Italian-Egyptian songwriter Mahmood might not be music to the ears of the far right but the Milanese's original take on US R&B and Middle Eastern motifs, not to mention Japanese anime, is refreshing the image of Italian pop both at home and abroad.
When Alessandro Mahmoud, aka Mahmood, heard that the leader of Italy's far-right Lega party, Matteo Salvini, wasn't a fan of his music, the then 26-year-old singer had more important things on his mind. Back then, in early 2019, his tune "Soldi" had just won the prestigious Sanremo Music Festival, the country's annual nationwide song contest. That same track would claim the runner-up spot at the Eurovision Song Contest just a few months later. Salvini, then deputy prime minister, said that he doubted that Mahmood's track was the "best Italian song of that year", which many took to mean that he was prejudiced against it.
"Soldi", a mesmerising hit rich in Middle Eastern riffs and featuring lyrics in Arabic, probably felt far away from the politician's limited idea of Italianness. But rather than getting drawn into the controversy, Mahmood was busy grappling with his newfound success. "I was so overwhelmed by everything that was going on that what he said didn't really matter," he says.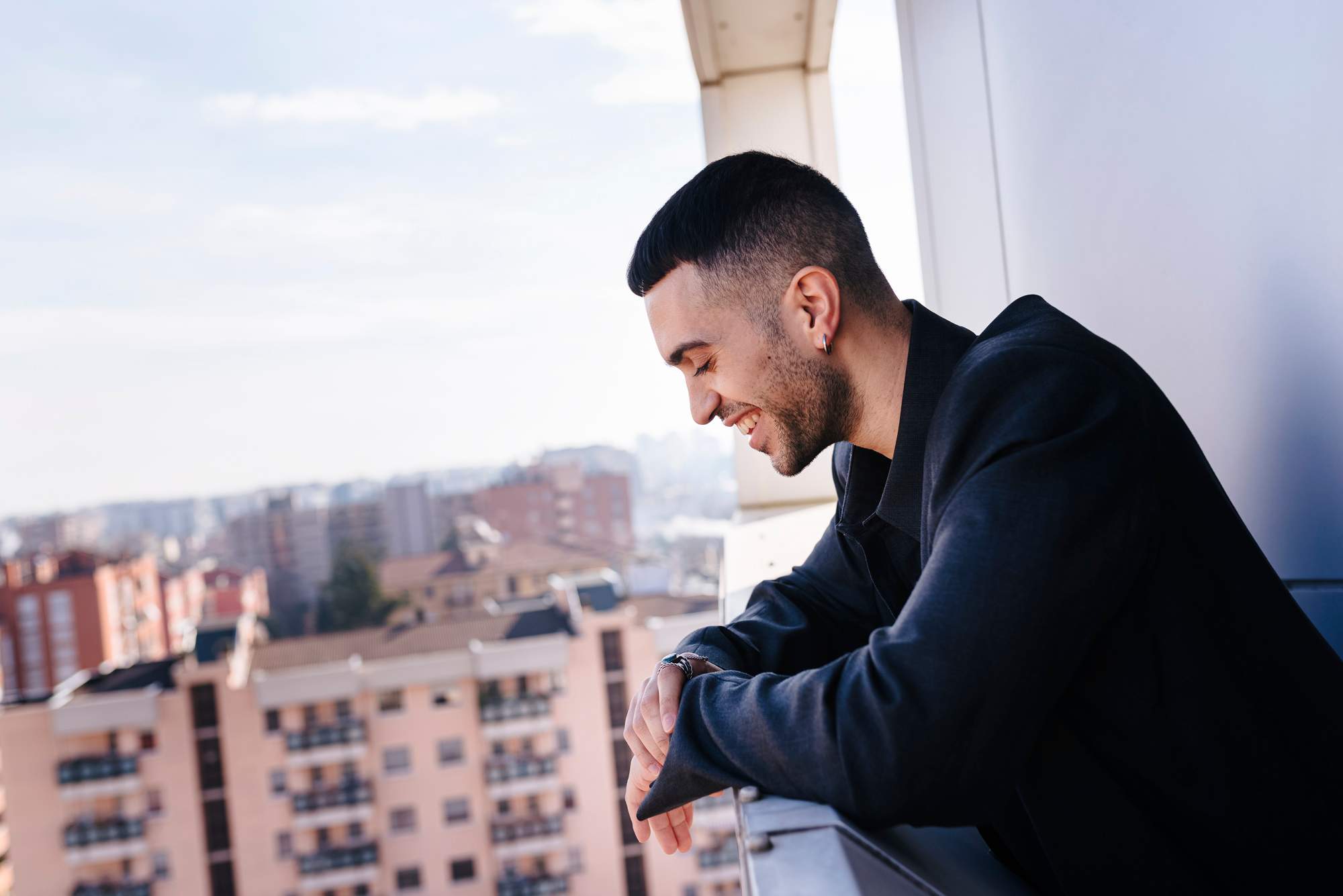 Two years on, Mahmood exudes the confidence of an artist whose breakthrough hit is now the most-streamed Italian song ever – and one that has helped put a different version of contemporary Italian pop on international airwaves. When we meet in his flat in Milan, he looks every bit the edgy pop star, sporting an oversized Balenciaga blazer, a pair of chunky black Reeboks and a low-cut tank top. Sitting by a round glass dinner table, Mahmood points to the wooden bow that hangs on the wall behind him. "It's a prop for my new video. I'm pumped that it's finally out," he says.
That new single, titled "Inuyasha", is a ballad that blends dreamy guitar chords with captivating beats, and is the result of an entire summer spent jotting down lyrics. Being able to write his first song in months came as a relief after a sluggish period in creative matters. Whereas some other artists were able to pen plenty of lockdown-inspired bedroom-pop tracks, Mahmood missed external stimuli for his powerful, eminently danceable sound. "I couldn't get myself to write much when I was stuck indoors," he says. After all, much of his debut album, Gioventù Bruciata – a record that includes songs about his relationship with his father as well as exploring his heritage and his home city's multicultural identity – was written while commuting on the Milanese metro, where he would often find inspiration. "It's a whole other world down there," he says, laughing. "I sometimes miss the flavour that my music would take when I wrote on the train."
On "Inuyasha", Mahmood reflects on the struggles of keeping romance alive and preventing his worst attributes from overwhelming a relationship. It's a theme that he, perhaps surprisingly, has decided to combine with a long-held passion for Japanese graphic novels. "I've always been fascinated by how anime blends great visuals with strong themes," he says. "That guided my new album."
His much-awaited sophomore record, mostly penned between sold-out shows across Europe and rehearsals for his Eurovision performance in Tel Aviv, is due later this year. It will, pandemic permitting, be accompanied by a European tour – proof that Mahmood has his ambitions set well beyond Italy's borders.
"Music is a form of art and your image counts. It's all about enriching the song without overshadowing it"
Unlike many of his counterparts on the Italian music scene, Mahmood's blend of art pop and r&b is largely inspired by international sounds. Growing up, he admired Stevie Wonder, and still has a penchant for American r&b today – over the past few months, he's been playing Philadelphia-born Jazmine Sullivan's "Lost One" on repeat. But he also recently rediscovered a growing number of Italian songwriters (Franco126's "Blue Jeans", featuring Rome indie-pop artist Calcutta, is one such track). Listening to his fellow Italians' work is a way for Mahmood to make sure that his music has an unpredictable, original quality that allows it to stand out. "I always try to add sounds that I don't hear in Italian songs," he says.
A taste for experimentation in his fashion choices also sets him apart. In the video for "Inuyasha", Mahmood interprets the half-dream from the Japanese animated series wearing a rather risqué red custom-made Burberry leather trench. "Music is a form of art and your image counts," he says. "It's all about enriching the song without overshadowing it."
His daring approach has managed to inspire other artists in Italy to do things differently. Mahmood agrees that a growing number of younger singers there are testing out new genres and breaking the mould, leaving traditional songwriting behind. "It's about feeling free to do what you want," he says with a hint of pride. "We are tired of our music never being first internationally."
It seems that Mahmood might just be on the path to fixing that. 
Mahmood's mix tape
1. Jazmine Sullivan Lost One
2. Kid Cudi She Knows This
3. Blanco Ladro Di Fiori
4. Nathy Peluso Agarrate
5. Franco126 and Calcutta Blue Jeans
6. SZA Garden
7. Paolo Conte Un Gelato Al Limon
8. Stevie Wonder Jesus Children of America
9. Lauryn Hill To Zion
10. Franco Battiato I Treni Di Tozeur