Shopping / Global
The Monocle Shop
Spring is most definitely in our step this month, with a selection bringing forth light fabrics, bold tableware and fresh finishing touches for your home. Oh, and a bright tote to take outside.
Adriano Meneghetti x Monocle narrow elastic belt
€110
Never underestimate the power of a good belt to sharpen up a look. We've introduced a couple of updates to our partnership with Adriano Meneghetti, the Milanese maestro, to keep things looking snappy. The belts are made in Italy using a stretchy rayon with a woven structure that means they can be buckled at any point along the length.
colours: Navy or olive.
materials: Leather, brass and rayon.
made in: Italy.
Shop now
---
Barena x Monocle cotton overshirt
€440
Barena, a monocle favourite, creates finely tailored work wear with a dash of insouciance. Our take on the Venetian brand's overshirt has patch pockets, a neat collar and the roomy silhouette characteristic of this utilitarian staple.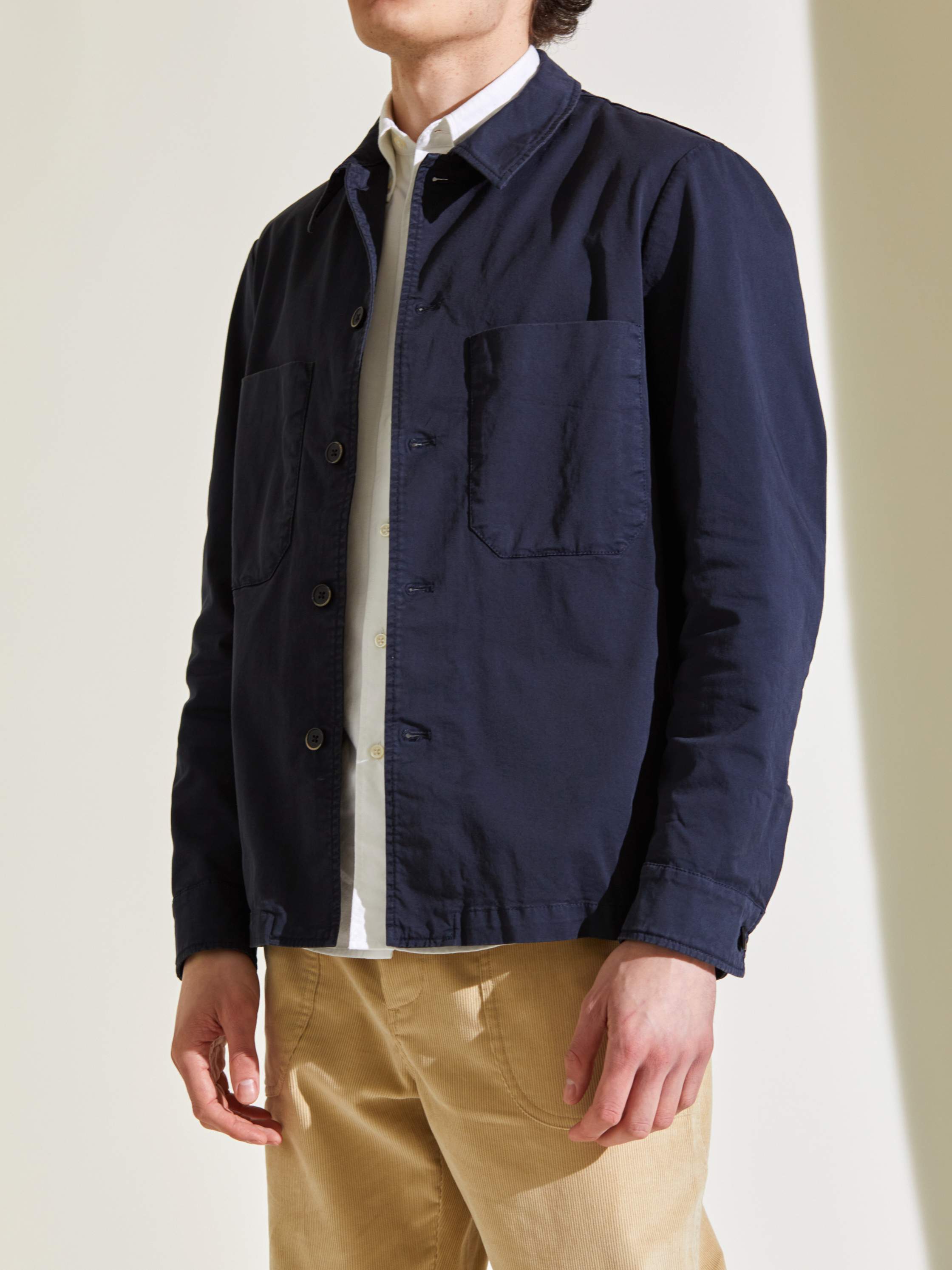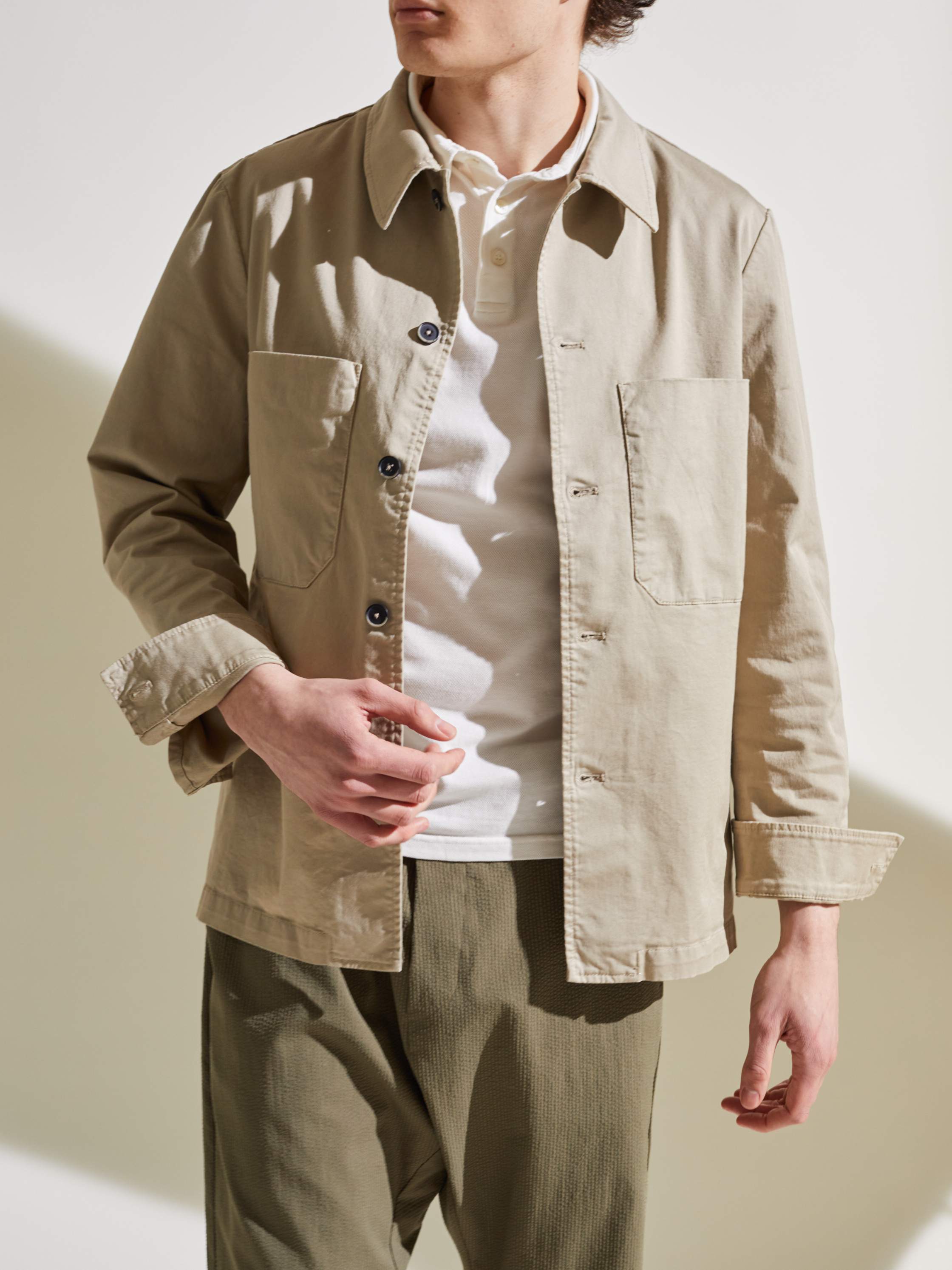 colours: Navy or stone.
materials: 98 per cent cotton.
made in: Italy.
Shop now
---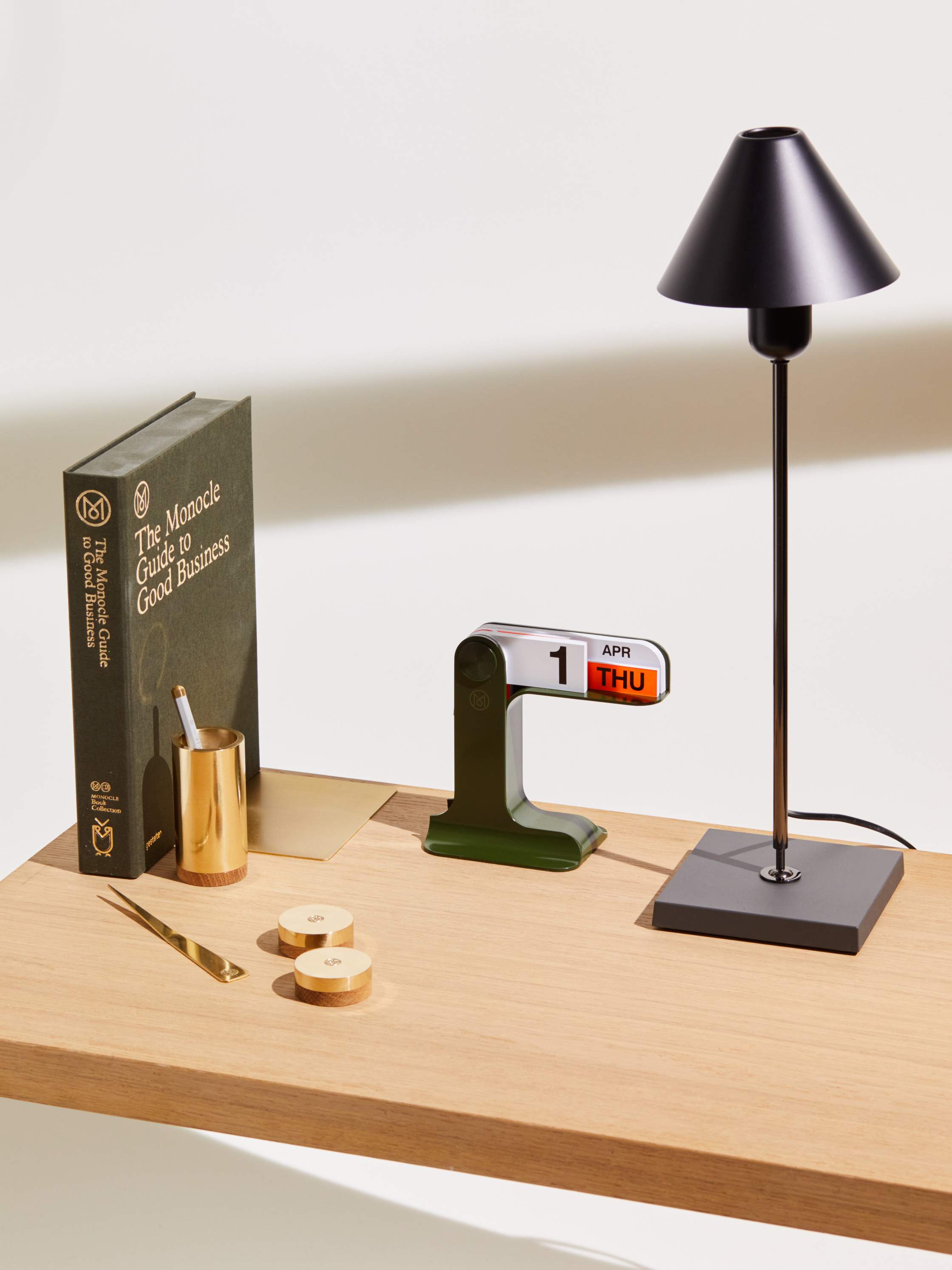 Danese Milano x Monocle Timor perpetual calendar
€150
In an age of apps there's something soothing about the Timor table calendar. A design classic, it was created in 1967 by the late, great modernist Enzo Mari for Italian manufacturer Danese Milano. Decades on, it hasn't lost any of its appeal – in fact we might need its analogue charm now more than ever. Made in Italy, the pvc cards representing the days, months and date fan out from a fixed central point. Our exclusive version comes in olive with a signature salmon filter over the day of the week to get you grinning – even on a Monday.
colour: Olive.
size: 15cm x 17cm.
material: pvc.
made in: Italy.
Shop now
---
Johanna Gullichsen x Monocle magazine tote and vanity case
€175 and €75
Finns are famously good with textiles – and for our latest project we've sought the expertise of one of Helsinki's leading talents. Johanna Gullichsen has been dreaming up textiles with striking graphic patterns and pops of colour since 1989. Her work spans rugs, cushions and accessories but we've chosen to focus on two carriers: a vanity case for your cosmetic essentials and a magazine-sized tote to stash your favourite titles. Choose from the bolder Doris, Gullichsen's signature pattern, or Eos, made up of hundreds of fine stripes. Whichever you pick, the grey-and-yellow colour combo will turn heads while you're out and about.
magazine tote size: 34cm x 36cm x 9cm. 
vanity case size: 26cm x 9cm x 19cm. 
colours: Grey, olive and yellow. 
material: Cotton.
made in: Finland.
Shop now
---
R+D Lab x Monocle Helg carafe and Helg tumblers (set of two)
€105 and €80 (clear), €135 and €115 (green)
Jay Vosoghi and Sara Mostofi, the duo behind r+d Lab, work with traditional artisans in Italy to bring their designs to fruition, whether glassware or textiles. We're offering two versions of the Helg 1-litre carafe and cups: one made from ribbed, clear glass, the other – if you're feeling a bit more daring – in smooth grass-green glass. Inspired by the neo-rationalist architecture of the late 1960s, they are handmade from borosilicate glass (a composite that is durable and thermal-shock resistant) so are ideal for cold or hot drinks.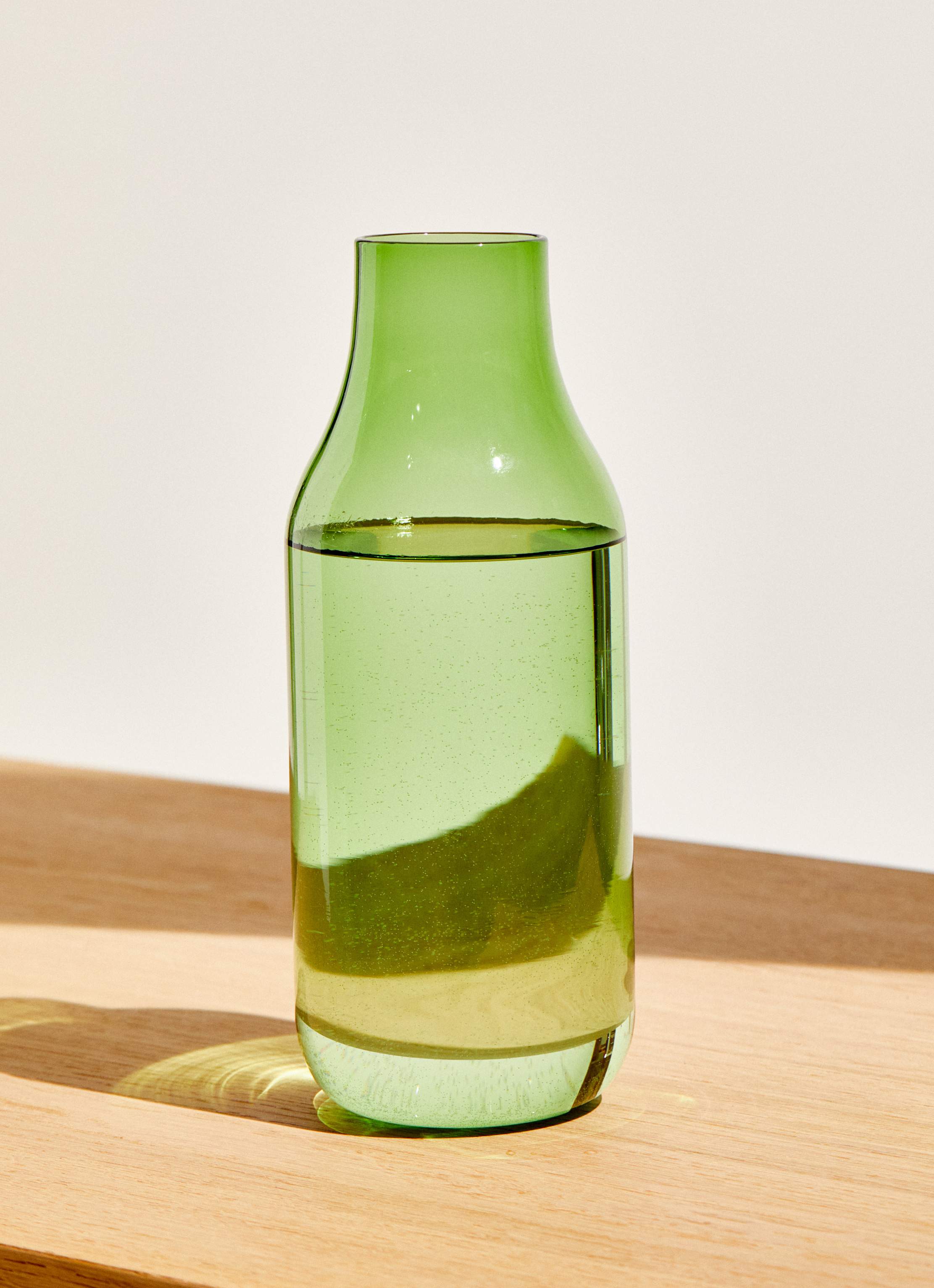 size: H23cm (1-litre carafe); H8.5cm (tumblers, set of two).
colours: Diamine green or clear (ribbed).
material: Glass.
made in: Italy.
Shop now
---
Bitossi x Monocle ceramic vases
€55, €60 and €90
Guido Bitossi came from a long line of skilled Tuscan ceramicists, sculptors and artists. In 1921, the young Italian opened his own factory in Montelupo Fiorentino, a storied ceramic-making area near Florence. Among the historic firm's greatest hits is the Rimini Blu collection, which was created in the 1950s by long-standing artistic director Aldo Londi. The line of vases, bowls and figures were notable for their vivid shade of blue and engraved motifs – and were credited with introducing a sense of the handcrafted and ornate into Italy's modernist design. Our collaboration has three shapes of vase – in that signature blue, as well as sunny yellow or olive.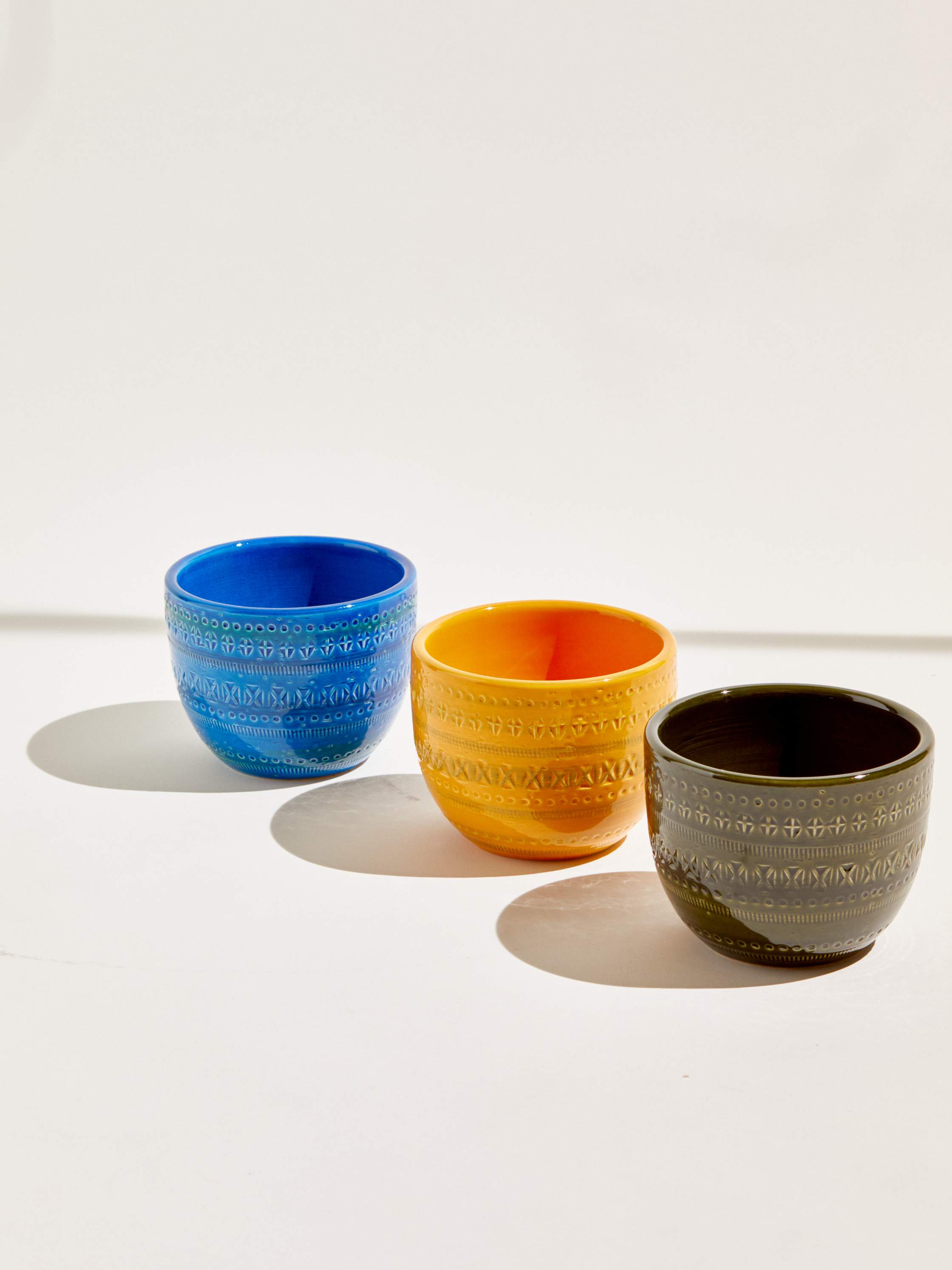 colours: Blue, yellow or olive.
size: H12cm, 15cm and 16cm.
materials: Ceramic.
made in: Italy.
Shop now
---
The Monocle Book of Italy
€65
From the craggy peaks of the Dolomites to the azure waters of Sicily, join us as we throw down our towels at the best bagni – and maybe hit a disco or two – in this 302-page book.
dimensions: 40cm x 30cm.
printed in: Italy.
Shop now
---
Society Limonta x Monocle Bon place mats (set of two) and Bon napkins (set of two)
€36 and €24
Trust us, you want your dining table covered in Society Limonta linen. The brand, which makes everything from napkins to bathrobes and pillow cases, was launched in 2000 by the Limonata Group, a historic textile company based in Costa Masnaga in northern Italy. We're releasing a place mat set and a napkin set, each comprising two pieces. They're made from linen, feature an embroidered "m" logo and will bring a relaxed elegance to your mealtimes.
colours: Warm grey or pine-tree green.
size: Place mats 40cm x 50cm; napkins 45cm x 45cm.
material: Linen.
made in: Italy.
Shop now