Why rent expensive studio or gallery space when you can create and showcase at home? Meet the real artists in residence.
Albert Madaula has turned an apartment into a smart home, shared studio space and a place to show and sell art.
On the fifth floor of a terracotta building on the corner of a palm-tree-dotted street in Barcelona's Poblenou neighbourhood, Palmera Estudio is a riotously colourful, multi-purpose location that operates as a production house, art studio and exhibition venue. It is a place "where people and art live side by side", as its founder Albert Madaula puts it. Madaula is both the inhabitant and director of the space, which he shares with two other artists: Sara Andújar and Roger Vilà. The three work together on projects ranging from paintings to films and brand collaborations, as well as their own designs. "It's a great place to work," says Andújar. "It has a lovely atmosphere. Being together brings out new ideas. Albert always wanted a big homely studio full of activity and people."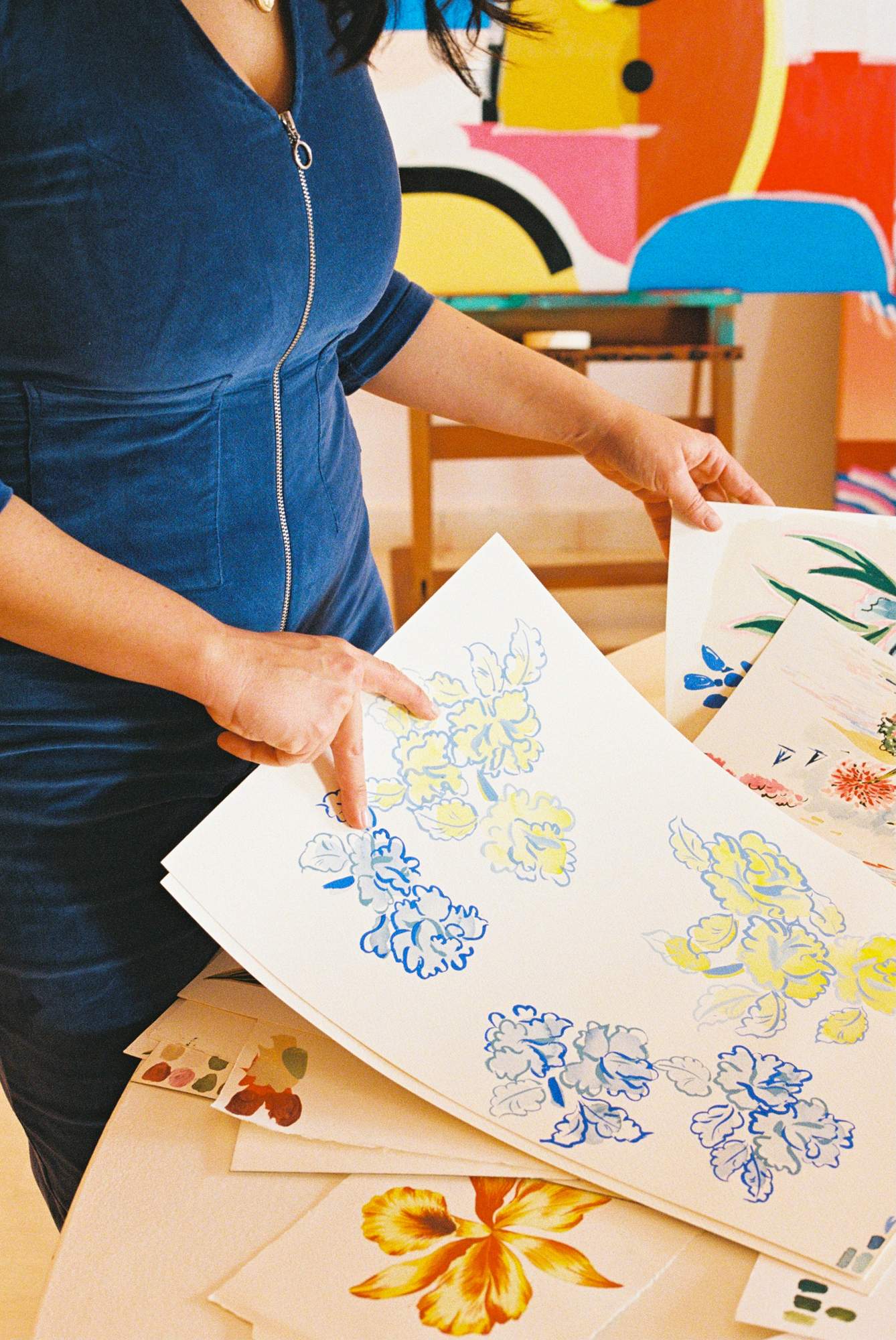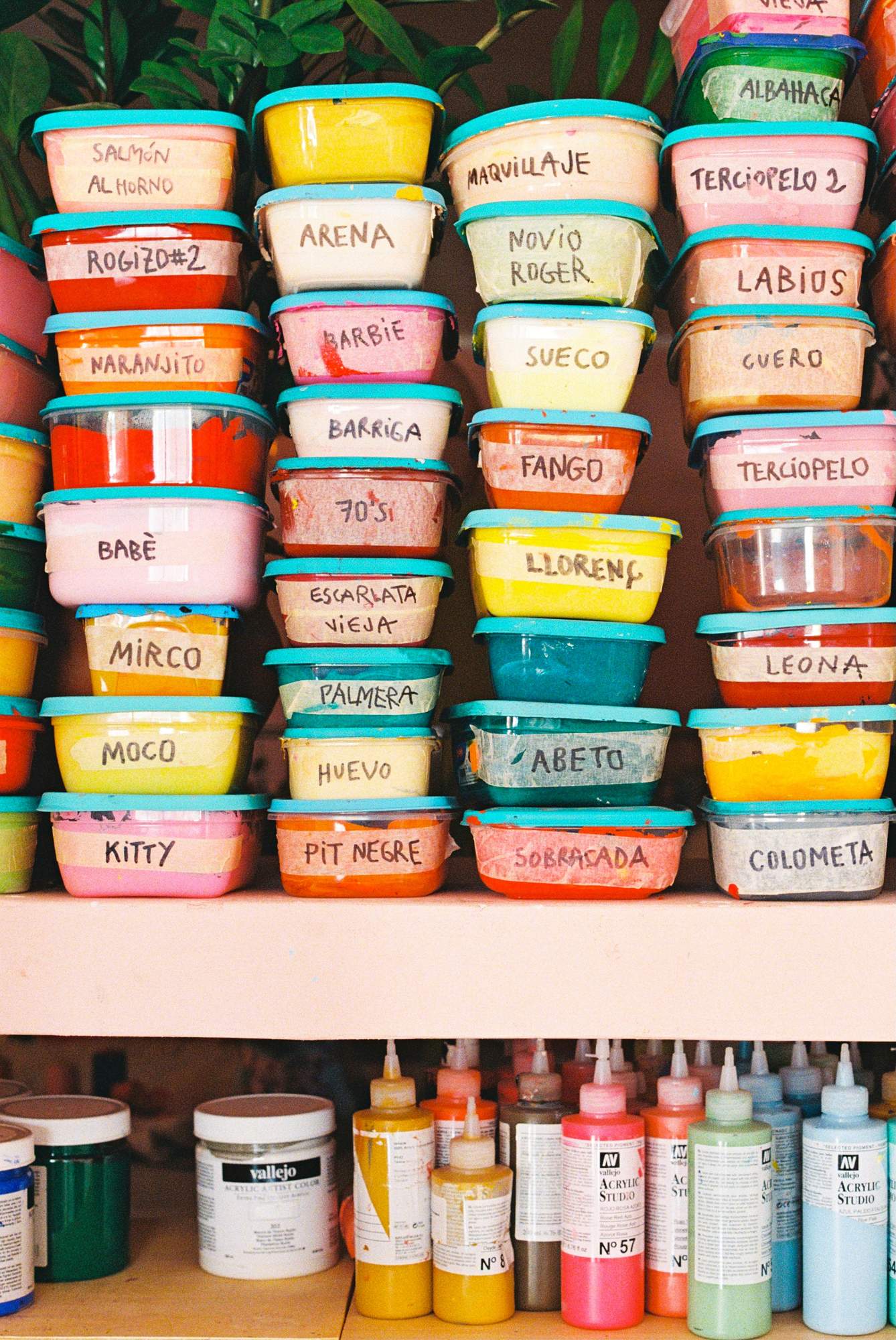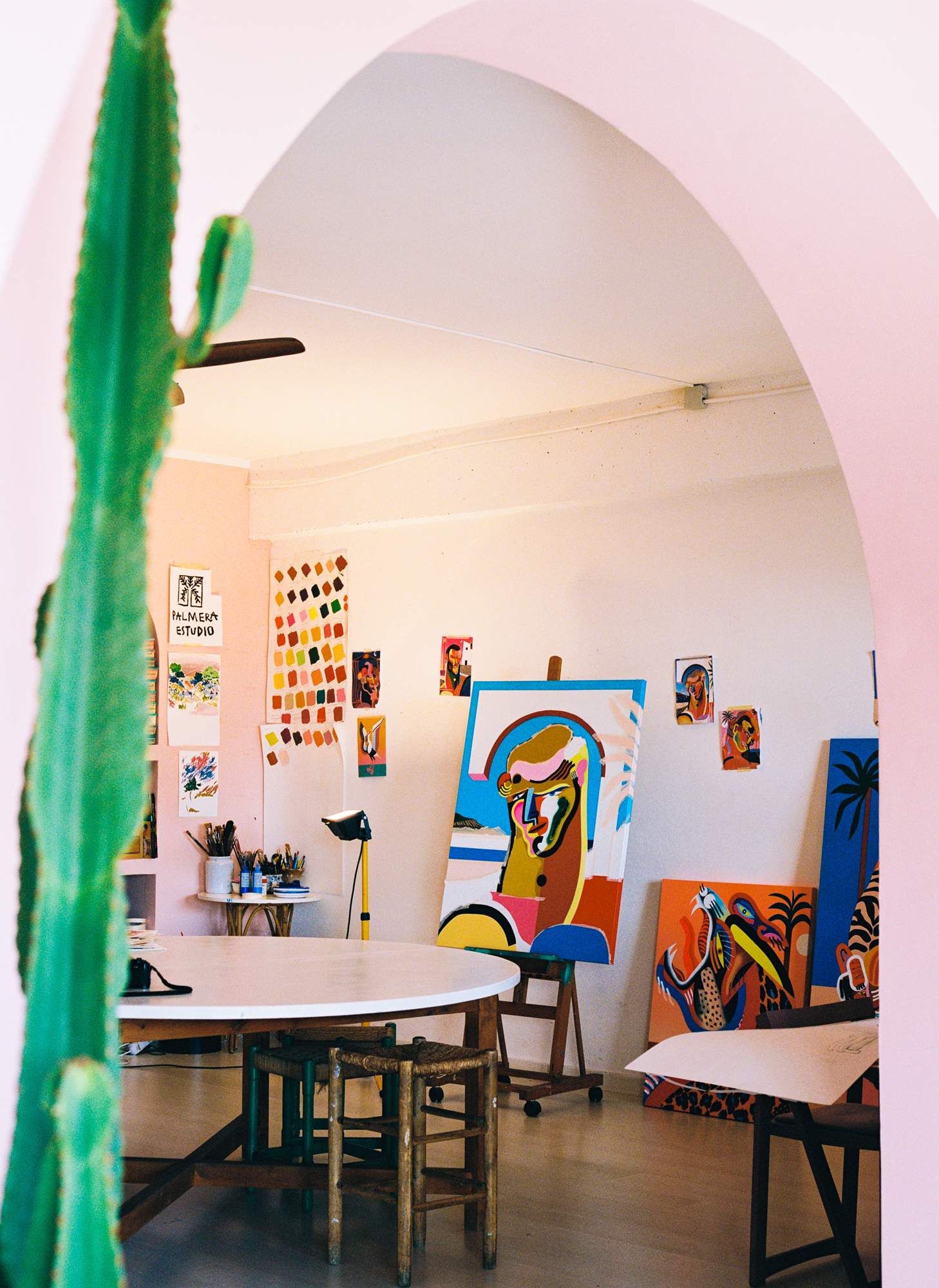 Over the past decade, many of the textile factories that operated during Poblenou's 20th-century industrial heyday have been turned into headquarters for creative studios and start-ups, as well as apartments. Having seen the area evolve and blossom, Madaula had long aspired to move into his own live-in studio in one of the warehouses typical of this beachside nighbourhood. "I love Poblenou's 1970s buildings," he says. "They were built with different coloured façades, huge windows and iron staircases, like the fire escapes of New York, at the front."
Such premises are in high demand but Madaula's determination was a factor in obtaining the lease. Desperate for a new place to live and work, he found an available unit – but it was in a dire condition. "It was full of junk," he says. "It smelled and there was broken glass. But I didn't care because I could see the potential."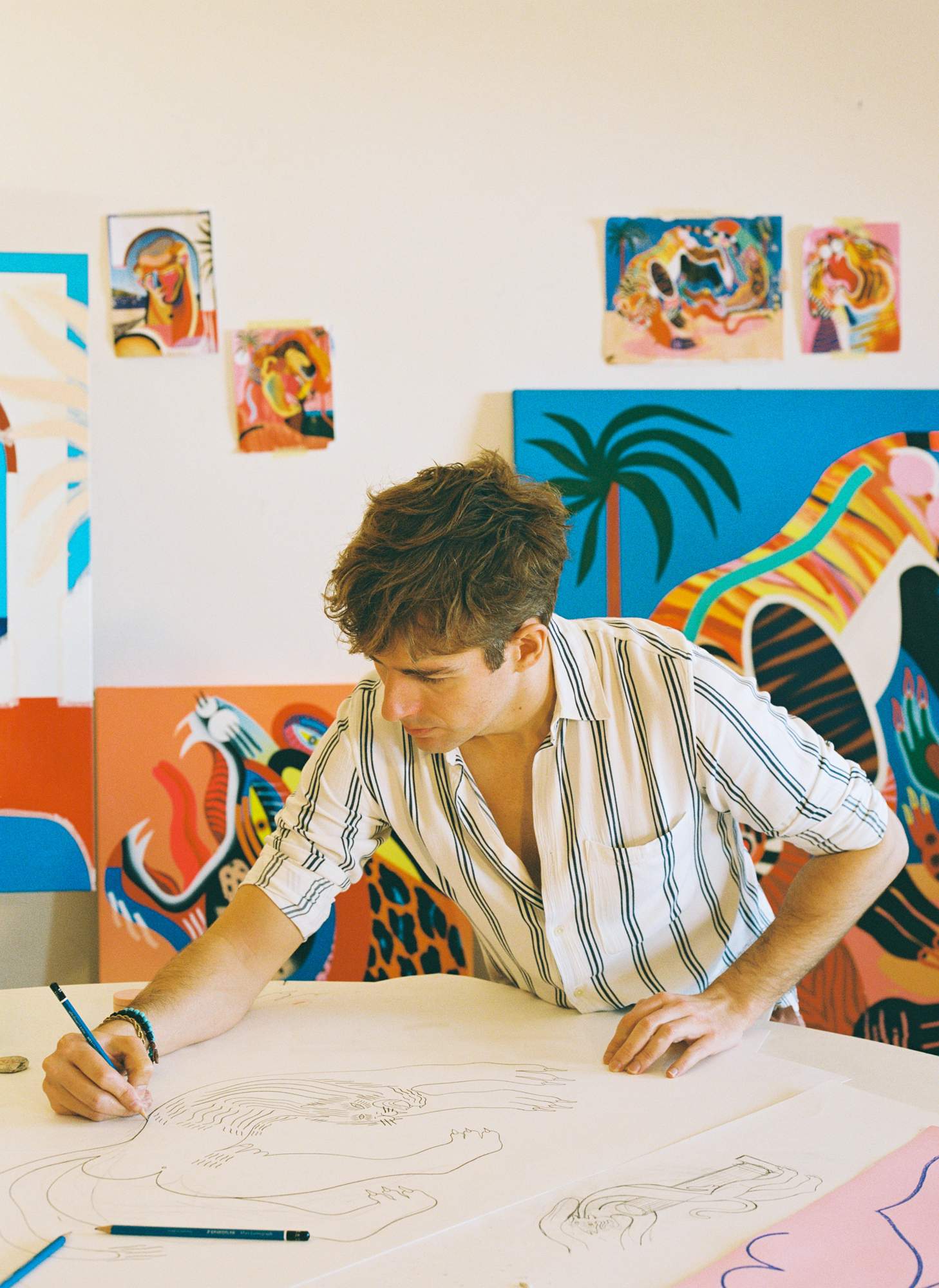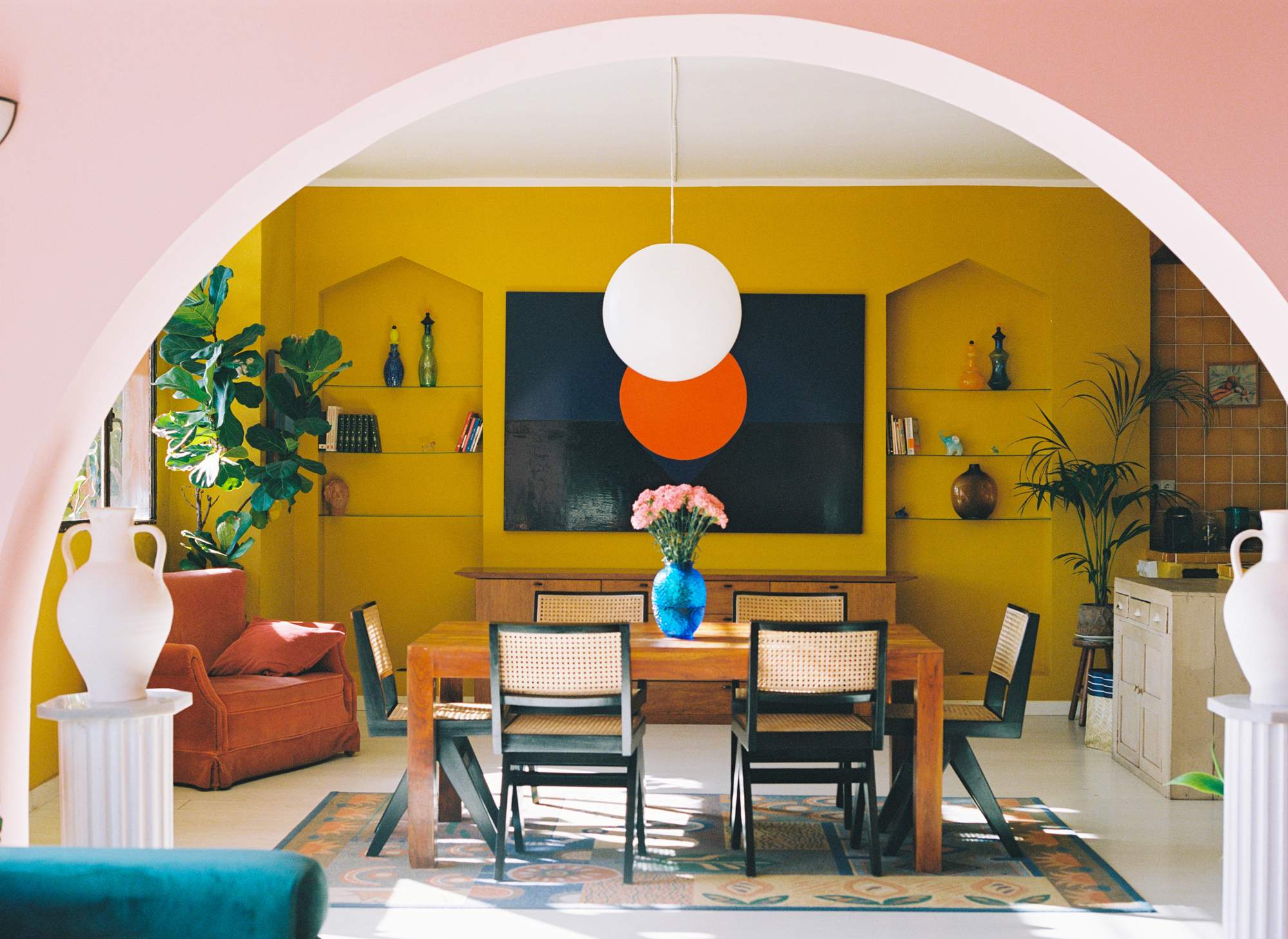 Over two weeks, Madaula designed how its two separate rooms would become an open-plan live-in studio. He rethought the kitchen, living room and bedroom, finishing everything with handsome details such as wood panelling on the ceiling. He lists the curvaceous creations of architects Ricardo Bofill and Richard England, as well as the Moroccan vernacular, as inspirations. Around the flat are quirky ancient-Rome-style details, including parts of columns and mismatched vases. It's an aesthetic that feeds into Madaula's work, be it his paintings or his directing.
Palmera's architecture and furnishings have an effect on its occupants' activities that goes beyond visual references. The open-plan surroundings are fundamental to the flow of ideas and creation of unique projects. "Albert wakes up with ideas and we bring them to life," says Vilà. "Our process is natural." Andújar agrees. "From the moment Albert found the space, his idea was to recreate the feel of a holiday home, where it's easy and inspiring to create," she says.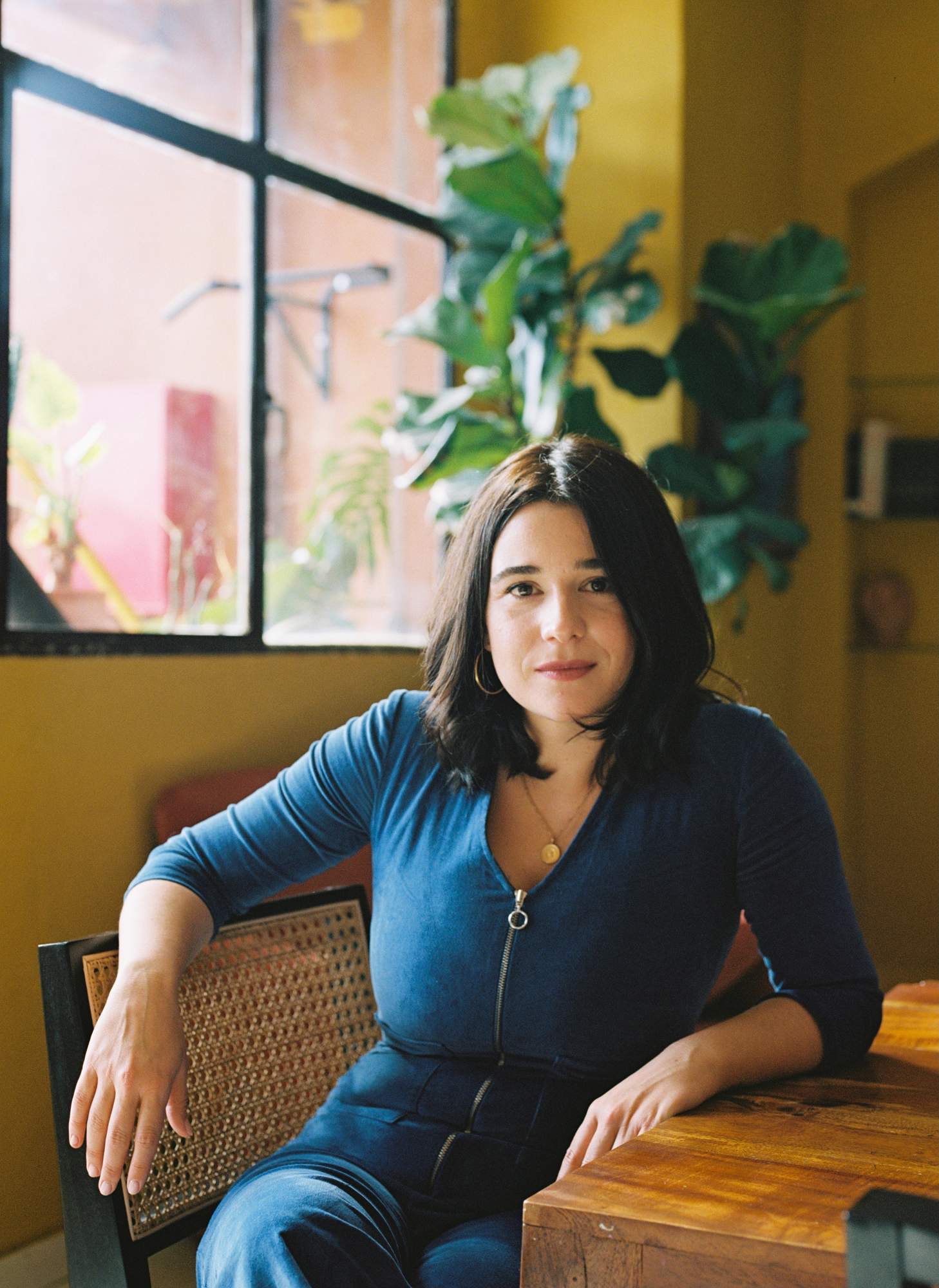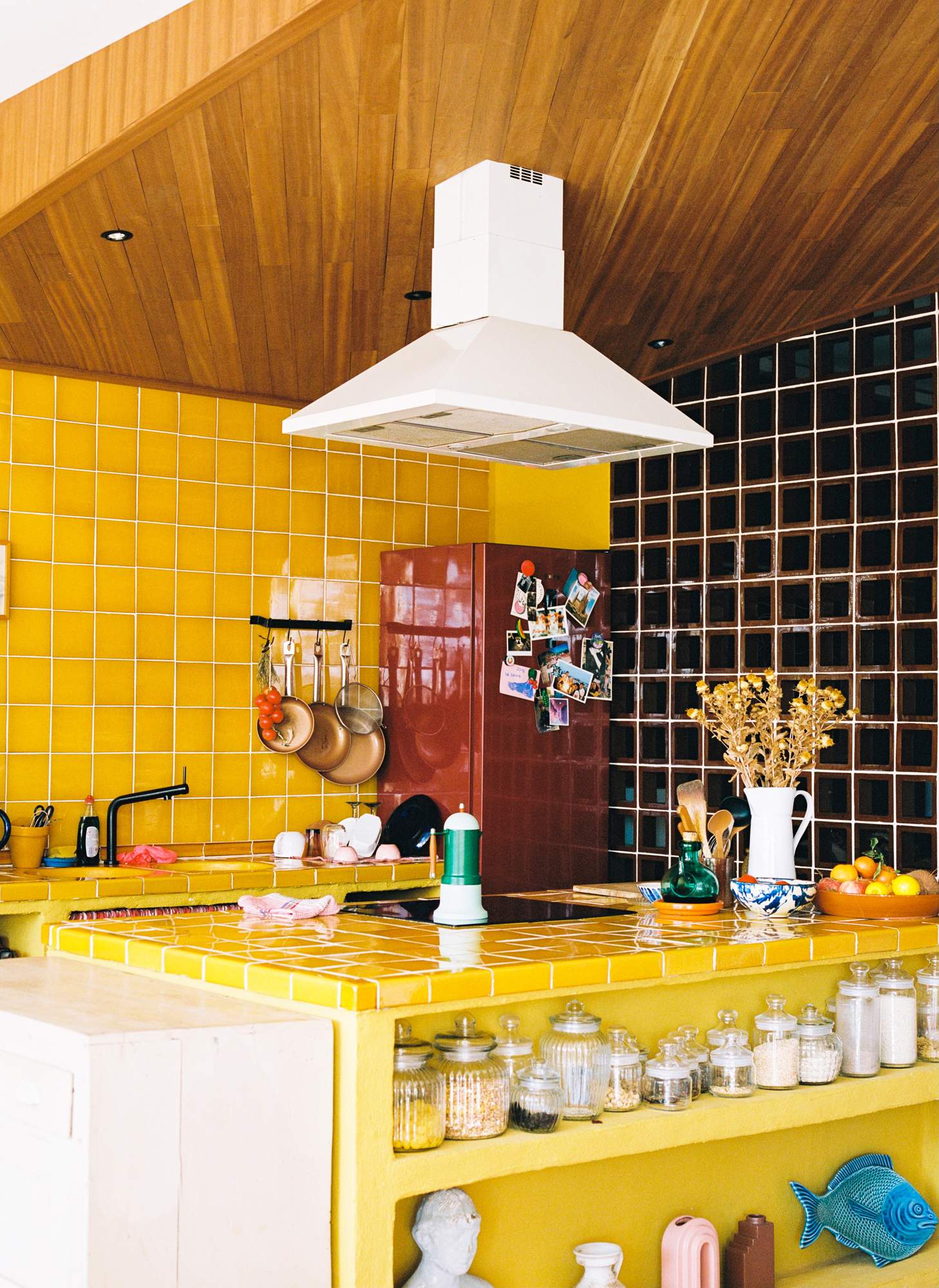 The fact that the occupants work across many different disciplines also helps to encourage unpredictable results. Mixed-media artist Vilà is also an actor, while, having worked in the textile industry in the past, Andújar now makes vibrant abstract paintings. Madaula's canvases, meanwhile, consist of colourful portraits that have a touch of fauvism and art deco about them. Visual art, for him, was always accompanied by experiments in other fields, including photography and interior design.
Now his focus is on evolving Palmera as a film-production house. The team is working on a commercial to promote a collaboration with 92-year-old Barcelona jewellery designer Albert Coll. Madaula and Vilà are also working on the script for the studio's first feature-length film, which will be shot within its pink, mustard and blue walls. The beauty and atmosphere of the space makes it a popular location for shoots and events – a side hustle that helps prop up the finances.
Warehouse conversions can feel cold, colourless and empty but Palmera Estudio is warm, cosy and eclectic. "Whether or not this was Albert's home, it would still have this essence," says Andújar. "Because it embodies who we are. It makes us feel relaxed, so we can create." 
lapalmeraestudio.com
---
2.
The Apartment & The Fourth
How an unplanned gallery for upcoming artists expanded across a residential Cape Town block.
Artist Rodan Kane Hart and interiors curator Maybe Corpaci hadn't intended to turn their new Cape Town digs into a contemporary art gallery. They found the space two years ago on the top floor of a six-storey art deco building because Hart needed a studio. Once they had taken up residence – converting the flat into a dual-use space to merge their disciplines – Hart fancied hosting a group exhibition at the same time as the city's art fair. "The idea is that art isn't produced in a vacuum and doesn't exist in one," says Hart. "It's often experienced in spaces that are more intimate." The event, aimed at offering emerging art and artists a platform in a domestic environment, was a success.
Soon afterwards the pandemic struck, forcing the activities of the gallery, called The Apartment, online. But this also presented Hart and Corpaci with an opportunity to develop a brand-new space on the fourth floor of the same building, which they have named The Fourth. As tenants left the block during lockdown, three floors were left vacant. Impressed by the couple's transformation of the top storey, the landlord offered them use of another floor, rent-free, for six months. The pair transformed it into an extension of the upstairs gallery, where collectors could browse pieces in a residential-like space. "We pride ourselves on re-engineering spaces and reimagining how they can function," says Hart.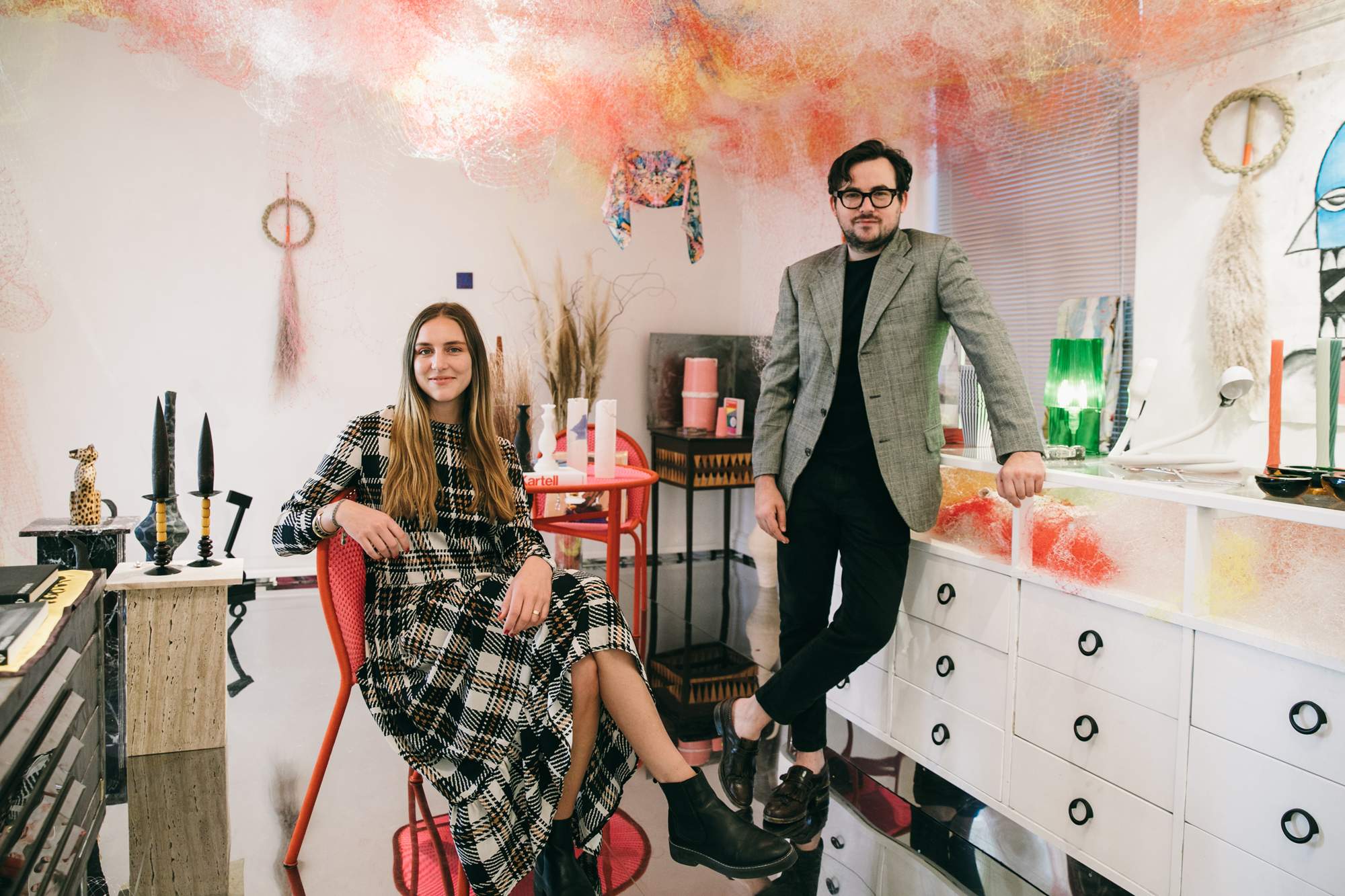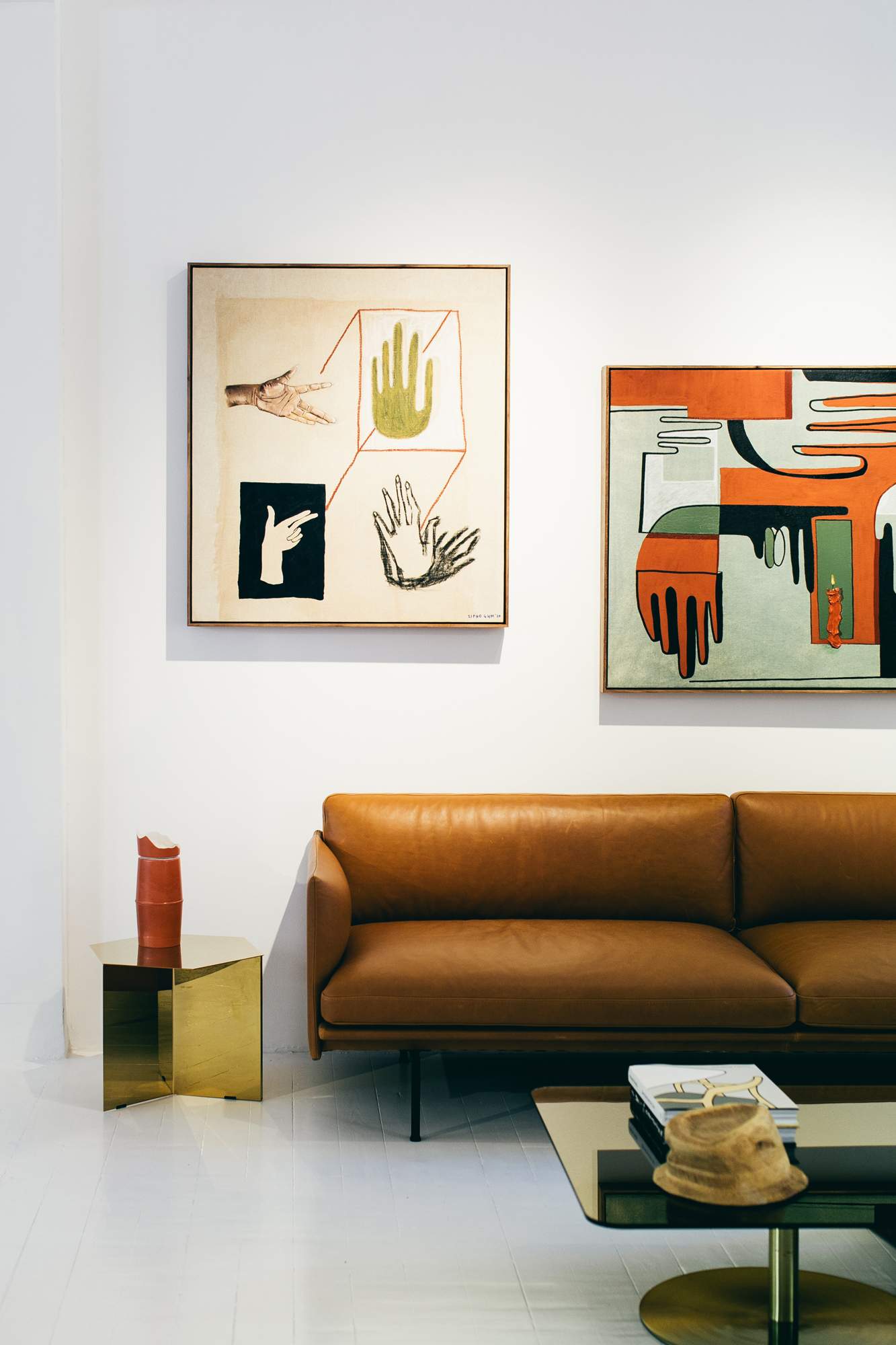 The Fourth opened last September. Although nobody lives inside, the gallery retains a domestic vibe. The exhibition rooms hold furniture from South African brand Lemon alongside pieces by new artists, including installations made of upholstery materials by Unathi Mkonto and dreamlike oil-on-canvas paintings by UK-born Alexander James. The homeliest room is the burgundy bar – a corner surrounded by a Persian rug and mustard leather chairs – where events often commence.
If everything inside The Fourth feels seamless, it's because the pair brought their personality into the space. They are remarkably aligned. "We choose work that we respond to," says Corpaci. "We hardly ever disagree on an aesthetic or curatorial choice." Unlike other galleries in Cape Town, which might be more commercial, The Fourth offers a platform for artists and designers who might not otherwise be represented. The Apartment, where it all began, is still open for events, despite mainly functioning as the couple's home. "There are no longer people walking around our bedroom," says Corpaci, laughing. "But there's still constant foot traffic."
Exchange Building, 28 St George's Mall, Cape Town
---
This grand, three-storey home in northern Italy is repeatedly refashioned by its roster of live-in artists.
"This is a house that transforms into something new every month," says Edoardo Monti, founder and patron of Palazzo Monti, an art residence in Brescia, northern Italy. Completed in the 13th century, with a monumental stone entrance and finely restored Baroque-era frescoes on the ceilings, the palazzo might appear too grandiose a building to be so mutable, yet 29-year-old Monti has managed to refashion it with the help of a changing cast of creatives. "It's the artists and the art that create the space and the mood here, so the palazzo is in permanent flux," he says.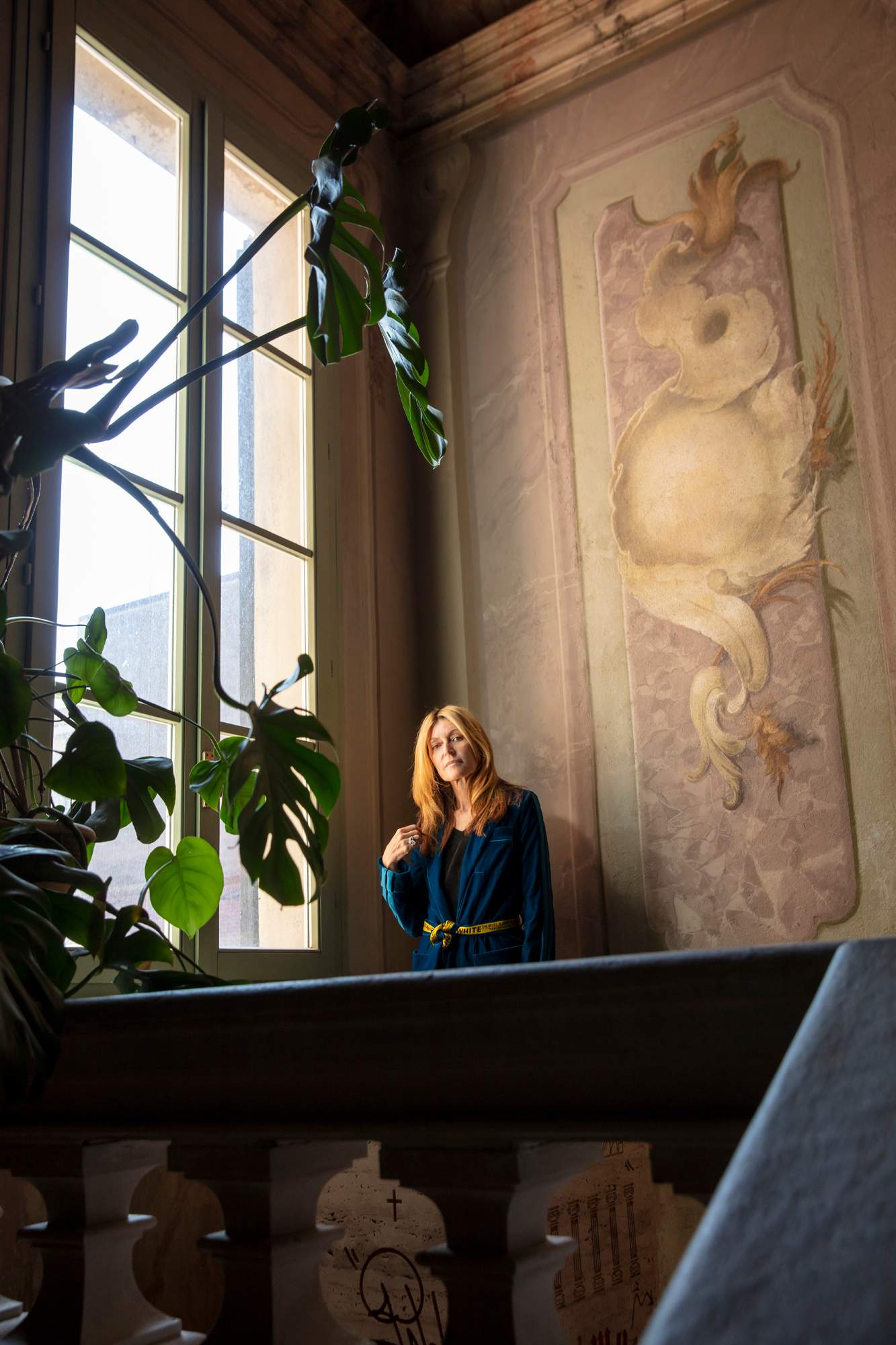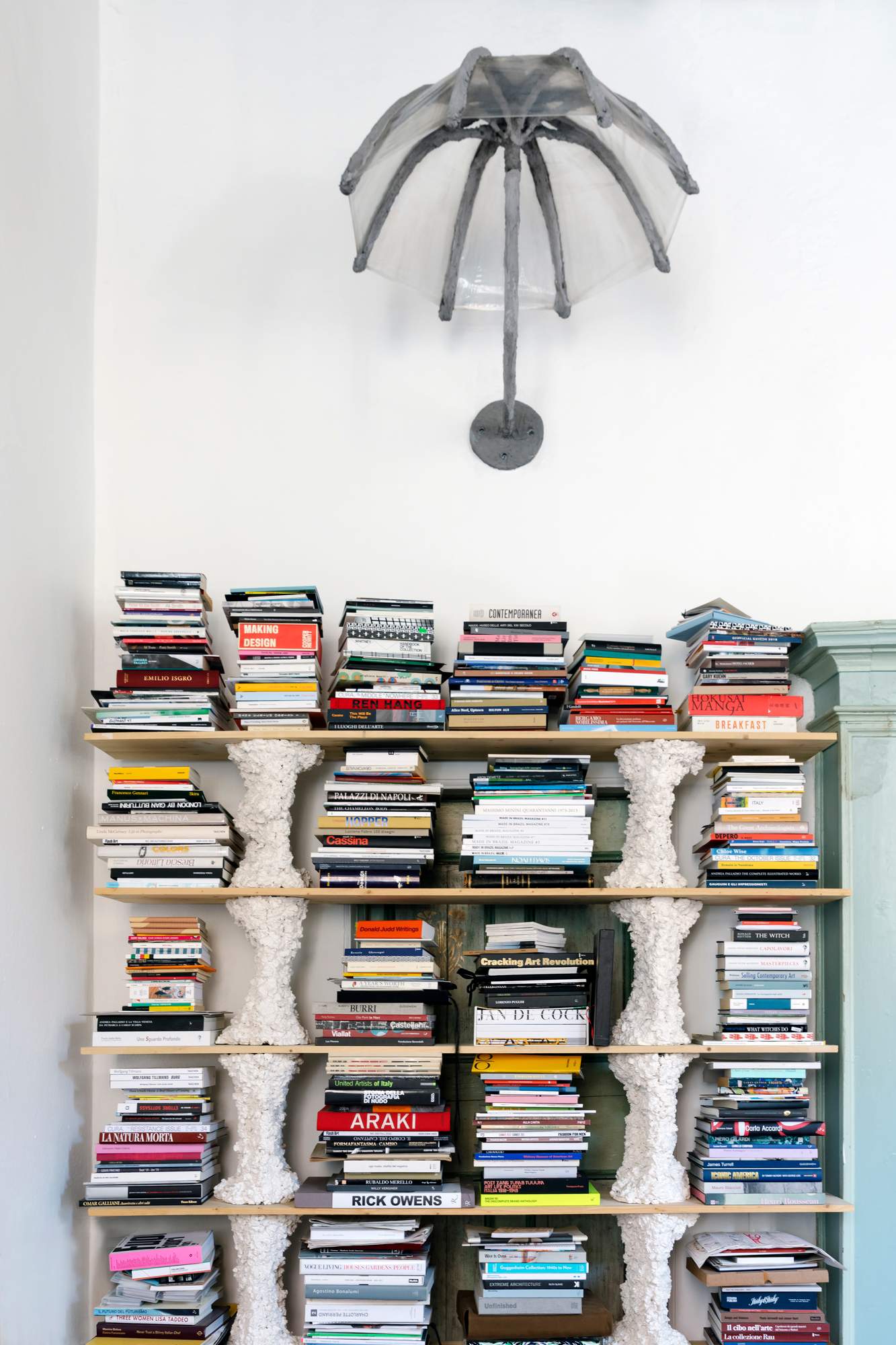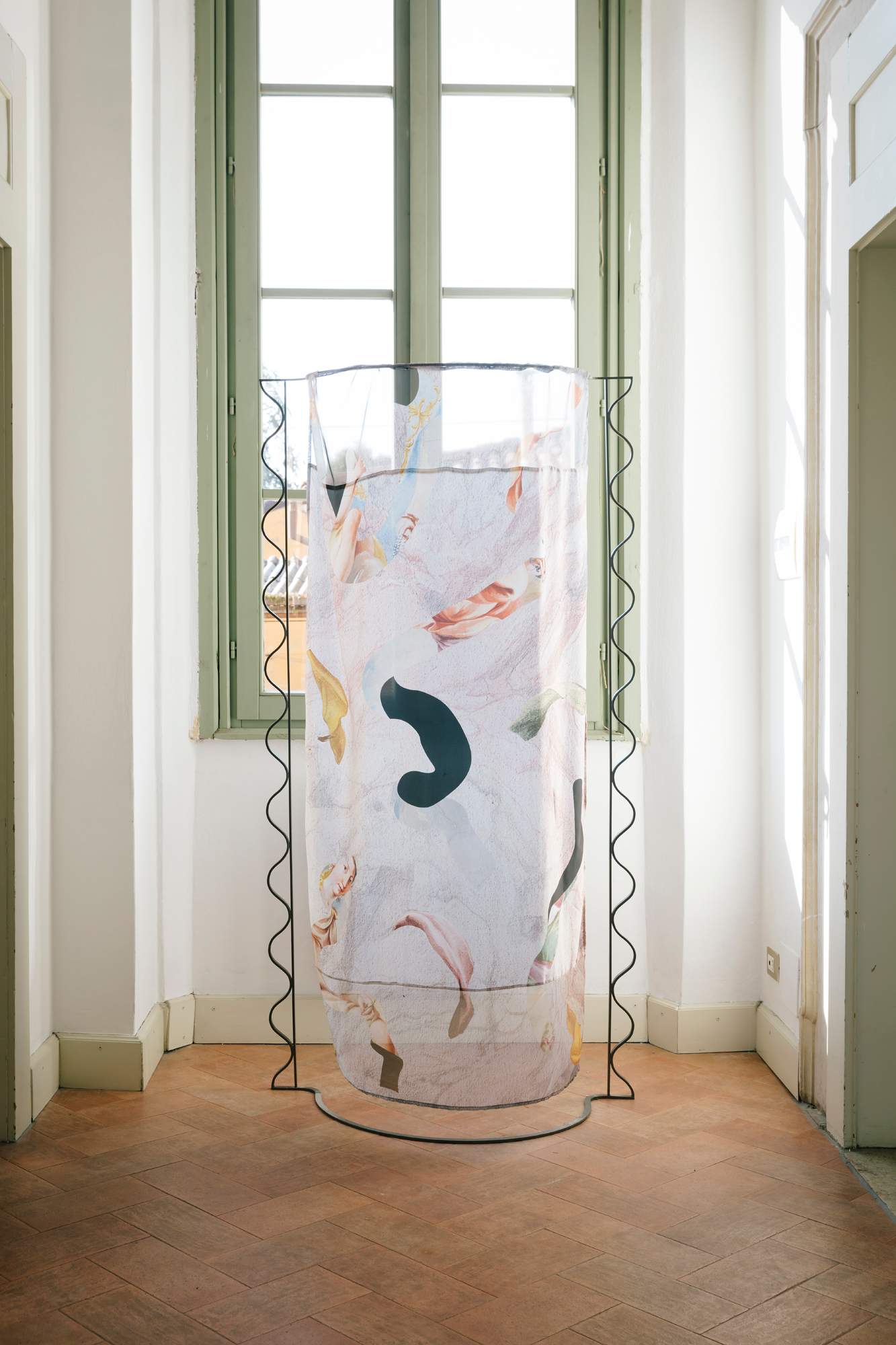 Spread over three storeys, the residence has six bedrooms for artists and staff, two top-floor work studios and a pair of gallery rooms. One of these is beneath a 1750 fresco of Apollo and the nine muses, while the other has flower-patterned mint green walls from 1600 that were discovered during the most recent renovation.
Monti's grandfather, a lawyer, purchased the palazzo in 1950 and set up his home and offices here. Today it has been spruced up with contemporary design pieces – Flos lights, Paola Navone-designed couches, a Bitossi vase by Ettore Sottsass – alongside antiques that include a mushroom vitrine from a flea market and a velvet couch from the Ritz Paris, bought at auction. The free-wheeling interior decoration of this centuries-old space helps to create the sense of liberty that Monti provides for the artists chosen for the one-month residencies; creatives frequently delve into previously unexplored techniques during their stay.
As the residence marks its fourth anniversary this spring, it is stepping up its activities by welcoming its first honorary board, comprising celebrated members such as gallerist Massimo Minini; Katy Hessel, founder of The Great Women Artists; msgm founder and designer Massimo Giorgetti; collector Umberta Gnutti Beretta; and designer Sabine Marcelis. All will also mentor, as well as assisting in selecting artists from all over the world according to their diverse fields of knowledge. "I didn't want a project that was limited to my own taste in art," says Monti. "This isn't about me. It's about creating culture."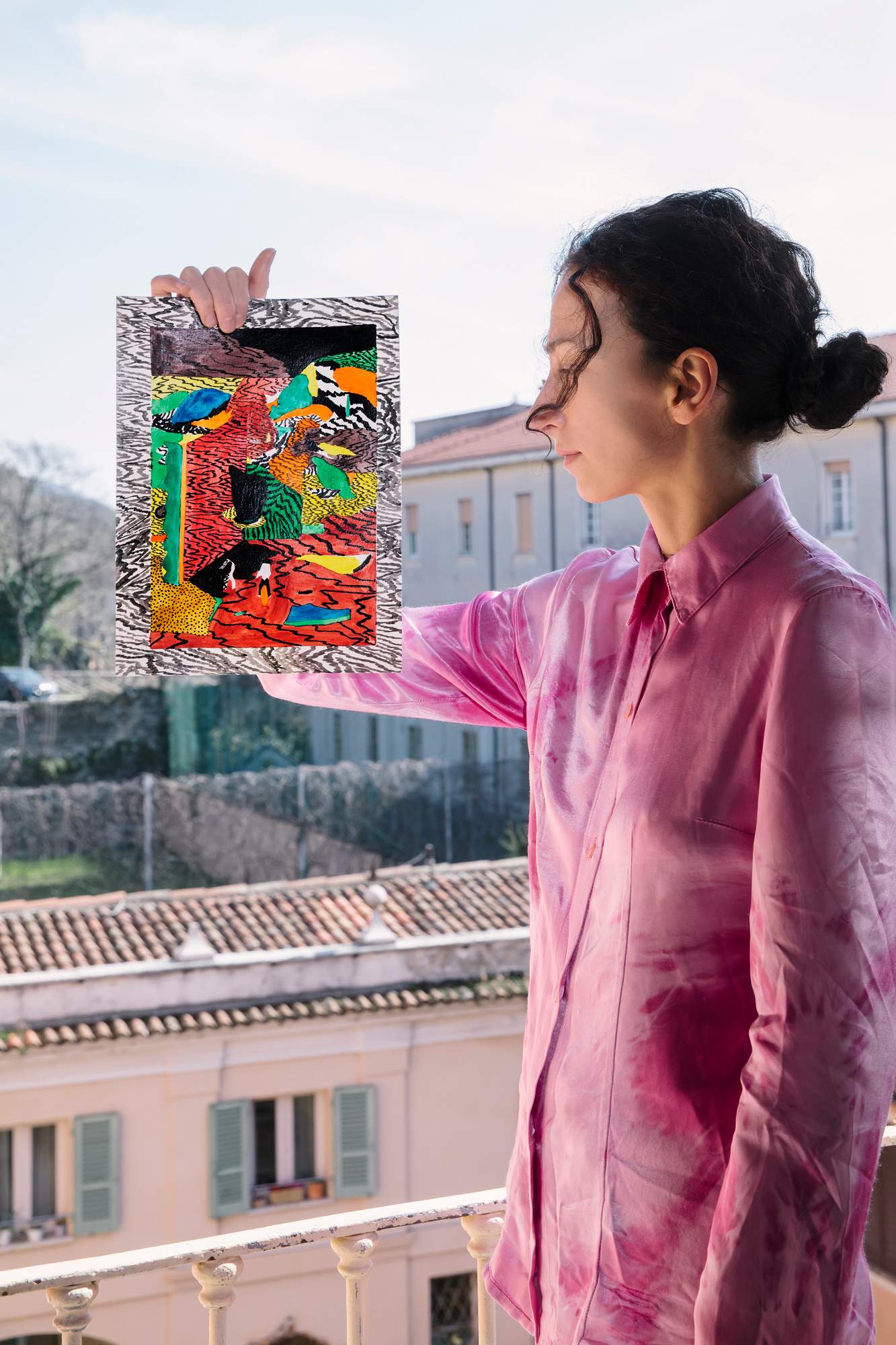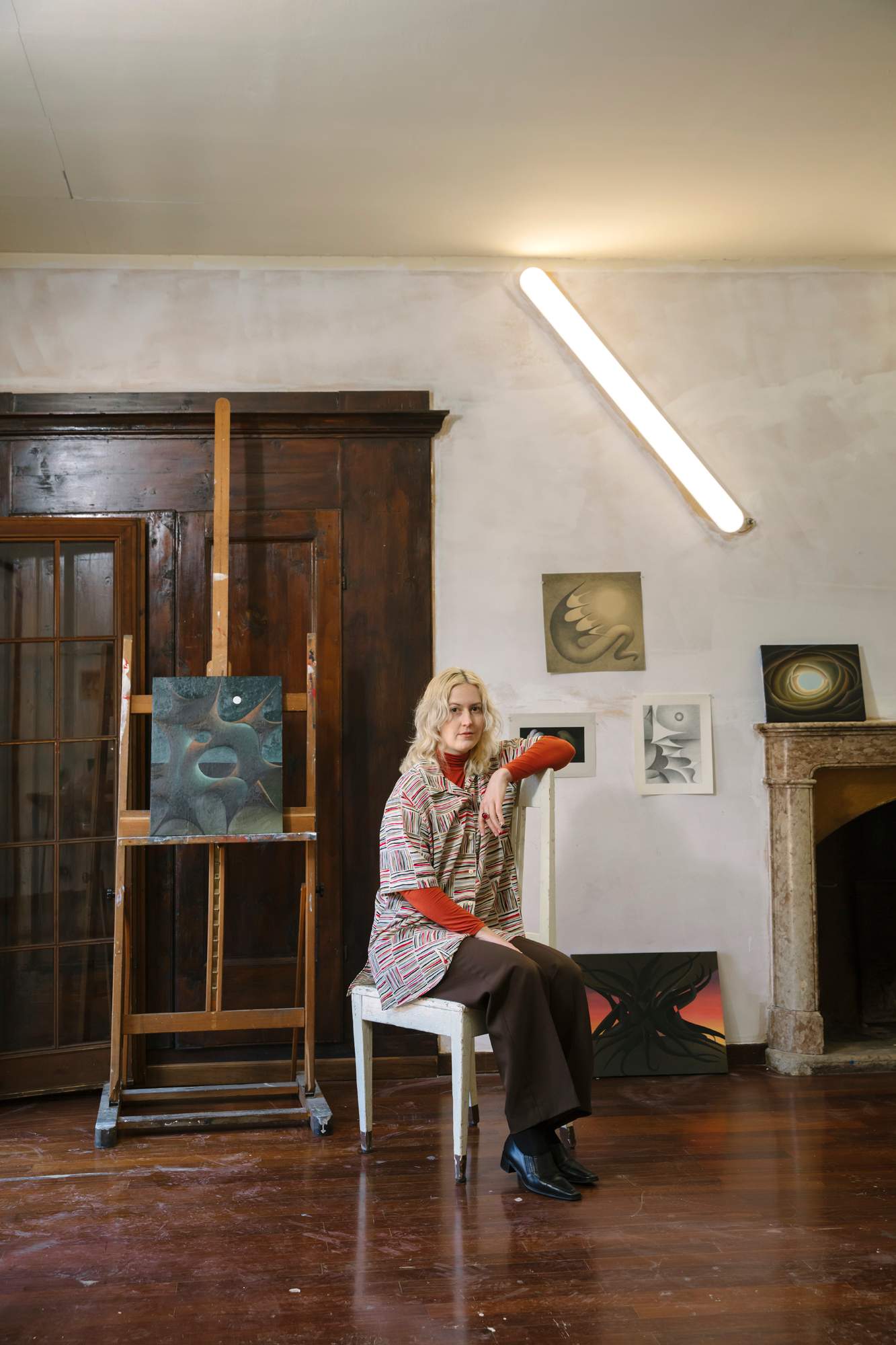 Currently booked up until February 2022, Palazzo Monti receives between 80 and 100 applications a month and selects up to three artists to stay at a time. The residency is free, and sometimes even includes financial and practical contributions towards the production of works, asking only for a piece of the artist's choosing to be left behind. "Psychologically speaking, the payback is a thousand times what I put in," says Monti, who began collecting art with meagre funds aged 14. "It justifies the investment." Having worked in communications at Stella McCartney in New York until 2018, he saved up to invest in the project, and now often works as an art consultant and curator, putting a portion of his earnings towards the philanthropic residence. Donations from private benefactors and cultural grants from the government contribute to the budget, as do profits from on-location shoots by fashion and design brands that rent the palazzo.
"I've never worked anywhere like this," says painter Alicia Adamerovich, whose Brooklyn studio at home doesn't quite match the space or the majesty of Palazzo Monti. "I'm spending my residency producing a series of canvases for two upcoming gallery shows in France," she says, sitting at the large iron dining table designed by Monti. "It feels easy to be creative here."
"Living here is like having guests every day of the year and it makes me connect with people," says Monti, who inhabits the smallest room of the palazzo. Dressed in a technicolour turtleneck that matches his energy, he loads the dishwasher, fixes the faulty electricity and walks his equally energetic dog, Beatrice, in the courtyard as he talks. His vivacity surely helps to keep the old palazzo and this project going. "Artists are often introverts and I'm an extrovert," he says. "It comes naturally to me to take care of them and make them feel at home."
As Monti shows monocle some of the pieces on display in the rooms, he tells us that "the philosophy here is that nothing is ever in storage". The artists' creations also often end up exhibited in a network of galleries and institutions, including the Gamec museum in Bergamo, The Flag Art Foundation in New York and the Etage Projects gallery in Copenhagen, which brought its stable of artists to the palazzo to create collectable design pieces with local artisans. Brescia, an orderly and affluent city just a stone's throw from Milan, offers artists easy access to museums, a well-restored Roman forum and a wealth of craft talent to partner with. Artists often return to the city independently to carry on their collaborations.
"Everyone should have this opportunity, not just artists," says Barbara Prenka, a Venice-based painter who's experimenting with quilting during her residence at Palazzo Monti. "It gives you a burst of newness and adrenaline. You can work without constraints and let yourself be inspired by a new place and new people." Monti agrees. "Staying in a palazzo with all this history and beauty around has an effect on artists," he says. "They need to travel and to work. Travel isn't just a caprice for them – it's fundamental for new inspiration."
palazzomonti.org
Photographer: Rubén Gutiérrez Rodríguez, Stephanie Veldman, Sara Magni