My cabinet / London
Only human
The humanoid forms of sculptor Antony Gormley dot landscapes across the world. We meet the team that helps put them together.
Sketches spread expansively on tables; black marks are dashed against white walls with purpose. "This is where I do my working out," says Antony Gormley, gesturing across his David Chipperfield-designed London studio.
Now one of the UK's best-known contemporary artists, Gormley has  made his name over the past 40 years creating metal sculptures that populate Britain's cities, countryside and coasts, as well as museums and public spaces in the US, Asia and Europe. The "Angel of the North", a 20 metre-tall steel figure in Gateshead, England, is his most famous. Like many of his works, it is modelled on himself.
He is tired of suggestions of narcissism. "It isn't about me," he says, explaining that his body is simply a tool at his disposal. "Sculpture is by its nature collective: it aspires to occupy shared space," he says. "And it is made collaboratively."
Gormley's 48-strong workforce is the engine behind his vision. His London workshop team of 11, busy welding, sawing and finishing, work with him most consistently. Each has undergone a selection process in which they must build an abstract human figure from steel bars in a matter of hours. "If it can stand up and touches the right points, that's a good sign," says Gormley. "You need to think with your hands and have fire in your belly."
The team is currently working on a retrospective of the artist's work, due to open in Sindelfingen, Germany, in June. Otherwise, the past year has been predictably quiet. "We've had time to grow," says Gormley. "To live in the world and listen to it."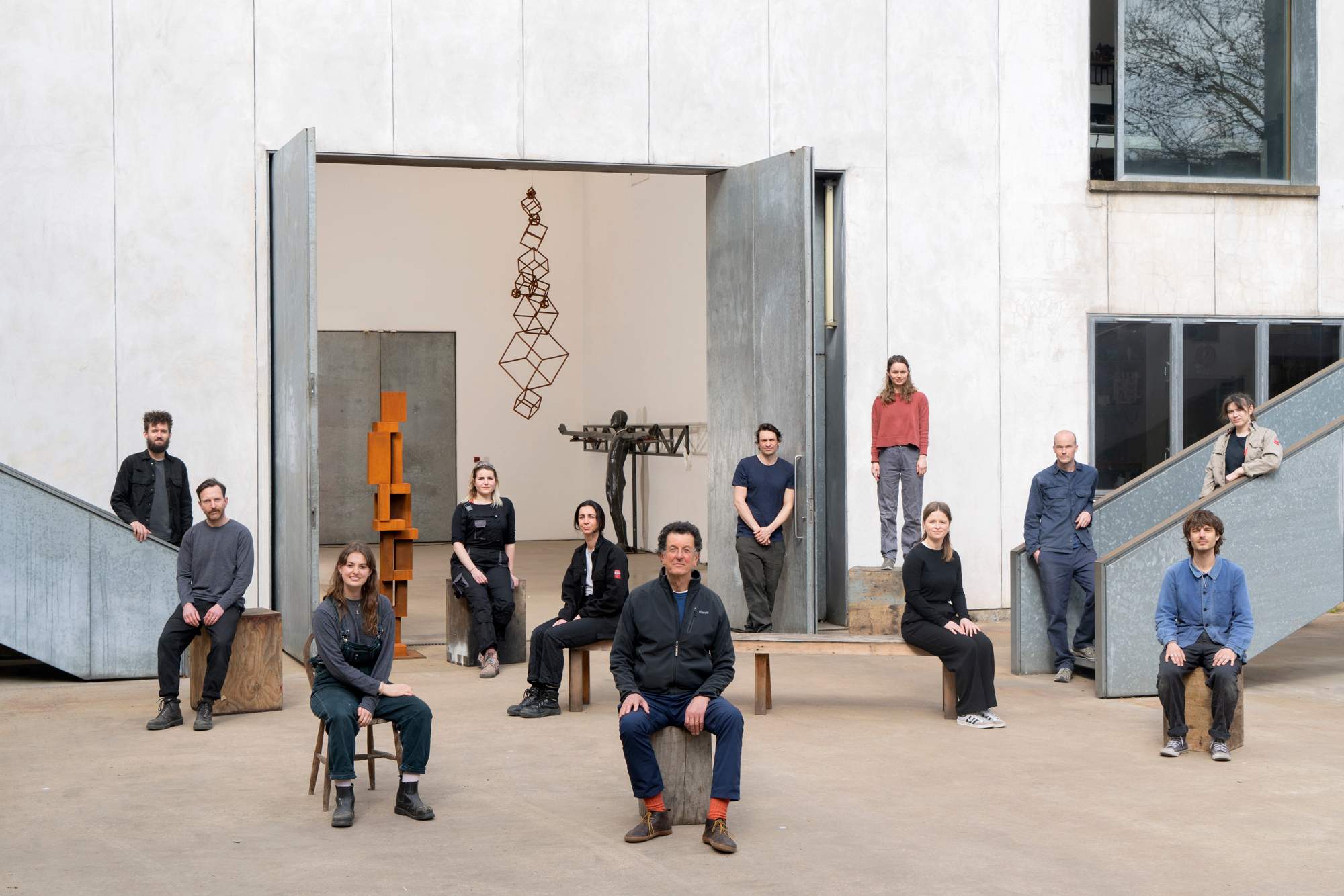 The Cabinet (From left to right)
Educated in art history at Cambridge and in art practice at St Martin's, Goldsmiths and the Slade, Antony Gormley's career began in earnest with his Whitechapel Gallery exhibition in 1981. The sculptor's works can now be found standing at many of the Earth's extremities, from the salt flats of Australia to the peaks of the Austrian Alps.
Danny Duquemin-Sheil
Studio assistant: "Involved in making, designing and project management."
Fred Howell
Studio assistant: "Currently working on spindly, stainless-steel designs."
Lucy Page
Workshop assistant: "The go-between for the office people and the workshop."
Alice Steffen
Workshop technician: "Drives the forklifts and moves the works from place to place."
Maria Ribeiro
Studio assistant: "Lucky enough to work on all sorts of projects."
Jamie Bowler
Studio assistant: "Does a lot on the welding and fabrication side."
Charlotte Osborne
Finisher: "Makes sure the surfaces look just right before the works go out."
Adam Humphries
Senior studio assistant: "Focuses on developing ideas and new sculptural languages."
Louise Colgan
Studio assistant: "Does a mixture of digital and metalwork."
Ruby Brown
Production co-ordinator: "Oversees what the workshop team is doing day-to-day."
Eduard Barniol Ferreres
Studio assistant: "Specialises in polyhedra sculpting and casting."