Pets / Global
Taking the lead
From plant-based dog food to televets and smart collars, the ever-growing market for pet paraphernalia has the wind in its tails.
Eyass Shakrah and Axel Lagercrantz are finance guys. After a stint in London working for different banks, the university friends returned to Stockholm in search of fresh opportunities. They explored different ventures for a while, before joining forces and returning to what they knew best: mergers and acquisitions. "It's actually credit to Axel's ex-girlfriend to be honest," says Shakrah. "She was the horse fanatic browsing around on this very slow website." The site in question might have appeared nondescript to the casual observer – and its functionality was limited – but nine out of 10 horse purchases in Sweden went through it. The pair sniffed an opportunity; the idea for Pet Media Group was born.
Since the group's foundation in 2018, Shakrah and Lagercrantz have been quietly buying up a stable of online pet-purchasing sites around Europe. It started with horses in Sweden, where the original owners were in their seventies and ready to move on, and now includes a UK pet platform as well as acquisitions in Italy and the Netherlands this year. The websites tend to have been started 15 or 20 years ago and grown, according to Shakrah, "Craigslist-like, organically for a long time to become the market leader". The ultimate goal is to professionalise them, with a focus on trust and security to make the whole process more legitimate. The founders are due to roll out a single interface across all sites by May. If Uber and Airbnb can transform ride-sharing and short-term rentals, respectively, why can't Pet Media Group do the same for the burgeoning pet care industry?
In focusing on the buying and selling of pets, the pair might be targeting an online marketplace with opaque practices that's in need of a digital update. What they couldn't have foreseen was the spike in pet interest sparked by lockdown. In the UK alone, more than three million households have bought pets since the start of the pandemic. Pet Media's founders say that on their UK site, Pets4Homes, a puppy currently attracts 320 potential buyers, while the average price has risen almost threefold.
While recent events might have skewed the figures, the trend was already evident. And it's all part of the changing role of the pet in the household, according to James Davidson, the British co-founder of direct-to-consumer dog food company Tails.com. "When my parents first had a dog when I was a baby in the 1970s, it actually lived outside in the shed," he says. "And that was normal. Now it would be quite unusual for a family pet to live outside. You can almost chart the change of position in the family that a dog has had during the last 40 years by where it has slept. It has gone from the shed to the kitchen or utility room to, for a younger generation of owners, the bedroom."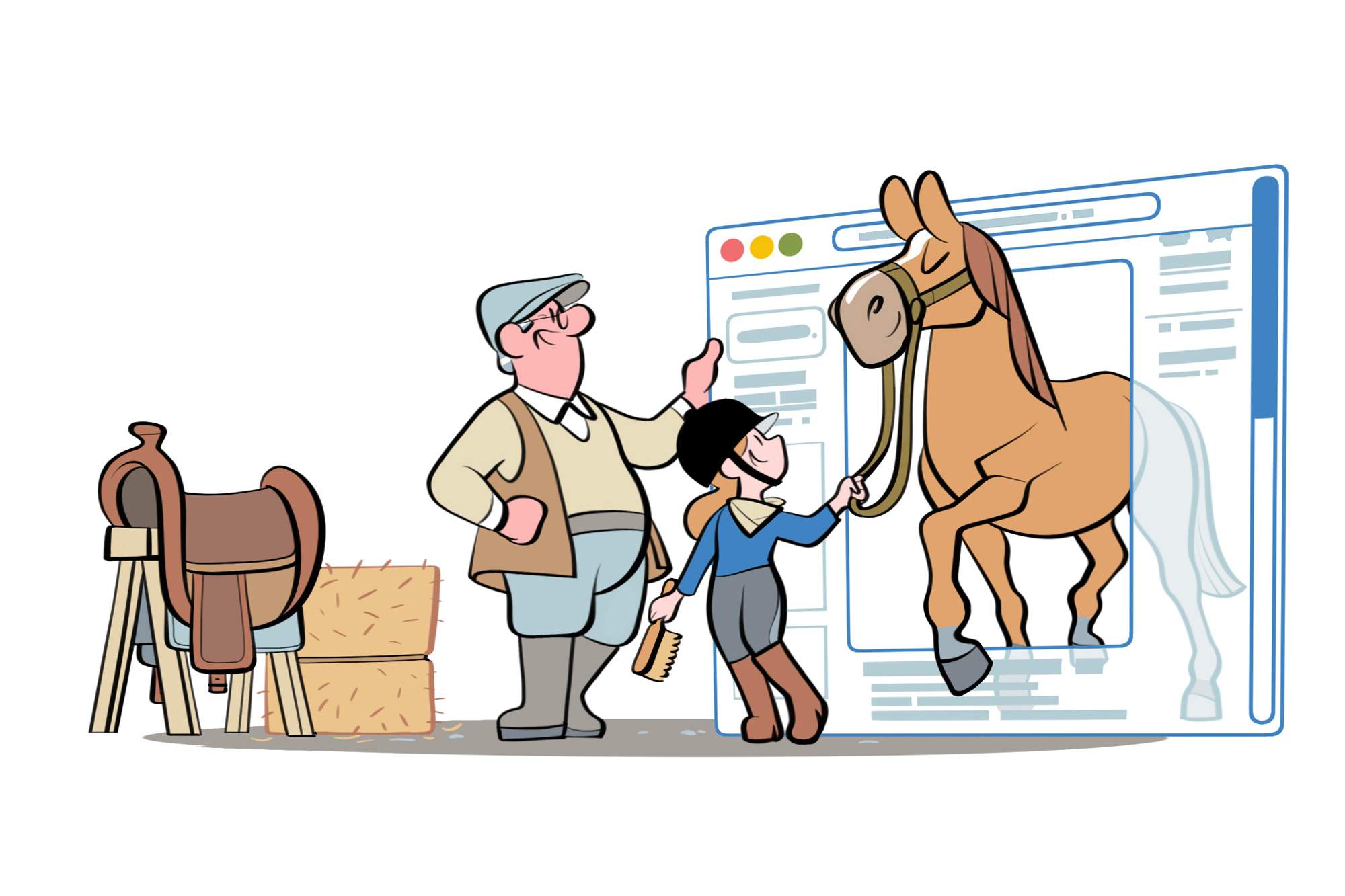 From China to the US, pet owners are getting younger and spending more. According to one forecast, the global pet space is set to grow by an average of 5 per cent a year between now and 2025, jumping from a value of $131bn in 2016 to $203bn (€172bn). And just like everything from mattresses to prescription medicines and male grooming, shaking up the status quo has the potential for big returns in an industry that is widely viewed by investors as recession-proof. If evidence were needed to show just how much players are banking on its future, US pet supermarket PetSmart's acquisition of Chewy in 2017 sent a massive signal: the pet food and goods site fetched $3.35bn (€2.85bn) – the largest e-commerce transaction ever recorded.
That might explain why multinationals want in on the game. For a long time these companies – most notably Nestlé Purina PetCare and Mars Petcare – had been busy consolidating at the top, buying up food companies and veterinary services. Mars, for example, has been involved in the pet business since 1935, despite originally becoming a household name for confectionery. Now the fledgling entrepreneurship bubbling up from the bottom is being eyed as an important part of the puzzle.
Pet care in Asia
If China is the Asian pet market of tomorrow (it currently has the world's largest pet population, fast approaching 200 million animals) then Japan is currently the dominant force: social and cultural trends start there and spread to the rest of the continent. As of 2020, Japan had 8.4 million pet dogs and 9.3 million pet cats. As one might expect, some of the large international players, such as Mars, have a foothold in the market – but the dominant force in Japan is homegrown company Unicharm. The humanisation of pets in Japan is well advanced – and businesses have sought to cater to this. As well as selling pet food and dog training mats, Unicharm is big in the pet nappy space (think incontinence pads for those messy end-of-life years). Its "Manner Wear Dog Diaper" advertises itself as being able to hold urine for six hours and comes with an adjustable tail hole. Other key products and services include pet spas, cremations and prams by the likes of Airbuggy.
Mars's pet care innovation hub Kinship, which is headquartered in Manhattan and was founded less than two years ago, clearly has a millennial bent. Its president, Leonid Sudakov, is dressed in a T-shirt emblazoned with the company name in the colours of the rainbow. Pet care might be cool these days but when he moved into the segment from another part of the business in 2013, he felt rather differently. "I had to talk to my boss and I said, 'What did I do wrong?'" Sudakov says that "pet parents" are channelling a social delay in having children into their pets – and that's good for business. "In the consumer space it's like baby care," he adds. "But it lasts five times longer." 
As well as buying the occasional start-up, Kinship is also a funding facilitator. Teaming up with two other partners, including digital agency rga, it has formed a start-up accelerator called Leap, which provides early stage "seed" funding to companies, and a later-stage venture-capital vehicle called Companion Fund. Sudakov says that the whole exercise is an "educational tool" to help Mars become a better corporate investor. But it clearly allows the company to have a unique insight into the most cutting-edge end of the market, from those producing clever apps to new types of pet food.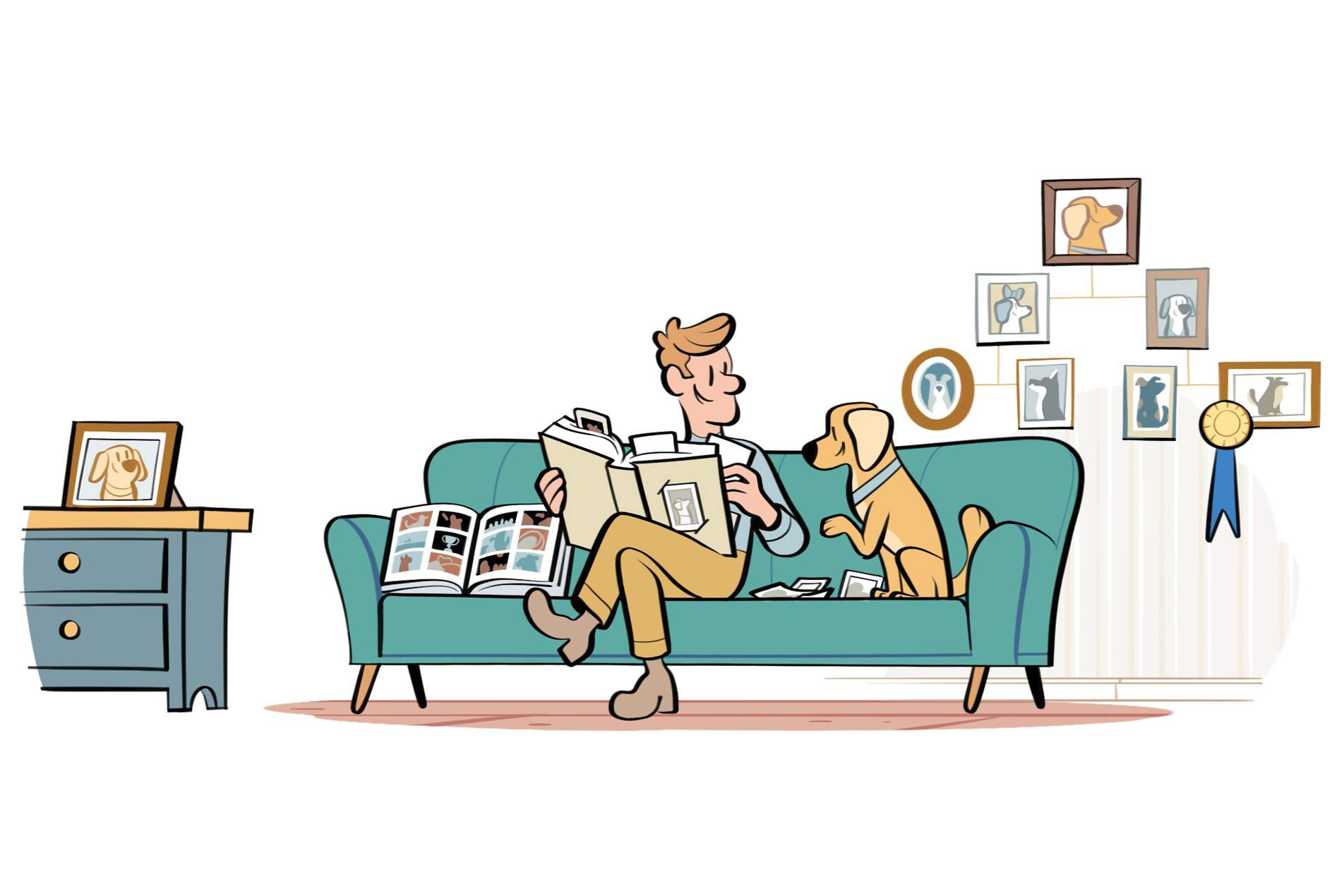 One company to have benefited from Mars's largesse is British newcomer The Pack, founded by vegan couple Damien Clarkson and Judy Nadel at the start of 2020. Gearing up to launch in May, the model is direct-to-consumer plant-based dog food (the initial line contains a chicken, beef and fish alternative) with packaging designed by Pentagram's London office. Clarkson says that the goal is "to take animals out of the food system" but, he adds, the brand isn't setting out to be overtly activist. In fact, the founders firmly believe that plant-based food can find a wide audience. This is something that mirrors the human consumer industry, where meat-alternative brands such as Beyond Meat and Impossible Foods have taken off – the latter valued at almost $4bn (€3.4bn).
Sudakov says that "pet parents" are channelling a social delay in having children into their pets – and that's good for business
The Pack is trying to gobble up space in a growing plant-based, pet food market already occupied by the likes of Italy's Amì and the US's WildEarth. And it has received $200,000 (€169,000) from Leap, which will eventually convert to equity, to do it. So how does it feel taking money from a company that also promotes meat in pet food? "We've never wanted to be niche," says Nadel. "We want to be able to make things go mainstream and for that happen, you have to work with corporates." The couple say that the sales advice, mentoring and access to top nutritionists they receive is invaluable.
Coming up with the right product to crack the pet care industry is only one half of the story. Savvy entrepreneurs know that data, and how you leverage it, is king. Being direct-to-consumer is a big help because it gives you an instant feedback loop on buyer preferences – far better than any forecast report or marketing gizmo.
"Generally speaking, pet-food companies – like any consumer product – will follow trends in consumer behaviour and will continue making products that meet those desires," says Davidson, the co-founder of Tails.com, which dates back to 2013. Now servicing 14,000 orders a day, it compiles information that includes the size of the dog, the breed and special dietary requirements to come up with a blend that is unique to each pet. Just like The Pack's Clarkson who saw a "mirroring of human food" in the pet-food category, Davidson sees growth "in areas of the pet-food market influenced by what we expect to have on our own plates." At Tails.com that means providing hypo-allergenic and "sensitive stomach" options when concocting the bespoke feed, even if Davidson says that it's not something the company actively pushes. With the platform now an old-guard player (it recently launched a separate Republic of Cats site), he doesn't rule out taking the custom nutrition that Tails.com has already developed – with all its accompanying golden nuggets of data – into categories beyond pet food.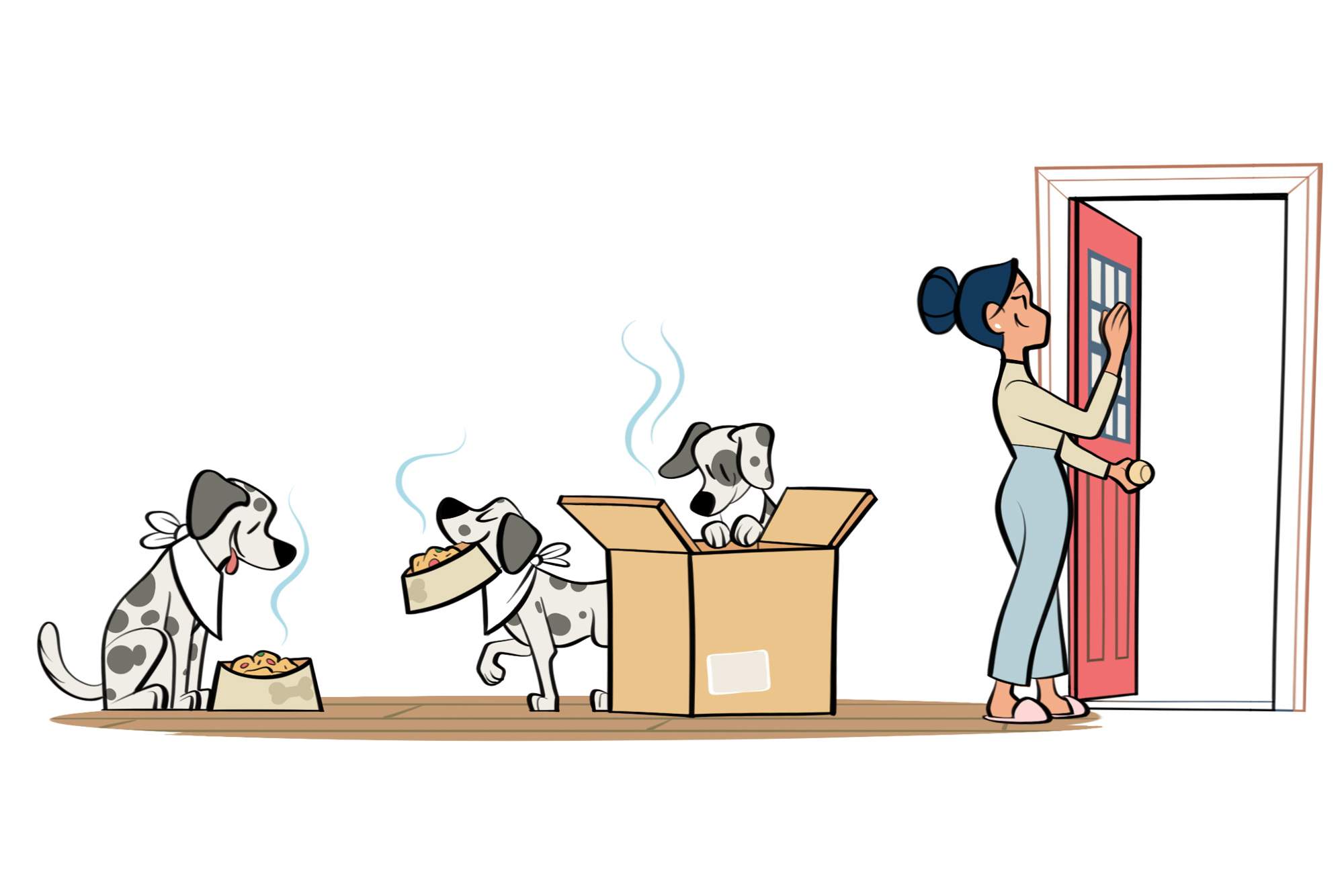 Along with other brands that have come along since, such as the US's Nom Nom, which offers "probiotic support" alongside food, Tails.com is riding high on another trend that criss-crosses consumer markets: personalisation. Everyone covets a unique item, whether it's a new pair of trainers or tailored kibble for a three-year-old cockapoo named Rex. But another aspect that Tails.com has nailed is the subscription service, which pet owners see as more a boon than a bind, because it means never running out. And while every new direct-to-consumer brand out there might charge a monthly "membership", the landscape looked a little different when Tails.com came into being. "We got pushback from investors in 2013 because they'd been burnt by the previous wave of subscription businesses that hadn't worked out so well," says Davidson.
Davidson sees growth "in areas of the pet-food market influenced by what we expect to have on our own plates"
Subscriptions are an even more integral part of the business model in another area of "pet tech": wearables. The most popular of these items is the gps tracker collar which, unlike a microchip that needs to be scanned by a vet once a pet has actually been found, allows you to keep real-time tabs on a mutt using gps and mobile technology. The market leader is Austrian company Tractive, launched in 2012. ceo Michael Hurnaus says that the brand has gone the local route rather than tapping Silicon Valley for cash, which means being "pretty much bootstrapped to this day". No big corporations or venture money are involved; in fact, the only sizeable funding was a €2m investment from a single individual in 2016.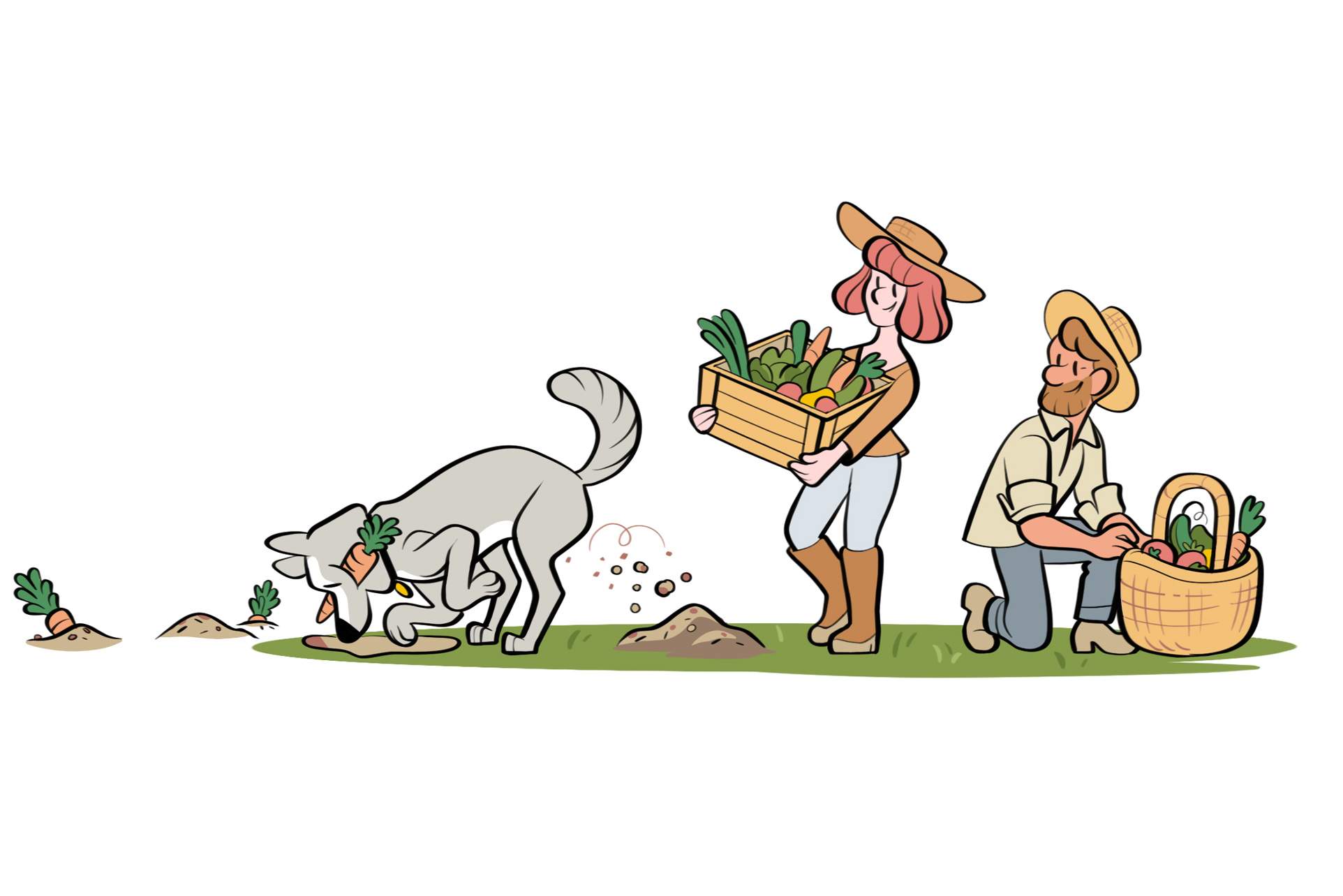 Hurnaus says that Tractive actually sells its hardware at a loss knowing that, if users like the product and stick with it, the monthly subscription, which includes the mobile coverage, will pay off the initial costs. Like others in the industry, he also realises that the key to the future lies in the data that the company receives on the movements and habits of dogs and cats through its 375,000 active users. The Tractive device connects to a mobile phone app that can alert a user, for example, if the pet has strayed beyond a preset boundary. But the possibilities are endless. "Is your dog moving less for a certain period of time?" says Hurnaus. "This [could be] an early sign of osteoarthritis because we know your dog is eight years old. We don't want to be a medical or diagnostics device but we try to do a lot of machine learning on the data behind the scenes to tell the customer whether it might be worth checking with the vet because we have detected X, Y or Z."
Alongside finding a lost pet, one of the principal goals of these devices is to be something akin to a Fitbit for animals. Just like the human world, where smartphone step-tracking allows us to see how many kilometres we've notched up in a day, the gps collar gives owners a window into how much they are exercising their pets (or in the case of the New York City-based French founder of Fi, Jonathan Bensamoun, inspire him to create a product that would allow him to track his dog walker). Fi – which recently raised $30m (€25.4m) in a funding round for its gps device – is part of a new breed of smart dog collar devices that is aiming to compete on size and battery life. Unlike Tractive, Fi is solely US-based for the time being.
Analogue vs digital
When it comes to pet bricks-and-mortar, the US is dominated by two superstores: Petco and PetSmart. While both companies have had financial problems in the past, including billions of dollars in debt, they're trying to capitalise on the surge in recent pet interest and realise that they'll need to move with the times and improve their digital offerings. Last year, PetSmart's private equity owners decided to split it from its digital acquisition, Chewy, in an apparent bid to make both businesses nimbler. Meanwhile, Petco, which has almost 1,500 shops, went public for a third time in January this year, causing a flurry of interest. Its online sales were up 90 per cent in the fourth quarter, overseen by ceo Ron Coughlin, a former head at Hewlett Packard. 
Although programmers will say that the end goal is to ensure that obese and overweight pets (around half the UK and US dog population) actually get some fresh air, there's clearly a gamified, addictive element to Fi's tracker platform that allows you to compare how many steps your pooch has walked compared to other users in the vicinity over the past 28 days. Bensamoun says that it's a bit of harmless fun that get pets fitter. "We were a little bit worried that people would start to 'overwalk' their dog – but no," he says. "The thing is, you need to walk too."
Although both Fi and Tractive aren't offering medical advice, there are clearly opportunities for what marketeers might call "horizontal integration" or "synergies" with other brands. In fact, Tractive is already piloting a scheme in Germany whereby taking out loss and damage insurance gives you a free subscription to another pet care industry sub-category: the televet. Tractive is working with Sweden's FirstVet, a company that has been pioneering 24/7 online video consultations with vets since 2016, and something that co-founder David Prien says is still a "nascent field". It dwarfs other players, such as the UK's PawSquad, and is available in the Nordics and Germany, the UK and, more recently, the US. Prien is another entrepreneur that couldn't have known that the pandemic would catapult his idea –  telemedicine – into the mainstream.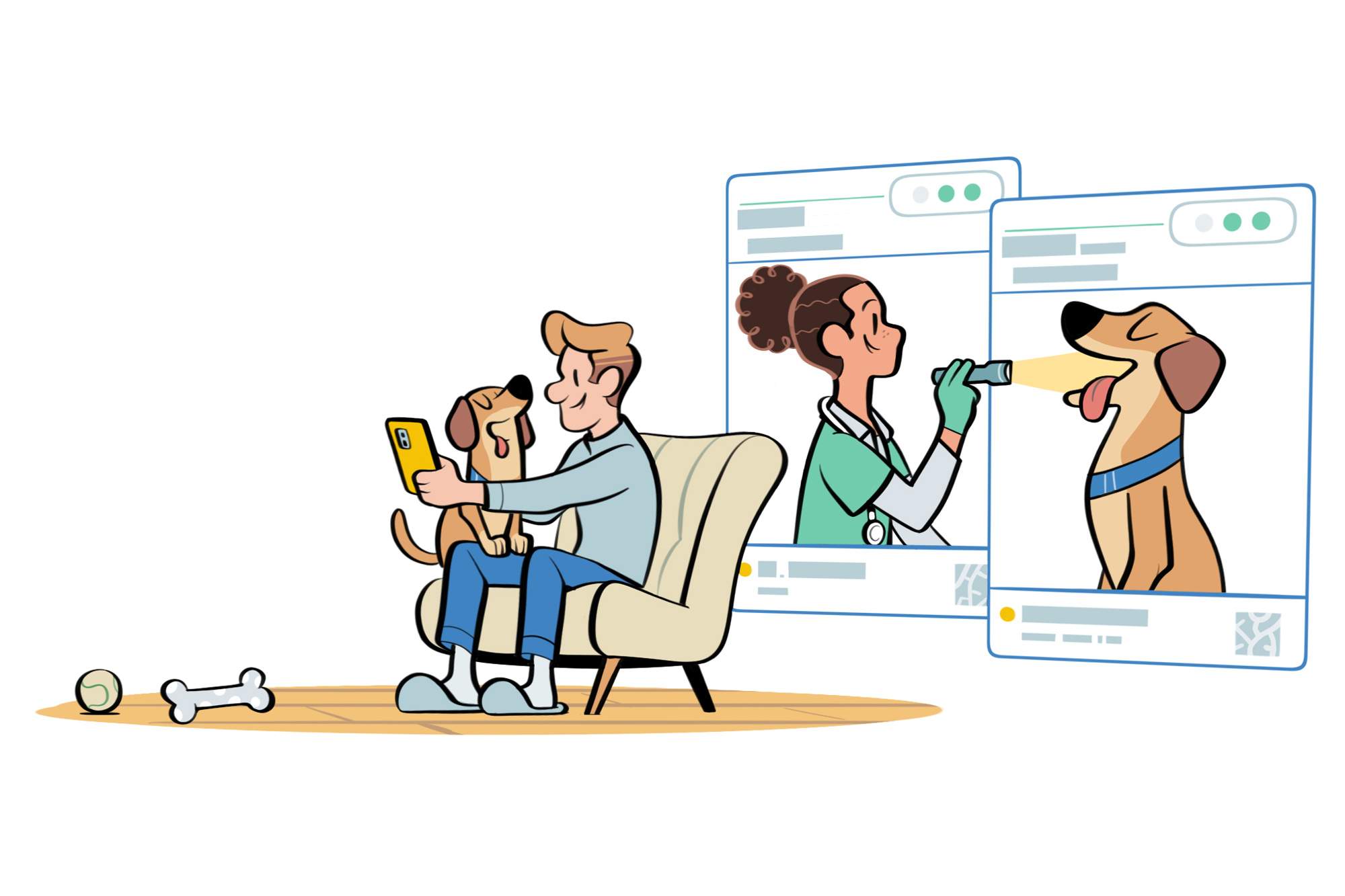 Just as Kinship's president Sudakov talks about technology's ability to provide "solutions to all the pain points on the pet-parent journey", Prien believes that his product was an obvious solution for anxious owners. "I know that if I call my veterinary practice, I'll often have to go in," says Prien, who has two spaniels. "I don't know what the cost will be; I take a view that it is going to be very expensive [and] I don't know whether my insurance will cover it or not. Instead of Googling or being on a strange website, we want to establish the first natural touchpoint when those situations arise."
The pet care industry – once the purveyor of unpalatable canned food covered in a film of jelly, rather than a medley of papaya, pea protein and kale – could teach the wider retail space about good business
Not so long ago, it would have been madness to think that the pet care industry – once the purveyor of unpalatable canned food covered in a film of jelly, rather than a medley of papaya, pea protein and kale – could teach the wider retail space about good business. But that's exactly what it's done, according to Jack Stratten, a senior trends consultant at London-based futures agency Insider Trends. He specifically points to its strides in personalisation and subscription sales. "I've never talked to many retailers about the pet industry before," he says. "But post-pandemic I will do."
The craze for buying pets – whether in lieu of a child or as a stress-relief cuddle companion or lockdown-related furry friend – shows little sign of abating even as the world is set to return to more normal times. And when that happens, it's the new crop of pet-care brands that will be posed to reap dividends. "All of these new pet owners, when people go back to work, they're going to need daycare and other services to care for their dogs when they don't have as much time to spend with them as they do now," says Pet Media Group's co-founder Shakrah. There is plenty more for the pet-care industry to unleash.