Shopping / Global
The Monocle Shop
The mercury is rising for northern hemisphere folk – and that means it's time to get those warm-weather wardrobes sorted. Here we bring you dashing swimming trunks and handy waterproof totes for stashing them in, plus some breezy cotton loungewear and plenty of colourful accessories.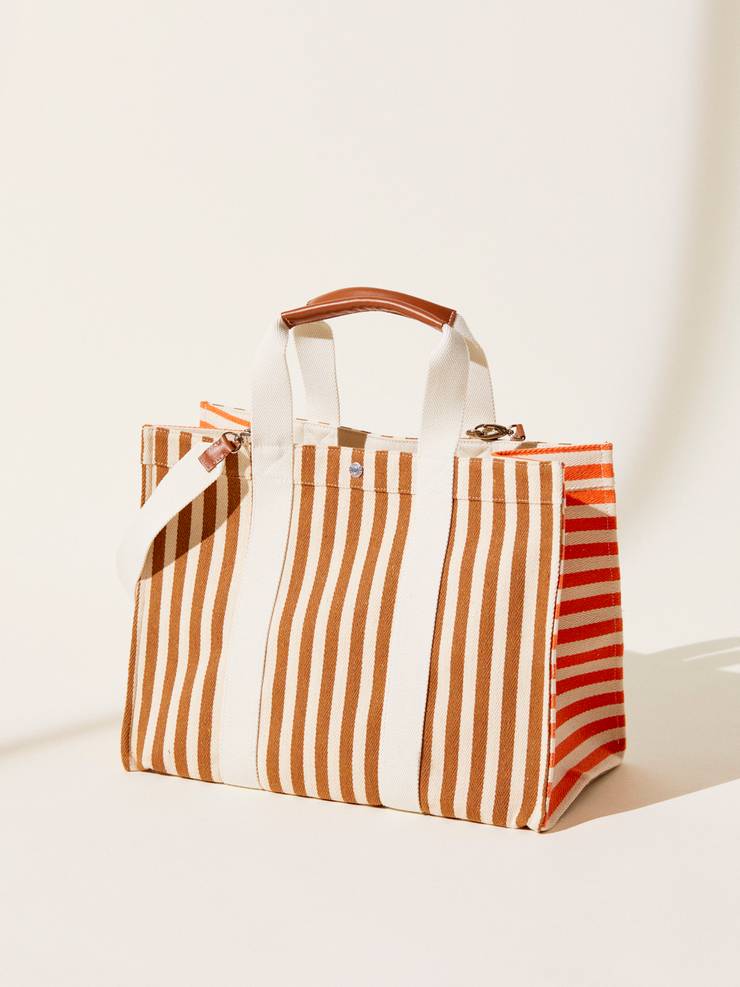 Rue de Verneuil x Konfekt Palais Royal striped canvas tote bag
€290
monocle's sister magazine, Konfekt, has teamed up with Rue de Verneuil to create a head-turning tote. Designed by Vincent Ribat, Rue de Verneuil's founder, it recalls both the sturdy canvas US toolbags of the 1950s and the sun-kissed glamour of the French Riviera. Our tote, made from cotton with a canvas lining, has a detachable strap, so it can hang from the shoulder or hand. If that doesn't sway you, the stripes surely will.
material:Cotton canvas with leather handle.
colour: Camel and orange stripes.
made in: France.
Shop now
---
Monocle swimming trunks
€95
We've updated our trunks in a soft nylon-blend fabric and added a nylon drawstring and metal hardware. Fellow bathers will be so charmed by the sharp cut and handsome colours that they won't even notice your patchy summer tan.
material: Brushed nylon.
colours: Navy or coral.
made in: Portugal.
Shop now
---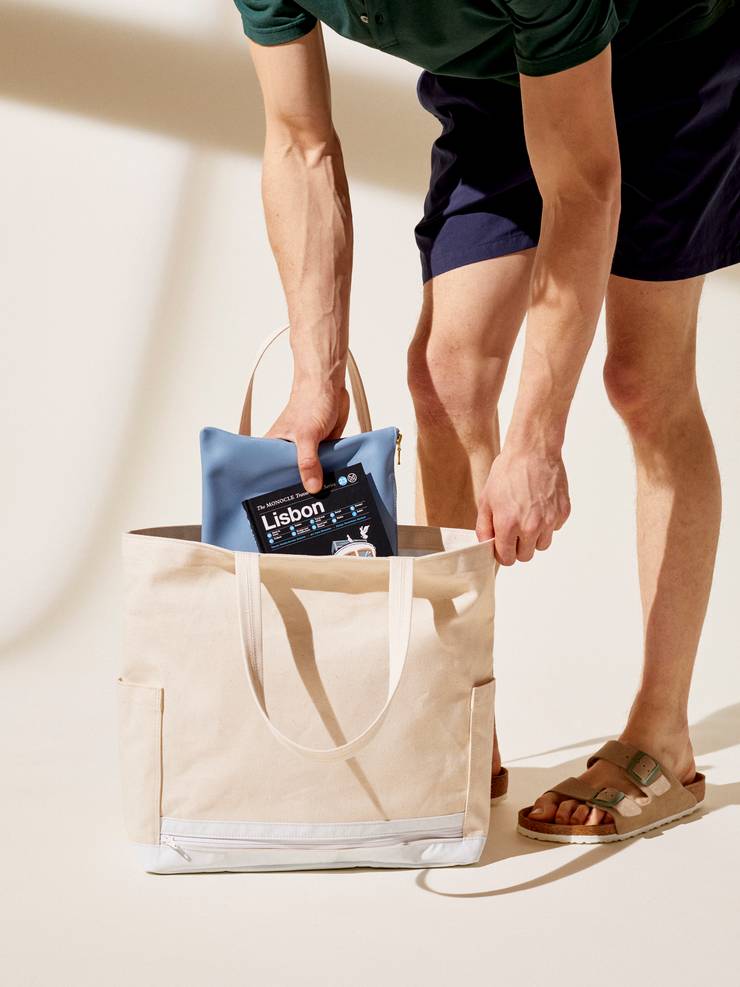 This waterproof bag can withstand splashing and has a pocket in which to safely stow your swimwear – plus a side nook to keep valuables and documents dry.
material:Waterproof canvas.
colours: Navy and white or beige and white.
made in: Japan.
Shop now
---
Delfonics x Monocle pouches
€22–€45
Our new "Made in Japan" collaboration with Shibuya stationery brand Delfonics includes an exclusive wallet design and these slate-hued zip pouches in a series of sizes. Everything is made of hardy waterproof pvc.
material : PVC.
colours: Black, slate or yellow.
made in: Japan.
Shop now
---
Kontex x Monocle Moku-linen room shoes
€65
Japanese firm Kontex has been producing super-soft towels since 1934. Now the company has transformed the hugely popular Moku, a lightweight linen-blend hand towel, into a slipper. Breathable as well as supremely comfortable, these ultimate house shoes come in olive or light grey.
materials: Linen and cotton.
colours: Olive or grey.
made in: Japan.
Shop now
---
Monocle Egyptian cotton ribbed socks
€22
These ribbed socks are woven from 100 per cent Giza cotton and sewn without seams so there's no uncomfortable rubbing.
material: Cotton.
colours: Grey or yellow.
made in: Japan.
Shop now
---
Steteco x Monocle shirt and shorts
€110 and €90
In the 19th-century Meiji era, steteco were worn by Japanese men under their kimono and hakama (traditional trousers). But these soft base layers virtually disappeared from Japanese wardrobes – until the brand Steteco decided to revive them in 2008. Steteco's products are made in Japan from lightweight, quick-drying cotton that is slightly bumpy for extra breathability. The pieces are designed to be worn either as breezy daywear or loungewear at home. We've teamed up to offer this exclusive navy pullover shirt and matching shorts to keep you looking sharp while feeling cool and comfortable.
material: Cotton.
colour: Navy.
made in: Japan.
Shop now