Observation / Global
High tides
There's a swell time to be had in the Swiss Alps. Visitors are ditching crampons and taking to the waves at a pool hundreds of metres above sea level. Surf's up!
I didn't expect to have a view of ski slopes during my first foray into surfing. But somehow I find myself in a wetsuit, neoprene gloves and booties clinging onto my surfboard before wiping out and lying face up, peering at the jagged edges of the Swiss Alps. Not far from the Matterhorn is the new year-round surf spot Alaïa Bay. Open to the public from May, it is the first commercial surf park in mainland Europe and joins an emerging industry of inland centres catering to the sport's boom in popularity.
Alaïa Bay's pool is bigger than a football pitch at 8,300 sq m and an hour-long session costs about chf150 (€136), depending on equipment and the season. I'm taking part in a beginners' class, which includes a 30-minute introduction on dry land, where I learn how to paddle and pop up onto my feet. It seems so simple. That is, until water is introduced.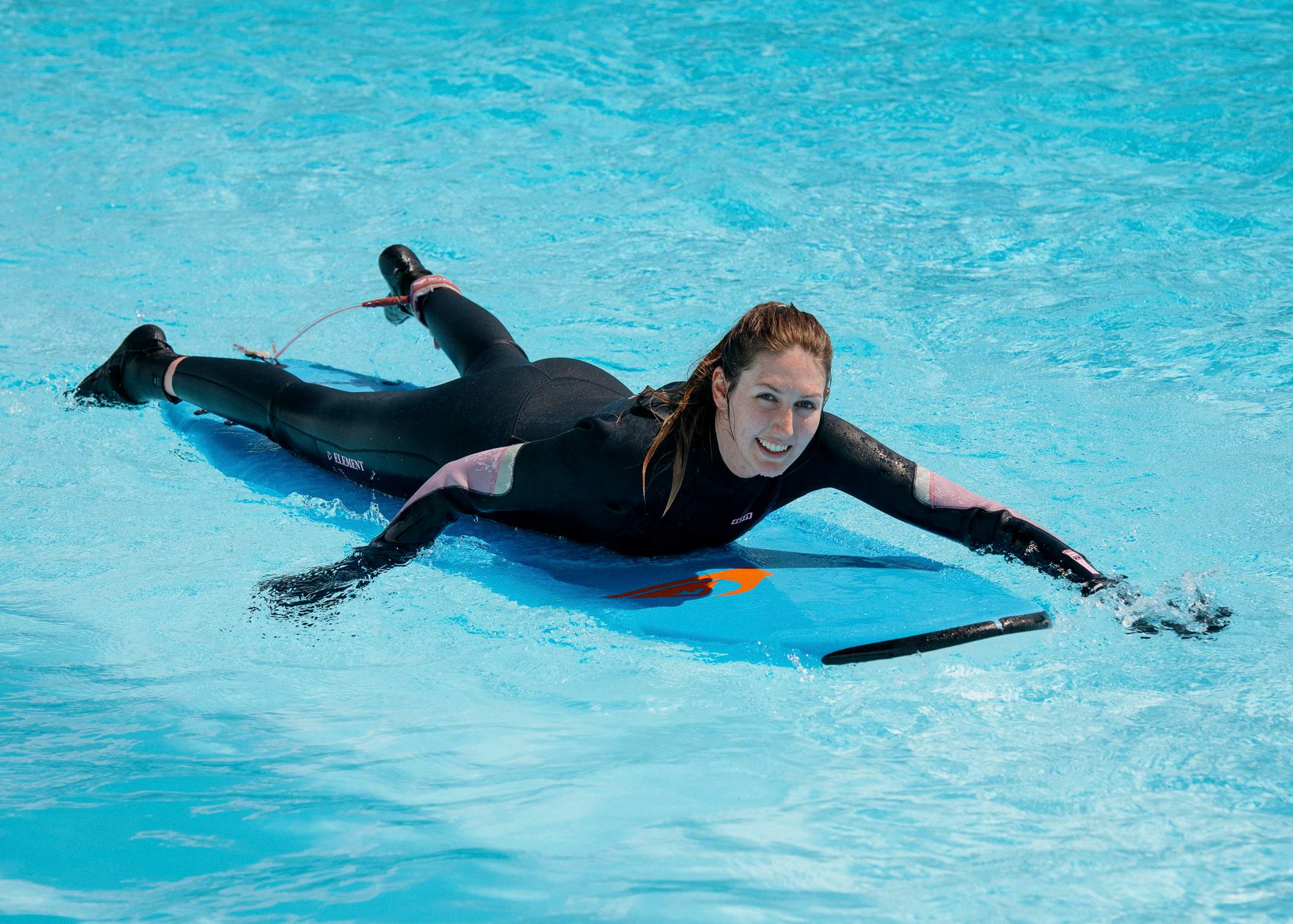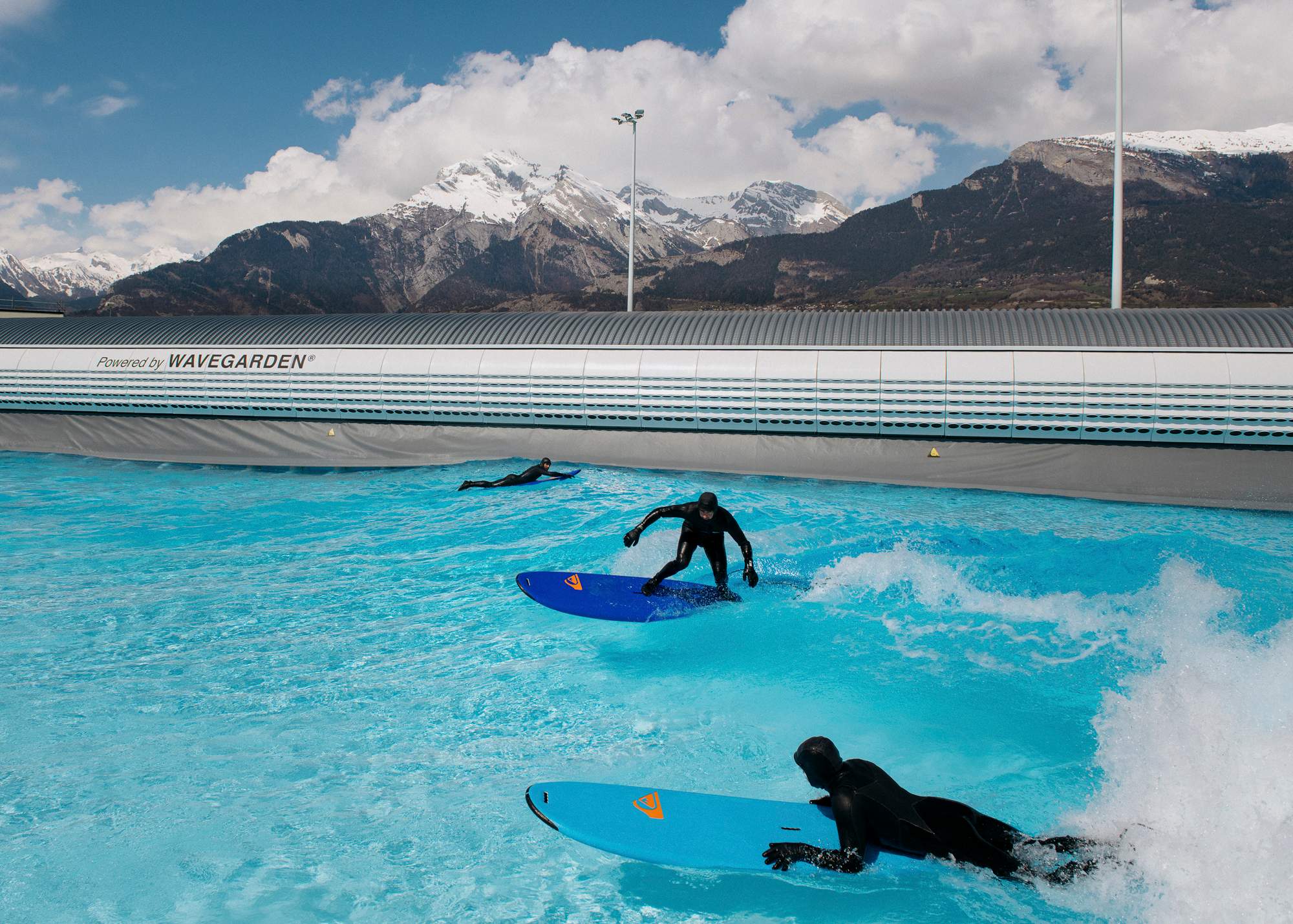 Every wave is perfectly programmed, making it hard for me to blame my wobbly feet on the water conditions. The surf generator is created by Wavegarden, a market leader in artificial-wave technology, and uses a series of motorised panels to push the water in such a way as to produce swells, breakers and barrels tall enough for surfers to ride inside.
Or should I say, experienced surfers. We can safely count 25-year-old Adam Bonvin, the surf park's creator, in this crowd. In fact, it was his frustration at not being able to hone his skills in the landlocked nation that led him to conceive of Alaïa Bay five years ago. "Why not try to bring the waves to where I live," he says. Bonvin – who has created other action-sports facilities previously, including the nearby sports facility Alaïa Chalet – is not surprised by the high level of interest. "Switzerland's population is really active," he says. "They are raised on skis, snowboards and skateboards." Plus, the ability to make quick progress and avoid hours of paddling (not to mention sharks and salty water) means that the pool also appeals to beginners – of whom there are many. The International Surfing Association estimated in 2019 that there were some 35 million surfers worldwide and predicted that this number would rise to 50 million in 2020.
"Switzerland's population is really active; they are raised on skis, snowboards and skateboards"
Bonvin puts the surge in interest in the activity down to its image change in recent years, from being an extreme sport to being something for everyone. He also notes that the community around surfing helps to draw people in. "It's more than just a sport," he says. "It's a lifestyle."
But he is loath to say that it's only the fresh-faced boarders who will be visiting, stressing that the guaranteed quality of the waves has garnered interest from top-tier professionals. Switzerland's Surfing Association has designated Alaïa Bay as an official training site, ahead of surfing's debut at the Tokyo Olympic Games this year. And the facility has received similar requests from neighbouring France and Germany.
In the next 20 years, Bonvin believes that pools like his will become the norm as they pop up all over the world. After all, Alaïa Bay is just one of 53 surf parks (both finished and in development) that Wavegarden is involved in. "We will never replace the ocean," says Bonvin. "But it is perfect for practice." Driving home, exhausted but buzzing, I feel inclined to agree. Though it might still be a while until I make it to the sea, I'm optimistic that one day I too will graduate from the training ground.