Sport / Japan
On top of their games
As Tokyo gets set to host the Olympics and Paralympics after 2020's false start, a multitude of behind-the-scenes players have long been exercising their minds to ensure a gold-standard Games. We meet some of the unsung stars, from engineers to volunteers, who are determined to make the Games a success – even if many Japanese people remain cautious about the event taking place at all.
When International Olympic Committee (ioc) president Thomas Bach first pronounced in 2018 that Tokyo was the best-prepared Olympic city he could remember, you knew that he wasn't just being polite. Of course the Japanese capital was ready for its big moment. Ever since the Games had been awarded to Tokyo in 2013, the city – and country – had embraced its Olympic responsibilities with relish. Japanese companies raised a record-breaking amount in sponsorship; more than 200,000 people applied to be volunteers; and venues were completed with plenty of time to spare. A triumphant Olympics seemed all but guaranteed.
That was until early last year when the pandemic took hold and it soon became clear that Tokyo's meticulously prepared Games would have to be postponed. The best-laid plans were derailed as the world grappled with the virus and the Olympic clock had to be reset to 2021. So here we are again, just a matter of weeks – if all goes to plan – before the opening ceremony, scheduled for 23 July. Getting this far has been a roller-coaster ride and the event hasn't even started.
Memories of Tokyo's first Olympics in 1964 still run deep in Japan. Back then, a country brought to its knees by war rallied to show the world a new face. Bullet trains, motorways and high-rises all appeared with perfect synchronicity in time for the Games. Anyone over the age of 60 remembers it well. Kengo Kuma says it was the moment that he, then a young boy, decided to become an architect. Fifty years on, Kuma was asked to work on the country's biggest sporting venue, the new National Stadium.
Japan doesn't need to announce itself to the world this time. The dream for Tokyo 2020 was for it to be a showcase for modern Japan, a fresh Olympic model of sustainability and new technology. The medals have been made with 80,000 tonnes of recycled electronics donated by the public; the uniforms for Team Japan use recycled threads; even the podiums are constructed from discarded plastic.
The debate about the wisdom of hosting an international event in 2021 continues. As monocle goes to press, coronavirus is still surging in Japan and public support for the Games has dwindled. But for now, the ioc and the Japanese government hope that some 15,000 Olympic and Paralympic athletes will be competing in Tokyo (and beyond) this summer.
monocle went behind the scenes to meet some of the people who've been working for years to make Tokyo 2020 possible. People such as Masao Saitoh, the architectural engineer who worked out how to raise the roof on the city's spectacular wooden gymnastics venue; the young softball players of Fukushima, waiting patiently for the Olympics to come to their newly upgraded local stadium; and Motokuni Takaoka, whose company Airweave spent years developing the perfect mattress for the athletes' village. They're not in it for public recognition but their individual and collective efforts more than deserve a nod.
---
1.
Mile-high livery
All Nippon Airway's Olympic carrier
Be it putting up street banners, designing mascots or renovating venues, much intense preparation for the Games has been happening on the ground. But All Nippon Airways (ana) has also been drumming up support for the event in the air by flying a distinctively designed Boeing 777 since 2018.
"We wanted the Games to be for everyone, not just the athletes," says ana's customer experience manager Masaya Nagao. "So we held a competition to draw on a huge canvas: a plane." Nearly 800 people entered their own designs in the contest before Asahi Matsumoto, then a high-school student, won the commission for his work featuring silhouettes of numerous sports alongside symbolic motifs from Japanese architecture and the country's natural environment.
The original drawing, presented on a sheet of A3 paper, had to be enlarged as precisely as possible to fit on the side of a Boeing 777. ana commissioned mro Japan, an Okinawa-based aircraft-maintenance company, to create the one-off 777. "We made sure that we put everything on the plane without losing any motifs on the windows or wings," says mro manager Takashi Nakamura. Matsumoto's rich colours were recreated specially for this project – in an epic operation, involving an army of 585 staff, it took three weeks to finish the paint job.
---
2.
Friendly fire
Forging the Tokyo torch
The pandemic hasn't been kind to the torch relay, which began in March. Part cancelled, part hidden from view, it has been a difficult journey. But a great deal of effort went into the production of the torch. Designer Tokujin Yoshioka drew up a blueprint for it with a sakura (cherry blossom) motif, working on its realisation with uacj Extrusion Corporation, an aluminium manufacturer more used to supplying the automobile and railway industries. "We're a behind-the-scenes player," says uacj's Yasunobu Okamura. As soon as the company received the commission from Yoshioka in December 2017, Okamura selected a team of 20 at its Nagoya factory to start working on a mould to produce torches for some 10,000 runners. "We knew it was a challenging job but we believed in ourselves," he says.
Over two years, hundreds of prototypes were made before the weight and colour of the silhouette was fine-tuned. "It was a marriage of industrial production and craftsmanship," says Okamura. "'Never say no' was our slogan," adds his colleague, Akira Kumazawa. The many samples travelled back and forth between the designer, uacj, Shinfuji Burner (the firm in charge of the combustion mechanism) and other partners, sometimes leading to discussions as hot as the torch's flame, as Yoshioka wanted a light body that could be held aloft by children and the elderly. The resulting torch has been cast in a sakura-gold colour; sakura-pink for the Paralympics version. "We never imagined that we could participate in the Olympics," says Kumazawa. "We can pass this legacy to the younger generations."
---
3.
Podium finish
Helping Olympians to rest easy
Whether you're a lean marathon runner or muscle-packed shot putter, when you hit your bed at night you want to sleep in comfort. To make sure that happens, Airweave mattresses promise to ease the weary limbs of the world's elite athletes in Tokyo's Olympic Village. "We have supported athletes in the past," says Airweave's founder, Motokuni Takaoka (pictured). "But in Tokyo we are working for the entire Games." After playing competitive golf and studying mathematical modelling at Stanford University, Takaoka became interested in sports science. "In sports you have science in training and diet but not sleep," he says. "It makes no sense because sleep so important for recovery."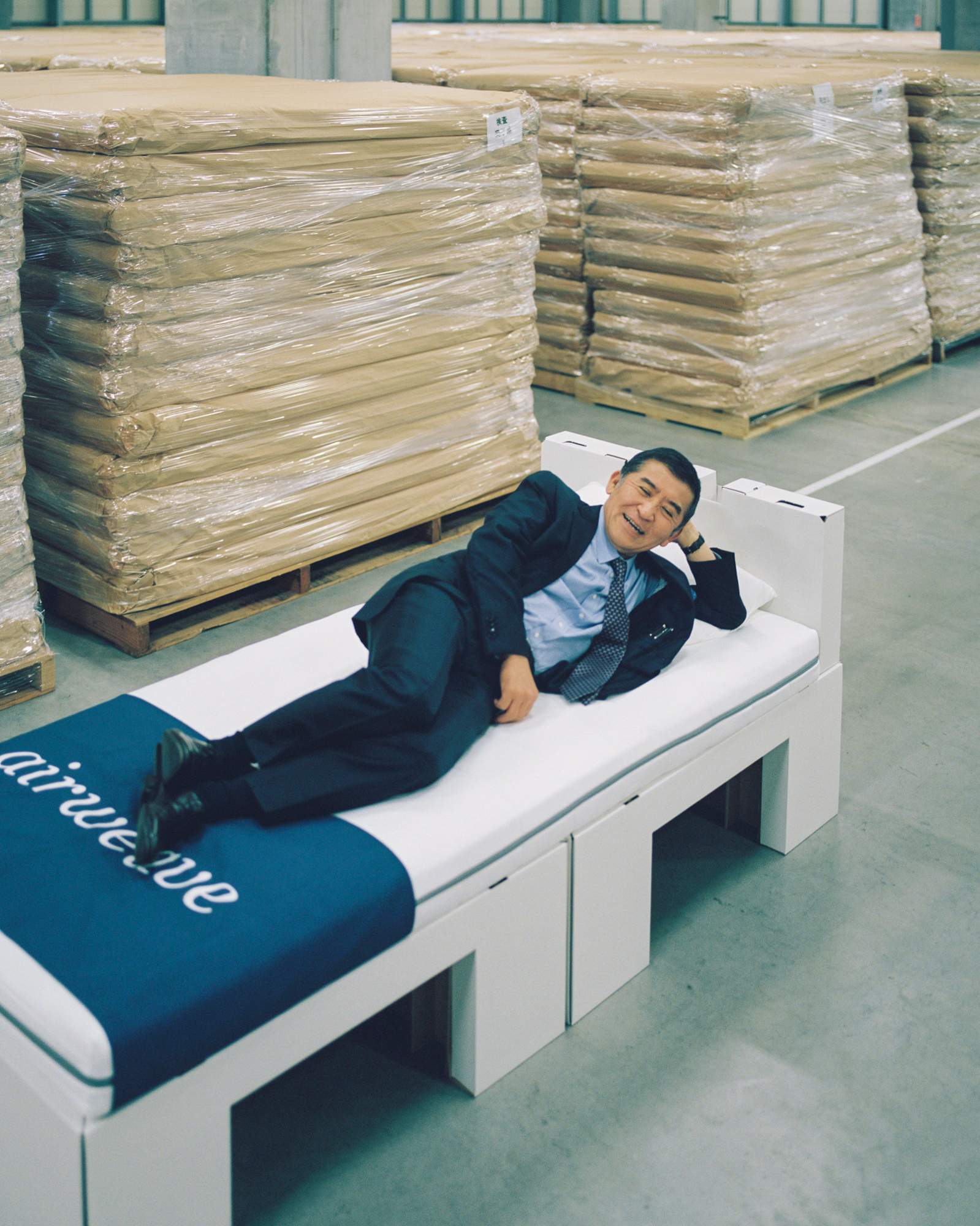 Takaoka started his business in 2004 by conducting a joint research project with Stanford and a field test at img Academy in Florida to investigate the relationship between sleep and performance. "Olympians are stoic, so I decided to cater to them," he says. Today the world's top athletes in everything from tennis to speed-skating use Airweave mattresses adapted to their own body's specifications.
Takaoka's team has spent nearly 10 years and billions of yen developing a customisable mattress for the Games. It's divided into three pieces from head to toe, each part ranging from soft to very hard, to create the perfect combination for every body type. Made from polyethylene, the springless mattress is washable, breathable and recyclable. When placed atop a special cardboard bedframe designed for the Games it presents just one problem: athletes might not want to leave their beds in the morning. 
---
4.
An exercise in ingenuity
Ariake Gymnastics Centre
Masao Saitoh (pictured) knows a thing or two about crafting innovative Olympic landmarks. As a young graduate student he worked on Kenzo Tange's Yoyogi National Gymnasium, one of the main venues for the 1964 Tokyo Games. Its innovative suspension structure dazzled the world and today the building stands out as the finest modernist monument in Japan. Saitoh, who went on to have a career as a pioneering architect and engineer, was brought in by Shimizu Corporation to work on Tokyo 2020's most ambitious new building, the Ariake Gymnastics Centre.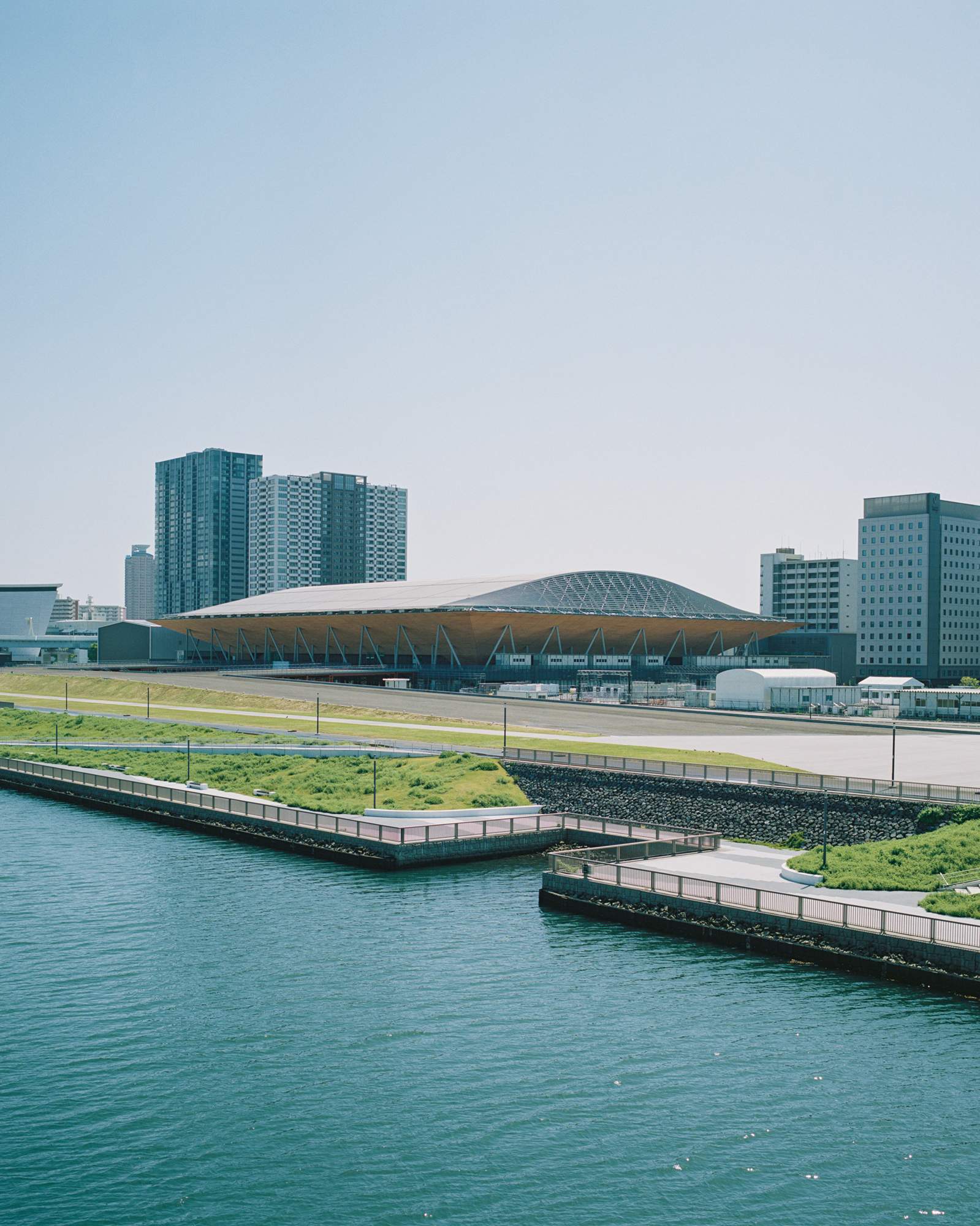 A showcase for Japanese wood-building techniques, the structure, whose design was co-developed by Shimizu and architects Nikken Sekkei, has one of the largest wooden roofs of its kind in the world. "Initially, Shimizu brought me in to see if it was possible to build this beautiful design," says Saitoh. "I said that it would be but it would have to be built in a different way." At his suggestion, a team from Shimizu relocated to Saitoh's office. He told them to close their computers, roll up their sleeves and get back to basics. "When I worked with Kenzo Tange we talked about the design so much at the planning stage that we'd ironed out all the problems before we got to the construction," says Saitoh. Eventually his own "beam-string" system made the erection of the gymnasium possible. Watching a film of the huge roof beams being jacked up is heart-stopping but Saitoh says it wasn't as perilous as it looks. The hours spent talking, thinking and model-making had paid off. "One thing I learned with Kenzo Tange is the power of human intelligence to solve a problem," he says. This beautiful building will now live beyond the Olympics as an exhibition hall. Hats off to the modest genius of Masao Saitoh. 
---
5.
Competitive characters
The man with a pictogram for every event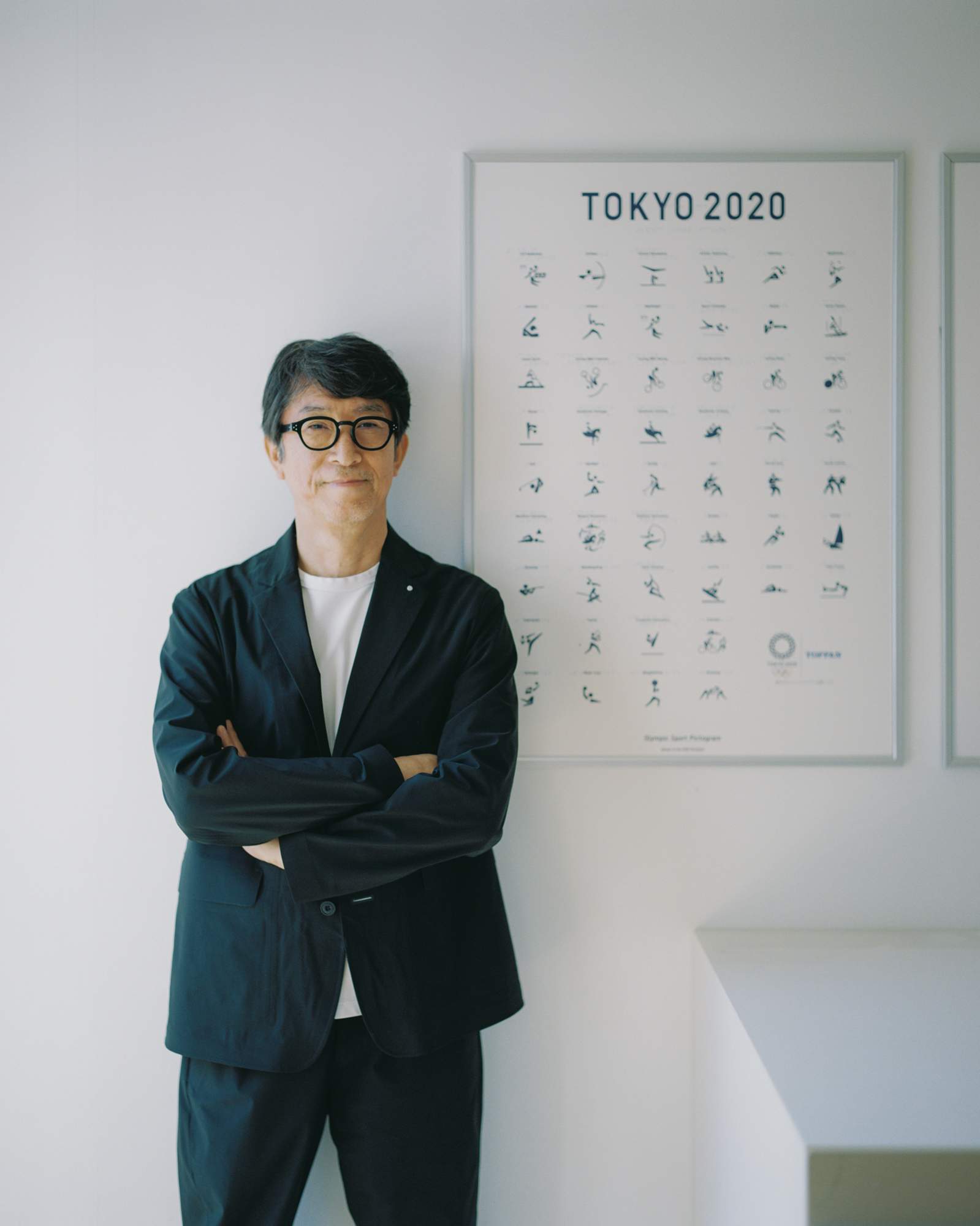 Sport pictograms are standard Games fare these days having first appeared at the 1964 iteration of the Tokyo Olympics. For 2020 renowned graphic designer Masaaki Hiromura (pictured) was commissioned to create a new set to be used on everything from signage to tickets. Hiromura scrutinised the previous system and noticed a few inconsistencies. "Ever since I aspired to become a designer, I looked back to those 1964 pictograms," he says. "But there was room to refresh. There were only 20 sports in the 1964 Olympics; there are 33 now, with extra disciplines within them, so we had to create 50 new pictograms for the Olympics and 23 for the Paralympics." Times have changed in other ways: old sailing boats have been replaced by hi-tech craft and rotund cycling helmets discarded in favour of the aerodynamic style worn at velodromes today. Hiromura's team searched thousands of images and films to find the shots that best encapsulate every sport. His dynamic system blanks out the athletes' torso and highlights the limbs; the only exceptions are sports with specific uniforms, such as karate, judo and fencing. The Tokyo 2020 pictograms will appear in animated form for the first time, brought to life by motion designer Kota Iguchi. "The 1964 pictograms are the blueprint but since then different countries have produced their own," says Hiromura. "Because this was Tokyo, I felt we could go back to 1964 but it wasn't about nostalgia. We wanted to look forward and set a new standard for sport pictograms that other designers can look to."
---
6.
Roll of honour
Making wheelchairs for winners
Wheelchair maker OX Engineering might be little-known but it's a regular star performer at the Paralympics. Since the 1996 Atlanta Games it has helped Paralympians from various countries to win 122 medals. "We have been accompanying the Japanese team since Nagano in 1998," says company president Katsuyuki Ishii (pictured, centre). "But once we are there we help everyone, regardless of their nationalities, even if they don't use our wheelchairs."
OX Engineering launched in 1988 in Chiba as a motorcycle shop that customised and sold bikes. "My father raced motorbikes but an accident left him in a wheelchair," says Ishii. Making use of his skills, Ishii's father, Shigeyuki, decided to build his own wheelchair and then began making them to sell. "He needed a goal and thought that he could prove himself as a wheelchair builder if the users of his designs became successful at global sporting events." In 1993, Shigeyuki started collaborating with athletes to develop wheelchairs for tennis and, later, basketball and track-and-field disciplines.
Today, OX Engineering's sports wheelchairs are used in 20 countries. Some athletes visit the workshop to fine-tune their machines to their personal specifications. "Our mission is to constantly innovate in our skills and technologies to meet athletes' needs," says Ishii. This summer his team is behind nearly 30 Paralympians. "Yes, there is a special emotion in hosting the event in our home country," he says. "But we see this as a stepping stone for the future. We're looking ahead to Paris and Los Angeles." 
---
7.
Build it and they will come
Fukushima's field of dreams
On a gorgeous sunny day, monocle meets a group of young softball players in the Azuma Baseball Stadium in Fukushima. The Tsukinowa Sports Shonendan team of 16 boys and girls from nearby primary schools are coached by Sho Hashimoto. "The Olympics are coming here," he says. "It's a once-in-a-lifetime experience." Whereas the majority of the Games' events will be in and around Tokyo, a handful are due to entertain crowds in cities including Sapporo and Fukushima. Last year, Hashimoto's team was celebrating when the publicly funded stadium's makeover made it fit to host Olympic baseball and softball matches. The grass turf was replaced with an artificial surface and more room was created in the stands for wheelchair users.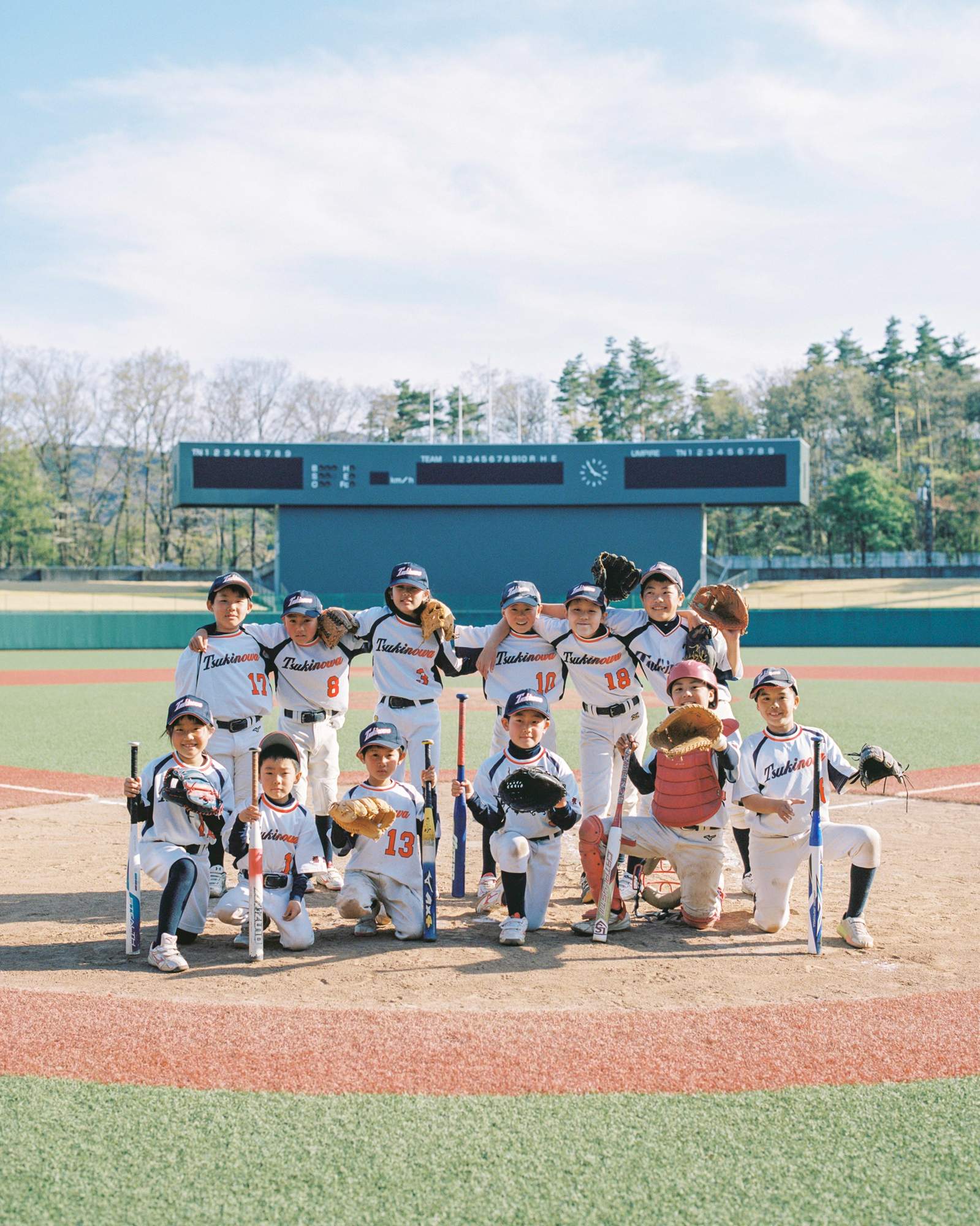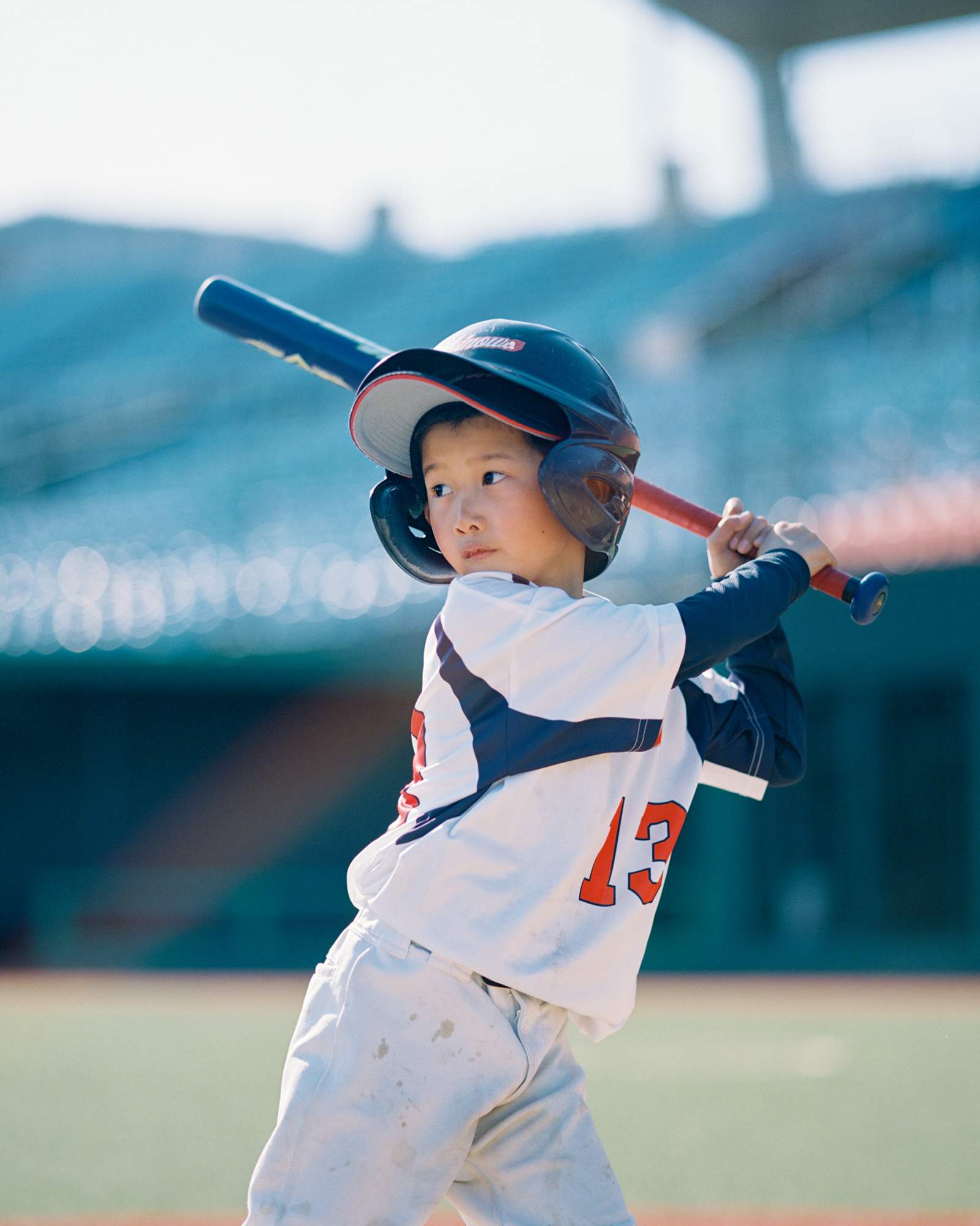 "Big local matches such as high-school tournament finals are played here," says Hashimoto, as his sons, Yu and Rui, train on the field. "I saw my first-ever professional baseball game here too. We're delighted that we'll see the top players representing their nations in our home stadium." Two other young players, Kotaro and Himeka, are the lucky ones on the team: their father Daisuke won a day ticket for the family to see the softball games. "They were really excited last year but then the Olympics were postponed," says Daisuke. "They will be fired up when the moment nears." 
---
8.
Game changers
Meet the mechanical mascots
Every Olympic Games has its mascot but Tokyo has introduced remote-controlled robots to accompany the more typical fluffy variety. Named Miraitowa and Someity, the mascots for the 2020 Olympics and Paralympics were chosen by Japanese primary-school children via a vote. Developed by Toyota, the robots' performance skills include being able to dance and interact with people. They feature show-stopping technology that enables them to replicate the movements of their controllers – who wear virtual-reality goggles and motion-detecting devices – right down to the briefest blink. "I can tell who is controlling the robot by its movements," says Tomohisa Moridaira (pictured), who headed the project at Toyota.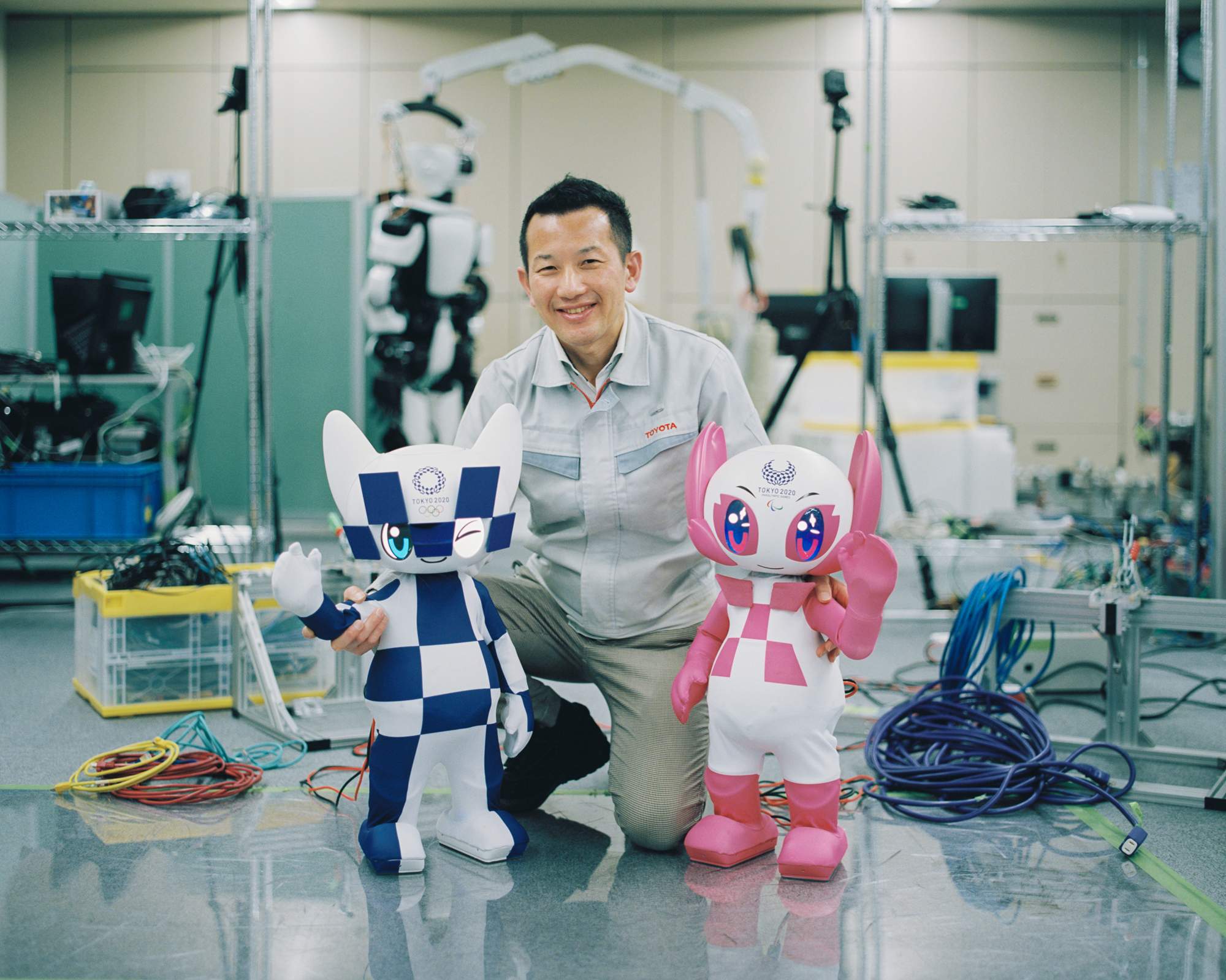 To ensure that they are approachable, the mechanical mascots only reach a diminutive height of 65cm and wear a special suit to hide their robotic joints. Other robots are set to assist people on and off the sporting fields. "It will become standard for robots to play more roles in future Olympics," says Moridaira. "Mascots can help small children to enjoy the Games. We want them to remember this Tokyo edition as a positive experience."
---
9.
Olympic ideal
Japan's National Stadium
For a 10-year-old Kengo Kuma (pictured), the 1964 Tokyo Olympics were a formative moment. "My father took me to see Kenzo Tange's stadium," he says. "I asked who made the building and that was the day I decided to become an architect." So it's fitting that Kuma, now one of the world's best-known architects, joined the team to build Japan's new National Stadium – the main venue for Tokyo 2020. It sits in the woody surrounds of Meiji Jingu Gaien, the outer garden of Meiji Jingu Shrine, famous for its gingko trees and sports facilities. The stadium was a team effort by Kuma's office along with Taisei Corporation and stadium architects Azusa Sekkei. "We had three months to submit our proposal," says Kuma. "Luckily the design solution came quickly as I know the place well. When I was a student I played tennis there. It's a special location."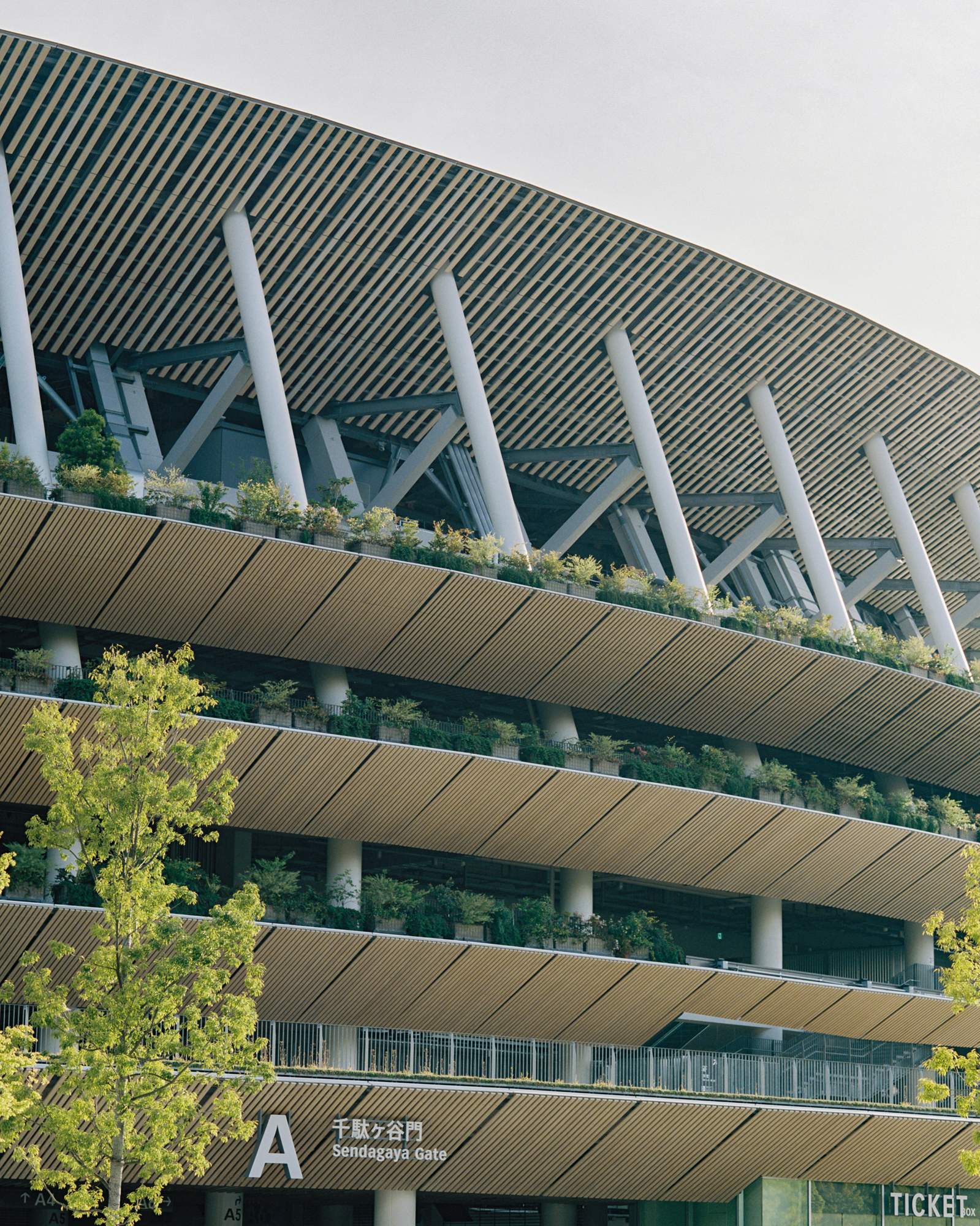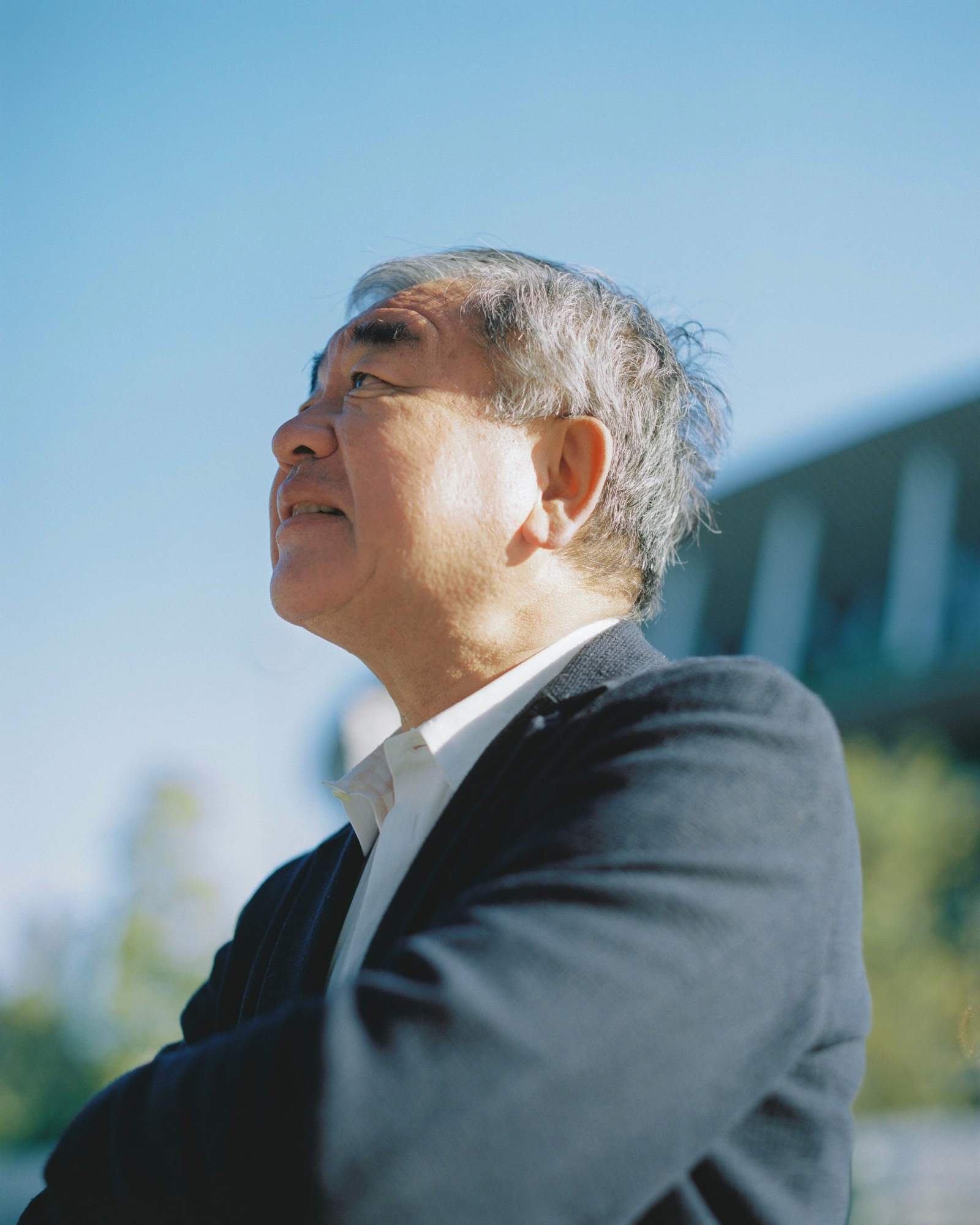 Kuma wanted the stadium to be a positive expression of Japan's changed economic and demographic circumstances since 1964. "Kenzo Tange's building is a tall structure but we tried to make ours as low as possible. We wanted it to be a humble monument to reflect Japan as it is now." The stadium, which seats 60,000, has an exterior covered in local greenery and its eaves are made with wood from all 47 prefectures of Japan. "Most people think Japan is a small, homogeneous country but every part has a different climate, history and personality," says Kuma. "We wanted to show that diversity." 
---
10.
Off the beaten track
A long-distance training base for South Sudan's finest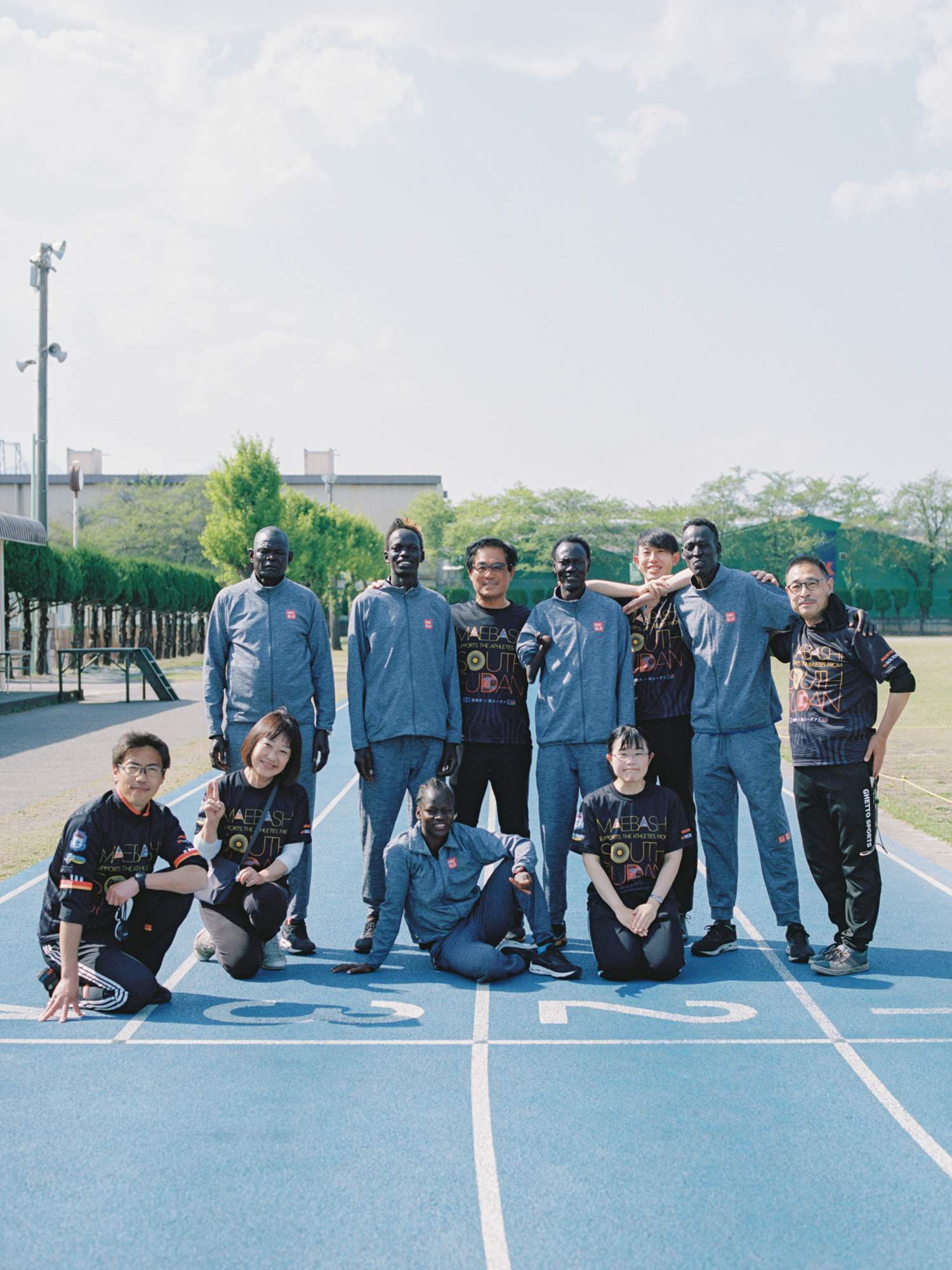 Although most athletes attending the Games have been training in their own countries, a team of four South Sudanese athletes have found themselves in Maebashi, a city 11,000km from home. During South Sudan's civil war, the Japan International Cooperation Agency offered to host four of the country's top track-and-field athletes and their coach. The mayor of Maebashi took them in with open arms and garnered public support via a crowdfunding campaign and by enlisting volunteer translators. The camp opened in November 2019.
Moris Lucia William Karlo is competing in both the 100-metre and 200-metre sprints. "I like the citizens most," she says. "They cheer us up. I like to speak Japanese whenever possible." When asked what phrases she's learned, the 20-year-old smiles. "My legs hurt. No training today," she says. Among the other competitors is 22-year-old Guem Abraham Majok Matet, who recently broke the South Sudanese national record for 1,500 metres during a competition in Tokyo. And then there's Paralympian Kutjang Michael Machiek Ting, who has been discussing with the Maebashi team's experts whether he should be fitted with an artificial right arm for his 100-metre race. 
"I wanted to help those who need help," says volunteer Yuri Shimazaki. "They come from a country in conflict but we get along like neighbours." Fumio Matsumura, another civic supporter, speaks a little Swahili and Arabic after living in Kenya and Syria. "Sports can bring people together beyond borders," he says.