Recipes / Global
Sandwiches
Briefing
The ultimate on-the-go bite – our Swiss recipe writer piles up six of the best.
For our transport-themed June issue we asked Swiss chef Ralph Schelling to suggest the sandwiches worth getting your hands on. He rustled up a veggie 'katsu-sando', a Middle Eastern-inspired schwarma and more. Enjoy.
ralphschelling.com
recipe 01
Quick tortilla bocadillo with pimientos
Serves 4
A riff on a Spanish classic. "This clever dish reminds me of when I worked at El Bulli and we always wanted to make something tasty quickly," says Schelling. "This is much easier than a classic tortilla and just as good."
Ingredients:

6 eggs
1 packet of salted crisps, about 120g, crushed
Olive oil
10 pimientos, guindilla or similar peppers
1 long baguette
Method:
Break the eggs into a bowl, mix with the broken-up crisps.
Heat 2 tablespoons of oil in a frying pan on medium heat then add the egg mixture and cook for about 2 minutes so that they are still slightly runny inside.
Remove and set aside.
Fry the peppers until the skin begins to blister, then tip out and remove excess oil.
Cut the bread in half lengthwise, lightly toast (if preferred) then add the tortillas and the pimientos.
---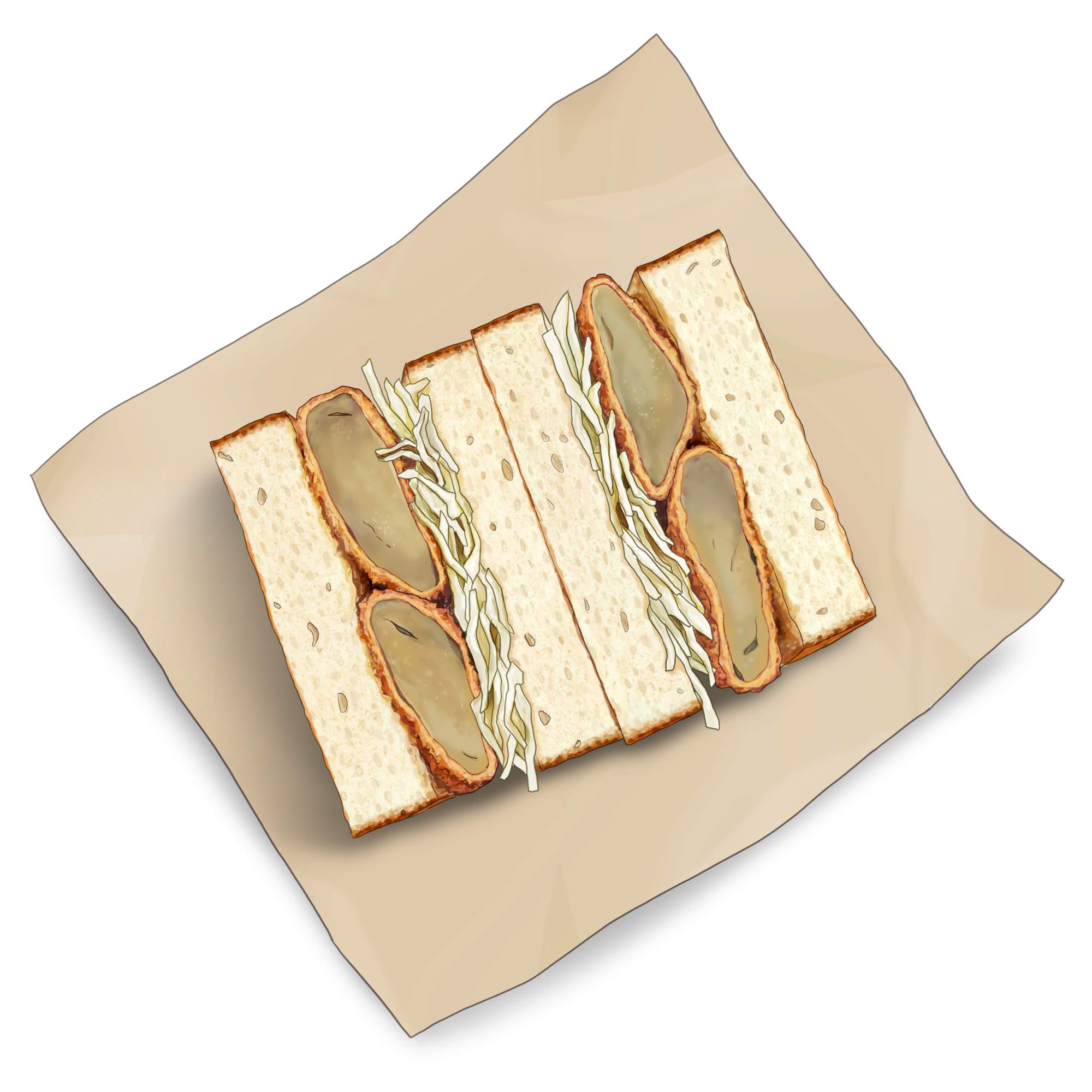 recipe 02
Aubergine katsu-sando
Serves 4
"I had my best sando at Konbi in Los Angeles," says Schelling. "The chef, Akira Akuto, is a colleague of mine and my recipe is a simpler version of his." You can also combine mayonnaise with the tonkatsu sauce or peel the aubergine before cooking. For a neater look, trim off the crusts. Best served lukewarm.
Ingredients:
1 medium aubergine (about 350g)
60g plain white flour
10g cornflour, plus a little more for dusting
1 tsp baking powder
150g cold water
Breadcrumbs (Japanese panko are best)
Salt
¼ Chinese cabbage, finely chopped
1 tbsp rice vinegar
8 slices of thick white bread
1 tbsp wholegrain mustard
To serve:
Tonkatsu sauce
Method:
Cut the aubergine into 3mm slices.
Mix the cornflour, plain white flour, baking powder and water into a batter.
Dust the aubergine slices with cornflour then dip them into the batter, wipe off the excess and coat with breadcrumbs. Fry in a hot pan with oil for 2-3 minutes on each side until golden brown. Remove from the pan and place on kitchen towel to soak up oil and allow to cool. Add salt.
Add the Chinese cabbage to a bowl and mix with rice vinegar to marinate.
Toast the white bread lightly and spread the mustard on one side of four slices.
Add the cabbage, sauce and aubergine, and cover with the other slices of bread. Press down lightly, cut in half and serve.
---
recipe 03
Chickpea shawarma with labneh and mint
Serves 4
Think of this recipe less as a stricture and more as a starting point. You could add tahini to the chickpeas for a different texture or substitute the whole thing for hummus. The pitta bread could easily be substituted by wraps or even naan – you can also mix up the spices or herbs to pleasing effect or exclude the labneh. It's time to experiment.
Ingredients:
3-4 tbsps olive oil
1 tbsp paprika paste
1 tsp ground cumin
300g chickpeas cooked and drained
Salt
250g labneh (or drained yoghurt)
2 cloves of garlic
½ lemon
½ bunch mint, finely chopped
1 red onion, finely chopped
1 tsp sumac
4 pitta breads
2 tomatoes sliced
1 small piece of red cabbage, chopped
½ bunch parsley, chopped
Juice of half a lemon
Method:
Heat the oil in a pan and fry the paprika paste and cumin in it until they release their aroma. Add the chickpeas and fry for about 2 minutes or until warmed through.
Put the labneh in a bowl and add the garlic, mix with the lemon zest and juice and the mint.
Mix the onion with the sumac.
Lightly toast the pitta bread and fill with the chickpeas, labneh, onions vegetables and herbs. Salt lightly if necessary and sprinkle with the additional lemon juice.
---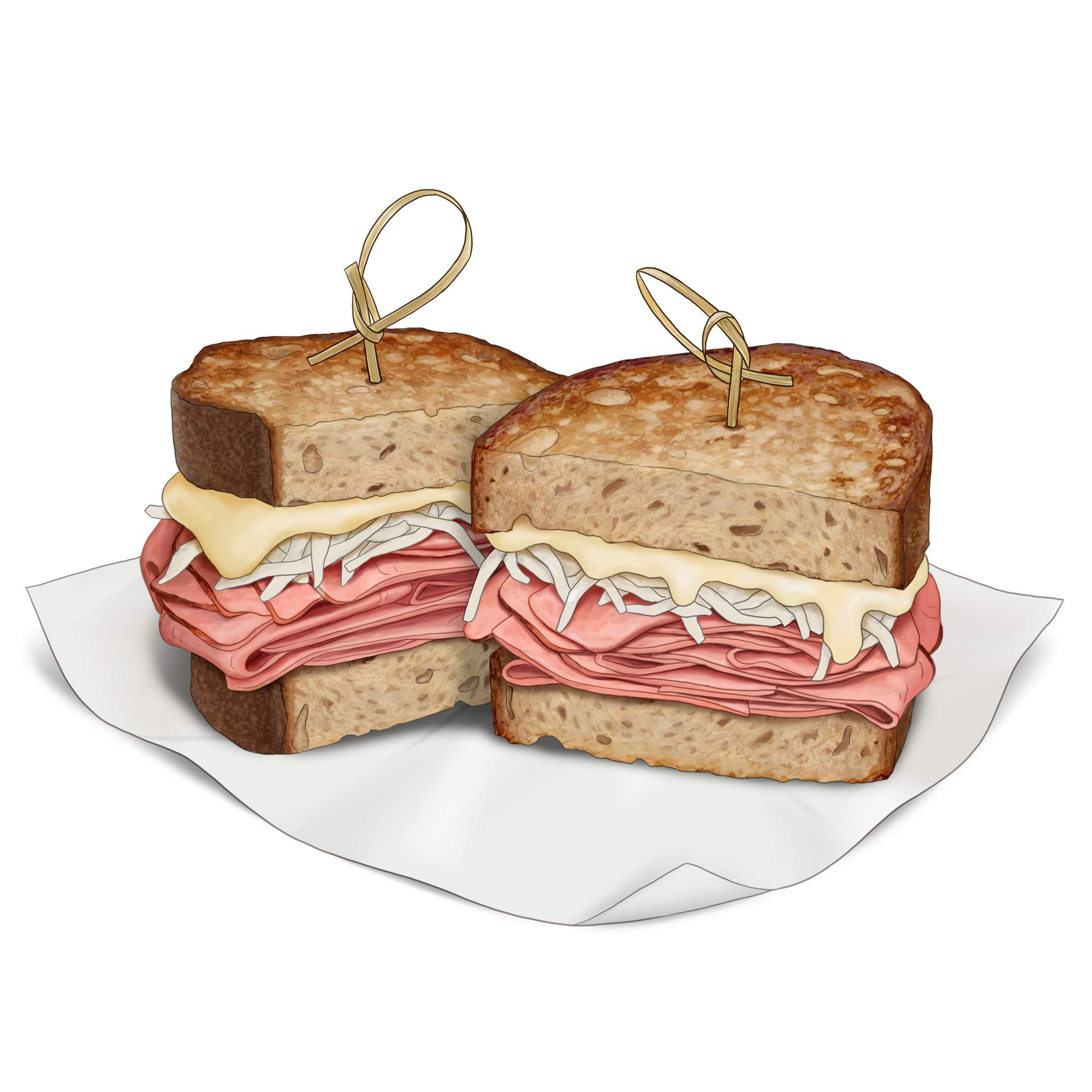 recipe 04
Reuben with pastrami and sauerkraut
Serves 4
Schelling's take on this staple is inspired by memories of Katz's Deli in New York. The chef has been known to add fresh tomatoes, celery or leaves to make a meal of it. It's great warm but can be enjoyed on the go too. Don't skimp on the pastrami.
Ingredients:
8 slices rye bread
3 tbsps salted butter
180g sauerkraut, squeezed
180g pastrami, cut wafer-thin
8-10 slices Emmental, cut into 1mm slices
4 tbsps Thousand Island dressing
Method:
Preheat the oven to 180c.
Butter the bread and fry until browned on both sides, in batches if necessary.
Sieve the sauerkraut to remove excess moisture then heat in a frying pan over a medium heat so that it dries out a little and warms through.
Spread the dressing evenly between the four sandwiches.
Warm the pastrami briefly in the pan and then distribute it and the sauerkraut evenly between the four sandwiches, before adding the sliced cheese on top. Hold them in place with a toothpick if needed.
Place the sandwiches in the oven for a few minutes until the cheese melts then remove, slice in half and enjoy.
---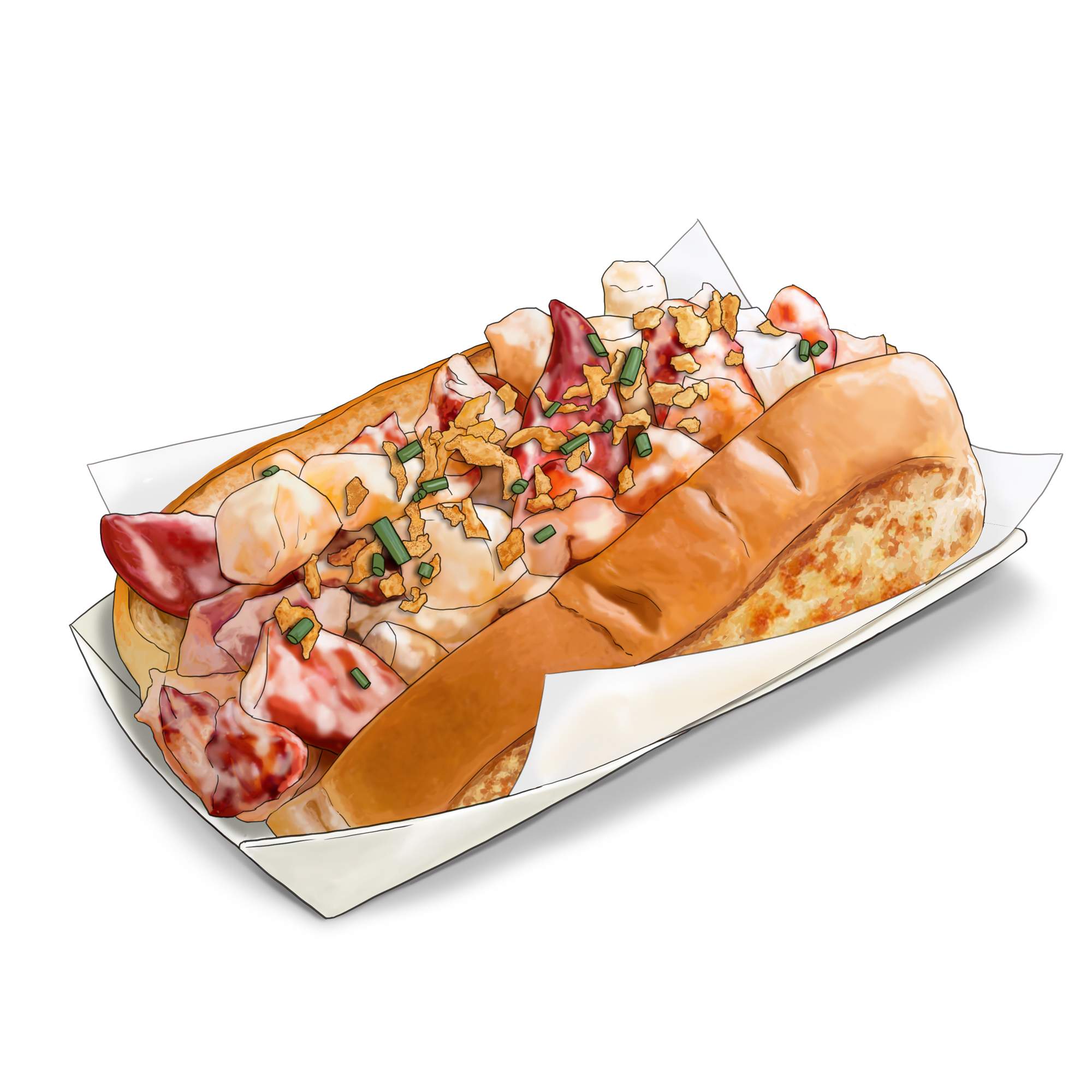 recipe 05
Lobster roll with brown butter, celeriac and pickled lemon
Serves 4
As with all sandwiches, this will only be as good as the filling you find, so get the freshest lobster you can. You can vary the recipe by omitting the mayonnaise for a lighter taste or toast the roll to taste for added crunch.
Ingredients:
2 tbsps salted butter
230g lobster meat, coarsely chopped
50g mayonnaise
1 tsp Sriracha sauce
2 tbsps celeriac finely diced
Salt
4 soft brioche buns
1 tbsp pickled lemon, finely diced
1 tbsp chives chopped
2 tbsps fried onions (available from most Asian supermarkets)
Lemon
Method:
Preheat oven to 180c.
Heat the butter in a pan over a medium heat until it begins to brown and give off a nutty aroma (be careful not to let it burn). Take off the heat and set aside – you've made brown butter.
Add lobster meat in the pan until it's heated through. Mix the mayonnaise with the Sriracha sauce and celeriac, and season with salt.
Cut buns in half (not all the way through) and use a pastry brush to add a little brown butter to the inside of the bun before placing it in the oven for 2-3 minutes.
Remove the buns from the oven then fill them with the lobster meat, seasoned mayonnaise, pickled lemon and crunchy onions, and top with chives. Season with a little lemon juice.
---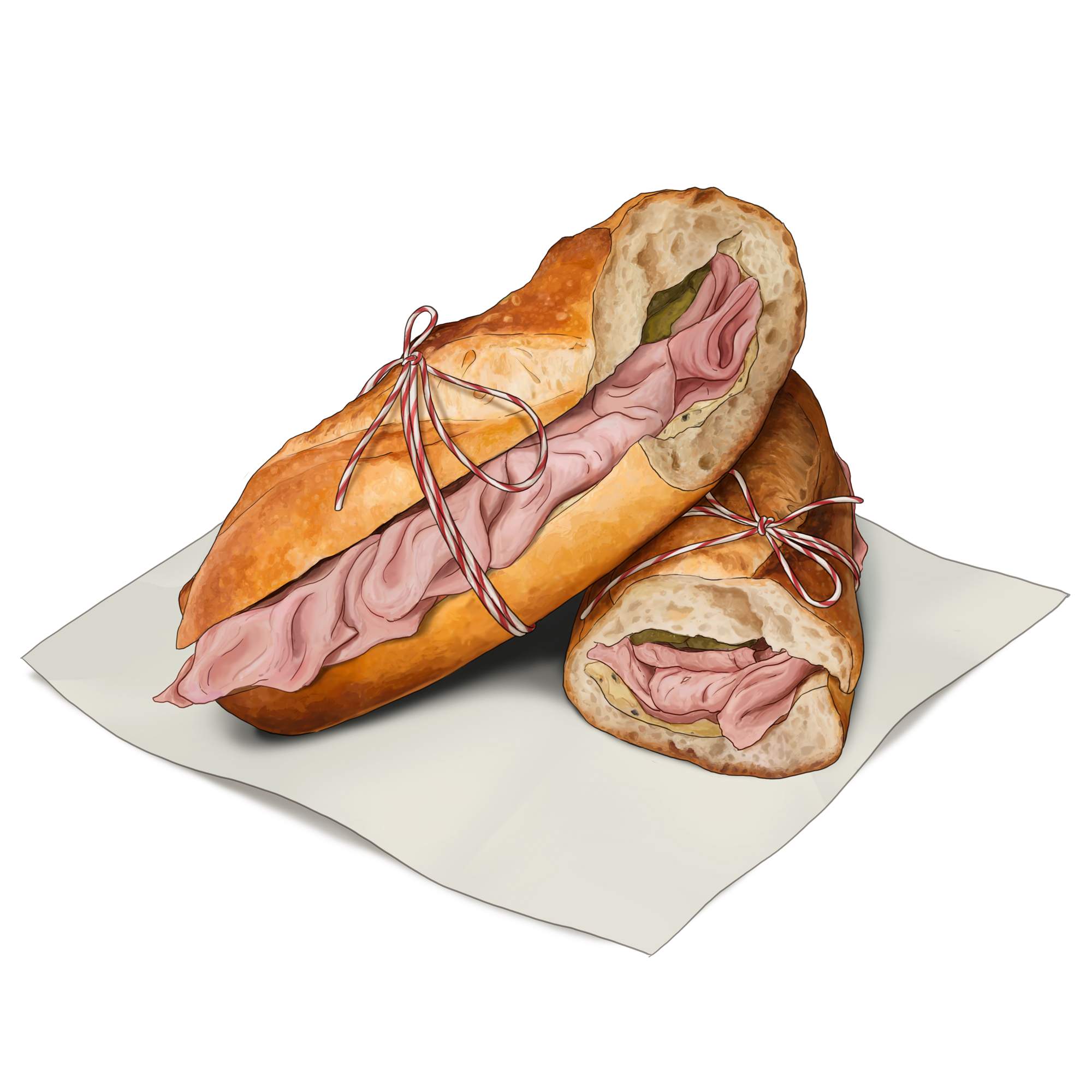 recipe 06
Jambon beurre with black summer truffles
Serves 4
This French classic couldn't be simpler and there's a reason why many people are wary of messing with the classic mix of ham and butter. Our recipe writer's take includes one seasonal, slightly indulgent addition: black summer truffle. Use fresh truffles that are in season and be wary of shop-bought truffle butter: many are punchy but flavoured with chemicals, so invest in a good one, which you can always freeze and use later.
Ingredients:
2 small baguettes or one large one, ideally baked that morning
50g truffle butter
8 thin slices of good quality cooked ham
4 cornichons, sliced if desired
Salt
Freshly shaved truffle (optional)
Method:
Track down the freshest and best baguettes you can.
Cut the bread in half lengthways and spread the inside generously with the truffle butter, leaving a few chunks – this is an indulgent affair. Add a pinch of salt to bring out the flavour.
Add the ham and the diced cornichons, press closed and enjoy. This sandwich travels much better than most and, if you're transporting it to a faraway picnic, you can tie it up with cooking twine to help it keep its shape.
Hungry for more?
Find recipes like these every week in the Sunday instalment of the Monocle Weekend Edition, where we also tuck in to new restaurant openings around the world. Sign up to receive the bulletin at monocle.com/minute