Interviews / Global
Staying in shape
Five prominent players from across the fashion sector tell us how their industry has fared over the past year – and how they have adjusted to meet a whole new range of business opportunities. This is the future of luxury. First we meet Bulgari CEO Jean-Christophe Babin, who explains how, in a year with less travel, his 137-year-old Italian luxury brand has thrived by serving clientele local to its shops – and found it rewarding in many senses.
In a year when so much has changed, the fashion industry's leading brands have overcome the demands placed on them by refining their established business models rather than completely reworking their offerings. Many of the industry's successful players – such as the veterans of their respective trades who monocle speaks to here – have experience in this regard. They are people who during their careers have persevered through numerous challenges, including the global economic crisis, shifting consumer behaviour and heightened concerns for sustainability and transparency. Fashion, after all, is an industry that's constantly adjusting to fluctuating tastes and major global events. Perhaps that's what makes it so exciting.
---
1.
Jean-Christophe Babin
CEO, Bulgari, Rome
Bulgari is a luxury brand that takes inspiration from ancient Roman architecture and uses time-honoured craft techniques to make its watches and jewellery. However, over the past year it has had to become a more up-to-the-minute entity. By reacting quickly to the sudden changes to a market that had sustained it over its 137-year history, ceo Jean-Christophe Babin has helped to steer the Rome-headquartered company to safety and improved business in the process. Specialising in pieces for a mainly female audience, Bulgari is buoyant; in 2021 sales were up from even pre-pandemic highs.
Like many luxury labels before the pandemic, Bulgari had enjoyed sustained growth from customers travelling to Europe from Asia, who focused on big-ticket purchases. When this market vanished almost overnight, it moved to strengthen its relationships with customers who lived close to its shops worldwide, while growing its e-commerce platform alongside this bricks-and-mortar offering. In the process, as Babin explains to monocle, the lvmh-owned company has set something of a benchmark for modern luxury labels in 2021.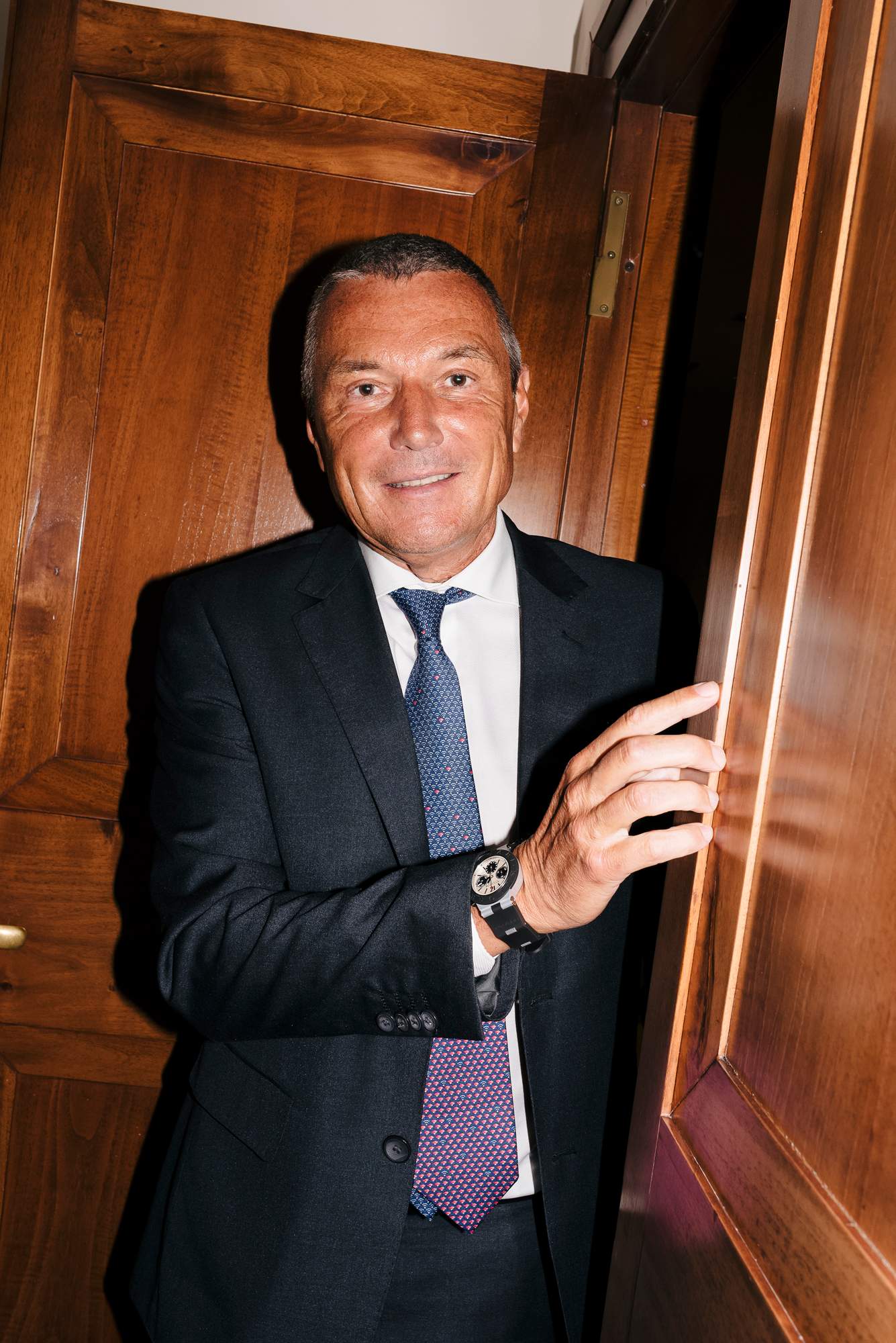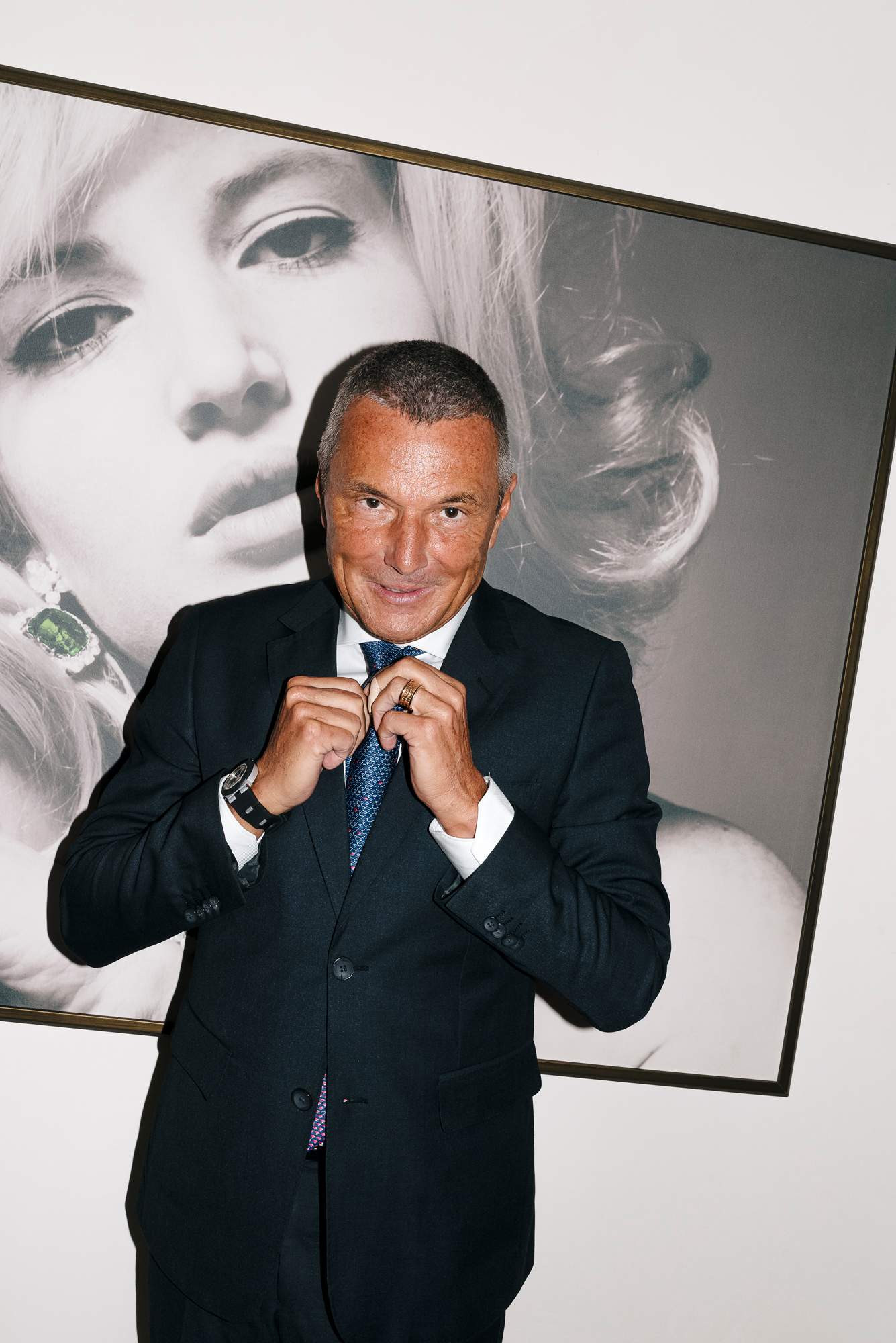 How is the Bulgari brand faring, particularly in retail?
Generally speaking, retail is back. For many companies, including Bulgari, at this point in 2021 we are up on the same period from 2019, which was a peak for the luxury industry. There is an appetite from our clients for our offerings. People have sacrificed so much of their spending over the past year or so – from dinners to going to the theatre and holidays – that they are thirsty to indulge. Luxury is bouncing back and the money that people are saving on not going to the Maldives is going into a watch or a handbag.
What about bricks-and-mortar retail? Has your approach shifted with fewer people travelling?
The shopping experience has become a more local one and servicing this clientele has become much more important. It's the same way we did business years ago, before the postwar economic boom and the rise of aviation and travel, so we're looking at it through this lens. We've gone back to a more one-to-one approach with our local customers, which has created an extraordinary opportunity to create a stronger bond with the core of our consumer base. In the past our top customers, those buying €1m necklaces, would feel this one-on-one experience but we were attracting those spending €1,000 or €2,000 with "one-to-many marketing activities" online and very few real one-to-one interactions. But with the world closing down we were forced to go back to these more intimate types of offerings to everyone. The result is an incredible growth in sales with local clientele.
So how have you changed your approach to this clientele?
If we're to take Milan as an example when it comes to our collections, it's not as though the Milanese tastes are far removed from Chinese or Americans – our B Zero1 ring is a big seller worldwide, for example. We don't have "ethnic" products, so to speak, so in today's new context, the experience that our sales associates in shops are providing is not so different to how it was before. But because there is less foot traffic, we're providing more quality time and a better experience to those clients visiting our shops. Our staff have been working hard to create a real bond with these people, which was previously missing a bit. We sell to fewer people, especially in former tourist destinations, but the average sale is much higher. Tourists typically buy at more entry-level prices, whereas our local customers have always tended to buy bigger-ticket items. Now they are enjoying this refreshed retail experience, we can provide even more to them.
In a design sense, some European luxury brands have struggled recently as they've realised they left behind their European audience in the pursuit of an Asian clientele. Has this been the case at Bulgari?
We never design product for a specific type of customer; we design products that are inspired by the art and architecture of Rome. We've always attempted to mirror our brand's dna in the pieces we create – born in Italy, influenced by the dolce vita lifestyle – and this has been appreciated by a universal audience because, well, Rome is Rome.
"The shopping experience has become a more local one and servicing this clientele has become much more important"
Tell us more about how this expression of Rome comes across in your product designs?
In the early 1900s our goldsmiths would walk to the laboratory every morning because there were few cars on the streets of Rome. So they were being influenced by their surroundings without even realising it. The city's bold, strong architecture, full of contrasts and built on such a giant scale, has always come across in our jewellery and products. From the Pantheon to Renaissance palaces to Studio Fuksas' more recent "Cloud" convention centre, everything in Rome is larger than life. Some of the flower patterns that we found on the Pompeii frescoes have inspired designs, while the essence of the Pantheon's roof structure has been captured in other Bulgari products. 
Are there any other bright spots in your business that we should be paying attention to?
There are very few women's watch brands like ours. Many brands focus on men by offering very masculine designs and derivative products for women. We make our watches in Switzerland but, unlike most of the brands in that country, we are focused on the women's market and this is a big opportunity for us. Watches for women make up 40 per cent of global sales. The few brands that are really designing for women are going to capitalise on this.
---
2.
Véronique Nichanian
Artistic director, Hermès men's universe, Paris
Hermès is known for its lush, tactile materials, including fine leathers and printed silks, but it has had to rely heavily on the virtual sphere over the past year when presenting new collections and selling products. Yet the company founded in 1837 has weathered the pandemic well, emerging as the best performer in the luxury industry in 2020.
On the design side, the lockdowns presented new challenges for Véronique Nichanian, artistic director of the Hermès men's universe – including clothes, accessories and perfumes – who has been at the brand for more than 30 years. Unable to stage runway shows, Nichanian turned to video, collaborating with French stage director Cyril Teste on films of live performances presenting her spring/summer and autumn/winter 2021 collections. From her office above the Hermès flagship on Rue du Faubourg Saint-Honoré in Paris, Nichanian tells us how luxury brands need to be innovative.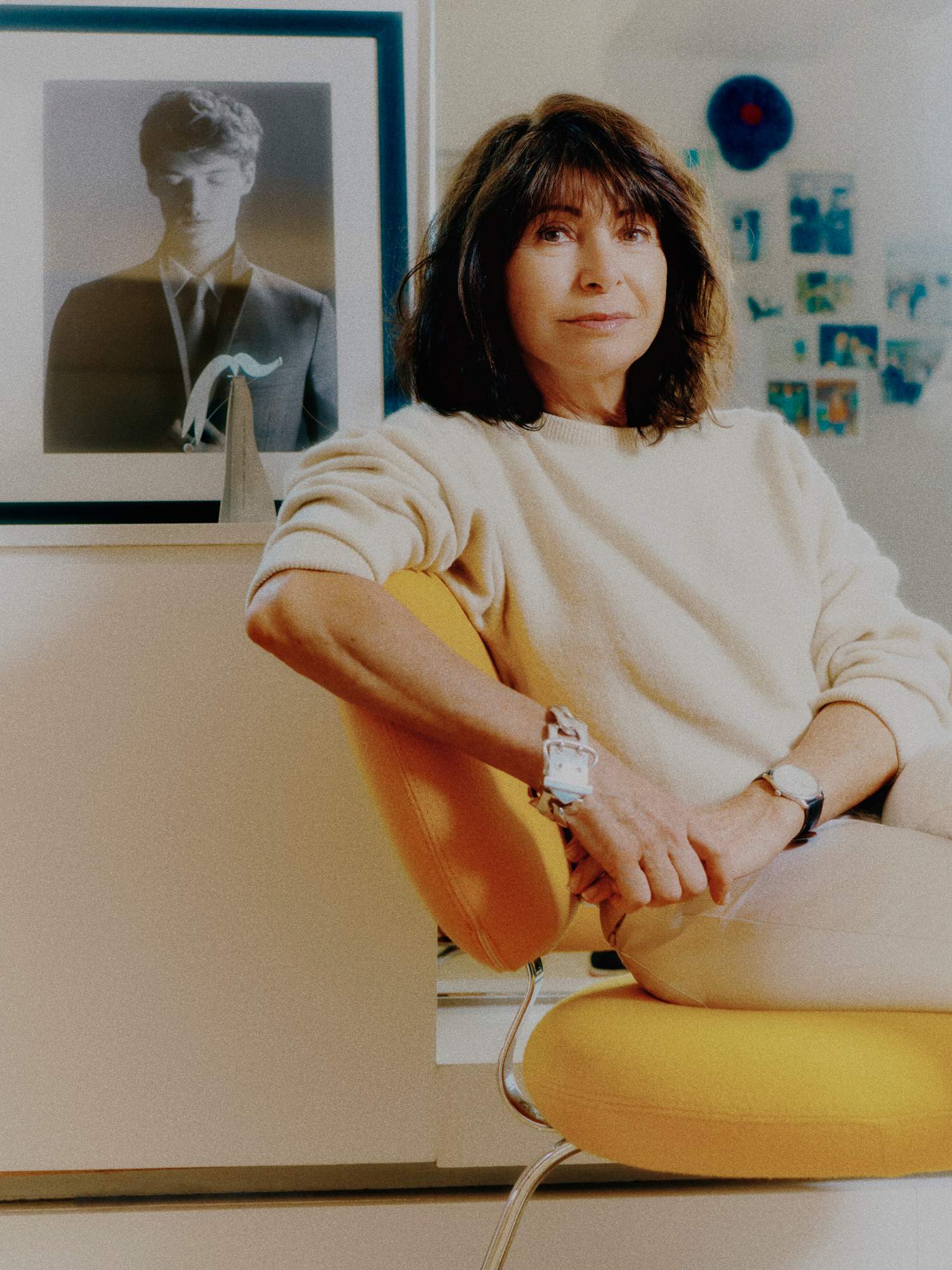 How would you describe the 'men's universe' that you've created at Hermès?
In the spirit of Hermès, it has a sports-chic elegance that's in touch with today's era, with a side that is relaxed but also sophisticated and refined. This relaxed elegance is really very French. My work has always involved the interplay of materials and colours, bringing in unexpected tones or mixing technical fabrics with timeless ones such as wool, linen and cotton. These are hybrid clothes for a period – a way of life – that is a bit hybrid.
What role does Hermès' long tradition in the industry play in your work?
I don't go into the archives. I want to steep Hermès in modernity through the use of new technologies and new fabrics, which are not things one finds in the archives. I am inspired by the force of Maison Hermès – the human hand and innovative craftsmanship – and this has always been marked by modernity and technology. Hermès has old, classical foundations but it has always been terribly modern in how it expresses objects as reparable and durable. Customers today understand these values more than ever at a time when we need to be aware of the environment by buying less but better. I don't need to search for this in the archives; after 30 years, I am impregnated with it.
How does this sense of modernity come across in the materials that you use in your collections?
I find it interesting to mix fabrics such as wool, fine cotton and linen with a material like neoprene. Today a man will wear a pair of trainers with a linen suit. This telescoping of materials gives this elegance, nonchalance and comfort. All the fabrics that we use are made exclusively for us, so I work closely with the technicians to fine-tune specific textiles. The point is not to repeat the same gestures for the same object for 180 years but to enrich craftsmanship with new technology.
You have described Hermès products as 'honest'. What does that mean?
It means taking the time to make an item, with respect for the artisan. Honesty is the result of the human effort, the choice of material, the construction and the design, which is itself an expression of fantasy, poetry and the beauty of things. It is not bling-bling or superficial. We all have an item that stays with us over time, one that becomes more beautiful and acquires a patina. This honesty is a state of mind at Hermès; it is a way of touching the head, the heart, the soul.
"Hermès has classical foundations but it has always been modern in how it expresses objects as reparable and durable. Customers today understand these values more than ever"
Where do you think that luxury menswear is heading?
Technology has changed menswear due to new materials and new colours that men would not have worn a few years ago. The opening up of the world and the different states of mind have made it evolve too. Young people are more likely to share what they want to say and what they expect from the world. This is what we as a company want to share, rather than a diktat that is set by a creator.
What has been the specific appeal of luxury goods during the pandemic?
They can offer a refuge. We tell ourselves that "life has become strange", so we want to do something pleasant for ourselves. During the pandemic this notion of pleasure manifested itself in different ways, whether that meant drinking a very good wine or having a beautiful object. Hermès has been doing very well because it touches people; it represents something real. People know that it has not changed or modified its model.
How has the past year changed what men want to wear?
The pandemic exacerbated the need for comfort. My menswear has always had to be chic and sensual but also a pleasure to wear. Everyone experienced this notion of comfort at home, in sweatpants or leggings, and we do not wish to abandon that. This suits me, with more sporty and relaxed items such as sweatshirts and jerseys, rather than formal suits. My job is to make well-cut clothes from materials that offer technical benefits, comfort and sensuality.
How important will bricks-and-mortar shops be for the brand going forwards?
I am very sensitive to the sensuality of materials. Even if we order a leather piece online, we need to be able to try it on and feel it. E-commerce makes it possible to open up to the largest number of people but nothing will replace the direct tactile and visual experience. When you visit a shop, you have the entire collection with the colours of all the silks, perfume in the air and the smell of leather. The shop windows are there to make people dream. At Hermès we believe that physical shops are essential, as are human connections.
---
3.
Bob Tavakoli
Owner, Gabucci, Stockholm
A dapper gentleman walks into Stockholm's Gabucci shop on a sunny Friday afternoon and owner Bob Tavakoli springs into action. He greets the customer warmly like an old friend, before bringing out a Cesare Attolini suede jacket that he picked up with his visitor in mind on a recent buying trip to Milan. Tavakoli advises his patron not to purchase a blue jacket because he bought a similar one last year and doesn't need another. The men chatter jovially about the customer's forthcoming anniversary dinner as multiple jackets are tried on and tactful feedback is provided. 
Since the mid-1990s, this is the way that Tavakoli and his team have done business here on Stockholm's well-heeled Nybrogatan shopping strip. His approach to growing the Gabucci business has been focused on fostering good relationships, whether that's with suppliers across Italy (Gabucci recently launched its own "Made in Italy" label for suits, shirts and jumpers) or with customers. Today the shop is a go-to for those seeking tailoring and menswear, from politicians to business people, celebrities and fashionable young Swedes.
Retail businesses the world over could learn much from Gabucci, a small brand with a cult global following. Over the years Tavakoli has avoided the lure of stockpiling by keeping orders small and focusing on buying with quality and longevity in mind. He tells monocle about his success and why he won't be changing his methods any time soon.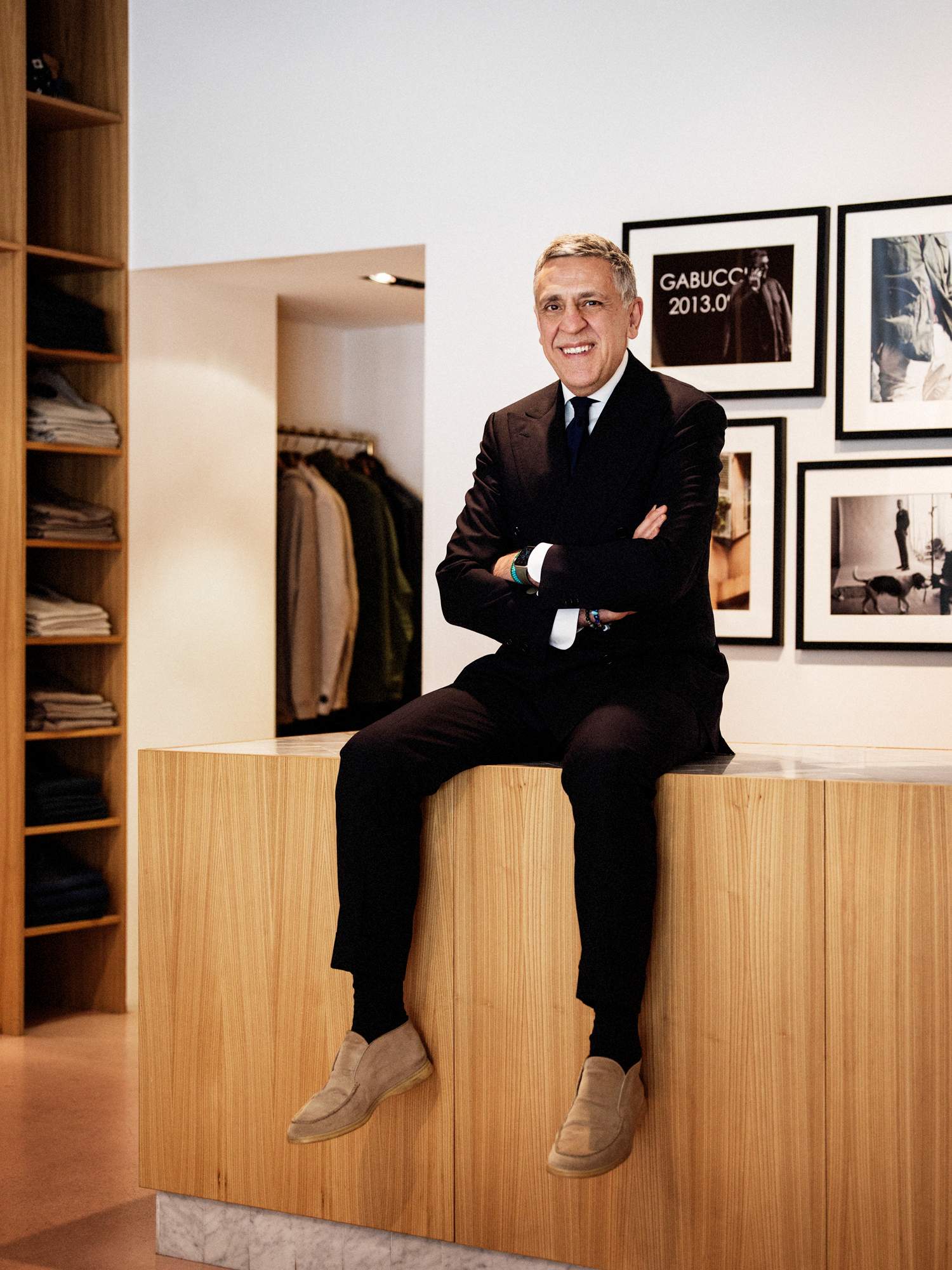 How has the menswear market evolved over the past year or so?
We'd already seen a tendency towards more casual business attire – our lawyers and politicians were dressing down. Subsequently, last year we saw a sharp drop in suit sales. But this has turned into interesting behaviour. Instead of buying four or five different suits, the same customer now spends more on two made-to-measure ones, which they alternate with a selection of quality shirts and relaxed jackets.
People are generally more concerned with what they are buying and we're seeing an increased attraction to classic colours and patterns as our customers invest in garments that are not trendy but are useful for longer. Cashmere is also on the up. We came back with a €1,000 cashmere hoodie from Italy last year and, surprisingly, it was the first thing that sold out.
"The younger generation want to know where things are made, by who, using what materials.These relationships will be even more important in the years to come"
Due to this shifting demand, how much of your business is about selling what the customers specifically want, versus your curation and taste-making?
Our strategy is to buy 85 per cent from personal customer insights and 15 per cent from our intuition, to always make sure that we bring something unexpected. Steve Jobs said, "Customers do not always know what they want." And he was right. We take great pride in our integrity as good buyers – finding things that people know they need as well as styles that capture their imagination. You can look for anything yourself on the internet but coming into the shop means that you are buying into 25 years of experience, which is going to give you a very knowledgeable and curated perspective.
How do you see the future of the fashion industry and what will be the business elements that define it in the years to come?
We found that the most important thing is to build trustworthy, intimate relationships. For Gabucci it comes from two factors: we know what your wardrobe needs better than you do and we've known most of our suppliers for more than 20 years.
In Italy last spring, just before the start of the lockdown, we spent a few days in the company of the family who run the shirt-brand Finamore 1925. We visited Simone Finamore's house, had dinner together, watched some football and played with the children. I want that familial bond to translate to the customer who buys a Finamore shirt from us. I definitely feel that the younger generation visiting our shop are more aware. They want to know where things are made, by who, using what materials. So I believe that these relationships will become even more important in the years to come. I want service to be about closeness and I feel that the customer is asking for it.
In recovering from the pandemic, how do you feel that your retail business will change?
Every Friday afternoon my staff and I will sit down to analyse the week that has passed. We go through what we have heard on the shop floor and share our insights. That moment of sharing ideas is a holy grail for us, a time dedicated to evolving together. We prepare drinks and some food and then we talk; sometimes we invite customers and a few friends. Our team is small and we have worked together for a long time; we enjoy each other's company in the shop and outside of work. Having honest conversations is our best-kept secret. With that, we found that staying positive and having fun was the best way to tackle hard times.
We want the customer to walk into the shop hearing laughter and feeling the good spirit. There is no point in being miserable. Instead we are planning for a time when we can party together again. We normally host two parties in a year and we cannot wait to make up for lost time with our next one.
---
4.
Hideaki Yoshihara and Yukiko Ode
Founders, Hyke, Tokyo
Husband-and-wife team Hideaki Yoshihara and Yukiko Ode have been designing clothes since 1998. After a three-year hiatus they launched their brand Hyke in 2013. It has gone on to become one of the most influential forces in Japanese fashion, producing collection after collection of functional womenswear, inspired by vintage military and workwear, reimagined and reconstructed in modern technical fabrics with a sporty edge. Hyke's runway show is a highlight of Tokyo Fashion Week and its collaborations with the likes of The North Face and Adidas sell out at high speed.
Based in Tokyo, the couple prioritise family life over world domination; they work with a team of six and do not have their own shop. From their Tokyo headquarters – a former photographic studio – the couple talk to monocle about how their business has fared and what their plans are for the future.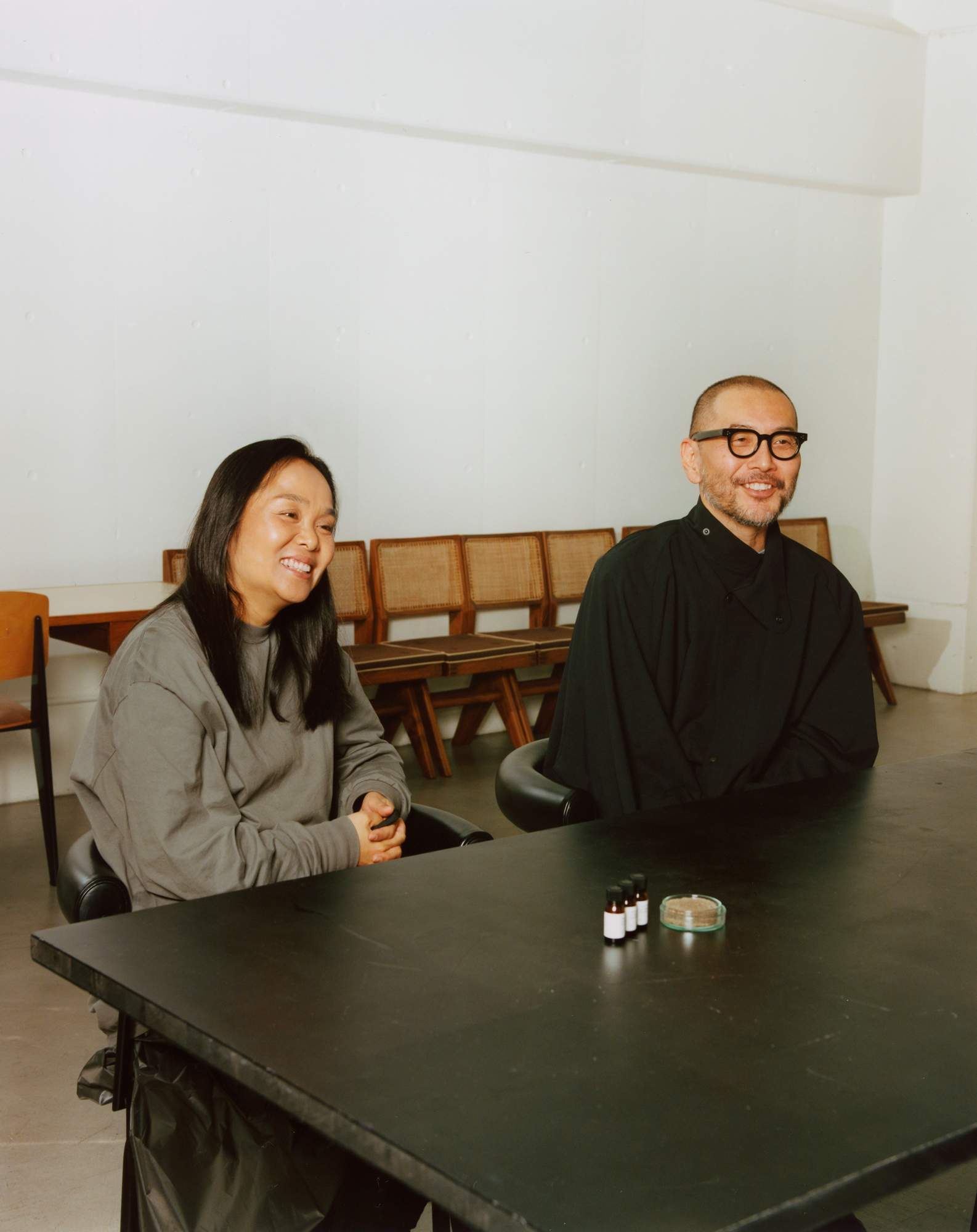 How are you able to sell to overseas buyers?
HIDEAKI YOSHIHARA: Our staff are doing sales remotely via video calls. They wear the clothes and show how the collections fit on the body. We're also working on the visuals by producing better photographs and sending those to the clients who can't come here. Until 2017 we used to do a video presentation of our collection so, in a way, we've gone back to our roots. It has been refreshing to return to that format. We're thinking, "Which one is better – live or broadcast?" There is an energy to a live show in front of an audience, though. Maybe we'll do both. We always do things at our own pace on a compact scale and we value our work-life balance. We wouldn't be able to cope if the business got drastically bigger so we'd like to focus on making new things within our capacity, bit by bit.
Has the pandemic changed what you design?
YUKIKO ODE: We've always made functional clothes. I've been working with Japanese factories for years on developing technical fabrics that are easy to wash and dry. We make clothes that you could wear at home or outside, which, by chance, is what people became more focused on during the pandemic. People have changed their habits and I hear that buyers are looking for versatile clothes. But you can't be stuck at home forever. We happen to have a good balance between garments that are comfortable enough to wear around the house but that can also be dressed up for going out. That kind of design and those materials have been our strength. We're building on what we were already doing with new materials and new features.
"We make clothes that you could wear at home or outside, which is what people became more focused on during the pandemic. Buyers are looking for versatile clothes"
Are you still making most things in Japan?
YO: A lot of our clothes are made in Japan but we're always looking for quality rather than simply focusing on where things come from.
HY: We're essentially in the same boat as rest of the fashion industry in Japan. If one part fails, the other parts won't work either, so we'd like to keep the system going. At the end of the day, the closer the partner or manufacturer, the easier it is to work with them. We work with other countries too: we've been using Pertex [a breathable, lightweight technical fabric] from the UK.
Hyke is a brand that champions collaborations. How do you choose the partners that you want to work with?
HY: We have to like or want to collaborate with a specific brand. It can't just be a business collaboration. We've always wanted to create something in fragrance and we've been looking for a good partner. When [Japanese skincare brand] Three opened its Shibuya shop there was a triple collaboration between Three, [Japanese fashion label] N Hoolywood and us. We were delighted to do that and then requested another collaboration. Now we have produced a new room fragrance with Three.
---
5.
Michael Kliger
CEO, Mytheresa, Munich
When the owners of Theresa – a luxury fashion boutique in downtown Munich – launched their online shop in 2006, they strived to cater to friends of the business who couldn't make their way to Bavaria. Fifteen years later, Mytheresa, as it's now known, has grown to be an online powerhouse that focuses on the high-end fashion market and serves some half-a-million customers in more than 130 countries. Shop closures last year were a boon for the company but the core of its success lies in long-standing relationships and close ties to the brands that it sells.
With ceo Michael Kliger at the helm, Mytheresa is expanding globally. Sales have increased fivefold during his six-year tenure. US department- store giant Neiman Marcus bought the retailer in 2014. Kliger joined the company in 2015 and has stayed on even as that behemoth filed for bankruptcy in 2020. As a jewel in the company crown, Mytheresa was carved out of the bankruptcy estate by investors for good reason. Whereas industry heavyweights such as Net-a-Porter and Farfetch have been struggling to break even, Mytheresa has been profitable since its inception. In January the company went public on the New York Stock Exchange, with a valuation of $2.5bn (€2bn).
Yet one of the most remarkable aspects of this brand is that it has never forgotten its roots in bricks and mortar. In Munich, Mytheresa's physical retail operation still stands as a one-stop shop for a small, affluent and loyal local customer base. monocle sat down with Kliger in the company's headquarters in Aschheim near Munich to find out how he keeps the balance.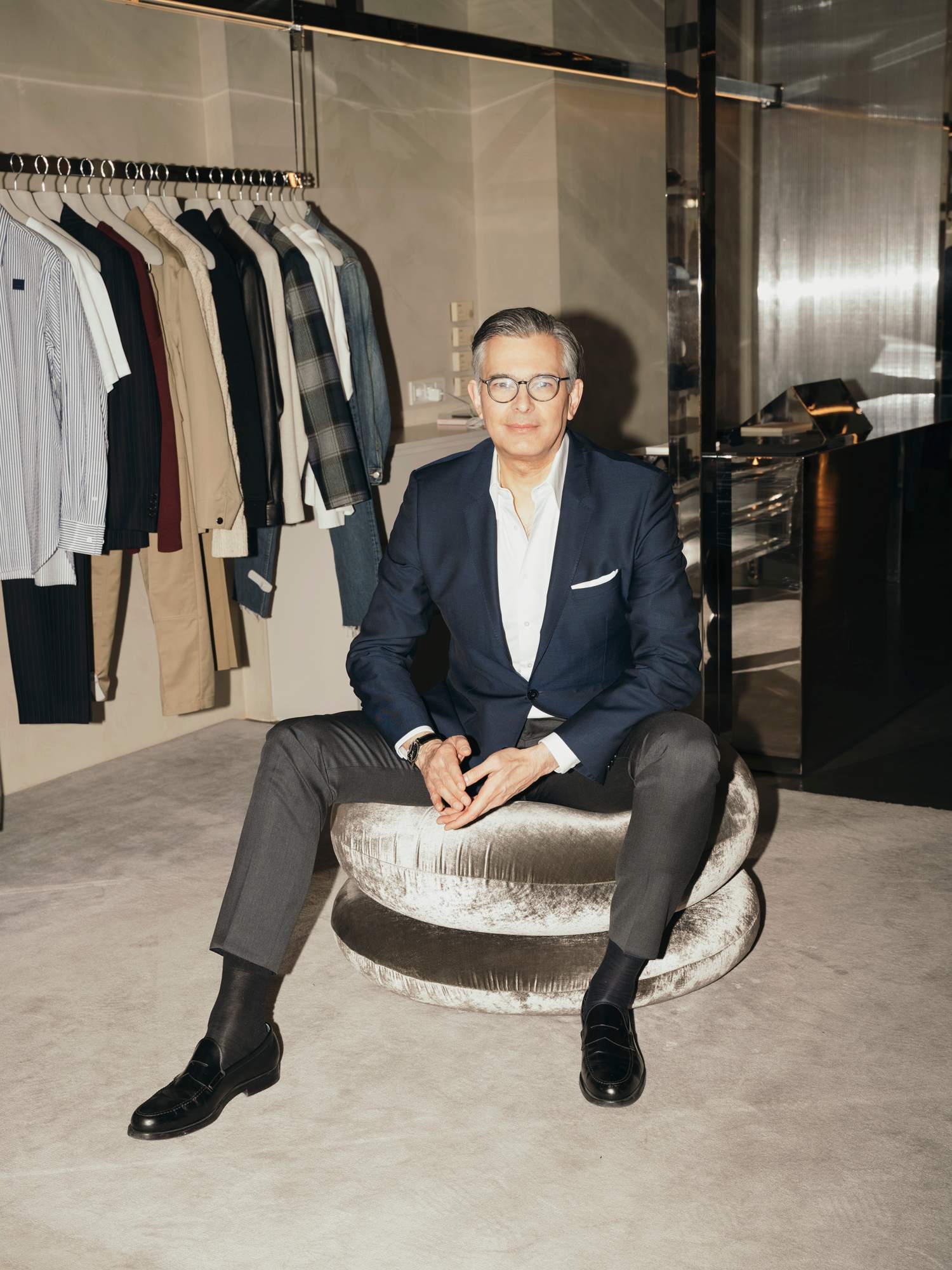 Your online assortment is much smaller than that of your competitors. Why do you take this approach?
We offer luxury and there are only so many luxury brands in the world that you can stock. We have a carefully edited selection: 250 brands and that's it. As we are a retailer and not a marketplace, it's all about inspiration, not aggregation. You can't search for "something nice" on Amazon. But if you go to our website and look for midi dresses, for example, then you get a selection of about 120 styles and you will find the one that you want pretty quickly. If you want to offer inspiration, you cannot just ask customers to search through an endless pile of products.
"For many of the brands that we sell, it's important to have a bricks-and-mortar operation, particularly for those labels not yet into online luxury"
You only moved into menswear last year, much later than competitors. Why was that?
Luxury menswear has benefited tremendously from what you might call "streetwear". Some two or three years ago we felt that the market was starting to pivot to more sartorial, post-streetwear. There is more tailoring and more appreciation of fabrics now and this is what we wanted to bring to our customers. I was recently talking to the ceo of Tom Ford who told me that the brand is now one of the most popular among US basketball players. Elevated menswear is the next wave.
Last year you opened a menswear shop in Munich that's connected to your womenswear outpost. Operating physical shops is unusual for an online retailer. Why do you do this?
For many of the brands that we sell, it is important to have a bricks-and-mortar operation; particularly for those labels that are not yet into online luxury. When brands visit us, they always want to see the shop in order to see how we treat their product. This gives us opportunities to speak to brands that don't yet feel comfortable with going online, for whatever reason. In the womenswear shop we stock Manolo Blahnik, which we don't have online yet because the brand isn't very open to that. It's the same with Celine. The shop is very important, strategically and emotionally, and it makes money. It's not just for fun or marketing.
Photographer: Piotr Niepsuj, Julien Lienard, Felix Odell, Asuka Ito, Matthias Ziegler