Mobility / Berlin
Train times
Every nation wants cleaner, smarter ways of getting around and rail is set to be the big winner. We talk speed, design and night-time adventures with Michael Peter of Siemens Mobility.
Michael Peter is a man on the move. The ceo of Siemens Mobility was recently in Cairo to discuss a three-line rail deal to connect the Red Sea to the Mediterranean and Alexandria. Peter, based in Berlin, says that developing more high-speed train connections is key to cutting down climate-damaging emissions – but he also envisions seamless door-to-door options in cities. And if there's one positive from the pandemic, it's that government support has shifted towards backing major high-speed rail projects. Peter spoke to monocle's editorial director Tyler Brûlé about the future of train travel.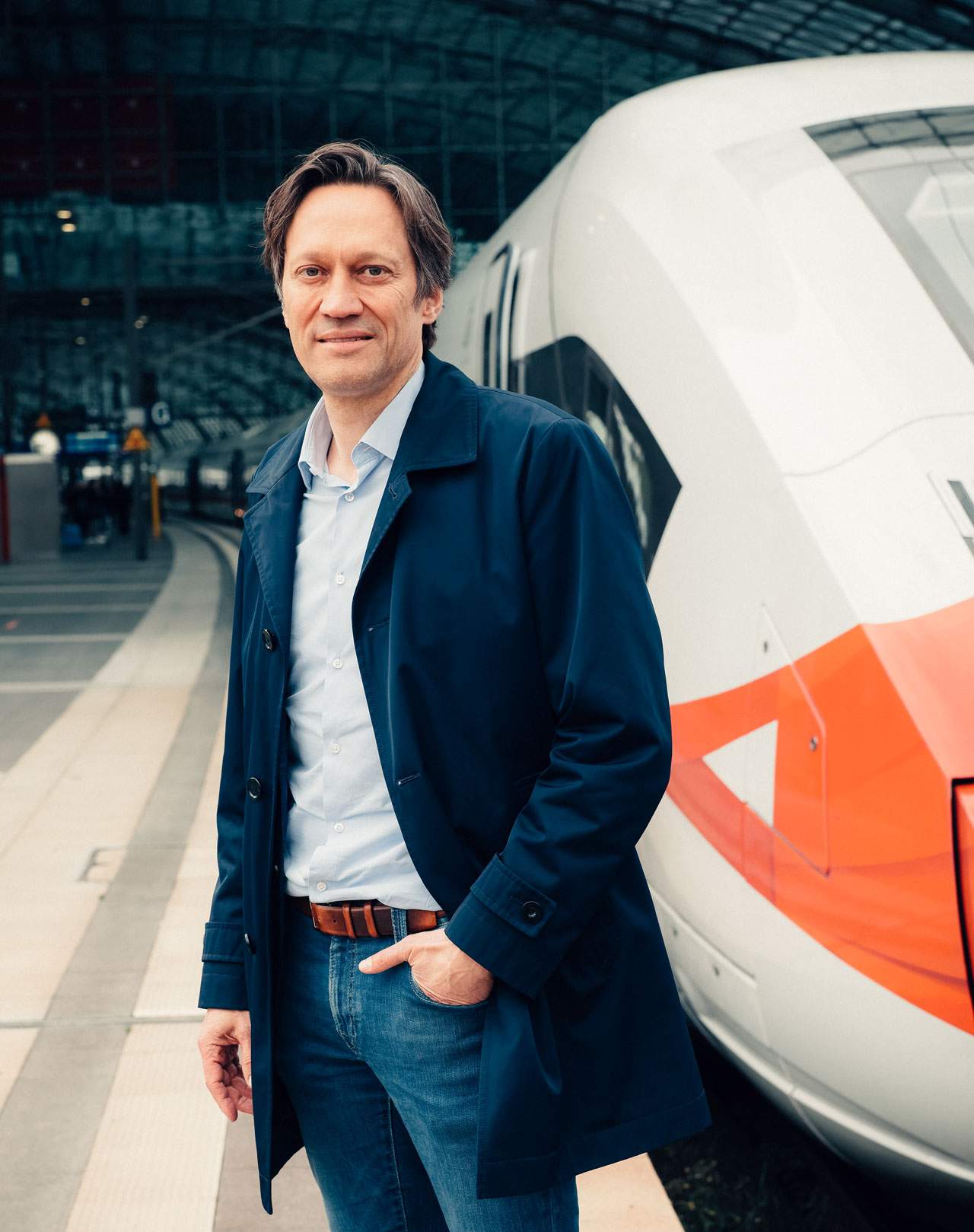 Do you have the easiest job in the world at the moment? It seems as though everyone loves trains and that planes are now the bad guys.
I have the most fun job. Much of the rail industry hasn't been innovating for 30 years and now it's like we're jumping from rotary phones to Voice Over Internet Protocol [voip] in one step. The efficiency gains and opportunities to travel differently in the next 10 years will be huge.
You now face pressure from governments and consumers for innovative environmental solutions. Conversations about the benefits of train travel must be easier...
Ten years ago we were talking about smog, and cities were competing as good locations for companies. But the element of fighting global warming and considering how we will move around in the future was not there. With coronavirus, if you look at where government stimulus money is going, there are usually two requirements: it should be intelligent infrastructure that creates good job opportunities and it should bring us closer to co2-reduction targets. These stimulus packages are bringing a new dynamic to our market.
Modern rail projects weren't always conceived with all aspects of travel in mind. If I'm a transport minister coming to Siemens, what does your whole programme look like?
We're one of probably only two companies in the world that can provide a turnkey system from beginning to end. We're one of the world's biggest software providers for applications where you can book an intermodal trip on your phone, so that the train isn't an isolated piece of transportation. In the future your trip might include a driverless shuttle. The train station – we call it a digital station – should also be a hub for people. The train itself is also changing as people want to spend more time on them and travel longer distances.
Even in Japan with its sophisticated rail culture, you often have to buy multiple tickets from different providers. Is it easier to sell your software services in central Europe, where rail travel is more integrated?
This is a question of political will. The easiest city is Singapore, where the metro system is fully integrated with all other modes of transportation. In Europe, unfortunately, we have a lot of operators who consider their sales channel to be of value and don't want to cross-sell tickets. Politicians need to settle this when they give concessions to different operators, because it doesn't provide a positive train experience.
Everything digital has pitfalls; the cacophony that technology can create in the confined environment of a carriage can make travelling rather annoying.
The requirements for communication are increasing all the time – wi-fi on trains is a must nowadays – but noise pollution is an issue. If you look at the future of train interiors, we're moving away from huge common-seating areas to different compartments for different types of travel. Some people want to work in the train and be alone, others want entertainment; the restaurants become more important and there are play areas for children.
You can't go to a dining car when you're flying. Is rail travel returning to its roots?
The biggest difference between a car and a train is that you have your hands free. The biggest difference between a plane and a train is that you can move around. We have to leverage that. Trains still need to be efficient but what you can do while you're on a train is an important part of that.
Is it most profitable to develop lines where there is an appropriate level of sophistication and adoption already? Does it really make sense to, for example, build a new line between Toronto and New York?
These are distances where a high-speed train can easily beat an aeroplane, so it makes complete sense to connect these cities. The real question is more about usage. [Before the pandemic] many European cities only saw 20 per cent rider usage on average and trains were 50 per cent subsidised. If you could double usage, they would be profitable. For that, we need to better plan our trips. This is also related to learning from coronavirus: maybe we don't need overcrowded rush hours to be productive.
Train travel in Europe tends to be more functional; in Japan you can have a different experience in First Class, with reclining seats and dimming lights that allow for a proper sleep. The revival of night trains in Europe is a positive development; does this herald a move towards more high-end offerings?
It's a question of what the operator wants. In Europe, in general, there are still a few very big operators; you'll see different concepts popping up as we see more liberalisation of rail lines. The night trains will have First Class suites that offer a large bed, a couch and a private bathroom. That's a whole different level of comfort.
Do you foresee night-time rail ever becoming part of the daily rhythm of leisure or business travel?
Night trains are a fascinating part of rail transport; the experience of landing an hour outside the city and fighting your way to a taxi is just not comparable with that feeling of arriving in a city. But the backbone of this [shift] is still going to be high-speed rail. If you think about it, two hours at high speed in the morning transports you 500km. On a night train, it's not really about the distance but the timing; even if it's just a 400km trip you want to arrive at 07.00. So night trains are only a part of this; the big part we need to resolve is high-speed connections between cities.
Where should we expect to see new high-speed lines?
It will happen everywhere. In Europe, operators are thinking about how to satisfy demands from governments for twice as much high-speed rail in the next nine years. There will definitely be projects in the US: Los Angeles to Las Vegas is being discussed. You will also be seeing them in Asia and the Middle East. In Cairo the government is discussing three new high-speed lines totalling 1,820km.
There has been much talk during the pandemic of the hollowed-out city. What could this mean for commuter rail and trams?
The real excitement about the future of trains comes from cities. Urbanisation is still accelerating and not only in Asia, South America or the Middle East. Also, transportation is responsible for 25 per cent of global co2 emissions; trains can be 100 per cent clean if you use renewable energy. There will be clean and efficient transportation in future, which will free up more space for living and strolling around cities as a tourist or for going to the office. This is what I most want to see happening in my lifetime.
---
Investing in rail
The pandemic and climate change have put the spotlight on trains, with governments putting money behind rail upgrades and new high-speed lines. Here are some of the bigger plans. 
1.
USA: Joe Biden's infrastructure plan includes $85bn (€70bn) to boost public transit and $80bn (€66bn) for train operator Amtrak to upgrade existing lines and build new ones. Projects include a line from Las Vegas to Los Angeles; connecting Jacksonville with Miami and Tampa; and linking Houston, Dallas, Fort Worth and San Antonio.
2.
Europe: The EU has a goal of doubling high-speed connections by 2030 and tripling them by 2050 as part of the Green New Deal to reduce climate emissions. A down-payment of €1.6bn was included in the EU's stimulus package this year for new cross-border lines, including Rail Baltica linking Baltic nations with the rest of the EU and a new connection between Dresden and Prague.
3.
Egypt: Egypt has signed a deal with Siemens Mobility for its first high-speed rail lines. The reported $23bn (€19bn) two-year project will extend 1,000km and connect the planned New Administrative Capital with the Red Sea and the Mediterranean.
4.
China: China has quietly built up the world's most expansive high-speed rail network with 38,000km of track. With most major cities now connected, the government is working on additional lines to more remote areas, where profitability is a bigger concern. Some of these lines have gone into review over debt concerns in the aftermath of the pandemic.
5.
India: India's government laid out an ambitious plan to upgrade its rail network by 2030 in this year's budget and is making headway on its first high-speed rail corridor between Ahmedabad and Mumbai. The line is part of a co-operation deal with Japan, which has provided loans and technology to get the project underway. It is due to be completed in 2023, though land-acquisition challenges could yet derail the timeline.