Hospitality / Beirut
From the ashes
On the day that Nabil and Zoe Debs welcomed the first guests to their historic home turned hotel, Arthaus, it was all but destroyed in the port explosion. Yet in rebuilding it all from the rubble, they cemented its place as a creative hub.
It all started with the art. When Lebanese-born hedge-fund manager Nabil Debs and his British wife Zoe moved back into his family's historic stone-built home in the heart of Beirut's Gemmayze neighbourhood, after decades living in Paris and London, they brought with them much of the art that they had collected. The long walls of the complex's four high-ceilinged buildings proved to be a fitting exhibition space. Living in the large house with two young children, the couple filled their home with artists and creatives, and soon started opening one area up for exhibitions at the annual Beirut International Art Fair. As their home became an open house for talks, drinks and dinners, converting it into a public space where people could do such things felt like a natural next step. Transforming the space took time but the bones were there in the hewn-stone walls and distinctive Levantine floor tiles that run through the property.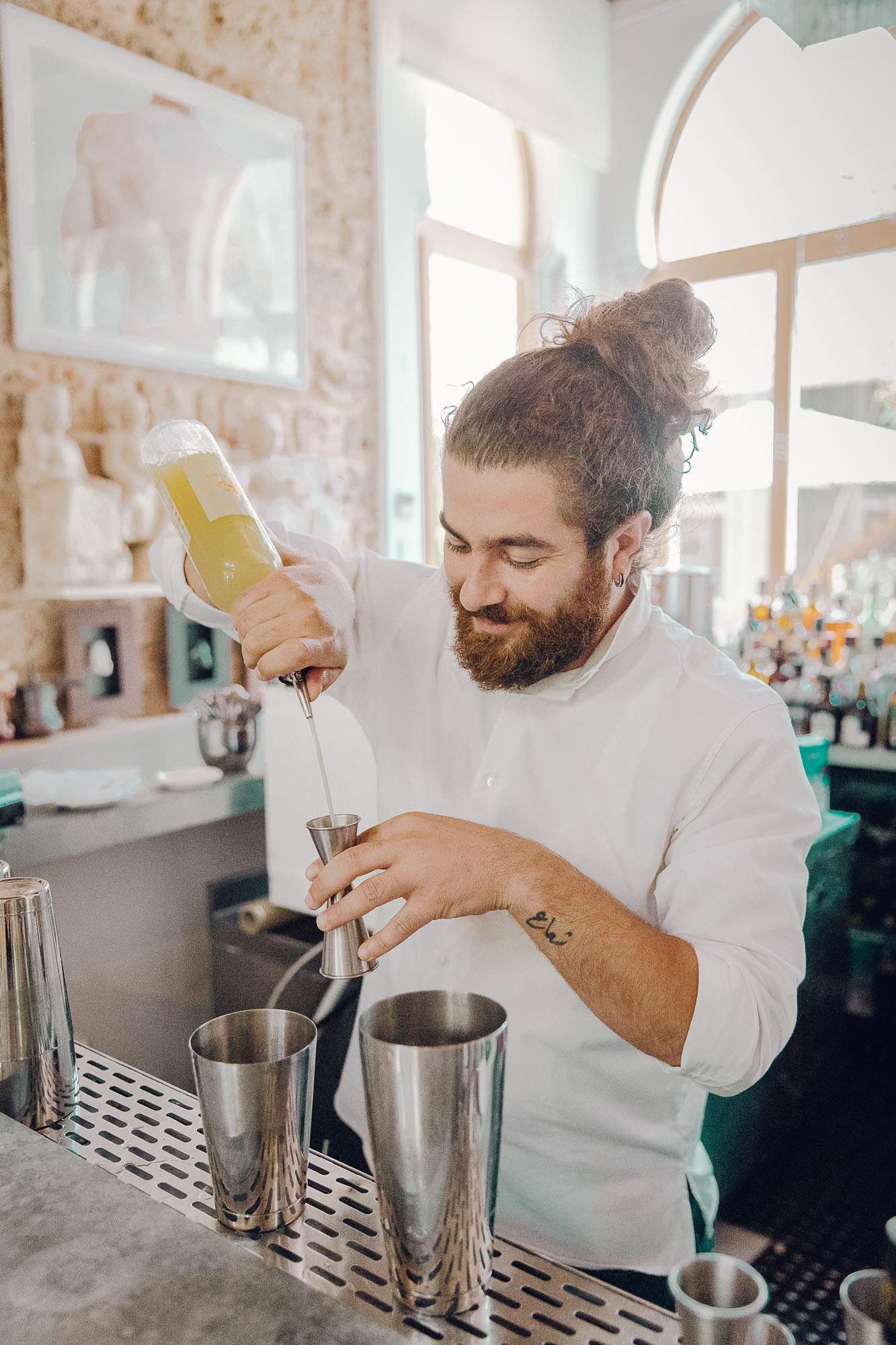 By summer 2020, Arthaus hotel was ready to launch. The first round of guests – a soft opening with a group of friends – arrived on 4 August. Just hours later, Debs and his guests watched, sheltering under the solid marble bar, as it all came tumbling down. The Beirut port explosion brought down the ceilings, shattering every window and door, leaving the 200-year-old façade as a pile of rubble in the courtyard. Luckily, Debs and his guests were uninjured but the street outside was in chaos. The hotel's food and beverage manager, Michel Nakhle, spent the night ferrying wounded neighbours to hospital on his Vespa, as the roads were too cluttered with debris for ambulances to get through and young people began cleaning up with brooms and spades.
"When we saw that energy – those young people who had their homes destroyed but were determined to help everyone – we knew that we had to do something," says Debs. "In a war you have limits, red and green lines, but this… Our way of life had never felt more under threat; it makes you even more attached to the land, to the country, to the house."
Gemmayze address book
Nada Debs
Nada Debs' (no relation) small shopfront is a gateway to the furniture designer's studio. Climb the spiral staircase for a taste of her Libano-Japanese aesthetic. The smooth lines and intricate details of her designs are set against the architecture of a traditional Beirut apartment.
nadadebs.com  
SIP
A safe bet for some of the city's best coffee, this calm space is a great option for getting work done or catching some sun in the leafy back garden. Or get a takeaway and stroll through Gemmayze to check out some of the city's best street art.
sip-cafe.com
16MM
Silent films play on the wall of this open-front bar where stools spill out onto the street along with the laughter of customers sampling the bartenders' inventive cocktails and homemade spirits.
1961 371 3060
Loris
This historic rose-pink house offers an inviting courtyard and a lush, softly lit garden in which to enjoy some of the best traditional Lebanese fare in town.
loris.restaurant
Aaliya's Books
This café-cum-bookshop stocks a range of Arab and international writers in English, Arabic and French translations. Stay until evening for nightly talks and live music.
aaliyasbooks.com
Nabil and Zoe set a deadline to fully rebuild the hotel within a month. In September they held a charity sale featuring the work of 60 Beirut artists, with the proceeds split equally between the artists and the Lebanese Red Cross. Even though they hadn't officially opened before the blast, word about the hotel spread and clients arrived to experience the art and the atmosphere, and to see a place that managed to open amid the rubble. "Everyone comes here with something to contribute," says Debs of his creatve partners. "They tell me what they're thinking of creating and if it's interesting, I'm open. We're being open and organic in our approach and discovering things. We're not copying anything – and that model is our edge."
The grounds provide an unexpected pocket of tranquillity, just steps away from one of Beirut's busiest nightlife thoroughfares. "I didn't want a neon sign outside pointing our way," says Debs. This isn't really a spot just for walk-ins but for those in the know. At every lunch and dinner the tables are packed with designers, writers, photographers and artists debating their latest projects.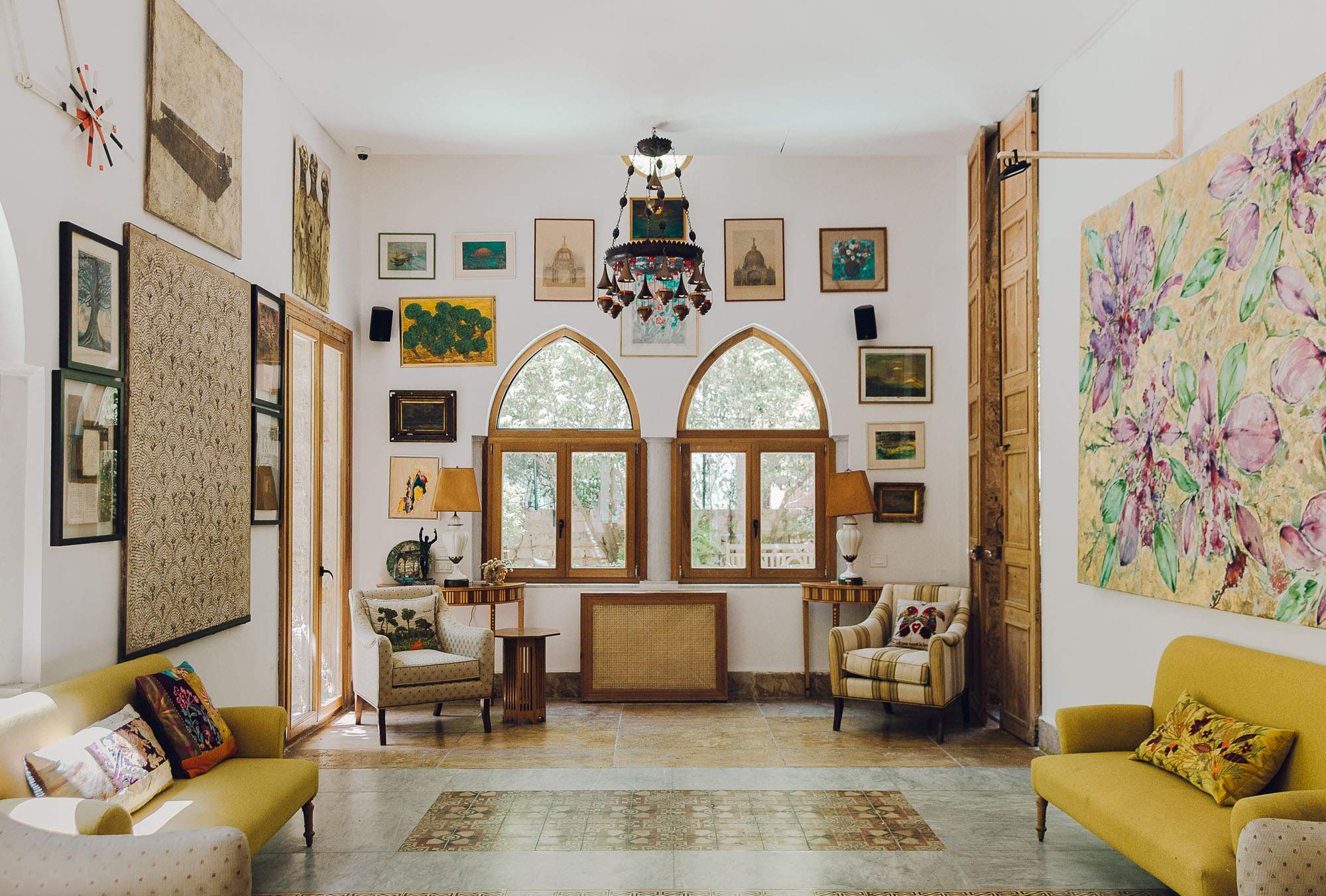 One of the Debs' aims is to give guests access to that network by operating a concierge service that connects visitors with the right people. "We want to take you from your curiosity about the region to actually getting in touch with the real thing," says Debs.
"We're being open and organic in our approach and discovering things. We're not copying anything – and that model is our edge"
The guest rooms range from doubles to multi-room suites. Each one is named after a family member, starting with "Hanna", who lived in the oldest of the four houses, built in 1790. All the art and furniture throughout the hotel has been tracked down by Nabil and Zoe over the years, much of it once hung in their properties in the UK, France and Cuba. There are currently nine bedrooms but there will be 23 when the property is complete. Also in the works are a sauna and steam room, a separate bar and live music space, and an underground lounge built around the main house's ancient water well.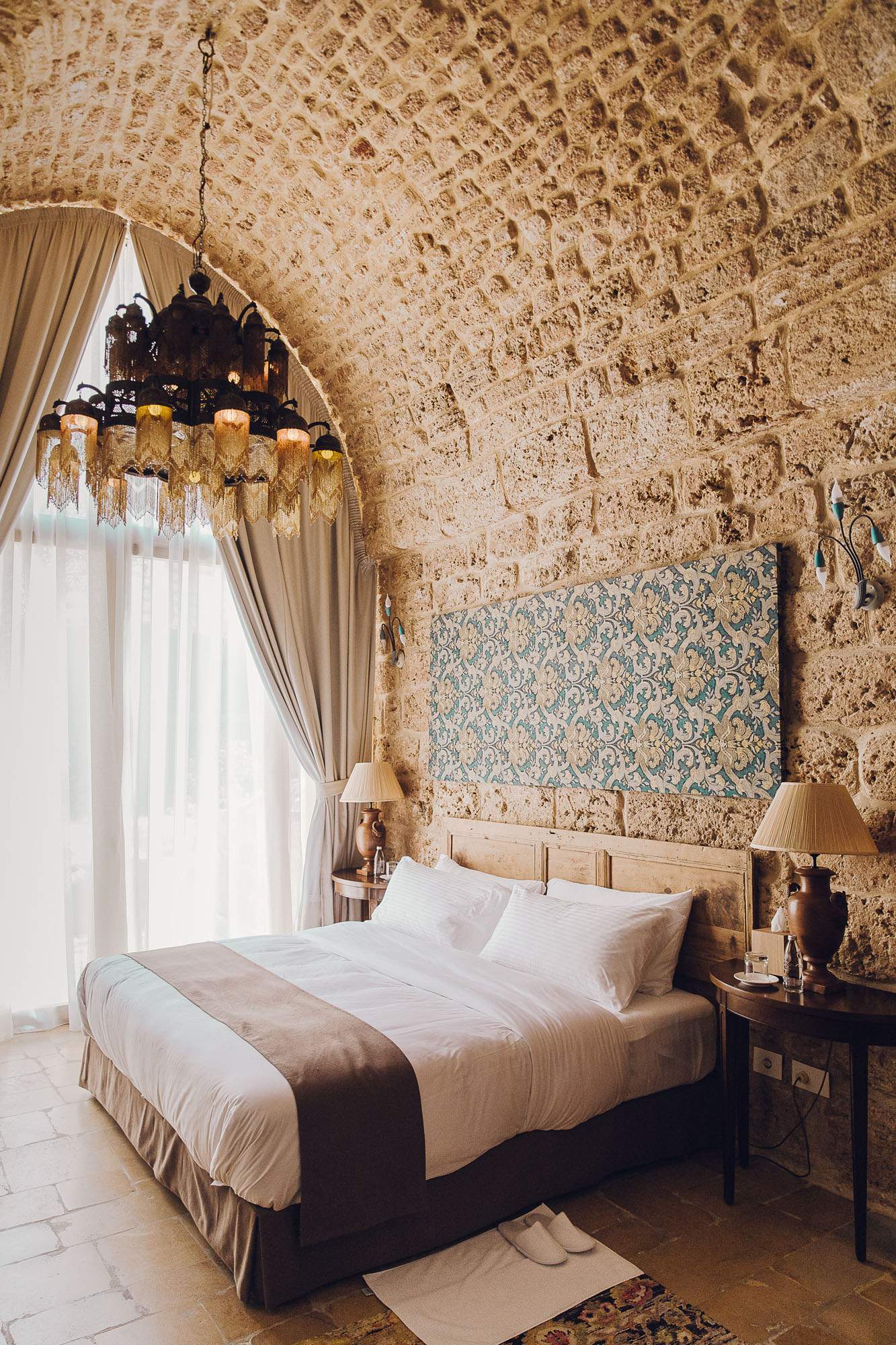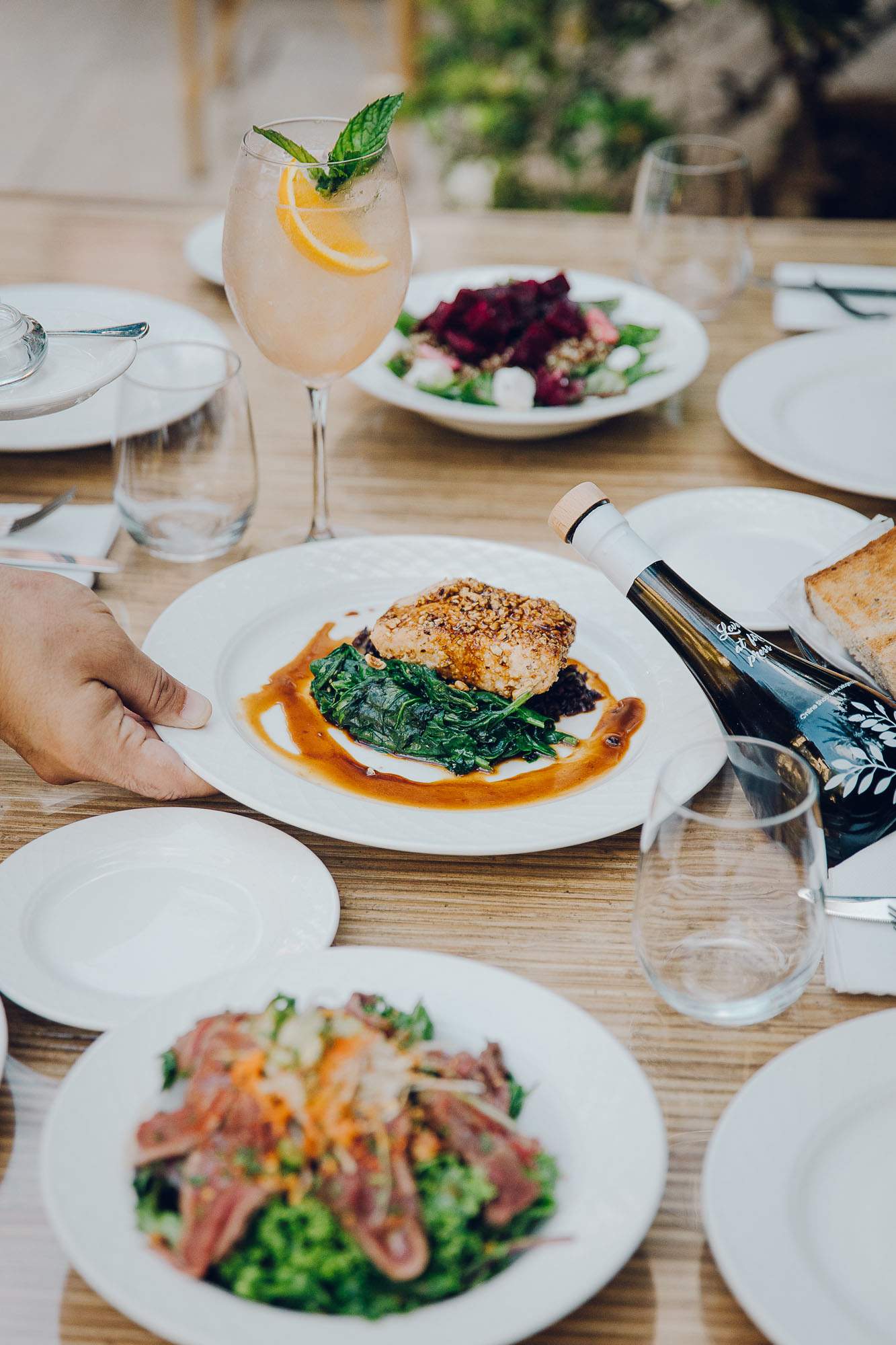 There's sun for those who want it on the wicker loungers surrounding the outdoor pool, and plenty of shade for those who don't under the leafy trees and high-arched porticos. The hotel's restaurant – the hottest new ticket on Beirut's culinary scene – offers fresh, inventive twists on classic dishes, showcasing high-quality ingredients cooked to perfection. Arthaus's signature cocktails are the stars of a very well-stocked bar – combinations themed around art and architecture.
After so many challenges, Arthaus is at last thriving. As Debs walks from table to table greeting old friends and regular visitors, it's easy to see his delight. "Yes, it's a business and you have to be commercial," he says. "But what's most important to me is that you're putting in your feeling, your life, what you enjoy – and you are sharing it."
arthaus.international