My cabinet / Netherlands
Hidden talents
Winy Maas designed the world's first art depot that is accessible to the public. We meet the movers and shakers, engineers and experts who helped him make it happen.
When he won the project in 2015, Winy Maas was excited to build the new art depot of Boijmans van Beuningen museum in his home city, Rotterdam. This wasn't just because he'd save time on the commute; Maas was interested in changing the dynamic of the area. He wanted the building to function as an active part of its surroundings. "An art depot is like a huge refrigerator," says Maas. "We tried to show how a depot could live with – and deal with – its environment."
The result is a building that locals have dubbed "the teacup". Under its rooftop forest, its round, mirrored exterior reflects the skyline of Rotterdam, as well as the green of the surrounding gardens. The 15,000 sq m building will house more than 150,000 pieces of art and design (from Dutch Masters' canvases to ancient urns), and accommodate curators and visitors.
Work on the project required 300 people – builders, artists and engineers, whose various feats of ingenuity include constructing a huge elevator that can safely transport delicate pottery. The municipality, which owns the land, provided crucial political backing for the project, though it could only afford to fund a conventional depot. Maas and the museum's two directors worked tirelessly to raise the €25m shortfall. "It was a real collaboration," says Maas. 
boijmans.nl
Another Maas-ive idea
Winy Maas's Marble Arch Hill opens in London on 5 July, a huge grassy mound temporarily erected to lure tourists and urbanites back to the city centre. The views it offers of Hyde Park and Oxford Street should be worth the trip alone.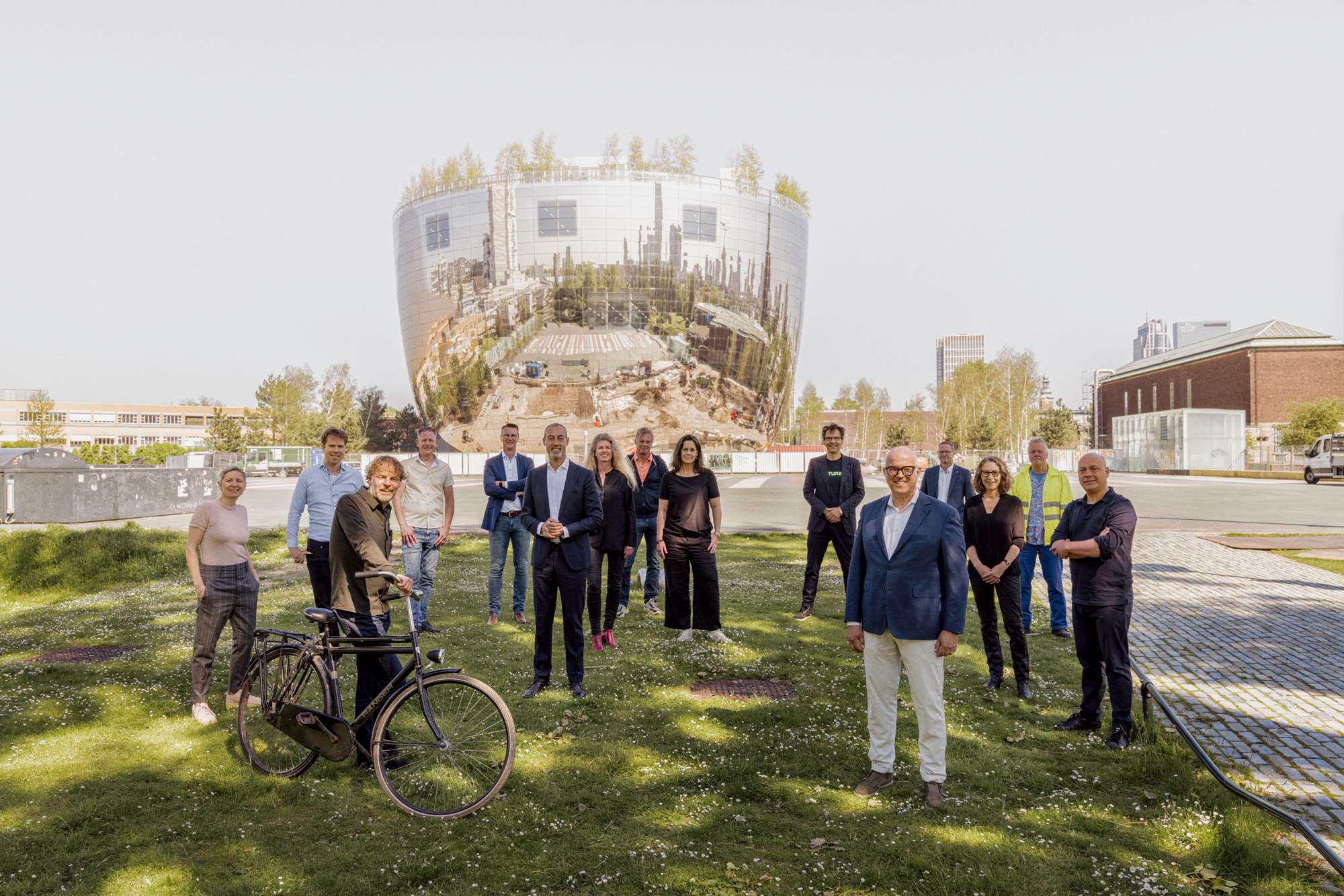 The Cabinet (From left to right)
Fokke Moerel Studio director, mvrdv "She's the project lead."
Arjen Ketting Associate architect, mvrdv "Heads the team on-site and has lived with this project for seven years."
In 1993 Maas, with Jacob van Rijs and Nathalie de Vries, co-founded mvrdv, an agency that has picked up a spate awards for its work on projects including the Taipei Twin Towers and the Gyre building in Tokyo. He is also professor of urbanism and architecture at his alma mater, Delft University of Technology, and leads The Why Factory, a think-tank on future cities.
Rowan van Wely Engineer, abt "Co-ordinated the research for the glass for the façade."
Eric Moleman Director special projects, bam "Led the team of builders who created the incredible foundations."
Said Kasmi Deputy mayor,  Rotterdam "Managed the political side, negotiating with all the neighbours."
Ina Klaassen Director, Museum Boijmans Van Beuningen "Co-ordinated project – she made it happen."
Frank Meijer Landscape architect, mtd "Designed the rooftop garden, using some of the country's largest trees."
Sandra Kisters Head of collections, Museum Boijmans Van Beuningen "Specified technical needs for art storage."
Sjarel Ex Director, Museum Boijmans Van Beuningen "Commissioning client who came up with idea of an open depot."
Roelof Prins Director, De Verre Bergen foundation "Made the project financially feasible."
Pim Peters Engineer, imd "Designed the steel structure and curved concrete construction."
Marieke van Diemen Artist "Created gravity-defying display cases for the atrium."
John Körmeling Artist "Created the entrance."
Rob Wagemans Founder, Concrete "Created the restaurant on the roof."