Observation / Global
Ich bin ein Berryliner
In Germany's capital, locals are passionate about strawberries. Every summer, hundreds of booths open to sell fresh punnets to fruity customers. We join the queue.
When Sophia Shakhatreh arrives at her strawberry booth in Steglitz, Berlin, she hangs up a blackboard indicating the day's variety, restocks the piles of strawberry jam and strawberry sweets, and places a little stone (painted to look like a strawberry) on the tray for customers' change. She also checks the inventory, delivered in the early hours: 59 trays, each carrying 6.5kg boxes of strawberries, totalling nearly 180kg. But what happens with the trays that are left over? Shakhatreh laughs; there are rarely any left after lunchtime.
It's approaching June and I'm spending my Saturday morning at a sales stand belonging to family-run company Karls Erdbeerhof. In Berlin, late spring is marked by the appearance of Karls' strawberry-shaped booths, which sell punnets all the way through the summer. Strawberry season has an exultant air in this part of Germany, where it has long been a tradition to go out picking with your family on sunny Sundays. It's a custom that has assumed epic proportions: Karls operates five strawberry theme parks, complete with berry-bush rollercoasters, strawberry-bear mascots and buildings made to look like enormous fruit baskets. Strawb-mania extends to the streets in these booths. Shakhatreh recalls when she opened on 12 May for the first time this year: "People were euphoric."
Though far from being Germany's only strawberry-booth proprietor, Karls is one of its largest. The family's roots in strawberry farming run back to 1921 but the company was officially founded in 1993 near Rostock by the Baltic coast. It now grows more than 7,000 tonnes of strawberries every year and sells most of them at its 420 booths in northern Germany; more than 300 are in Berlin alone.
The popularity of the booth design (now used by many of Germany's strawberry vendors) is also down to Karls. Inspired by stalls at the UK's Wimbledon tennis open, the founder's father, Karl-Heinz Dahl had a boat-maker create 15 of these now- unmistakeable sales points, from which he sold the family crop directly.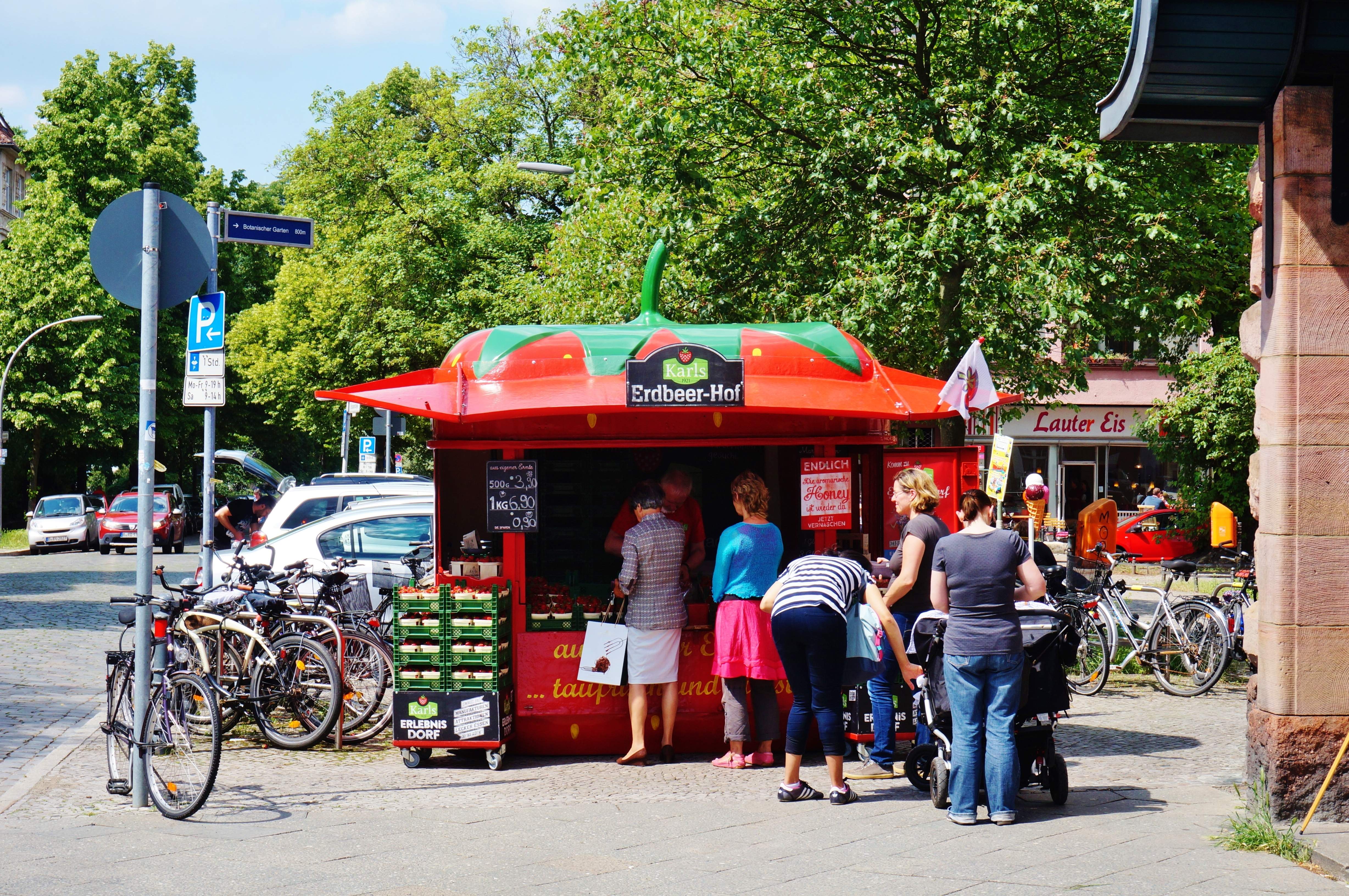 Among the customers, there are those who recognise that all strawberries look the same and those who value the illusion; a young man in pink running shoes asks Shakhatreh to select "really pretty ones". Suddenly, an elderly lady in a camel-coloured coat greets Shakhatreh heartily. "I buy a kilogram every day," she says. Her children, she adds, always ate strawberries from their grandmother's garden in Ontario, Canada, and claim that Karls' strawberries taste exactly like grandma's. You can tell she is Canadian; she is a little jolly for a natural-born German. But judging by her fealty to Karls, she's a Berliner through and through.