Transport / Global
Premium pit stops
Most service stations are a means to an end: a quick stop-off beside a motorway to refuel and stretch your legs. But can they be more? We park at cultured conveniences revving things up.
The community project
Mashiko Roadside Station, Japan
On a sunny weekday morning, the early bird shoppers at Mashiko Roadside Station are filling their baskets with produce from nearby farms – fresh eggs, pencil-thin asparagus, deep red tomatoes, late-season strawberries, giant radishes and shiitake mushrooms. The cut flowers are selling out quickly, at half the price they would be in Tokyo. The shelves are stacked with ham, bread, pressed juices and bags of rice. With its striking wooden architecture and scenic views of the rice fields beyond, Mashiko looks more stylish farmers market than roadside pit stop.
This is a road station – or michi-no-eki – with a difference. Financed and built by the rural pottery town of Mashiko, with some help from the prefecture and local banks, it opened in 2016 to give the area's farmers and producers somewhere to sell their goods. Everything  from the piles of cabbages to the bottles of wine comes from the area around Mashiko. "Our number one aim is to support the local economy," says deputy manager Shoko Yamazaki. "Farmers bring their produce in the morning, lay it out and it goes straight to the customer."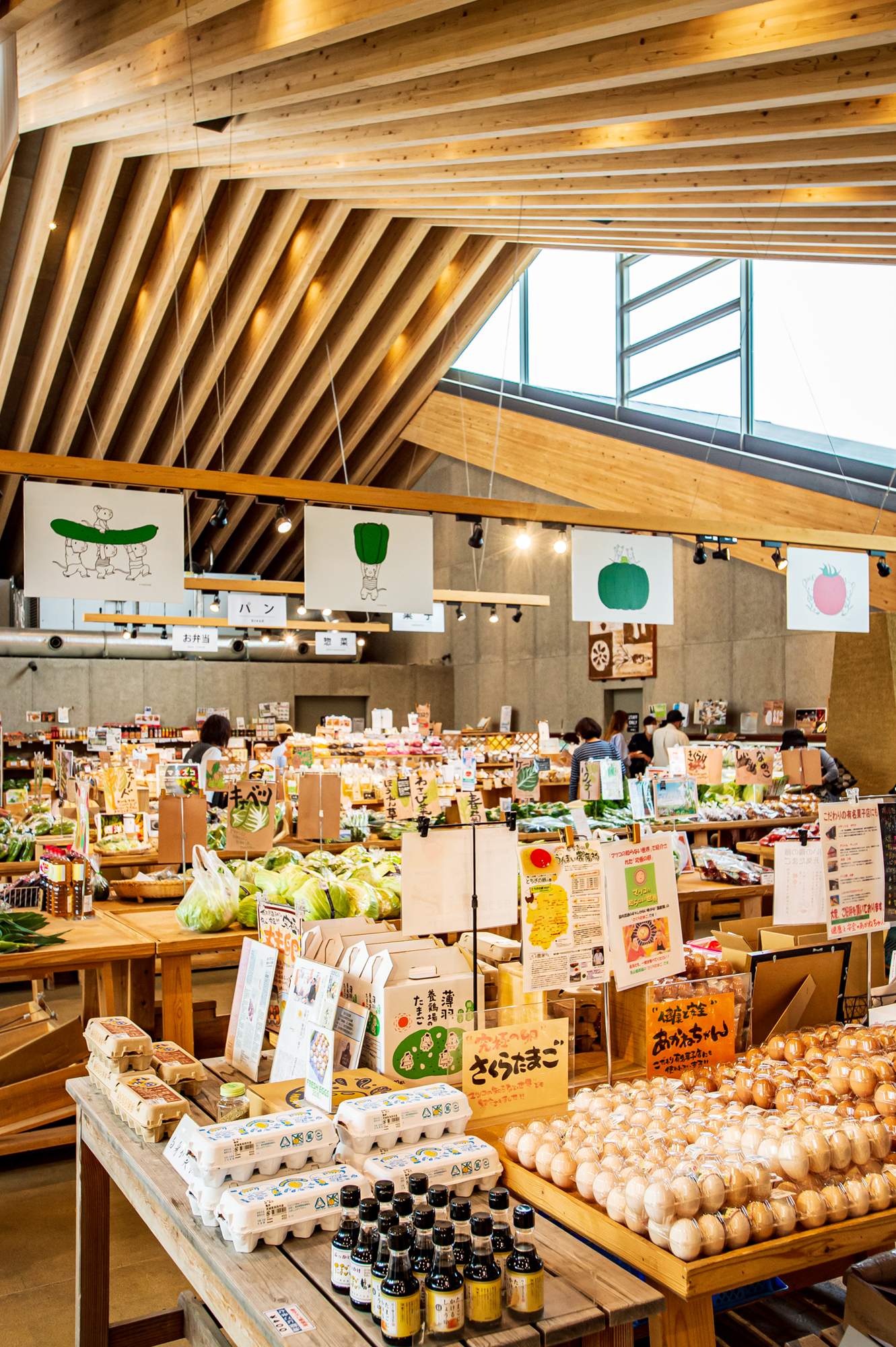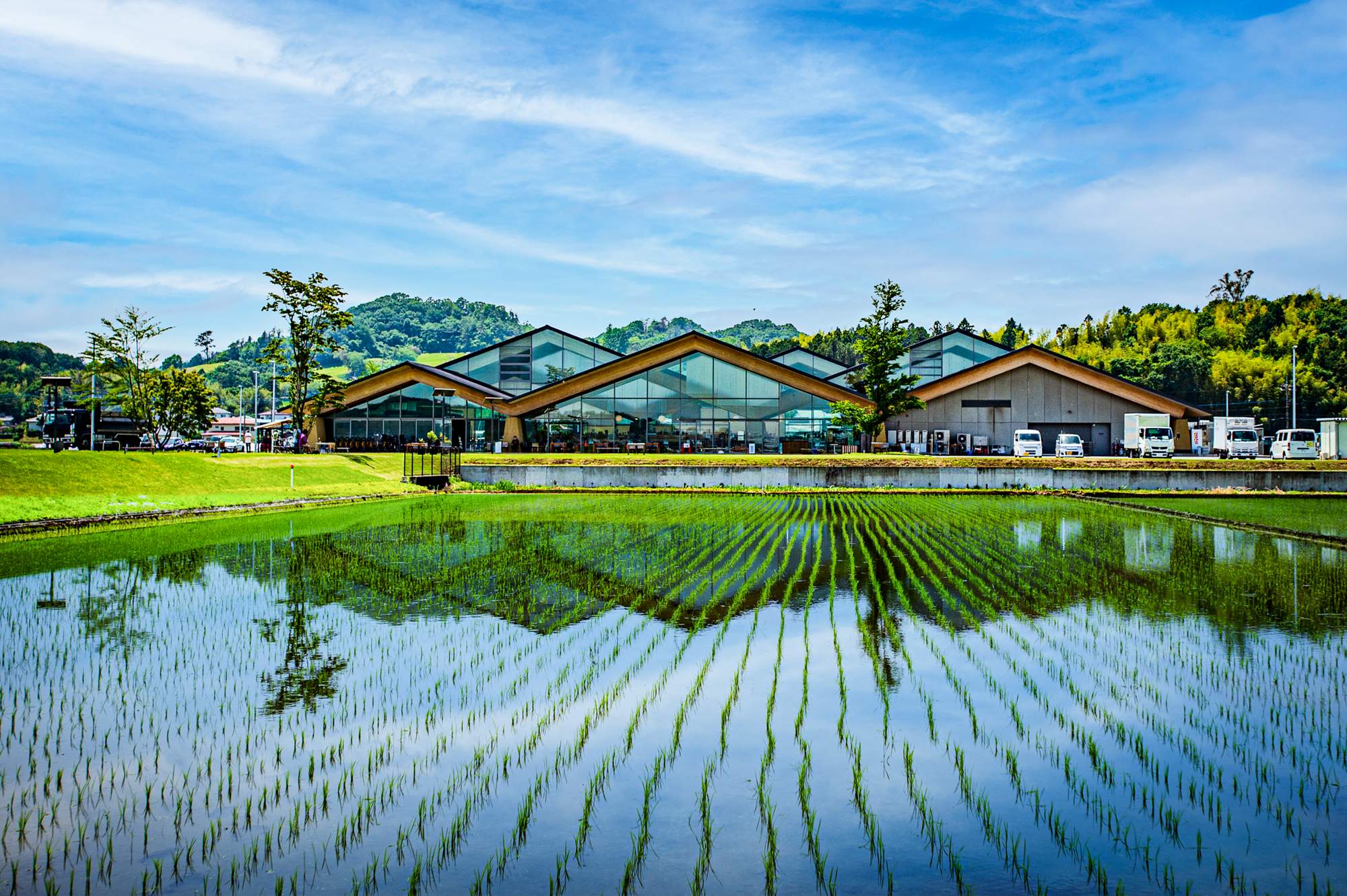 The Mashiko Company, the business behind the road station, was set up to run operations. There is a juicing facility and another workshop for making pots of crème caramel, which have become one of the shop's biggest sellers and given a new lease of life to a nearby egg producer. They also help farmers by taking some of their other products, such as pickling vinegar, and repackaging them. "The same product in a plain plastic tub will sell for less," says Yamazaki. "By presenting it in a different way they can make more money."
There is shelf space available for small bakeries and onigiri rice-ball makers who might not have a shop of their own. Household goods made in the region – such as tenugui printed cotton cloths, white enamelware or Mashiko pottery – are also on sale. "We work with 160 or 170 potters, so people can see a broad selection and visit the ones they're interested in," says Yamazaki.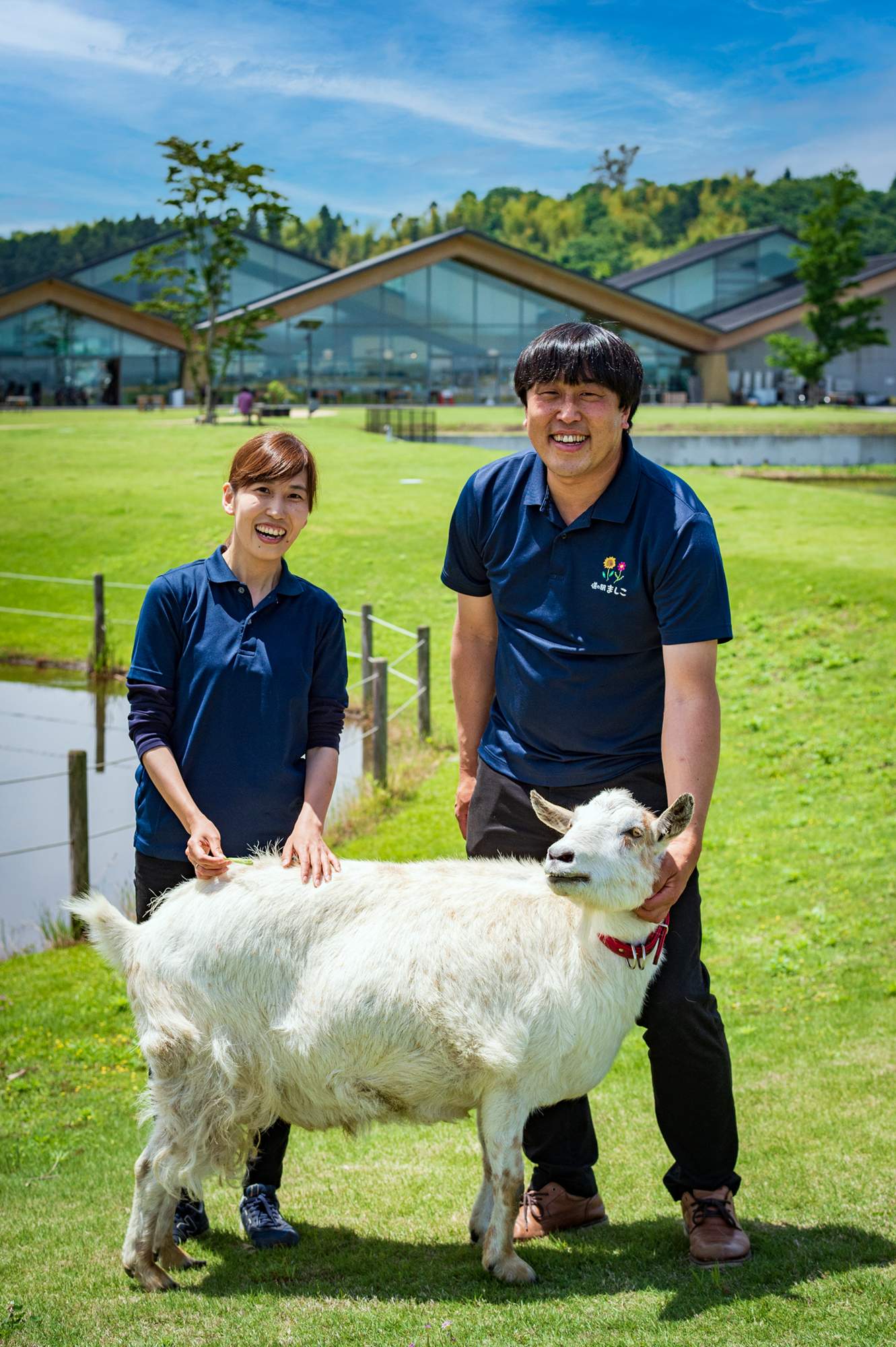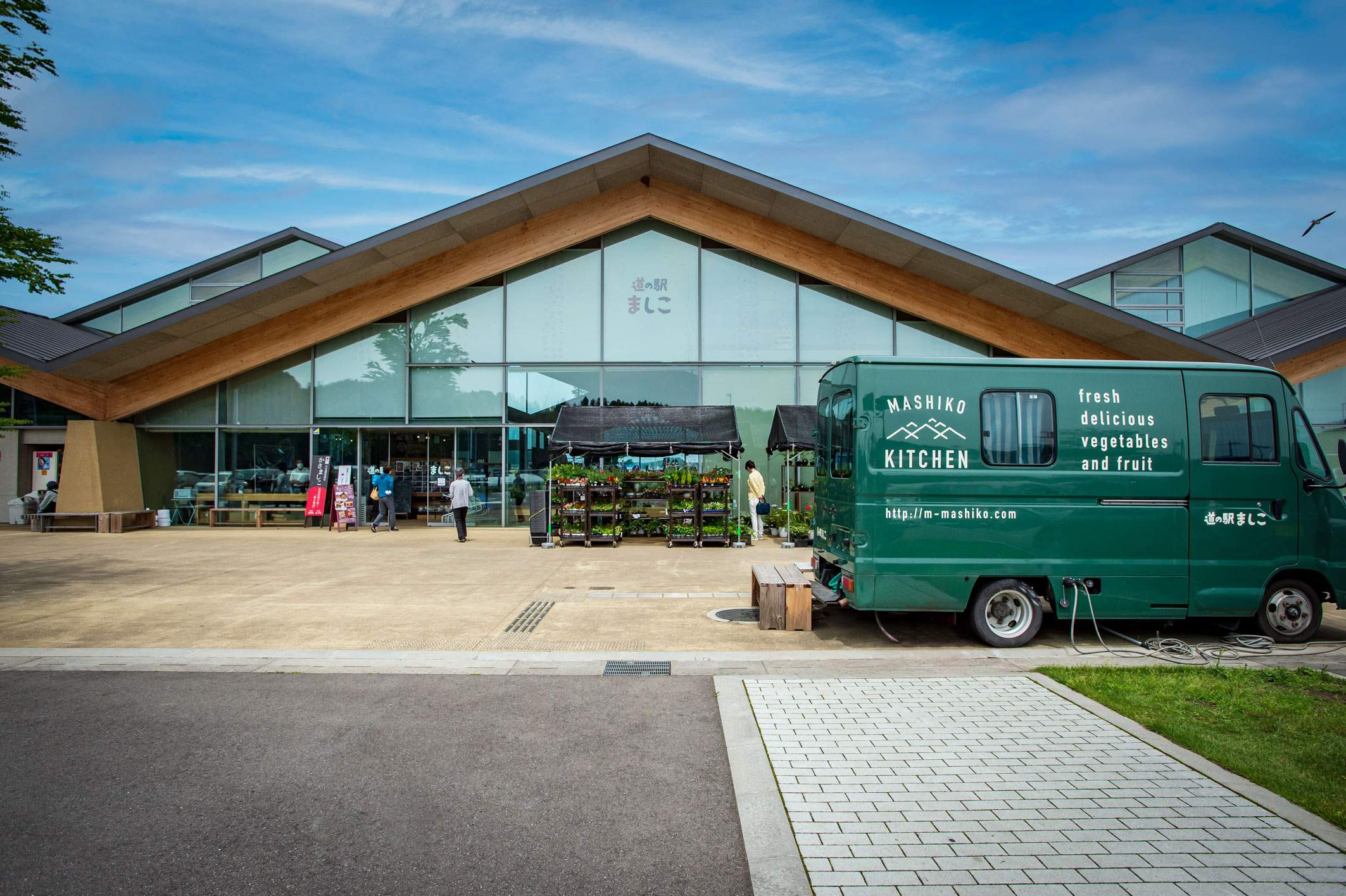 The café here is not the usual franchise set-up – it's a table-service restaurant with set lunches made with vegetables that can be bought in the shop. Even the soft-whip ice cream is made in Mashiko, flavoured with juice from the area's strawberries. The ice cream has become so popular that at weekends they have started selling it from a van outside, alongside a selection of houseplants and bonsai that farmers bring in to sell.
The concierge desk, an outpost of the town hall, offers advice to anyone looking to move to the area; houses are advertised and subsidies are on offer for families who relocate to Mashiko. "Demand outstrips supply at the moment," says Mami Watanabe, standing behind the desk. "We're finding that there's a lot of interest from people in their thirties who are looking to move from Tokyo." As the farming population ages, the team can connect retiring farmers with younger counterparts who might want to take over. There's also a scheme for fruit and vegetable picking; farms who are open to visitors picking their own spoils can sign up at the shop.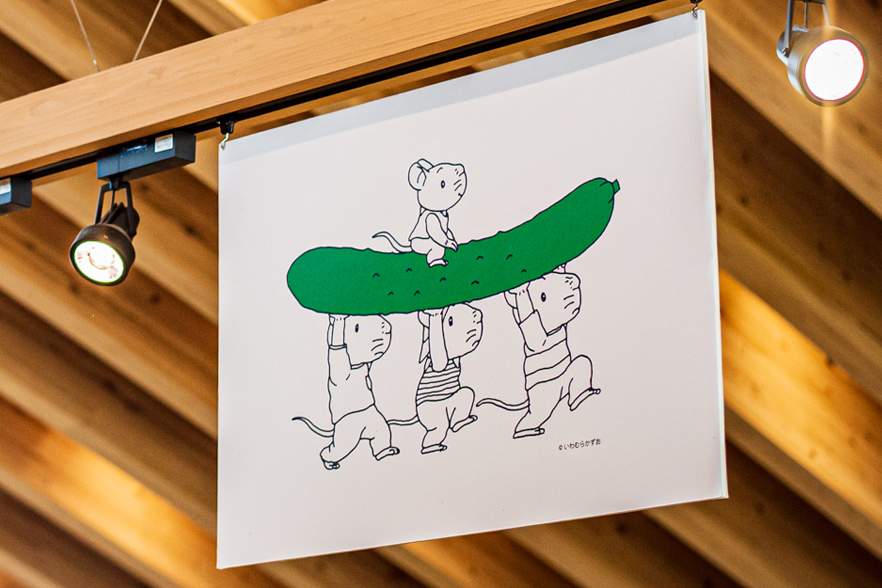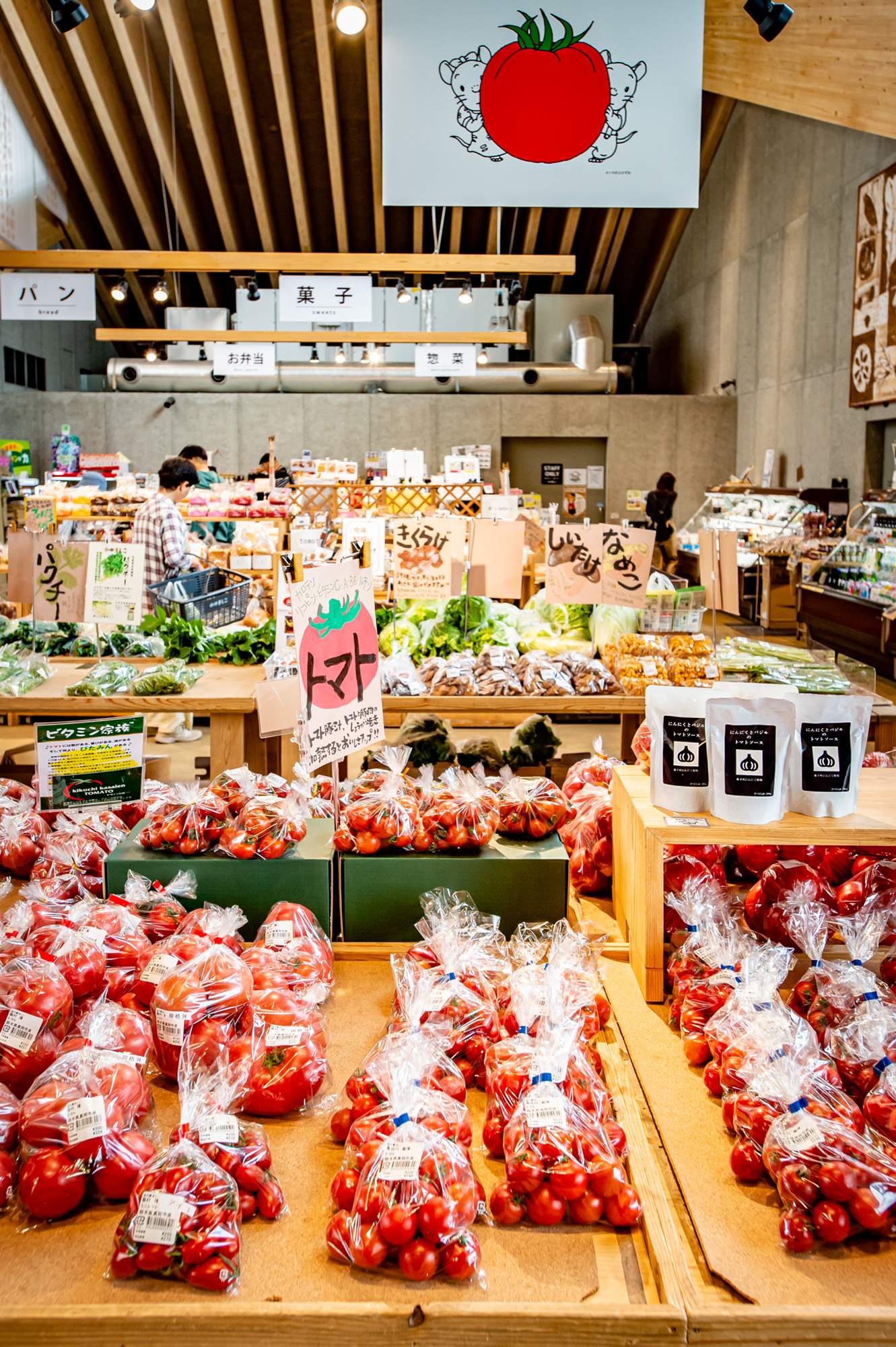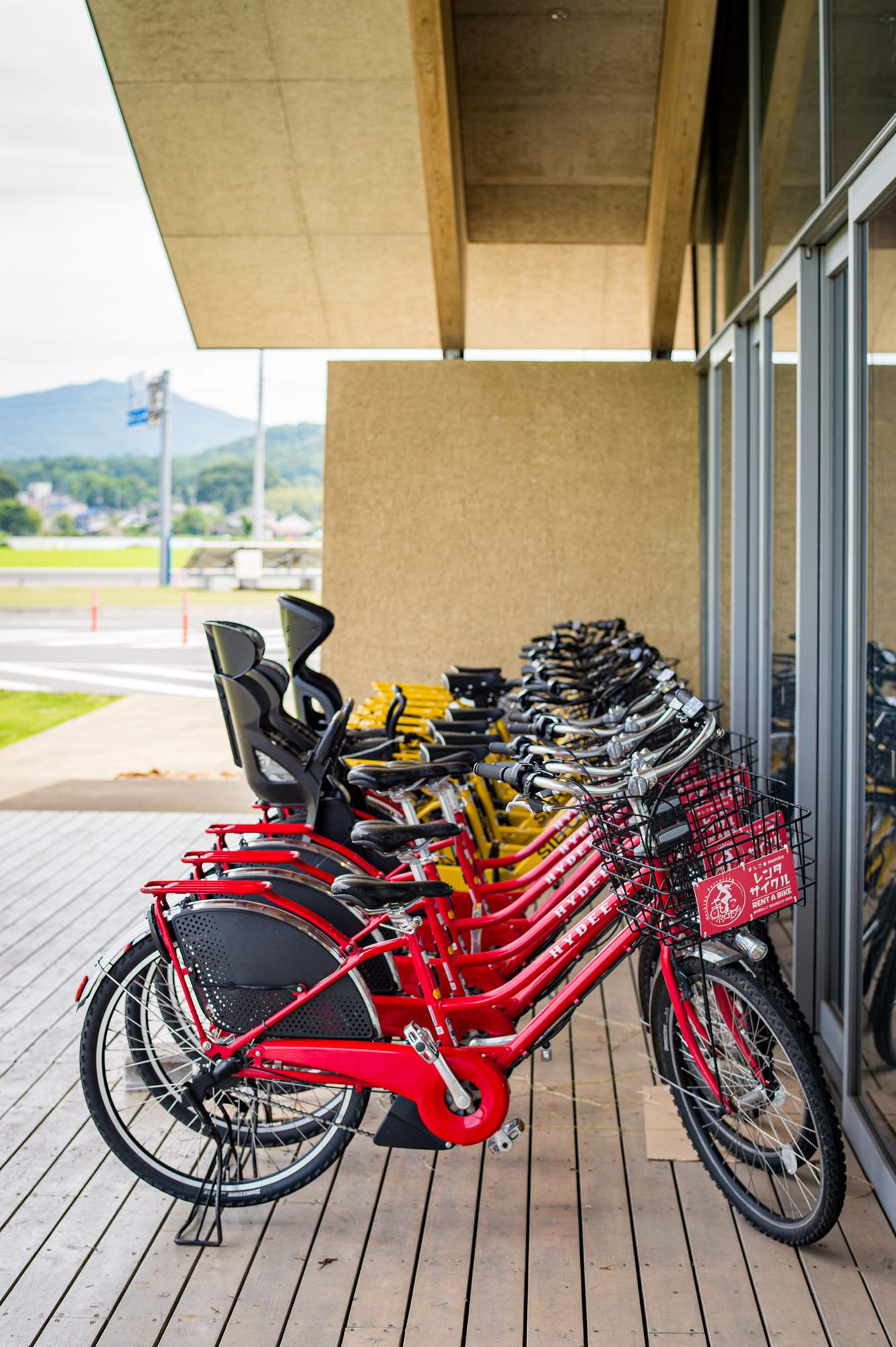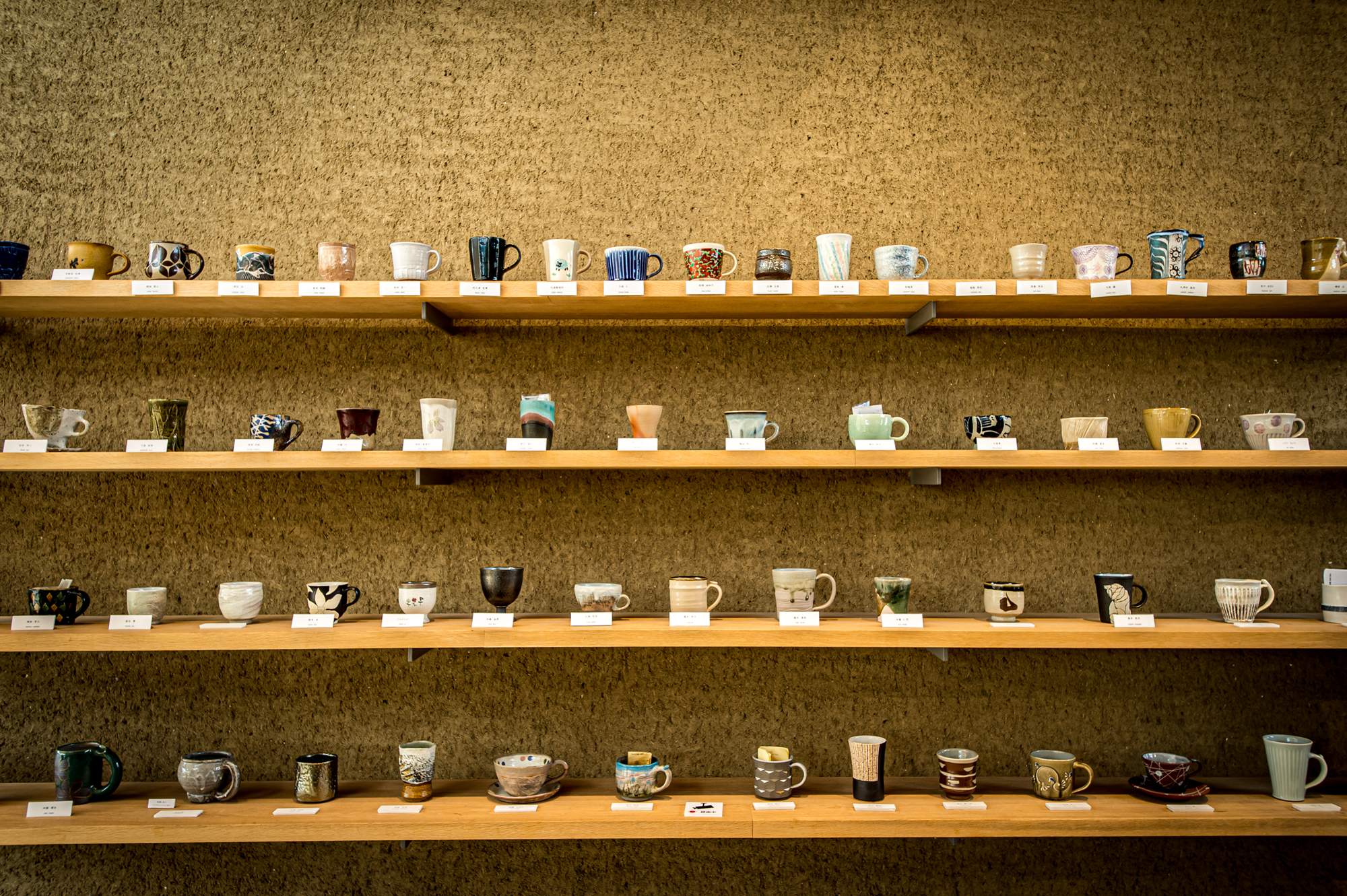 The architecture was carefully considered. "It would have been easy to put up a cheap, low-maintenance building," says Yamazaki. "But we thought, 'Is that the kind of building a town like Mashiko – where people make things by hand – should have?"' Mount Fuji Architects won the public competition and their building uses cedar from nearby Mount Yamizo and sakan plaster made from the same clay used for the town's pottery.
"The number one aim of the Mashiko Roadside Station is to support the local economy"
Shoppers come from far and wide. "Mashiko is a popular tourist destination," says manager Tomonori Kanda. "We're also within an hour of cities like Utsunomiya, Mito and Tsukuba." Some people come for shopping and a picnic out the back. Shoppers can buy bento lunches and borrow a mat to sit on the grass, and dog walkers, families and workers can bask in the lunchtime sun. For those who want to explore further afield, electric bikes are available to hire. There is even a resident goat, Yakkun, a friendly four-year-old who was adopted from a nearby zoo that closed down during the pandemic.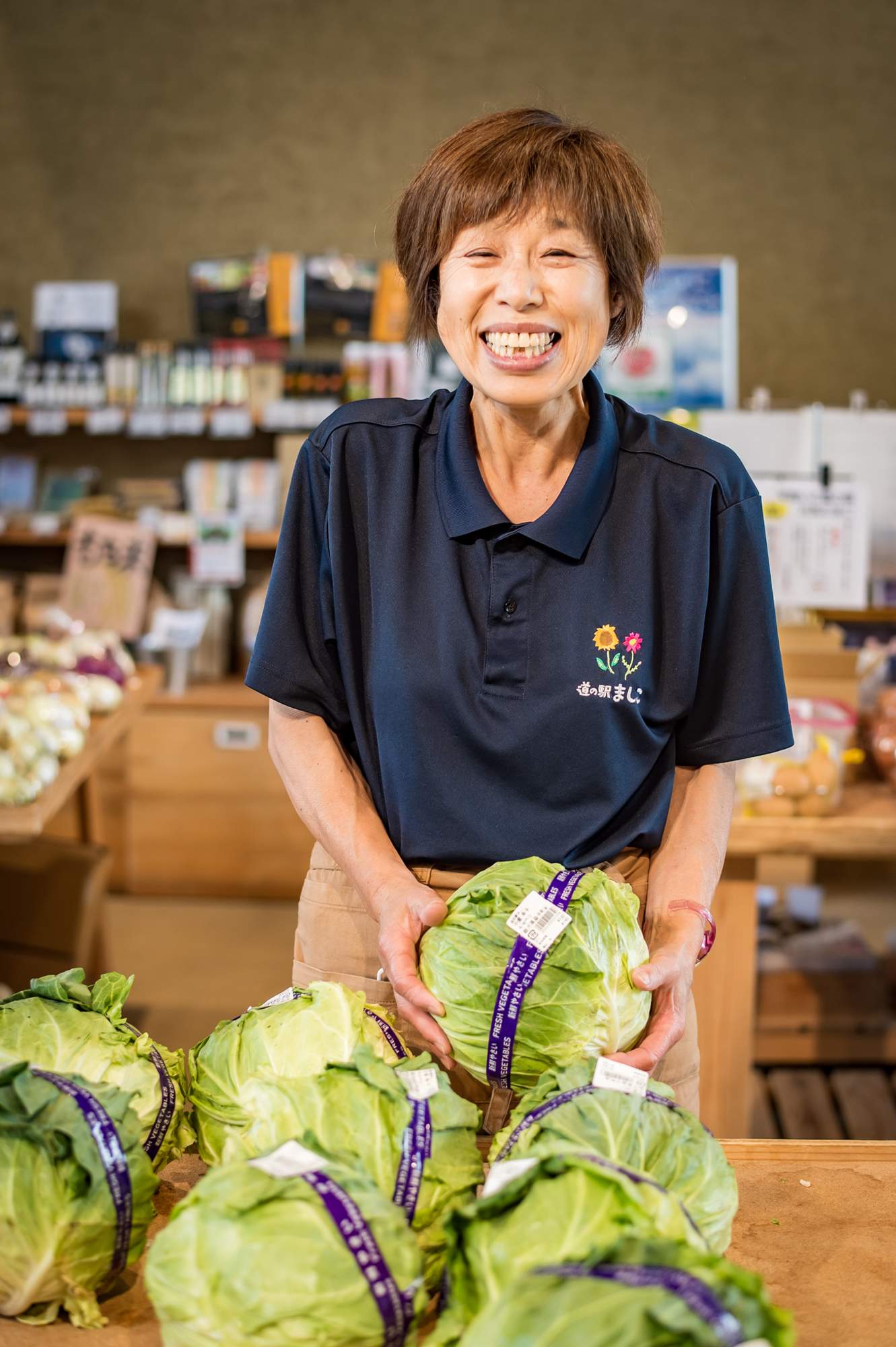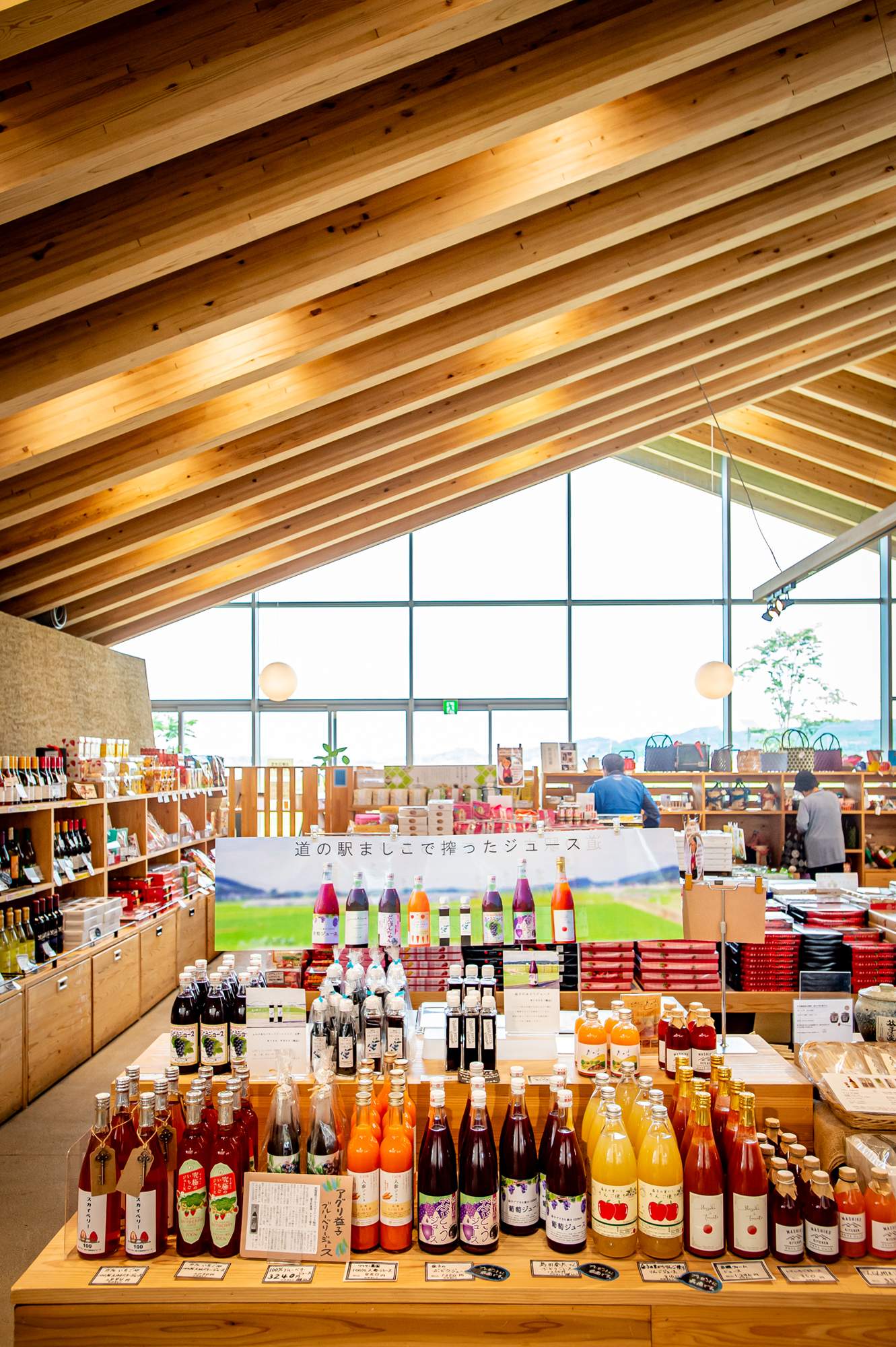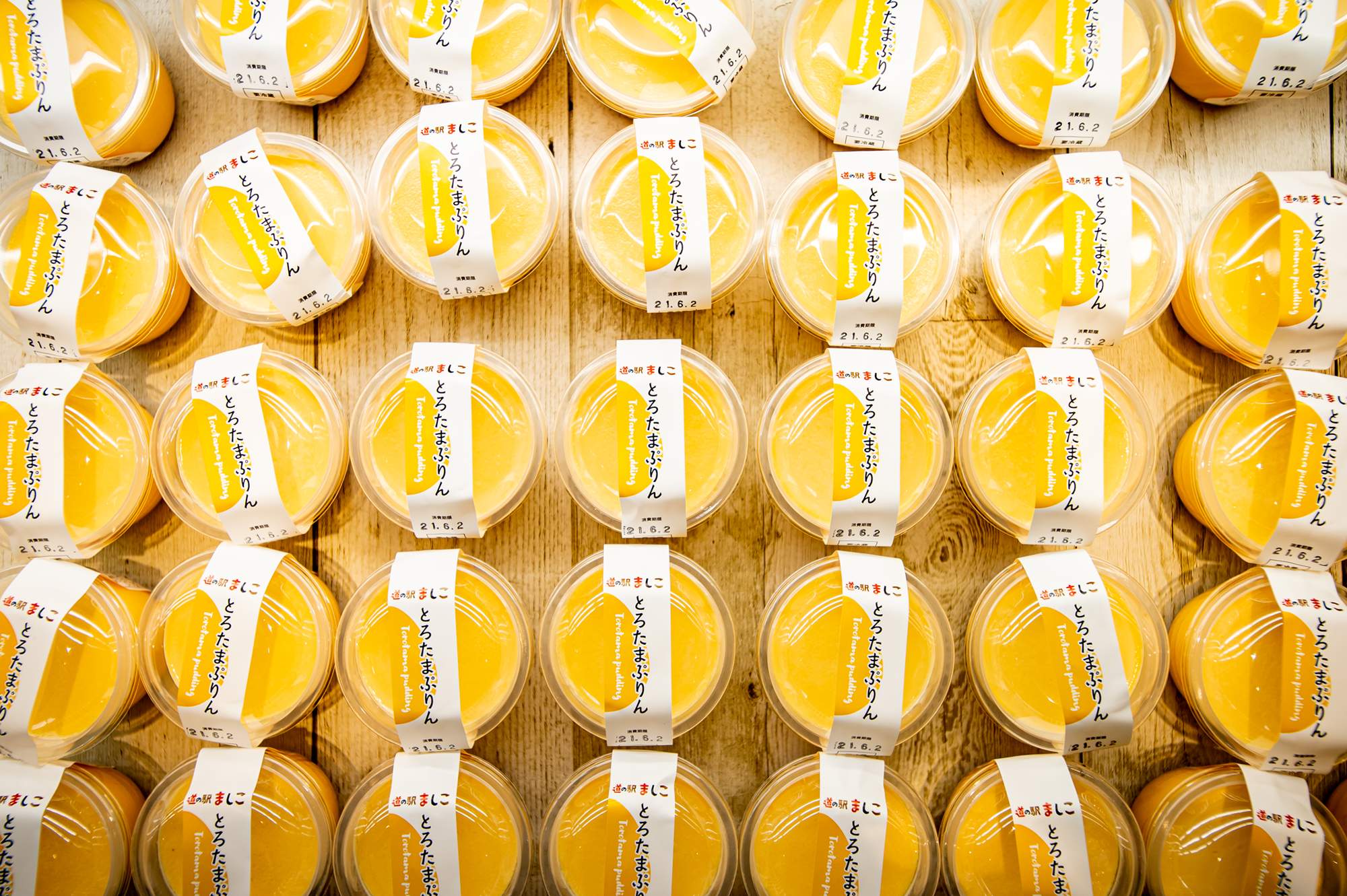 The Mashiko Company now employs 60 people and has recently opened a hotel in a renovated building in town. "We're making a difference," says Yamazaki. Connections are being made and farmers are proud to meet their customers, who in turn are learning more about the people who make their food. "For us, this is a shared project between the town hall, the staff who work here, the farmers and the customers – it's all about Mashiko."
---
The country retreat
Gloucester Services, UK
It's rare for a roadside stop to become part of a trip's purpose; perhaps that's because most franchised motorway services don't really invite lingering. But Gloucester Services is not your usual mid-journey pit stop: it's a place to refuel and spend an hour (or three) when travelling from London to the Lake District or Wales.
The family at the helm of the Westmorland group, which runs Gloucester Services, have a unique vision of what a service station should look and feel like. There are no Golden Arches or fruit machines; the sunken building design fits seamlessly with the nature around it, covered in a living roof that blends into the Cotswolds landscape, providing respite from the noisy eyesore that is the M5 motorway. The floor-to-ceiling windows even offer views of the greenery and pebble-rimmed pond.
The origins of Westmorland group are of happenstance more than anything else. In 1972, John Dunning's hill farm in Cumbria was dissected by construction of the M6 motorway. So the family opened a café for passers-by, Tebay Services, which served home-cooked food sourced nearby. The success of this venture – the first family-run motorway services stop in the UK – prompted them to branch out over the following decades. "The farm is the source of inspiration for all our businesses," says Dunning's daughter Sarah, who took over operations in 2005 and now manages a number of service stations including Gloucester, which opened in 2014. "We have a connection to the land and the people that produce the food we eat. The farm and the values of farming – that sense that you don't just farm for today but for the future generations – gives our business a long-term view rooted in respect for local communities."
Andy James, Gloucester Services' operations manager, says that the goal is to offer an "oasis of quiet and relaxation". When monocle visits it's the Friday before a national holiday and Gloucester Services is in full swing. With the recent relaxing of lockdown rules in the UK, up to 10,000 people are expected to pass through the doors of its northbound and southbound sites. Charlotte and Steven Coke are travelling from Horwich, near Manchester, to Devon to visit family they haven't seen in almost a year and say that they make a point of breaking up their drive with a visit. "We always stop here when we go to Devon – and we always recommend it to people," says Charlotte as their children, Arabella and Hamish, play in the outdoor maze and hunt for tadpoles in the pond.
There's plenty of space here for those with children or dogs. As well as the maze, there's a play area and a dog-walking meadow, along with covered outdoor seating areas.
Alongside the serene atmosphere, "it's also about the food," says James. In addition to food from the kitchen, there's a butcher, fishmonger and bakery in the farm shop. The fishmonger sells line-caught fish delivered every two days. The head butcher visits the supplying farms fortnightly. The meat is made into burgers, pies and sausages that are served in the café. "People come here just for our sausage rolls," says James. Regional cheese on offer includes those made by Jonathan Crump, whose single and double gloucester uses milk solely from Gloucester cows.
Perhaps the most important part of the station's mission, according to James, is providing jobs for locals. Most of what is sold is sourced in the area and made on-site. The station also works in partnership with the Gloucestershire Gateway Trust, which receives a percentage of non-fuel sales. This connection made the pandemic especially hard, says James. Traffic dipped to 60 per cent of its usual level and much of Gloucester's 420-strong staff had to be put on furlough. Still, the service station was used by residents of surrounding villages throughout lockdown who came here to pick up groceries, while supermarkets faced shortages and queues.
"The goal of Gloucester Services is to offer an oasis of quiet and relaxation"
It's the quality of the products on offer – more likely to be found in a Harrods food hall than between motorway junctions – that represents a shift in the purpose of a service station. Aside from food, Gloucester Services also sells alcohol, including craft gin, as well as camping gadgets and Patagonia clothing. And it's all done with a simple idea in mind: that instead of racing to your final destination, drivers should have a chance to enjoy the journey. As James puts it: "When people go on a holiday, it starts here."
---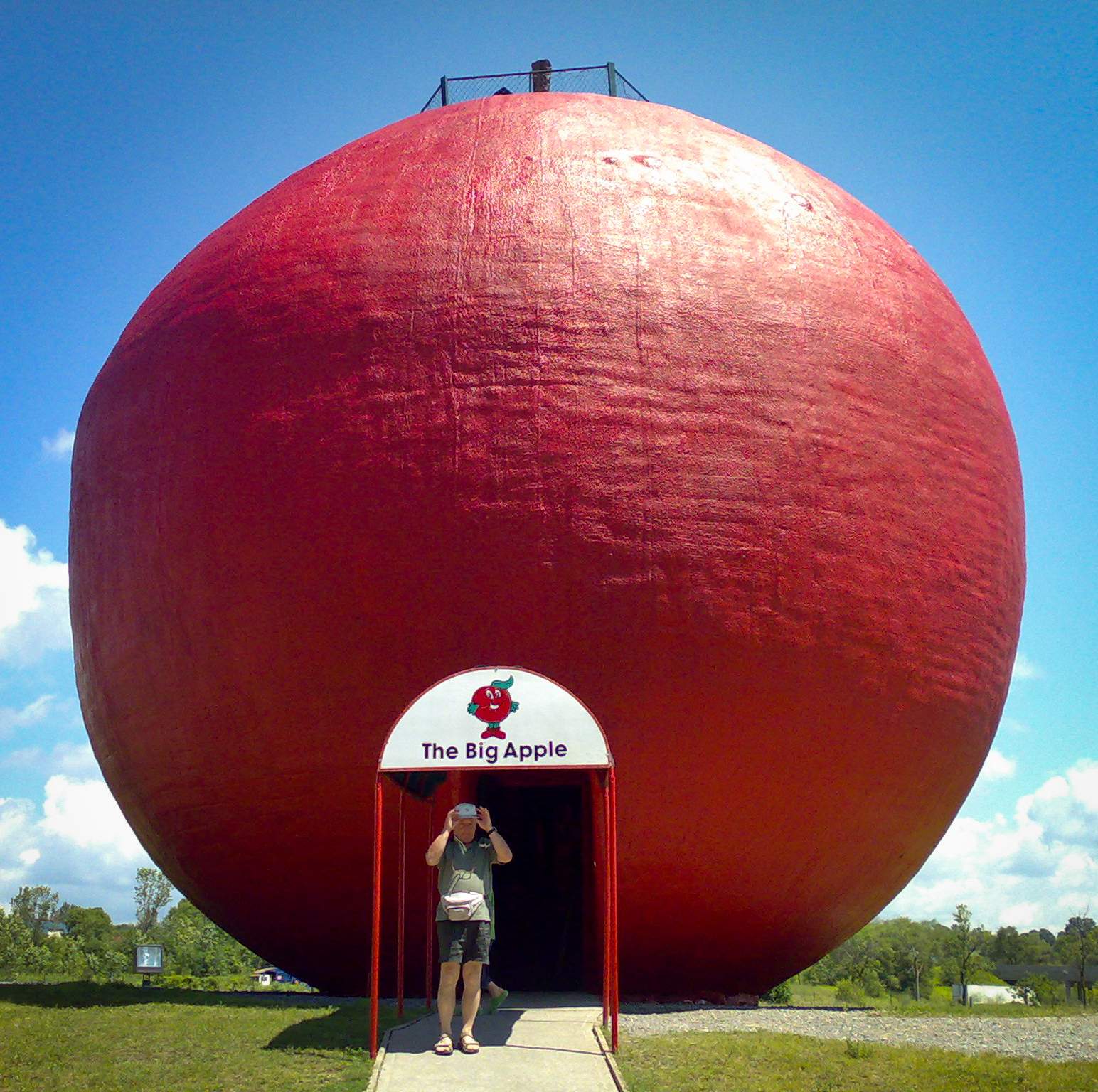 The fruity stop-off
The Big Apple, Canada
For roadtrippers heading east from Toronto along highway 401, there's a famous silhouette nestled in the verdant Ontario countryside that has marked a welcome and beloved rest stop since the late 1980s. It's an enormous, oversized sculpture of a red apple, adorned with a large pair of eyes and the cartoon outline of a smile that beams out across the highway.
It is the most visible landmark of one of Canada's most evocative highway service areas, known as – you guessed it – The Big Apple. Opened on a large orchard near the town of Colborne in 1984, it has become something of a pilgrimage site for travellers driving the route to Ontario's picturesque Prince Edward County or even further to Montréal or Canada's Atlantic coast.
Canada's vast network of roads and highways is dotted with service stations run by provincial, national and international operators. By contrast, The Big Apple has been locally owned since its inception and over the years has stuck to what it knows best: apples. Famed for its apple pies and apple bread made with fruit grown on the surrounding farmland and freshly baked every day, it attracts up to 500,000 visitors a year.
To cater to demand, the offering has expanded. For grown-ups, there's an on-site cidery with tipples and juice for sale – as well as wine, maple syrup, honey and trinkets produced nearby. For children there's a miniature railway and a small petting zoo with farm animals. There's even the chance to clamber up to the top of "Mr Applehead" himself (as the apple sculpture is officially known). For many young ones, this means following in their own parents' childhood footsteps. The apple, as they always say, very rarely falls far from the tree.
Photographers: Kohei Take, Dan Wilton