fix and repair / MÁLAGA
Rise again
There's often a temptation to pull down and rebuild but over the following pages we look at projects determined to make do and mend, starting with a modernist marvel in Spain.
Set just back from the beach in Málaga, the 16-storey apartment block Melilla 31 was one of the sun-soaked Spanish city's first high-rise buildings. Today the seaside neighbourhood has been built up around Melilla 31 but the building, which has been left almost as it was for 50 years, has found its way back into the spotlight as a perfect example of the Costa del Sol's modernist movement.
Completed in 1971, the 59 apartments were designed by architect Antonio Lamela as luxury homes for the upper classes. Lamela, who died in 2017, was one of Spain's most prolific architects and was best-known for his work in Madrid on the Colón Towers and a remodelling and extension of the Santiago Bernabéu football stadium, as well as terminal four of Madrid's Barajas Airport, designed with architect Richard Rogers. But it's his residential and tourism projects that perhaps best reflect his style. In the postwar tourism boom of the 1950s and 1960s, he and other top architects went to the Costa del Sol to demonstrate their abilities by creating high-rise residential buildings and hotels that made the very best of the elements.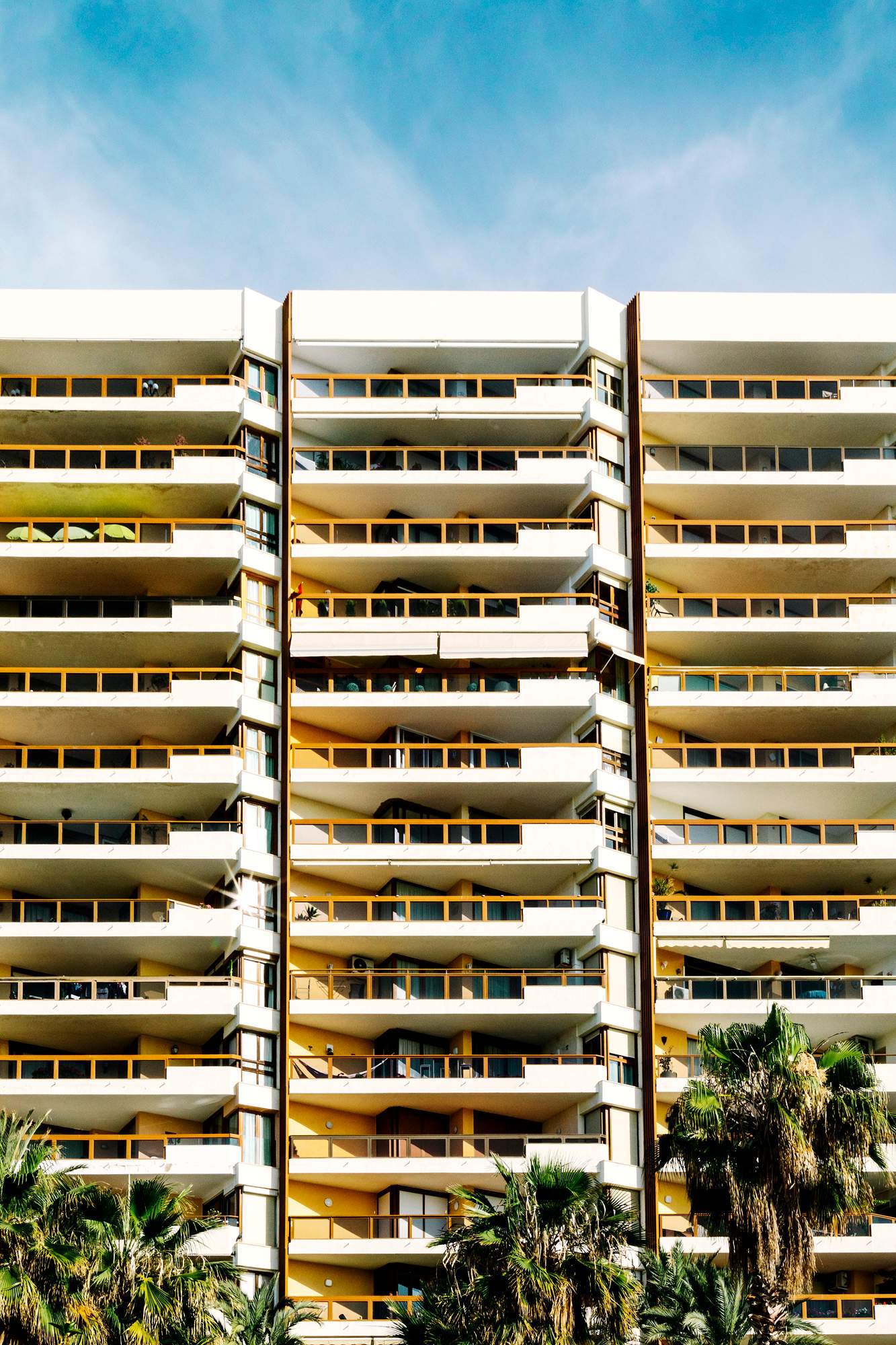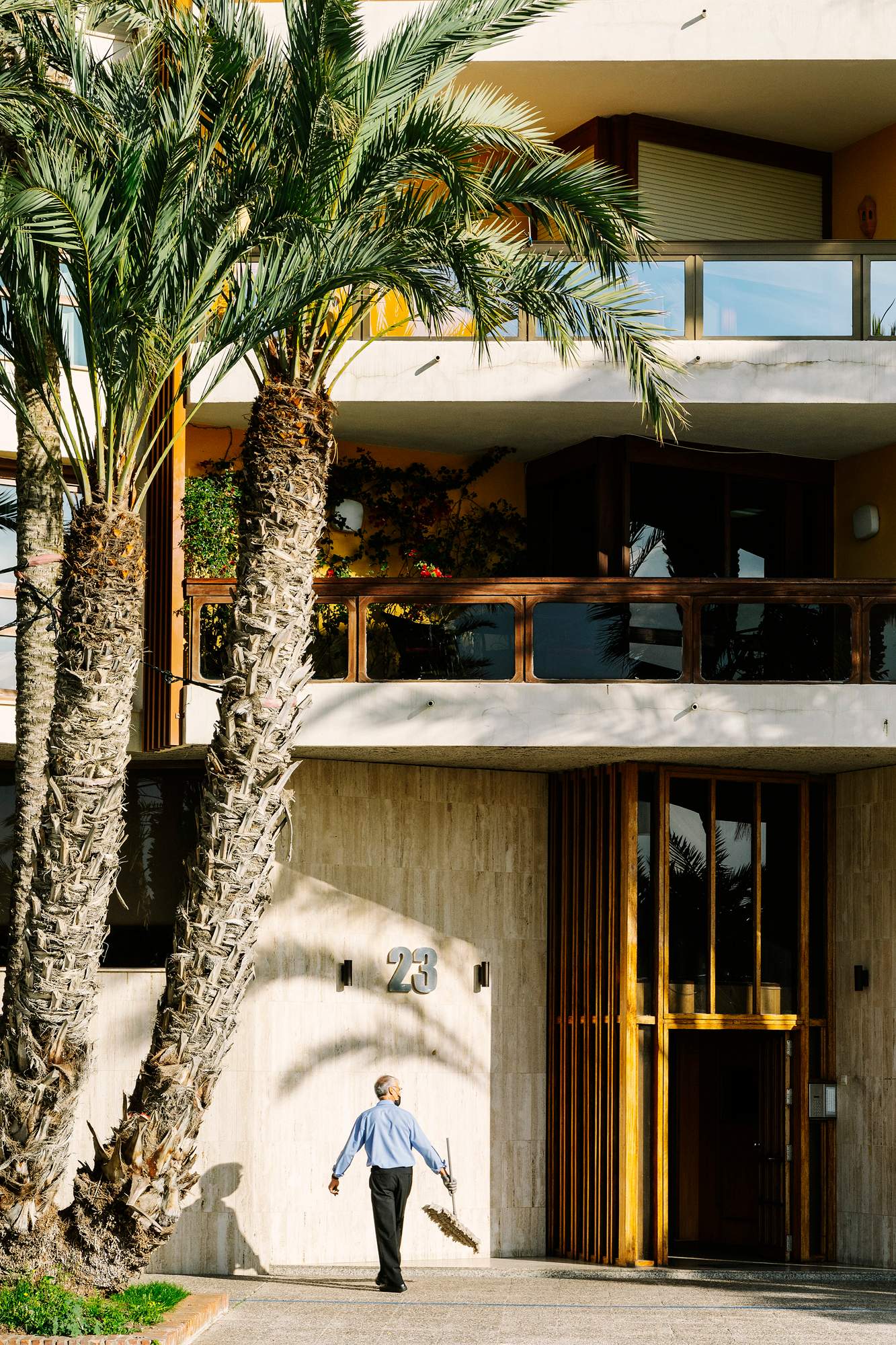 "Antonio Lamela was ahead of his time," says fellow architect Daniel Rincón, who until recently was on the board of directors at Málaga's College of Architects. "Modernist architecture arrived a bit late in Spain compared to other countries but Lamela travelled a lot and was very innovative. He did what he called 'suspended architecture' which meant that the walls were very light, with forms that floated." Visiting Melilla 31 today, the first thing that surprises is its spacious terraces, with sweeping views of the Mediterranean and the beach below that extends all the way to the Bellavista neighbourhood. The building is oriented cleverly so that the sunlight floods the apartments in the morning but then stays on the terraces, keeping the interiors cool. "It's turned slightly diagonally to get the nice views and the sun orientation also makes it very interesting," says Carlos Lamela, who now runs the practice founded by his father in 1954 and who visited the building for the first time just two years ago. "I recognised a lot of my father's details," he says. "That aesthetic of the end of the 1960s: very fluid lines and curves mixed with bright colours – coppers and blues – and also the ceramics, because it incorporated elements of Málaga's traditional architecture."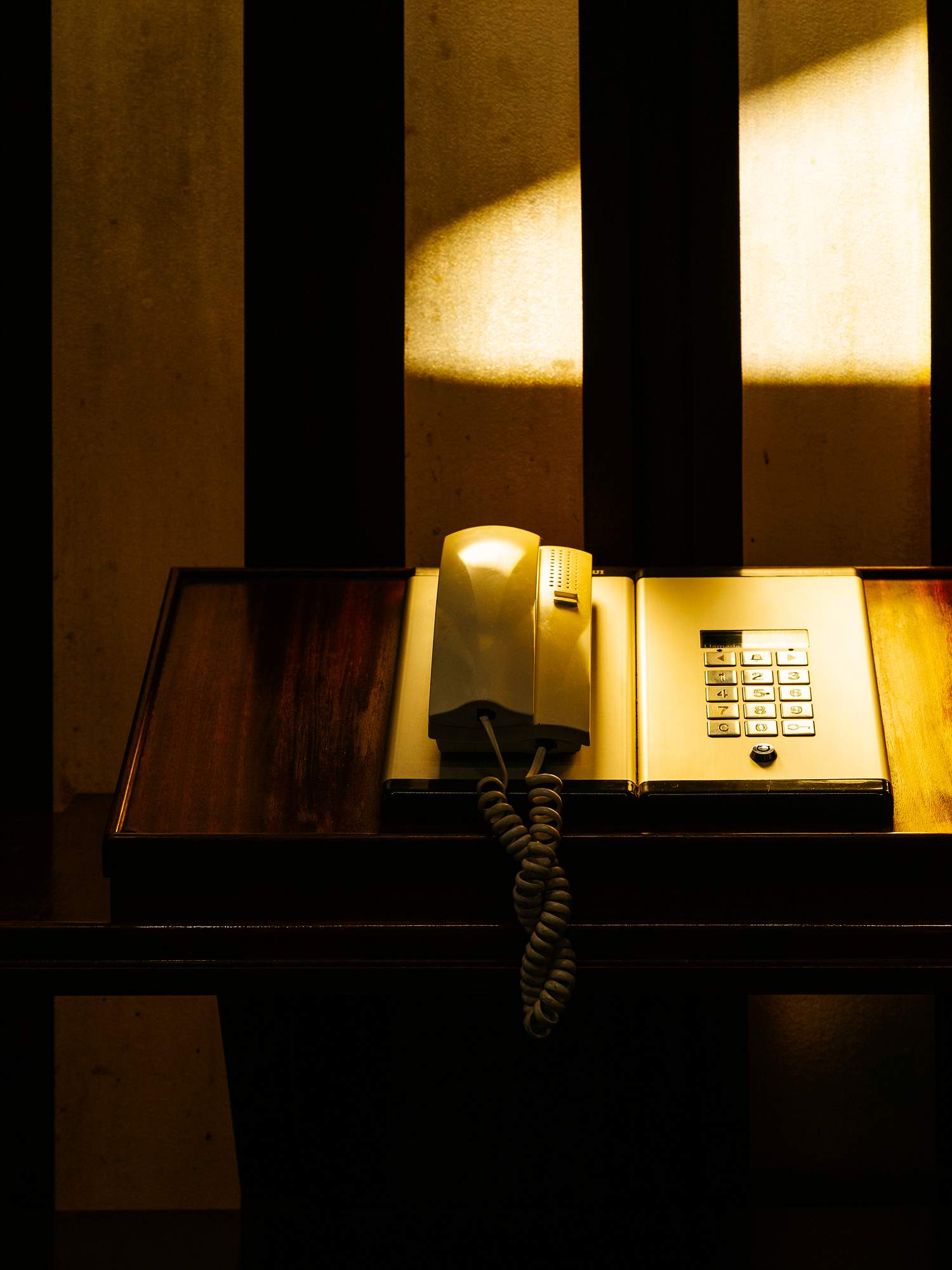 Sunny side up
Often overlooked as the gateway to the Costa del Sol's beaches, Málaga is in fact a lively and exciting city with a lot to offer its residents, including an enviable art scene, delicious food and year-round sunshine.
Centre Pompidou Málaga
After Madrid and Barcelona, Málaga has the largest cultural offering in Spain. The latest addition to its long list of museums is the first offshoot of Paris's Pompidou Centre, which opened in the port in 2015, just a few steps from Melilla 31.
El Pimpi
Founded in 1971 in an 18th-century mansion house with numerous dining rooms and patios, El Pimpi is Málaga's best-known traditional bodega. The walls are covered in photos and signatures of famous customers. In 2017, Malagueñan actor Antonio Banderas became a shareholder in the business.
La Malagueta beach
Málaga's bustling city beach might not be the most popular in the region but it's still one of the best things about living here. It's the perfect place for a refreshing dip before taking lunch at one of the many restaurants nearby.
"Nowadays buildings are not as durable, they're not made with such high-quality materials," says Pablo Mapelli, who moved into an apartment on the 10th floor with his wife and two young children a year ago. "My father is an architect and my wife is an art historian, so we are particularly sensitive to the importance of this building for the city's heritage and for architecture in general." Arguably the most impressive part of Melilla 31 is its entrance hall. Here, bright turquoise tiles meet dark leather sofas, wooden letterboxes and steel ceiling lamps. By the lifts there is an imposing reception desk in front of a stained-glass and wood-panelled wall. "I loved the spaciousness, the immensity," says Marina Benavides, who moved to Melilla 31 with her husband and two young daughters in 2014 after falling for its modernist charm.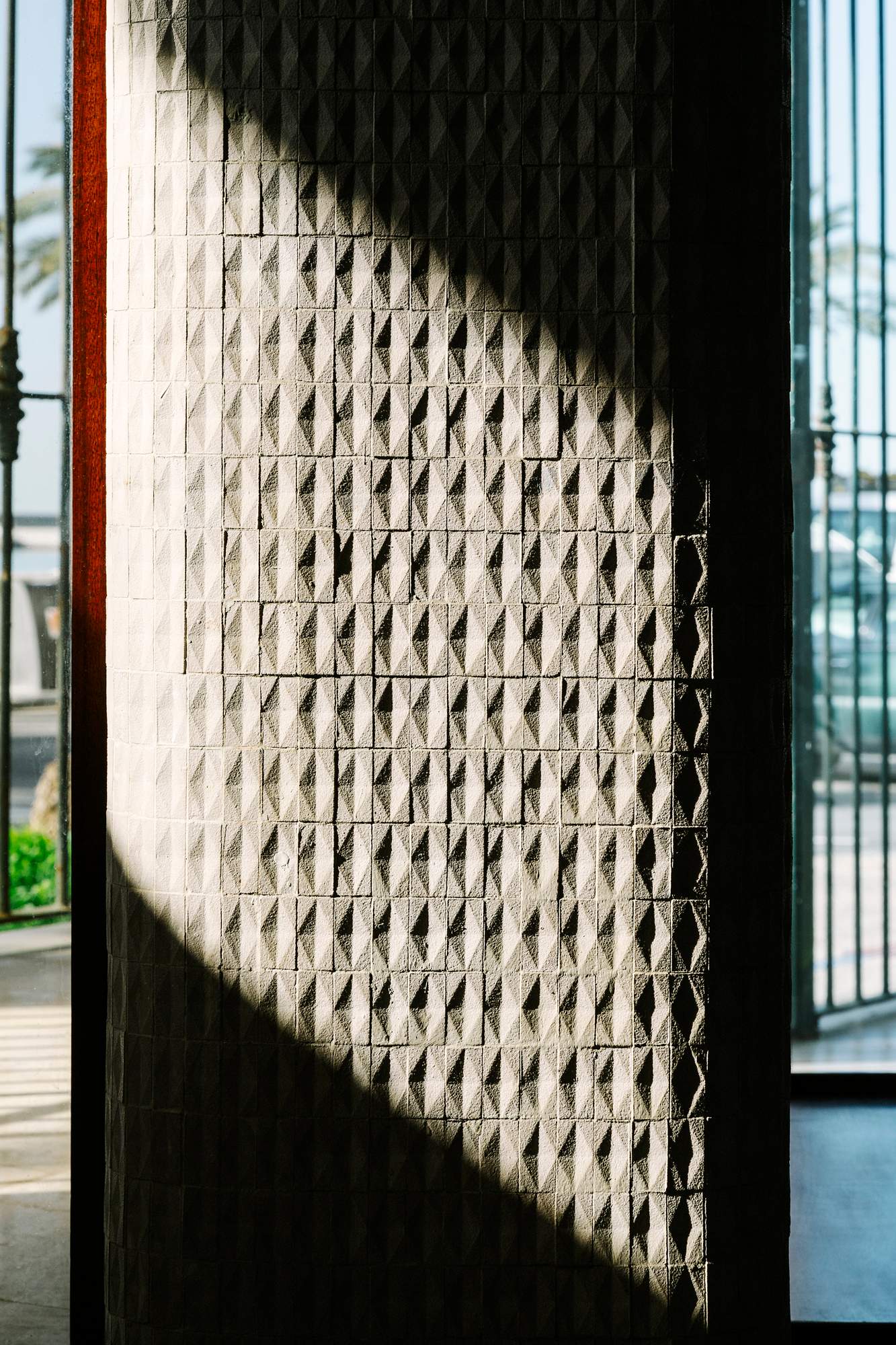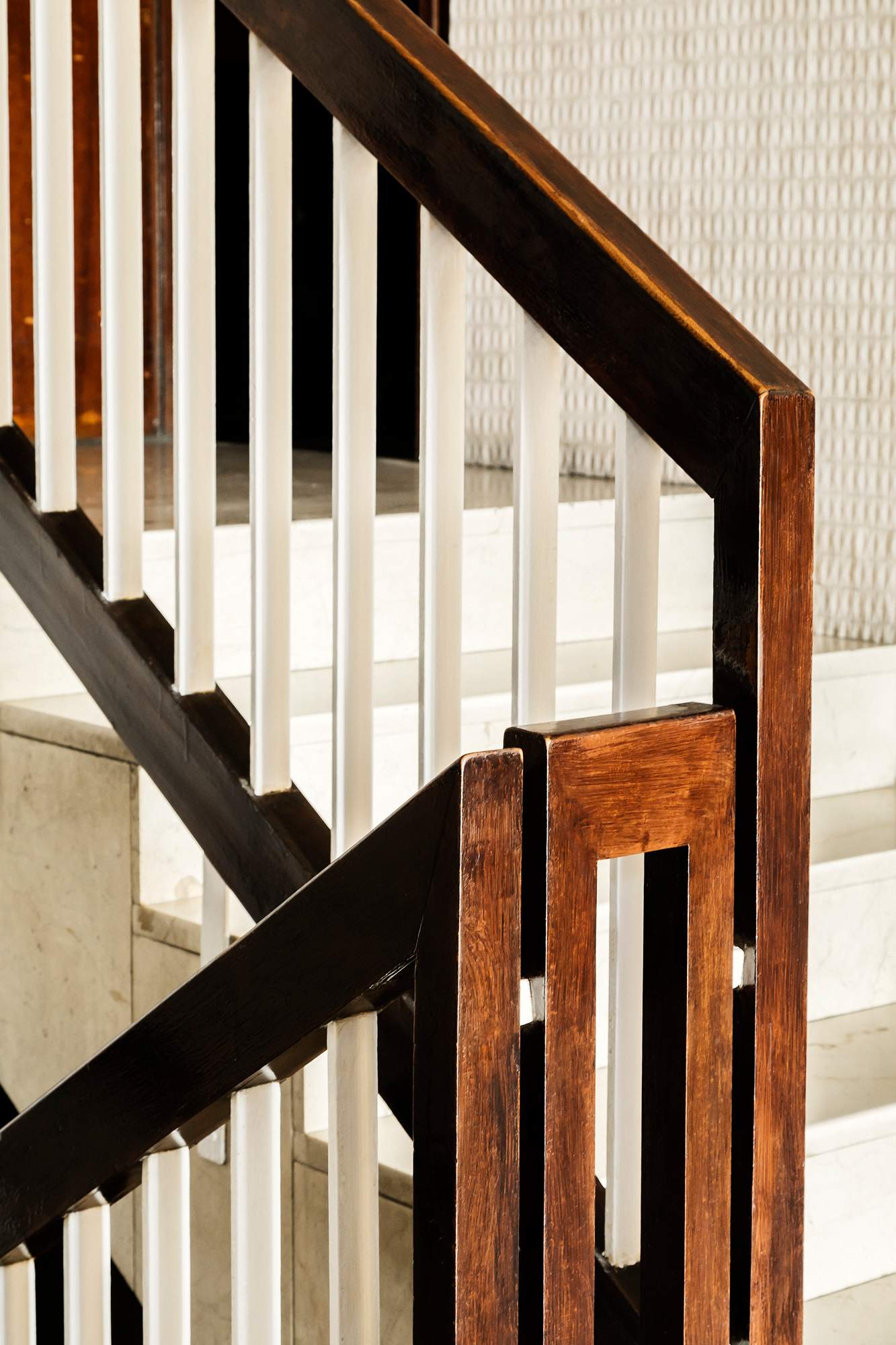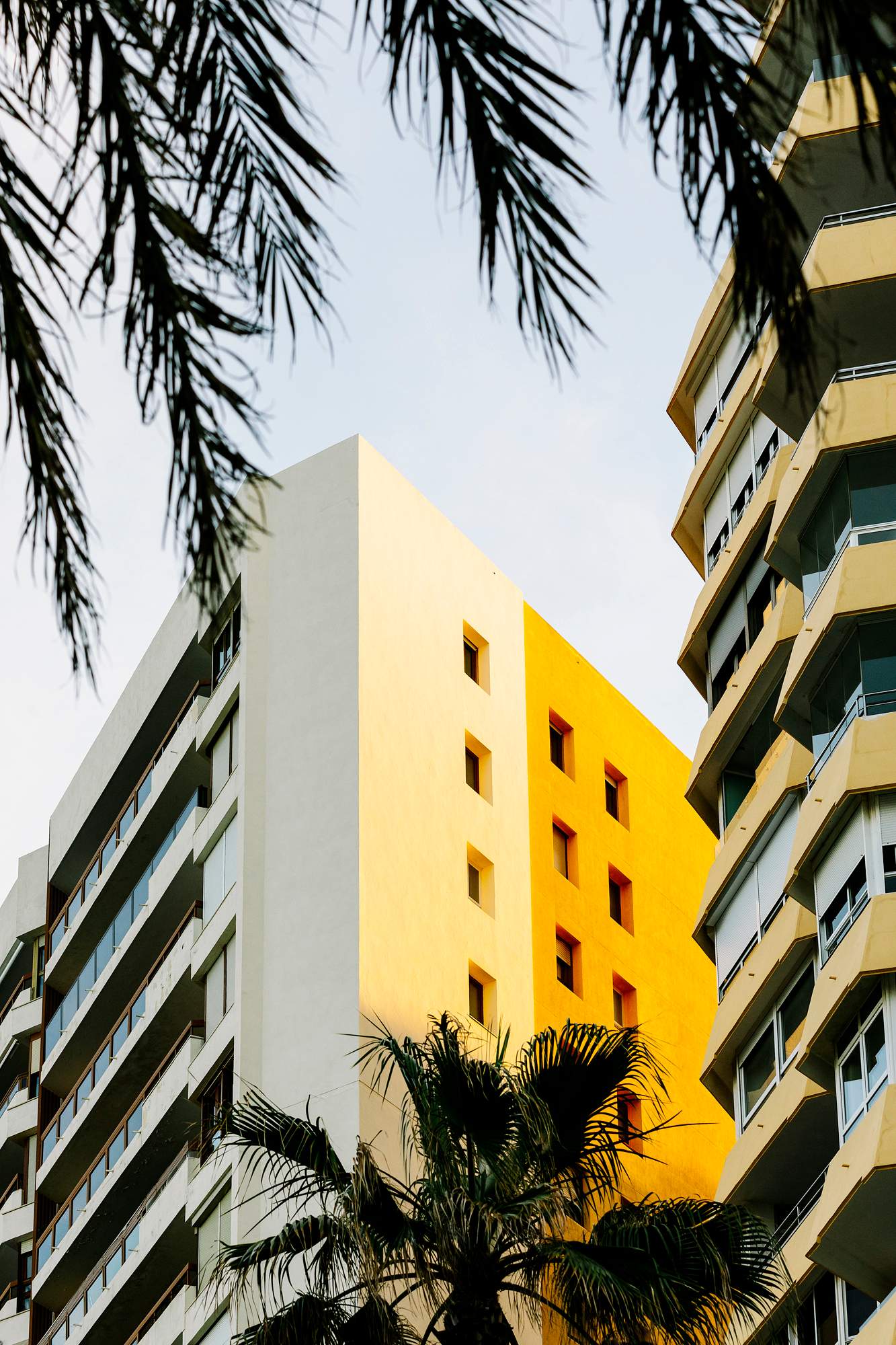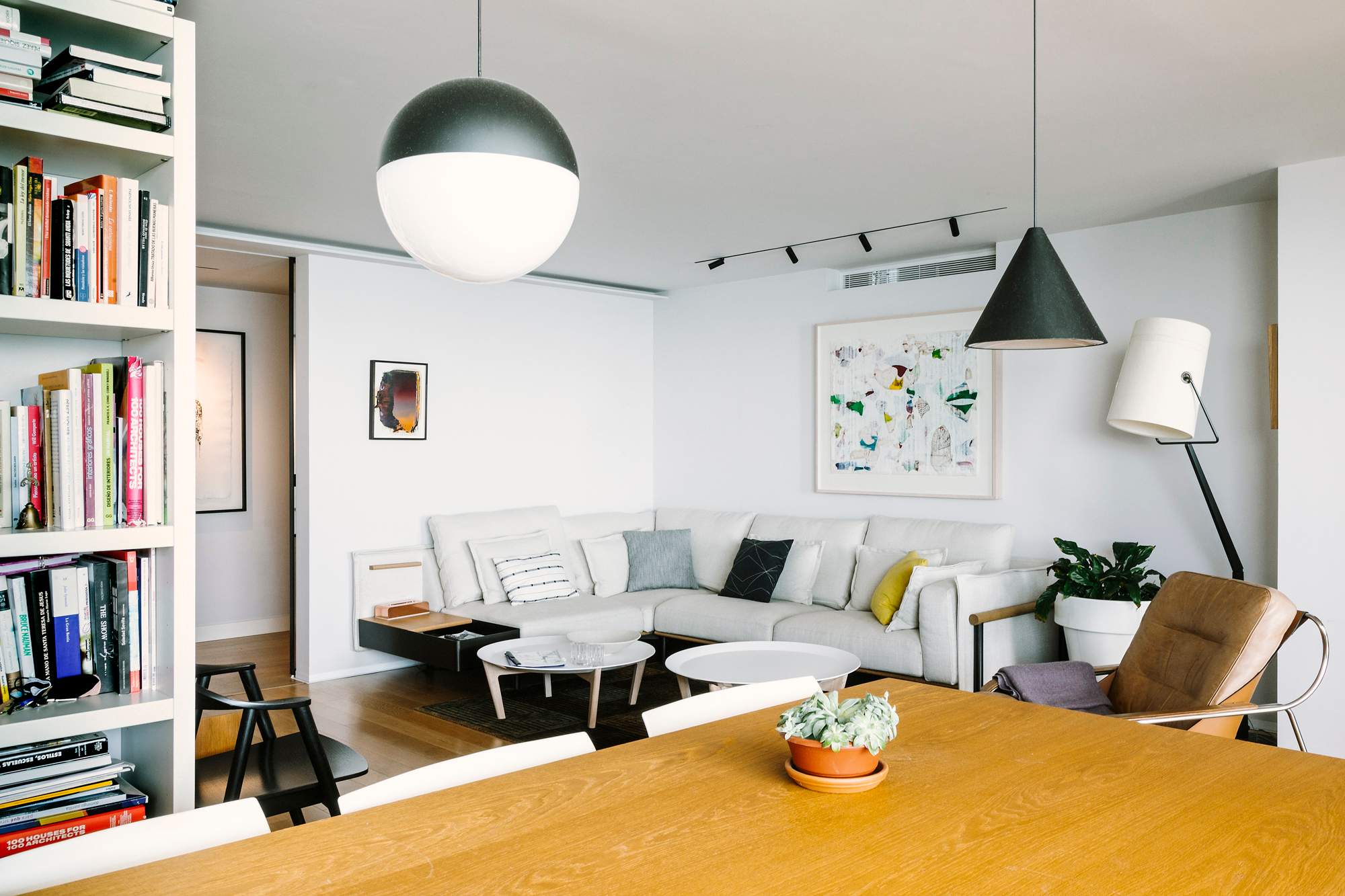 When in 2019 she heard of plans to renovate the entrance as part of a proposed modernisation, she felt she had to do something to prevent it. "I thought, 'How will I explain it to my girls if one day they ask why it was destroyed?'" she says. "We either stood idly by or we did something about it and I thought that we had to at least try." She and her husband, Emilio Almagro, made it their mission to inform their neighbours of the building's unique architectural value and started gathering support from fellow residents, as well as architects, academics and historians in order to make the case for preserving the old entrance. Thanks to this, in March the regional government put the building on Andalucía's Historical Heritage List.
Marina Benavides and her husband, Emilio Almagro, made it their mission to inform their neighbours of the building's unique architectural value and started gathering support from their fellow residents
Raising awareness about the building's architectural significance wasn't easy. Benavides, an interior designer, saw the beauty in its fading walls which, although in need of a lick of paint, she felt should be preserved. But many of her older neighbours had never heard of Antonio Lamela and wanted the building to be refurbished. The proposed plans involved knocking down the original entrance and overwriting it completely. "Unfortunately in Málaga we have this habit where if something is old we throw it away," says Benavides.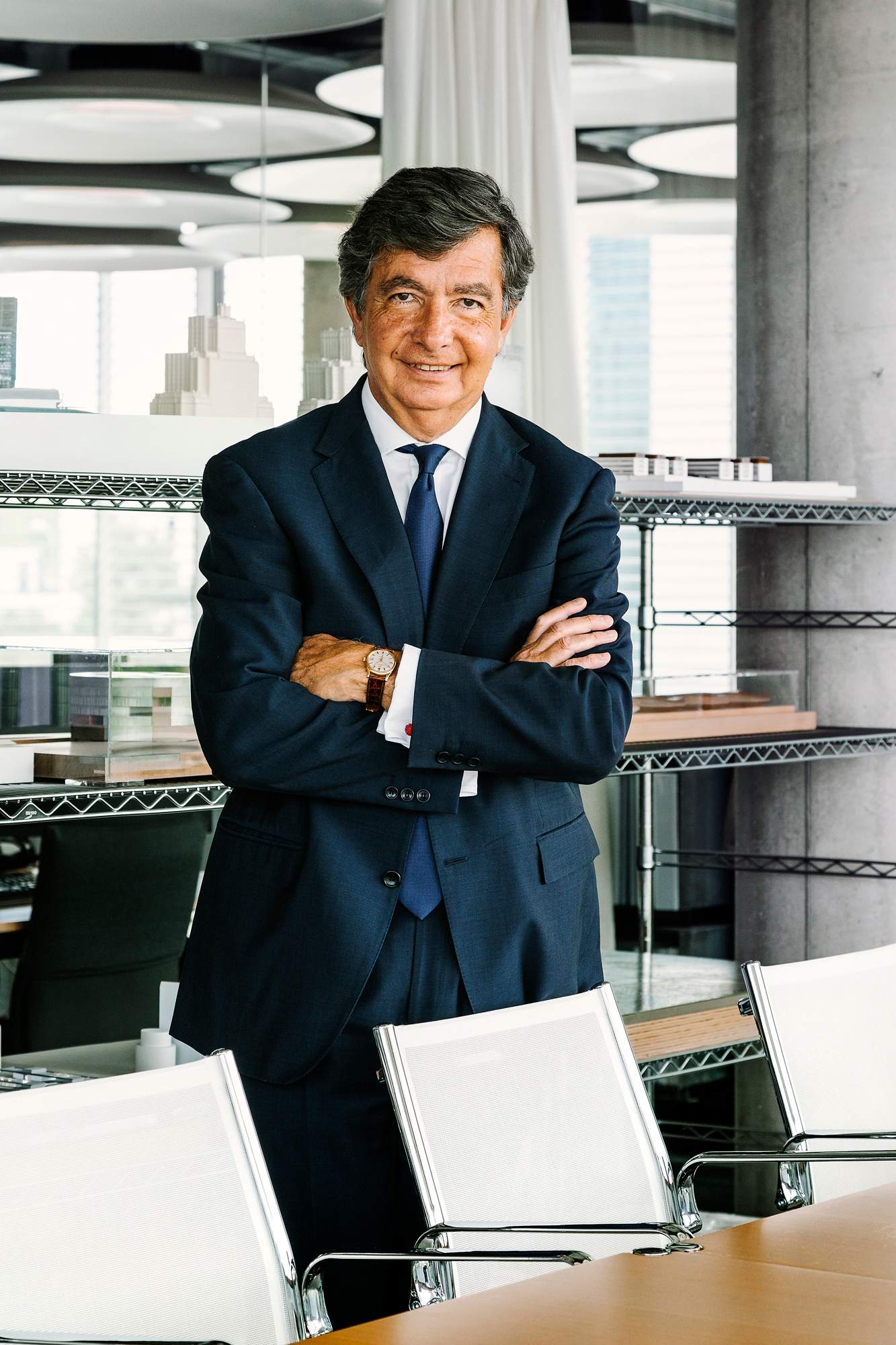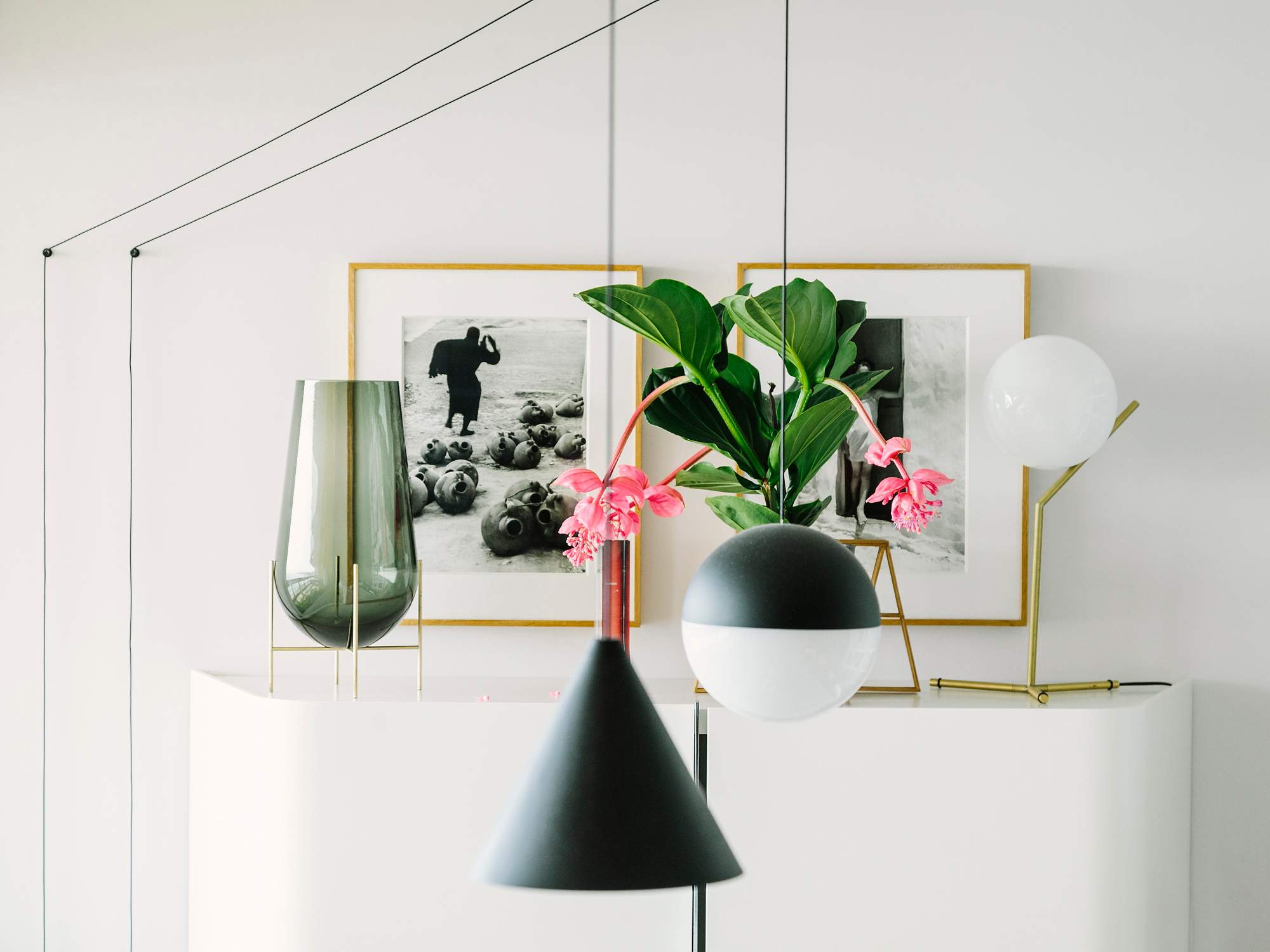 Melilla 31 is the first building by Antonio Lamela to gain listed status but interest in preserving the architecture of the Costa del Sol is growing. "It has been a very important turning point for modern architecture in Málaga," says Carlos Lamela. "It has set a precedent for valuing contemporary architecture." The listing of Melilla 31 has encouraged efforts to preserve architecture in the nearby town of Torremolinos, exemplified by the Pez Espada Hotel, the naval-inspired Bazar Aladino and the Hotel Residencia Miami, which was popular among Hollywood stars in the 1950s and 1960s. The mayor, José Ortiz, has expressed his willingness to protect several of the buildings that Lamela built in the city.
For Benavides, recognising the unique nature of the building is a way of stepping away from a wasteful culture and better understanding the city's history. "We should think twice," she says, as we sit on her terrace on the 12th floor and watch the locals on the beach below enjoying a morning swim. "We need to appreciate what we have."