Diplomacy / Global
Attaché cases
Whether tasked with Brand Ethiopia awareness in Brazil or South Korean commerce in the UK, there are unsung drivers of diplomacy. We meet them.
Everybody has a reasonably clear idea of what an ambassador does. It is a role that's widely reported in journalism and represented, with varying degrees of plausibility, in fiction. Rarely, however, does anyone really talk about – or indeed to – attachés: holders of those specific yet mysterious titles that are listed further down the embassy masthead.
There is, of course, a clue in the name of the various kinds of attaché: police, defence, cultural, legal, commercial, maritime or scientific. But there's also a mystique about the title; a suggestion of familiarity with the back channels where the real work of diplomacy is done while the ambassador is hosting the garden parties. But what do they do all day? We meet five attachés to find out how they boost their countries' diplomatic clout.
---
Reetta Purontakanen
Finnish embassy in Japan
brief: Press and culture attaché
"This is a fun job if you believe in the product that you're selling," says Reetta Purontakanen, who is one year into her three-year posting. She arrived in Tokyo via an unorthodox route: she holds a masters degree in war studies from King's College London and her previous experience includes crisis management for the EU, election monitoring in the Balkans and eastern Europe, and a stint as communications manager for the UK embassy in Finland. "The main part of this job is country branding," she says. "I've explained it to myself as: 'Make Finland interesting.'"
Purontakanen has discovered that she's working with a receptive audience. "If Japanese people know anything about Finland, it's usually quite positive," she says. "It might be design enthusiasts who like Scandinavian cool. There are a lot of people who followed the Moomins and then moved on to manga. There's a strong and fiercely loyal metal-music fanbase. And the Finnish [garden skittles] game mölkky is strangely popular."
Purontakanen also leads the communications response in times of crisis, which usually means keeping in touch with Finnish tourists after earthquakes. And she fields queries from Japanese media, which are, inevitably, a mixed bag.
"In my media folder are questions about Finland's ID-card system, interview requests for prime minister Sanna Marin and queries about Finnish rules on surnames after marriage," she says. "I was also asked whether it was true that the Finnish team brought their own sauna to the 1964 Tokyo Olympics. It turns out that they did, which was news to me."
On that subject, Purontakanen confirms that sauna diplomacy is a soft-power weapon she is willing to deploy, at least when there isn't a pandemic. "We have two saunas at the embassy," she says. "In normal circumstances we would invite people there. Instead of having a small dinner at my place, I might invite people for a sauna and a snack at the embassy. It's certainly in the toolbox."
---
Moon Sangmin
South Korean embassy in the UK
brief: Commercial attaché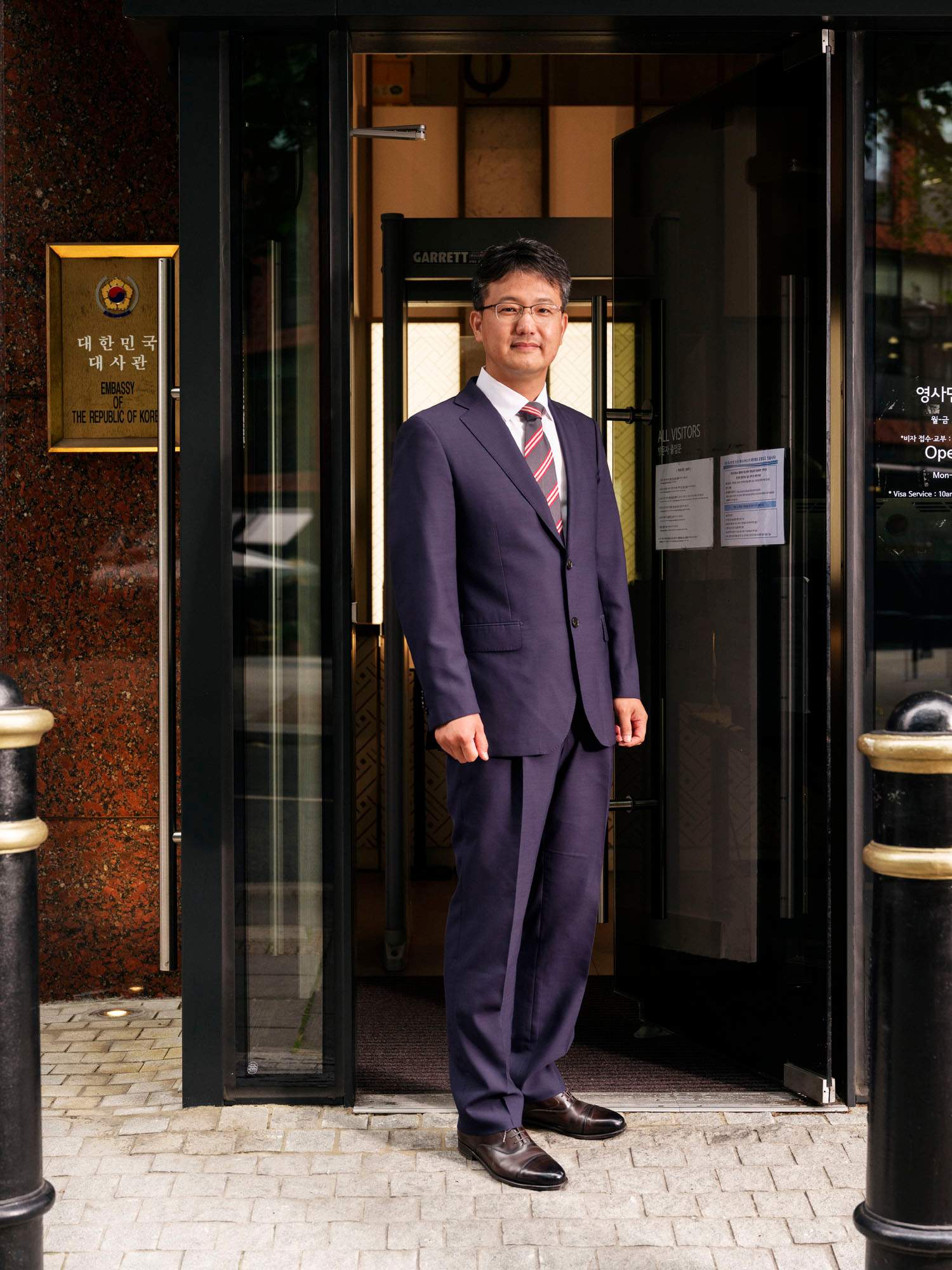 When Moon Sangmin thinks of the two years that he has spent in the UK, he thinks of three colours. Green, for the parks of London, which are a contrast, he says, from his native Seoul. Yellow, for the food – he's been trying to get into fish and chips, and a diet that strikes him as heavy on the potatoes. And, to take a liberty with a conceit, the rainbow. Since the outbreak of coronavirus, Moon has been impressed by the support of British people for their National Health Service (often by displaying rainbow signs).
"The primary reason I applied for this position was that I wanted to learn about European countries," says Moon. "My predecessor used to enjoy London's musicals, galleries, restaurants. I got to spend six months, at best, doing that before the pandemic. So we tasted it a little."
Moon came up through South Korea's ministry of trade, industry and energy, which included a stint as president Moon Jae-in's assistant secretary for industrial policy. His work now, as he sees it, is as a facilitator and problem solver, dealing with South Korean businesses and entrepreneurs based in the UK, liaising with the UK government and supporting his ambassador at pertinent meetings.
"My job is about engagement with UK government and industry," he says. "The UK-South Korea Free Trade Agreement has been effective from the beginning of this year, so we have to check that it's working properly." He is optimistic about the possibilities. "Brexit isn't a big problem for South Korean companies," he says. "But after Brexit the UK's government and industries are focused on boosting the economy. South Korean industries have an opportunity to find a new market."
---
Sarah Bamfield
New Zealand high commission in Fiji
brief: Defence attaché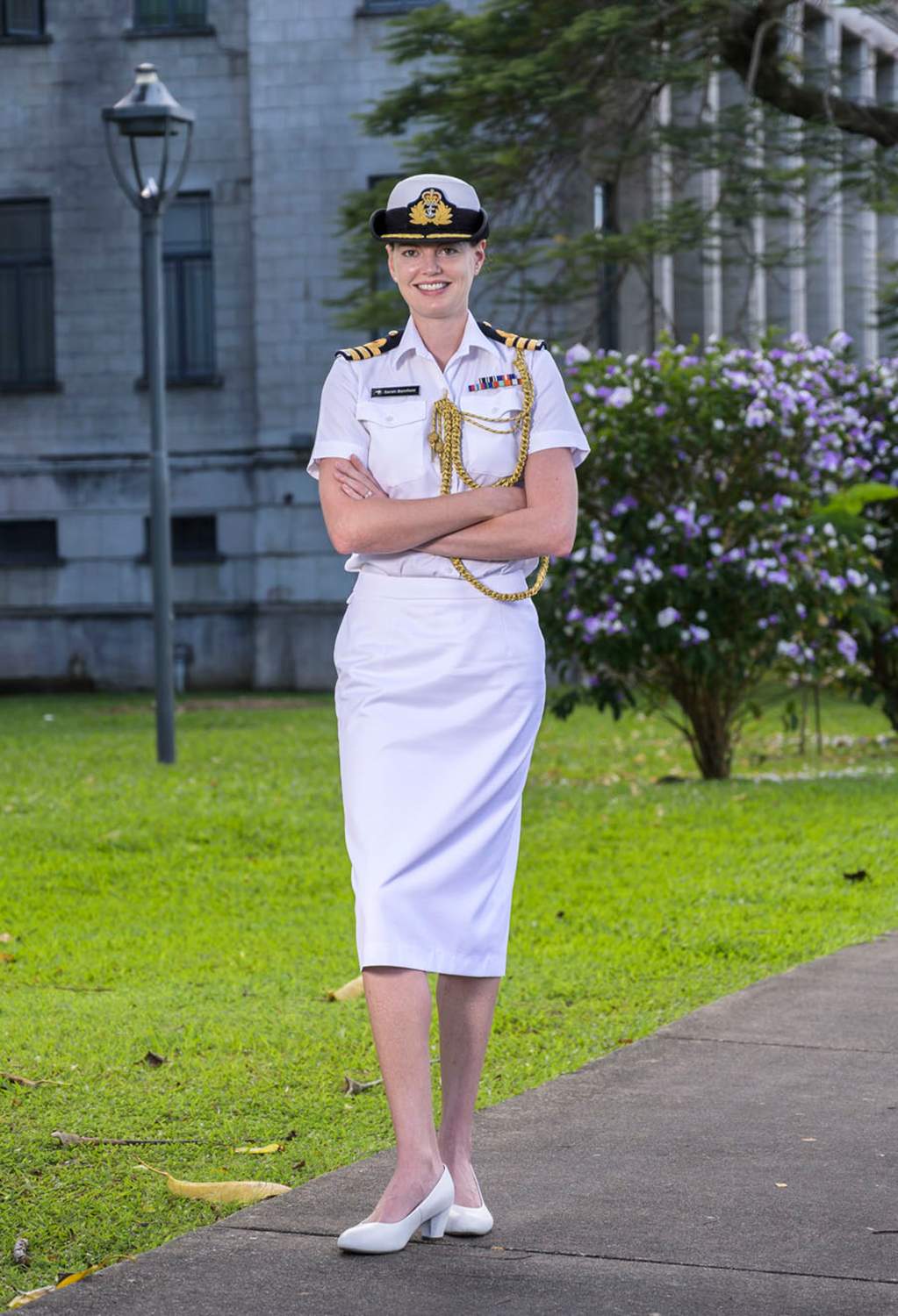 A recent arrival at New Zealand's high commission in Suva, Sarah Bamfield is beginning a three-year posting that will also see her accredited as a non-resident defence adviser to Tuvalu and Kiribati. The first female defence adviser that New Zealand has sent to the Pacific, she is starting to understand that the importance of her role.
"I had a humbling moment," she says. "I received a cold call from a guy in a Fijian village who had seen photos of me attending a guard of honour on social media, and said it had inspired him to support his sister through university. I've never really been a trailblazer in that regard, so that for me was a bit of a reality check. I see myself now in more of a role-model position."
Bamfield hails from Palmerston North, a town in inland New Zealand that is adjacent to army and air-force bases. Her identical twin sister joined the Royal New Zealand Navy alongside her and both sisters now hold the rank of commander. Bamfield's new posting is not her first encounter with the Fijian military. In 2009 and 2010 she served alongside Fijian soldiers in the multinational peacekeeping force (mfo) that patrols the Sinai. Fiji has been a long-standing contributor to the mission and Bamfield says that the orange-striped mfo service ribbon on her uniform has been a handy icebreaker when meeting fellow veterans and their families.
"My job is facilitation and communication," she says. "I'm the conduit from the New Zealand Defence Force [nzdf] to our counterparts in Fiji. We're also the first and last impression for a lot of the local population, not just of the nzdf but as a visible New Zealand presence."
---
Shelly Hugler Livne
Israeli embassy in Spain
brief: CULTURE attaché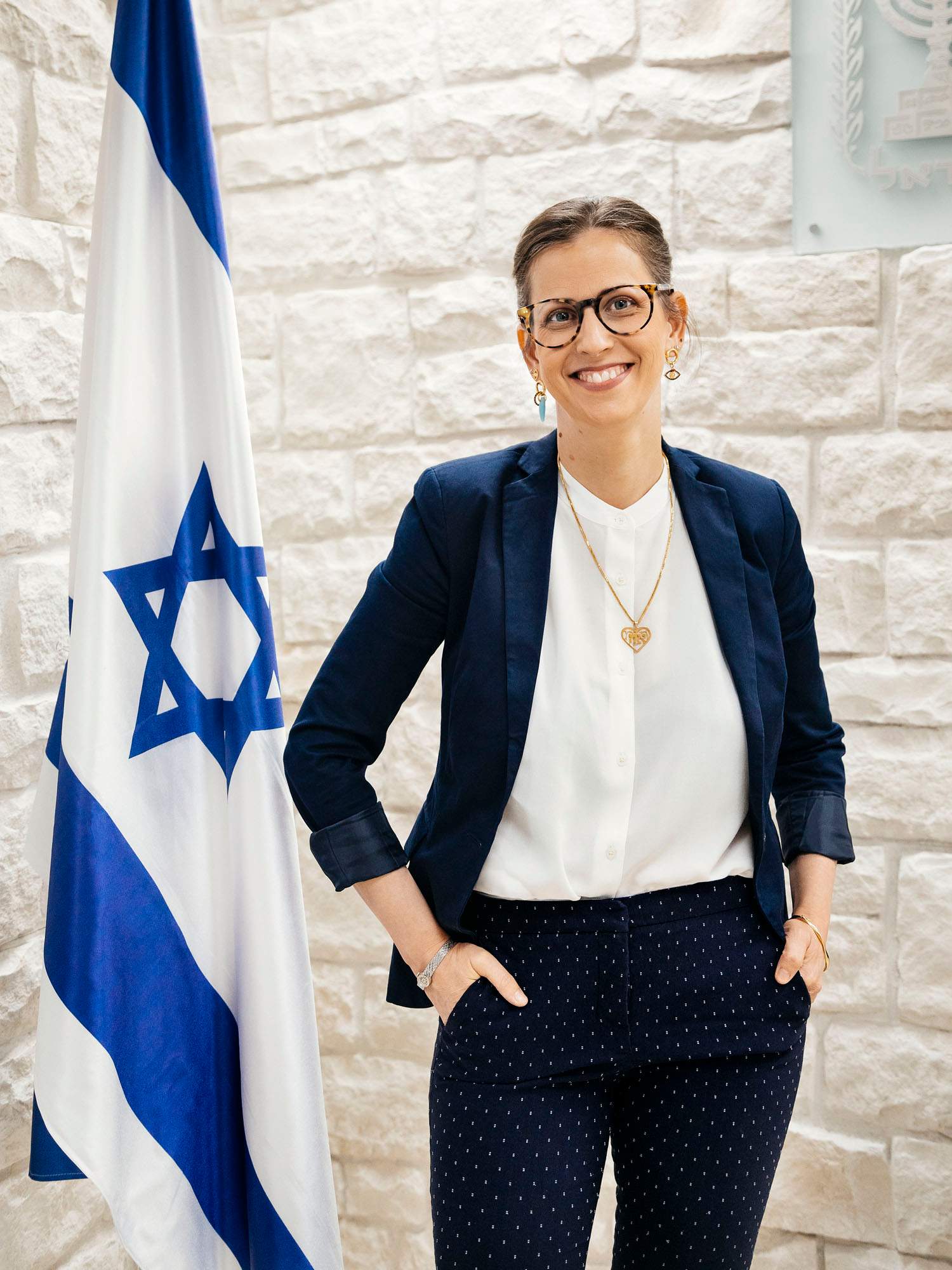 Israeli diplomats operate at a higher degree of difficulty than most. Their country is frequently the subject of international criticism, not always without reason, but not always from people whose good faith can be taken for granted. Shelly Hugler Livne, who began her current posting in 2019, insists, "I don't speak politics; I speak culture." But she isn't naïve. "It's not detached from politics, of course. I am an Israeli diplomat, I represent my government – but I am showing the incredible richness of Israel's culture."
Born and raised on a kibbutz near Latrun, Livne's previous postings have included a stint in the Dominican Republic, and another in Romania, from where her grandparents escaped before the Second World War. But she speaks of Spain as a dream posting, citing a longstanding love of the language and an affinity with the culture. "It's a country in many ways similar to Israel," she says. "Lots of smells, lots of food, lots of drink – the culture is very vivid."
Livne's embassy operates several programmes facilitating cultural and academic exchange. Recent circumstances have made that difficult but ways have been found. During an early coronavirus lockdown, for example, she helped the popular Israeli singer Noa stage a televised concert, which also raised money for Madrid's overwhelmed hospitals.
Livne has, inevitably, been confronted by those affronted by any interaction with Israel. She also notes that she has displeased those who think her job should be that of uncritical cheerleader. "Some of the Israeli films I promote don't necessarily show Israel at its best – but I encourage it because having a conversation is part of being a democracy. Artists are often the fiercest critics."
---
Beza Melis Yirga
Ethiopian embassy in Brazil
brief: Public diplomacy attaché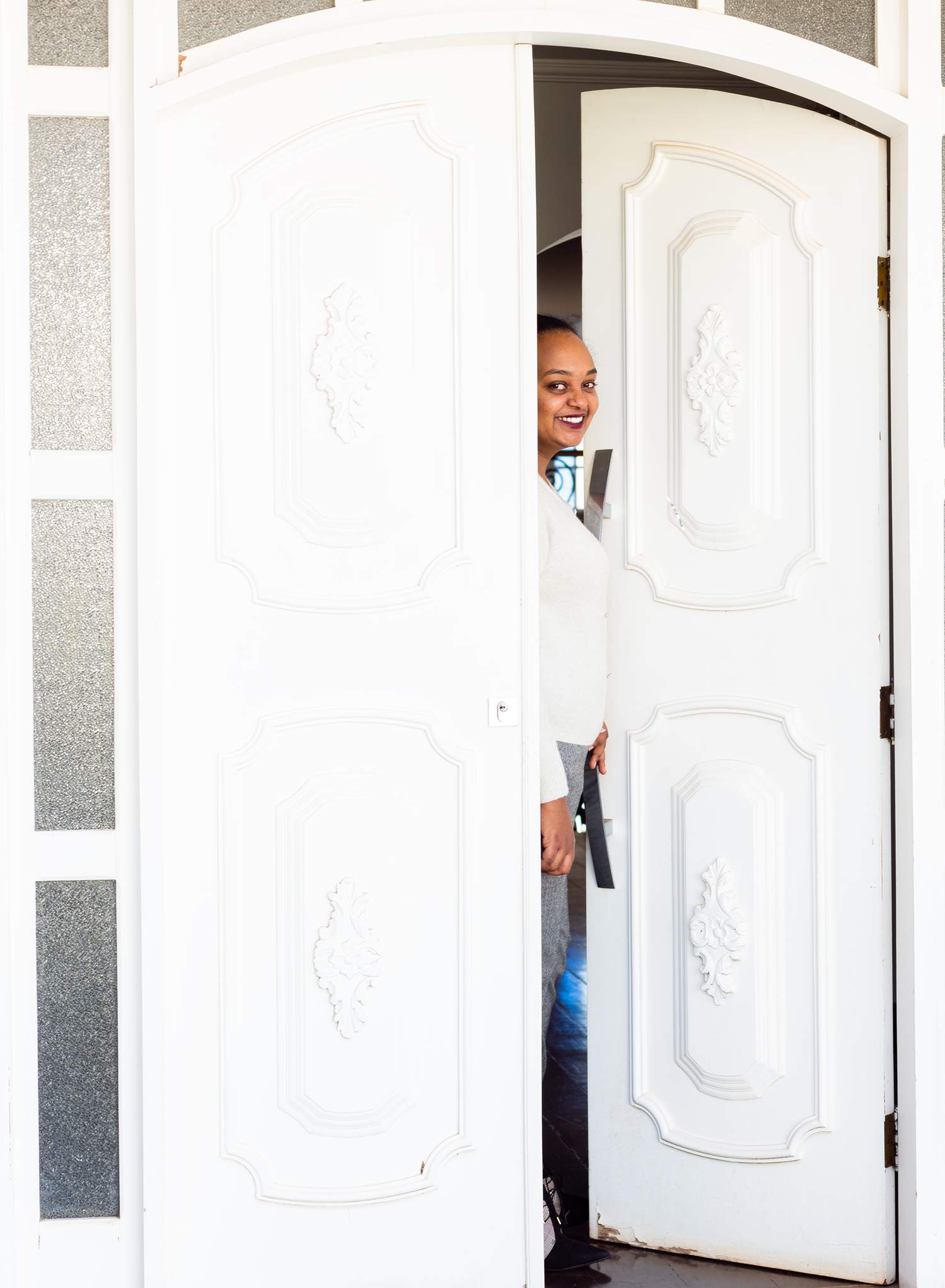 Ethiopia's diplomats in Brasilia have to be flexible, both with their remits and their schedules. The embassy's usual staff of about three Ethiopian diplomats, and as many Brazilian assistants and interpreters, represents Ethiopia's interests not only to Brazil but also to much of the rest of Latin America. Accordingly, jobs within the embassy vary beyond what their title might suggest. Beza Melis Yirga, who has been in Brazil for four years, and her current role for three, describes a working week that involves liaising with Brazilian – and other – officialdom, and promoting Ethiopia to Brazil's public.
"Brazil's Ministry of Foreign Affairs has an Africa department," she says. "So we often meet with them to discuss bilateral relations and technical co-operation. From our embassy here we also cover Argentina, Chile, Peru, Colombia and other Latin American countries, which is quite difficult, so we meet at their embassies in Brasília."
Promoting Ethiopia includes organising presentations for Brazilian tour operators, participating in Brazil's carnivals – and making use of one eminent historical ally. "Brazilians do have an attachment to Haile Selassie, our last monarch," says Melis. "He's quite an icon for them, and I'm quite proud about it."
Yirga is from Addis Ababa, and Brazil is her first overseas posting. "There were initial frustrations with the language," she says. "You can't get far speaking English, so I panicked, but when I started learning to speak Portuguese I was able to communicate with Brazilians. It has been fascinating to explore the country's culture. And they do the best barbecues."
Photographer: Felix Odell, Diego Bresani, Vinaka Bruce, Victor Garrido, Harry Mitchell