Diplomacy / Cairo
Hall orders
Designing a new Grand Hall for the League of Arab States demanded experience, flair and respect for tradition. Enter Lebanese architect Nada Debs.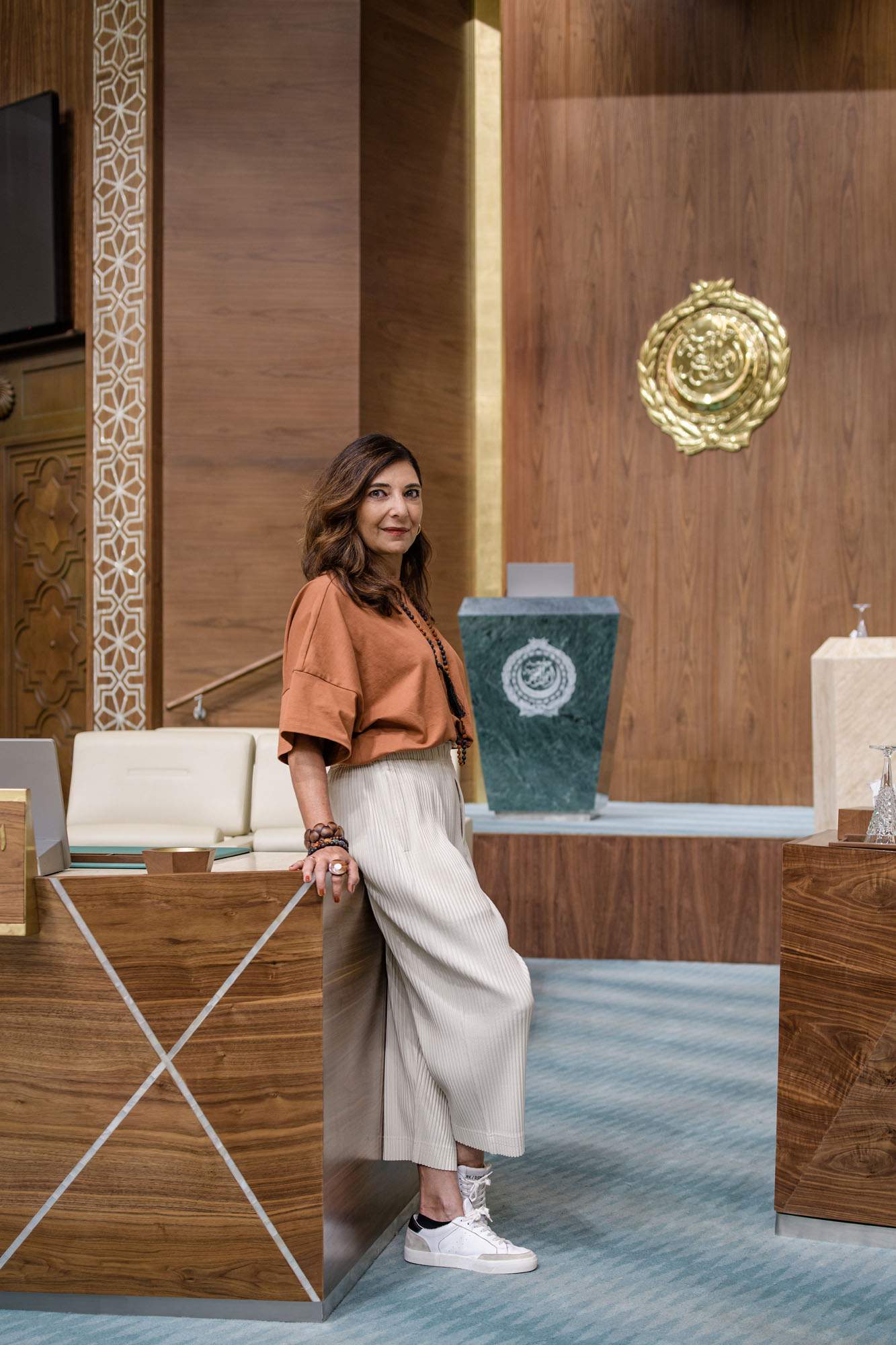 Nada Debs is eyeing a scuff mark at the base of a bank of desks where the Arab world's foreign ministers and presidents normally pull up plush leather chairs. After careful examination, it's decided that the blemish on the walnut finish (thankfully nowhere near the intricate mother-of-pearl detailing) was caused by over-zealous vacuuming. Staff will be notified; more care will be taken in future.
Debs, a Lebanese interior architect and furniture designer, has every reason to feel strongly. The room in which she is standing – all wood panelling and highly polished travertine – is the Grand Hall of the Cairo-based League of Arab States, a 22-member regional bloc founded in 1945. In 2015, conversations began about giving the space a considerable refresh. Debs was charged with the task, which was completed last year after seven months of building work. "We used walnut because we felt it was a more noble and timeless material," she says.
The Arab League occupies a vast edifice in Egypt's traffic-clogged capital, set back from Tahrir Square, a site that grabbed the world's attention in 2011 with the uprising against then-president Hosni Mubarak. Designed in 1955 by Mahmoud Riad, one of Egypt's fathers of modernism, its hallways and annexes have amassed a mishmash of pan-Arab influences over the years, from Moroccan to Andalusian, through the tiling, chandeliers and arches. The hall itself was unused from 1979 to 1990 after the Arab League temporarily decamped to Tunisia in protest at Egypt's peace deal with Israel. It had become what Debs calls a "patchwork" of styles. The challenge was to develop a consistent, contemporary look without erasing its core identity.
Debs was chosen for the job by the United Arab Emirates, the renovation project's deep-pocketed benefactor. The Beirut-based designer has worked on a number of institutional projects in the Gulf, including for the ministry of foreign affairs in Abu Dhabi. And while Debs might tick the "Arab architect" box that was a requisite for this job, her background remains impossible to categorise. Raised in Kobe, Japan, where her family had emigrated in 1917, she grew up speaking Japanese and English over Arabic. Twenty years ago she moved over to the Middle East where she started to develop a design language that fused her melting-pot influences and challenged the lavish Ottoman accents that still dominate much of the Arab world. "I brought my Japanese aesthetic and applied it to the craft of this part of the world," she says. "I call it neo-Arabian."
For the renovation the first task was to work on the transition from the turquoise-tiled entrance room which leads to the Grand Hall in which dignitaries arrive, after a walk through a courtyard filled with a long, rectangular fountain. "The entrance gives you a feeling of what comes next," she says. So she decided on a similar blue-green palette for the hall, a calming colour for decision-making and a shade that is used widely in the Arab world. It appears in various shades, from the carpeting and an inner circle of chairs designed by Italian leather specialist Poltrona Frau to the desk mats. Debs also points out that it's loosely connected to the Arab League flag.
In much of North Africa and the Middle East, Islamic art and design forbids the representation of figures, with heavy symbolism instead attached to repeating geometric shapes. It's something you can see in intricate detailing everywhere from Granada's Alhambra palace to Cairo's 14th-century Sultan Hassan mosque. Debs noticed that on the hall's oak-veneer-panelled walls there were repeating octagonal shapes (often used to represent the eight angels that carried Allah's throne to the heavens). Looking more closely, she noticed that each octagon was subdivided into eight segments – stretched rhombuses. She had hit on the shape she would use to unify the entire project. "I used the rhombus as a basis for everything," she says. "It's dynamic, just like the Arab people."
Her shape of choice is constantly referenced in the upgrade work. It starts with a travertine centre circle around which all the desks are arranged. Out went the old geometrical pattern, which was inoffensive but unremarkable, and in came a bold and chunky set of rhombus- like shapes repeating themselves like hands on a clock around a central point. Then there are the walnut desks, with their contemporary jagged fronts, and the shapes of partial rhombuses traced by lines of mother-of-pearl that were created by Syrian craftsmen (that also feature a striking tin border). The carpet, which replaced the dated beige-and-black polka dot, features a series of angled rhombuses and the shape can also be seen in the ceiling structure.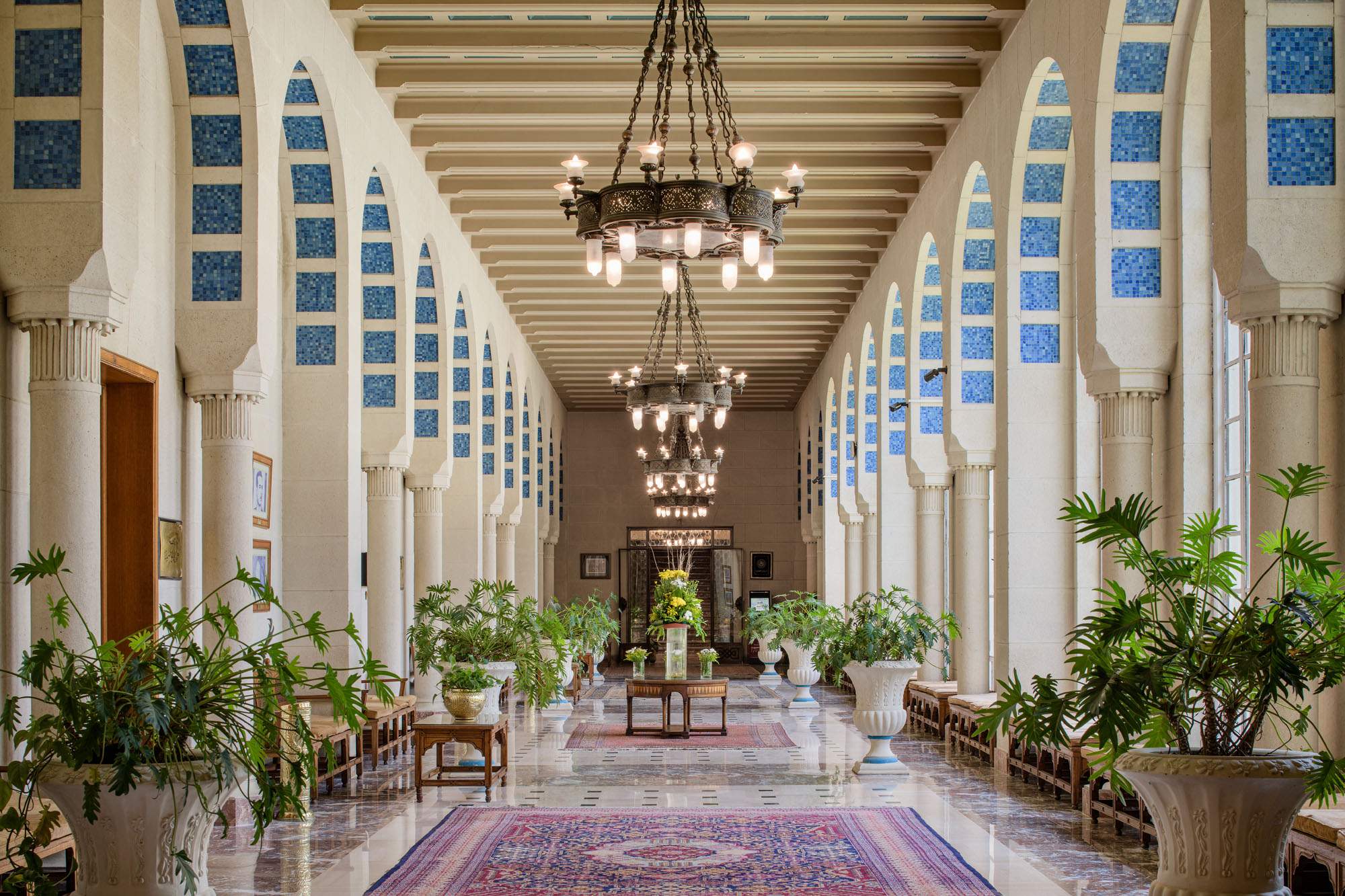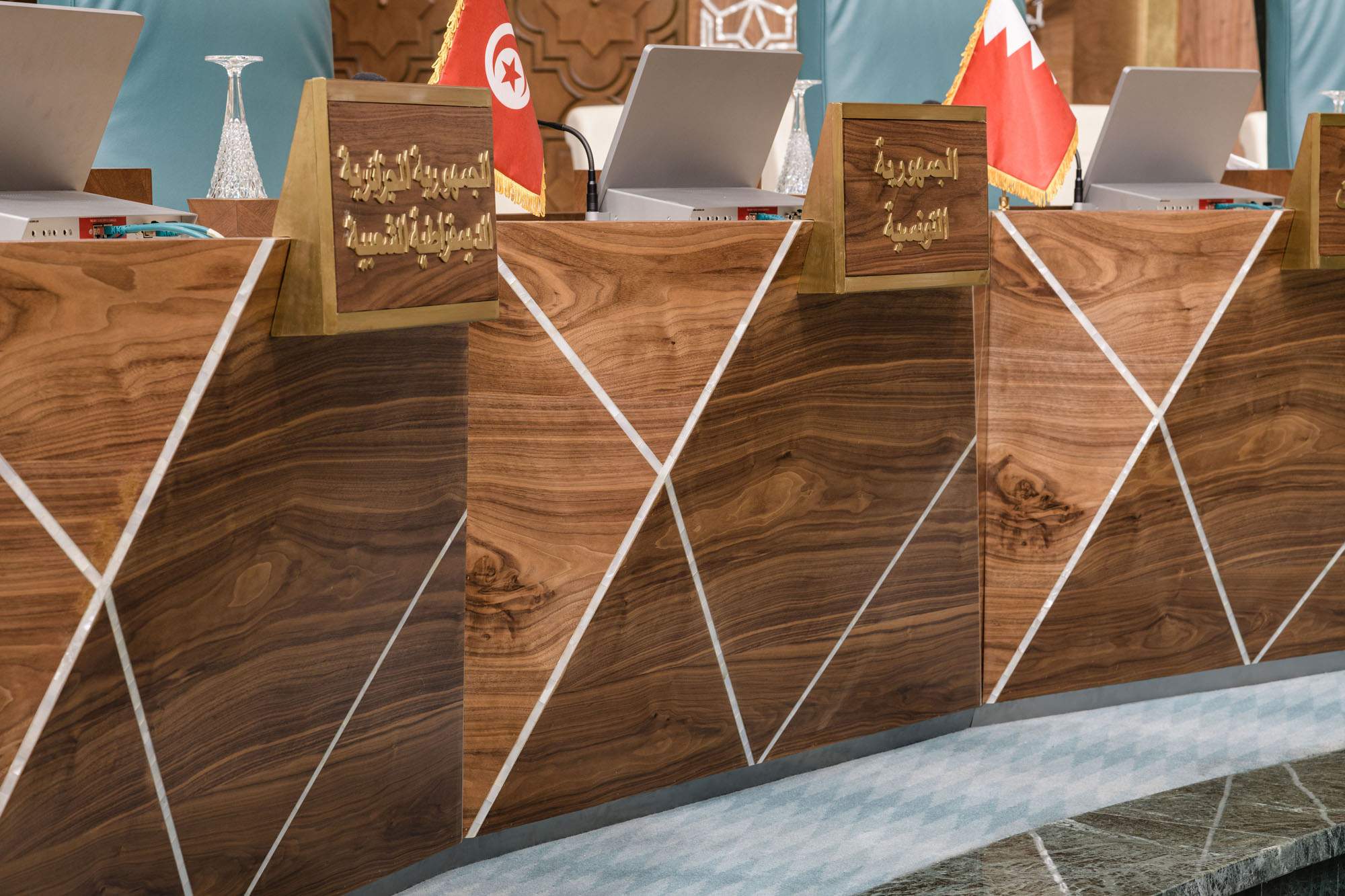 The new ceiling also gives an idea of the ambition of the project. Indeed, while there was a partial fix-up of the hall at the start of the 2000s, it had none of the scope of the recently completed work, according to the Arab League's assistant secretary-general, Hossam Zaki. "This project was much more daring than what happened before because there were structural changes," he says from a sofa just off the main hall. Everything from the air-conditioning to the audio equipment was renewed, while auditorium seating was rearranged.
Debs points to Hermès as inspiration for the work on this project and more broadly for her aspirations in the Middle East. Her process is one that chimes with that of the French brand, which is known for its focus on craft, heritage and pioneering new ideas for design. "Everybody tries to take shortcuts but when it comes to intricate work, I'd rather do it by hand," says Debs. Her work extends to two annexes that sit on either side of the hall and, although the walnut screens that cleverly diffract light and do away with curtains were made by time-saving cnc (automated machine cutting), there are plenty of examples of painstaking craft to be found here. Brass lamps on side tables have been hand-hammered, while the sofas that Debs designed are studded with mother-of-pearl buttons. In the hall, ashtrays (indoor smoking is not frowned upon in Egypt) and tissue holders have been handmade in Lebanon. The latter are made using a marquetry technique in which small individual pieces of wood are slotted into place.
Debs's interior design makes the point that less can be more and that artisan expertise – something she calls "injecting soul" – can speak louder than glitz and glint or overly filled rooms. "It's really challenging to be minimalist," says Ehab Mokhtar, an architect and managing director of Idia Design, based between Cairo and London, who also knows Debs. "You visit mosques and you can see the number of layers. To turn the Arab League Hall into something minimalist is really outstanding."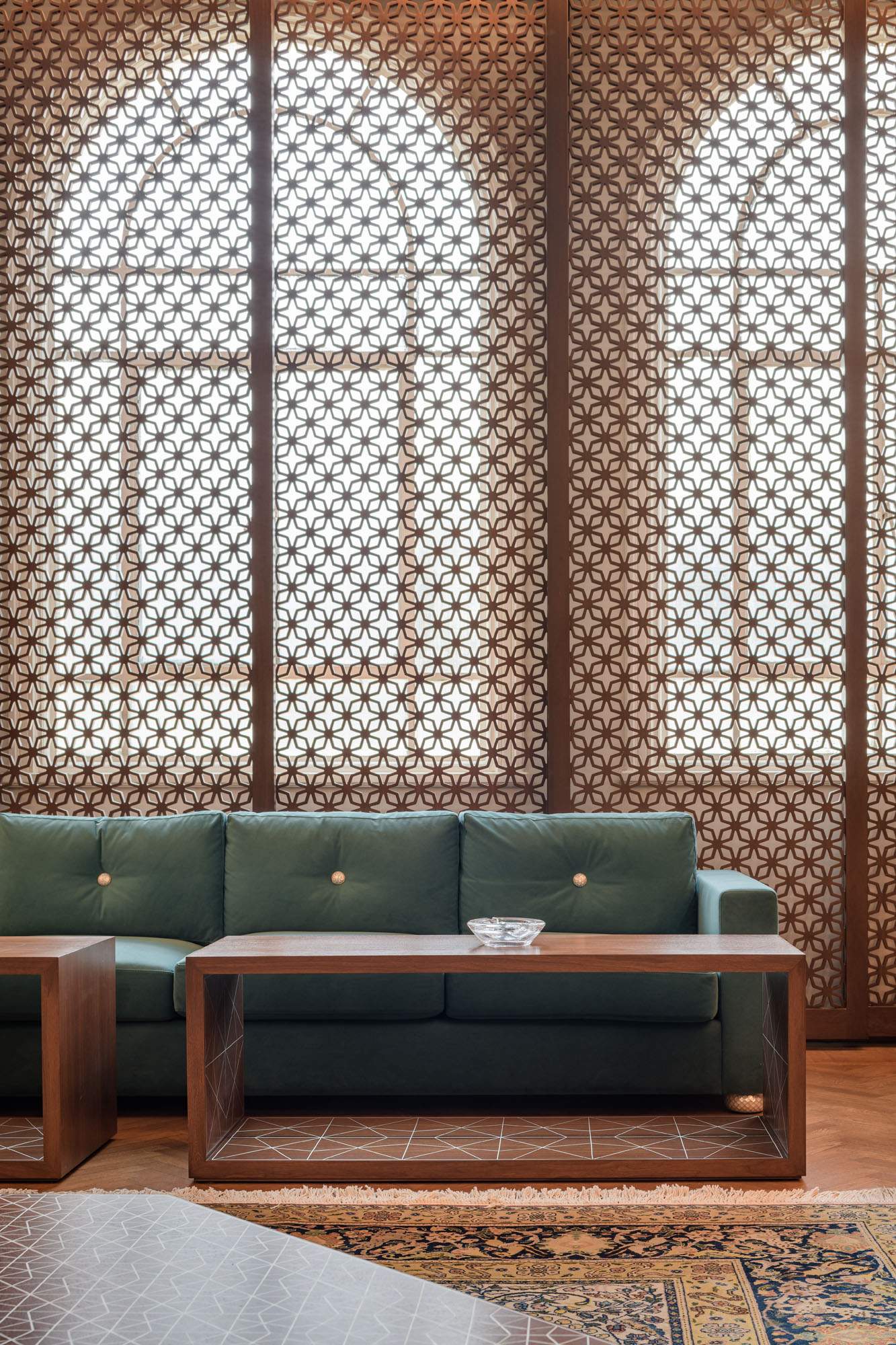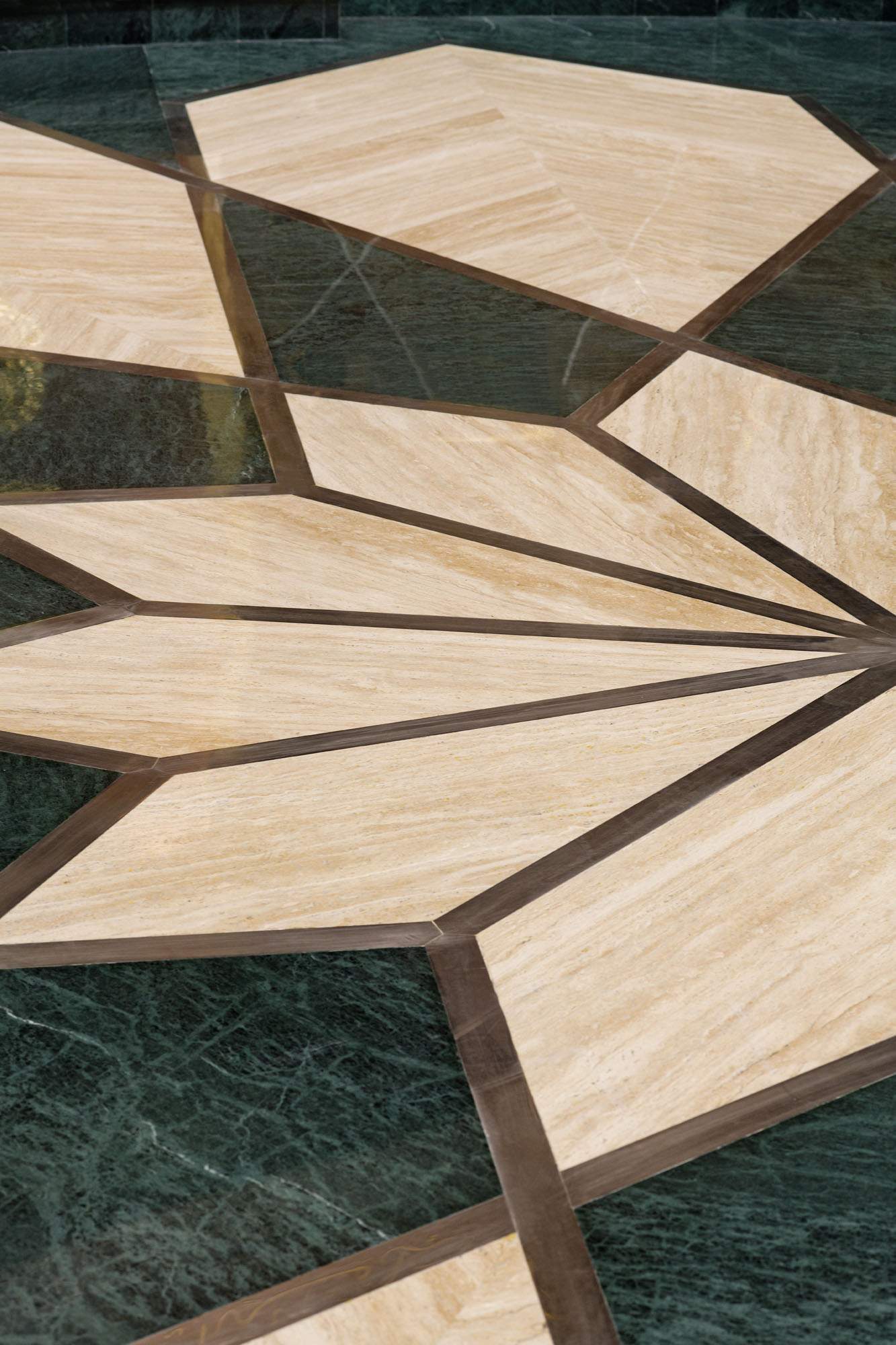 Exemplary, too, given that working on a project of this nature is inherently political and an exercise in diplomacy. The League, sometimes divided in the past, clearly wanted to project a bright future through the new hall. Ambassador Zaki points to the dominance of new white Poltrona Frau seating that Debs introduced for delegates and audience members. "It gives the impression of a well-lit, transparent hall," he says. "We needed to project an image of change. You cannot have change with your premises looking like they did years ago; you need to have an updated look."
Zaki had the ultimate sign-off for the renovation and, given the weight of the task at hand, the smallest of details could sometimes be an exercise in patience and people management. Introducing some of the new chairs had been "delicate", according to Debs, because the previous burgundy ones were only a few years old and had been a gift from Bahrain. Then Zaki, whom Debs describes as "classical", sometimes needed convincing about a detail (he won when it came to the shape of the desk glasses). Often Debs relied on the Arab League's Lobna Mazhar, a civil engineer and consultant who steered the project and, more often than not, has a thin Corset cigarette on the go. Debs calls her "my go-between", charged with taking requests to the top and helping to relay information to workers. "I was managing everything and explaining the details," says Mazhar.
"We needed to project an image of change. You cannot have change with your premises looking like they did years ago"
The biggest point of contention was the oak-veneer panelling lining the hall's walls, which Debs had wanted to replace to continue her rhombus theme. Both Zaki and the secretary-general were adamant that it would remain and there was a frantic plane trip to the uae to discuss, even though the project's funder remained resolutely neutral. In the end, the panels stayed but Debs also had a say: she was permitted to stain the wood a darker tone to create a consistent palette with the entrance doors and her walnut additions.
Come September, the Arab League is due to meet for its biannual council meeting. When it does, members will be surrounded by stone, wood and leather designed and positioned by Debs to impart gravitas and make their debates more fruitful. But the designer refuses to overthink the implications of foreign ministers and presidents pulling up those plush leather seats – even though it has clearly left an impression. "You should be very proud of the work you've done here," says assistant secretary-general Zaki as he says goodbye to Debs at the end of the day. He's not just a diplomat being diplomatic; he means every word.