Residence / Liguria
Hidden gem
The angled roof of this secluded Ligurian residence complements its wild surroundings and offers its owners a quiet coastal escape from the bustle of city life.
For centuries, the natural beauty of the Gulf of La Spezia, better known as the Bay of Poets, has drawn a creative cast of travellers from Dante to Lord Byron. Today the siren's call to this stretch of coastline at the eastern end of the Ligurian coast remains strong. Here, Cecilia Pirani, an Italian-Guatemalan landscape architect and founder of Milan-based fashion accessories line Palorosa, has found the perfect sanctuary in a modernist dwelling that respects its scenic surroundings.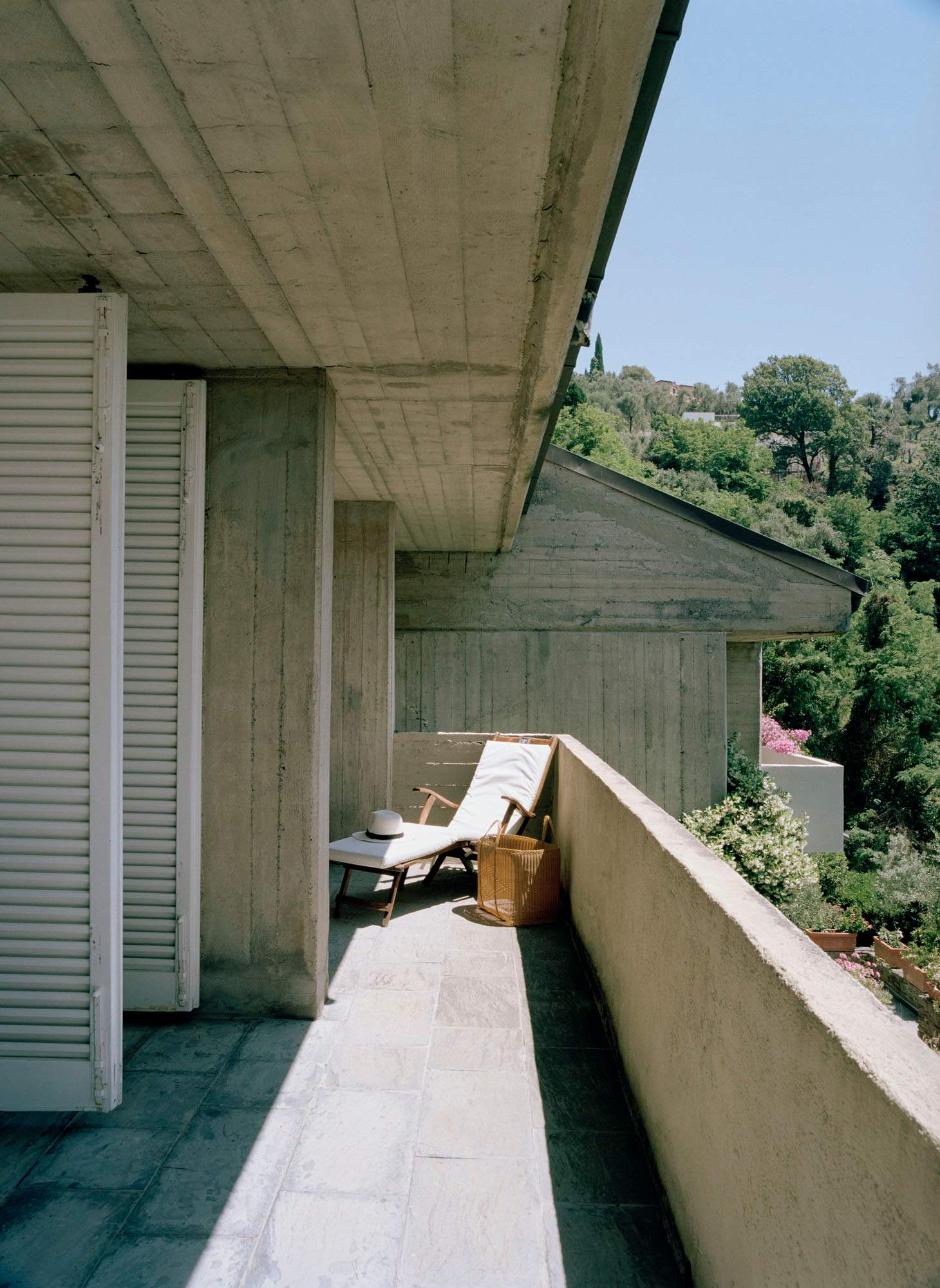 Liguria's sharply folded mountains are set next to a narrow shoreline, which makes construction in the region a challenge. Yet the rewards for those who find a patch of hilly terrain to build on are many, including mesmerising views and access to swimming spots that are far less crowded than the beach clubs of Forte dei Marmi in neighbouring Tuscany. "This corner of Liguria is not the Italian Riviera that people imagine; it offers more privacy," says Pirani, while taking in the afternoon sun on a vintage wooden deck chair originally used on a 1950s Italian ocean liner.
Her family's residence, a 1970s structure, is one of four side-by-side housing units designed by architects Vittorio Borachia and Carlo Santi with seclusion in mind. Though situated in close proximity, the design called for the individual residences to be slightly offset from each other to maximise each owner's views. To minimise the visual impact, each home is built into the sloped terrain over multiple levels and has an angled roof in slate that reduces the profile of the dwelling against the natural backdrop.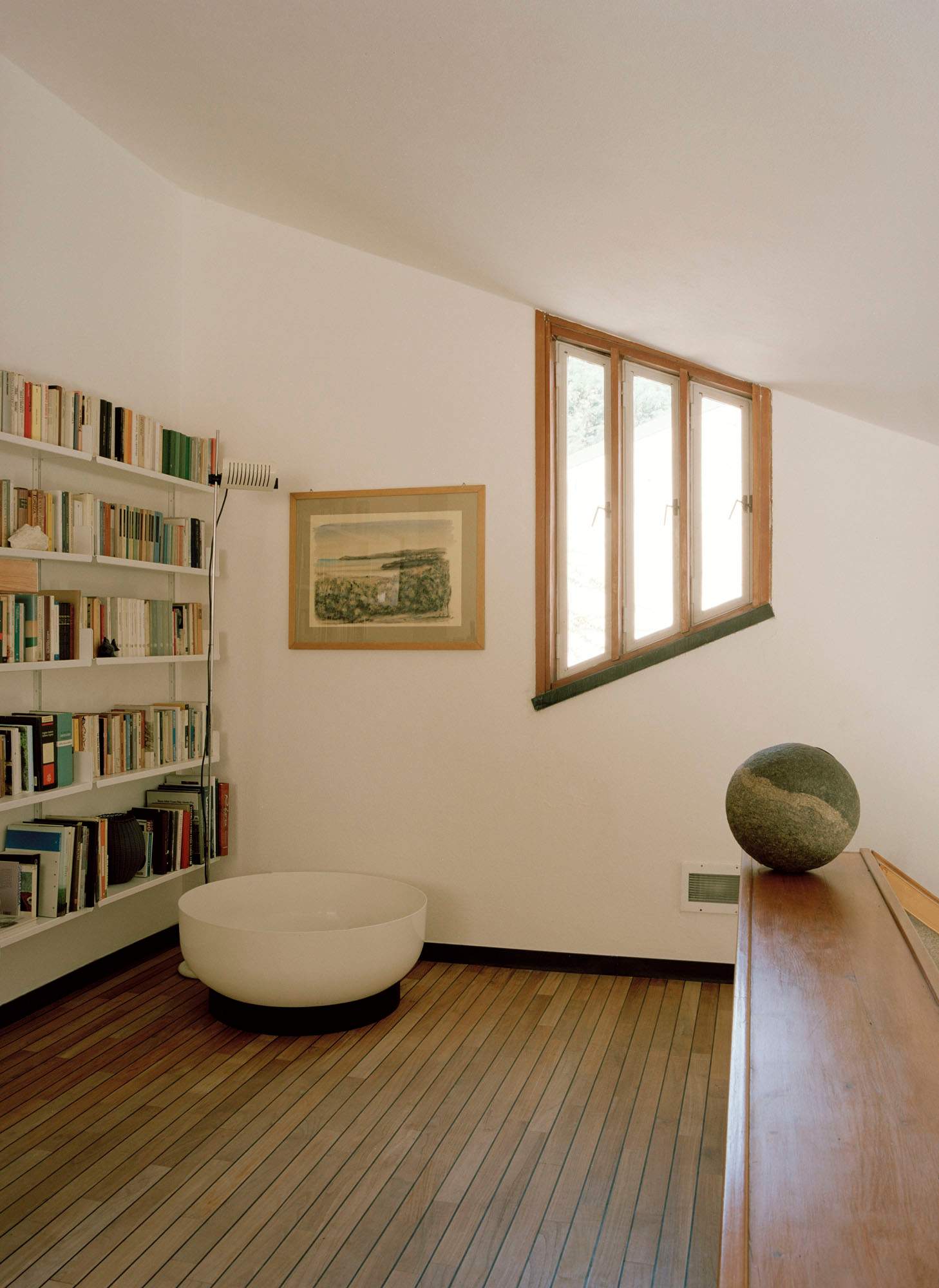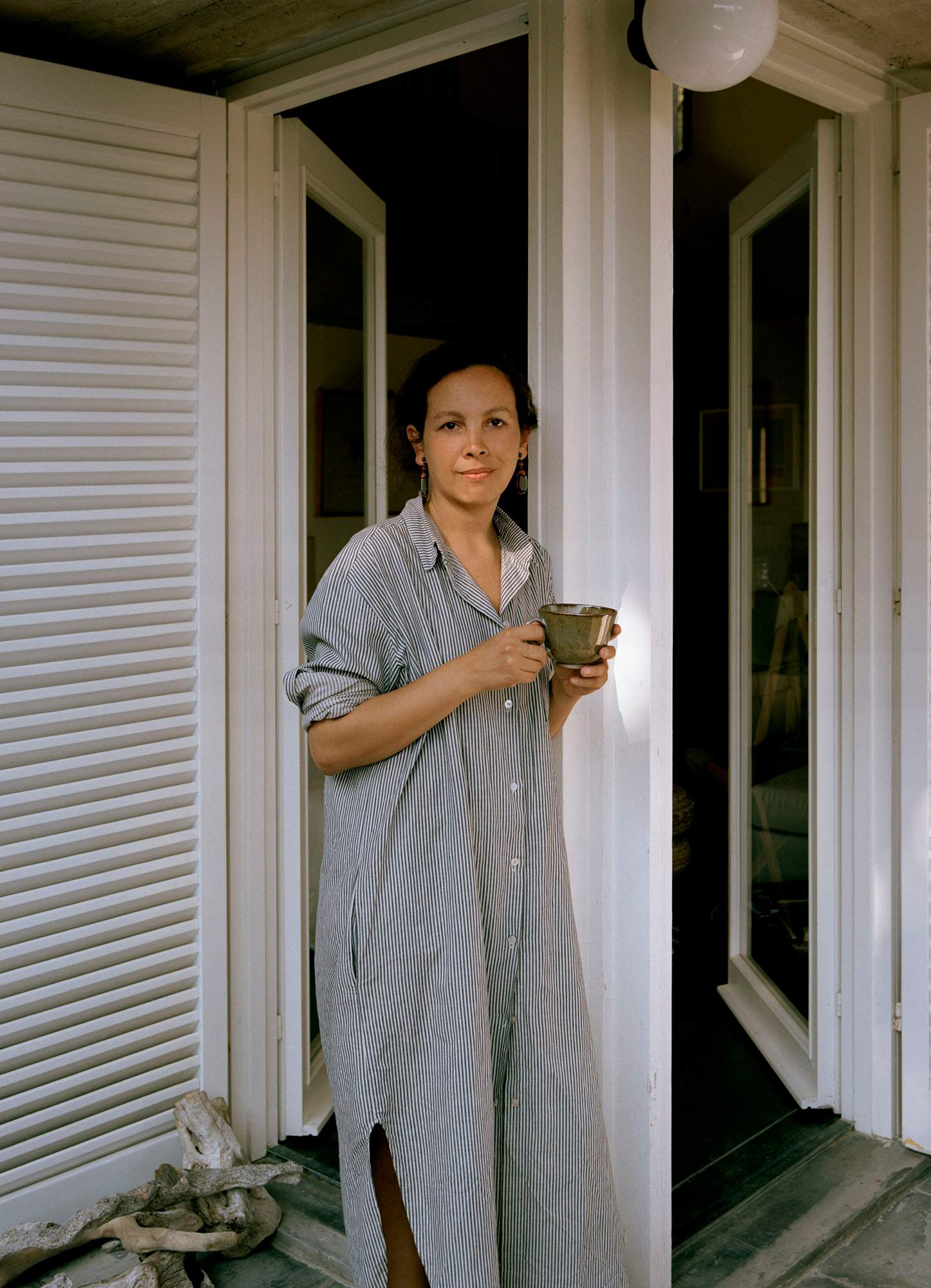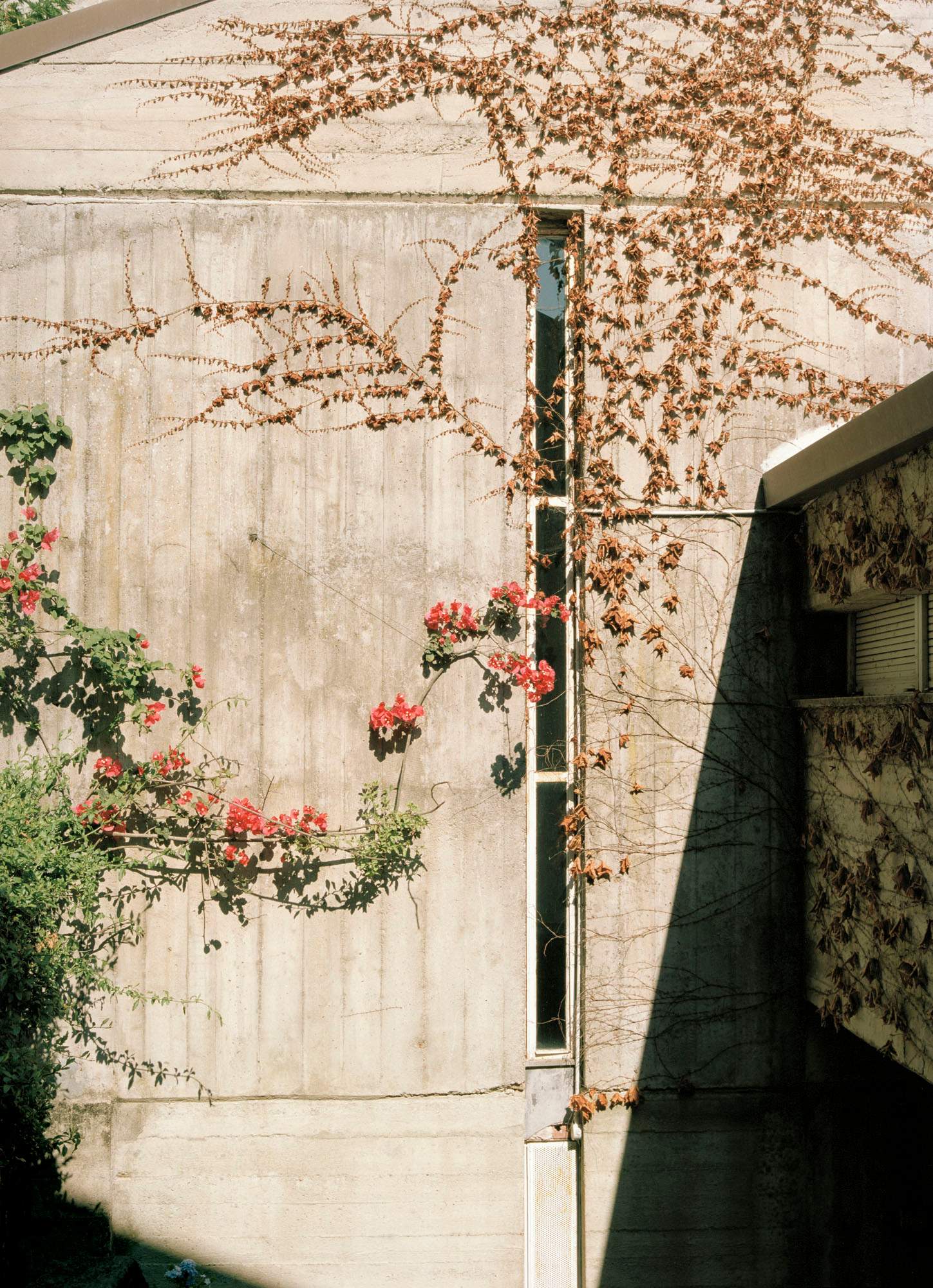 The project's striking use of bare concrete might seem an odd choice amid vegetation dominated by pines and holm oaks. But Pirani says that you need to wait until you get up close to her home to properly appreciate it. "What I love is that this concrete doesn't have that cold, off-putting feel to it that you see in brutalist architecture," she says. "Here there is a warmth, a patina of imperfect surfaces that begin to remind you of the earth and ageing wood."
Nature has also held its ground over the years, as seen by the bougainvillaea and other plants that have climbed the façades of the homes. Pirani's residence was designed over three floors, with the middle level hosting both the kitchen and the dining and living area. The latter opens onto a balcony and terrace via large wooden door blinds, letting in ample natural light. "For me, the beauty is having this one big interior and exterior living space so that you don't feel disconnected from the outside," says Pirani.
"The architects have managed to make the space feel immersed in nature and not on top of it. The Ligurian coastline is very rugged, and the concrete reflects that"
Alfresco meals are enjoyed on a long De Padova wooden table, where Pirani often sits and draws inspiration for her line of sturdy, sustainably produced tote bags for Palorosa. Work breaks see her descend a windy path, usually with a towel and a new tote model in tow, to take a dip at a private beach set on a quiet cove.
In winter, she prefers to work indoors in her La Tripolina chair from Milan's Eligo. Or sometimes on one of her Enzo Mari chairs at the dining room table, which is lit by an Achille Castiglioni-designed Frisbi suspension lamp from Flos. To allow in extra daylight and break up the monotonous concrete exterior, all homes here feature vertical window slits that are scattered about the façade. The front doors are also clad in wooden strips and glass. "The architects have managed to make the space feel immersed in nature and not on top of it," she says. "They used a mix of materials and have created a space that is in tune with the site. The Ligurian coastline is very rugged, and the concrete reflects that."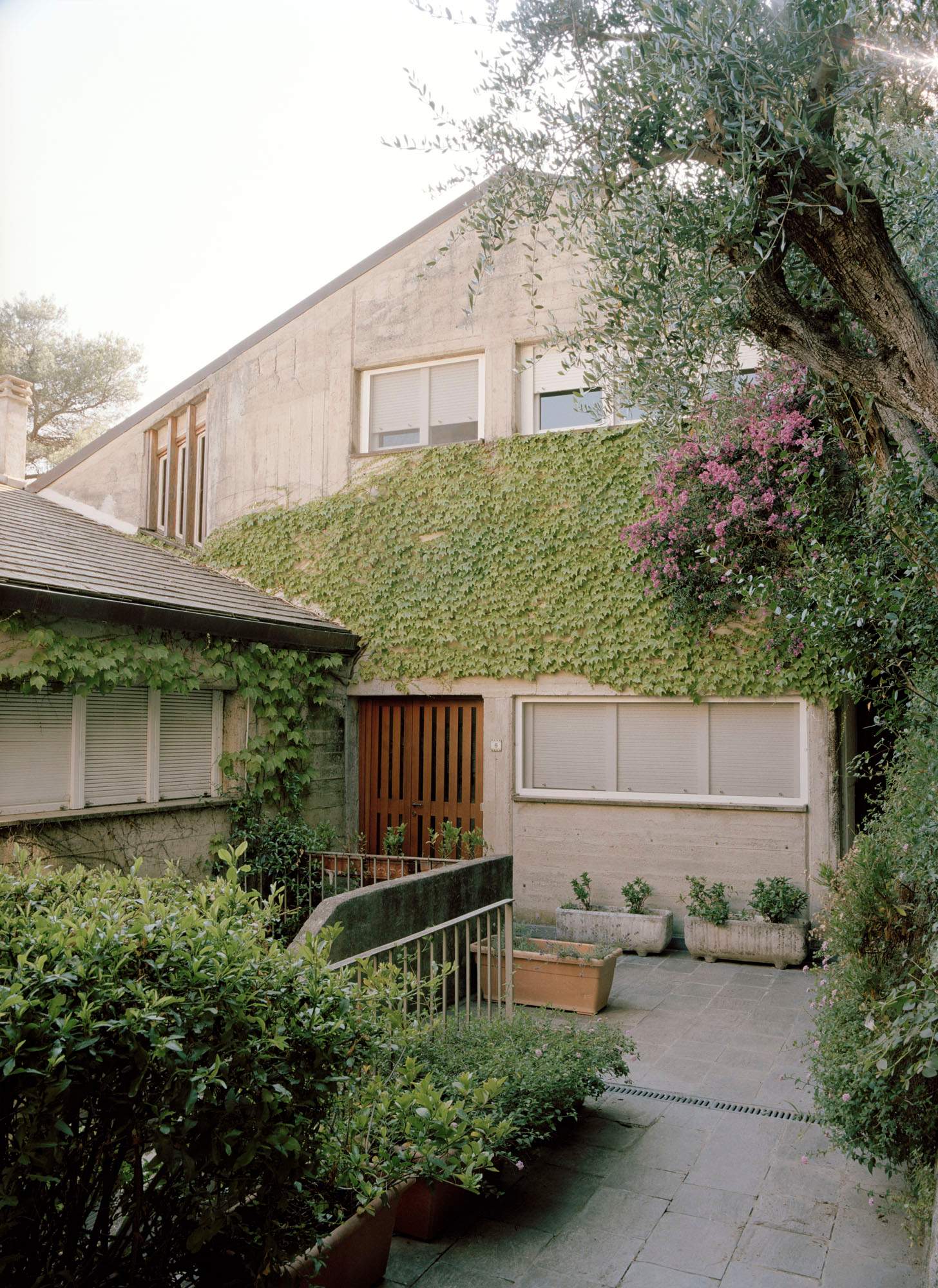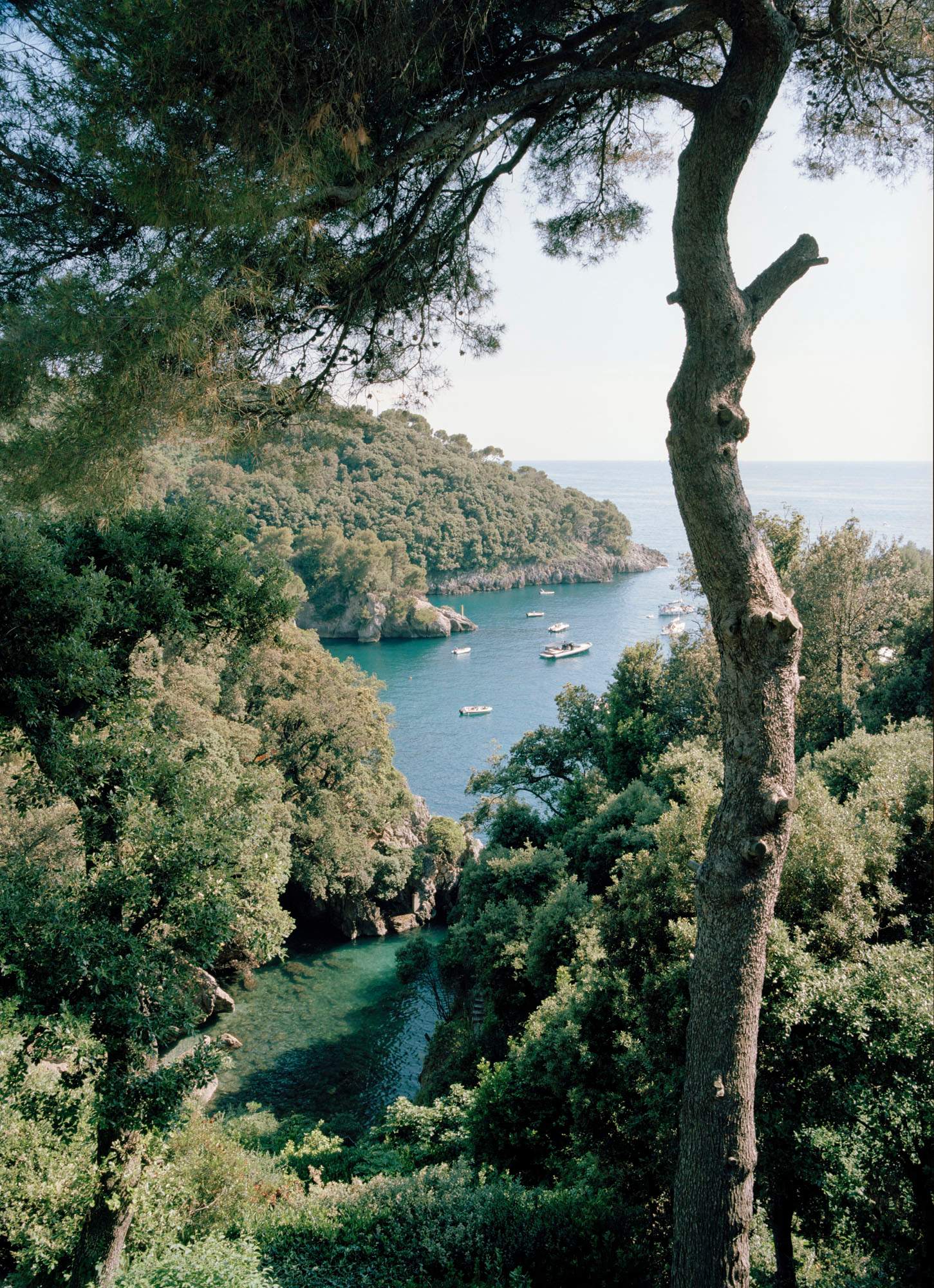 Pirani spends most of her time in the living room, where the original carpet has been removed and replaced with a dark grey stone flooring. Upstairs bedrooms are accessed via a staircase with handrails made from gorgeous Swedish pine. At the top of the black slate stairs stands a white, minimalist Dieter Rams-designed De Padova 606 bookcase.
The landing also features a geometric window below the slanted ceiling. "The game between the vertical and the horizontal elements is intriguing: you have balconies on different levels, the wide eaves set low over the façade," says Pirani, pointing to nearby construction sites that look set to become holiday villas, eager to call attention to themselves. "The architecture here has created a dialogue with nature. It has integrated itself into the landscape."