Entrepreneurs / Global
Make your mark
We've had plenty of time to take stock of our lives recently. Maybe you've always longed to open a bookshop or thought that your flair for interior design could be put to wider use than your own home. But taking that first step can be daunting. For inspiration, reassurance and invaluable advice from business owners large and small, look no further than this extract from 'The Monocle Book of Entrepreneurs'. It's time to stop dreaming and start doing.
Have you ever wondered what life might be like if you jacked in the day-job and started something on your own terms? You're not alone. It's exactly this entrepreneurial itch that lead our team to create our newest handbook on the world of business. The Monocle Book of Entrepreneurs is published in September, and distributed by Thames & Hudson, and charts the journey of 100 ventures with credibility, charm and something to teach the world. We benchmark the businesses making meaningful changes for themselves, their staff and their customers (not "disruptors" or boring bedroom billionaires doing incomprehensible things on back-lit screens). On that note not all businesses need to shake the stock market or be flipped every five minutes. There's another value entirely in opening a long- dreamed-of b&b in the Alps or an eco-conscious fashion brand in a city where you can see the sea. What about building a brand you'd be proud to pass on to your children?
So whether you're starting something modest or massive – to make things better, help revive a town or just nail a niche – you have a simple decision to take. How should you balance your work and life? Profits and purpose? We can help. As a sneak peek between the covers of The Monocle Book of Entrepreneurs, here are seven case studies to help inspire, inform and maybe even nudge you in to taking the next step. Remember, you can decide what success looks like. 
---
X Shore
Stockholm
The serial innovator making waves in the boating world.
Founded: 2016
Employees: 60
Initial capital: €8.3m
Konrad Bergström is well acquainted with the highs and lows of being a business owner. He had huge success early in his career with a clothing distribution business, but the company folded and for a time Bergström was even sleeping in his car. Being the seasoned entrepreneur that he is, however, he dusted himself off and went on to enjoy further success producing headphones and speakers. His most recent venture is X Shore, an electric boat company launched in 2016. "When I throw the dice, I go all in," says Bergström. "I think you need that kind of mentality to succeed with innovative projects." The company makes fully modular pleasure craft equipped with electric motors that make for a quieter and more relaxed onboard experience, as well as lessening the harmful impact that motorboats can have on their surroundings. "For me, it was important to provide a way for people to get out on the water without the noise and fumes that usually disturb wildlife and marine life."
Q&A with Konrad Bergström
How did you secure funding?
I sold my old company. At that point, I could have probably kicked back and gone surfing but I've always felt the responsibility to be part of a positive change.
What's the biggest challenge of your sector?
Driving the future of connected electric boats is always a challenge when you're the innovator, and not a follower, because everybody looks to us to set the standard.
How do you build your team?
I don't tend to employ people that I would choose to hang out with on Fridays. I want people who are very different to me, who can bring outside knowledge and something else to the table.
Vietcetera
Ho Chi Minh City
The expat entrepreneur who turned his curiosity into a business idea.
Founded: 2016
Employees: 85
Initial capital: €1.4m
Lifestyle-focused news site Vietcetera, published in both Vietnamese and English, is read by millions in a country where much of the media is state-controlled. "We are one of the few private media companies here and we happen to operate in a space where we need to be sensitive," says co-founder and CEO Hao Tran (pictured, on left). "But, given the kind of content we're creating, we're promoting Vietnam." Tran is an overseas Vietnamese or "Viet Kieu". Originally from San Francisco he came back to the country that his parents left because of the Vietnam War. "My motivation for starting Vietcetera was to better understand Vietnam," he says. "My interest in media grew from discovery and learning about the industry." Today the site has the country well covered: from where to eat to what brands to own. While only a tiny fraction of readers visit the English site, it is a key portal for international brands looking to understand and invest in the rapidly developing country.
Q&A with Hao Tran
What's the biggest challenge of your sector?
For the media industry at large, advertisers are still largely consumed by numbers, not the actual content.
What advice would you have given yourself at the beginning?
Listen to your customers. In our case, our readers and clients. Document as much feedback as possible and share with your team.
How long did it take to get from idea to reality?
Two years. The big milestone for us was adapting to the fact that we needed to be in Vietnamese, in addition to English. It was a difficult adjustment but necessary to bring the company up to the scale we enjoy today.
Type Books
Toronto
The collaborative Canadian bookshop where readers help to set the tone.
Founded: 2006
Employees: 13
From idea to reality: 1 year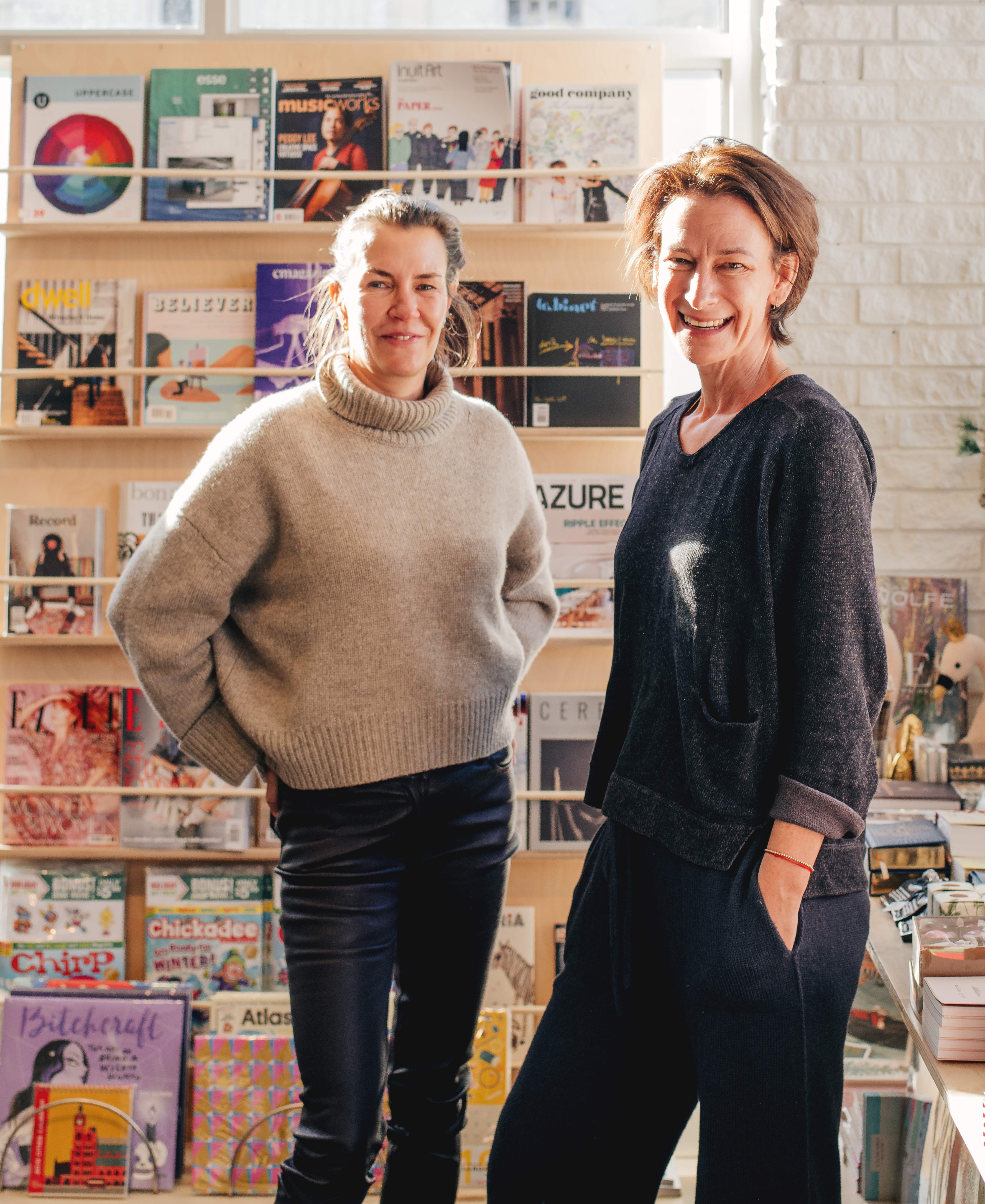 Joanne Saul and Samara Walbohm (both pictured, Saul on left) founded Type Books in 2006. "When we started, Amazon was on the rise and so was Indigo [Canada's largest book retailer]," says Saul. "Neighbourhood bookshops were disappearing." Now Type has three locations across the city and is one of the best-loved names within Toronto's rich constellation of independent sellers. "Our bookshops are a collaborative project," says Saul. "We have incredible staff who help us choose the books. But our selection is also influenced by the people who come in and talk to us." Literacy programmes for children, readings and signings, and exhibitions by local artists are also among Type's offerings. A recent innovation is the "mystery bag" of books, which costs ca$100 (€68) and is personally curated by one of Type's booksellers (the novelist Margaret Atwood is among those to have bought one). "In those bags we're able to do what we love, which is to put the right books in people's hands," says Saul.
Q&A with Jo Saul
What's the biggest challenge of your sector?
Margin, and not being able to control the prices – they are generally printed directly onto books.
How do you build your team?
I think our team builds us. Many of our hires are through contacts from our current staff or even customers.
How did you secure funding?
What we imagined ourselves doing was so against the prevailing wisdom at that time, that finding capital was impossible. In fact, many people thought we were crazy. Thankfully, we had some savings, and our families and friends were willing to take a risk and help us out.
Studio Astolfi
Lisbon
The visual merchandiser elegantly illuminating window displays.
Founded: 2007
Employees: 15
Became profitable after: Five years
There's no doubt that window displays are an art form, and one of the finest examples is Portugal's Studio Astolfi, which has carved an attractive niche for brands including Hèrmes. Studio Astolfi's work for the famed luxury goods purveyor has wowed the passersby of its shops in Portugal, Spain and France, where objects and spaces take customers through an experience. The woman behind the brand is architect and designer Joana Astolfi, who founded the studio in 2007, combining her training with a passion for the visual arts and collecting second-hand objects. While she started solo by doing individual projects and collaborations, today the studio relies on a small staff comprising artists and architects, as well as an external team of woodcarvers, welders and glassmakers to turn her vision into reality – her imaginative commissions can take upwards of two months to come to completion. "Window displays are a sort of open-air gallery," says Astolfi.
Q&A with Joana Astolfi
What advice would you have given to yourself at the beginning?
To develop my business skills earlier. I'm a creative person but as the founder of the studio I need to be fully involved in the business side of things too. I now have a team that helps me but there were some early projects where we ended up making a loss because I didn't present more realistic fees.
How do you build your team?
I'm not interested in portfolios and CVs: instead I like to meet people. I want to find out what their passion is and why they love what they're doing. They don't need to know it all; in fact I like it when new team members grow while they work at the studio.
Stayfolio
Seoul
The side-hustle that grew into a serious revenue generator.
Founded: 2015
Employees: 40
Annual turnover: €15m
Stayfolio is a property-rental platform with a difference. The lettings website – a discerning apartment-rental service for design fans – was launched in 2015 by the founders of the Seoul-based architecture firm Z-Lab: Park Jung-hyun, Noh Kyung-rok and Lee Sang-muk (pictured, from left). It features the studio's growing portfolio of rental projects, spanning hanoks in Seoul to a farmhouse and caravan park on the southern island of Jeju. The architects redesign and renovate the properties, which are often second or unused homes, and then take charge of the marketing, management and even mood – each address has its own fragrance and music playlist. In return they take a share of the profits. "Our guests have money to spend but they don't just like luxury, they want originality and design too," says Noh. What began as a side hustle has now become a core part of the company. In fact Stayfolio has proved an effective billboard for the team's architectural talents, attracting new commissions for Z-Lab and fresh capital.
Q&A with Lee Sang-muk
What's the biggest challenge of your sector?
Finding new spaces. Many places look amazing in photos but are not great in reality. We are constantly challenging ourselves.
What does company culture mean to you?
We believe in positive thinking and rather than relying on individual performance, we value teamwork: we may go faster if we go alone, but we can go further if we do it together. We also value the process rather than the result.
What are the benefits of being based in Seoul?
It's a megacity with 10 million citizens. It is both traditional and modern and has magnificent potential.
This Is Us
Lagos
The creative duo championing the community alongside their own brand.
Founded: 2016
Employees: 12
From idea to reality: Four years
This Is Us takes "locally manufactured" to its limits. Based in Lagos, the clothing brand's boxy indigo-dyed uniform-wear isn't just "100 per cent Nigerian end-to-end", as husband-and-wife owners Oroma Cookey-Gam and Osione Itegboje say. The brand started when the pair undertook a cross-country trip in search of materials. They ended up at the cotton farms of Funtua in Katsina State. Today, its cotton is grown, woven, dyed and sewn into clothing here. "We realised how much exists in our textile industry that's under the radar," says Cookey-Gam.
This Is Us also connects young makers with farmers and manufacturers. One business that has benefitted is the Kofar Mata dye pits: when the duo visited there was only one operating pit. This Is Us began dyeing its clothes there in a process unchanged in 500 years and now the facility is undergoing a resurgence. "We want to be in the middle of the talent, the resources, the craftsmanship. We want to create something for the industry."
Q&A with This Is Us co-founders
How did you come up with the idea?
I was trying to find locally made cotton and it was impossible. So we started researching and discovered an entire developed and underutilised cotton industry that was almost completely untapped. We decided that we wanted to design and showcase Nigerian culture.
What advice would you have given yourself at the beginning?
We'd do it exactly the same way – but would be more appreciative of the time it takes to do things properly here.
What's the best thing about being your own boss?
Being able to plan our time and our work around our family.
Officine Universelle Buly
Paris
The historic brand that has been brought back to life.
Founded: 2014 (originally 1803)
Employees: 500
Initial capital: 1 year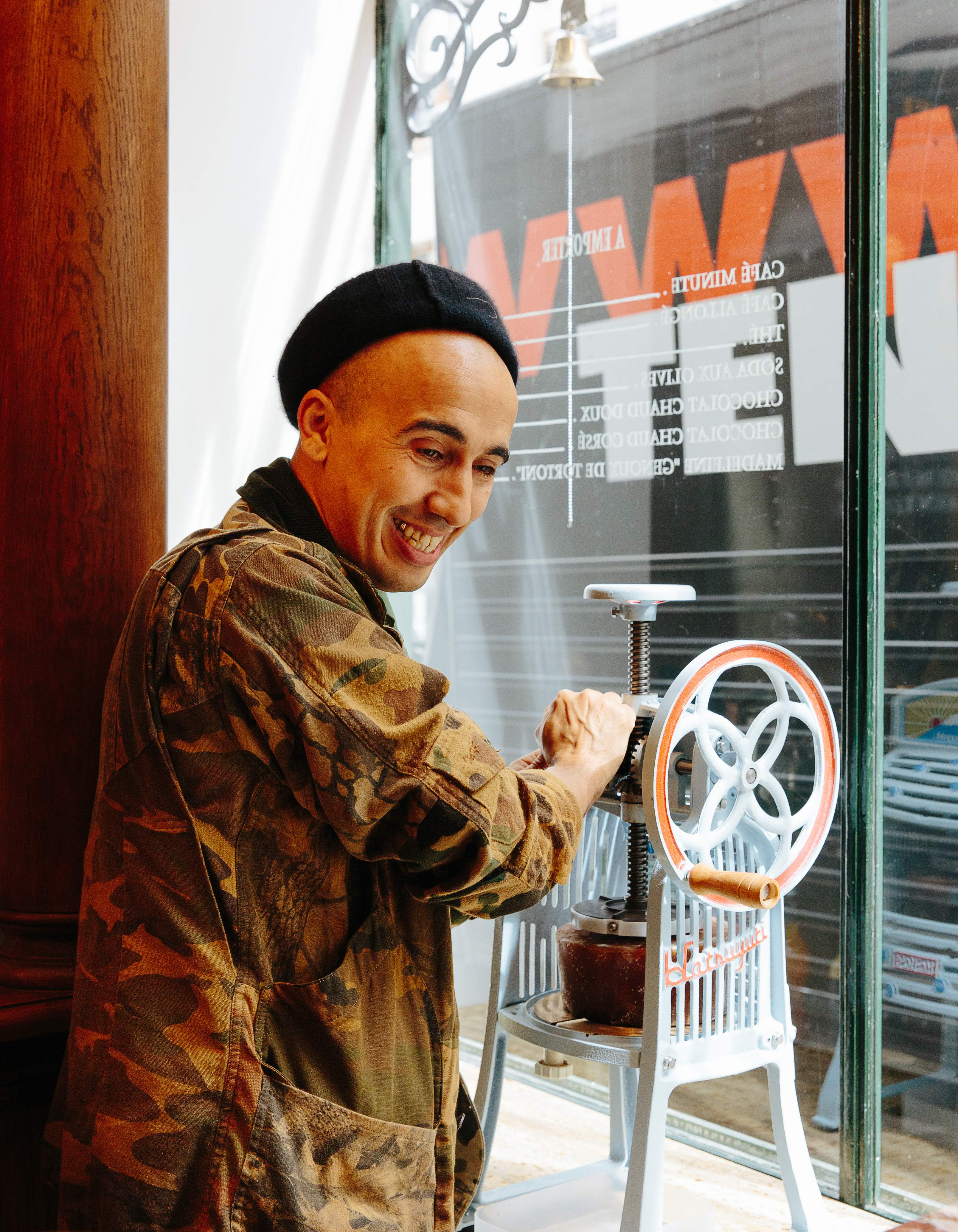 When it comes to breathing new life into heritage brands, Ramdane Touhami is a seasoned professional. In 2006 he revived French candlemakers Cire Trudon (originally established in 1643) along with his wife Victoire de Taillac, an endeavour that proved a global success. "After Cire Trudon, I wanted to move more into the perfume and cosmetics industry," says Touhami, who sold his stakes in the business in 2010.
The idea for Buly came to him while reading Honoré de Balzac's 1837 book César Birotteau, which tells the story of a French perfumer who lost his fortune. After discovering that the character was based on a historical figure called Jean-Pierre Bully, Touhami and De Taillac acquired the name and launched Officine Universelle Buly. Today, Buly has shops in a number of countries and manufatures more than 900 products including alcohol-free scents and paraben-free cosmetics, all elegantly packaged in old-fashioned vials and jars.
Q&A with Ramdane Touhami
What advice would you have given yourself at the beginning?
Read contracts carefully. And if you're looking for investors, choose them wisely – think about whether you really need them.
What does company culture mean to you?
Everyone should be learning – me included.
How do you build your team?
When someone leaves my design studio, I let the team decide who they're going to hire. I put a lot of energy, however, into finding the right shop staff. You can have the nicest packaging and make the best product, but if your client is treated badly in the store everything is undone. They're the face of the brand.
How to put together the perfect pitch
the lesson: This is your chance to grab an investor's attention – show them that you are innovative and that your idea is going to make the world a better place in one way or another. Just don't ramble on. 
I lived in Silicon Valley for 10 years and became accustomed to seeing 10 entrepreneurs pitch the same idea in the same hour. I soon realised that storytelling is essential. As a former bbc journalist I know how to make people talk, gain their trust and tell their story but, from my experience, that is not always the case with entrepreneurs. To simplify your story into a five-minute pitch takes work and practice. The process is important but never forget what you want to achieve. Aim for fluency and keep these universal rules in mind:
1. Keep it short 
Don't wait five minutes to dive into it and don't beat around the bush. Take the first 10 seconds to grab your audience's attention.
2. Be clear and precise
Make every word count. You can paint pictures in your listener's mind to help them remember your idea.
3. Be authentic
You don't want to sound like a clone of yourself. People want to see the real person behind the venture.
4. Research your audience and know who you're addressing
Perhaps there is something that could help you forge a connection.
5. Test your pitch in front of a low-stakes audience such as a group of friends
Ask your audience to reformulate your pitch to see what they understood and took away from it. Practice will help you gain confidence and when the day comes for you to pitch your business to an investor, you'll be ready. I would recommend recording your pitch so that you can listen to yourself and make the necessary improvements.
6. Go with the flow – don't script it
You don't want your pitch to sound too rehearsed or robotic. It's like driving: when you first start learning you're so tense that everyone's afraid to sit next to you, but with some practice you relax and start holding conversations and doing all sorts of things that you probably shouldn't while driving. When you're pitching you should feel just as confident and relaxed.
7. Get the timing right
I always prefer to pitch on mid-week mornings. That's because people are catching up with their emails on Mondays and they're distracted by thinking about the upcoming weekend on Fridays.
8. Repetition is no bad thing
We've all watched politicians and how they tend to deliver their top three messages regardless of the questions they're asked. Figure out what you want to get out of the meeting and what three messages you want to get across. Make sure your top messages are conveyed and repeated so that they sink in.

---
About the writer: Perruchet is an international marketing and communications director who has worked with Netflix, LinkedIn and Adidas. 
---
the lesson: A company's brand identity should bring its founding values to life – and draw in a few customers too. Don't forget to have fun too.
Research
Look at the market, visit similar operations and sample the competition. Keep a record of the elements that you like: it will help to explain your ideal positioning to any prospective design team.
Pick a good agency
It is important to have faith in the team that you entrust to design your brand. They are the experts, so it is important to listen to their advice. However, don't allow them to go off point and create work that satisfies only their taste. If it doesn't feel right, it probably isn't.
Go beyond the logo
Designers often refer to the logo, colour palette, business card and letterhead as the basic elements but you don't want to be left with just these. Extra printed material and branded pieces can convey much more.
Application
How you colour, print and position your brand is key. A beautiful logo that is too small or disappears two clicks into your website won't make an impression. Make sure that your brand's palette is as colourful as you want and logos and patterns are suitably scaled. Think in terms of volume: some things need to be quieter, others you may need to turn up.
Further development
Think big. Things that seem unlikely at the outset may quickly come into play. Your logo may have to be scaled up to live on the side of a delivery van. Test it to see if it works.
Maintenance
Have simple guidelines in place as to how your brand is handled. Regular checks should ensure that the appearance stays true to the original design.
---
About the writer: Powell is monocle's creative director. He has branded not only the magazine (and this book) but also our retail division.
---
The eight golden rules of customer service
the lesson: No matter what you do, most jobs are in some sense customer facing. Getting it right is partly about brand building but it's also about telling your story and making the right impression.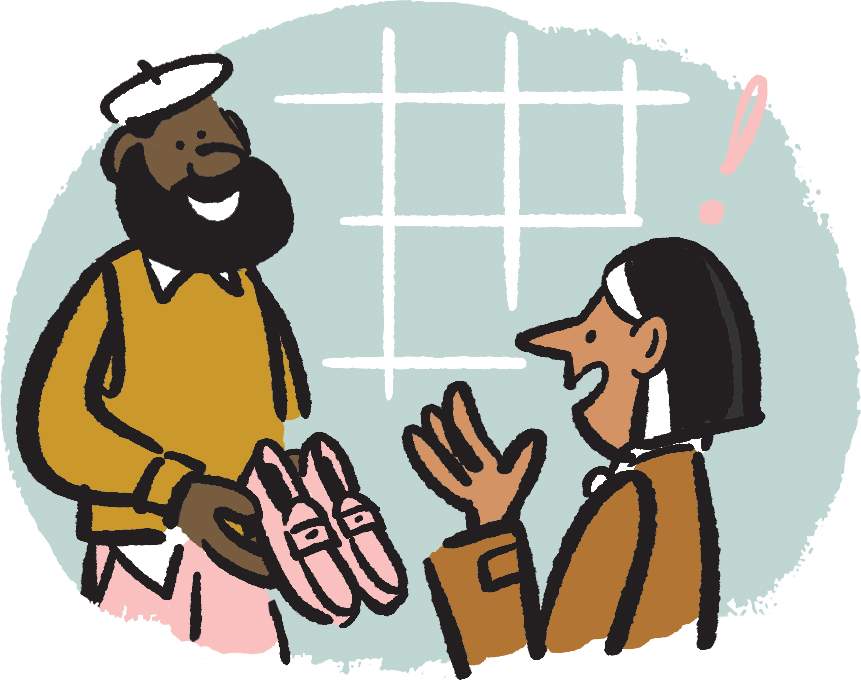 Curb your enthusiasm
Customer service is about putting people at ease, not bowling them over with your bounteous knowledge. If in doubt, err on the side of formal. Start off with eye contact and a handshake before you go in for bear hugs and high fives (if ever).
Presentation matters
In person, this means dressing the part – ideally in an outfit that can transition from boardroom to boarding lounge, retail floor to work drinks. A well-cut uniform works for shop staff and a Boglioli blazer and Alden brogues for the cmo.
The customer is sometimes wrong
Don't be afraid to stand up to unreasonable demands and rudeness. Be firm and fair when confronted with red-faced rabble rousers who are getting angry over something beyond your control.
Hire judiciously
Seek out people who buy into your brand and go beyond what's expected of them. If you wouldn't fancy going for lunch with them there's a good chance your customers won't take to them either.
Reward loyalty
If you've got them – keep them. There's no substitute for a band of truly happy, committed staff. Conversely, vexed employees will make customers feel uneasy and are less likely to go that extra mile.
Lead by example
It's difficult to expect your staff to be fair, courteous, punctual and upbeat when their boss hits the roof at the slightest provocation. Every hire should feel valued, listened to and rewarded – they will likely apply these values to their customer service. There's nothing more compelling than an inspiring leader.
Don't be afraid to sell
While people need space to reflect and ponder, aloof nonchalance can come across as rude. Encourage staff to open up and engage, and don't be afraid to remind them they're there to make money and meet margins. It's worth remembering that some customers want to be convinced.
Be social
Cultivate a loyal band of "supporters" with good conversation, coffee and a glass of something cold. Your clients should feel part of something. Of course, there's a balance to strike here too. If they haven't bought a button for months, perhaps it's time for a reminder that you're an enterprise not just a convivial hang-out.
---
About the writer: Grove is the editor of monocle's sister publication Konfekt
The Monocle Book of Entrepreneurs
---
 €40
---
Setting up your own business isn't easy – but it is exciting. Our final bit of advice is to take stock (not literally) and appreciate what you've achieved. There's always another board report to prep but you also need to enjoy life and seek new ideas. The Monocle Book of Entrepreneurs is out in September. Time to invest in a copy?
Available to buy from monocle.com/shop and all good bookstores from September.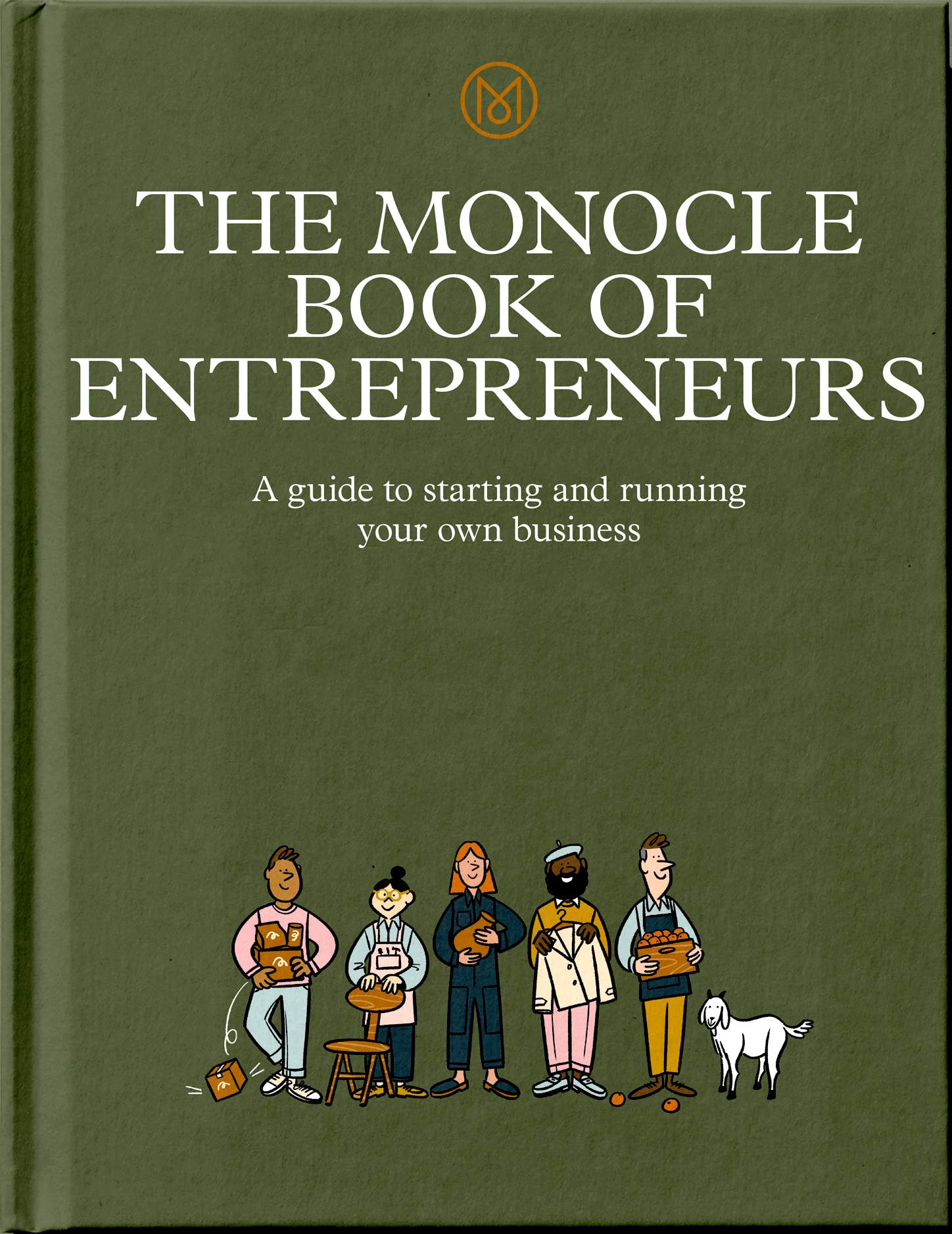 Photographer: Felix Odell, Loi Xuan Ly, Ian Patterson, Rodrigo Cardoso, Julie Mayfeng, Stephen Tayo, Alex Cretey-Systermans