Property / Global
Pillars of community
As property developers react to changes in how we want to live, many are breaking new ground with multi-use neighbourhood projects. We call in on the current schemes of three imaginative firms.
What makes a good property developer? It starts with knowing your community and its needs. It also takes the stubbornness to see tricky projects through to the end. "Most developers just love the business," says Marilee Utter, head of Citiventure Associates, a Denver-based real-estate advisory firm. "You'll make money if you're lucky but most developers have gone bankrupt a few times. They're addicted to it – they won't let go."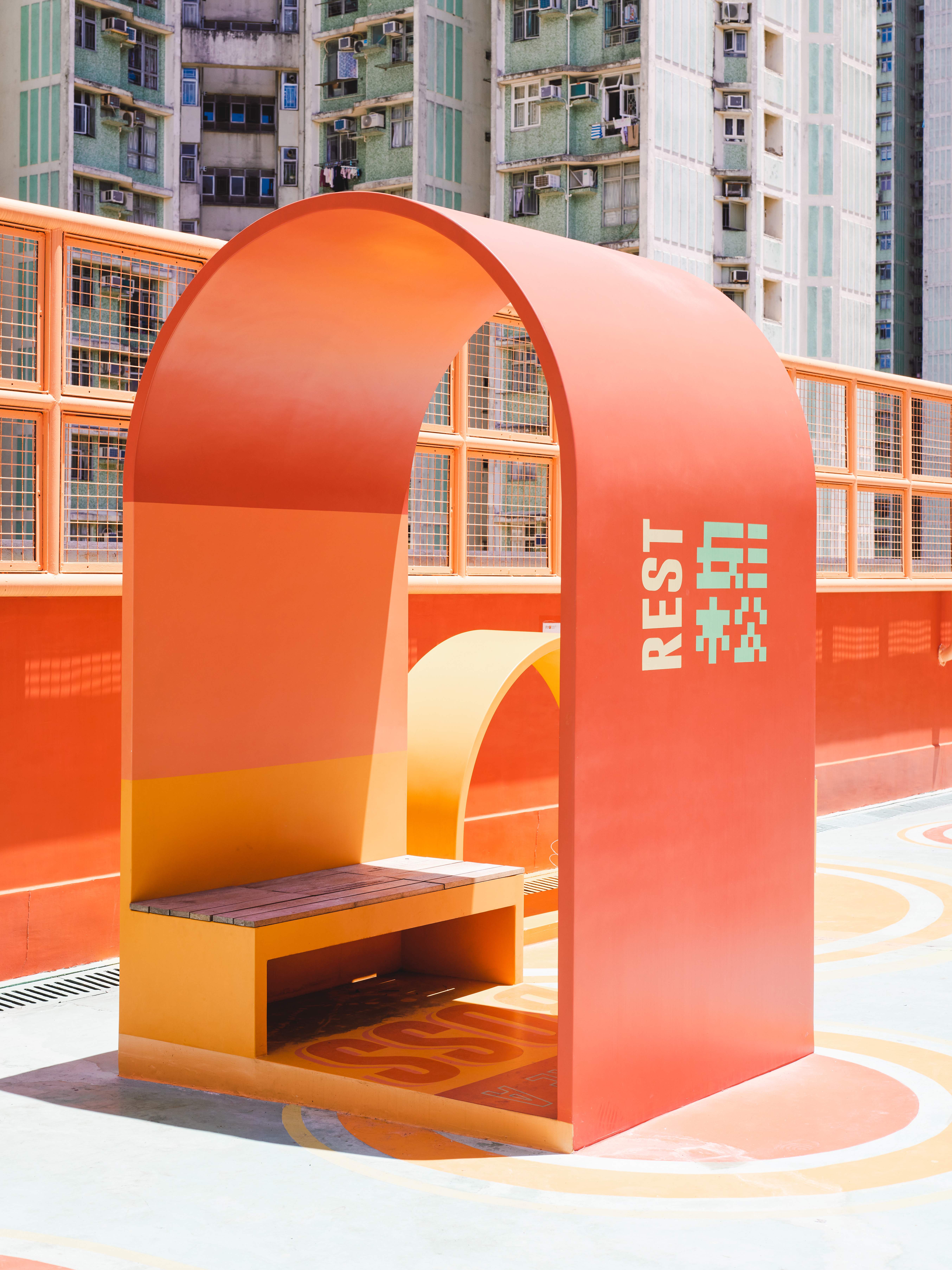 The past year, of course, has been a particular challenge. Just think about how your own view of where you want to live has changed. What do you look for in an apartment, a shop or an office? To meet our shifting needs, the buzzwords of the day include "adaptive reuse" – existing developments that can be repurposed – and "multi-use" complexes that can serve as a mixture of housing, retail and offices.
Utter, who is also vice-chair of the Counselors of Real Estate, a global organisation of property professionals, predicts that about 10 to 15 per cent of office space will be converted into residential property in the coming years, creating more buildings and neighbourhoods that offer everything in a small radius. "A fun part of developing mixed-use structures is creating an environment that feels like it's designed for that use," she says."That's what you'll be facing in cities." 
---
Revisiting the mall
People's Place, Hong Kong 
Mornings at the Kai Yip Shopping Centre in Hong Kong hum with activity. Kindergarten pupils walk hand in hand across the central square, while seniors chat on benches and examine the newspapers. Inside the newly renovated food market, customers select live fish and fresh vegetables, as several stallholders shout about their juicy peaches. After long-overdue improvement works, the shopping centre is back at the centre of daily life, providing retail necessities, essential services and a communal meeting spot for residents of the surrounding tower blocks.
Kai Yip is a public housing estate that was built by the colonial government in the 1980s on a former air-force base. It's one of the last places that you'd expect to find a bidding war involving Goldman Sachs, Blackstone and other giants of global finance. A group including private equity firm Gaw Capital Partners eventually acquired Kai Yip Shopping Centre in 2017. The deal formed part of a multibillion-dollar acquisition of 17 shopping centres; there are now 29 in its portfolio, from Siu Hei in the west of the city to Ming Tak in the east. All are in public housing estates across Hong Kong, and Gaw Capital Partners operates them under a separate brand called People's Place.
Company president Kenneth Gaw saw an opportunity to upgrade these unglamorous sites. "The making money part is simple," he says. "It's the same as any retail asset. You improve the surroundings and the service so that customers come in and spend more time. When they do, tenants make more money and can pay more rent." Alongside this "simple" commercial revival, Gaw's team of more than 50 at People's Place have been meeting with residents, ngos and district councillors before every renovation to find out what services, facilities and infrastructure to improve.
Basketball, Hong Kong's number one sport, is playing a big part and Kai Yip has been the testing ground. People's Place appointed One Bite Design Studio, a group of designers, and basketball fans to transform the shopping centre's neglected rooftop. This concept has been rolled out for other courts, including at Siu Hei Sportsground and Ming Tak Sports Court, and attracted global brands such as Nike and Red Bull. There's even a basketball league where teams from the housing estates compete, bringing young people to the shopping centres. More than half of the centres in the People's Place portfolio have been upgraded, with formerly half-empty properties now full of life. Occupancy rates average more than 90 per cent. It's a remarkable figure given the protests in Hong Kong and the pandemic. It could even provide some immunity against e-commerce; some of Hong Kong's leading online retailers have been entering these revived shopping centres as tenants.
Last year, People's Place registered single-digit growth against an overall drop of 25 per cent across the industry. "We substantially outperformed the rest of Hong Kong retail," says Gaw. "If you turn these shopping centres into a gathering place that's relevant to a community's daily life, how do you replace that?"
---
Inspiration begins at home
Newil & Bau, Helsinki
All too often, property developers put quantity over quality by offering cookie-cutter designs instead of adapting to the needs of diverse communities and neighbourhoods. It's an approach that inevitably leads to city blocks feeling too packed and lacking attractive and ambitious architecture. But Helsinki-based developer Newil & Bau is one of the firms that are now shifting gears. Launched in the summer of 2020, its philosophy is to put the quality of the built home at the forefront of its properties.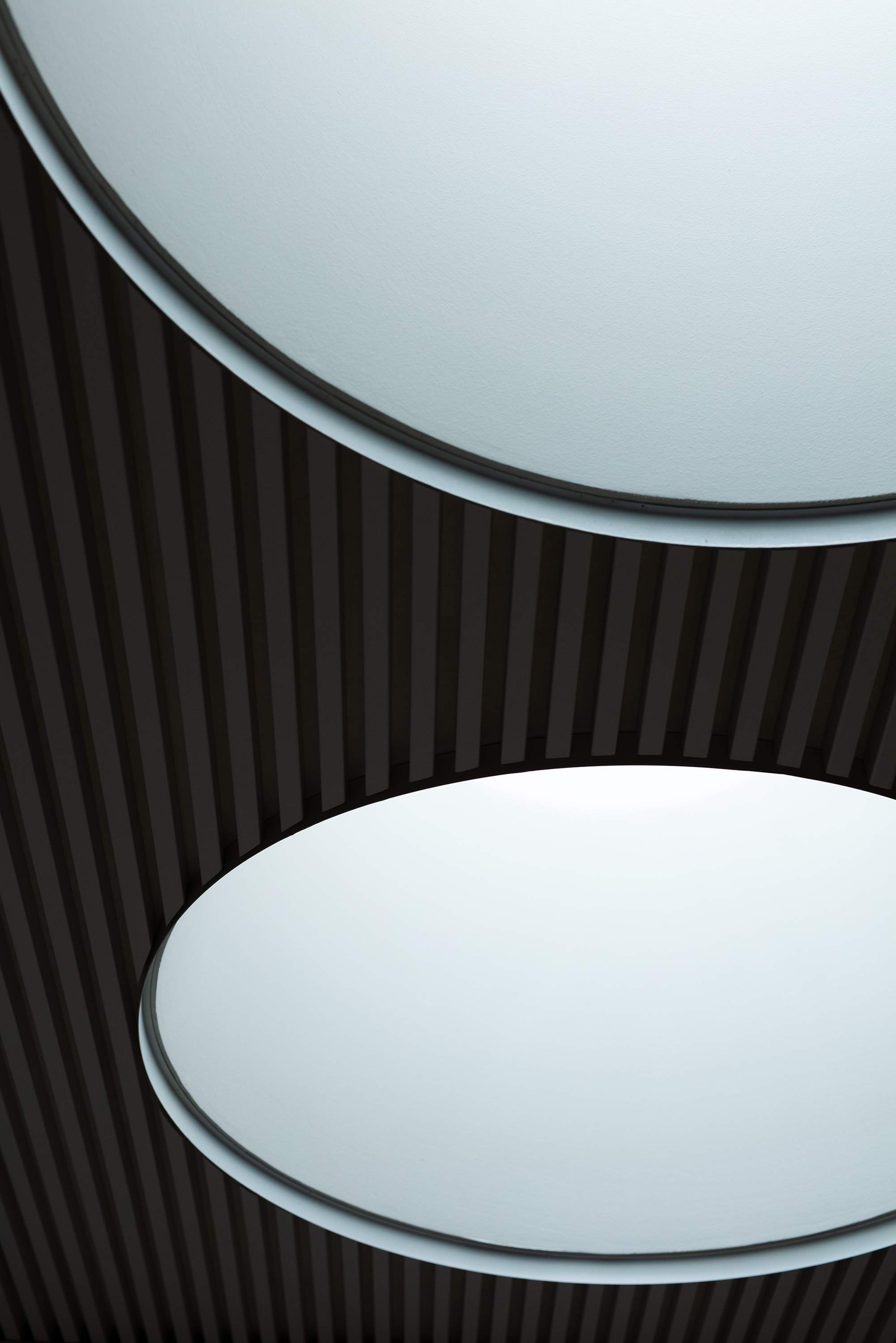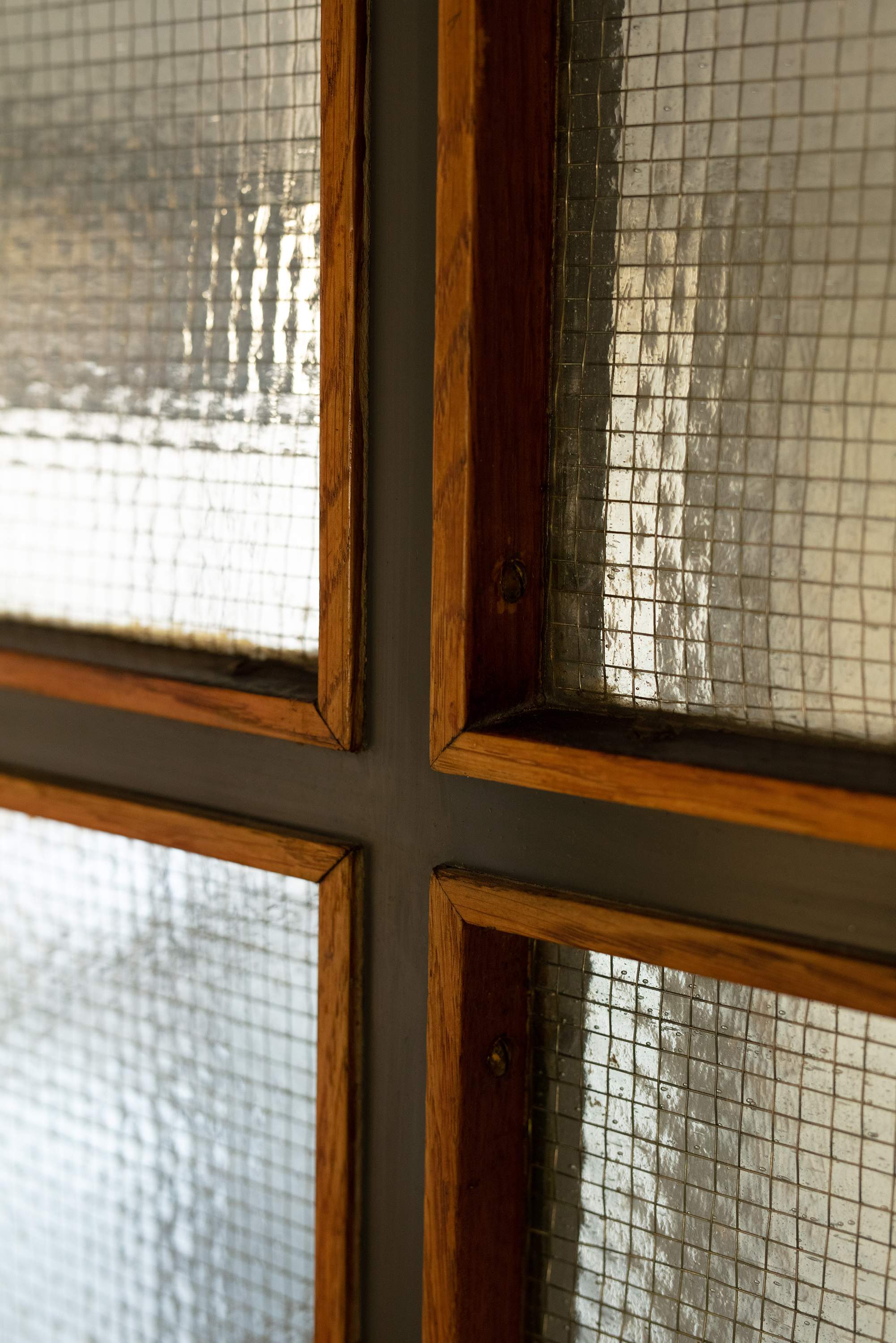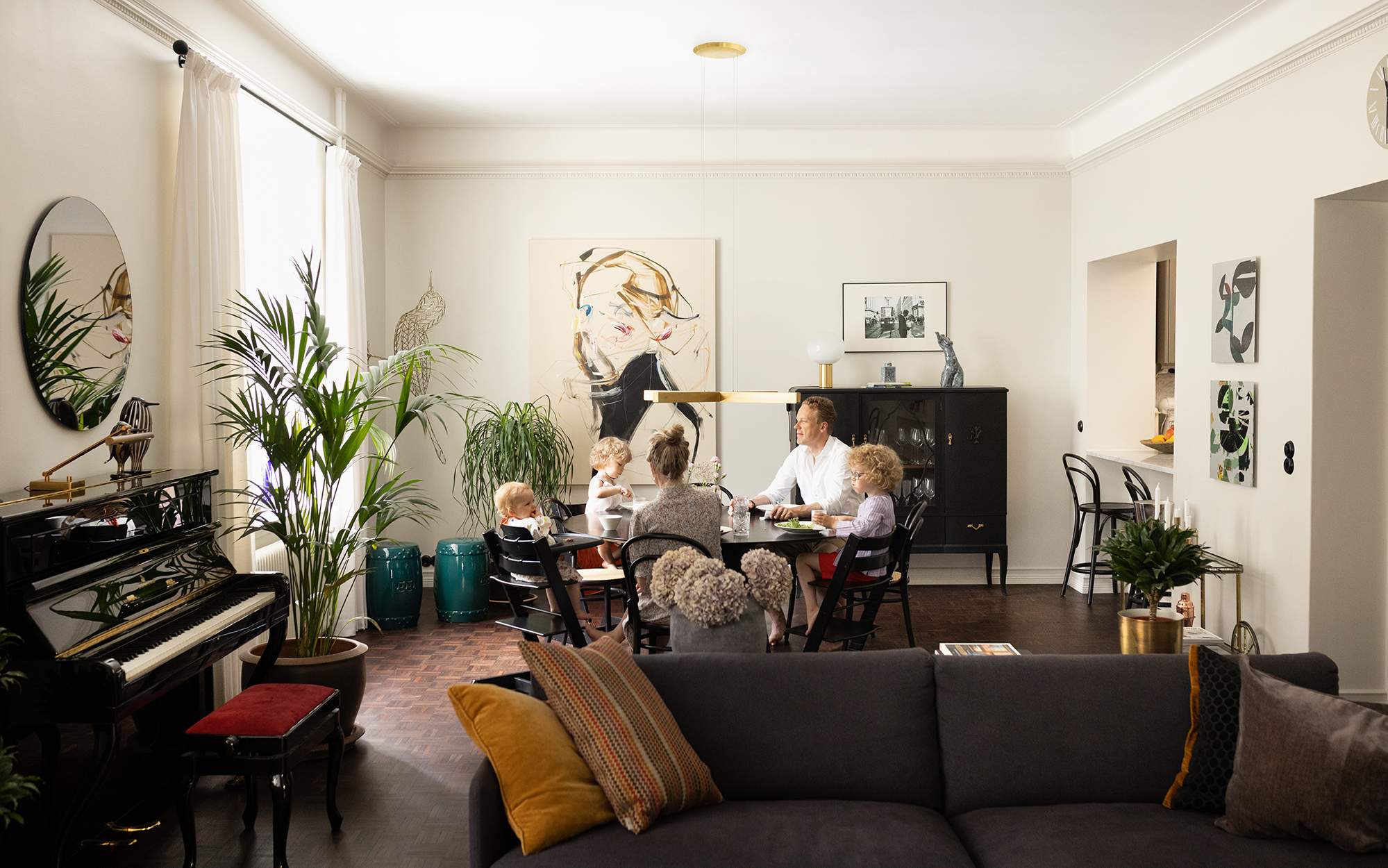 "We founded Newil & Bau because we felt that many property developers lacked ambition," Petri Ylivuori, the company's founder and ceo, tells monocle. "We work with leading architects and interior designers with the goal of building homes that fit into and respect the neighbourhood that they are in." This involves studying a building's surrounding area, its character and its history. It also means using intimate, non-intrusive lighting or natural light and emphasising high-quality natural materials such as wood and stone. Outside the home, good design practices are extended into the common areas, entrance halls and landscaping. "Our landscape architects integrate the buildings into their surroundings," says Ylivuori. "A sense of community is born from design choices that encourage people to come together, as well as from integrating common areas into our buildings."
With 230 housing units sold and another 350 in the pipeline, Newil & Bau has emerged as one of the leading property developers in the Finnish capital. Its builds are some of the most sought-after in a city that is currently undergoing a post-pandemic property boom. The company's renovated apartments in the Engineer House, designed in 1951 by renowned Finnish architect Alvar Aalto, sold out quickly. Tuomas Mäkelä is among the prospective owners and his renovated apartment is set to be completed early next year. "As lovers of art and design, we were drawn to this historic building," he says. "Newil & Bau has given it a new modern life and this combination of iconic architecture and modern high-quality design got us interested." Mäkelä, who runs Finnish property business Bo lkv, has worked with many of the country's major developers over the years. "What sets Newil & Bau apart from the others is its courageous and refreshing philosophy in an otherwise traditional industry," he says.
"A sense of community is born from design choices that encourage people to come together"
Another of its developments is Meander Töölö, comprising 117 units and slated to be completed in 2024. There are more than 1,500 applicants on its waiting list. "Newil & Bau has made lasting design and good architecture a priority," says Noah Yaffe from the US firm Steven Holl Architects, which designed Meander Töölö. "This is something rarely seen in development. As architects and developers, we need to challenge bland uniformity. Our philosophy is centred around a specificity in approach to design."
This is reflected in many of Meander Töölö's design choices. The wooden frame is covered in glazing, its wave-like shape is inspired by the serpentine curves of a riverbed, and its glass façade alters its appearance between transparent and opaque in rhythm with the daylight. Meander also features innovations that allow residents to vary their floorplans, and geothermal wells for heating.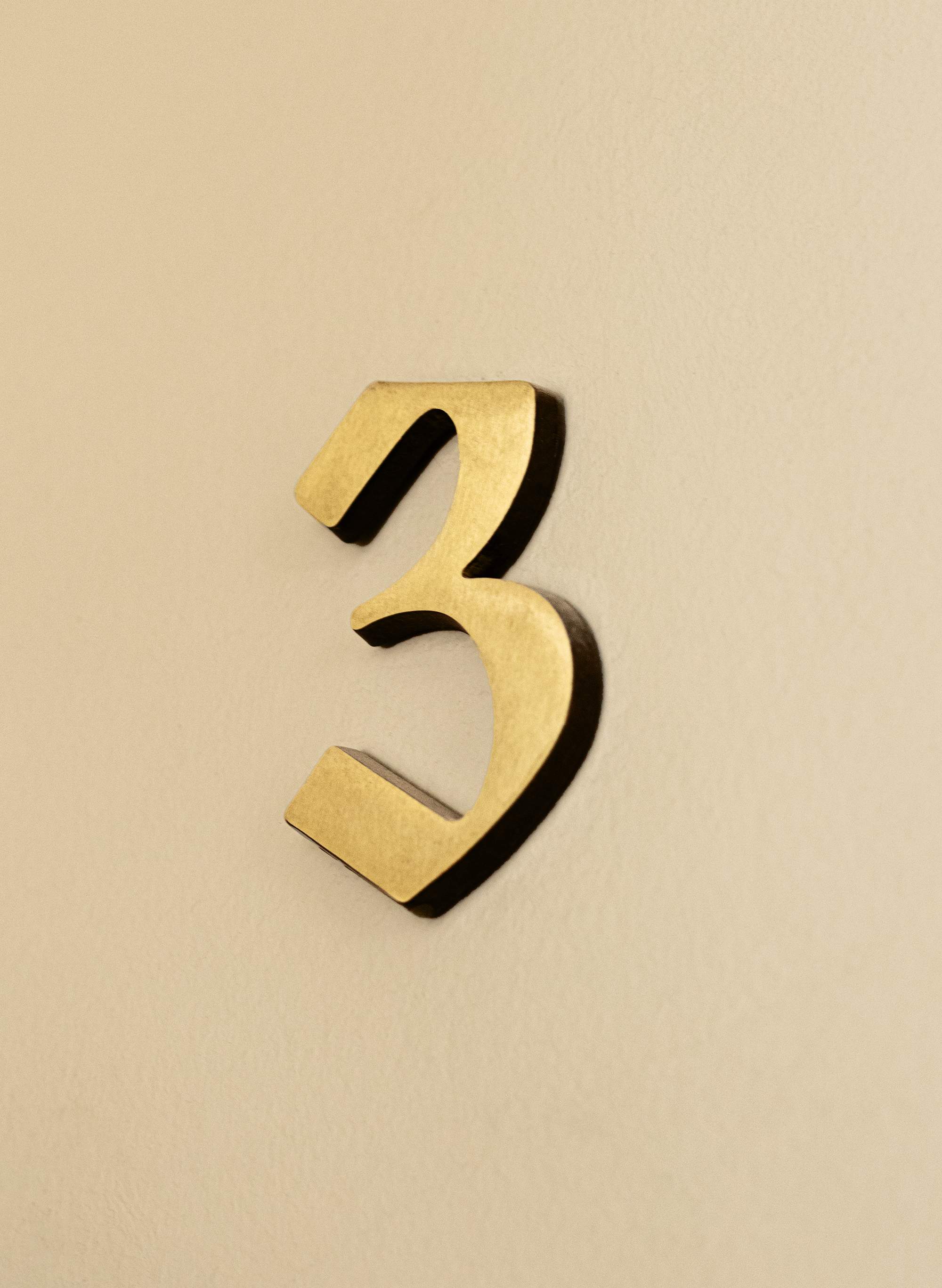 Newil & Bau views property as first and foremost a consumer rather than a construction business. "Home is more than just walls and a ceiling," says Ylivuori. "It's a very holistic living experience and buying a home is one of life's big decisions." Implementing that people-first approach isn't just about the building: Newil & Bau also helps buyers with financing and the sale of their old home. It has plans to integrate additional products such as moving services, insurance and a customised app for residents to communicate. The key to the company's success is simple. "Many people share our belief that we deserve to live in a beautiful and inspiring environment," says Ylivuori.
---
Collective enterprise
Reurbano, Mexico City
From the outside, La Laguna doesn't look like much: a cream-coloured factory building on an unassuming corner in the old neighbourhood of Doctores, an area of Mexico City known for its manufacturing history. If you didn't know that the entrance was through a humble black door, you wouldn't know how to get in. Yet inside is a group of entrepreneurs drawn to this adaptive reuse space thanks to its thriving creative community.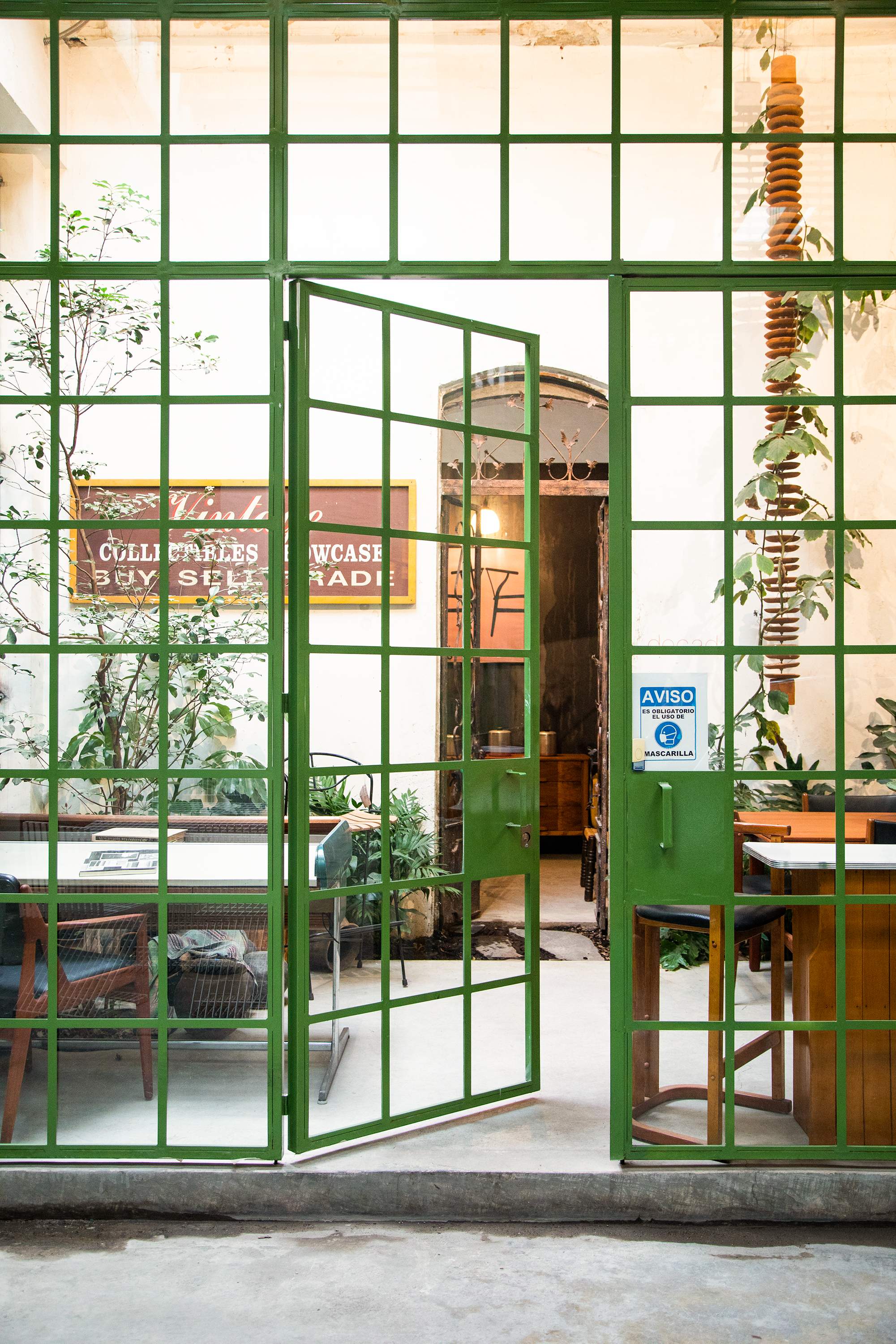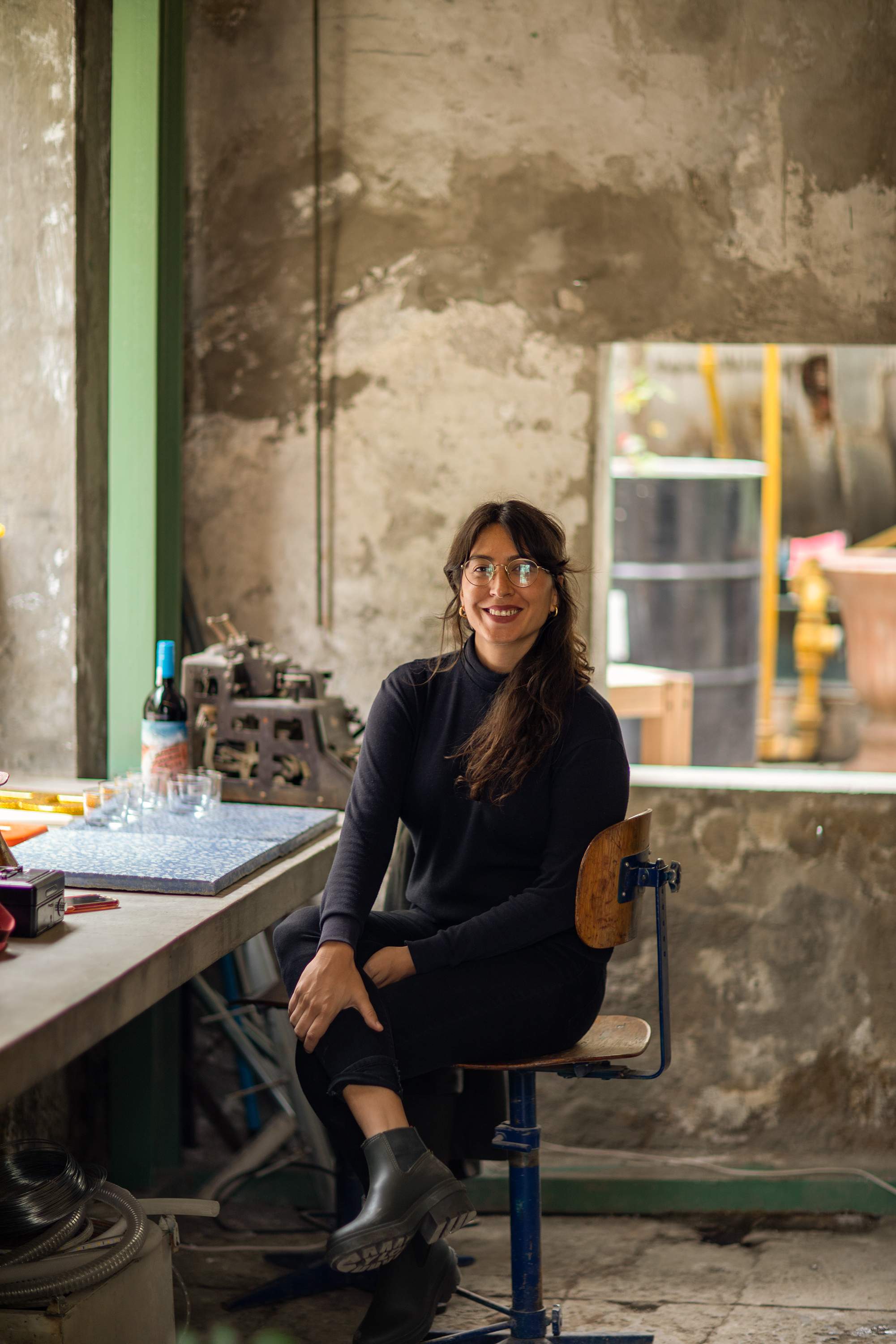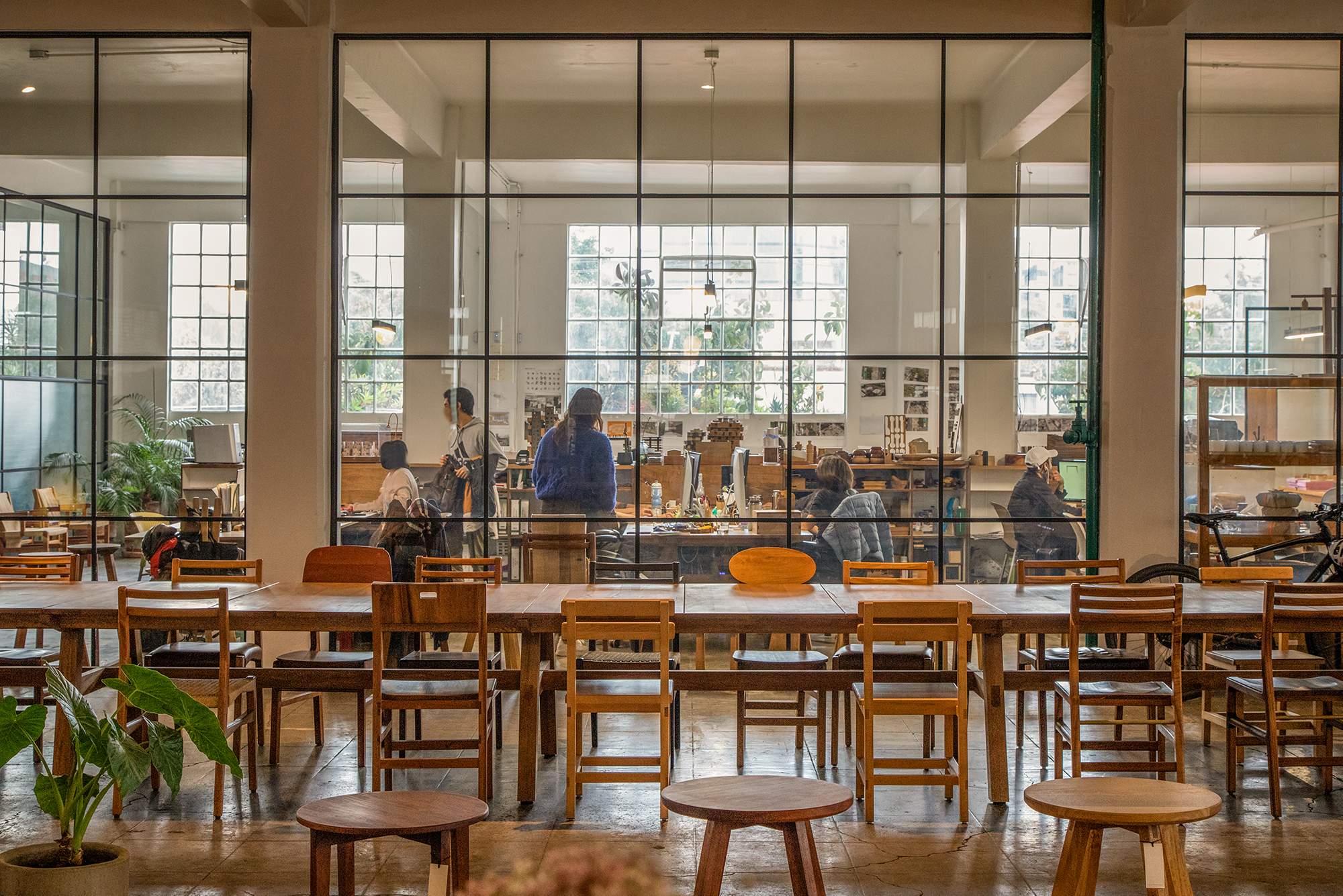 The building, a former lace factory, was reimagined and spearheaded by Alberto Kritzler, founder of Reurbano, a Mexico City-based company that reactivates forgotten urban buildings. Kritzler's family has owned the building since the 1930s. When the lace factory began operating at a lower capacity –and eventually closed – Kritzler began renting out warehouse space (his first tenant was Buna, a coffee roaster). "I didn't want it to become a consumption-driven space," says Kritzler, whose hope was to rescue the building's original vocation through tenants who have some form of manufacturing ability. "I wanted to be respectful of the place, its history and how it interconnects with the neighbourhood."
Doctores, on the edge of the hip Roma district, has long had a trade history. But unlike Roma, Doctores hasn't been infiltrated by trendy businesses, which is something that Kritzler is conscious of. "As time has gone by, I've realised how violent construction can be," he says. "It has a big impact on the neighbours. We've come to understand how important it is to work with everyone, even though it's a private property."
The exterior of the building remains largely the same, with the addition of a few details such as the replicated factory windows. A new section, to allow more space for tenants, was added a few years ago and the two buildings flow seamlessly into one another. "We tried to make the design as fluid as possible," says Bobi Mitchelsen, who was involved in the reworking. Another important element was to ensure that fellow entrepreneurs could see their neighbours' items being manufactured. At Buna, for example, the coffee is roasted onsite.
"Construction has a big impact on the neighbours. We understand how important it is to work with everyone, even though it's a private property"
There are currently 20 tenants in the building, ranging from architects (Francisco Pardo and Productora) to furniture-makers (La Metropolitana) and even a tea manufacturer (Oha). Kritzler was selective about the tenants and how they connect. "It's important to have a diverse community, not just in terms of what they do and bring to the table but also in terms of their company size and scale of work," he says.
Every tenant can design their own space within the building. "'We had the opportunity to create our own unit, which was amazing, especially for an architect," says Abel Perles, co-founder of Productora, the studio that worked with Kritzler to regenerate and expand the building. For Productora, meanwhile, one of the most important elements of rethinking the building was opening the central courtyard, a concrete area filled with plants that was previously sealed off. It is an outdoor area where the businesses can spill out and meet, which creates a greater sense of connection. "The courtyard is a place for everyone to meet in the air and the light," says Perles. It's a huge drawcard for keen collaborators.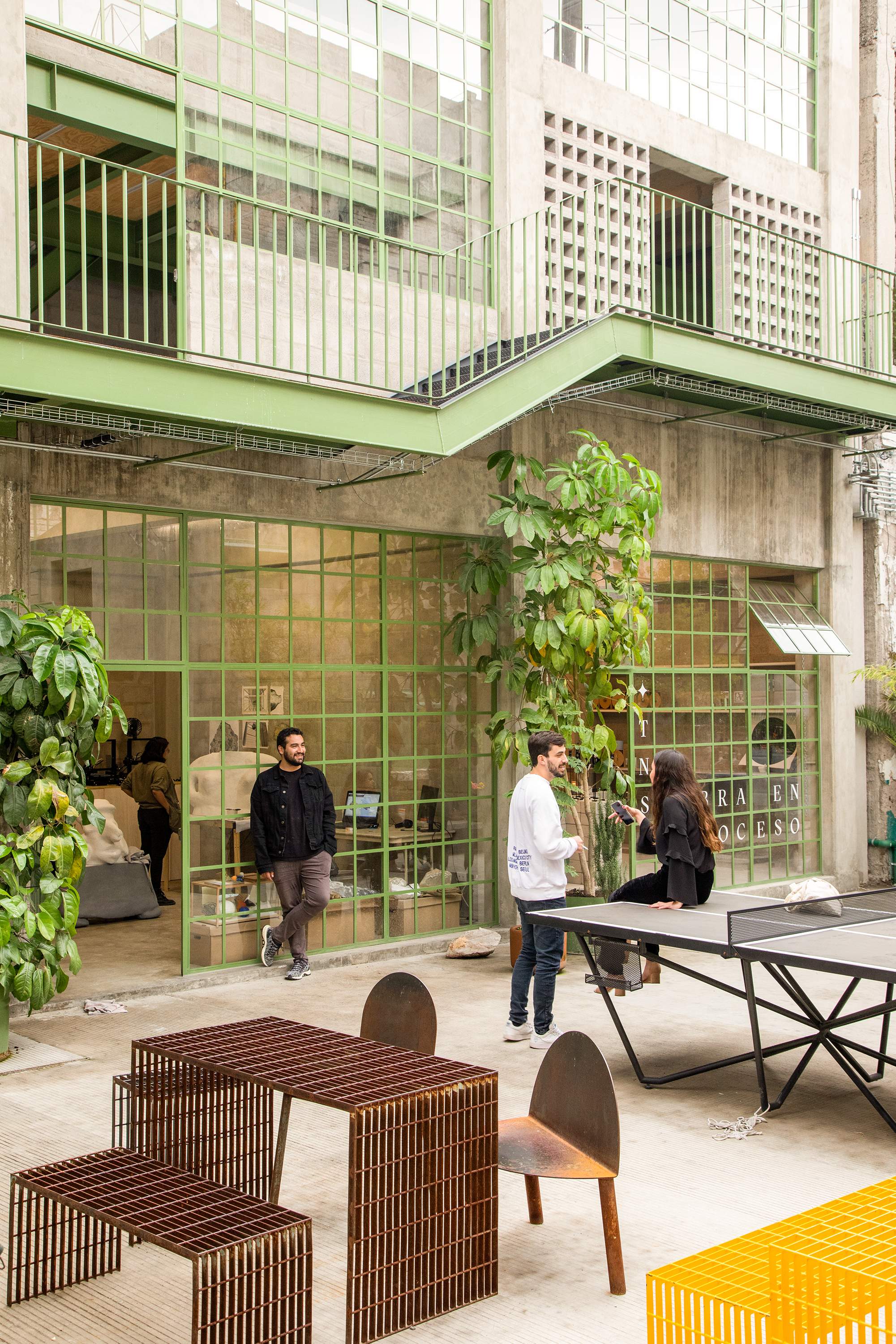 "We were looking for a community," says Tatiana Torrealba, co-founder of The New Sanctuaries, a brand that produces creams and has collaborated with laa, an art laboratory next door. "We also wanted a space where we could produce, as well as have a showroom." At Oha, Regina Rivero blends her tea in the back of her studio and hosts tastings in the front. She joined the community not only because she could create her product onsite but to swap ideas with her neighbours. "Having Buna nearby meant that we could share a space and grow together," she says. The same goes for Alex Leon, co-founder of the clothing brand Hermanos Koumori, who saw the opportunity to trade skills with different brands. "We aren't just a clothing brand," he says. "We love to collaborate and there's a street for everything. As a fashion brand you get cool references around here."
For Kritzler, fitting into this neighbourhood is vital. That's the case not just at La Laguna but for all the projects that Reurbano has worked on in Mexico City. "The great part of being local is that we know the neighbourhoods by day and by night," says Kritzler. "We are a developer that stays there and is involved." It's all about creating a community – within the building and beyond.