Food and Drink / Global
Recipes
Chef Ralph Schelling and recipe writer Aya Nishimura take us from France to South Korea with six exotic dishes, starting with a dessert that's a surefire crowd-pleaser. Enjoy.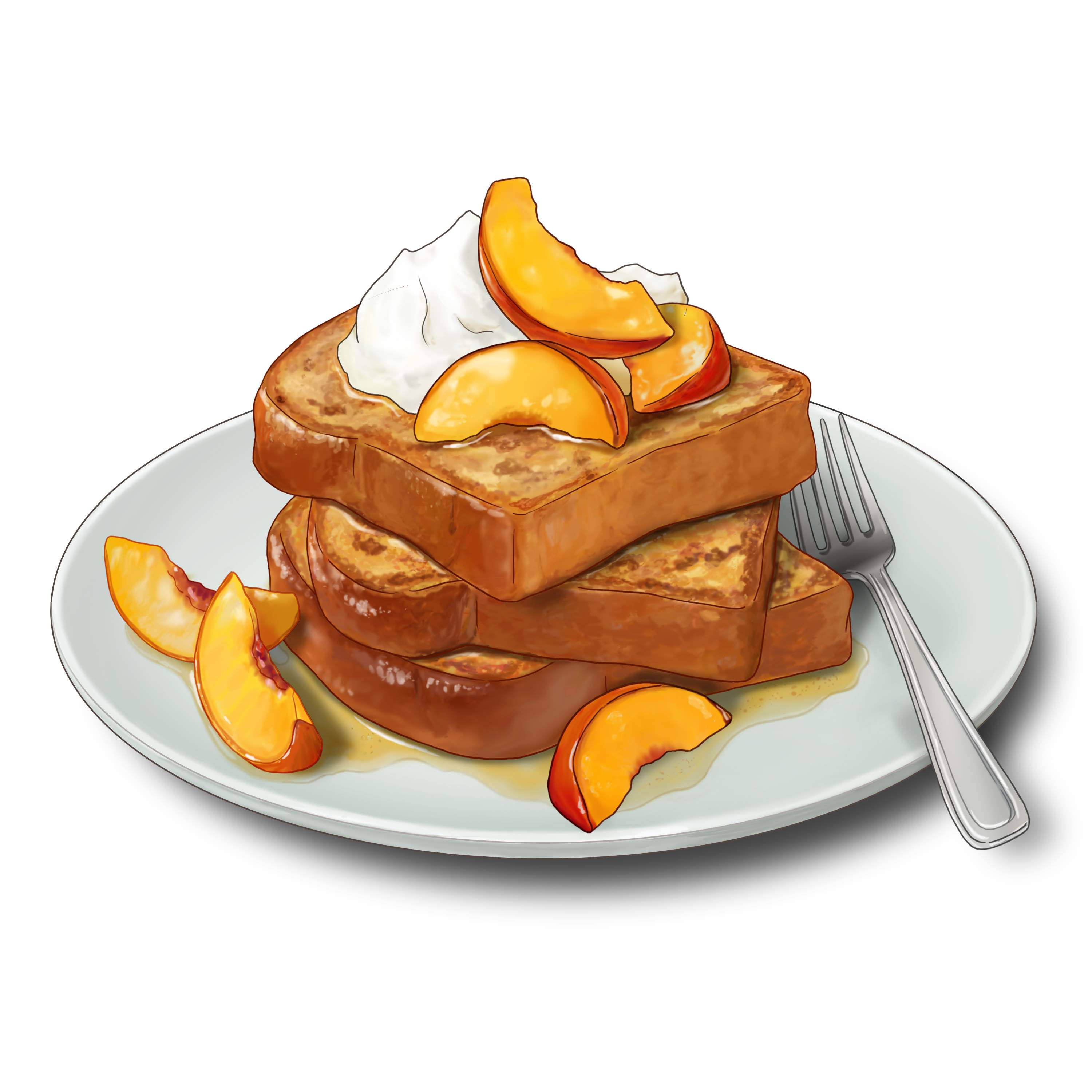 recipe 01
French toast with peaches
Serves 4
Ingredients:
For the peaches:
4 peaches
Sugar, for dusting
½ tsp cinnamon
30ml water
1 star anise
For the creamy topping:
80ml single cream
150g mascarpone
1 tsp maple syrup
1 tsp vanilla extract
For the French toast:
300g brioche (or 8 thick slices)
4 eggs
1 tbsp sugar
1 pinch of salt
150ml single cream (or milk)
1 pinch of cinnamon
30g sugar
3 tbsps butter, melted
Maple syrup, to taste
Method:
1.
Preheat oven to 200c.  
2.
Cut the peaches in half, remove and dispose of the stones, and place the peach halves skin-side-down on a baking dish.
3.
Sprinkle evenly with sugar and cinnamon. Pour over the water, place a star anise in between the peaches, then cover with foil and bake for 30 minutes.
4.
For the topping: mix the single cream with the mascarpone, maple syrup and vanilla extract.
5.
Cut brioche into about eight thick slices.
6.
Mix eggs and 150ml cream. Season with the remaining cinnamon, salt, vanilla extract and white sugar, and soak the bread slices on both sides in the mixture.
7.
Melt the butter in a pan on a medium heat and fry bread slices on both sides for about 3 minutes each until golden brown.
8.
Serve two slices of bread per plate, remove peaches from the oven and slice, dividing evenly between the four plates.
9.
Add the creamy topping and maple syrup.
---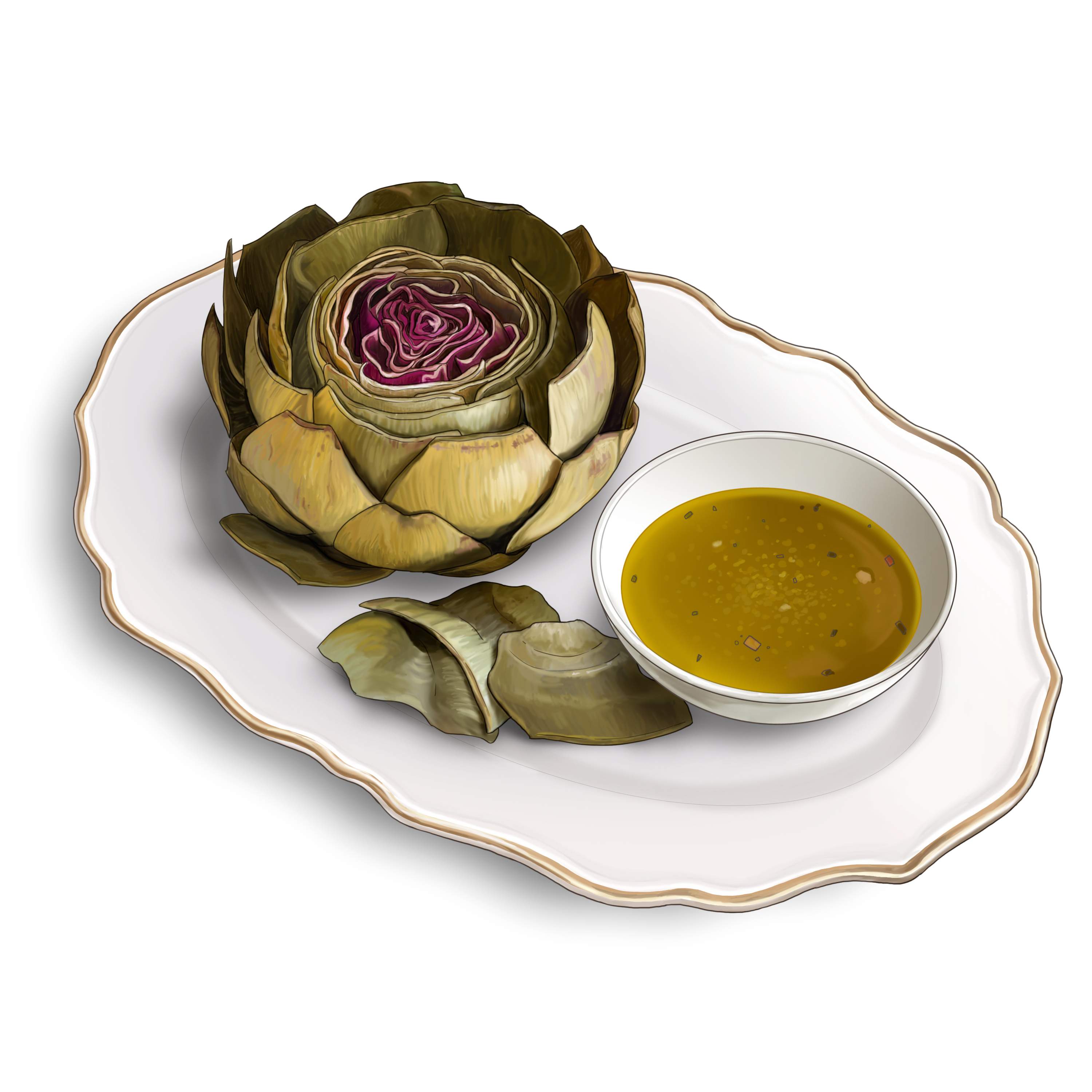 recipe 02
Artichokes with vinaigrette
Serves 4
It's artichoke season and though these vegetables can be tricky to prepare, our Swiss chef offers a tasty starter inspired by Zürich restaurant Schnupf that can be steamed or boiled. Once cooked, pluck the leaves from the artichoke, dipping the fleshy end into the vinaigrette and pulling away the tender part with your teeth (discard the tough bit). When all the outer leaves are gone you can spoon out the "heart" – save some dip for this bit. 
Ingredients:
4 large artichokes
50g mustard
10ml white wine vinegar
5g cane sugar
5g salt
30ml mild olive oil
1 tbsp chopped parsley
1 red onion, finely diced
2 tbsps chives, finely chopped
Pepper, to season
Method:
For the artichokes:
1.
Cut off the stems of the artichokes half an inch from the stalks. Then, cut the upper third of the leaf tips with kitchen scissors or a (really) sharp knife.
2.
Place the artichokes side by side in a pot, pour enough water to cover them by half and add salt. Put a lid on and bring to a boil, then simmer over medium heat for 30 to 40 minutes, depending on size. To check (after half an hour), pluck off an outer leaf to taste – when these fall off easily, the artichokes are done.
3.
Remove the artichoke heads from the pot, turn them upside down and drain. Enjoy lukewarm or cold.
For the vinaigrette:
4.
Mix mustard and vinegar, and add the sugar and salt. Slowly add the oil, drop by drop, while stirring with a whisk to make a glossy mixture. Add the parsley, onions and chives and season.
---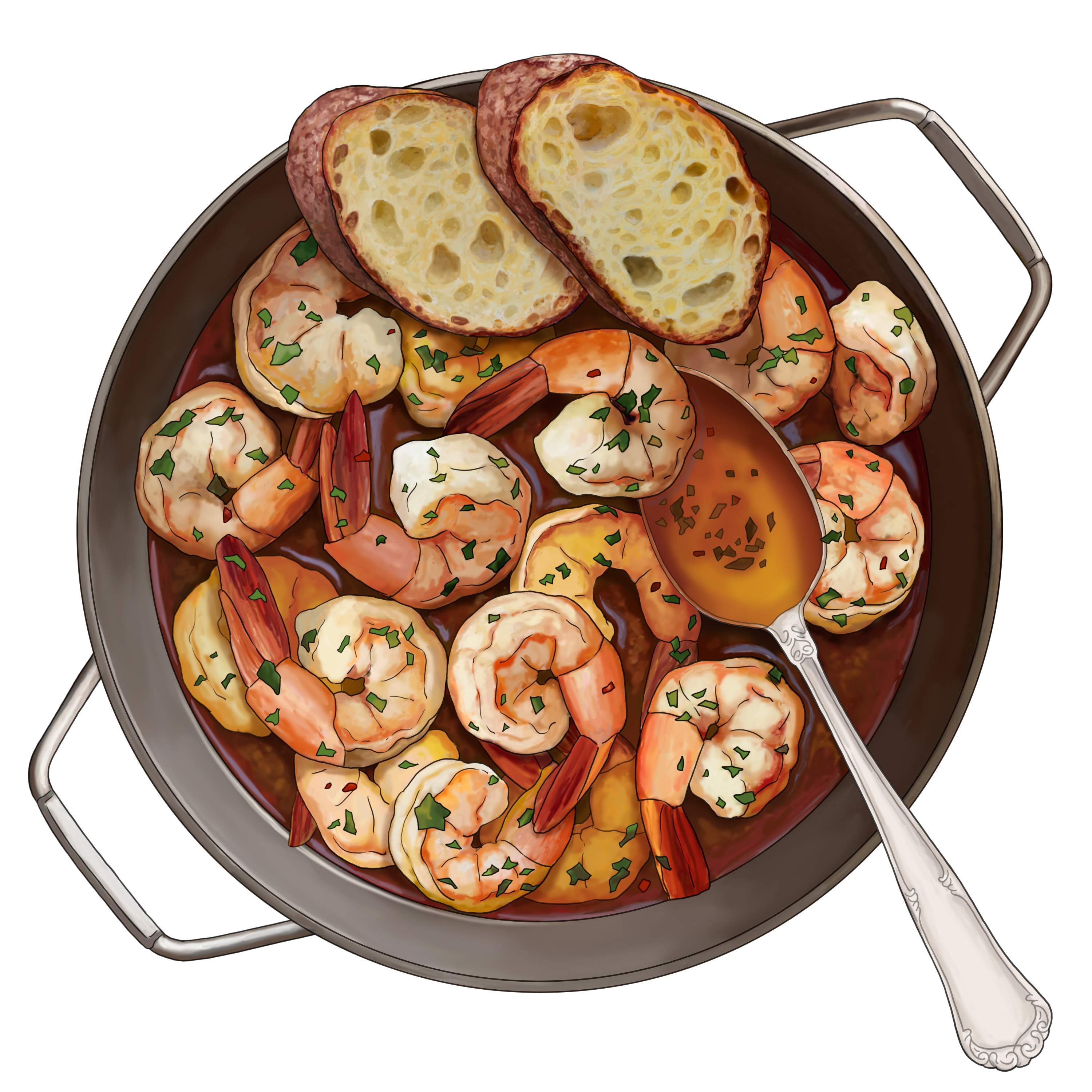 recipe 03
Prawns with garlic and chilli
Serves 2 as a starter, or with other tapas dishes
Our chef rustles up a classic Spanish starter and crowd-pleaser, gambas al ajillo. The sherry and sherry vinegar both add a complexity of flavour but do feel free to treat the ingredients list as a guide rather than a rule. For instance, add a little more chilli if you like things on the hotter side. Be sure to also have some still-warm, toasted bread to mop up the juices. 
Ingredients:
4 tbsps olive oil
3 large garlic cloves, finely chopped
½ tsp chilli flakes
250g large prawns, shelled
3 pinches of sweet smoked paprika powder
1 tsp dry sherry
½ tsp sherry vinegar (optional)
½ lemon
Sea salt and crushed black pepper, to taste
10g flat-leaf parsley, finely chopped
Crusty bread, to serve
Method:
1.
Put the olive oil, chopped garlic and chilli flakes into a small frying pan and heat slowly to a simmer over a medium-low heat.
2.
When the garlic starts to turn a light golden colour, add the prawns, paprika and sherry, and turn up the heat slightly. When the prawns turn pink and opaque, and are cooked through (in roughly 2 to 3 minutes), add lemon juice and season with salt and pepper to taste.
3.
Pour out into a serving dish (or alternatively, serve in the cooking pan) then sprinkle with chopped parsley and serve straight away, still warm and without draining the oil. Serve with warm crusty bread, which can (and should) be used to mop up the delicious garlicky chilli-flecked oil, along with a nice cold drink.
---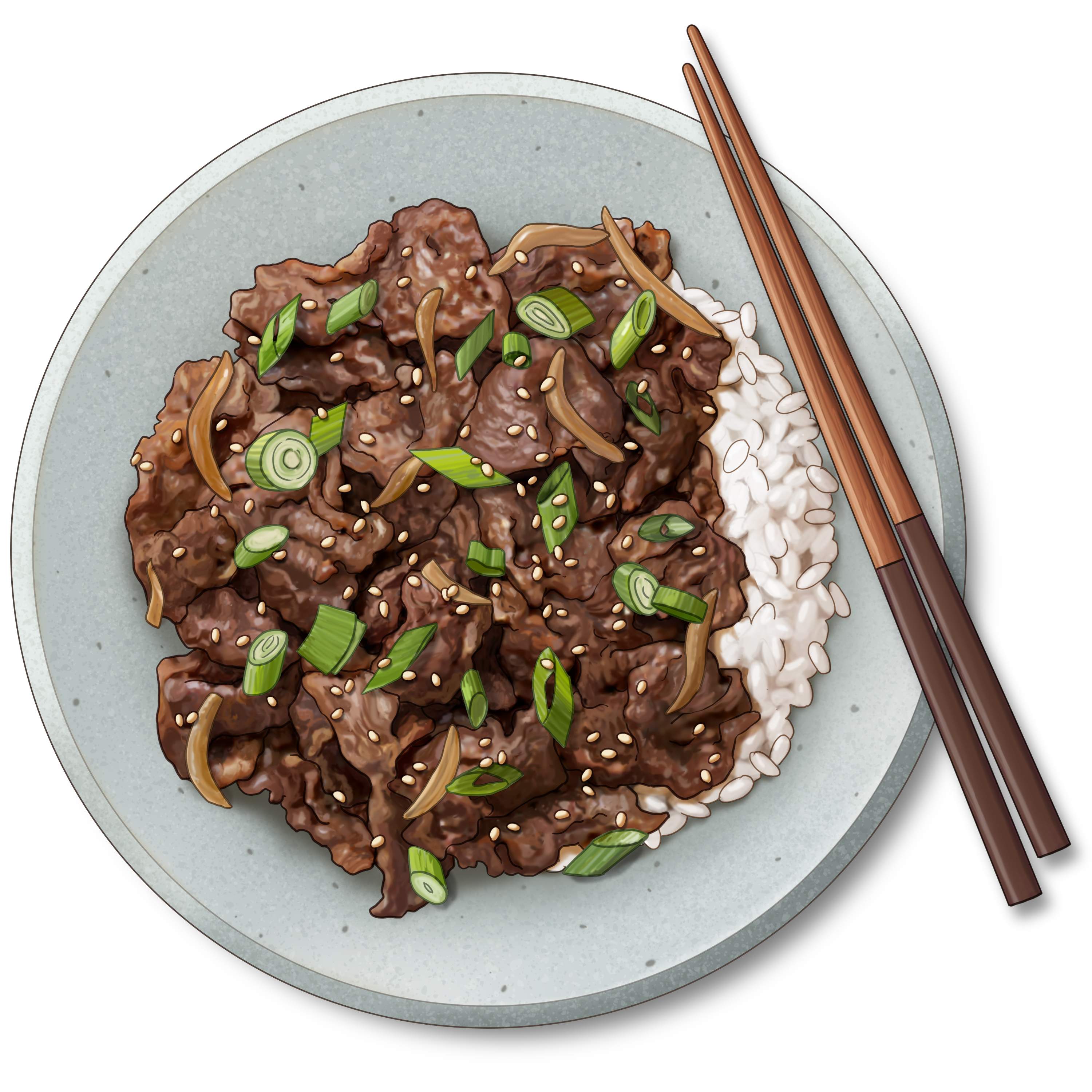 recipe 04
South Korean-style beef 'bulgogi'
Serves 4
Our Swiss chef's culinary travels take us to South Korea with this toothsome bulgogi (which translates as "fire meat"). The beef takes a minimum of 30 minutes to marinate but you can leave it overnight for a fuller flavour. Spice it up with some kimchi on the side and serve with rice as a main.
Ingredients:
600g rib-eye steak or another
well-marbled cut
1 onion, ½ roughly diced and
½ thinly sliced
2 cloves of garlic, diced
½ apple, peeled and coarsely chopped
2 spring onions, 1 roughly diced and
1 thinly sliced
2 tbsps brown sugar
1 tbsp grated ginger
1 tsp gochujang (South Korean red bell pepper paste)
50g soy sauce
3 tbsps sesame oil
1 tbsp vegetable oil
As sides (optional):
1 tsp roasted sesame seeds
Cooked rice
Kimchi
Method:
1.
Slice beef as thinly as possible and set aside in a large bowl.
2.
In a blender, purée the roughly diced onion pieces, garlic, apple, roughly chopped spring onion, brown sugar, ginger, gochujang, soy sauce and sesame oil until smooth.
3.
Pour the marinade over the beef, add the thinly sliced onion and mix. Cover with plastic wrap and marinate in the refrigerator for at least 30 minutes (or ideally overnight).
4.
Heat the oil in a large skillet over high heat. Pat the meat dry then sauté it with the marinated onions until browned.
5.
Plate the meat up with the rice, then add the remaining spring onions and toasted sesame seeds. Serve with South Korean side dishes.
---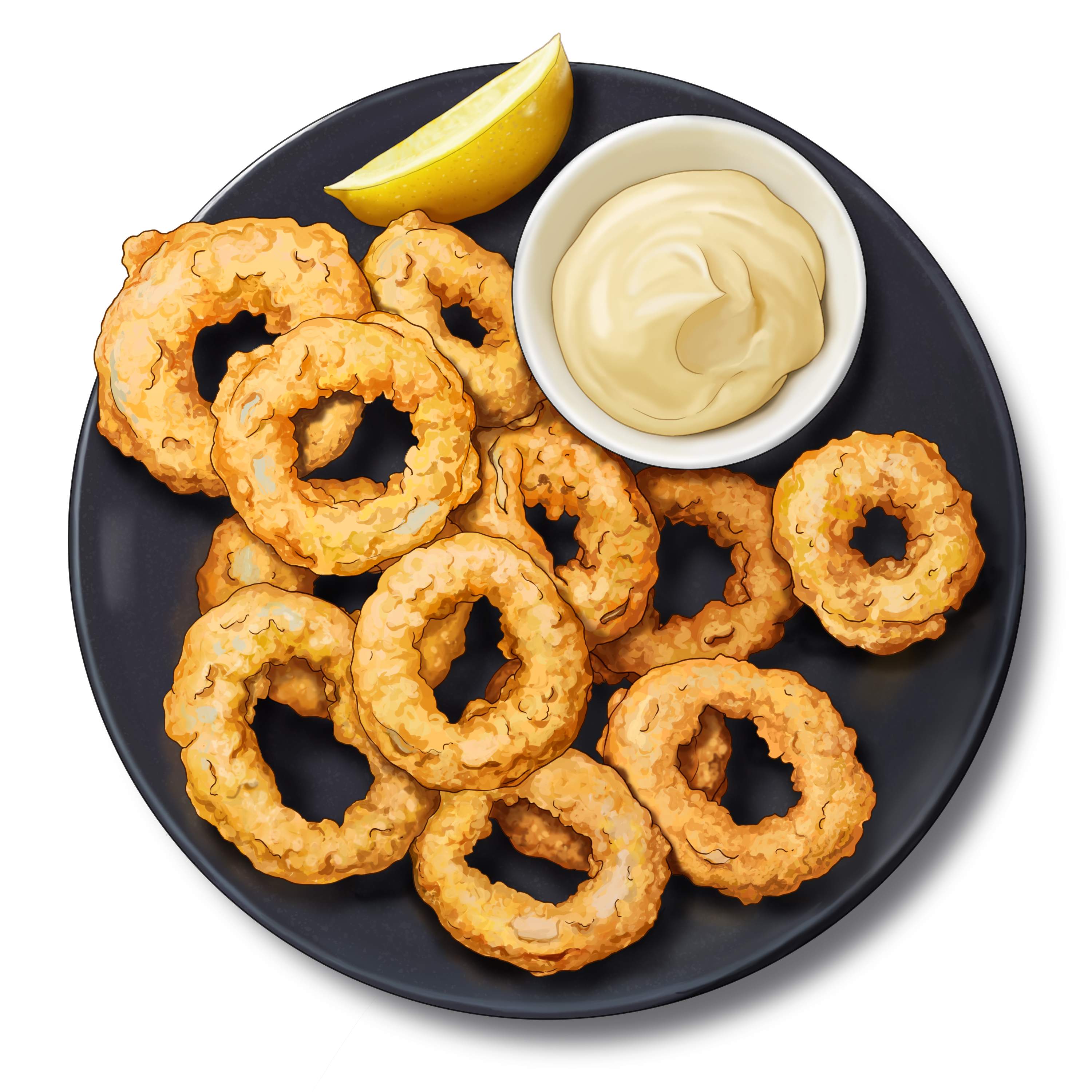 recipe 05
Fried squid with roasted garlic aioli
Serves 2 as a starter
Beloved of the Bagni crowd, this simpler, squid-focused take on Italian fritto misto is a summer staple of a snack.
Ingredients:
For the aioli:
4 garlic cloves
2 egg yolks
4 tsps lemon juice
75ml light olive oil
150ml sunflower or vegetable oil
For the squid:
350g cleaned squid (cut into rings), plus chopped tentacles
75g plain flour
75g semolina
1 tsp sea salt
3 large pinches of crushed black pepper
½ tsp cayenne pepper
500ml sunflower oil
Salt and pepper to season
Method:
1.
To prepare the aioli, put three garlic cloves (skin on) in a frying pan over medium-high heat and sauté for three minutes per side until slightly charred.
2.
Remove the skin from the fried cloves, add the extra-peeled, raw garlic clove and crush with the back of a large knife. Place the garlic purée, egg yolks and lemon juice in a mixing bowl and stir until combined. Pour both oils in a jug and add to the bowl, mixing with a whisk. Keep adding oil and whisking simultaneously until you have a mayonnaise-like consistency. Season with salt and pepper.
3.
Heat 500ml of oil in a medium-sized pot and bring to 190c.
4.
Mix the flour, semolina, seasoning and spice in a flat tray. Coat ¼ of the prepared squid and drop into the oil carefully. Deep fry for about 1 minute, until the squid becomes nice and crispy. Scoop out with a slotted spoon and drain the excess oil on a wire rack. Repeat for all of the squid. Serve immediately with your homemade roasted-garlic aioli but go easy to avoid getting your fingers burned.
---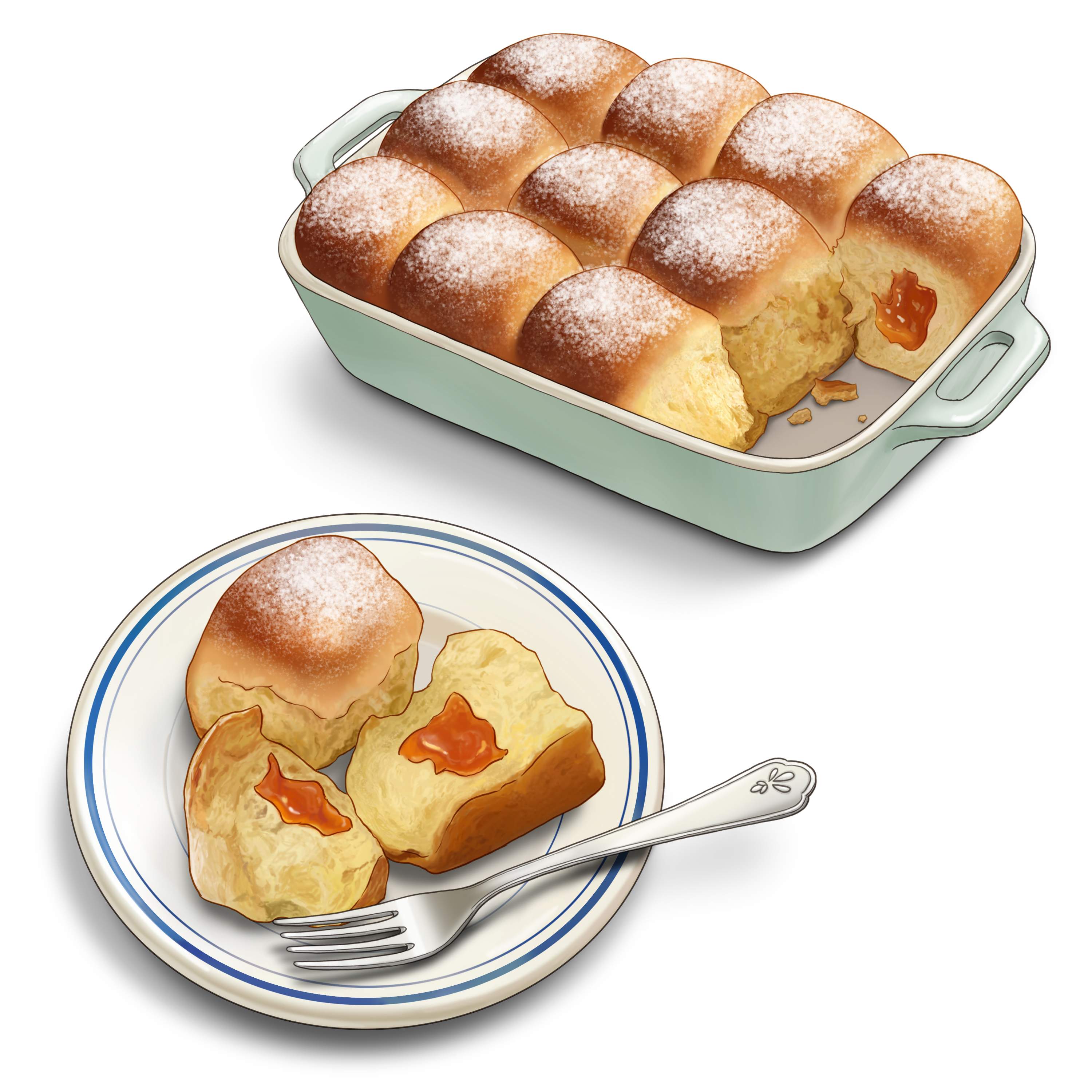 recipe 06
Buchteln with apricots
Serves 4 as a dessert
Schelling is renowned for his sweet buns. This delectable dessert takes about an hour to rise, and then another 25 minutes to cook. So it's best to bake in advance – and be sure not to burn yourself on that apricot jam.
Ingredients:
25g yeast
100ml milk (lukewarm)
50g sugar
250g flour
1 egg
1 egg yolk
½ tsp salt
100g butter (melted)
150g apricot jam
zest of ½ lemon
Icing sugar
Method:
1.
Dissolve yeast in milk then add sugar, flour, egg, egg yolk, salt, lemon zest and 50g (half) of the liquid butter. Knead by hand or with a dough hook (considerably quicker) until smooth.
2.
Cover and let it rise in a warm place for about 30 minutes until it's increased in size by 50 per cent.
3.
Preheat oven to 180c. Roll the dough on a floured work surface into a sausage shape that's roughly 5cm in diameter. Divide into about 15 pieces of equal size. Form a small ball from each piece and flatten slightly. Make a deep dimple in each ball and place a teaspoon of apricot jam in each, then seal. Dip in the remaining melted butter. Place in a greased ovenproof dish (about 30cm by 30cm). Cover and leave to rise for 20 minutes.
4.
Bake in the oven for about 25 minutes, then let it cool and sprinkle with powdered sugar. Serve warm.
ralphschelling.com; ayanishimura.com