Interview / Tokyo
Straight to the point
United Arrows brings the world's best fashion to Japan. But now, in a country where physical retail has reigned supreme, the pandemic has given online shopping a sudden boost. We meet the multibrand giant's new president to find out how he plans to adapt.
With more than 4,000 employees and at least 300 shops, United Arrows (UA), founded in 1989, is a fixture on the Japanese high street. Along with a line-up of its own labels for men, women and children, UA also sends its discerning buyers across the globe to find hundreds of brands big and small and bring them back to its fashion- conscious Japanese audience. From traditional men's tailoring to the latest Japanese labels, UA has it covered. Its reach goes beyond Japan too; in regular times, UA's world-renowned style icons – namely Hirofumi Kurino, Yasuto Kamoshita and Motofumi Kogi (aka Poggy) – are snapped everywhere from Florence to New York.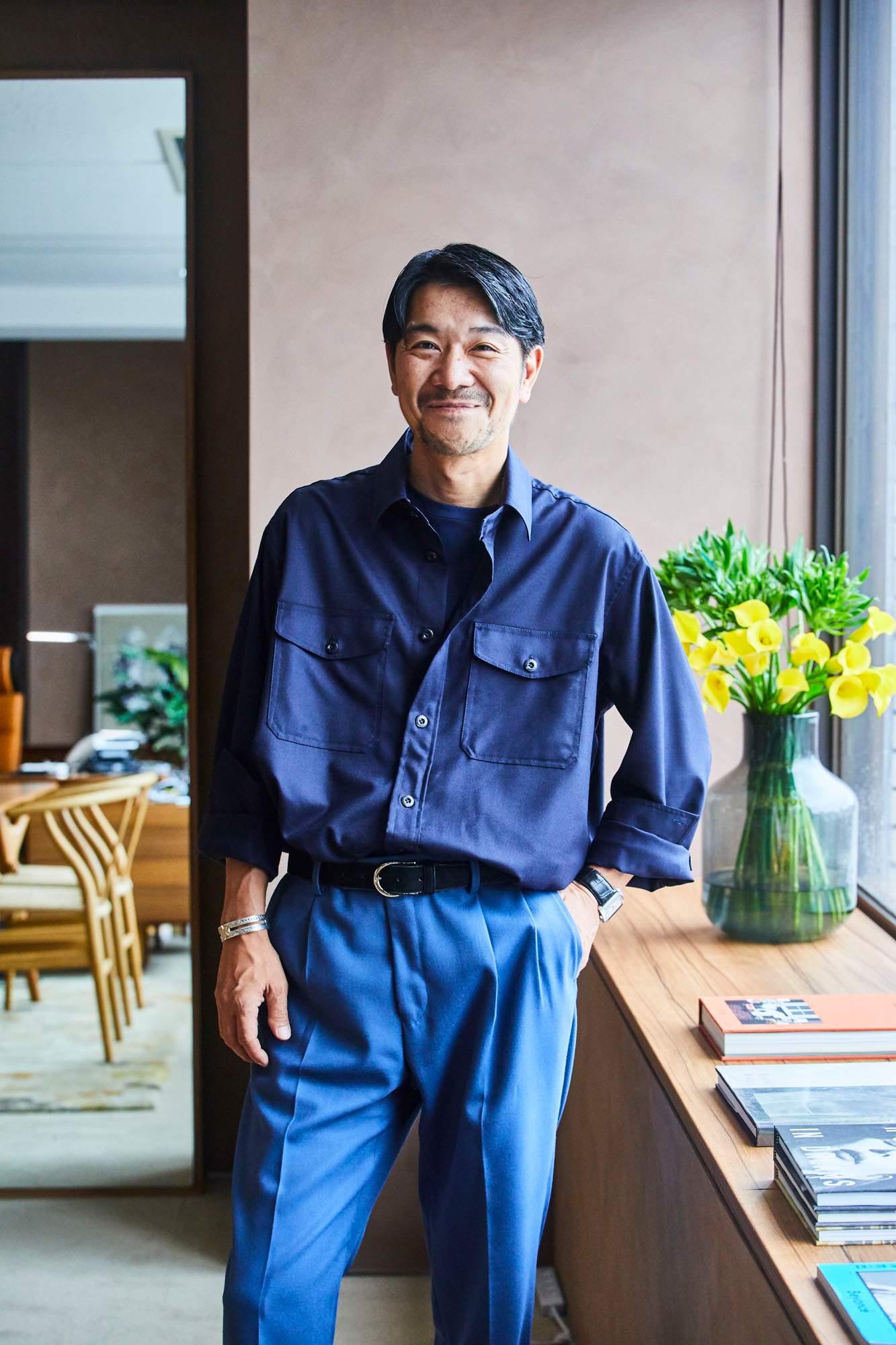 In April, the Japanese multibrand-shop giant appointed a new president, Yoshinori Matsuzaki (pictured). The 47-year-old knows the business inside out; after a stint in the hotel industry, he joined UA as a part-time shop assistant at the age of 22 and has since worked his way up to the top role. It couldn't be a more challenging time. The pandemic has hit UA's bricks-and-mortar business model hard: last year total sales dropped by 22.7 per cent and the company experienced its first operating loss since going public in 1999. Under Matsuzaki's leadership, UA aims to be back in the black by March 2022. monocle sat down with him in the United Arrows headquarters near Tokyo's Aoyama neighbourhood to find out more.
With your extensive United Arrows experience, how do you see the business right now?
Our online sales have grown rapidly in the past five years but we have always run our business on a bricks-and-mortar foundation. We'll stick to our guns but as our online business grows, the role of our physical shops and staff will have to change. I've always been a strong advocate of bricks-and-mortar so I also need to adapt to lead the staff.
How is the pandemic affecting United Arrows?
The fact that our shop sales dropped during the pandemic is a testament to our face-to-face customer service. It made us realise our strengths once again. It also became clear that online sales are boosted by customers being able to touch products and experience our in-store service. The number of shops and the ways of serving customers might need adjusting but I still believe in the importance of physical shops.
UA's online sales have grown from ¥20bn [€155m] in 2017 to ¥32bn [€247m] in 2021. What's the plan for the future?
We have to keep growing. As for online merging with offline, the question is how to offer a digital service that is similar to the customer experience that we provide in shops. The two can't be the same but it's a balance of bringing e-commerce closer to the in-store customer experience and giving it a strong interface that is convenient and stress-free.
How do you translate UA's face-to-face customer service online?
We're still quite analogue. When it comes to e-commerce, the whole of Japan is behind. Technologically great functions are pointless if users have no idea what to do with them. Think of a TV remote: it's full of buttons you never press. That's the opposite of what e-commerce should be. We have to strip it down to the core that defines UA's strong customer service.
UA has always put men's tailoring as a high priority. But formal dress codes have been relaxed and remote working during the pandemic only accelerated the trend. How important will it remain?
We have to adapt. Business attire has always been important for us but if demand diminishes, something else will replace it. Right now that is smart-casual fashion. If we cater to that need, our business will be fine. Many of our customers associate us with a dressy style so creating a new brand image for UA is important.
"Think of a TV remote: it's full of buttons you never press. That's the opposite of what e-commerce should be"
UA is one of Japan's 'select shop' pioneers. But today 58 per cent of what you sell is UA's own-label goods. What does this tell us?
We're building up our portfolio of in-house labels. When we started, there were many things that were not available in Japan and there was no internet. Sourcing goods from overseas and offering them in one place translated to superiority. Today, anyone can buy anything from anywhere. You need original goods to set yourself apart. We want to raise the quality level of UA labels to match the overseas brands that we select. Exclusive products are important too, putting a UA spin on what we choose.
What's the state of fashion retail more broadly in Japan?
The vitality is coming back. The pandemic has made many Japanese people turn inward and that's also true in fashion; people are searching for great things from Japan. The country is moving away from the idea that it's cool to pick up trends quickly from overseas.
What problems does the industry face apart from the pandemic?Sustainability is a big issue in terms of waste and pollution. At UA, we're going to do more in the "Re" department: recycle and reuse. Providing made-to-last clothes is part of sustainability too. Also, the industry has relied too much on "Made in China". It's important to make a shift towards quality at a time when sustainability matters and people are buying clothes less frequently than before.
UA's domestic sales are already substantial. Do you have a plan for overseas expansion?
We will grow domestically but the irreversible population drop is an undeniable fact. It will be hard to grow like we did in the past. The way we look at growth is different now; it's not just about United Arrows fighting over a shrinking market but about partnerships with other players who have synergy with us. This approach can supplement what we don't specialise in, such as lower prices and more daily products.
But the main target is overseas. We're looking at China, Thailand and Myanmar, where the economies are growing. It might be hard for us to enter cities such as London because the market is rich and mature. But we'd like to try and see if our concepts work. I'm curious to test, for example, our H Beauty & Youth shop, in other big cities like Tokyo. The necessity of real shops in foreign markets might be smaller than in Japan but we still need a physical presence to showcase our brand to the market. In China, a prominent space in a big city would be better for us than a small corner in a department store.
The fashion scene in Japan is so diverse and has such depth. How do you cater to different needs?
There is room for domestic growth in expanding the price and style range of our offer. Our core customers are in their thirties and forties but people in their fifties and older have extra spending power after raising their children so there is an opportunity there. We also need to cater more to people in their twenties who might be in a lower price zone. That's what we're trying to do with our new label Citen [launching this autumn], although I think older people will like it too.
"We also need to cater more to people in their twenties who might be in a lower price zone. That's what we're trying to do with our new label Citen"
Tell us more about Citen.
We'll only sell it online. We already know that people are reluctant to buy very expensive goods online. There's added value in the bricks-and-mortar shop experience – the service, the time you wait for the transaction, the great wrapping – that can convince people to spend ¥200,000 [€1,500] or ¥300,000 [€2,300]. People might not fancy spending the same amount online. For Citen, we applied this theory and lowered the price point. We'll do a pop-up for the launch but otherwise keep it online.
You launched outdoor label Koti this spring. Is this a sign of expansion into lifestyle categories?
We see outdoor goods being within the apparel world. Fashion is not only about clothing; it's about one's pursuit for living as a whole. We can see potential for growth in the outdoors and sport sectors, starting with things close to fashion and then moving into completely different areas, such as food. The idea is i-shoku-juu [wear, eat, live] and yuu [play]. The vision to create a lifestyle culture has existed since the start of the company. UA has only just begun. Speed is key; we'd like to have a rocket start after the pandemic.
United Arrows by the numbers
Established: 1989
Turnover (2020/2021): ¥122bn (€933m)
Online sales: ¥32.6bn (€254m)
Number of employees: 4,641
Number of shops: 330 (including 7 in Taiwan)
United Arrows' in-house labels that we particularly like: Loeff, United Arrows & Sons, Drawer, Blamink