Fashion: The interviews / Global
Hello tailor
We meet three leading figures in menswear, from a Parisian founder whose suits are seducing a generation to the creative steering a US icon in need of help, and the owner of an outdoor brand who understands fashion.
Nicolas Gabard
Founder
Husbands, France
Few current designers have done more than Nicolas Gabard to revive the suit's sexy, youthful image. A former lawyer, Gabard launched Husbands because  clothing rather than mergers and acquisitions was what had "always stimulated" him. His goal is to create "the perfect wardrobe for men," and the brand, headquartered in Paris's affluent 2nd arrondissement, offers classic pieces, from trench coats and cashmere jumpers to button-down shirts and loafers.
With both a keen eye for fashion and a keen business acumen, Gabard was able to steer his brand through the last 18 months relatively unscathed. Building a strong following online during this period meant that Husbands was able to gain awareness with and sell to a growing international audience.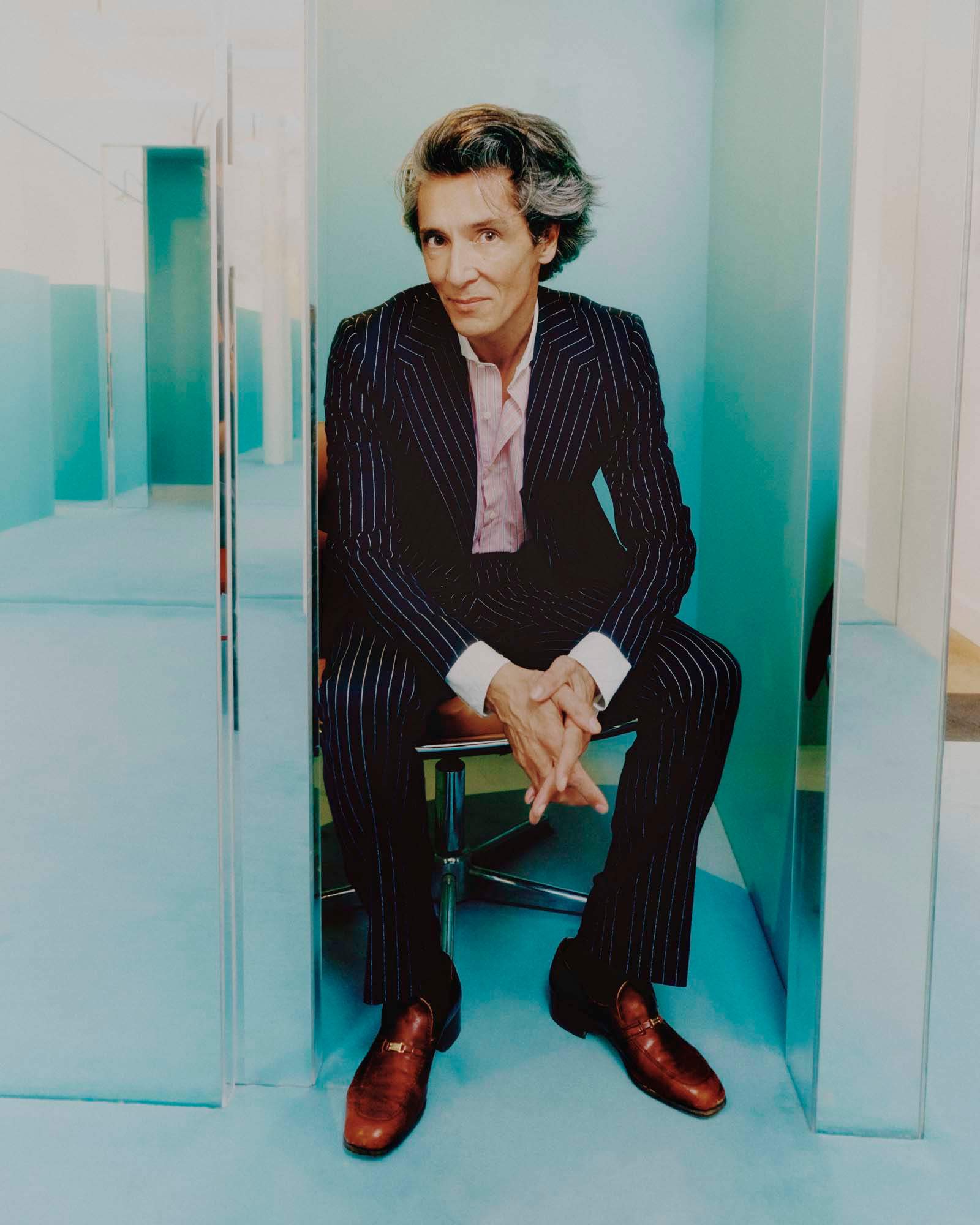 "A suit is a signifier of style in its purest form. It communicates a precise understanding of the body"
In Paris the brand is now gearing up to launch a second shop, which will specialise in ready-to-wear clothing and accessories, including leather goods. Yet the brand identity remains firmly rooted in its sharp suiting, made in Italy using English fabrics. With formal dressing back in force in the French capital, the brand's reputation has been bolstered with its unique approach to tailoring – edgy, yet somehow still classic.
In Husbands' campaigns, its signature defined shoulders, high-waisted trousers and heeled boots are styled on models who strike cheeky poses and possess a general swagger. This is tailoring with attitude. monocle sits down with Gabard in Paris to talk about the power of suits, the meaning of luxury and expanding beyond tailoring.
Why do you like suits?
A suit is a man's most trustworthy uniform and a signifier of style in its purest form. It communicates a precise understanding of the body.
Husbands is known for its seductive tailoring. Is this a French sensibility?
It's definitely a sensibility at Husbands but seduction in an outfit originates from a Latin point of view. These components aren't supposed to be overly noticeable. They're laced into little details – a slightly larger lapel, a slightly unbuttoned shirt, slight height in a shoe – and are consolidated by the way in which a man carries himself when he wears it. I like to think that a Husbands piece combines two elements: the creativity of fashion and the eternal quality of tailoring. We don't want to direct ourselves towards one type of customer; we want to propose a tool for personalisation – one that can dress men who wear Helmut Lang or Savile Row. 
Does your customer base reflect that range?
Yes, it's multifaceted. We address the grand bourgeois, the young students, the lawyers, the bankers, the guy who follows the trends, the guy who creates the trends – and that's because our base is a classic wardrobe. Whether it be a fully canvassed, single-breasted flannel suit with wide peak lapels, flared high-waisted trousers or a double-breasted trench coat, our made-to-order and ready-to-wear pieces are designed to stimulate desire for any type of character.
Do you consider Husbands a luxury brand?
We don't think about whether we're making luxury – especially today, because its original definition is gone. The real concept of luxury was killed in the late 1970s; it's now driven by a price tag rather than by beauty or the investment of time and care. We're more conscious of quality; this is much more important because it can create real longevity with a garment.
How much of a focus is selling online?
Our e-commerce has really grown; our biggest markets are the UK, US and South Korea. Our social-media audience is also on the younger side – 18 to 40 – which is exciting to us because it proves that the appetite for tailoring isn't just among older generations. It's now coming from millennials too, meaning that sons can be just as well dressed as their fathers, if not more so. But physical extension is also vital, which is why we're opening a second store on the Left Bank soon. It will focus solely on ready-to-wear suits and staples, while our existing store will continue to offer a personalised made-to-order service too.
How has demand changed during the course of the pandemic?
The appetite for great clothes hasn't changed but we've noticed an increase in the desire for separates. We're selling many more jackets on their own. We'll be expanding our range of independent pieces for the next collection, particularly to include denim. We hope this will extend people's perceptions: we don't just want to be seen as the place for a man to source his suit. 
husbands-paris.com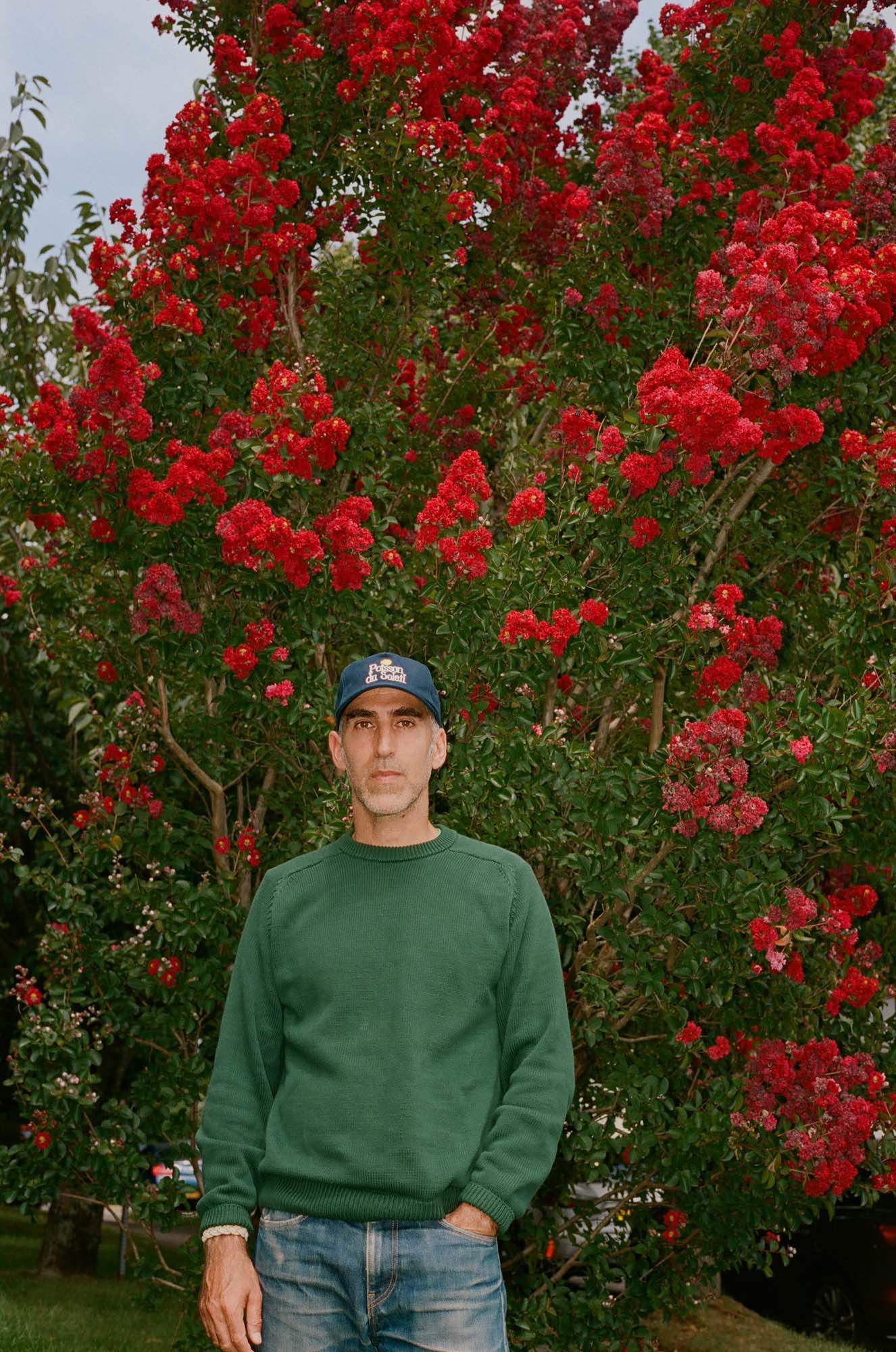 Brendon Babenzien
Men's creative director
J Crew, USA
Brendon Babenzien has built his career by sticking to his guns. The former design director of streetwear powerhouse Supreme and co-founder of smaller New York brand Noah insists that "your passions and interests should always be the things that inspire your style". At both Supreme and Noah, Babenzien created well-made, accessible clothes. Beyond that, though, he built brands that spoke to clearly defined tribes rather than mainstream trends. "I talk a lot about surfing, skateboarding and hip-hop because those cultures were truly creative at their origin," he says. "Early on, people in those communities built their own identities and their own visual language." At Supreme, Babenzien drew on this idea to shape his own formula for streetwear, before blending it with a fresh take on preppy style at Noah.
Now he's ready to switch things up as men's creative director at J Crew, the preppy American icon established in 1983. J Crew has been an embattled brand for several years, struggling to hold its own against the rise of streetwear. The company entered bankruptcy protection during the pandemic and when Babenzien's appointment was announced in May, J Crew's ceo Libby Wadle made the brand's intentions clear when she stated publicly, "We need to disrupt the business."
Babenzien, whose first J Crew collection will be unveiled in 2022, is a designer with a conscience. Noah has built its global following not only by selling attractive clothing but also by using its platform to educate customers on social issues ranging from modern slavery to gerrymandering. Can he imbue J Crew with a similar sense of purpose? He's certainly going to try.
What appealed to you about working with J Crew?
I've been wearing it my whole life. I remember the J Crew of the 1980s very well. It's literally one of only two brands that I've always said I'd work with if the opportunity ever came along.
What's your vision for the brand moving forward?
We need people pushing design boundaries: oversized fits, shrunken fits, crazy colours, whatever. But I'm always looking for a genuine expression of who a person is and the fashion machine has convinced lots of people that they always have to participate in the latest thing. I can't wear half of what's considered cool right now because it doesn't express who I am. Our job is to encourage individuals to be themselves and to create clothes that allow them to do that.
How does J Crew's preppy heritage affect your plans?
One of the problems with the fashion industry is that we have these "all or nothing" attitudes. There's a tremendous amount of nuance in clothing. The idea of preppy style was hijacked a long time ago; it's become a cartoon version of itself. In the late 1970s and early 1980s, it was just about really tasteful simple clothes. I want to deliver something that is traditionally thought of as J Crew – but is also kind of new.
Alongside this new role, you're still running Noah. How has the brand changed during the pandemic?
It's only now that I'm starting to evaluate the lessons learnt. It has helped me to refocus on what our initial purposes were at Noah: to serve customers in search of great product and a little bit of humour and attitude. The social side of what we do at Noah is important too, commenting on and educating people about what's happening in the world while also looking after our own staff and community.
"Our job is to encourage individuals to be themselves and to create clothes that allow them to do that"
What lessons have you learned at Noah that you'll apply to your work at J Crew?
We're applying a lot of what we do at Noah here – being able to do that is the main reason I joined. The design process is important to me, of course, but so is the idea that I can talk about responsible business practices. I'm also creating new products for people we haven't been representing. J Crew has made the Ludlow suit forever and that's great – but some customers have been left out of the conversation.
Who's your target customer for J Crew?
I have to take care of our existing customers, bring back some old customers who remember the brand in the way that I do and bring in new customers as well. We'll do that by letting people be confident in who they are, not by trying to convince them to be something else.
What can we expect from your first collection?
Clothes that are relevant to where we are as a society. This isn't going to be a great sweeping change; it's about the nuances of what we make, how we make it, how we present it to you and how we talk about it.
What issues do you think consumers are going to care about most in the next few years?
What I think consumers will want and what I hope they want are two different things. I believe the brand-consumer relationship has to be more of a partnership. Brands can choose to make a better product but if consumers don't respond to that for whatever reason – social mores, or billions of dollars of marketing encouraging them to buy cheaper products – then brands will stop making the right choices. We need to come at consumption from both sides. Brands need to operate better – then consumers need to respond positively to the companies that do make the right choices.
jcrew.com; noahny.com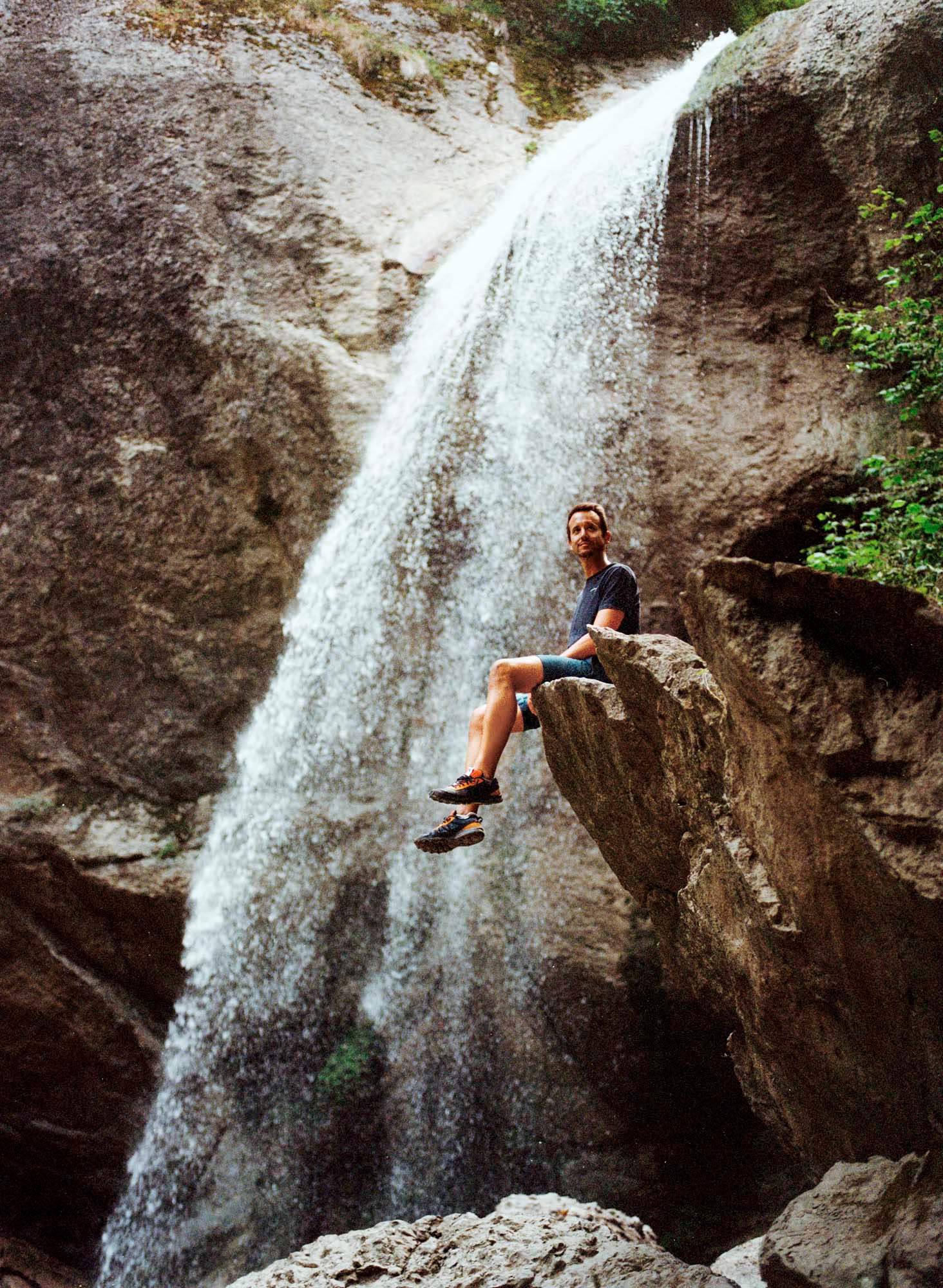 Gonz Ferrero
Co-owner and CEO
Klättermusen, Sweden
Given that Klättermusen is one of the world's most serious outdoor-clothing brands, with clients including Scandinavian military units, it's only natural that its HQ can be found not in London or Manhattan but in a mountain village in northern Sweden. The brand was launched in 1975 in Åre by a group of outdoor enthusiasts and while it has been creating premium products ever since, it has recently been selling them with far greater aplomb. That's because in 2015 Gonz Ferrero, a business-savvy Argentinian with an mba and a love of nature, took over as ceo. Under his reign, annual turnover for Klättermusen – whose products include backpacks, moisture-wicking base layers, and jackets for hiking, trekking and skiing – has tripled to around €20m. While this growth has coincided with a general increased interest in the outdoors – and all the corresponding gear – from urbanites around the world, Ferrero is committed to maintaining a niche and agile brand. Here, the 38-year-old tells monocle about Klättermusen's ascent.
Why did you want to get involved in the outdoor industry?
In 2011 I started a media-entertainment company with friends in Shanghai and Tokyo. It was exciting but there was something missing so I left and spent almost a year travelling, without a mobile or computer. I started spending more time in nature and realised that I wasn't the only one: there was a whole generation feeling that the more you're connected, the more you need something that rebalances you. I knew that the next thing I did had to be outdoor-related.
I was looking at the outdoor industry from a personal and philosophical point of view but also as a business. Every time I went into an outdoor shop I wondered why it was so difficult to understand why this jacket was better than that jacket. It felt like walking into a niche record label, where the owner didn't want to talk to me because I wasn't hardcore enough. The industry was creating products that it was passionate about but had completely forgotten the other part: how do you sell it? How do you explain it to people and educate them? Fashion brands are so much more conscious of the customer; outdoor brands, with the excuse of being busy in our laboratories designing new functions, have been slightly detached from the customer.
How did you get started with Klättermusen?
I came across the brand in a fashion shop in Japan. I reached out to the founder and we hit it off. He'd been running the brand for a long time and was proud of the product development but the business side had always been far from his mindset. We said, "Why don't we take everything you've built and try to find the right way to present it to younger guys like me?"
How has the industry changed in the past five years?
Sustainability really wasn't a topic five years ago. Now it's hard not to find ecological thinking embedded in product development. Fundamentally, we're making stuff, so no outdoor brand is sustainable. There has been more recognition of that right from the product-concept stage, saying, "Do we really need this?" Five years ago, it was, "I'm a brand, I need to offer every kind of jacket with all lengths of zippers, for every different activity." Now it's, "Why don't we educate the customer to understand that you can use the same jacket for different things?" That's sustainability from a business-process perspective.
How has Klättermusen's clientele changed?
It's broadened from only being someone who's using the products for a functional purpose to people who want their jacket to say something about them. That's why we've seen attention from fashion shops such as Browns, End and Sneakers 'n' Stuff. The customer thinks, "This says something: it's a group of guys in the north of Sweden, making very few products and not discounting." These customers are researching brands' values and then wearing them as a statement, whether or not they actually climb in them.
Is it difficult to make products that are eco-friendly and high performance?
Not at all. Our most important criterion for sustainability is durability. There's also the question: are you using something that's overly technical for what you need? When you're hiking in nature in a Gore-tex jacket, you sound like a candy wrapper with that "crr crrcrr" sound. Whereas when you walk in cotton, you're not 100 per cent protected if it starts to pour but it's totally silent. You're wearing nature in nature: the experience is more holistic. You have to find the right balance between functionality and sustainability.
What innovations excite you?
We have a jacket made from a fabric we developed called Katla cotton. It's organic with a cotton ripstop but it's made using technology typically used when constructing synthetic fibres. For example, the layering of membranes that you use within a three-layer nylon jacket – can you apply that to cotton? We're basically creating a ripstop fabric from cotton. If you go back to the 1950s, 1960s and 1970s, lots of outdoor brands and mountaineers were using natural materials such as cotton, wool and denim. Then in the 1980s and 1990s, there was a huge push into Gore-tex and synthetics for functionality. Now we're thinking about whether, from construction to finishes and treatments, organic materials can be just as technical as synthetics. This new love for natural is interesting.
klattermusen.com