The View from: Michael Bastian / New York
Modern classics
The creative director of America's oldest clothing brand on the preppy bounceback.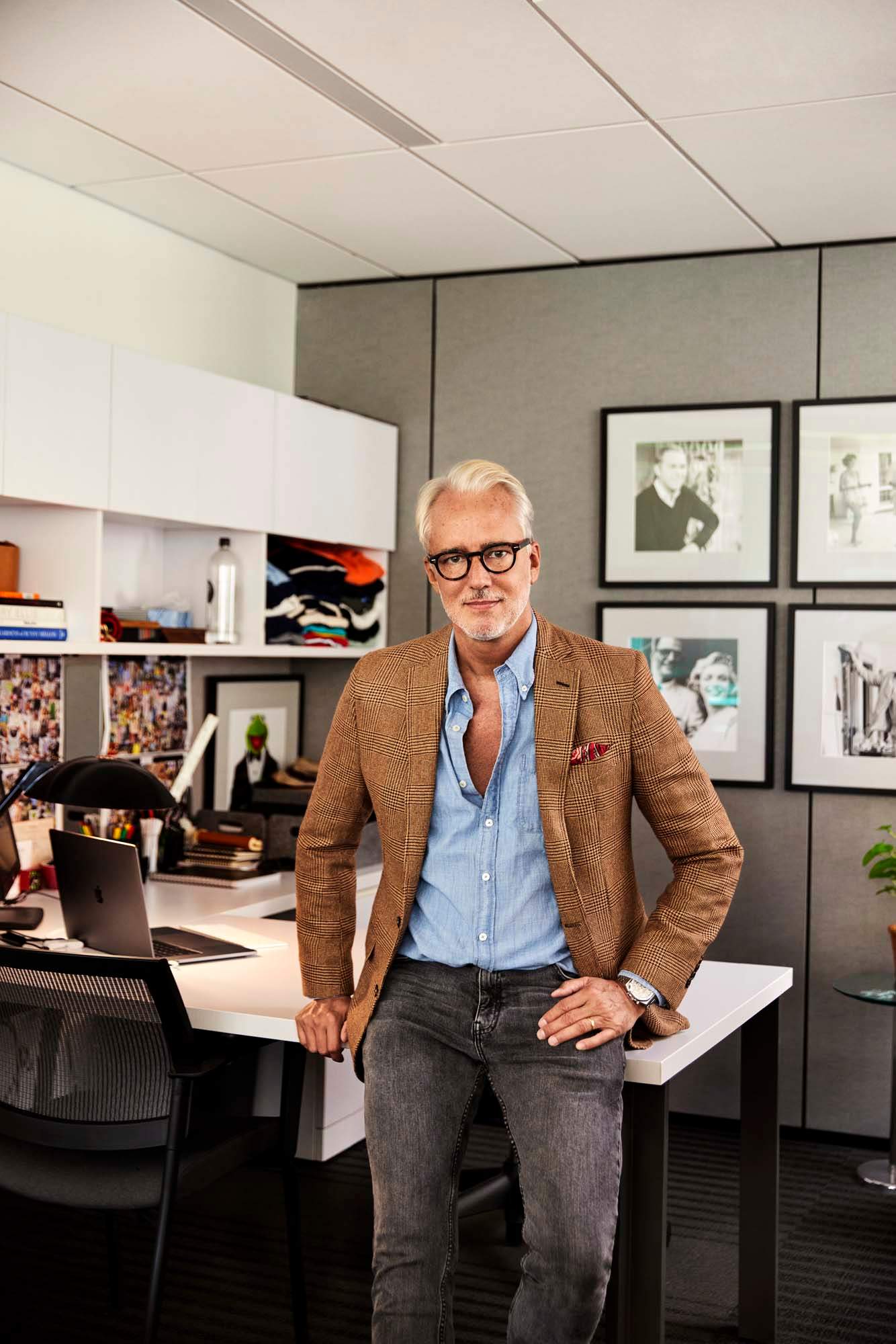 If you want to know where men's fashion is going, just ask Michael Bastian. Now with dashing grey hair and a healthy tan, the US fashion designer's career took off in earnest in 2000 as menswear director of luxury retailer Bergdorf Goodman. In 2006 he launched his own line, which quickly established itself as a leading light in the trend for high-end menswear classics with a twist. Last December, after working for a slate of heritage labels, Bastian became creative director of Brooks Brothers, the oldest existing US clothing brand, which owes its continued existence to Authentic Brands Group and Sparc Group, who acquired it out of bankruptcy.
Brooks Brothers, which has more than 600 shops around the world, is starting its second life in a turbulent time for fashion labels and retailers. Bastian's ability to predict what is next for menswear will be a decisive factor in whether the brand succeeds. So what does he foresee?
In front of a rack of clothes in his new Brooks Brothers workspace, he thinks over the question. "It's one of the few times I've been in an office since last September," he says. He believes that people's return to the workplace will have a significant effect. "After sitting around in a T-shirt and pull-on shorts for a year, men are ready to dress up." But that doesn't mean more tailoring. "The tailored world is where the hat industry was in the 1960s," he says, laughing. "Back then men decided, 'I don't want to wear a hat any more.' Today people can dress for work in a million different ways." Wearing tailored shorts and an untucked striped shirt with the sleeves rolled up, Bastian is living proof.
How should companies synonymous with suits adapt to these less formal times? "There are all these innovations," he says. "For example, the Italian mills are good at making something that looks like heavy Harris tweed but is very light." Bastian believes that such developments will appeal to younger customers. "There's a generation that has never had to wear tailored clothing. For them, it's this interesting fashion choice." He sees "the neo-preppy thing" as part of the vogue for playfully updating old codes. "It's a new way of looking at prep, coming from younger people who didn't wear it the first time in the 1980s and 1990s," he says. "They're playing with proportion, colour and branding in a manner that feels like a bellwether of what's to come."
After the dominance of streetwear and big logos, men's fashion will become "less about labels and much more about personal style", he says. To that end, his first full collection provides plenty of options, from pieces that blur the line between tailored and casual to full athleisure in the form of cable-knit hoodies. In parts, the line-up nods to Hermès, evoking a country gent who never gets his shoes muddy.
"Men's fashion will become less about labels and more about personal style"
Bastian is also a retailer. What's next for shops? "There's something Hermès does that I admire: every shop feels slightly custom-made for its town," he says. "The Hermès in Milan feels like Milan; the one in San Francisco is weirdly quirky. That's an interesting way to entice the customer. The reality is that online is going to be everyone's flagship. That's where you'll find the highest expression of a brand and the full range, so the shop has to fulfil a different function: not that you have to go there, but that you want to."
Bastian is innovating but he says that heritage brands also need to remember what made them popular in the first place. At Brooks Brothers, "putting all the icons of the brand back" is part of his role. "I'm making things that I wanted but couldn't find for a long time," he says. "Someone very smart at Bergdorf Goodman once told me that if you care about style and you're looking for something, a bunch of other guys are looking for it too." Whatever's next for menswear, he says, "You have to trust your instincts." 
Michael Bastian's CV
1965: Born in Lyons, New York
2000: Becomes director of menswear for Bergdorf Goodman
2006: Launches his own acclaimed line, which becomes a key part of the #menswear movement
2011: Wins Menswear Designer of the Year at the Council of Fashion Designers of America awards
2020: Becomes creative director of Brooks Brothers after the company is rescued from bankruptcy