Nara / Global
Side effects
Once a utilitarian Soviet vehicle, Ural Motorcycles are back in vogue. Junichi Toyofuku is taken for a spin.
Sporting a helmet, goggles and a grin, I hurtle down the winding roads of Nara prefecture, tucked into the sidecar of a motorbike with the driver beside me, á la Wallace and Gromit. It's my first time in such a vehicle and I'm surprised by the spaciousness of my quarters. Being so close to the ground, I can also feel the power of the machine's 749cc engine, cruising at 60km/h while the road whips beneath me. As the sidecar lifts off the ground I laugh a little nervously, as I am also recording the interview for radio.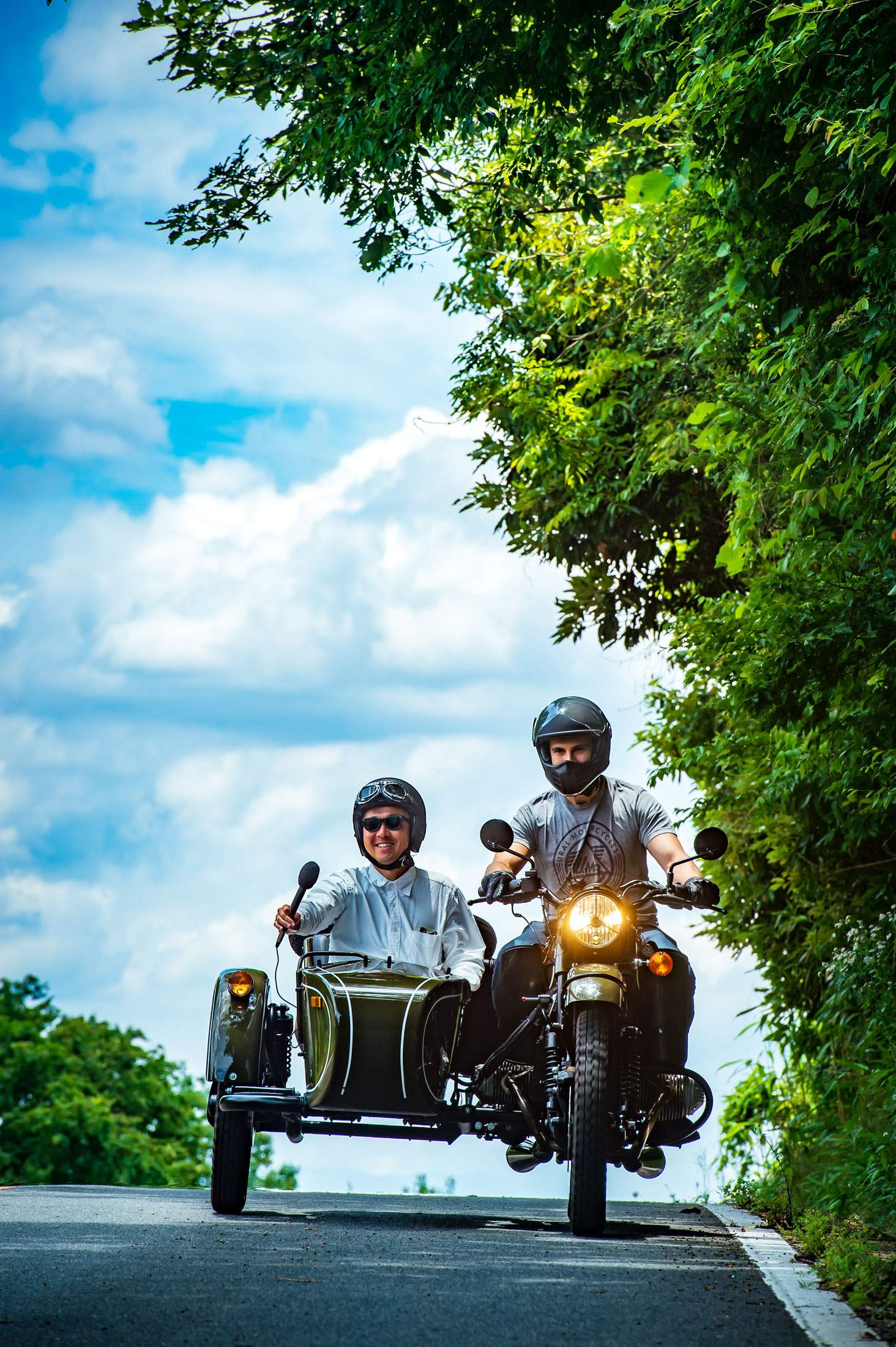 I am on assignment to learn about Ural Motorcycles, the Russian automotive brand with a history. Now a niche favourite among petrolheads across Japan, its roots go back to the 1940s in the Ural mountains, where sturdy sidecar-fitted bikes for the Soviet military were built during the Second World War. Though production continued for civilian use after the war ended, it wasn't until the 1970s and 1980s that exports really picked up. It now sells 1,500 a year around the world. And, according to my driver, that number is growing.
"Eight years ago, our main customers in Japan were men in their sixties," says Vladislav Volkhin, Russian president of Ural Japan, after sitting down for some lunchtime soba. "Now, many people in their twenties and thirties are getting into it too; they often buy a Ural to go on camping trips." But it's not just adventurous gents investing in the three-wheelers. "More and more women are becoming attracted to Ural," adds Volkhin. Today, with an 82-litre load capacity in the boot and room for two passengers, a full bike-and-sidecar package is from ¥2.4m (€19,000).
According to US-based agency Expert Market Research, the global market for motorcycle sidecars is projected to enjoy a compound annual growth rate of 6 per cent between 2021 and 2026, reaching a sales volume of 62 million units. And the burgeoning Asia-Pacific region is a key force behind that expansion.
But despite all this, Ural has an awkward profile in Russia. "People still have an image of the brand as it was in the 1960s, when Ural was for those who couldn't afford a car," says Volkhin. "They think of them as beaten-up old rural bikes. But recently we've taken them around the country and people couldn't believe that they were made by a Russian company. They said: 'It must be Japanese!'"
Nonetheless, when the vehicle faces bracing, snowy conditions, it's clear that it was originally engineered for Russia. Masaru Horiuchi, an employee of Ural who joined the company simply for the love of the bike, tells me that he has traversed Cape Soya in Hokkaido while it was minus 10c. "Urals are built robustly and for long distances," he says "They haven't changed." Every model can be customised to the buyer's specifications, allowing them to choose everything from the colour of the bike to the windscreen and suspension.
Volkhin and I slurp up the last of our noodles and put our helmets on again for a final ride. As I'm contemplating a potential purchase, our photographer Take-san leans in. "Can you carry a surfboard on this?" he asks. "It can easily carry my camera gear but because I surf, I'm wondering…" It seems they might have two new customers.