Residence / Athens
Tales of the city
In the Greek capital, a mid-century apartment block gets a modern facelift.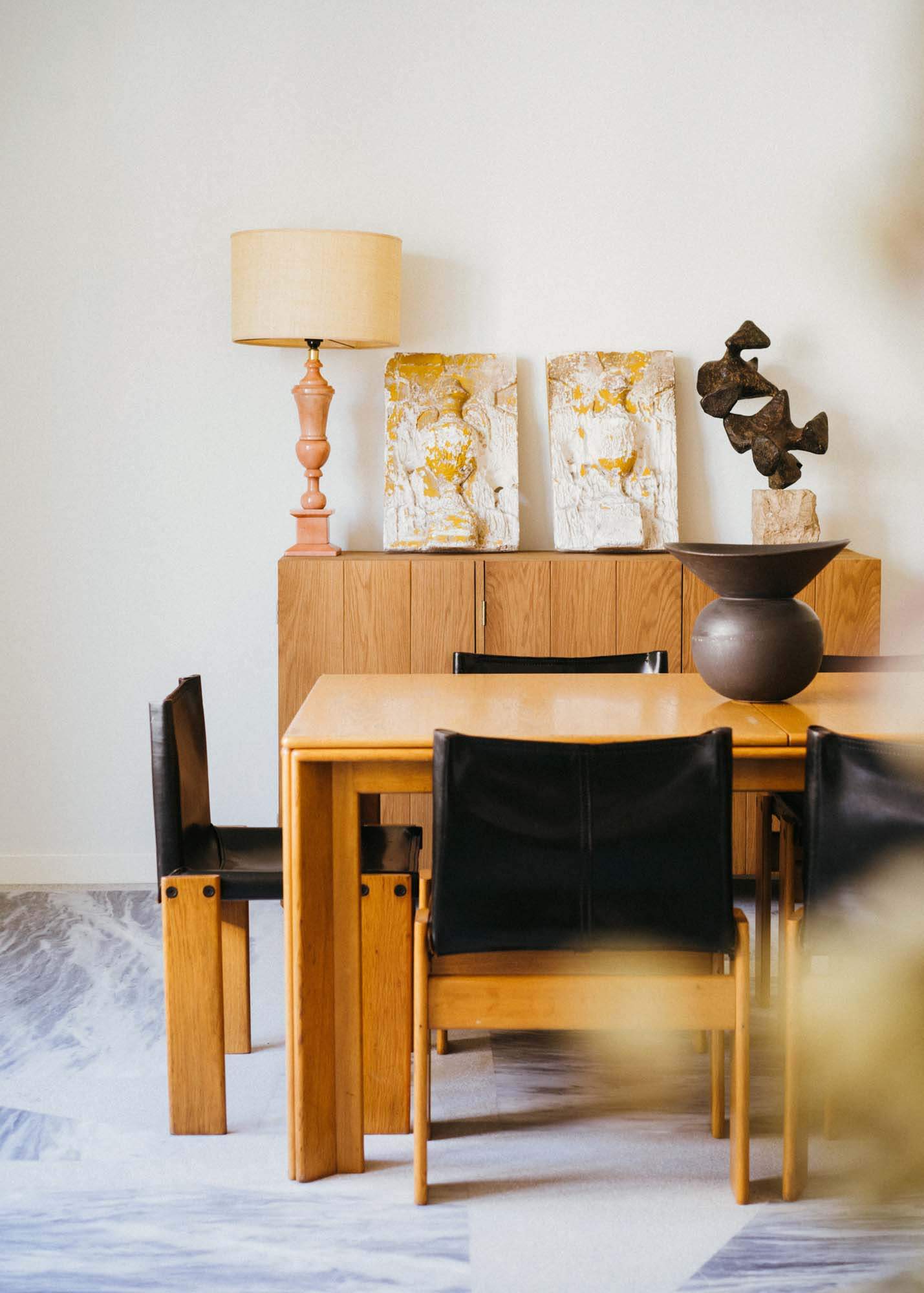 Born in Australia to Greek parents, Nectar Efkarpidis spent his childhood shuttling between continents. He would spend term time at home in Canberra and the European winter in Greece, often staying with relatives in Thessaloniki. It was here that the future developer was introduced to polykatoikia. Literally translating as "many houses", these modular apartment blocks began to spring up in Greek cities in the 1950s to cater to an influx of residents from the countryside. "The polykatoikia where my aunt and cousins lived was intensely social," says Efkarpidis. "Everyone knew each other. It was like a vertical village. As children we were always rushing between floors running errands for our parents."
Efkarpidis and his brother Jonathan went on to become directors of their family's firm Molonglo in 2004, transforming it into one of Australia's most unconventional property developers. Six years ago, however, Efkarpidis decided to extend Molonglo's operations beyond the southern hemisphere. He bought several derelict buildings and apartments in Athenian polykatoikia, intending to restore and update them for modern living.
"Growing up I used to look at these buildings and think, 'God, these are horrible – why are we making these hideous things?'" says Efkarpidis. "But now I think they're fascinating both architecturally and socially. There are examples where a family would build a house and when their children grew up the parents would add an upper floor for them. They would then go on to build another floor for their own children. These places are representations of multi-generational living with a really strong communal arrangement to them."
Sadly, the collapse of the Greek economy in 2008 triggered an era of decline for polykatoikia. The porters who manned the doors were laid off, commercial units on the ground floor fell empty and banks foreclosed on thousands of apartments across Greece's cities. "People suffered," says Efkarpidis. "There was a lot of economic hardship. But there was also a shift, particularly among young people. If they can't buy a house or own a car, those things no longer occupy their mind. So they turned to theatre, to poetry and conversations. The crisis has been problematic for our cultural confidence. But as a process, it has really energised Athens."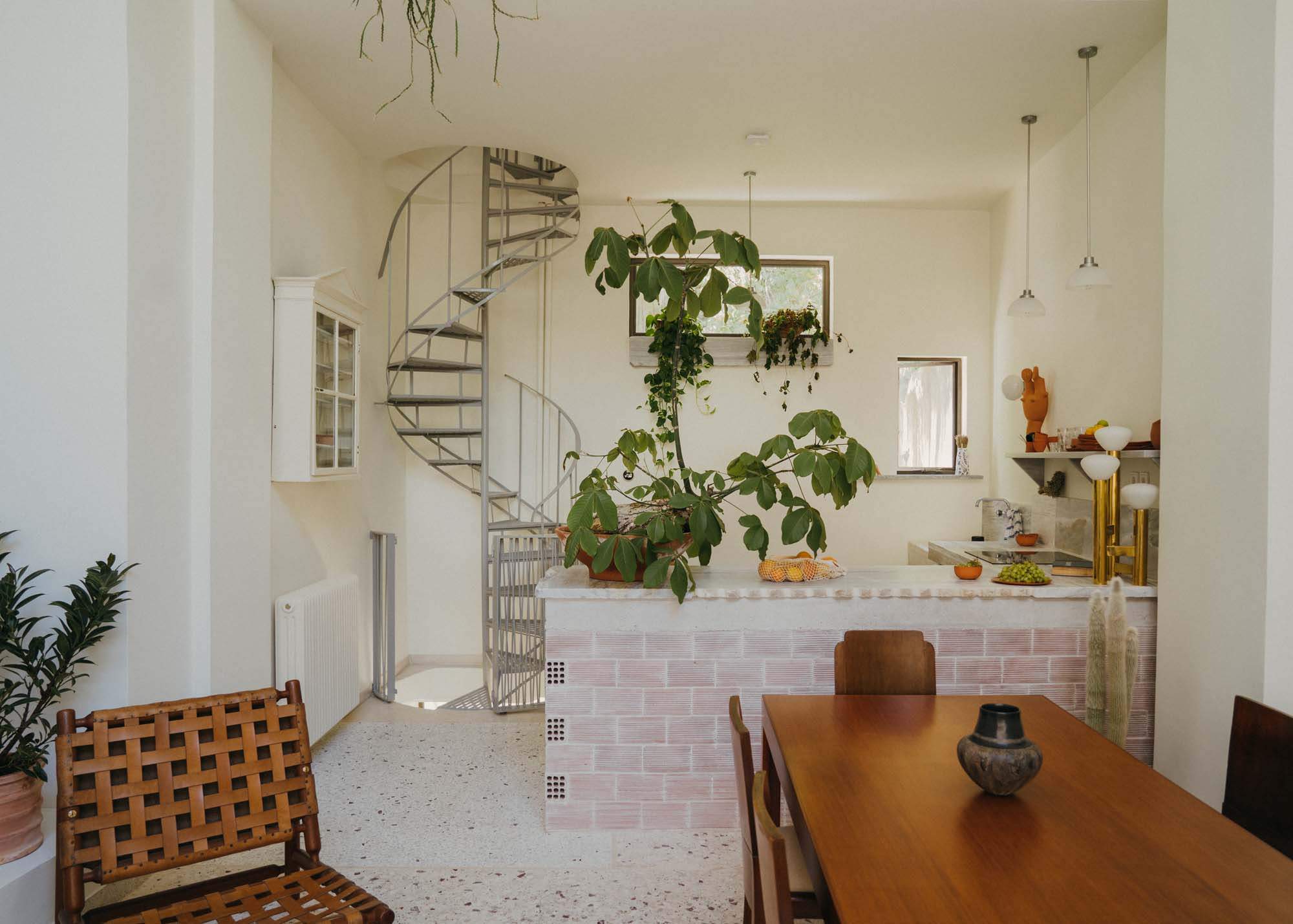 Fascinated by the new cultural identity that was emerging as the dust of the financial crash settled, Efkarpidis decided that the time was right to undertake new projects that would support the city's regeneration. "Athens has an energy consistent with the Greek spirit," says Efkarpidis. "It is both anarchic and charming. And there is opportunity in the cracks and the crevices."
In the past few months Molonglo has completed its first two projects in the Greek capital: a glass-fronted studio apartment in the city's Koukaki neighbourhood and a two-bedroom flat on the third floor of a polykatoikia in Kypseli. Their luminous, terrazzo-floored interiors are the work of British architects Royffe Flynn. "They weren't in a great state when we acquired them so we were starting from scratch," says Luke Royffe, who worked on the project with his wife, Emma Flynn. "We wanted to keep as many original elements as possible, so we began to strip the place while looking at what we could retain."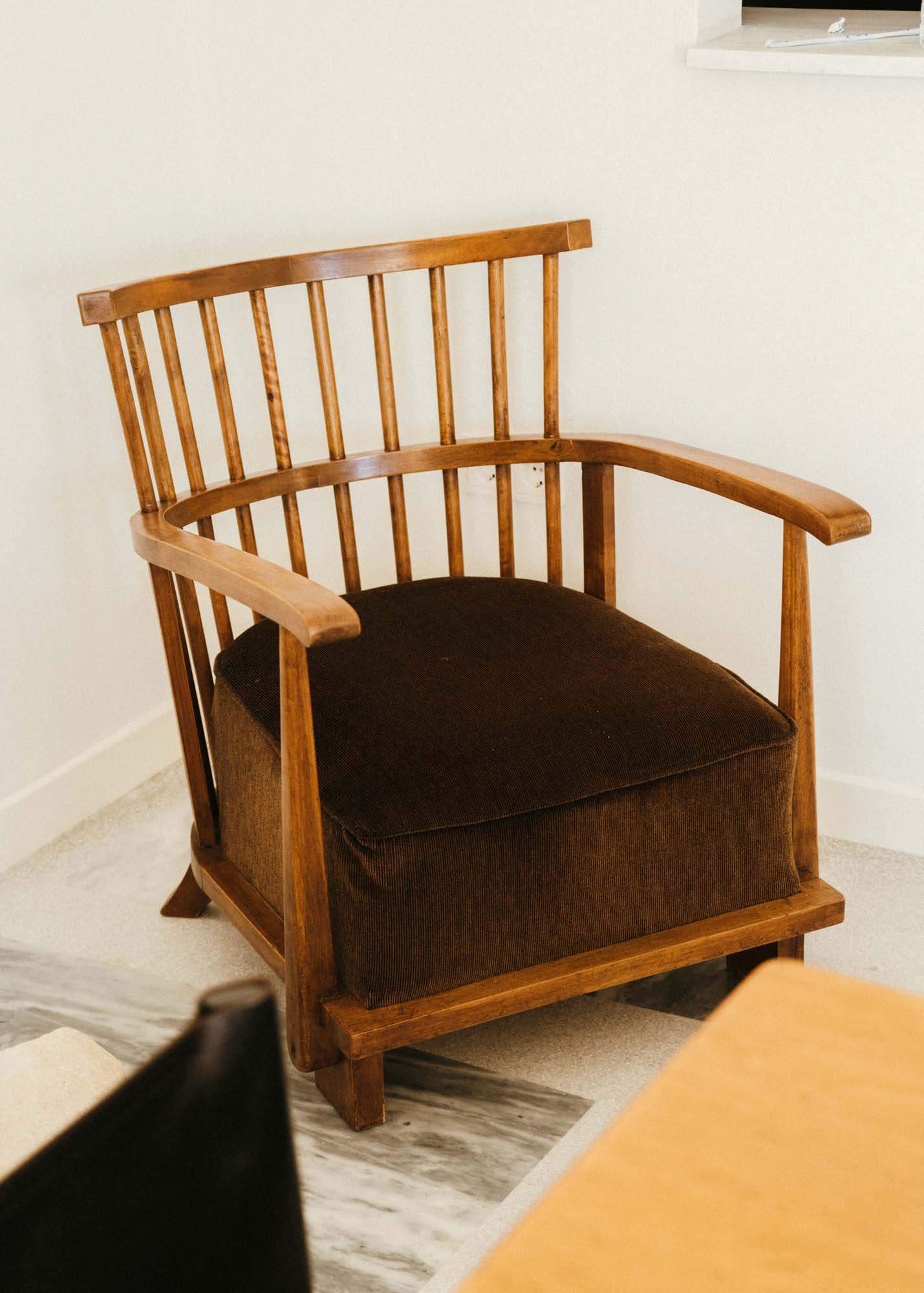 The timber flooring at the Kypseli apartment was replaced with their own spin on the traditional Athenian terrazzo, which involved setting large, angular chunks of locally sourced Kokkinarás marble, cut from a single block, into the floor. "We tried to be as sensitive as possible and make subtle interventions," says Flynn. "We wanted to keep that humble, functional Greek perspective, overlaid with some more playful additions."
In the Kypseli apartment, they kept most of the original joinery, including the wooden doors and 1950s kitchen units, as well as most of the marble in the bathroom. The process of renovating both spaces involved the architects creating a strong network of Athenian craftspeople and specialists. The pair worked with lamp-makers and carpenters as well as experts at the nearby botanical nurseries, who helped to fill the apartments' balconies with hardy native plants. But finding collaborators with the right expertise and capabilities wasn't always easy. "The economic crisis led to a skills drain and a lot of craftspeople went out of business in 2008," says Royffe. "For example, all of the lights came from a local maker who used to be able to go down the road and get his glass blown there. He can't do that any more and has to ship in shades from Italy, so it's a complex process for him."
One industry that survived the crisis more or less unscathed was the city's marble yards, which were kept afloat by international trade. Royffe Flynn was so impressed by the patinas and colours that were available at Athenian quarries and reclamation yards that they created designs for the apartments to show off the stone. "In the UK and in other countries, marble is considered to be quite a luxurious material but in Athens it's absolutely everywhere," says Flynn. "We would visit reclaimed marble yards where they have piles of sinks made from the material that they would sell you for €30 – and they are the most beautiful, hand-chiselled things."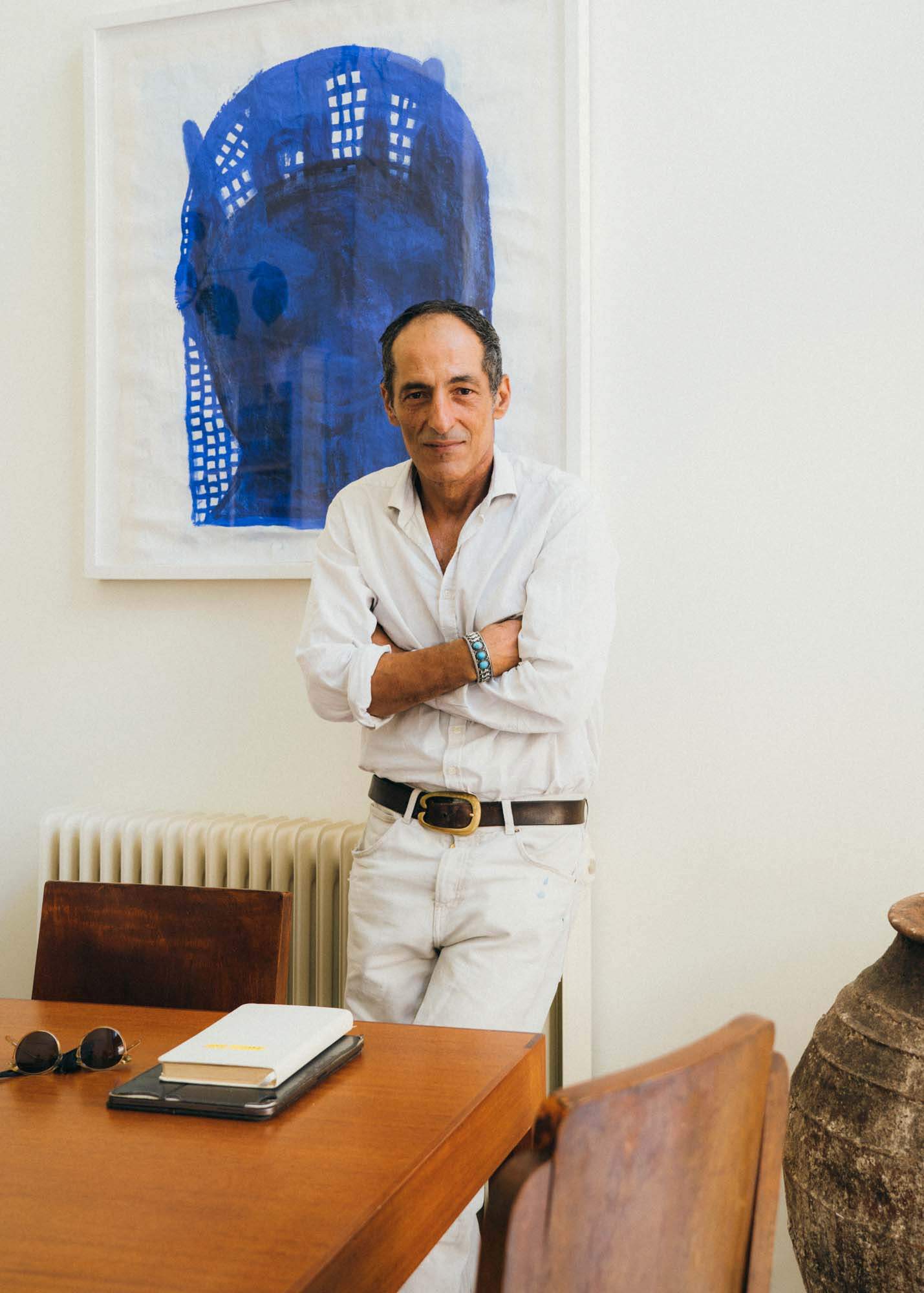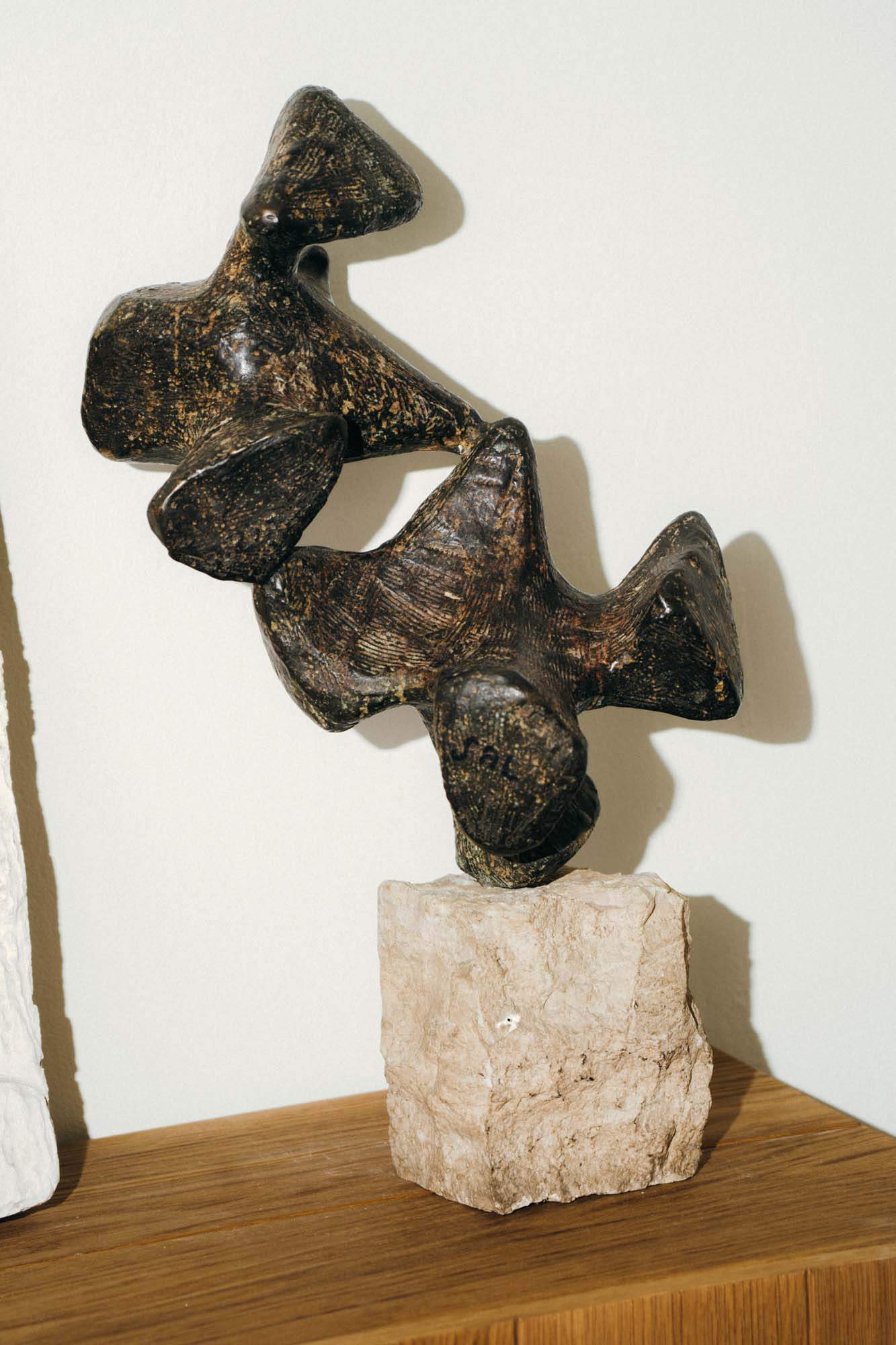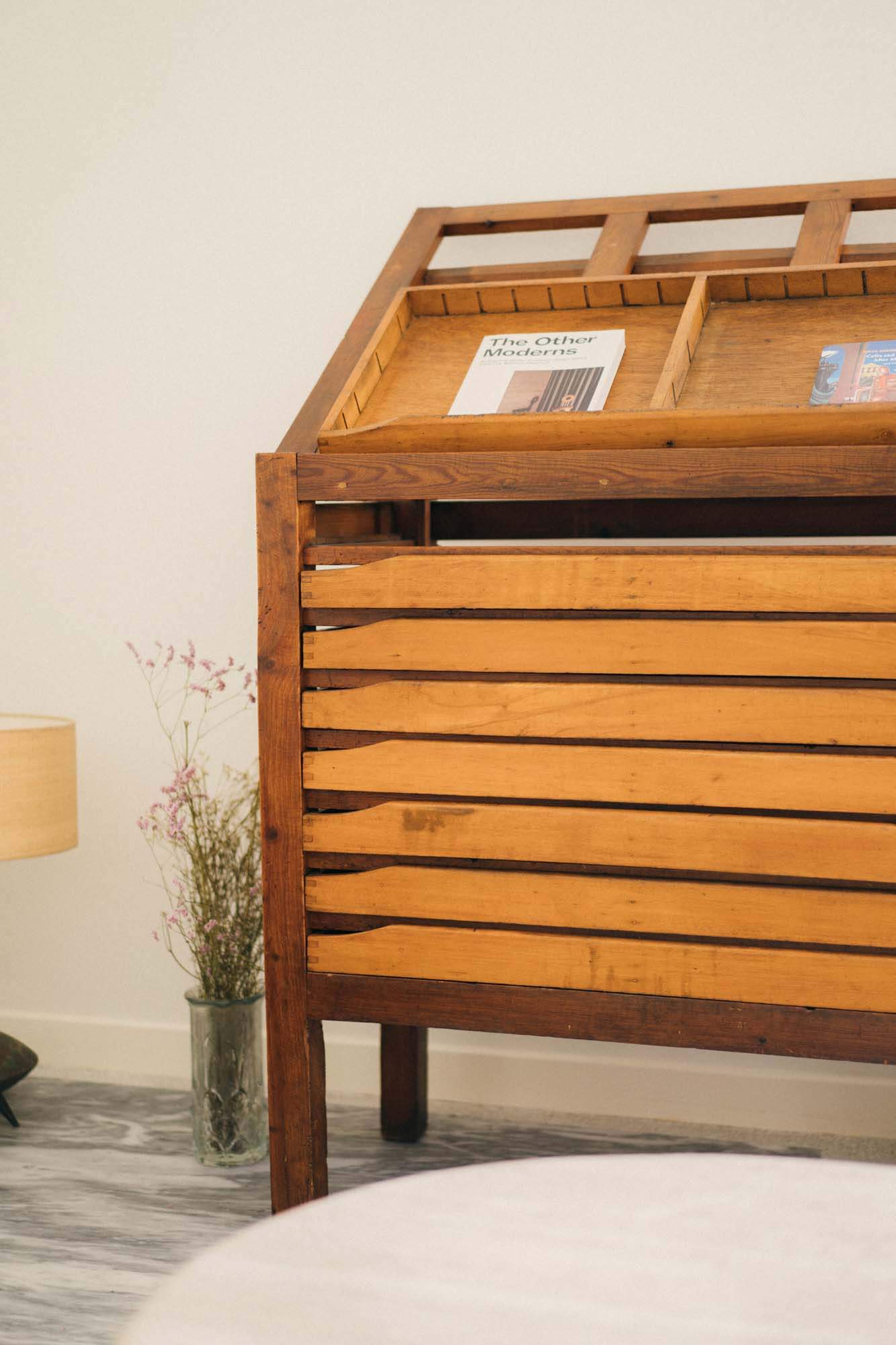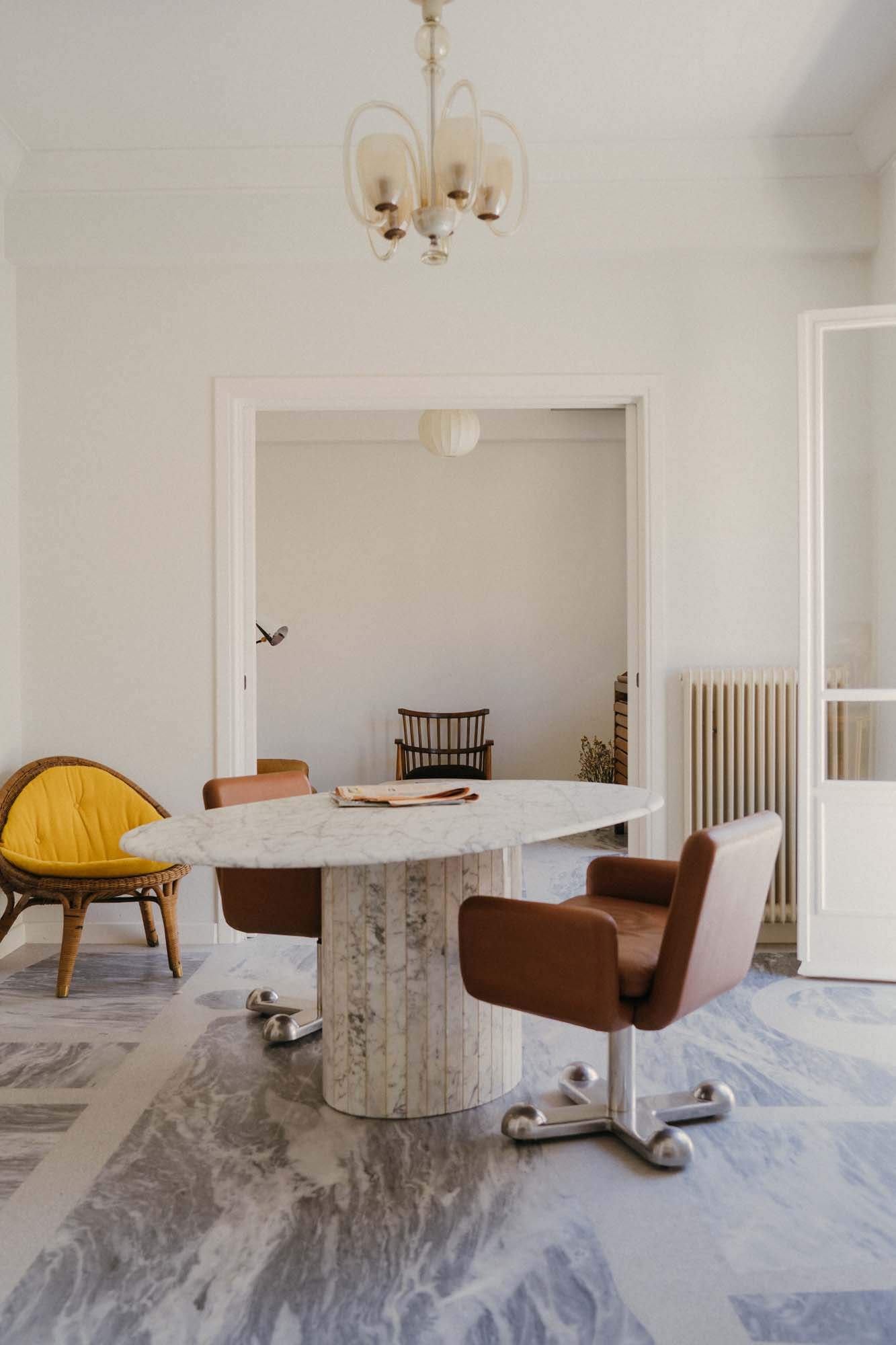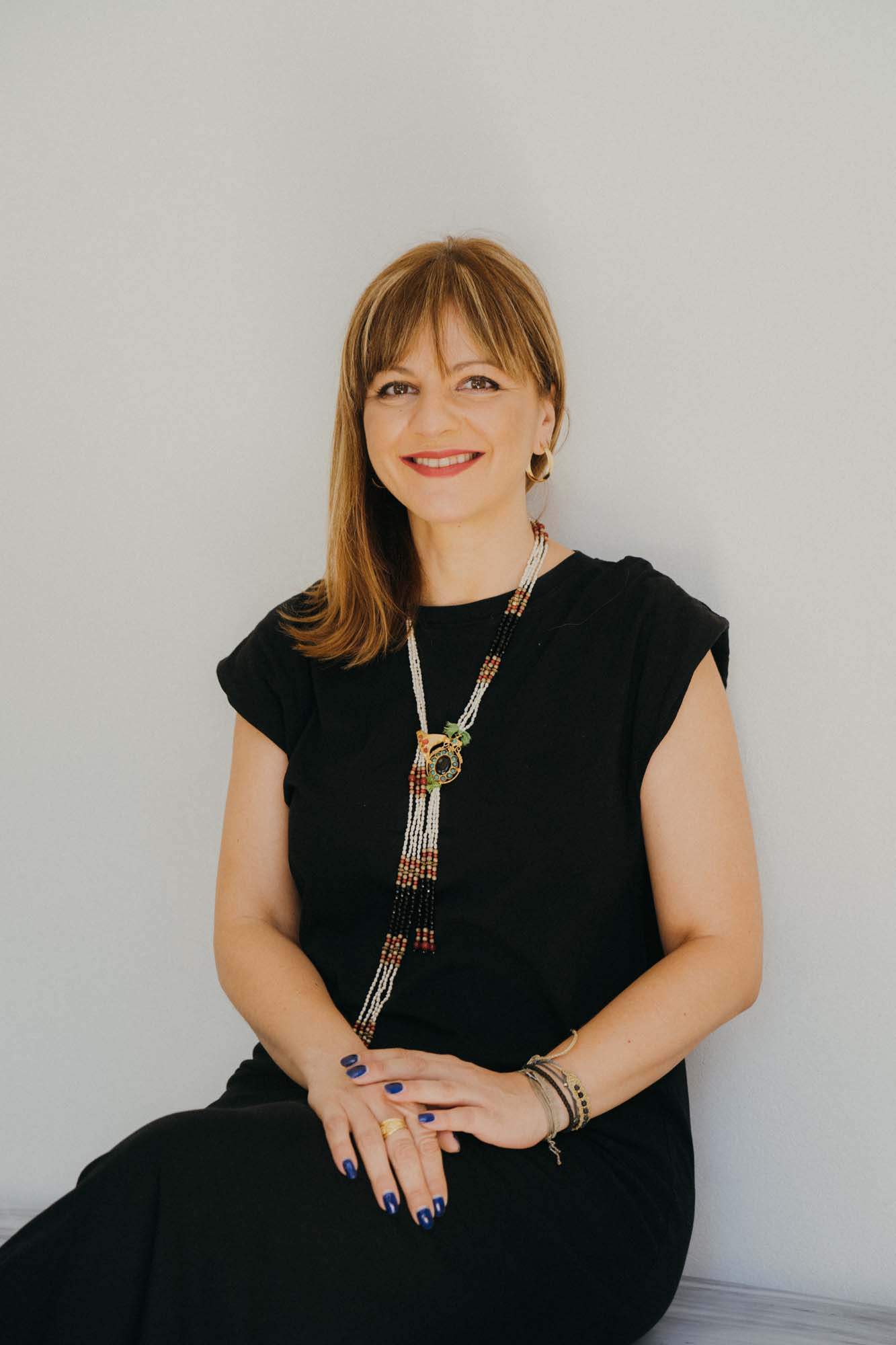 When furnishing the apartments, the architects went with a refined mix of flea market finds and vintage design classics from modernist icons including Afra and Tobia Scarpa and Ettore Sottsass. "For us and for Molonglo, it was important to have some items that reflect Greek origins and style as well as international design," says Flynn. She adds that the furniture comes from a range of eras. "We like that eclectic nature because every unique piece in the apartments reflects a story," says Royffe. Among the highlights in the Kypseli residence are a set of metal lamps salvaged from the original Athens Hilton, a hotel that opened in the same era as the polykatoikia in which they stand today.
Overseeing the selection of artworks on display was Athenian artist Theodore Psycho­yos, who created bespoke pieces for the apartments along with ceramicist Diane Alexandre. Psychoyos lives down the road from Molonglo's Koukaki apartment, for which he created a striking painting in his signature handmade deep blue ink, as well as a set of marble shelves inspired by the Doric columns of Greek classical architecture.
"We visited a warehouse where there were big piles of all these cylindrical stone samples that had been extracted from the ground as testers," says Psychoyos. "They had this Lego-like feel that made me want to create something playful with them." Efkarpidis also introduced the work of some of the city's up-and-coming young talent to the spaces, including Savvas Laz, whose bright green Styrofoam mirror hangs above the sofa in the Kypseli apartment.
When it comes to the question of who will be inhabiting these apartments, the plan is to lease them out as rentals for between three and six months. "We're still trying to work out how to tread lightly in the city," says Flynn. "Athens has a problem with Airbnb rentals that make it harder for locals to afford to live in the centre. The idea is to make these stays a bit longer, to give people more of a chance to become embedded in the community and give back a little bit." Another important aspect of the apartments is that they all come with an adjoining workspace. In Kypseli, for example, a space on the lower ground floor is being renovated to become a studio for creatives staying in the apartment above. "It's exciting because it means that people are invested in the place where they are staying and can contribute to it," says Flynn.
These two apartments are also just the tip of the iceberg in terms of Molonglo's operations in Greece. The developers have plans for many more projects here in the future. "The scale of the project is going to drastically increase over the next few years, so that's really exciting," says Flynn. "These two apartments have almost been test cases that have allowed us to try out different things, source materials and work with different craftspeople. We've learned so much."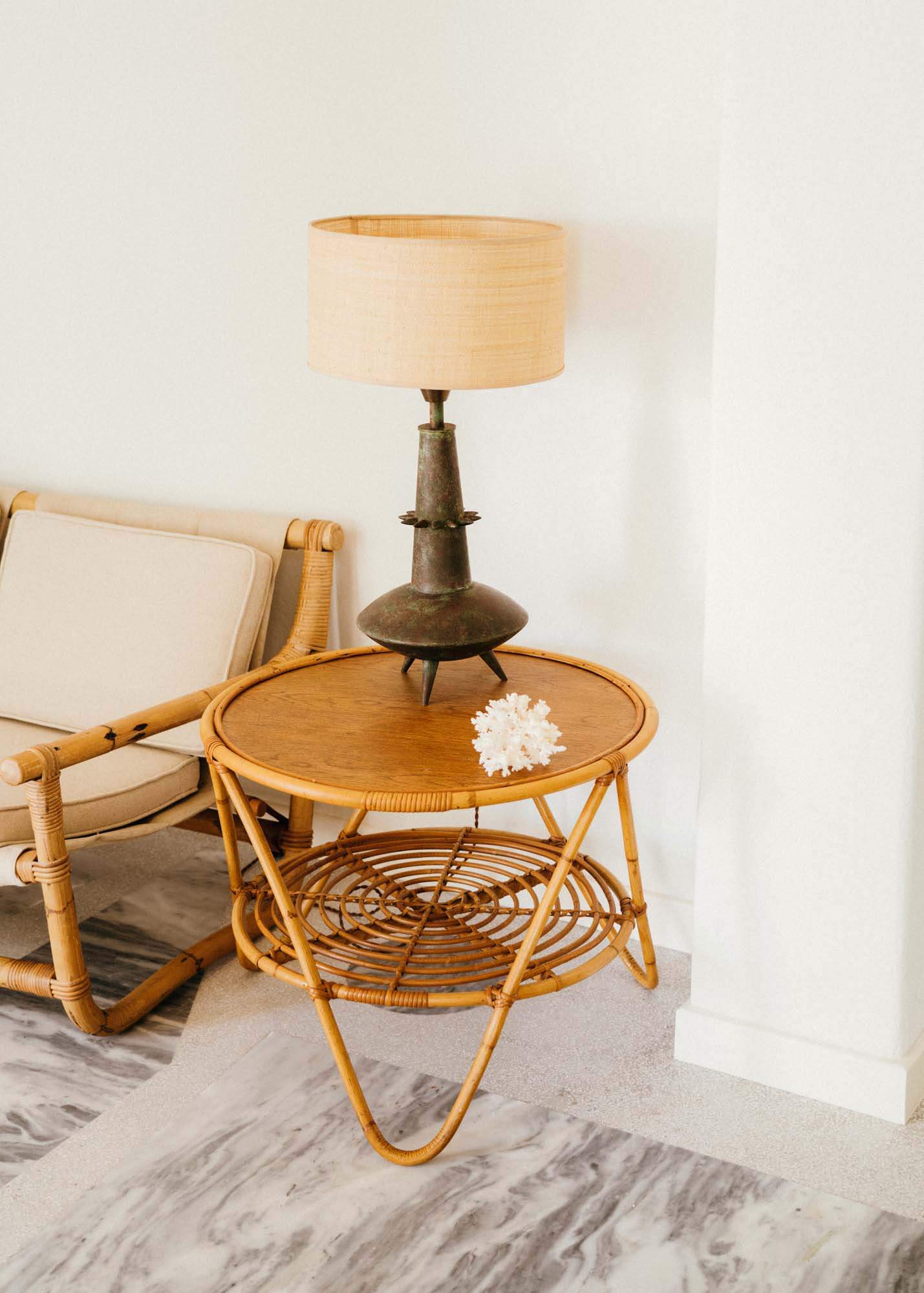 Moving to Athens
With its sunny weather and laid-back vibes, the Greek capital is an easy sell but the process of making a home here can be difficult. In order to buy a house in Athens EU residents only need to procure a Greek bank account and tax number. For those moving from outside the EU there are more hurdles, so contact your country's embassy or consulate before you arrive. We also recommend the assistance of a Greek immigration lawyer to prevent you from being buried under a mountain of paperwork.
One option is to find a Greek spouse but if romance is off the cards and you can't conjure up any Greek ancestry, there is always the much-coveted Golden Visa, obtained by those who invest €250,000 in the country's property or €400,000 in government bonds. Those who possess it are immediately granted a five-year residency. For those who want to open their own business in the country, the Greek government is rolling out a number of incentives to aid start-ups but you will need a lawyer to guide you through the process.