Fashion / Paris
Tread lightly
It's the socially responsible brand that showed that doing good can look good too. Now Veja's trainers are the go-to for cool teenagers and their mums. But what lies behind its success? Perhaps it's that the founders aren't trainer fans and refuse to borrow money – and don't even want to talk about what they do.
Behind the oversized tortoiseshell frames, there is a look of exasperation in Sébastien Kopp's eyes. monocle has just asked him what a "sustainable brand" looks like. "I don't know, I don't know," says the co-founder of Veja, sighing, his mouth curling into a frown. "I was saying in a conference in Paris, 'Sustainability is a bag of vomit: you put in lots of different things and nobody understands what you're talking about.' We're not at ease with this term; it doesn't mean anything today."
Frankly, Kopp can say what he likes about sustainability, the fashion industry's most talked-about topic. He knows his stuff. In 2005 he launched trainer brand Veja, headquartered in Paris, with his childhood friend François-Ghislain Morillion. Their raison d'être was clear: "to build a different kind of sneaker", as Kopp puts it, by working directly with Brazilian farmers, producers and factories. Veja was an ecological and social project in the guise of a shoe brand. From the outset the duo have remained as committed to ensuring transparency throughout their supply chain as they have to creating trainers with an unfussy, slightly retro aesthetic.
Rather than rhapsodising about sustainability, Kopp and Morillion prefer to focus on knowing exactly what Veja is doing. "Know where the cotton comes from and who is planting it," says the 43-year-old Kopp, speaking from his office near the Gare du Nord in the 10th arrondissement. "Know how much the organic-cotton producer and the Brazilian factory worker are earning. Our work is like investigative journalists going after the supply chain. That's our only interest."
That they have been doing this since 2005 – long before eco-friendliness became fashionable, especially among trainer brands – has put them well ahead of the pack. And it is part of the reason why Veja has become a global phenomenon in the past three years. In metropolises around the world, its trainers are as ubiquitous as The New Yorker magazine totes and Birkenstock sandals. Sitting between high-street and luxury prices at €100 to €150 a pair, they are identifiable by a chunky V logo, its tip disappearing into the shoe's base. A broad cross section of urbanites declares its allegiance to the logo, much like others do the swoosh or three stripes. The pavements of Los Angeles, Sydney, London and Paris are pounded by millions of Amazonian-rubber soles from the brand's bestselling Campo and v10 models.
Most of the styles feature a white leather base accented with pops of colour (red, navy, forest green, powder pink) on the V and at the heel. They are easy to match with outfits and allow wearers to feel as though they're sporting something eye-catching without taking a style risk.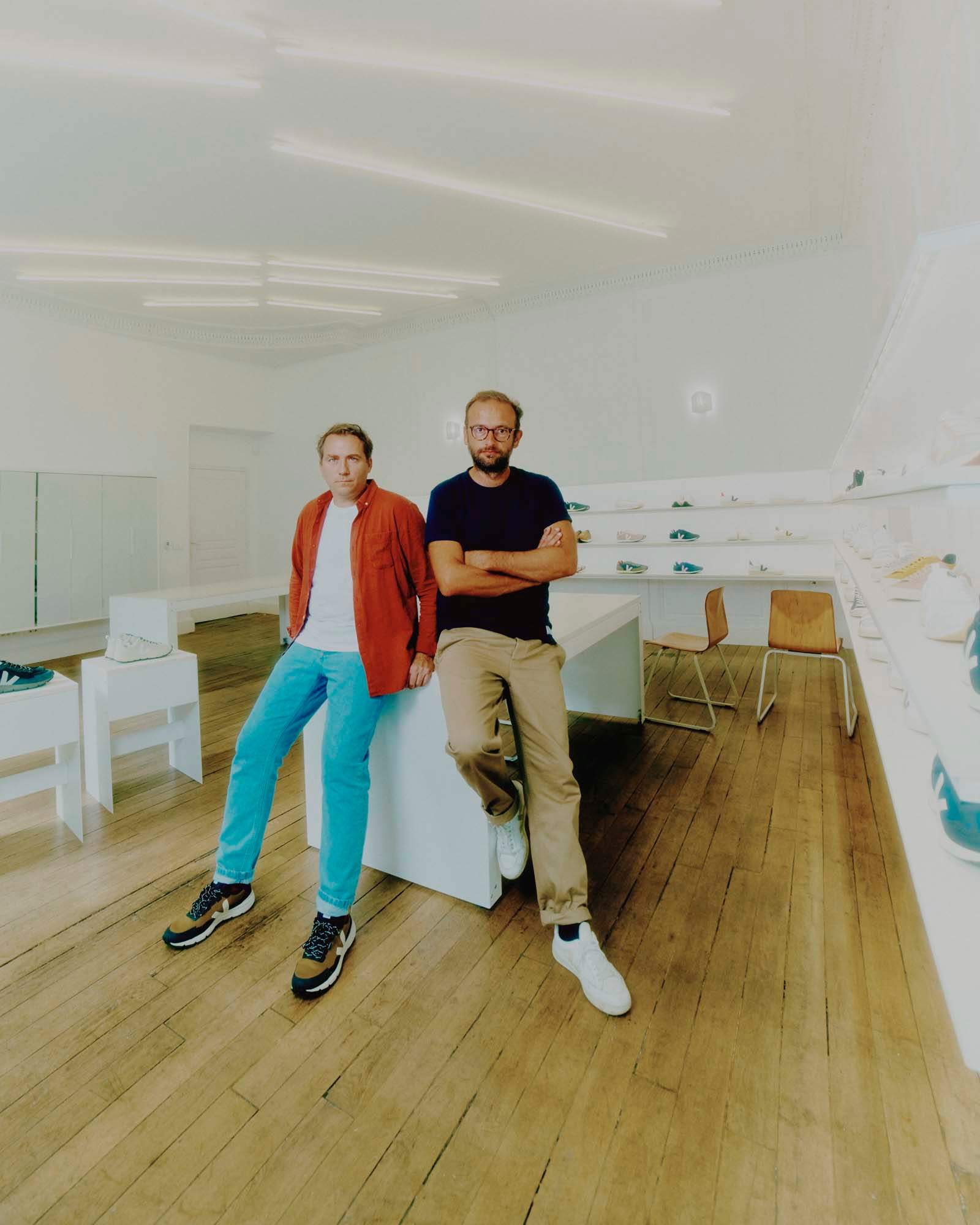 It's a formula that has widespread appeal. Rather than being edgy or cool, Vejas are democratic shoes. "They sell sneakers to kids, mums, students and teens," says Marc Beaugé, editor in chief of Parisian fashion magazine L'Étiquette. "I don't think the target is to be a niche, super-cool brand. They want to do a good pair of trainers that a lot of people can buy." That includes A-listers: Vejas have become a fail-safe choice for those who want to telegraph their progressive values, including celebrities, politicians and members of the British royal family. For they possess a precious asset for a fashion brand in 2021: their hard-earned status as a shorthand for an eco-conscious lifestyle.
Without any advertising, the brand has swelled from selling 550,000 pairs of shoes in 2017 to almost three million in 2020. It now has about 3,000 wholesale stockists – from high-street shops to department stores and luxury boutiques, plus three of its own shops. It has expanded into vegan trainers, running shoes and hiking boots, and dabbles in collaborations with high-fashion designers such as Rick Owens. It recently opened repair shops in Bordeaux and Paris, and a flagship outlet in Manhattan. It brought in revenues of $120m (€102m) in 2020 and is growing by more than 50 per cent a year. It's the ethical passion project that made it big.
"We're in the luxury shops but not in the luxury scene. We don't drink champagne; we drink beer in a petrol station on the road to Amazonia"
Before you assume that it's been a whirlwind ascent, however, remember that Kopp and Morillion have been committed to their cause for 16 years. To them, it feels more like a case of "step by step", says Kopp. The brand only releases two new styles a year – a tiny number in an industry that prizes novelty – and is still fully owned by its co-founders, who have never grown accustomed to the spotlight. Though Kopp is the more public-facing of the two (Morillion, who was travelling in Brazil, declined to be interviewed for this story), he often replies with gnomic answers and monocle senses that he would rather be dealing with Amazonian farmers than tiresome journalists.
It's not so much that Veja has suddenly changed as the world has shifted around it. These two Frenchmen have been calmly singing a tune that the rest of the fashion industry has taken until now – or at least until the past few years – to discover. They seem to be content doing their own thing. "We're in the luxury shops but not in the luxury scene," says Kopp. "We don't drink champagne; we drink beer in a petrol station on the road to Amazonia."
Kopp and Morillion are the rare trainer-brand founders who are not sneaker-heads themselves. Sure, they grew up wearing casual shoes but it was a desire to start a company that could have a positive impact, rather than any sartorial obsession, that kick-started Veja. Its story began when Kopp and Morillion, then 24-year-olds working in banking, decided that they "wanted to do something else with [their] lives", says Kopp. They spent time visiting sustainable development projects around the world, from Peru to China and Morocco, and were disappointed by
Kopp and Morillion are the rare trainer-brand founders who are not sneaker-heads themselves. Sure, they grew up wearing casual shoes but it was a desire to start a company that could have a positive impact, rather than any sartorial obsession, that kick-started Veja. Its story began when Kopp and Morillion, then 24-year-olds working in banking, decided that they "wanted to do something else with [their] lives", says Kopp. They spent time visiting sustainable development projects around the world, from Peru to China and Morocco, and were disappointed by what they saw. They realised that ngos weren't able "to change the reality" without funding, says Kopp.
So they decided to launch their own venture. Trainers appealed to them because they were a more public declaration than, say, organic coffee sipped at home. "Everyone in the street can see what you are wearing," says Kopp. Streetwear was yet to fully infiltrate luxury circles and the global trainer boom that has coincided with the rise of Silicon Valley and the casualisation of workplace dress codes was still a few years off. "When we started Veja, trainers were not 'fashion'," says Kopp. "They were considered a cheap accessory."
They were also ripe for a green overhaul. "The sneakers of [many big brands] are based on making a profit out of economic and social difficulties in China, Vietnam, Indonesia and so on," says Kopp. "We said, 'Why don't we build a different system based on directly sourcing organic and fair-trade raw materials, finding a factory that respects the workers and at every step of the way [creating] a supply chain that has a better ecological and social impact?"
Veja is probably the first trainer brand founded with the explicit purpose of positively affecting the planet, says Harriet Vocking, chief brand officer at London-based sustainability consultancy Eco-Age. "It's not a Nike or an Adidas trying to pivot from producing billions of shoes every year [into something more eco-conscious]," she says. "They set out to create the most sustainable trainer ever."
Though the brand is headquartered in Paris, you'd be forgiven for thinking that it's Brazilian. It has an office in Porto Alegre and a showroom in São Paulo. Its name – pronounced "Vay-jah", rhyming with "Asia" – is Portuguese for "look". In Brazil, where it is especially popular among men, it is considered a local brand, says monocle's Latin America correspondent Lucinda Elliott. As if to clarify any doubts as to the brand's spiritual homeland, when Kopp speaks to us from his office, a photo of an Amazonian village – featuring a wooden house, colourful washing lines and chickens – presides over the video call.
Brazil attracted the Frenchmen because it is a self- sufficient country. Rather than relying on imports, it has a rich base of manufacturers producing for the domestic market and natural resources aplenty. Kopp and Morillion spent six months traversing the country. They ventured to its northeast region to visit farmers growing organic cotton using regenerative agriculture so that the land becomes stronger over time; they met Amazonian wild-rubber tappers who collect milky-white latex from rubber trees and are trying to hold their ground against rampant deforestation. They stayed with these communities and figured out how much they would need to pay them "not only for them to survive but to live well", says Kopp. They continue to visit Brazil annually to check in on their ecosystem of factories (mostly near Porto Alegre in the south) and producers.
---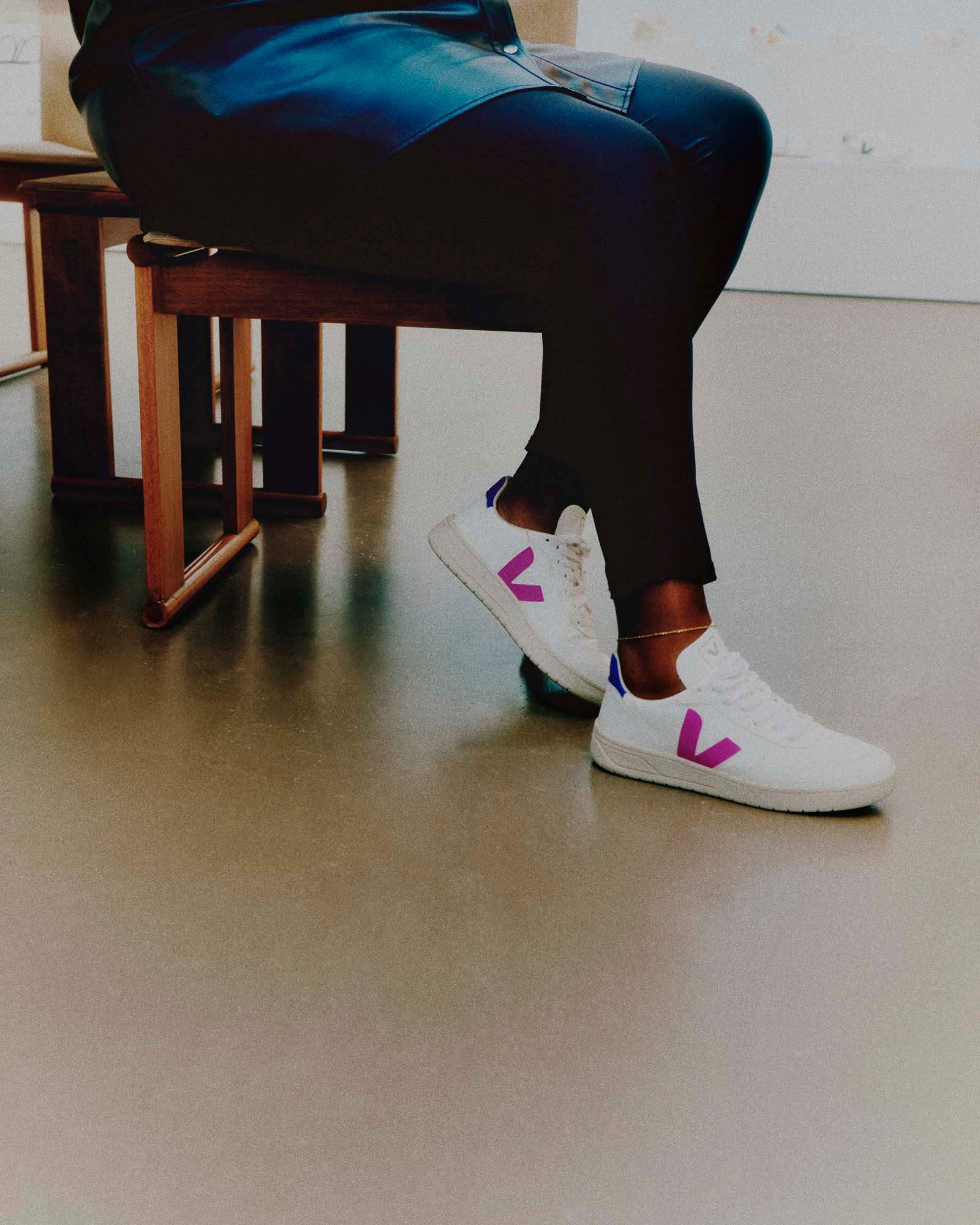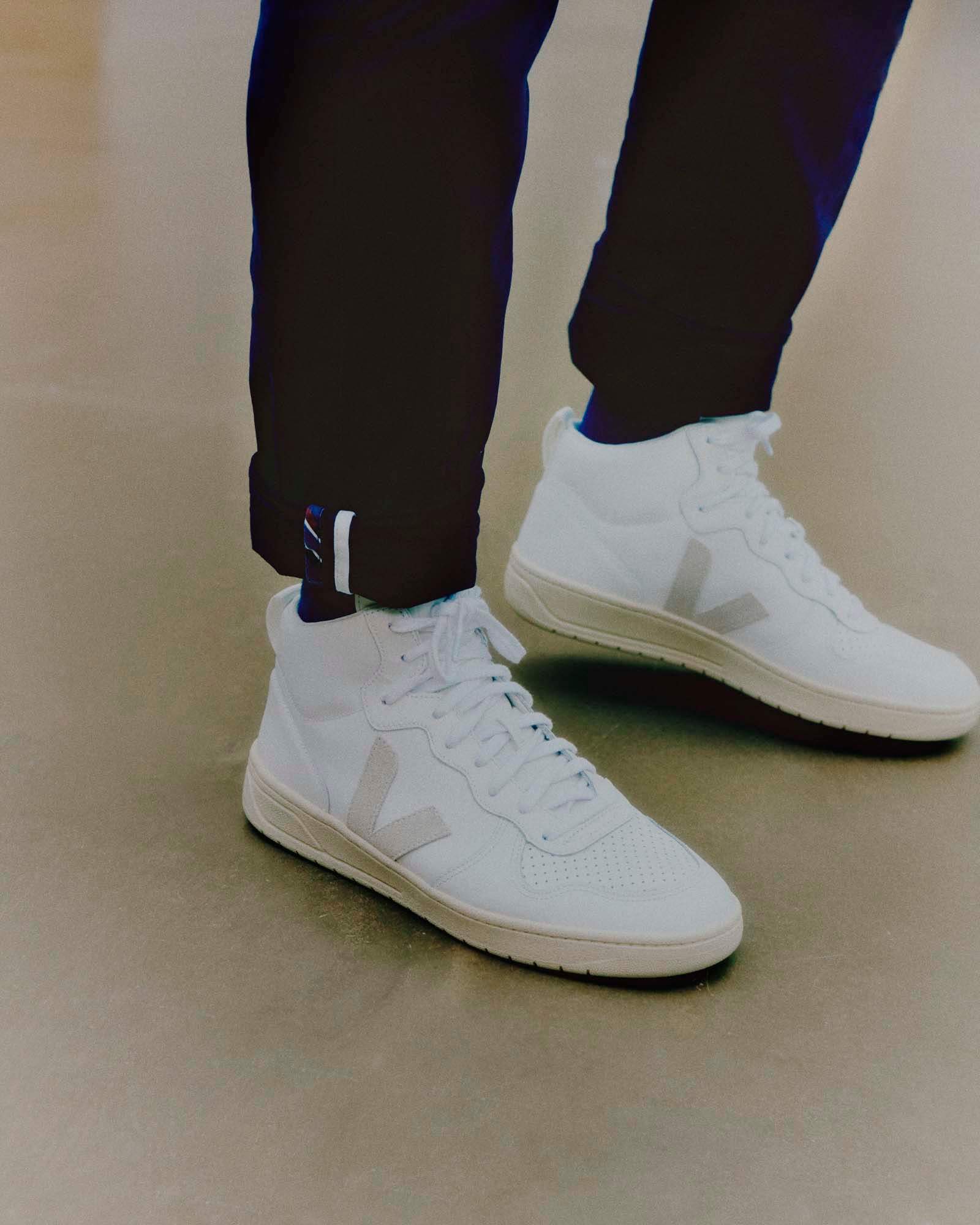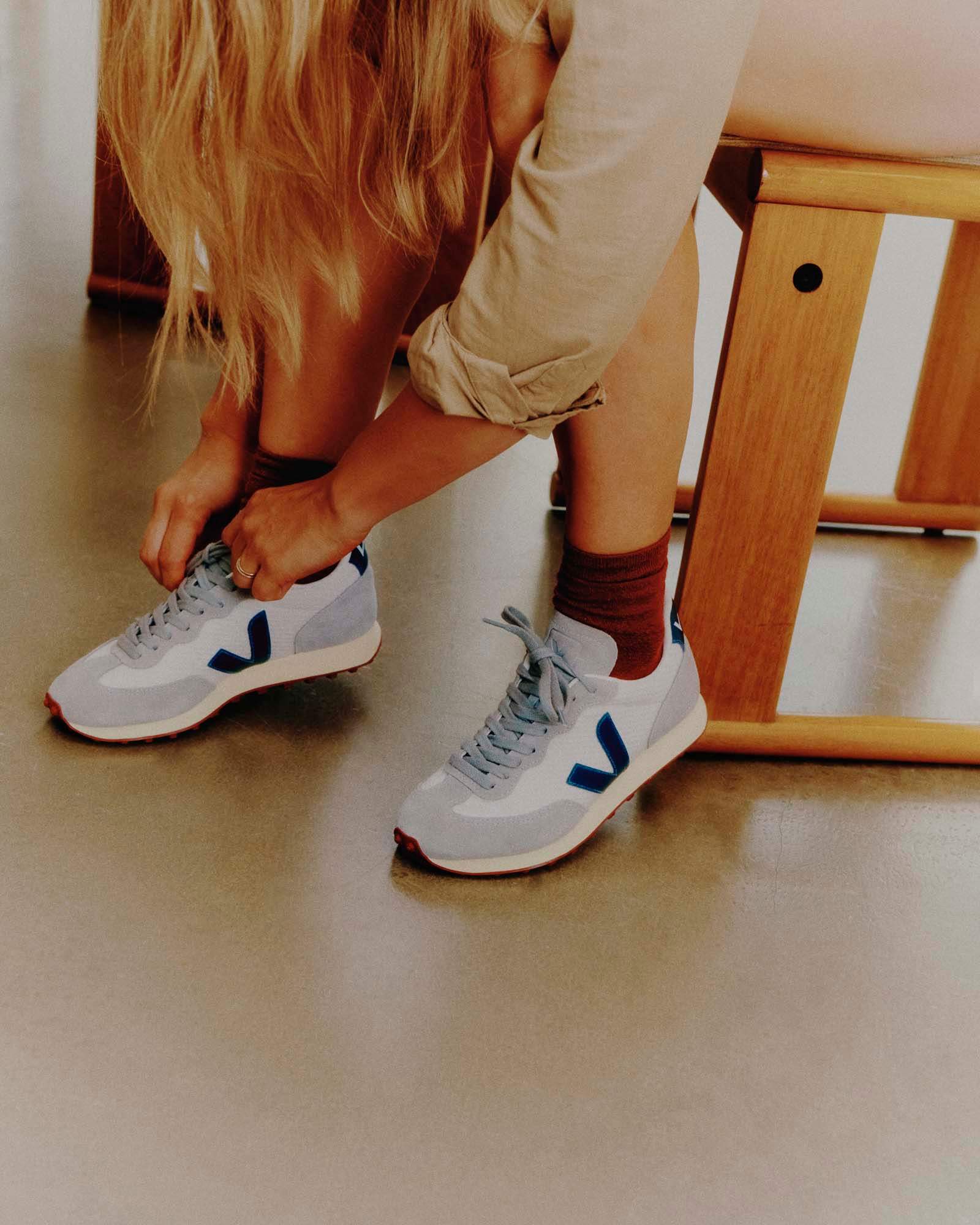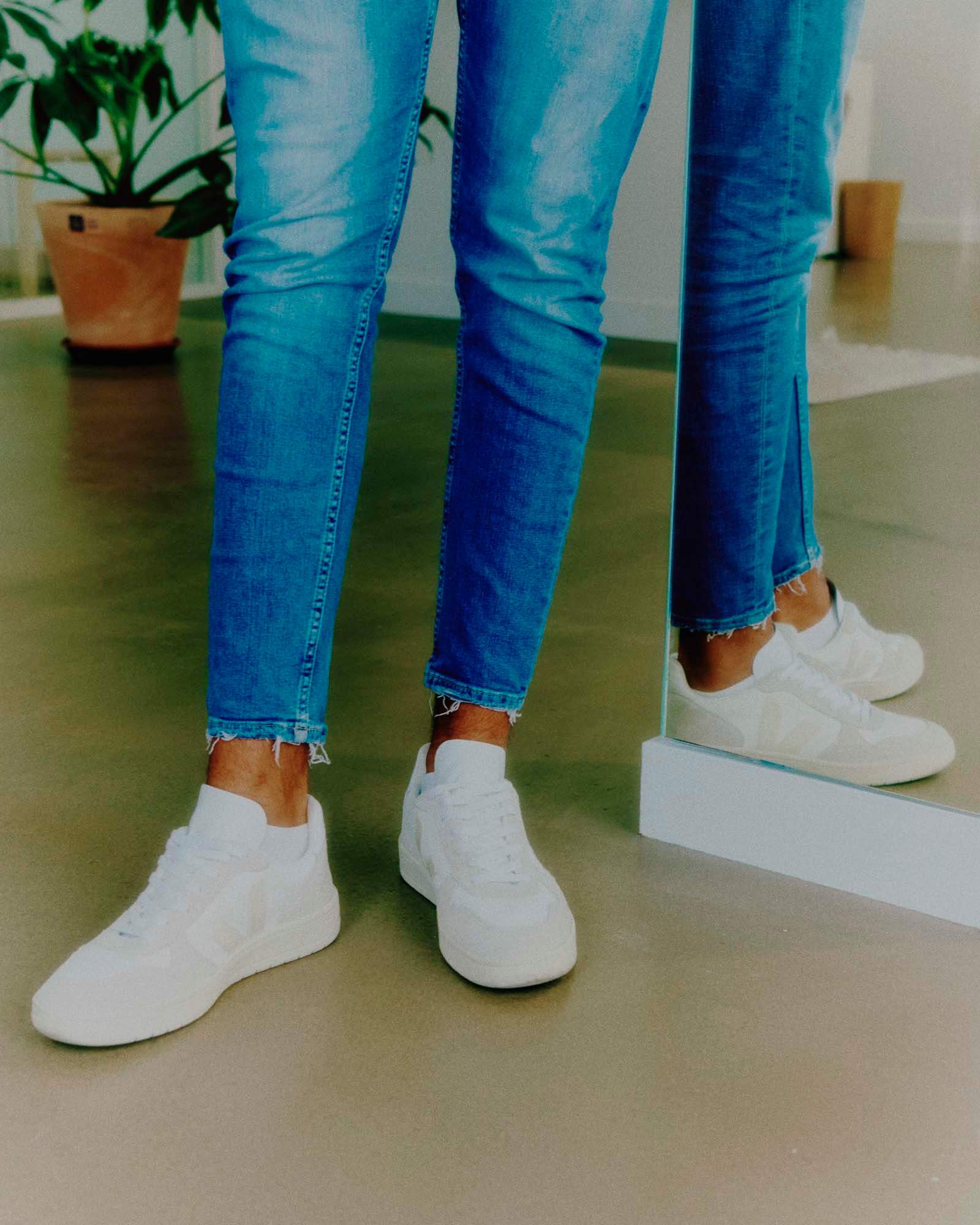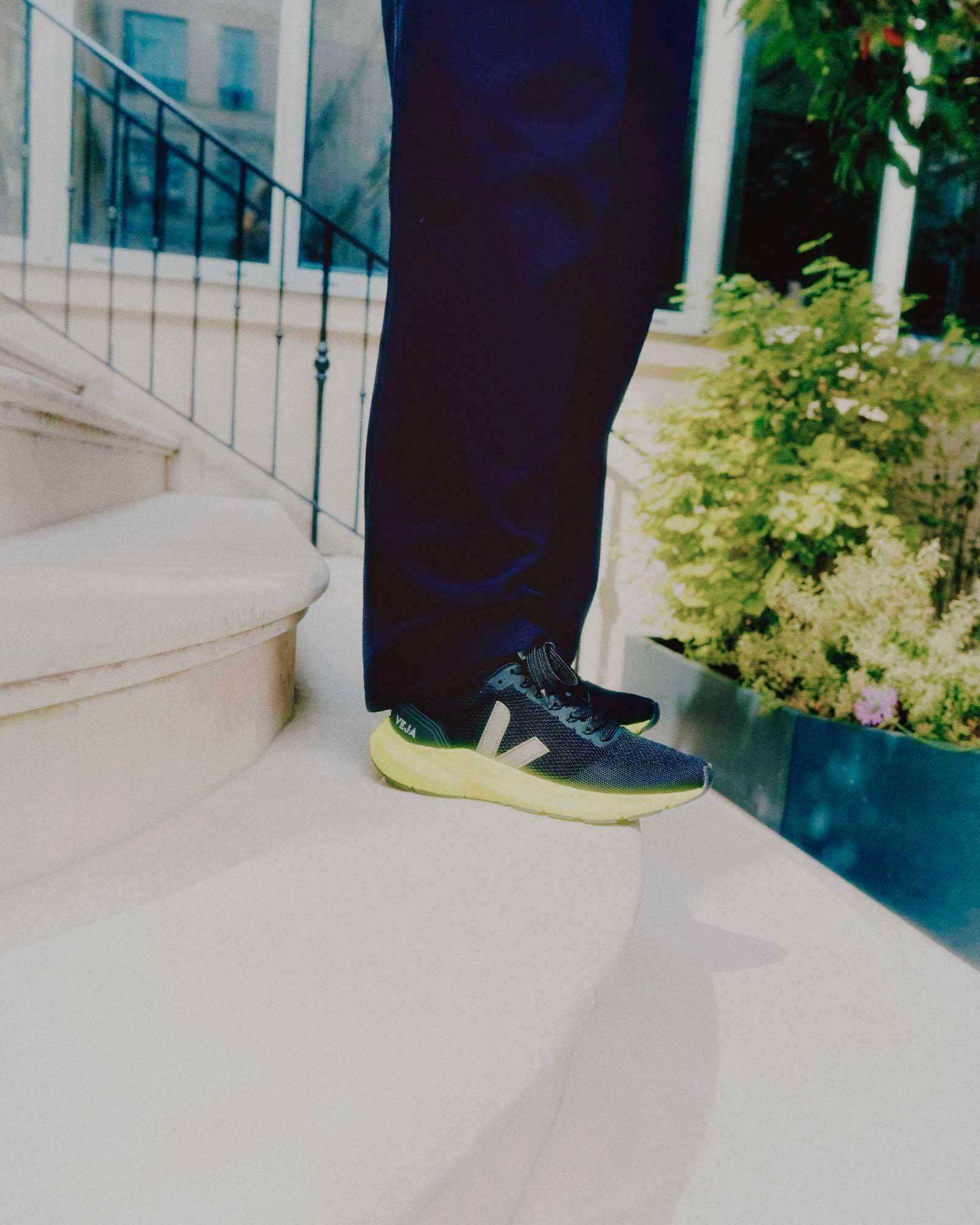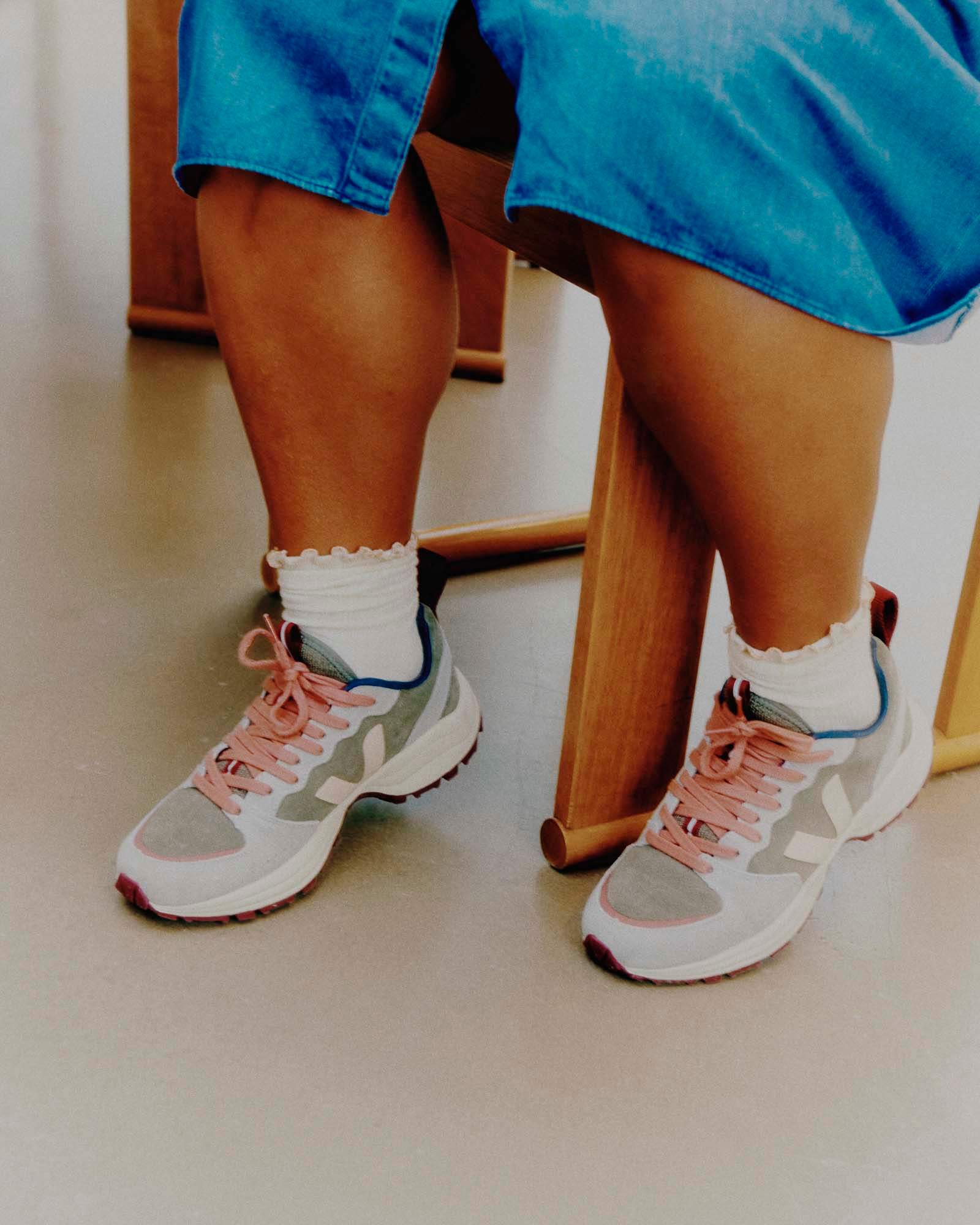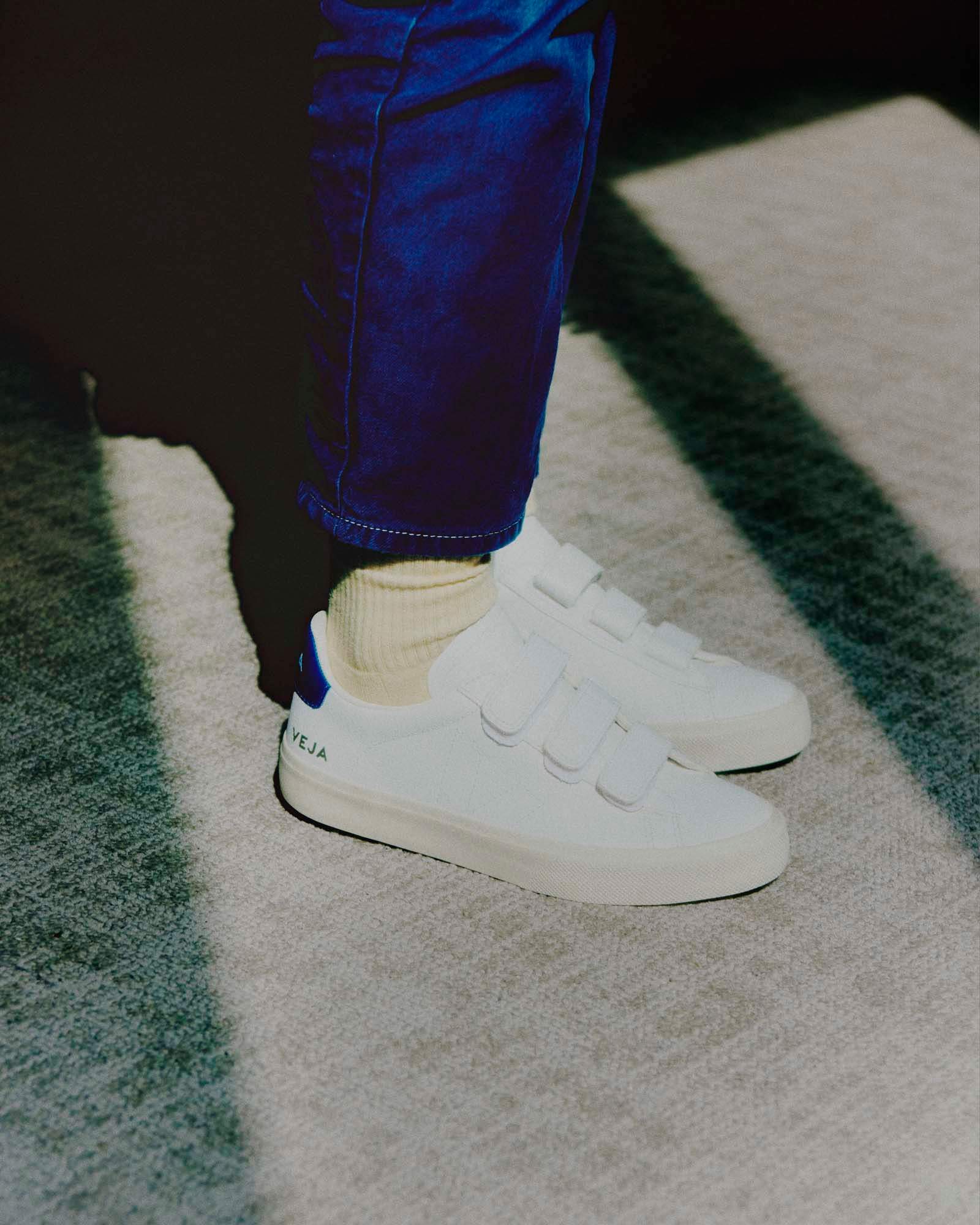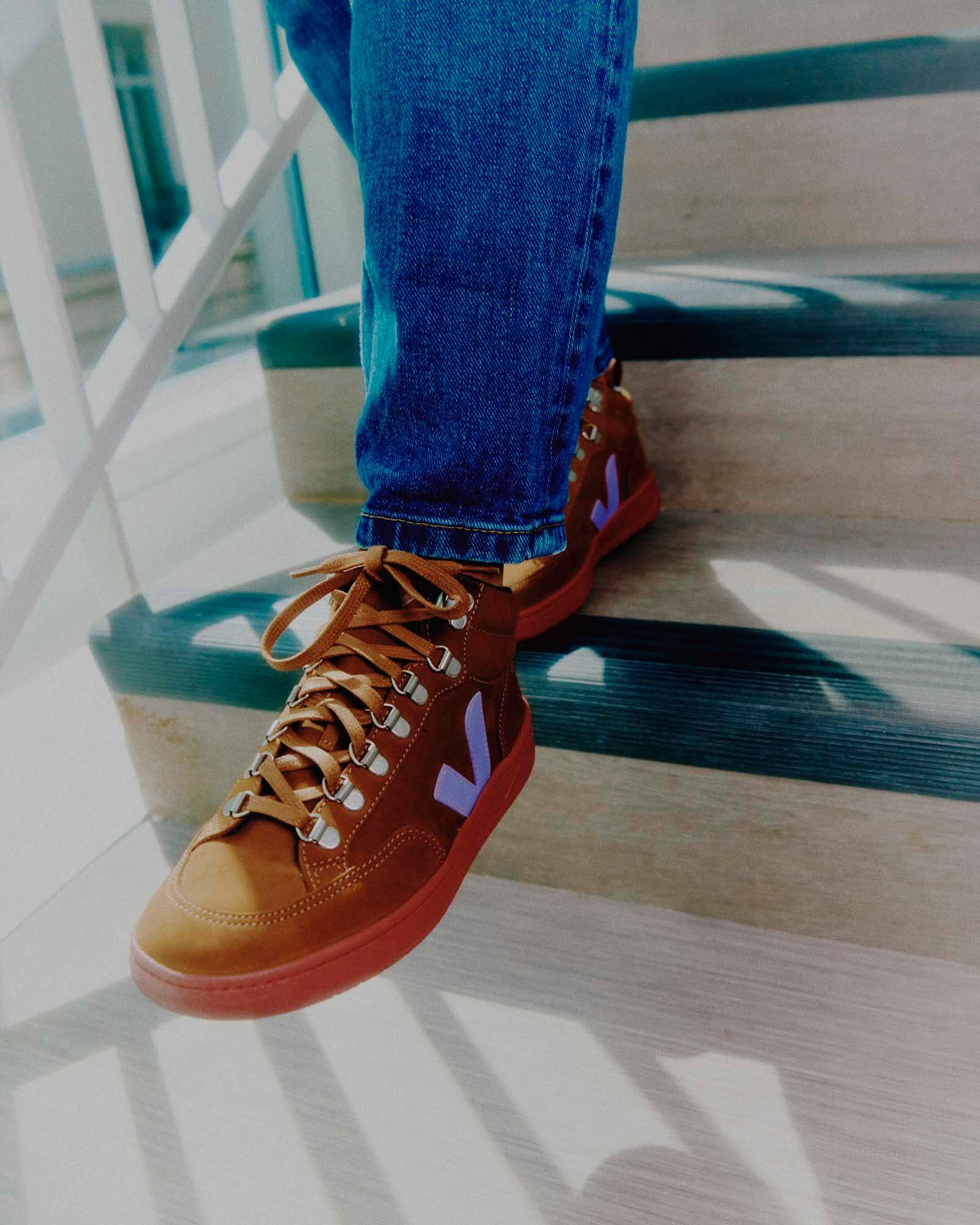 They have been frank about their ongoing struggles to achieve their goals: there is a page on the Veja website titled "Limits". Even now, when brand transparency has become trendy thanks to successful start-ups such as San Francisco's Everlane, this degree of openness is rare. Kopp runs through Veja's current blemishes. It could "do better" on its shoeboxes and it "doesn't know" where some of the foam used inside the trainers originated. Eyelets are a headache; Kopp knows that the metal doesn't contain nickel but he isn't sure where, exactly, it came from. "When we don't know, we chase," says Kopp. "Because if you're not aware, how can you change?"
Nonetheless, industry experts give Veja the tick of approval. Good on You, a popular online platform that allocates sustainability rankings to fashion brands, assigns it an overall rating of "good" – the second-highest – marking it down only for its use of leather. (This is a point of debate: "Are you sustainable because you are a vegan? Is plastic better than leather? I don't know," says Kopp.) Vocking, from Eco-Age, is more effusive in her assessment. "Veja has looked at every single element of the shoe, and it's looking to make it better or [have] the minimum impact," she says. "It's supporting the people on the ground and taking responsibility for its raw materials. Not a lot of brands can do that. For me it's as good as you can get for a trainer brand."
Whether Veja's eco-friendly credentials are the reason for the brand's current popularity is another matter. Kopp doubts it. "I would guess that maybe 10 per cent of our customers know how the shoes are made," he says. "If you see someone in the street in London, ask them – you will be surprised. Even some of my friends don't know. But we don't care. We do it for us."
Even if that person in the street is oblivious to the brand's backstory, there's a good chance that they will know that Eddie Redmayne, Emma Watson or Meghan Markle wears Vejas. After simmering in the background for years, the brand surged into the public consciousness in the second half of 2018 when A-listers started wearing its v10s, according to Lyst, an online platform that aggregates data from more than 17,000 brands and stores.
Celebrities do not throw together outfits. These are carefully considered ensembles. "When we worked with Emma Watson on her press tour, we were doing due diligence on risk for all of her clothes," says Vocking. Given that the British actress has become a role model for speaking out on social and environmental issues, she could not afford to make a misstep with her choice of brands. Veja "looked good but also [signalled], 'I'm green.' That's a winner," says Vocking. It's similar in France. "Whenever politicians want to buy trainers, they turn to Veja because they know that they won't have the ecologists on their back," says Beaugé. So while your average person on the street might not be wearing Vejas for the company's green credentials, the idol who influenced them probably was.
This is not to underplay the role of smart design in Veja's success. In its Paris studio there is one overarching guideline: design shoes that you would wear yourself. "We don't have a target in mind. The first client is the Veja studio team," says Caroline Bulliot, the brand's co-creative director. Clearly the studio team is not comprised of punks, goths or attention-seeking fashionistas. The styles they turn out every year are pleasant rather than boundary-pushing. You'd be hard pressed to find a model that you would feel self-conscious slipping your foot into; even the Rick Owens collaborations (knitted running shoes in ruby or caramel) are unlikely to raise eyebrows.
"A lot of people understand the design. It's not too complicated or fashionable," says Kopp, when asked to explain Veja's popularity. It appeals equally to men and women and, though its biggest demographic is those between the ages of 25 and 35, everyone from grandparents to toddlers wears the V logo.
"They haven't deviated from what they know," says Lewis Bloyce, assistant buyer for footwear at Browns, the London luxury retailer, which started selling the trainers three years ago. "With success, some brands can often get excited and start to veer off in opposing directions but Veja is consistent," he says, noting that the brand has a hugely loyal customer base.
The simplicity of the designs is not purely a creative decision: limitations imposed by materials play a part. They must be able to source everything from Brazil in a sustainable way, from the sugar cane used for insoles to the recycled-plastic mesh covering the toes. "We cannot say, 'I want velvet for this shoe,'" says Bulliot.
"We don't pay people to wear our shoes. All the time we didn't spend on creating artificial stories we spent on sourcing"
It's also an ongoing challenge to make the trainers more comfortable. The thick rubber tongue can cause blisters: many people find that new Vejas need to be worn in with plasters and gritted teeth. "It's quite complicated because we can, of course, have nice lining with lots of foam but that's not ecological at all," says Bulliot. Making the trainers kinder to feet is a principal focus at the moment, she says, adding that if they put "10 per cent more comfort" into each element – the lining, the sole, the insole – "We can have something perfect."
For all its modern, progressive values, there is something quaintly old-fashioned about Veja. When I ask Kopp whether he and Morillion have tapped into their finance training to help them run a slick operation, he almost snorts. "It's the opposite," he says. "We don't spend any time on optimising finance. We're very bad at this." The brand is completely self-funded (they invested about $8,000 each on day one); it avoids working with banks that have branches in tax havens; and it has limited how much it increases production each year in order to keep things manageable. "We run the company like grandparents, not bankers," says Kopp.
In 2018 they ran a hypothetical study to figure out how much cheaper their trainers would be to produce if they made them in conventional Chinese factories with inexpensive materials (such as synthetic rubber and common, non-vegetable-tanned leather). The result? They found that the process would cost five times less.
In order to maintain their costlier production methods yet still sell their trainers at reasonably accessible prices, Veja directs all of the money that would usually be spent on advertising and marketing into its supply chain. "We don't pay athletes or models," says Kopp. "We don't pay people to wear our shoes. All the time we didn't spend on creating artificial stories we spent on sourcing. It's another kind of job."
If anyone were to accuse the brand of "greenwashing" – hyping up its eco-friendly values, which has become a common practice in the fashion industry – a simple rebuttal would be to point out that the brand doesn't really hype anything. There's no mention of sustainability on its website. One gets the impression that the duo can't be bothered to play the media-spin game. "What they're doing wasn't pre-thought," says Beaugé, the fashion editor. "It wasn't like they said, 'We're going to do something that will make us very rich.'" They might have found a lucrative market for their trainers but that wasn't their intention. "Their first thought was: 'Let's do something we can be proud of and that will have a positive impact on the planet and on people.'"
Kopp is tight-lipped on what will come next, though one imagines that Veja will open flagship shops in major cities beyond Paris and New York and that its new model of outposts dedicated to repairing and recycling old trainers will continue outside France. He admits that there is room for improvement on the running shoes, which launched in 2019. These, he says, are "like our Formula One", in that the brand's latest research and development innovations are applied to their designs (the current priority: increasing lightness).
Kopp is particularly forthright about two things. First, Veja has no plans to expand beyond shoes. Second, he and Morillion will not sell their baby. "It's our life," he says.  "It's what we created and how we have fun. Once we can say, 'Everybody is doing what we do,' or, 'Every brand is sustainable – but in a real way,' we can do something else. But the road is still very long."