Art / Procida
New landscape
When the usual channels of shows closed, Italian curators found a new way to promote contemporary art.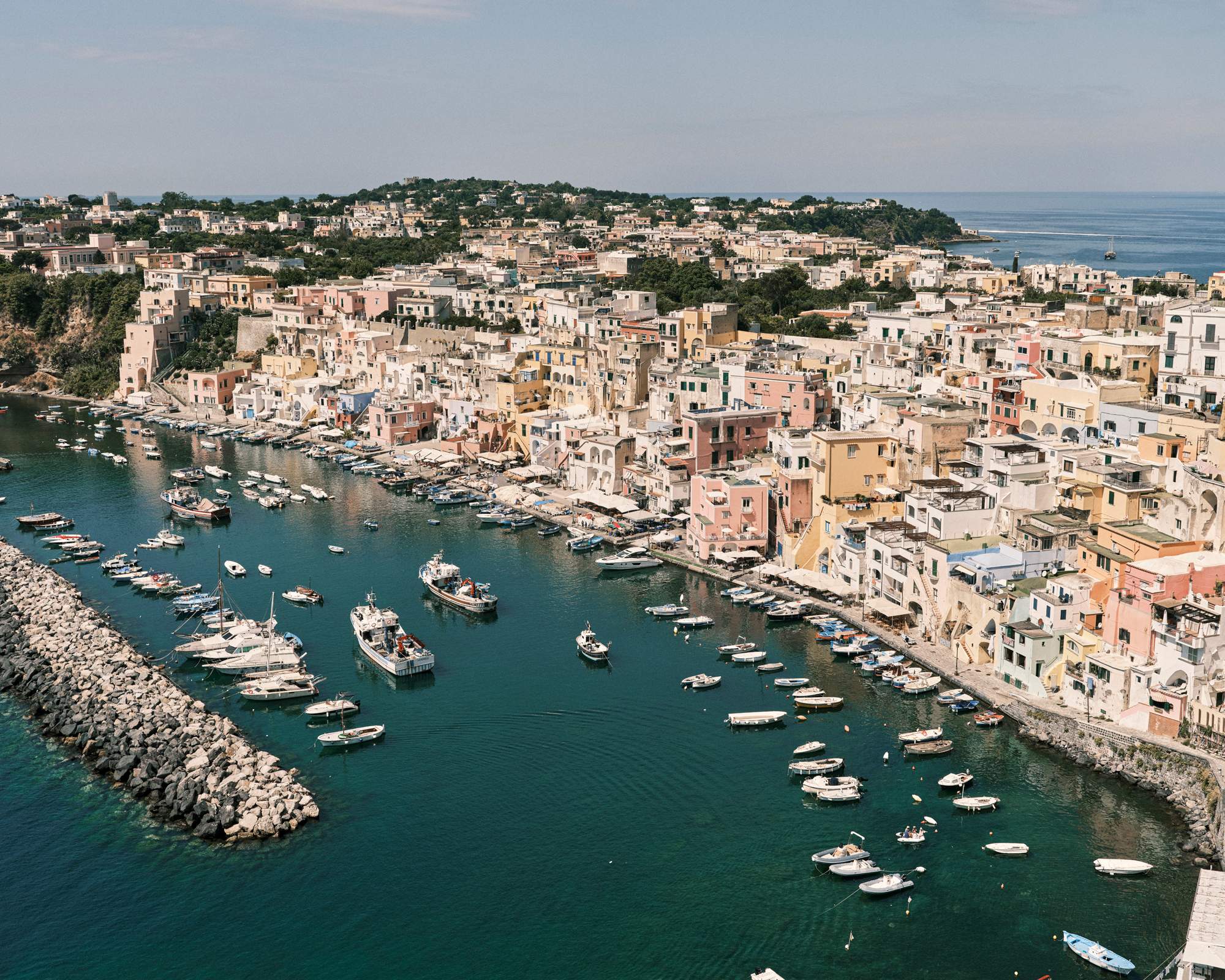 A gallerist's role is that of curator, merchant, champion of artists and sometimes much more. At a time when some of the usual art-sales channels are still closed, it is also a gallerist's responsibility to come up with new ideas. "We realised that instead of waiting for the reopening of art fairs and our normal circuits, we needed to invent new possibilities," says Michele Casamonti, head of Florence's Tornabuoni Art. Alongside more than 60 galleries of antique, modern and contemporary art across Italy, he is part of Italics, an unconventional new alliance that has the goal, he says, of "conveying the vitality of our country through the eyes of curators" in order to defy the frustrations of the pandemic. Originally born as a digital platform, this collection of Italy's lesser-known art marvels has also taken physical form in its first event: Panorama, a weekend-long art festival in Procida, a small fishing island in the Bay of Naples. The organisation's aim is to make this group exhibition an annual event; next year's location has not yet been announced but will take place in another awe-inspiring Italian landscape.
Procida is a humbler destination than nearby Capri or Ischia, and its connection to the art world has, until now, been slight. The island's new status comes down mostly to the presence of contemporary artist Daniel Buren, who spends a few months of every year in his house here and who was a major presence in the festival, with his strings of striped pennants hung house-to-house throughout the island. That Procida was relatively uncharted art territory didn't put off the organisers or artists. "Art needs to be decentralised," says Marinella Senatore, a Rome artist whose "Luminaria", a structure decked with colourful lights that's typical of southern Italy's street celebrations, festooned a dilapidated former prison. "We need to address ordinary people."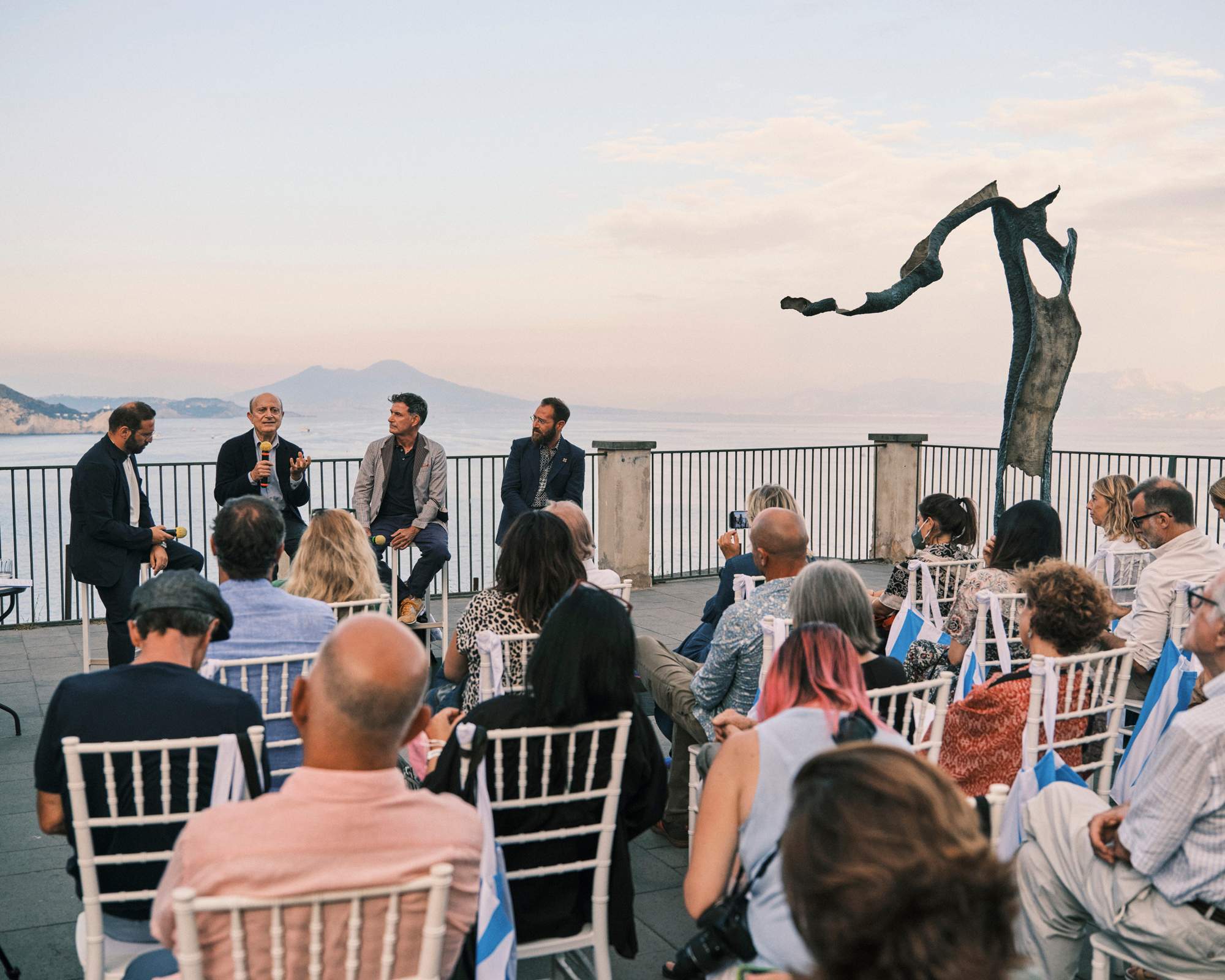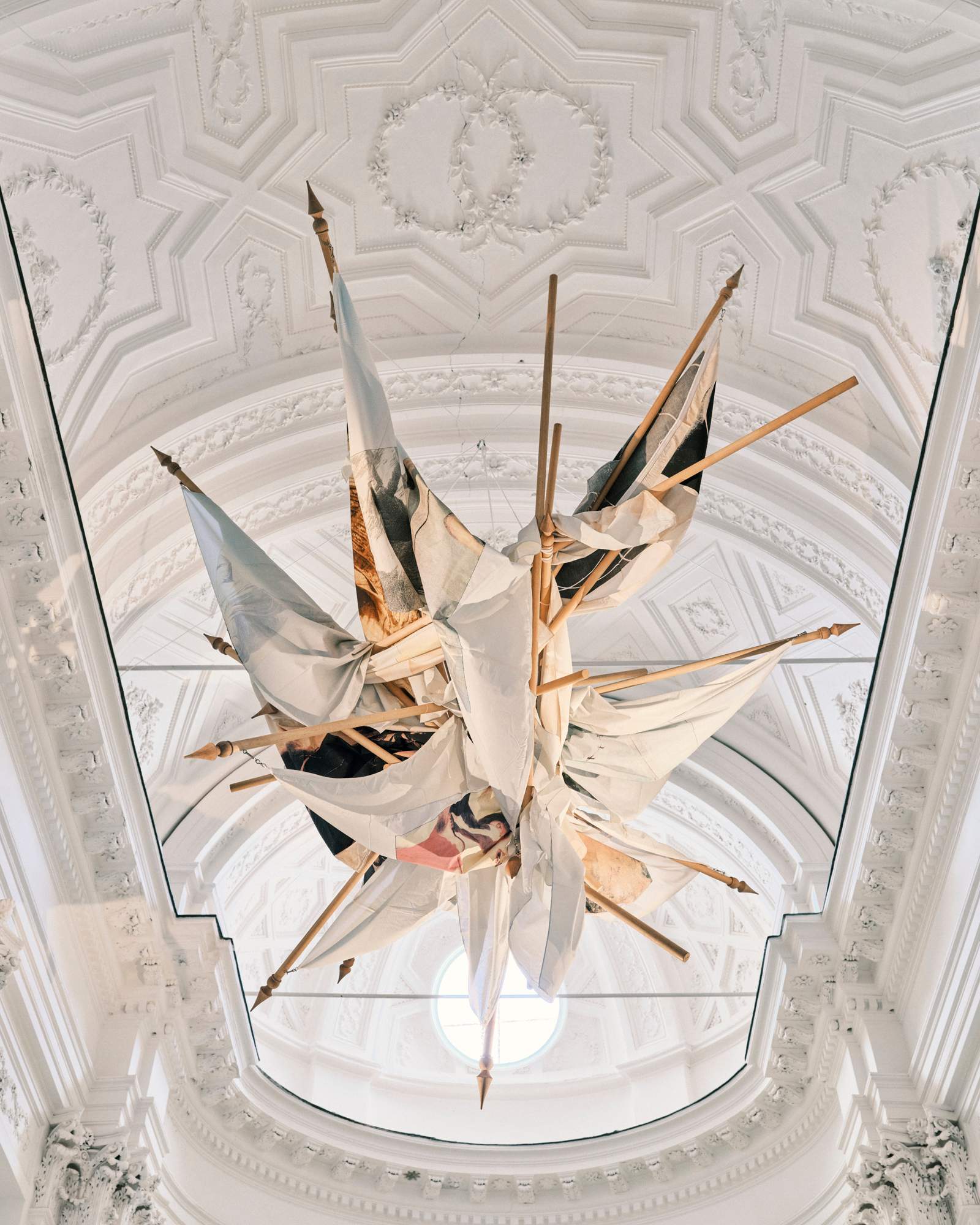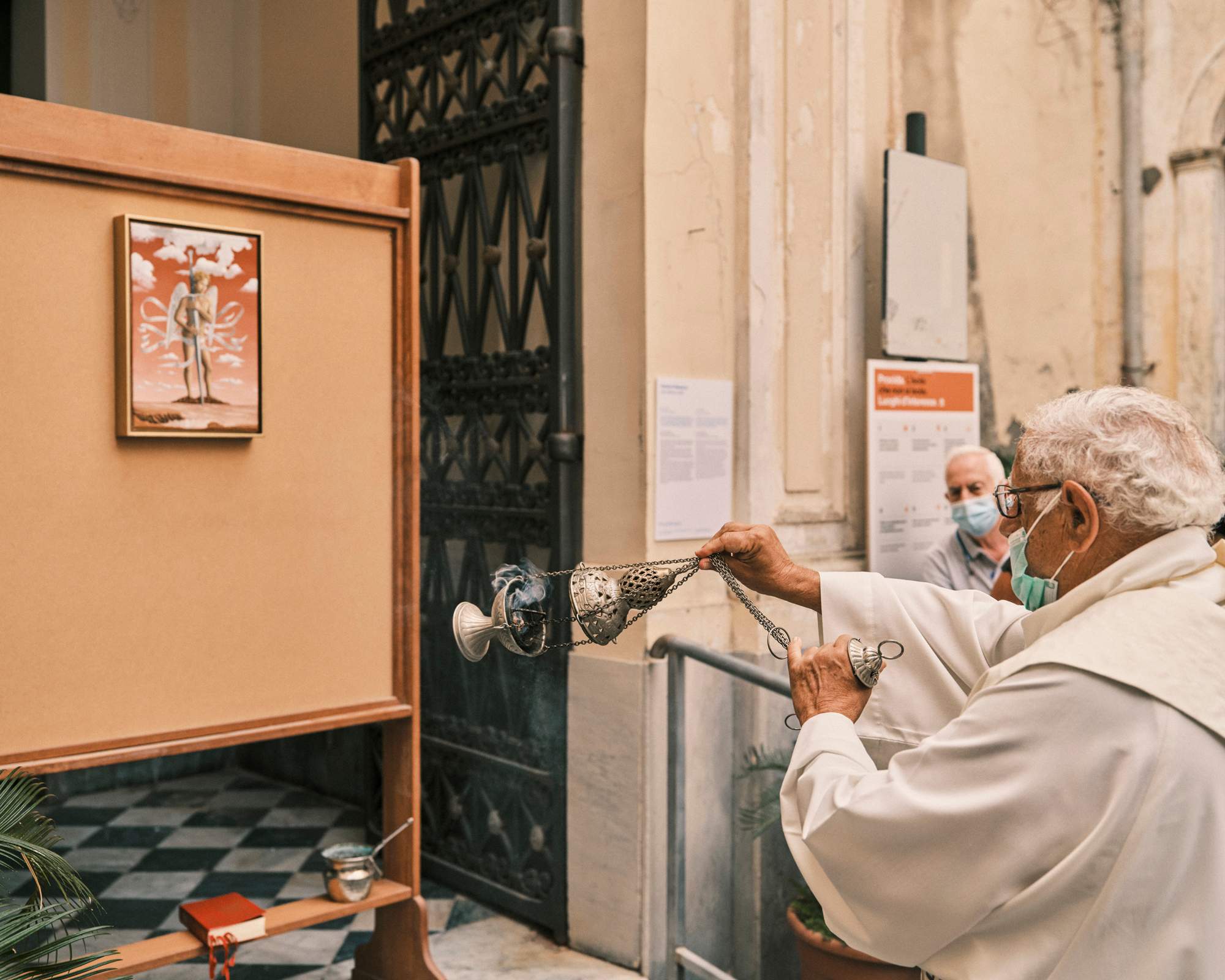 Attracting a new public – not the traditional art crowd – was key. "The most important thing is to take art beyond the galleries so that we can imbue more people with an appreciation for it," says Lorenzo Fiaschi, the man credited, along with Pepi Marchetti Franchi,  with coming up with the idea for Italics, as he stands under a steel globe by artist Chen Zhen. Galleria Continua, which he founded in 1990 with two friends in San Gimignano, Tuscany, has already been running its own programme to bring contemporary art to remote Italian towns for 25 years. "We need art in these places to introduce it to people who might not have discovered it otherwise," he says. "We've never made our choices based on profit but always on humanity."
"We were all hurting for Italy as it became the [early] centre of the pandemic, so we decided to create a way to promote 'Italianità' – the essence of Italy"
Such idealism is unusual in today's high-revenue art market but for Italics it could be key to achieving a refreshed mission. "Without our fairs and shows we found ourselves in a difficult position," says Marchetti Franchi, vice-president of Italics, who runs mega-player Gagosian's outpost in Rome. She is sipping a granita as she stands next to a Giuseppe Penone bronze sculpture. "We were all hurting for Italy as it became the [early] centre of the pandemic," she says. "So we decided to create a way to promote italianità – the essence of Italy." The project would require galleries (even if they were already financially struggling from the protracted halt in activity) to help pay for staff and the site, and to unite in this pro-Italian goal.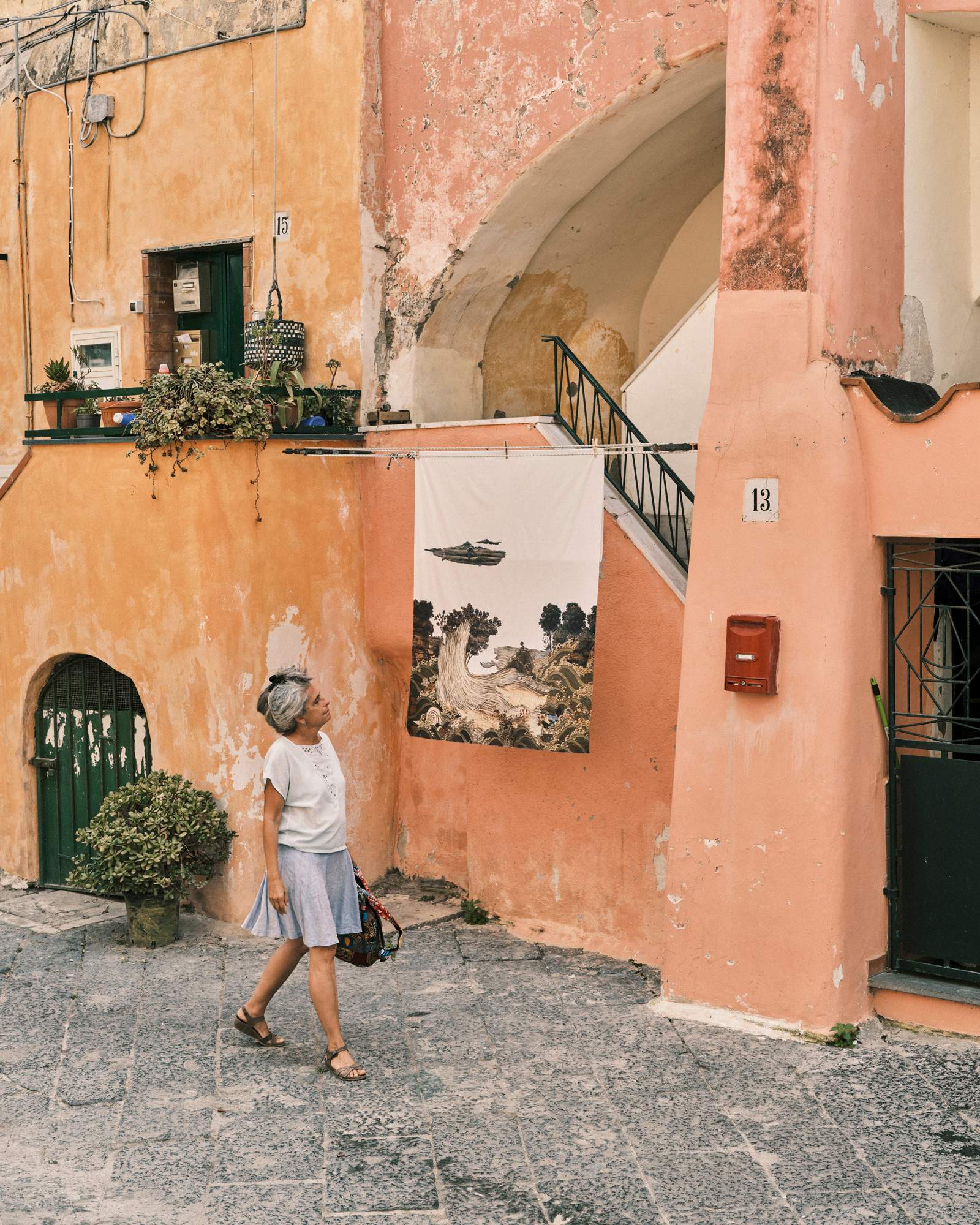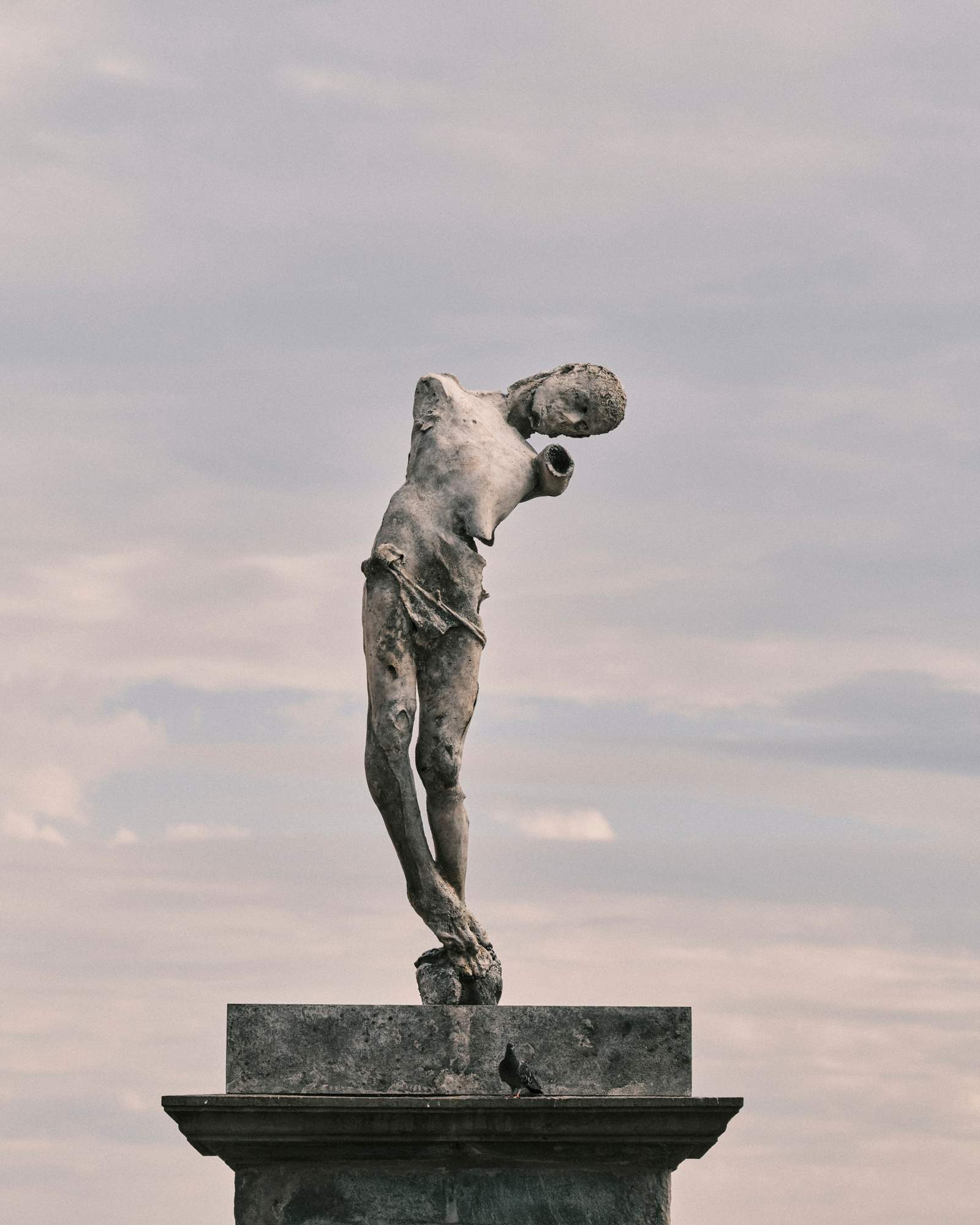 On Procida, this unusual partnership seems to have succeeded beyond expectations; the festival brought in day-trippers from Naples, many curious visitors from further afield and a host of collectors delighted to see (and buy) artworks in a setting so unlike a customary white cube."This is a difficult place to show art," says Vincenzo de Bellis, the Puglia-born curator of visual arts at Minneapolis's Walker Art Center, who curated the festival. Still, he managed to install screen-printed sheets by Franco Simeti between some neighbourhood laundry lines, put on a live performance by Adrian Paci in a small square in the town and hang an apple-green Lucio Fontana painting inside a 17th-century church. Other works were shown inside newsagents, hairdressers, shops, on public noticeboards and by rubbish bins. "In the end, people appreciated the idea of creating a magnet for culture rather than just tourism," says De Bellis. They were also helped by the team organising Procida's role as Italy's 2022 capital of culture – an award announced after Italics had already chosen the island for its event.
"We've all made a big commitment to make Italics work," says Federica Schiavo, the group's spokesperson and co-founder of Milan-based Schiavo-Zoppelli gallery. "During lockdown we were on the phone with each other all the time, asking ourselves what would happen afterwards and what wasn't working well beforehand. The art world had become hysterical and superficial, with all the mania of the fairs and shows. But we realised we could create a more intelligent approach through co-operation," she says, walking around a temporary gallery in Procida. In the months before next year's edition of the festival, the galleries will continue to work on this alliance. "On the part of Italians, there's always been scepticism when it comes to collaboration, but in the end, building a network lifts all of us up." 
italics.art