Travel & retail briefings / Global
Shop around
From Prague to Palma, here are suggestions for out-of-the-way places that are worth a detour to discover – and a few that will furnish you with some special treats to take home.
Much-loved Prague stationery shop Papelote has relocated to a new space across town in Letná. Designed by Vaclav Mlynar from Czech studio Monument Office, it contains a treasure trove of new and notable products. "Paper and creativity go hand in hand because working with paper involves both the mind and the body," says Katerina Sachova, Papelote's co-owner and creative director. "Our shop offers more than the opportunity to buy products. It is a place for inspiration." It's great for pens and paper too.
papelote.cz
---
At once meeting places, havens and social levellers, there are an estimated 3,500 pubs dotted around London (though many have sadly closed of late). Pu blic House is a pretty book by Open City, the canny souls behind a series of smart architectural walking tours too, that takes 120 pubs in 33 boroughs and examines their architecture, ambience and design in thoughtful essays, photographs and beautifully boozy biographical portraits. Go on, join the inn crowd. 
open-city.org.uk
---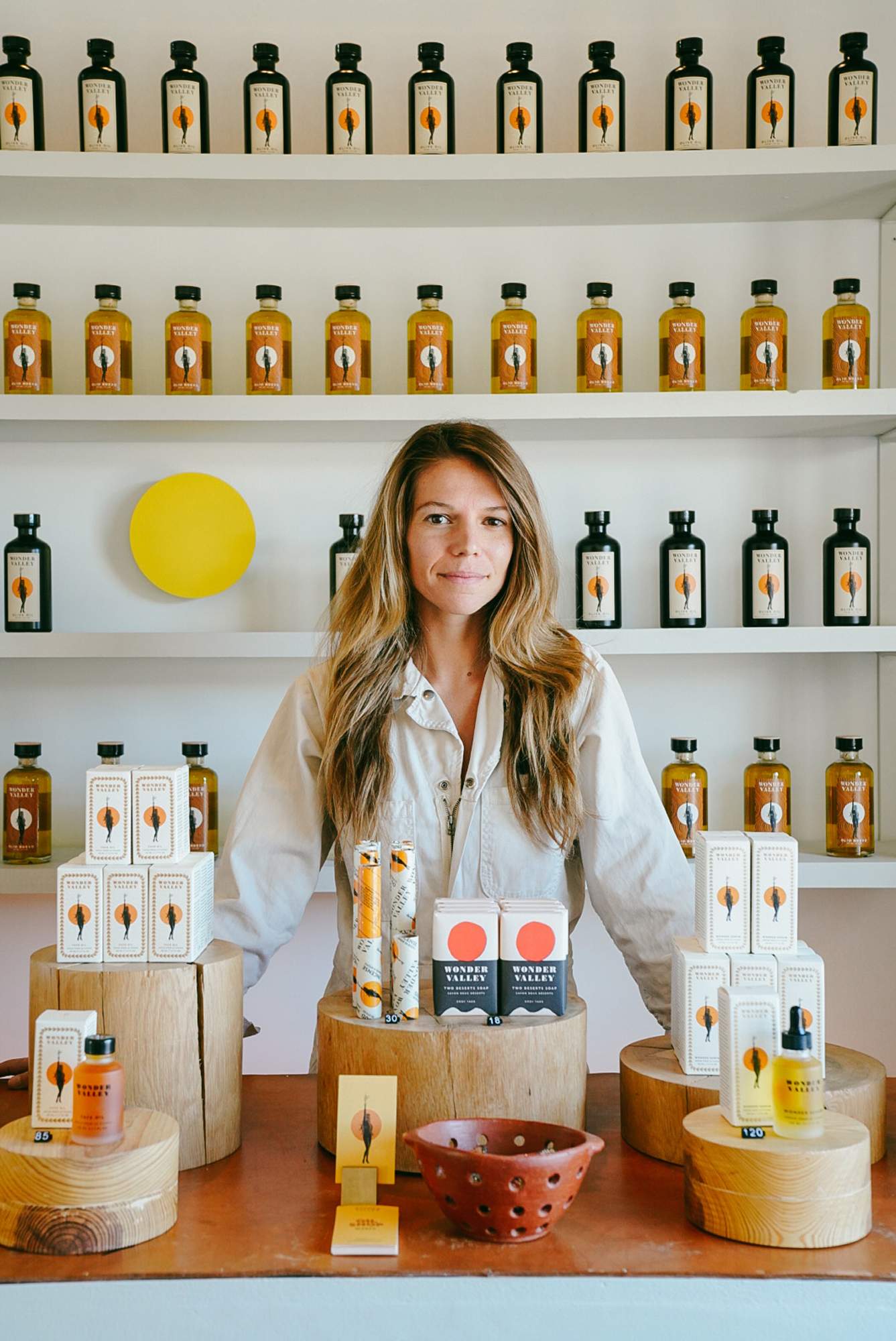 Wonder Valley
Joshua Tree, California
Owned by artist duo Jay and Alison Carroll (pictured), Wonder Valley's name sets the tone for their shop, a pretty former petrol station in tiny town in the middle of the Mojave desert. The 1940s space stocks oil of another kind: the sort made with olives. Their delicious olive oil is found in an array of face creams, body oils and handmade soaps. "Great olive oil has the power to elevate the everyday," says Alison, who worked for the California Olive Oil Council before making her own.
welcometowondervalley.com
---
The Shed
Hafnarfjörður, Iceland
Hidden in the garden of Anthony Bacigalupo and his wife Ýr Káradóttir's house in Hafnarfjörður on the tranquil outskirts of Reykjavík, The Shed is a slice of Californian warmth. The couple has been working on their product design line RTV for more than 10 years. Transforming their garage into a plant-filled shop gave them a place to sell their own wares as well as anything from woven baskets to leatherware imported from the US and Mexico.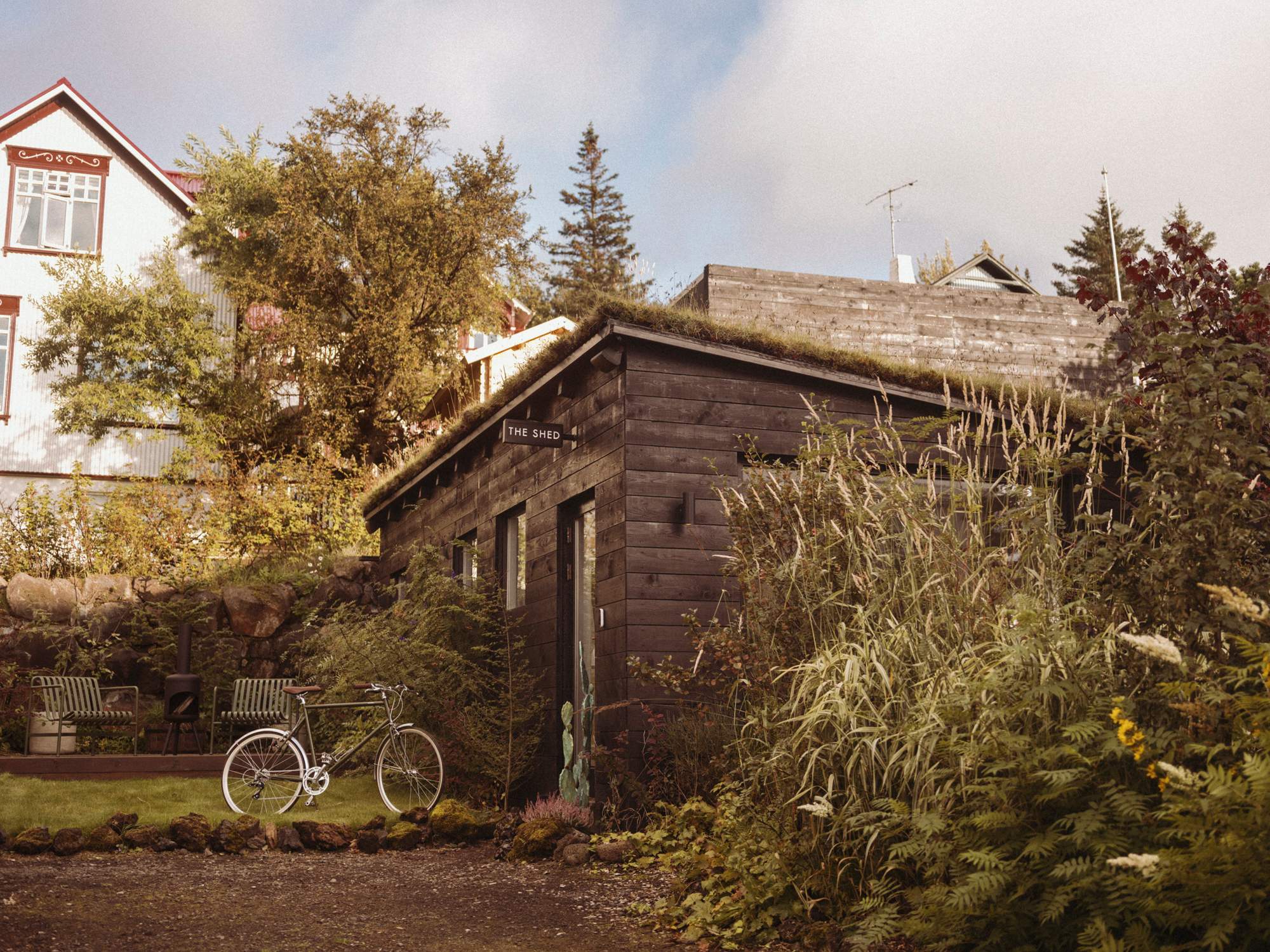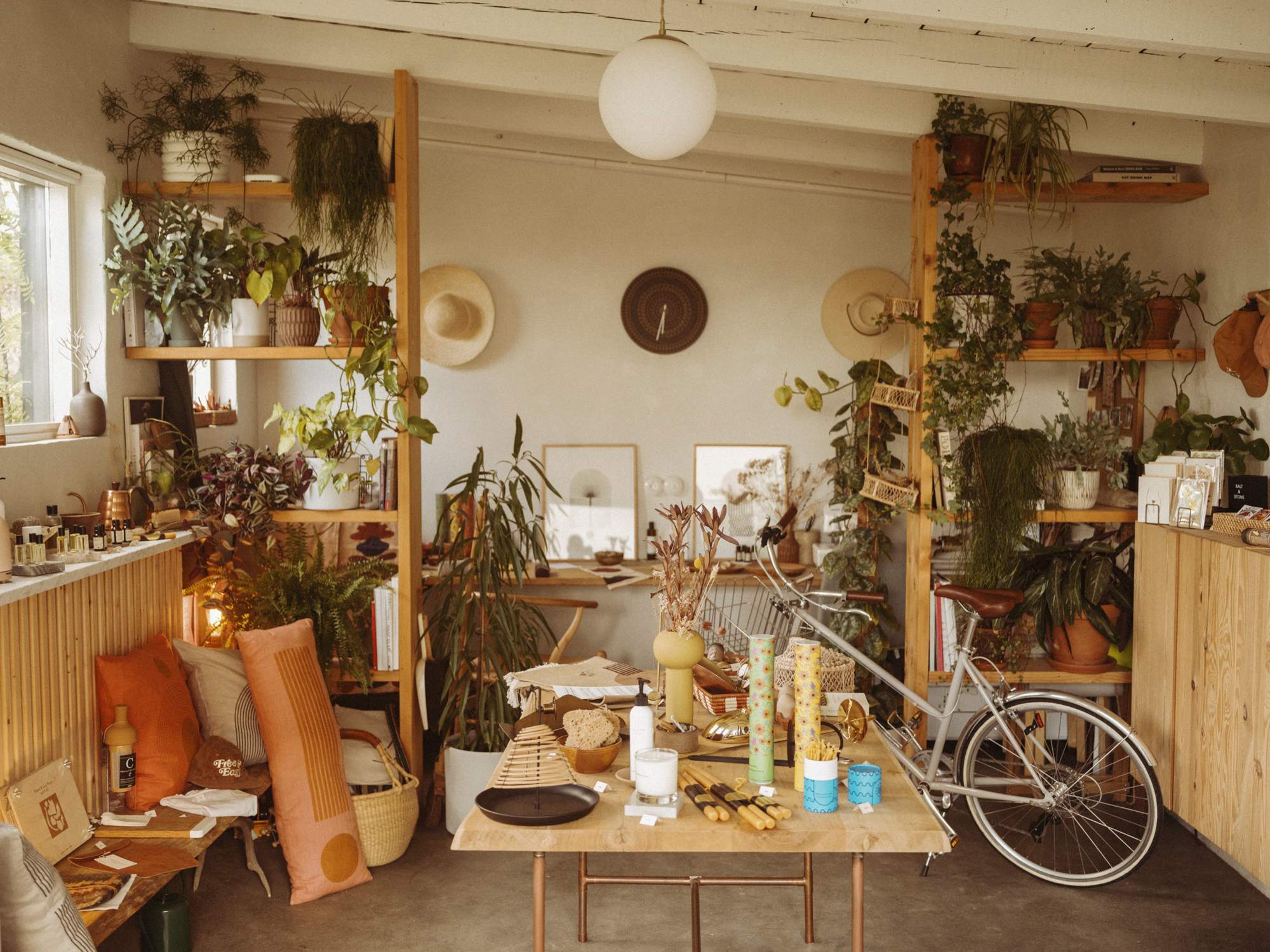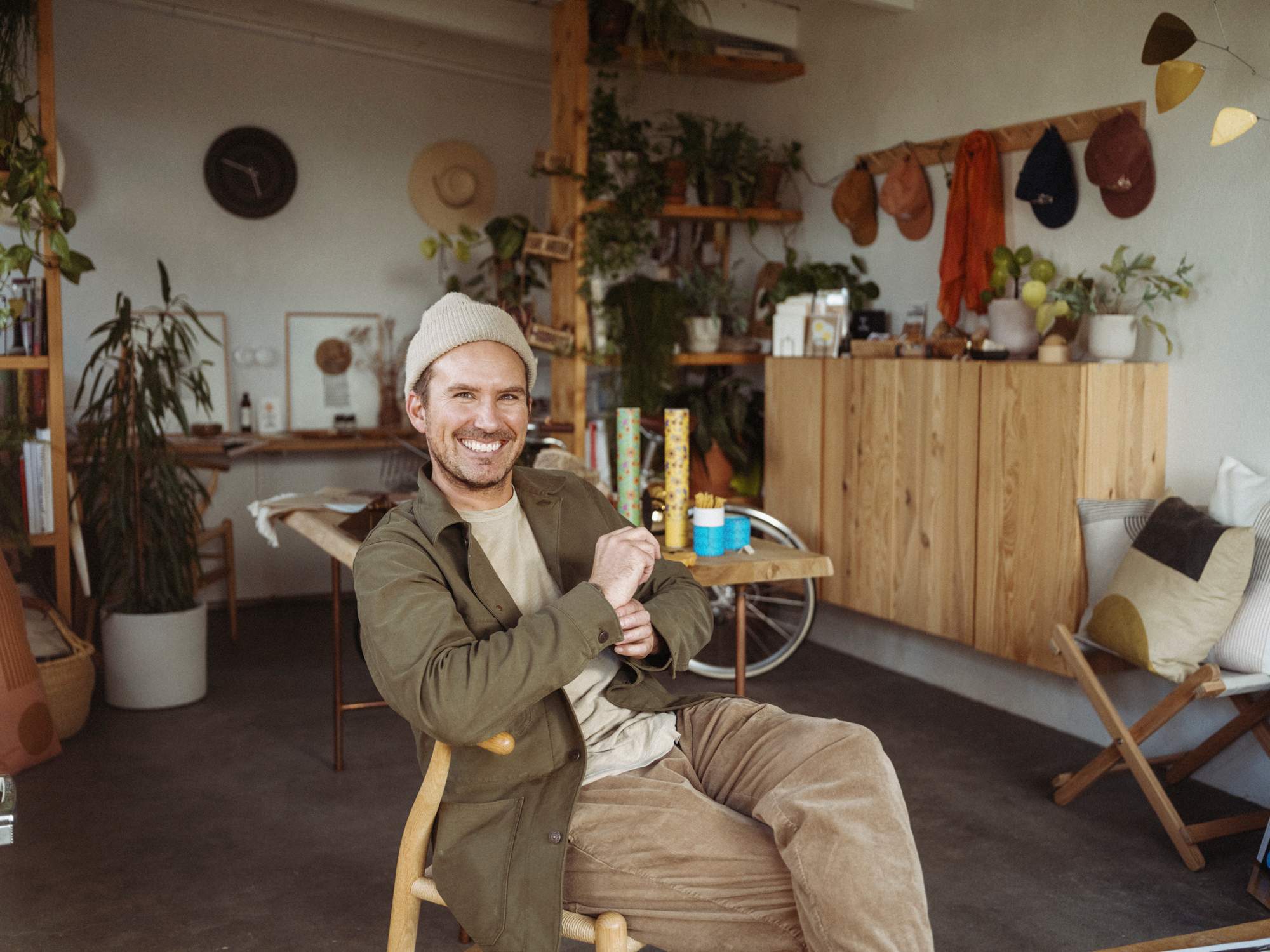 Born in the Californian town of Paso Robles, Bacigalupo came to Iceland on an artist residency in 2009. He met Káradóttir and fell in love with both her and the country, which convinced him to relocate. Having spent years working for Apple's retail division – checking that all of its global outposts were up to scratch – he had a clear sense of what makes a decent shop: it's as much about atmosphere as it is about the products.
That's why, if you want to visit The Shed, you need to make an appointment: "When they come, customers can have the full experience: they can chill and create an intimate connection," he says. On the shelves you'll find products made by small, family companies and not stocked elsewhere in Scandinavia, from Salt & Stone's skincare to candles by Fredericks & Mae and Canyon coffee beans. Sitting in this wild garden drinking coffee, you might forget that you came here to buy something – though it will be difficult to leave without a ceramic vase or two. 
Suðurgata 9, Hafnarfjörður
---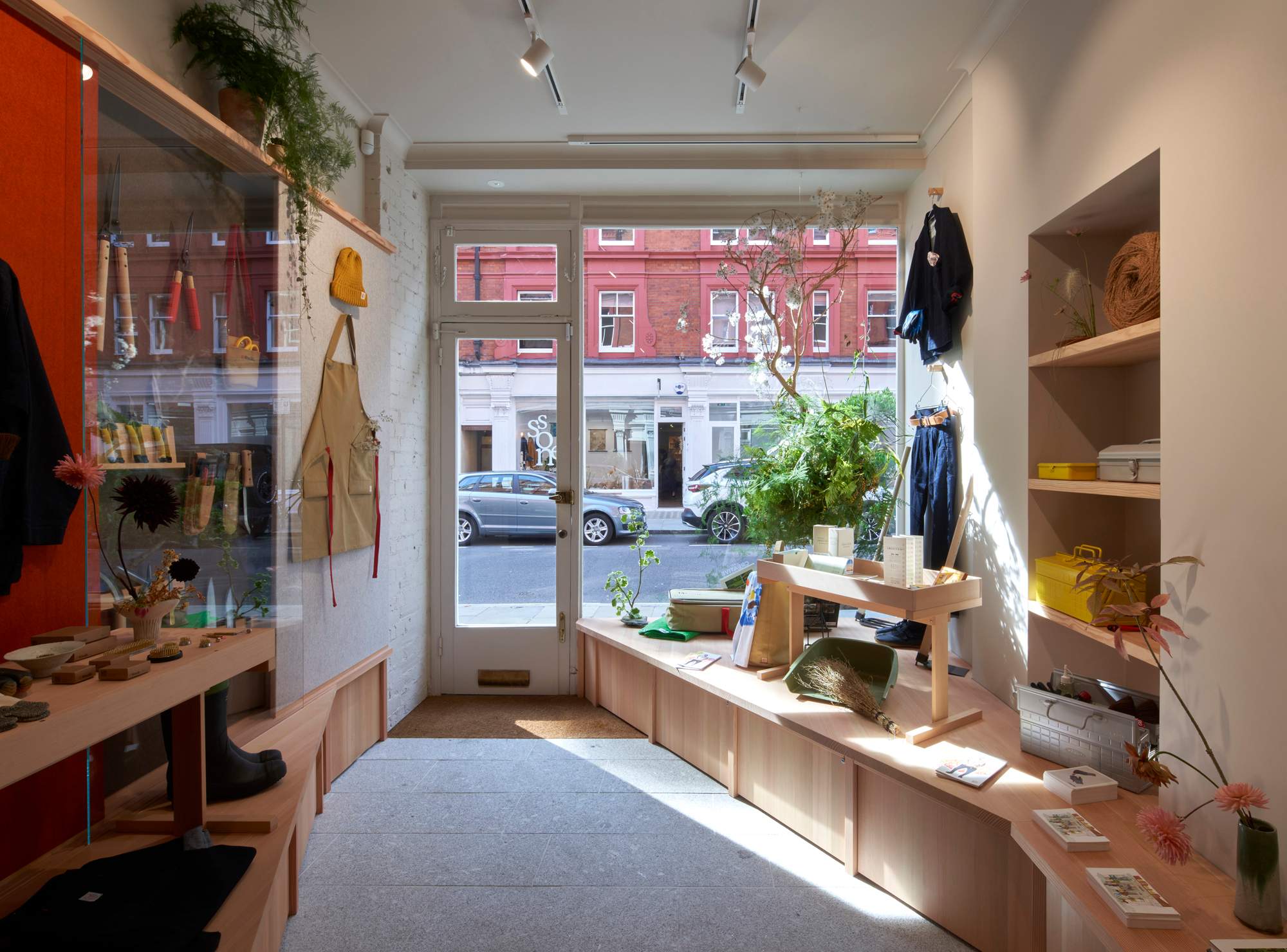 Veteran readers of Monocle's gift guides over the years will recognise Niwaki's finely forged gardening products. So imagine our delight when the firm moved into a space on Chiltern Street between our café and London HQ Midori House. The new shop joins Niwaki's Dorset HQ in Semley and space in Kagurazaka, Tokyo, in displaying handmade artisanal tools – from knives to saws, axes, ladders, holsters and hoes – from Japan. Simon Jones of London studio Jones Neville created the clean fitout adorned with fragrant Douglas fir shelving and textured felt, which echo the care and craft of the products on show. Founder Jake Hobson, a sculptor by training, was inspired to start the brand after a trip to Osaka. The result? A one-stop shop for ikebana tools (for flower-arranging), Kojima denim workwear or seemly secateurs – a snip at any price.
niwaki.com
---
Concepció by Nobis
Palma, Mallorca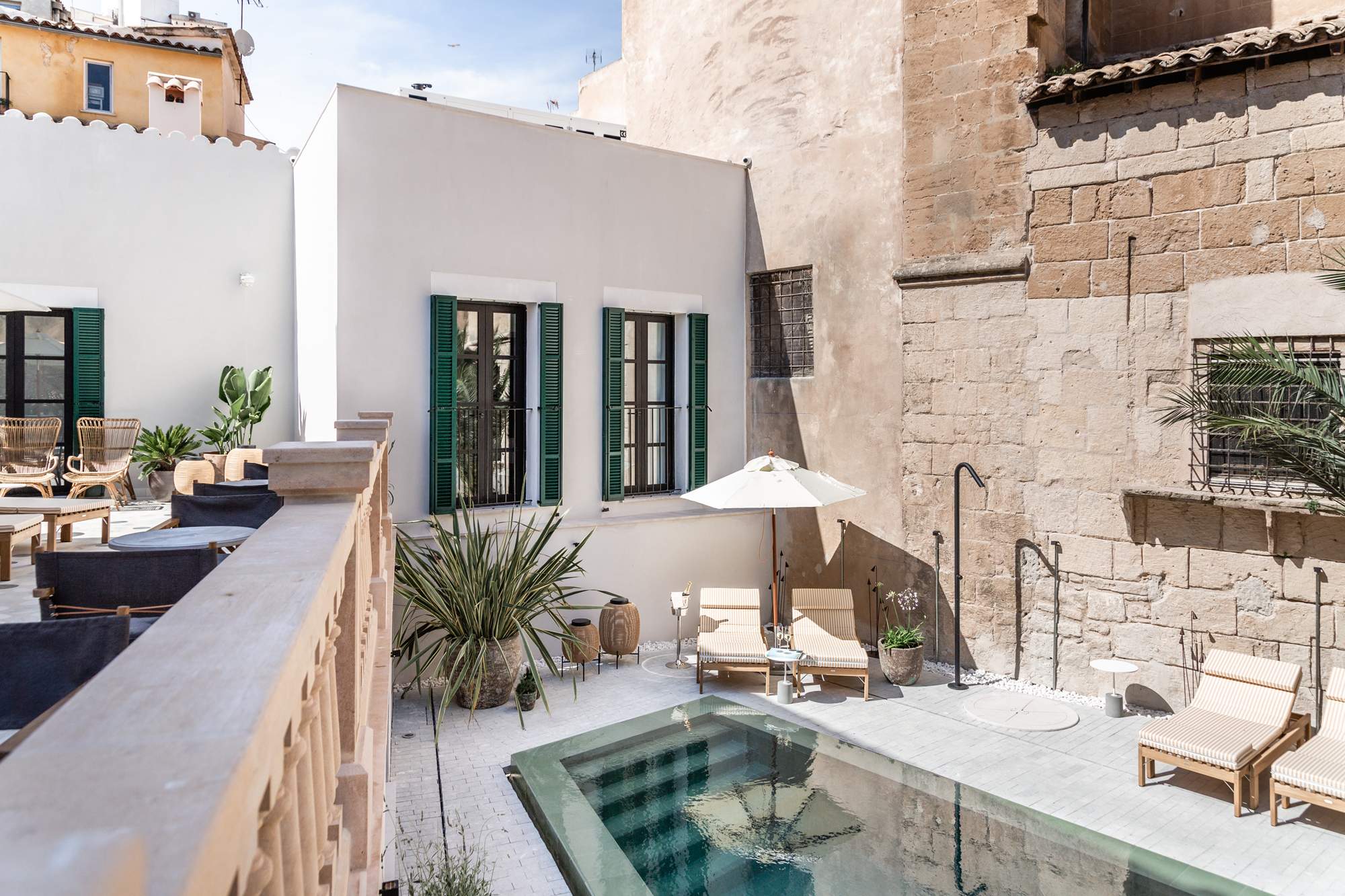 Swedish brand Nobis has chosen the Mallorca capital for its first hotel abroad. The space includes touches from Mallorquín artisans and craft folk plus a pool, restaurant and bar. 
concepciobynobis.com
---
The travel desk
Greek islands: an insider's guide
Monocle reader: Which are the best islands to visit in autumn?
Travel desk: Greeks are more likely to admit which is their favourite child than volunteer their favourite island escape. Secrecy keeps the crowds thin in summer, you see. But when autumn rolls around, the tourist numbers plummet. There are more than 100 inhabited Greek islands – and thousands more uninhabited. Take Polyaigos ("many goats"), which is a popular stop for a dip among those sailing in the southern Cyclades, a cluster of Aegean islands known for whitewashed houses and windmills. To the east are the Dodecanese, where there are plenty of gems to discover even among well-trodden islands such as Rhodes and Kos, which mellow in the off-season. Whether you're eyeing up that the last dip of the year on a secluded beach, taking a hike through ancient shepherd's routes, then we have you covered. Here's our insider's guide to autumn on the islands – and no, we're not telling you our favourite. 
---
Close to the Turkish coast, Patmos is an eight-hour ferry from Athens or a flight then ferry from Kos. After a day at Psili Ammos beach, try a cocktail at Astivi before dinner at Benetos on the shore.
Take the two-hour ferry from Athens, pick one of the ancient routes that wend through the mountains and stop at Pythara waterfalls for a swim. Or drop by the Museum of Contemporary Art.
Start at Chania's old harbour, eat at Pallas, before a sunset drink at Chania Sailing Club. The best beaches are to the west and the hike to Samaria Gorge is a treat.
The only cars here are taxis, so rent a bike or a horse-drawn carriage to go between the old and new port. Dine at Orloff restaurant in the old harbour, have drinks at Bikini bar and dance at Guzel.
Just below Corfu, this Ionian islet has some of the country's loveliest beaches. Eat in Longos harbour to try traditional Paxiot specialties such as seabass bianco.
Tinos's villages offer as much as the main town. Visit Volax, Pyrgos and Komi, where you should eat at Svoura, a meze spot in the square.
photographer:   Benjamin McMahon. illustrator: Motiejus Vaura. image: Edmund Sumner