Concrete / Venice
The strong stuff
When talking about building a better future, concrete is often maligned as an out-of-date material that is bad for the environment. But is it as simple as that? We recast the debate.

It takes real optimism to envision a sustainable future for our built environment. "It is an extremely slow industry and we need to move fast because we are major, major, major polluters," says professor and architect Philippe Block, head of the Block Research Group at the Institute of Technology in Architecture at eth Zürich. At the core of the building industry's problems is its most essential material, concrete. The creation of concrete from water and earth aggregate mixed with cement (produced by baking limestone, clay and sand in huge fuel-hungry ovens), and its use in our infrastructure, accounts for some 7 to 10 per cent of all annual global co2 emissions. Concrete is also by far our most-used building material. In fact, besides water, concrete is humanity's most-used material, full-stop.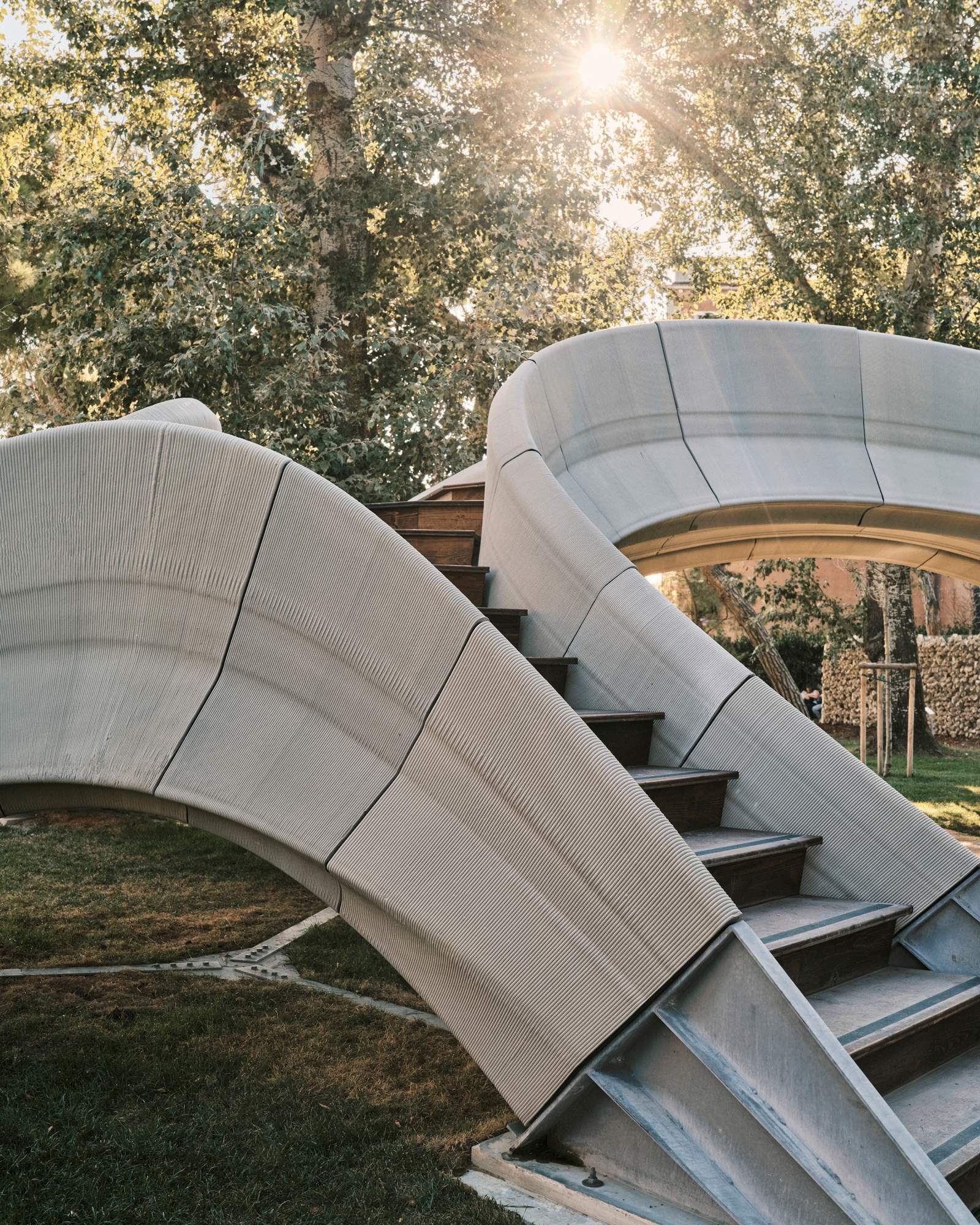 Building with concrete, as opposed to materials that are trickier to deploy but less harmful to our environment such as bricks and timber, has allowed designers to dream big. As the world emerged from the Second World War, improved construction techniques meant that massive social housing projects could be erected at speed in concrete. Towers that literally touched the clouds rose in our cities and massive motorway projects were realised at pace in this magnificently malleable material. With its ability to be cast in many ways and span and stretch in gravity- defying designs when reinforced with steel, concrete is the material that can do it all. As Pritzker Prize-winning Swiss architect Peter Zumthor puts it, "Architecture has its place in the concrete world. This is where it exists. This is where it makes its statement."
However, when discussing where the construction industry is heading today, the man driving one of the planet's most pioneering academic programmes on building technology, Philippe Block, is proposing a revolution. He greets monocle on a sunny day in Venice at Striatus, a new bridge that he and his university team have completed in partnership with London's Zaha Hadid Architects and several other collaborators. Comprised of 3D-printed concrete blocks, joined without the use of adhesives, the project aims to show that even the world's most environmentally damaging building material can enjoy a low-impact future. Using a new process, liquid concrete is pumped through 3D printers to create millimetre-precise components that fit together like a jigsaw puzzle.
Standing on the Striatus bridge, Block outlines the complications surrounding the material beneath his feet. Referencing the Bill & Melinda Gates Foundation, he says that to cater to the world's growing population we will need to build the equivalent of "one New York City every month for the next 40 years". Meeting this demand in the way that we currently build would almost certainly contribute to a climate catastrophe.
Although dinky in scale, this concrete bridge in a leafy public park adjoining Venice's Giardini and some 10 years in development, offers serious solutions for improving the use of an increasingly maligned material. Besides being beautiful (the surface sports a natural, brushed look, from the 3D printer's linear layering), the design of Striatus illustrates that when concrete blocks are compressed together as "artificial stones" they can support some serious weight. It's old-school engineering: a bridge formed in the same manner as vaulted stone ceilings in medieval cathedrals. If this construction approach was to be used in larger projects, it would allow buildings to contain 70 per cent less concrete and 90 per cent less steel than the reinforced slabs that are typically used.
Block's technology takes aim at what might sound like a banal feature in architecture: floor plates. But in a typical urban high-rise building, these elements account for about 40 per cent of its mass. Combining the Gates Foundation findings and his own calculations, Block believes, "We will have to build about 300 billion square metres of flooring by 2060." So applying the ideas pioneered in Striatus at scale offers an opportunity for an incredible reduction in concrete usage.
Backed by one of the world's biggest building materials suppliers, multinational Swiss-headquartered behemoth Holcim, it's a project that shows signs that the business players behind our concrete problem are gearing up to change their act. "We want to be part of the solution," says Holcim ceo Jan Jenisch. "It has to be sustainable, circular and we have to build a lot more with a lot less." But even with companies such as Holcim promoting a sustainable agenda, the reality is that the concrete and cement industry is worth some $333bn (€287bn) a year to our global economy. And those at the top have little to gain and a lot to lose if demand decreases.
Thankfully, pressure from those creating concrete buildings is increasing too and it's aiding change. Brazil, with its architectural legacy dominated by concrete buildings and sprawling megacities, is in the vanguard. While incredibly beautiful, the curvaceous concrete engineering feats of Oscar Niemeyer in Brasília and expansive brutalist-style concrete ceilings and vast slabs of exposed raw concrete of João Batista Vilanova Artigas, are no longer what's needed.
"We're not here to challenge the concrete industry: we are here to find a way to collaborate on new terms"
"We like concrete because we're Brazilians and – for good and for bad – today's architects here are inspired by the modernist movement of the past, where concrete was the most-used material," says lauded São Paulo-based architect Arthur Casas. "But the way we used to work with it was very dirty, using tonnes of water and manpower; it was the wrong way to think about construction." Casas adds that contemporary Brazilian architects, including himself, who work on apartment blocks, malls and private residences across the country, are interested in pioneering pre-fabricated concrete components. Using pre-cast, steel-reinforced blocks of concrete and assembling them on a building site, almost like Lego, can reduce the carbon footprint of a construction. "Pre-cast wherever possible is my philosophy," says Casas.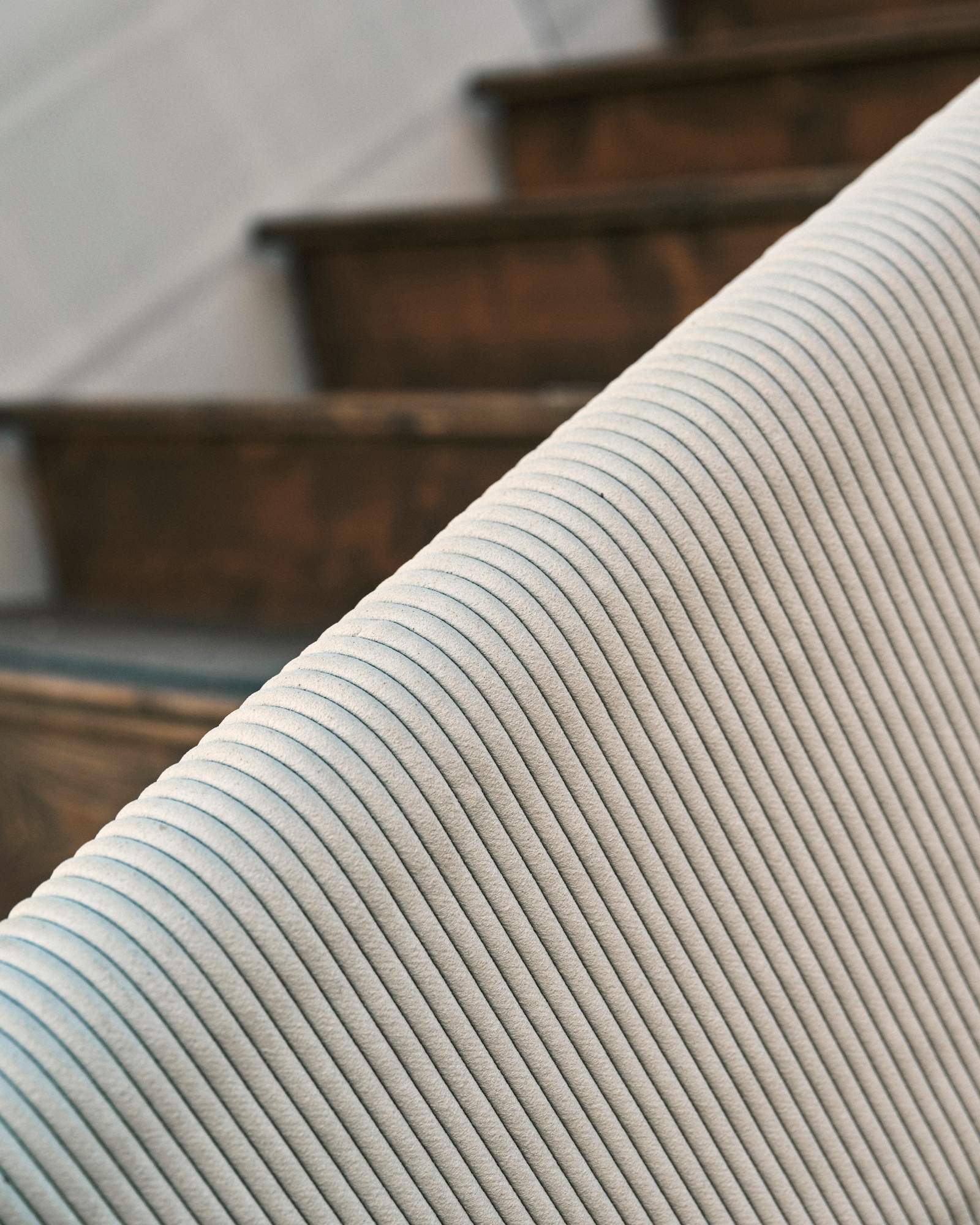 The link between the Brazilian architects and the Venetian bridge is efficiency. Less material equals less cost and less work needed on a building site, reducing its carbon footprint. A multi-storey project, currently being constructed using Block Research Group's technology in Brussels, will soon demonstrate how such innovation can aid our built environment. Doing this at a scale that will help a developing metropolis such as São Paulo, however, still seems far off.
Concrete will remain a key ingredient in homes, transport infrastructure, schools and hospitals for years to come. While the governments of developed nations start to enforce stricter legislation on the carbon cost of construction, the developing world might not be ready to join the movement just yet. Why would a country deprive itself of an ever-ready cheap construction material that can dramatically improve society by boosting infrastructure?
While the design media has lauded the recent rise of timber towers in cities and highlighted how rammed earth can be deployed in sustainable architecture, concrete remains king. "We build all these beautiful timber buildings and the thing we trip up on with sustainability is always these huge concrete floor plates," says architect Stian Alessandro Ekkernes Rossi of Norwegian design giants Snøhetta. Founded in Oslo in 1989, the firm is perhaps the world's most progressive when it comes to building at mass-scale in a sustainable manner. It has already completed a number of "carbon-negative" "powerhouse" buildings: office blocks that draw upon solar panelling and passive cooling to essentially take more carbon out of the environment than they put in. Here, in a nation rich with the profits of its oil and gas industry, Snøhetta is working at the cutting edge of redefining not only the way we use concrete in buildings but the way we make the material itself.
Rossi, who has made chairs from recycled sea plastics and homeware from crushed mobile-phone glass, is now dedicated to an initiative called Saferock, a "construction material of the future". "In 2016 I became really interested in materials, because I don't think that designers and architects know enough about the materials they are using," he says. "So in my work I tried to raise attention, first around sea plastics, making the first 100 per cent recycled chair here in Norway, and now my interest has grown into Saferock."
Saferock, which replaces some of the damaging ingredients used in concrete with geopolymers sourced sustainably from mineral waste on mining sites, has incredible potential. It emerged through a collaboration with the University of Stavanger when the Norwegian oil and gas industry asked researchers to develop a concrete replacement that could be poured into large pipes in the sea to seal gaps. From the success of the developed material, Norwegian mining industry players have gone on to fund one of the world's most advanced concrete labs. Snøhetta became involved in a bid to attempt to take this innovation and apply it to the built environment.
"The beautiful thing is that most countries have mining industries, so we don't need to export materials," says Rossi, noting that Saferock can be created on site, reducing the need for the big cement ovens that cause so much of the industry's environmental damage. "We will export the science and technology around this to other places. Just look at a place like the drc; here we can teach and show how to use mining waste to build not just architecture but major infrastructure, in a better way."
Snøhetta plans to showcase Saferock in the most testing of settings: the North Sea. Here it will be used to create sea-defence infrastructure, to prevent coastal erosion. But even if this is a success, the fact that this technology relies on a different production process to that used by traditional industry means that it could face a reaction from powerful forces at the top. "I feel like the game is about to change but we're not here to challenge the concrete industry; we are here to find a way to collaborate on new terms," says Rossi. "They also feel the pressure and it's not like it is us, the architects, who are against them. The best thing we can do right now is launch this product, get it out there and let everyone discuss it. The more we talk about it, the harder it's going to be to 'shh' our problems away." 
---
Concrete examples
Buildings that will stand the test of time
While there are sustainability issues around concrete, this adaptable material still makes for eye-catching buildings. When applied well it can change our lives in a positive manner. There are plenty of longstanding examples of concrete architecture that were designed to add value to the urban fabric and this gallery sets out to show some of our favourites. When well-maintained, good concrete design will not crumble or rot. After all, some of the infrastructure that the ancient Roman Empire developed, using their version of concrete, remains intact and loved thousands of years after it was built.
Not only is concrete is one of the most durable materials, it's versatile too. As illustrated in the gigantic, emphatic sails of the iconic Sydney Opera House designed by Danish architect Jørn Utzon, concrete can be used to create poetry in form. An architect's most ambitious visions can be realised in it: concrete is the key ingredient in the world's tallest building, Burj Khalifa in Dubai, and it was the material that brought inspiration to modernist Le Corbusier's béton brut canon, in turn inspiring a global movement.
Today's more sustainably minded architects might look at concrete with hesitancy but most know that when applied with care, it still has a role to play.
---
Inagawa Cemetery, Japan
By David Chipperfield Architects
Concrete architecture need not be all grey. Here in the Japanese countryside, pink-pigmented concrete softens the blocky form of this structure, allowing it to harmonise with its surroundings and maximise its purpose as a place of contemplation.
---
Under Restaurant, Norway
By Snøhetta
While masters of forming timber towers and low-carbon design, Snøhetta still views concrete as a necessity, particularly when submerging half of a restaurant into the North Sea. Part of the restaurant is 5.5 metres beneath the surface.
---
Swiss Ambassador's Residence, Mexico City
By FHV Architectes
Concrete defines Switzerland's architectural character and has been applied to reflect this in a tropical setting. The striking walls of smooth concrete also serve the purpose of blocking out the noise of the city, providing a calm and serene atmosphere in the home.
---
London Aquatics Centre, London
By Zaha Hadid Architects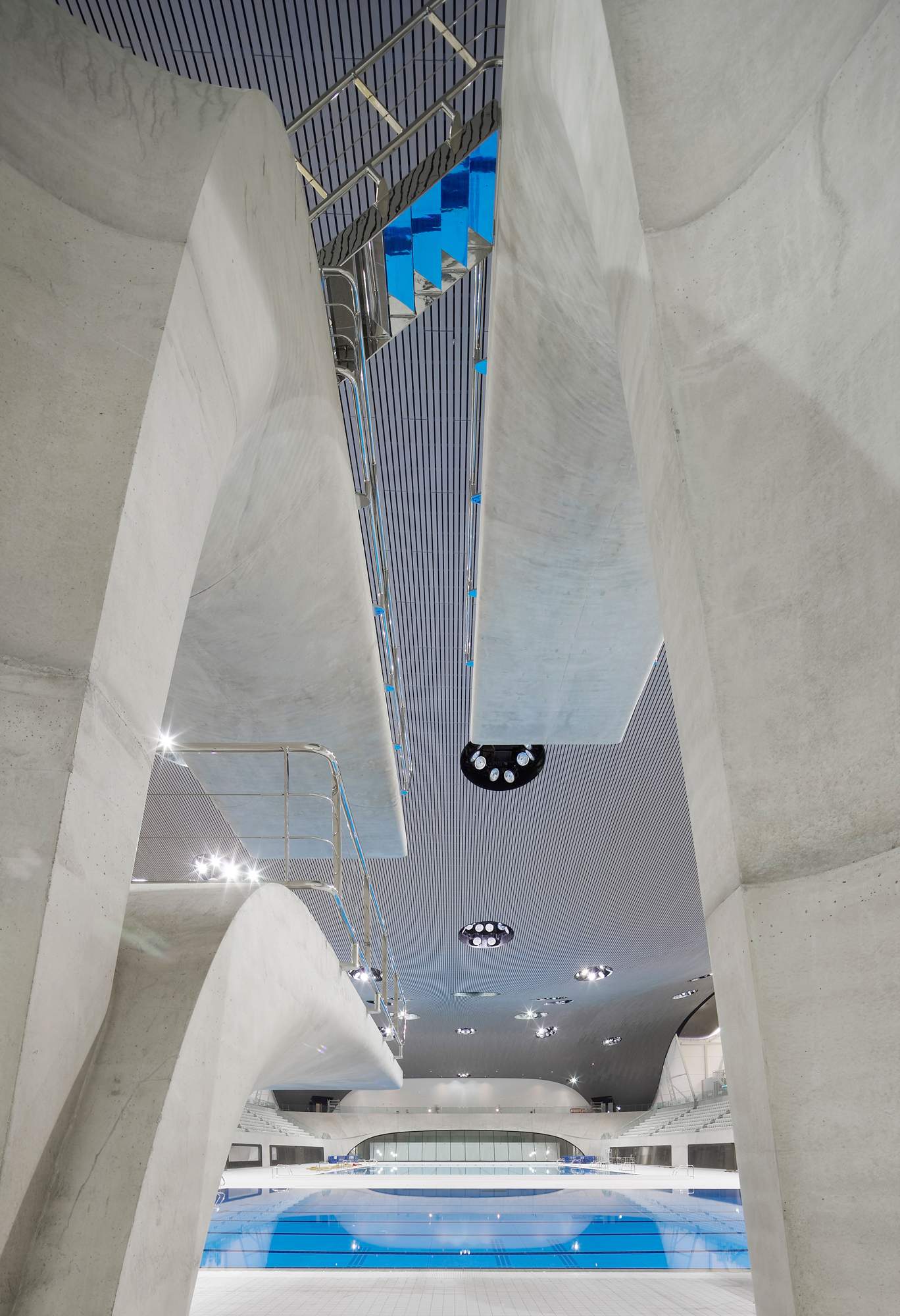 The curved concrete diving boards are the most impressive ever to grace an Olympic Games. The project pioneered the use of recycled concrete, reducing the building's carbon footprint.
---
Krematorium Baumschulenweg, Berlin
By Schultes Frank Architects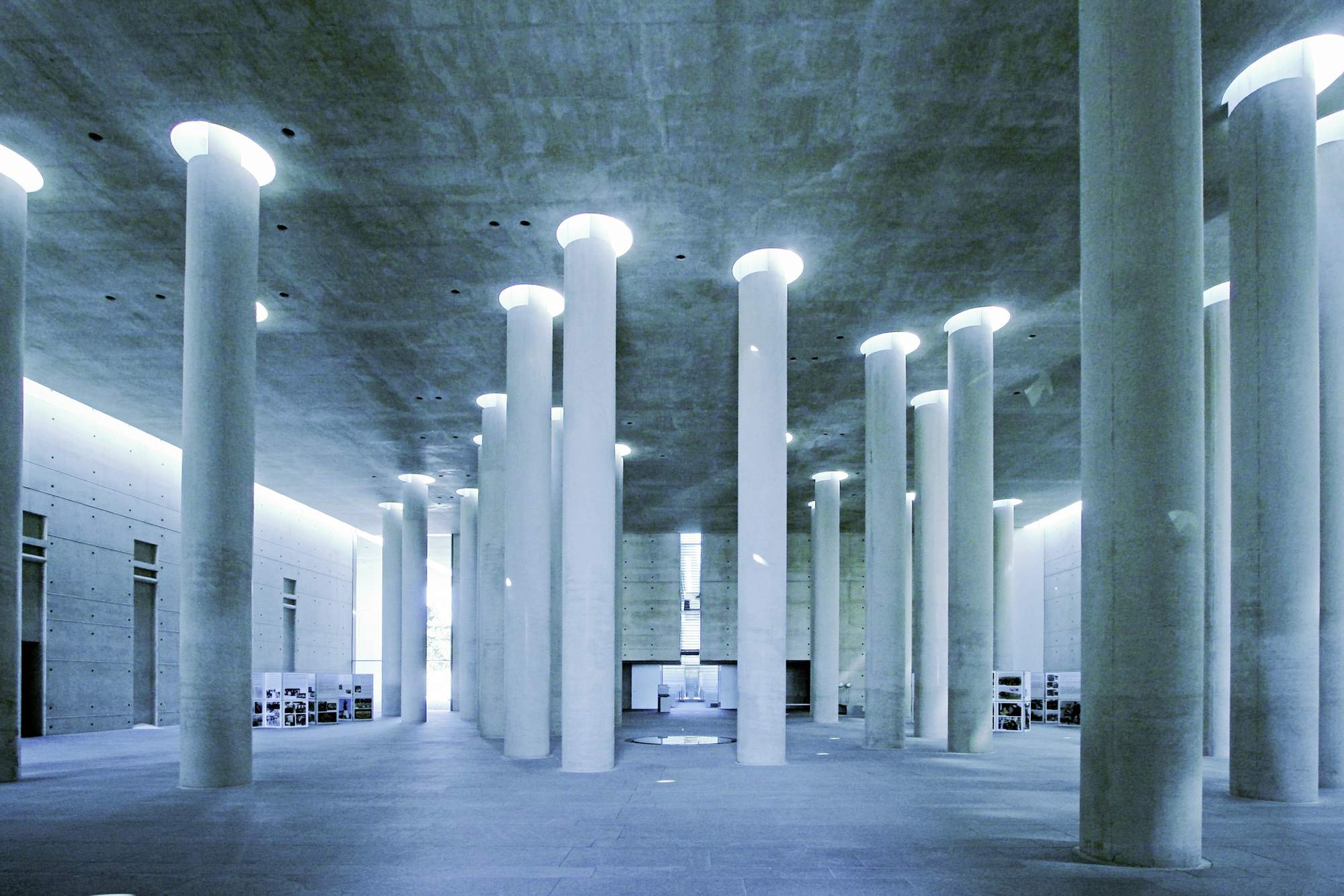 The departed are remembered here in a square hall with 29 symbolic concrete columns that soar up to circular skylights and support the expansive ceiling.