City itinerary / Global
Bags of potential
As Christmas beckons, we circumnavigate the globe with more efficiency and insider nous than Santa himself, dropping in on the finest spots and shops to source seasonal gifts in 10 of our favourite sleigh stops.
Surprises in store
Cape Town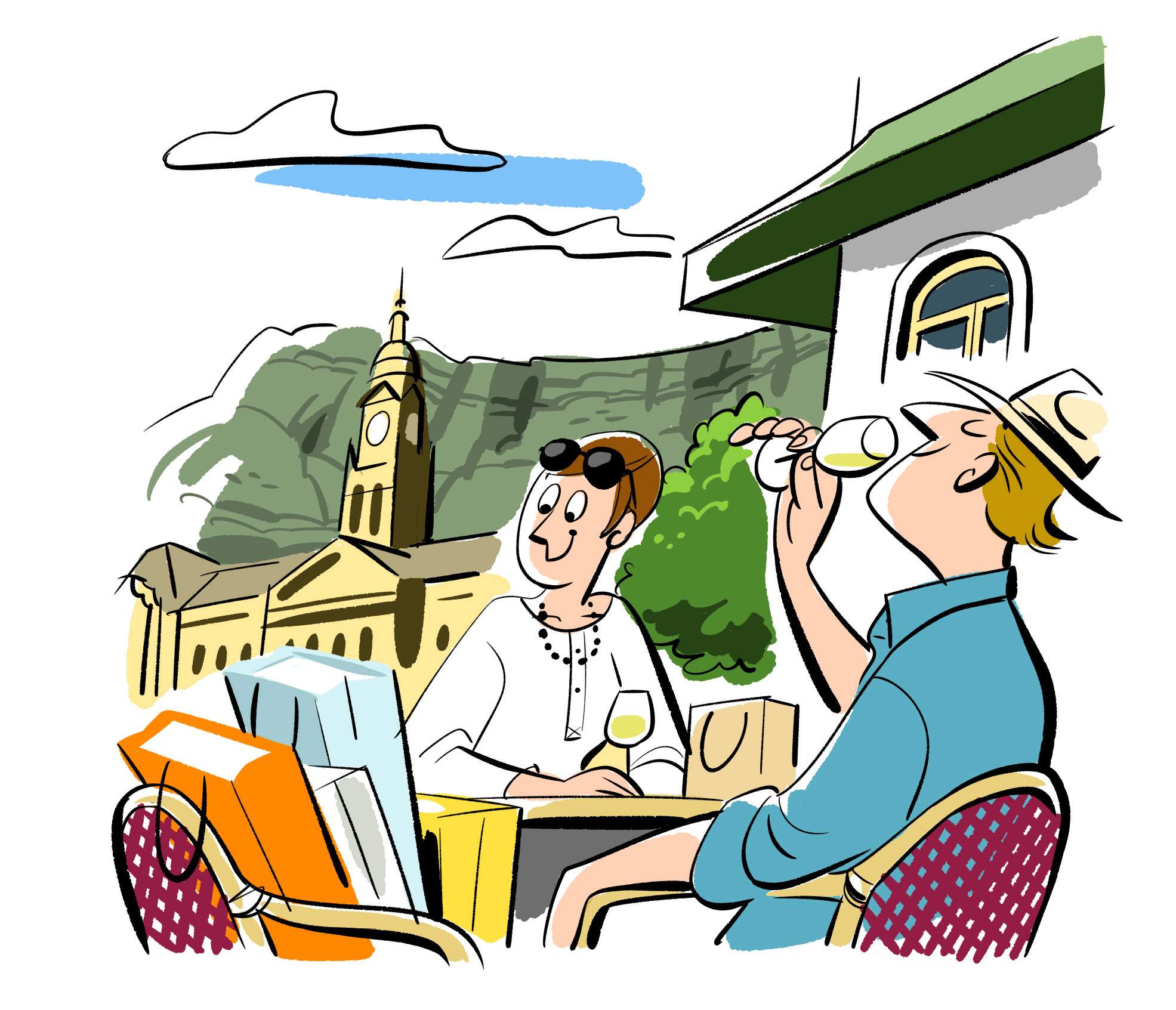 Cape Town has many superb shops stocking items that you can't get outside South Africa. AKJP Studio, a fashion studio on Kloof Street, has brands from rising designers including Sindiso Khumalo and Lukhanyo Mdingi, as well as jewellery by Pichulik. A few doors down, Ashanti Design sells baskets and bean bags. Further downtown, off bustling Bree Street, is Chandler House, where ceramicist Michael Chandler sells paintings and ceramics, including his own. At the adjoining gallery space, exhibitions by South African artists are always on rotation. A short walk away is Mungo, a textile company that weaves towels, throws and blankets. Next up is Sans, a slick marketplace selling homeware and food, from wine to tableware. Finish your shopping spree with a coffee at Arthur's Mini Super. Grab a seat on the pavement and order a sandwich, then fill up on regional produce. 
---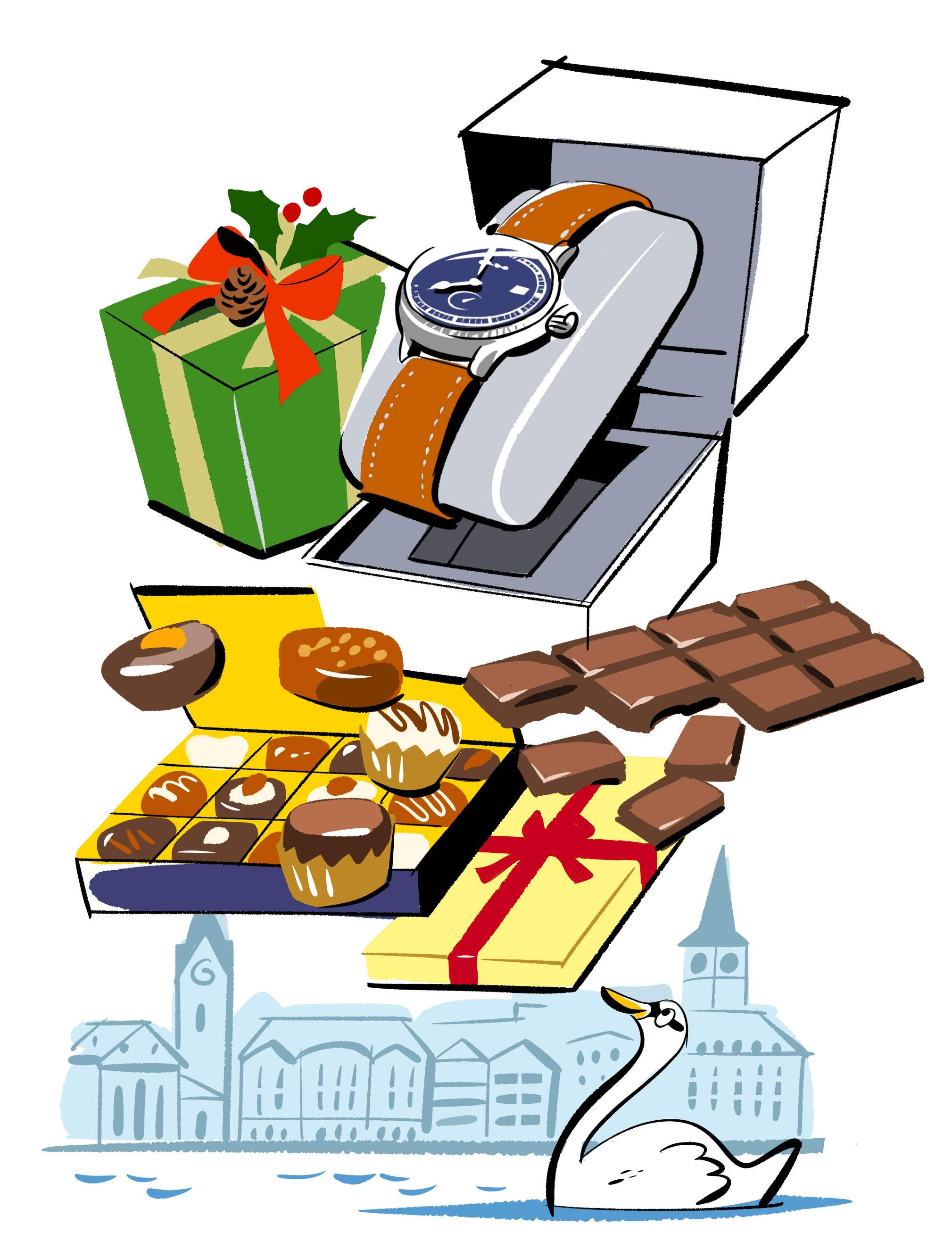 In keeping with its chocolate-box looks, Zürich's old town stocks some excellent Christmas treats. An easy start, for homeware, pens, pots and everyday goods, is Fabrikat. Just a few doors down, Rien Ne Va Plus is the best place for board games and other ways to entertain the family. The do-it-yourself sets have delighted children (and adults) for more than 30 years. Another excellent stop for Christmas finds are the antique shops around Kirchgasse: EOS Buchantiquariat Benz stocks vintage posters, art books and prints (be ready to rummage – the best aren't always the easiest to find). For more printed wares, the Travel Book Shop specialises in guide books, maps and cookbooks, all sorted by destination. Its well-travelled team are also on hand to point you in the right direction.
For treats that are closer to home, try Hobel. This small space is part of a cabinet-makers' co-operative and stocks all manner of household items, from glassware to candles and cutting boards. You'll find products here from Swiss manufacturers and some international finds too. If it's something unique you're after then head to vintage-watch specialist Jim Gerber to get your hands on a time-tested Rolex or Patek Philippe. Or perhaps you fancy some comely comestibles from H Schwarzenbach? The family-owned shop sells coffee, chocolate and other goodies from Switzerland and around the globe. Round things off with a trip to Monocle's Zürich outpost in Seefeld for coffee and a browse, then drop by Trunk Zürich next door for a fetching new outfit.
---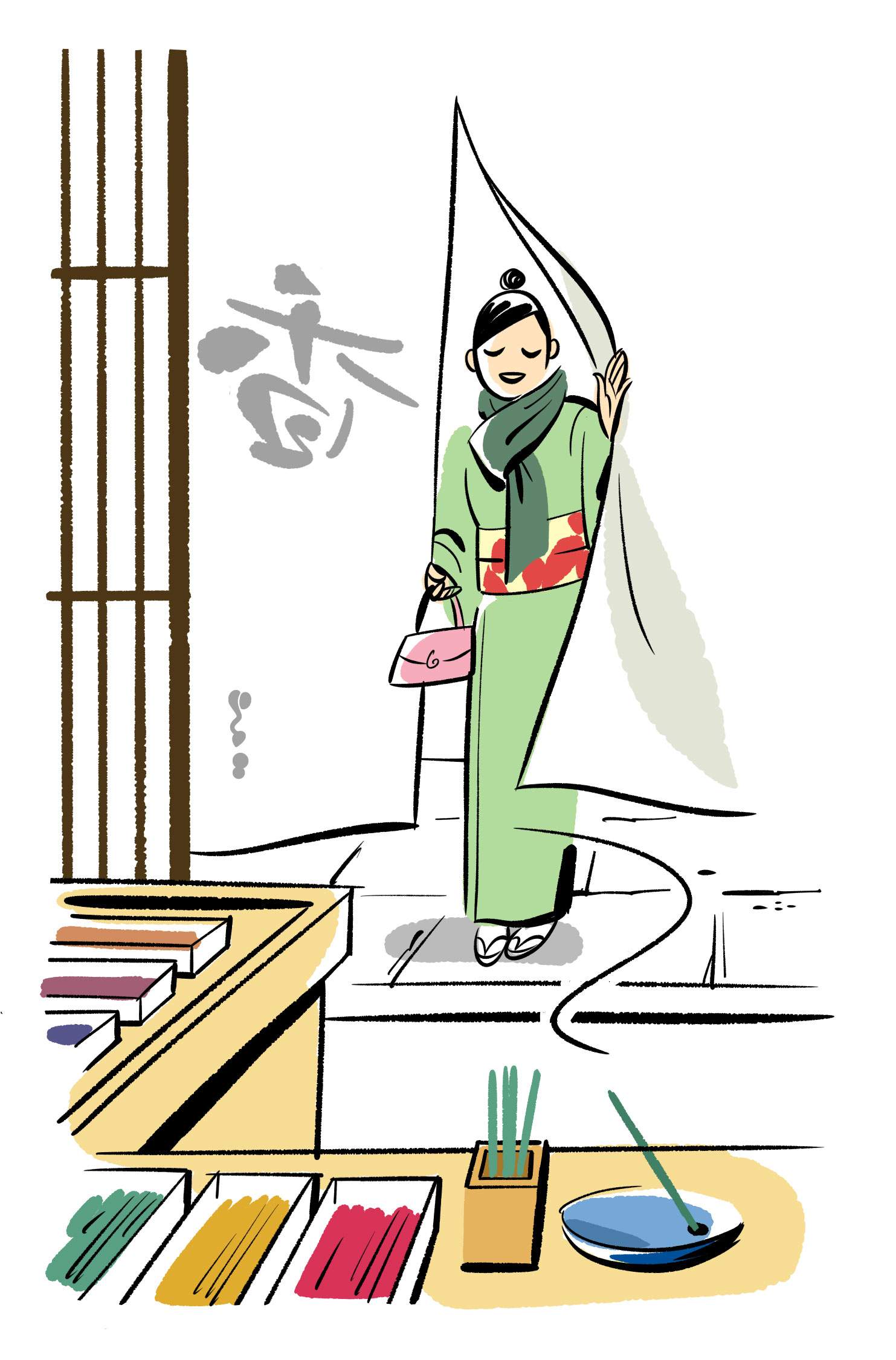 Compact Kyoto is full of small and charming speciality shops. Start your festive spree at the recently reopened Kyukyodo flagship in Teramachi to buy beautiful silkscreen-printed postcards and maybe a few calligraphy brushes to help with that new year resolution about writing more letters. If you feel like a fragrance then head to incense specialist Shoyeido's main space in Nakagyo, for something woody. How about treating yourself to a pair of bespoke Japanese sandals at Hakimono Sekizuka? Craftsman Shinji Sekizuka can knock up a pair in no time that will work just as well with a Western wardrobe.
After a 25-minute taxi journey northeast, visit Murakami Kaishindo's café for a coffee and something sweet, such as the "Russian Cake" biscuits or Teramachi vanilla pudding. Just around the corner, Ippodo sells the best Japanese tea and teapots; both the traditional tea caddy and modern gift box come immaculately wrapped. For a particularly handy present, Onishi Tsune Shoten is a sensu specialist, offering all manner of folding fans. 
---
Milan is Italy's most cosmopolitan city so you'll find gifts hailing from near and far. Start in the Navigli district at Tenoha, a Japanese concept store selling stationery, fashion and food from Nippon. Next to the Duomo is the stylish boutique of Argentine perfumer Fueguia 1833, which manufactures its scents in Milan, draws on South America for ideas and uses natural ingredients. Then venture to Brera and the charming shop of fashion designer Massimo Alba, where naturally dyed Italian-made cashmere jumpers catch the eye. In nearby Corso Garibaldi, pop into the shop of Turin chocolatier Guido Gobino for bite-sized heaven; the gianduiotto and cremino dark sweets are a must. Move on to Isola and visit Pijama, maker of soft cases and bags in fetching prints to disguise digital devices. Unwind with an espresso or aperitivo at Goto, Giovanni Fiorin's contemporary Italian bar serving the peerless wine of indigenous varietals from Piemonte to Puglia, along with well-aged prosciutto and parmigiano reggiano. Don't leave without a house panettone from Modena. 
---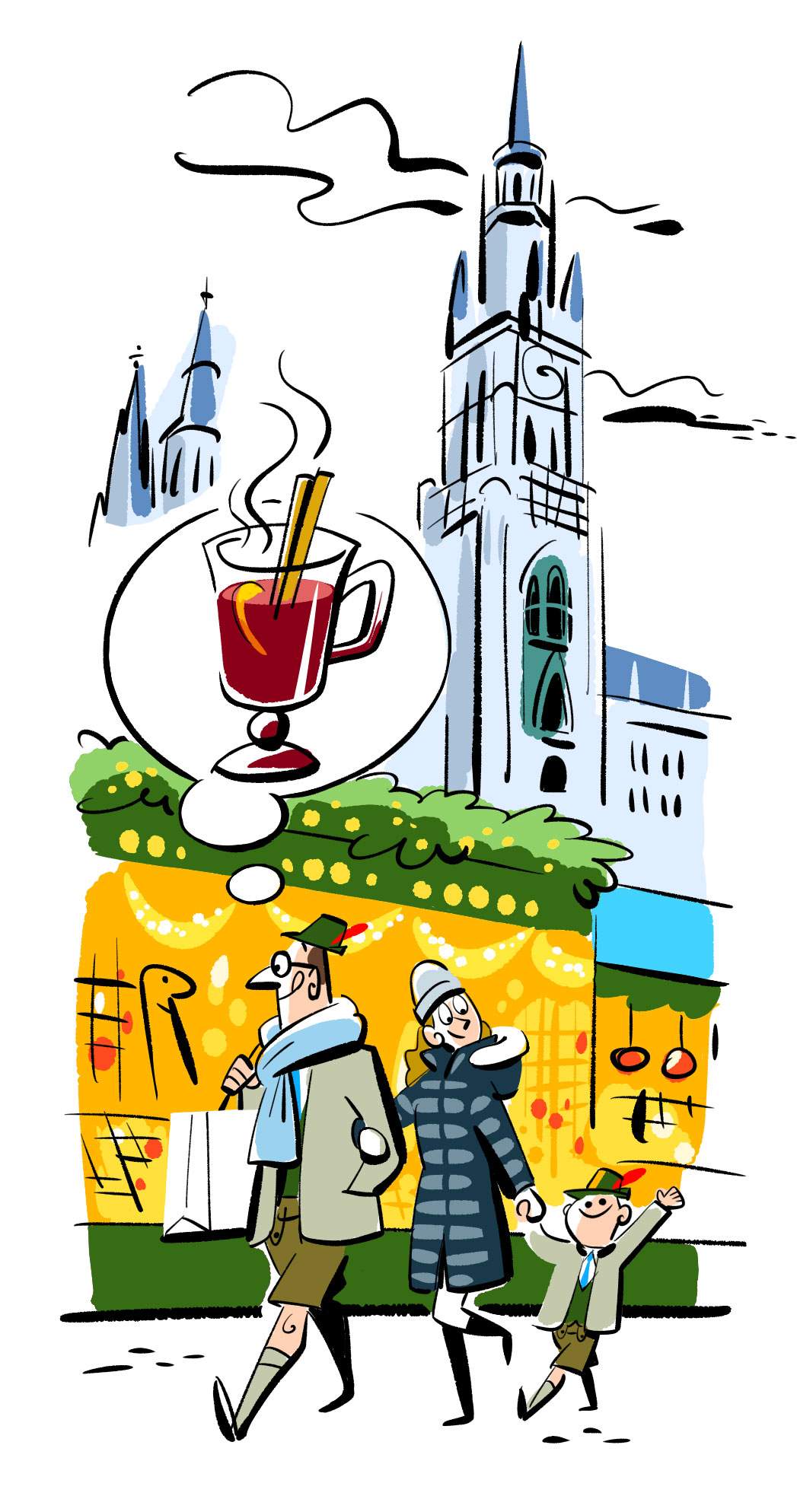 Bavaria's capital is especially welcoming at this time of year thanks to its many inviting bars and museums. Get a taste for the city at the Viktualienmarkt in the Old Town. One of Europe's largest open-air markets, it has sold everything from food to flowers and spices since 1807. Warm up with a mulled wine before heading to Soda on Rumfordstrasse for magazines and books on art and culture. Next up is Stereo Muc by the 17th-century Hofgarten. Expect menswear from Barena, Aspesi, Sunspel and more. For a mix of global and Bavarian labels, head to Lodenfrey on Maffeistrasse. This six-level department store near the gothic Frauenkirche offers tailor-made clothing and the city's best selection of traditional Trachten, worn on festive occasions.
There's more Alpine fashion at Luis Trenker, which recently opened in the Fünf Höfe complex up the road from Maximilianstrasse. It's close to Manufactum on Dienerstrasse, which sells everything from hardy homeware to fashion and has a good delicatessen (which can also be said of Dallmayr down the road). Next up is glove-maker Roeckl on Marienplatz. Founded in 1839, the family business sells hand-stitched leather gloves and accessories. Finish with a drink and hearty fillet at Brenner, in the former stables of Munich's royal residence. 
---
Independent spirit
Toronto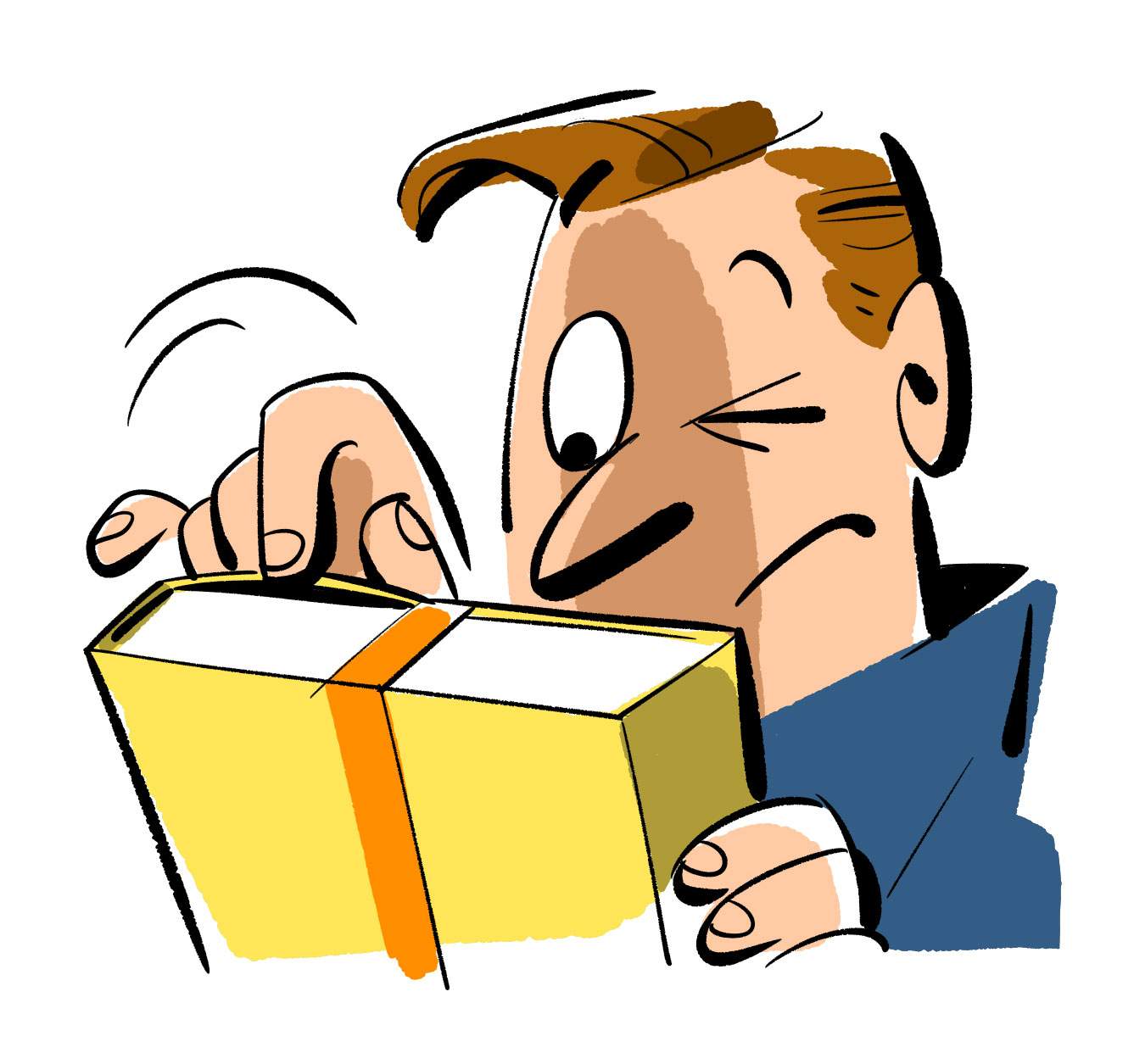 Shall we start with a case or two of wine? Toronto's famously rigid alcohol-sales laws were eased recently, meaning that a slew of excellent independent bottle shops now dot the city. Grape Glass in Little Portugal and Paradise Grapevine in Christie Pits are two of the best, stocking vintages from the nearby Niagara wine region and further afield. Another small innovation from the past year came from Type Books, a Monocle favourite. Its Mystery Bags, into which the shop's well-read staff place a selection that they think you'd like, have become popular. While you're there, take a spin to Cosmos Records, which specialises in rare vinyl, particularly funk, soul and disco. If you're considering investing in a new set of wheels then try the small Mariposa Bicycles workshop, near the Aga Khan Museum northeast of downtown. It has produced bespoke road bicycles since 1969.
For a pit-stop, head back downtown for coffee at Milky's. Its playful interior was designed by Toronto's Batay-Csorba studio and has a good selection of well-sourced beans, plus pots and drip-makers by design studios in Japan and elsewhere. For stocking fillers, head to Spacing Store, south of Chinatown. It's full of city-inspired trinkets, while a subscription to its own quarterly urban-affairs magazine, Spacing, is a good gift for those intrigued by what makes Toronto tick.
---
We start our spree on Hampstead High Street at Borough Kitchen cook shop, which is great for either festive prep or gifts. We have our eye on a set of Mauviel copper saucepans. Then it's time for a hamper from Panzer's, a Jewish deli that's served the community since 1944 and is a superb spot for cheese, jam, honey and smoked salmon. Refuel at Soutine in St John's Wood with a slice of apple tart and a café au lait, then dive down to King's Cross for some denim from Blackhorse Lane Ateliers in Coal Drops Yard. But the West End is still the best place to soak up the season and Liberty is great for decorations, stationery, lotions, potions – and the Aoyama incense from Astier de Villatte. Foyles should be your pilgrimage for all things printed, from where you can dash to Studio Nicholson's new space on Broadwick Street for clothing; then Lina Stores Delicatessen on Brewer Street for a Panettone. Pantechnicon in Belgravia is a Nordic-Japanese joint with many gift options and a rooftop restaurant in which to admire your spoils. — tr
---
Mapping and wrapping
San Francisco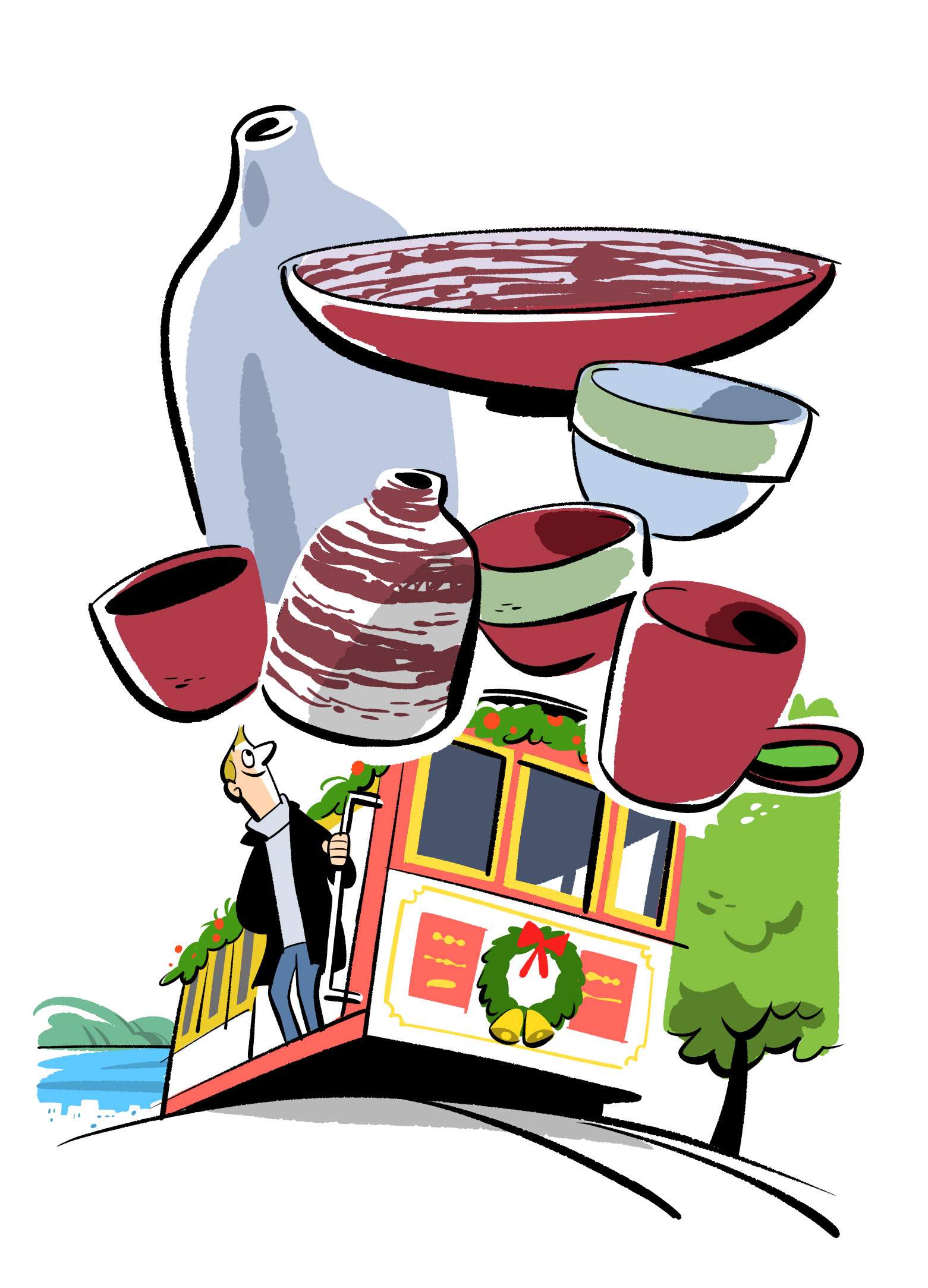 With no single central retail district per se, shopping in San Francisco generally means a little bouncing between neighbourhoods. We begin at March, a glass-fronted home and kitchen shop in Pacific Heights. Inside the airy white-tiled space are long wooden tables laden with ceramics, baskets and vases, as well as larder items such as jam for the home cook. Clothing shop 45r and design store The Future Perfect are also close by. A 10-minute drive south in Hayes Valley is True Sake, an intimate blue-fronted bottle shop filled with tall shelves, fridges and a wide table displaying a varied selection of rice wine. A few doors down is Reliquary, for vintage and modern clothing, and accessories such as beautifully knitted hats and hand-poured candles.
Another 10 minutes south in the Mission is Monocle favourite Heath Ceramics, a lofty showroom right next to the factory, where shoppers can peek into the production process. The California brand has been crafting dinnerware and tiles since 1948. Next door is Heath Newsstand, where magazine lovers will find a selection of independent (sometimes hard-to-find) magazines, as well as accessories such as woven socks, pens and seasonal blooms. For a post-shopping snack and glass of wine, Tartine, a bakery known for open sandwiches on slices of sourdough, is a few steps away. Last up is a trip to map and print specialist Schein & Schein in North Beach. 
---
Generously inclined
Lisbon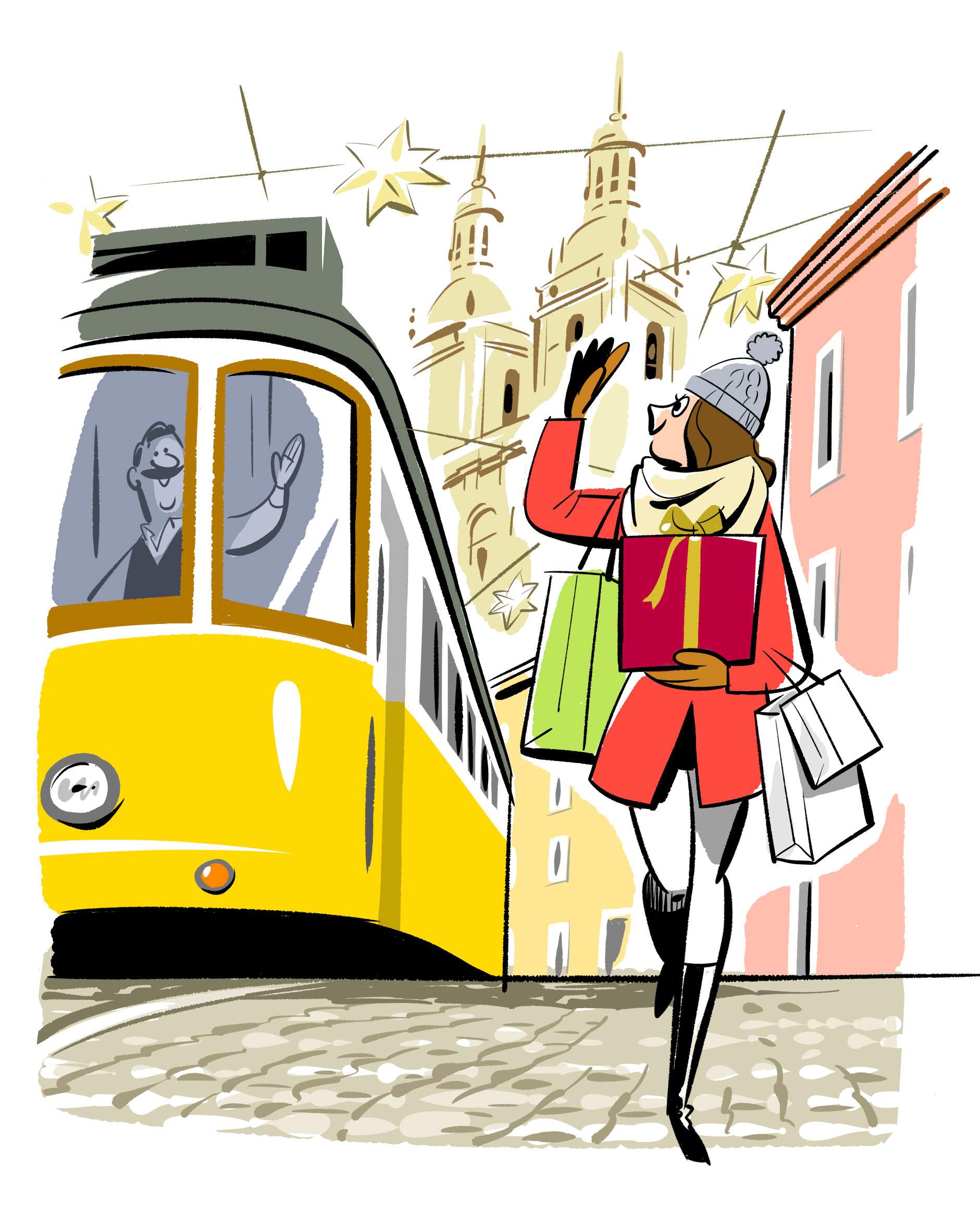 Despite being built across seven hills, the Portuguese capital is a gratifyingly walkable city. Heading up our retail hit list is Chapelaria Azevedo Rua, a Lisbon institution dating from 1886, which stocks manifold hats, including trilbies, bowlers, berets and a dapper range that riffs on regional Portuguese headgear. A shortish walk away from Baixa is Chiado, where you should keep your eyes peeled for a diminutive space on Rua do Carmo called Luvaria Ulisses. Here you can get your hands on a pair of excellent custom- made cashmere-lined gloves. For more Portuguese goodies – and perhaps a bottle or two of port – we suggest a visit to A Vida Portuguesa's space on Rua Anchieta. After dashing down to Javá Rooftop for a quick coffee and a bite to eat, you can jump in a taxi for a short ride north to well-heeled Príncipe Real and Embaixada, a residence dating from 1877 in which a cluster of independent shops now sell everything from woollen throws to vinyl records and cosmetics.
Nearby, both Kolovrat and Maison Nuno Gama have you covered for clothing, including suits, shirts and shoes. We're then heading over to the Alcântara neighbourhood where Margarida Fabrica offers a wonderful collection of ceramics. The closing chapter of our tour is at Livraria Ler Devagar, a palace of print that's piled high with a best-in-class bookshop that's all housed in a former newspaper-printing facility. 
---
Thai before you buy
Bangkok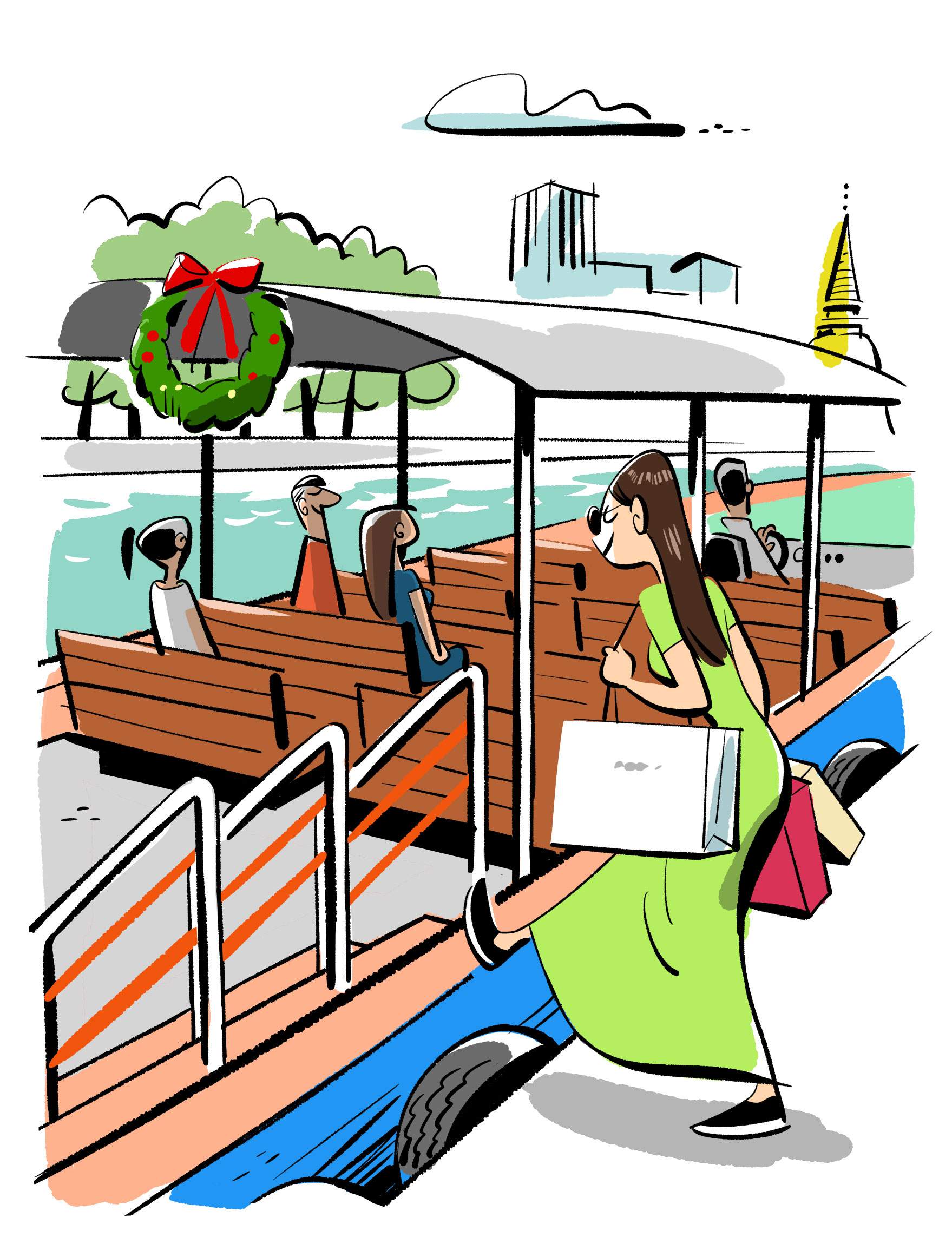 Life in Bangkok seems to gravitate towards the banks of the Chao Phraya River, so we're going with the flow by starting our Christmas shopping at IconSiam, one of the Thai capital's newest and shiniest megamalls. Head to The Selected on the second floor for a cross-section of budding Thai brands, as well as goodies from abroad, including Timo Trunks. It's not all about malls, though. Architect Duangrit Bunnag's The Jam Factory compound next door houses a lovely garden to enjoy before browsing the bookshelves at Candide. Then take a river taxi to the east bank to visit one of Bunnag's newer projects, Warehouse 30. Here 30_6 has something for everyone, including Praat scents and leather sandals by Rawit. While there, pop into nearby ATT 19 for Southeast Asian ceramics and art.
Those seeking something a little different should head to Charoen Krung Road and Central: The Original Store. A modern riff on Central Group's original site from Chinatown that 70 years ago started selling imported magazines. It now stocks clothing, books, music and more. Pick up an iced coffee at Siwilai Café on the first floor and take the BTS to CentralWorld. Studio 360 on the fifth floor is a stationer where a notebook from local brand Zequenz is a good gift for the writers and diarists in your life. Last up is a taxi to Sathorn. Thailand is known for furniture and Podium's showroom has a new furniture line on display called Neorient, designed by Bangkok studio Atelier 21. A cane stool from its eye-catching previous collaboration is a cracking Christmas present.