The Agenda / Global
Business: Global
How books are sold in Russia, flights are taking off in India and tattoos are fading in the US.
St Petersburg bookshop Podpisnie Izdaniya has played a vital role in the city's cultural life since 1926, but its stock fell towards the end of the 20th century, with both its sales and physical size shrinking. A revitalisation began in 2012 when Mikhail Ivanov, then 25, took over as director from his grandmother, who had run the shop for 33 years. "The shop was tired and needed some energy," he tells monocle. Ivanov, like his grandmother, dreamed of returning the shop to its historic footprint. During lockdown, the bar that had rented the shop's second floor moved out. He collected the equivalent of €840,000 in financing, subsidies and loans and decided that this was the moment to "reset history with something new."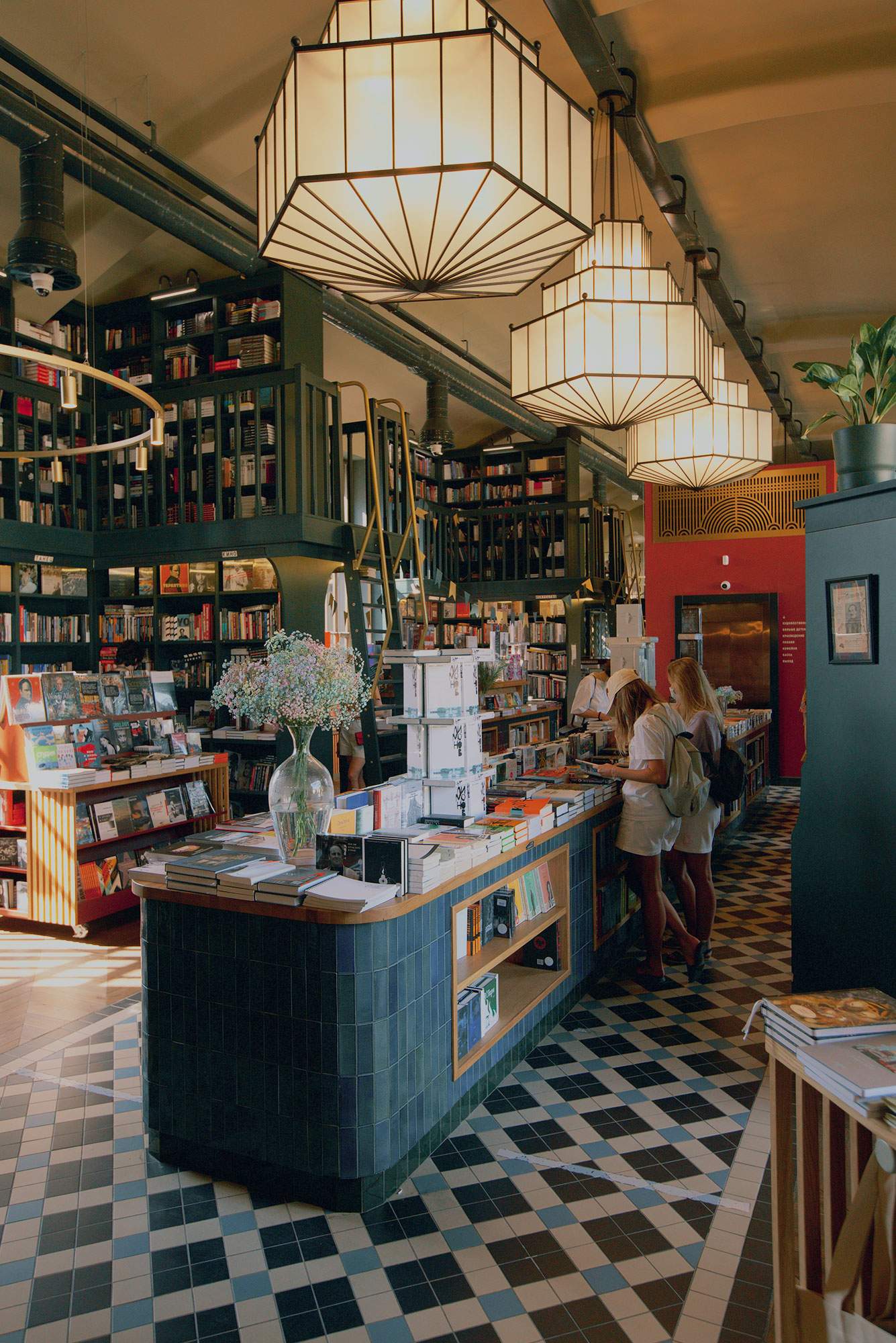 Renovations began last June and, six months later, the bookshop reopened the second floor. Ivanov hired St Petersburg-based designers to create fixtures that echo its art nouveau past. One stand is devoted to vintage books, while its café became an instant favourite among students and young professionals. The decision to expand in the middle of a pandemic has turned out to be prescient: Ivanov reports that the shop has seen a 120 per cent growth in revenue.
---
AVIATION – INDIA
Sky's the limit
India could see its newest ultra-low-cost airline, Akasa Air, take flight as early as summer 2022. The airline recently received the first of its clearances from the Indian government. The man behind Akasa Air, Rakesh Jhunjhunwala, has been dubbed the Warren Buffett of the Indian stock market – his net worth is currently more than €5bn. But the Indian aviation industry, with its high operating costs and cutthroat pricing, has historically been anything but a sure bet. Some estimates suggest that  industry-wide losses have risen to more than €3.5bn a year, and have resulted in the grounding of major full-service carriers. Despite this, Jhunjhunwala is expected to invest about €30m and has reportedly brought on board investors, including Airbnb.
His management team includes former heads of premium and low-cost domestic airlines, who are now negotiating with both Airbus and Boeing for the attainment of their a320Neo and 737Max aircraft. Akasa is expected to acquire 70 aircraft over the next four years and might well be betting on the Indian government's push to privatise airports in smaller cities and open up new routes to make air travel more accessible to its 1.3 billion people. Either way, Indian aviation is a space to watch.
---
Want to get inked but just can't decide between the angel wings or a posthumous picture of the family pet? Fear not, US tattoo studio Ephemeral has the answer. Born in Williamsburg in Brooklyn (where else?) with an outposts in Los Angeles and one soon to open in San Francisco, the company uses trademarked fading ink technology developed by chemical engineers Brennal Pierre and Vandan Shah. While the life span is much shorter than a real tattoo (about nine to 15 months before getting broken down by the body), the price tag of between €170 to €480 is similar.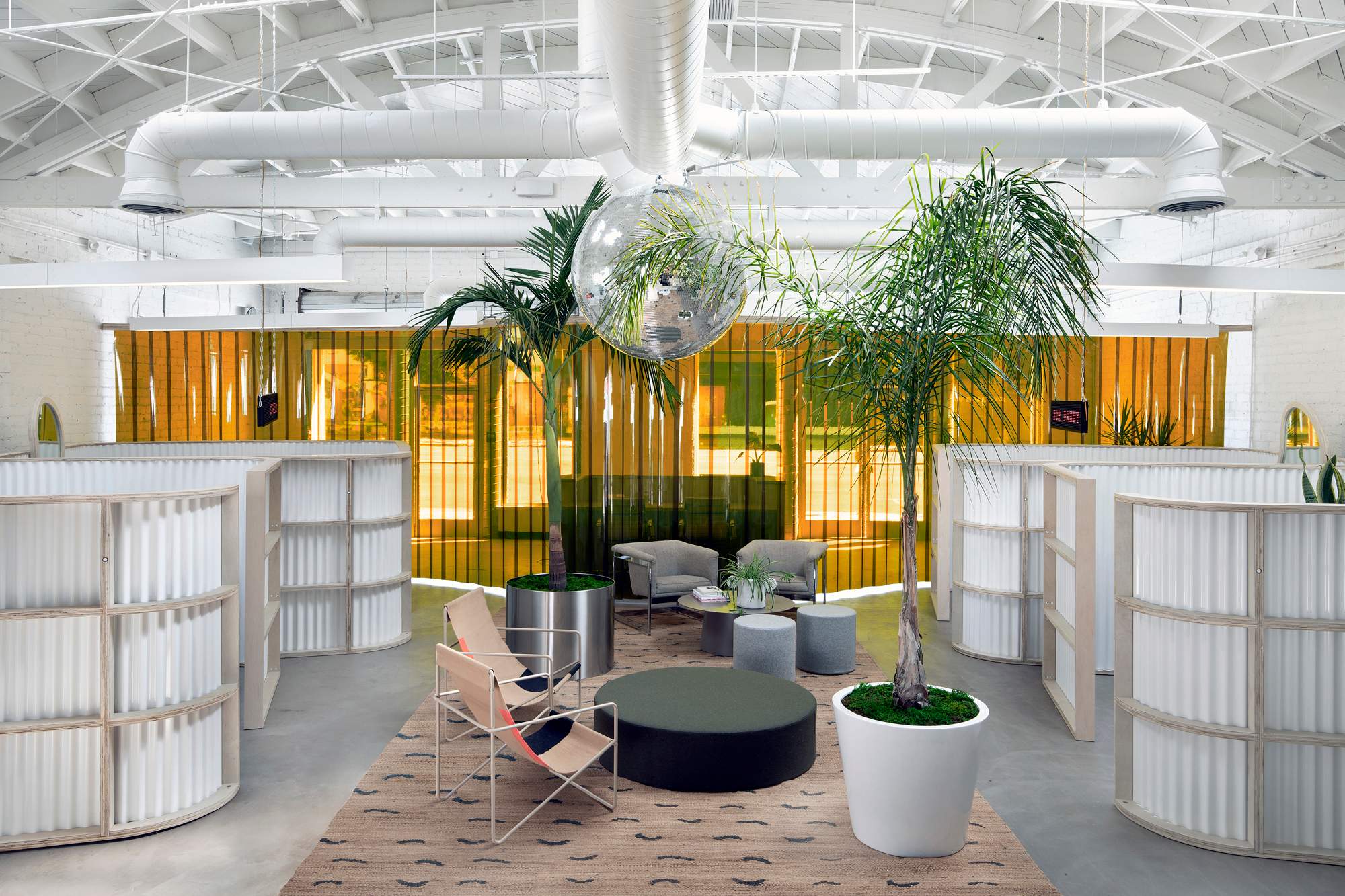 "We've seen tremendous growth and months-long waiting lists at our first studio in Brooklyn," says ceo Jeff Liu. The plan is to expand across the US and to be in 10 to 20 more markets in the next year. 
People in the die-hard "real" tattoo community question whether body art that disappears is the opposite of the real deal. But with some 60 million Americans considering real tattoos but not following through, this trend could become more permanent than the tattoos themselves.
---
LOVE HOTELS – HONG KONG
Room with a screw
"Get a room" is a phrase commonly used to gently mock couples kissing and canoodling in public into cutting it out but in Hong Kong people do check in to hotels for sex. The Cantonese even have a phrase for it: baau fong (burst into a house). For most non-married couples it is the very frustrating price you pay for residing in the city; a typical 20-something still lives at their pokey childhood home with their socially conservative parents.
Before the city closed its borders, baau fong was usually pay-by-the-hour at one of the city's many love hotels. But after almost two years without international tourism, the lines are becoming blurred and some regular hotels now cater to passions by offering short stays in the middle of the day – a more affordable option than a full-night's rental. A new term has been coined for this blend of baau fong and staycation: baau-cation.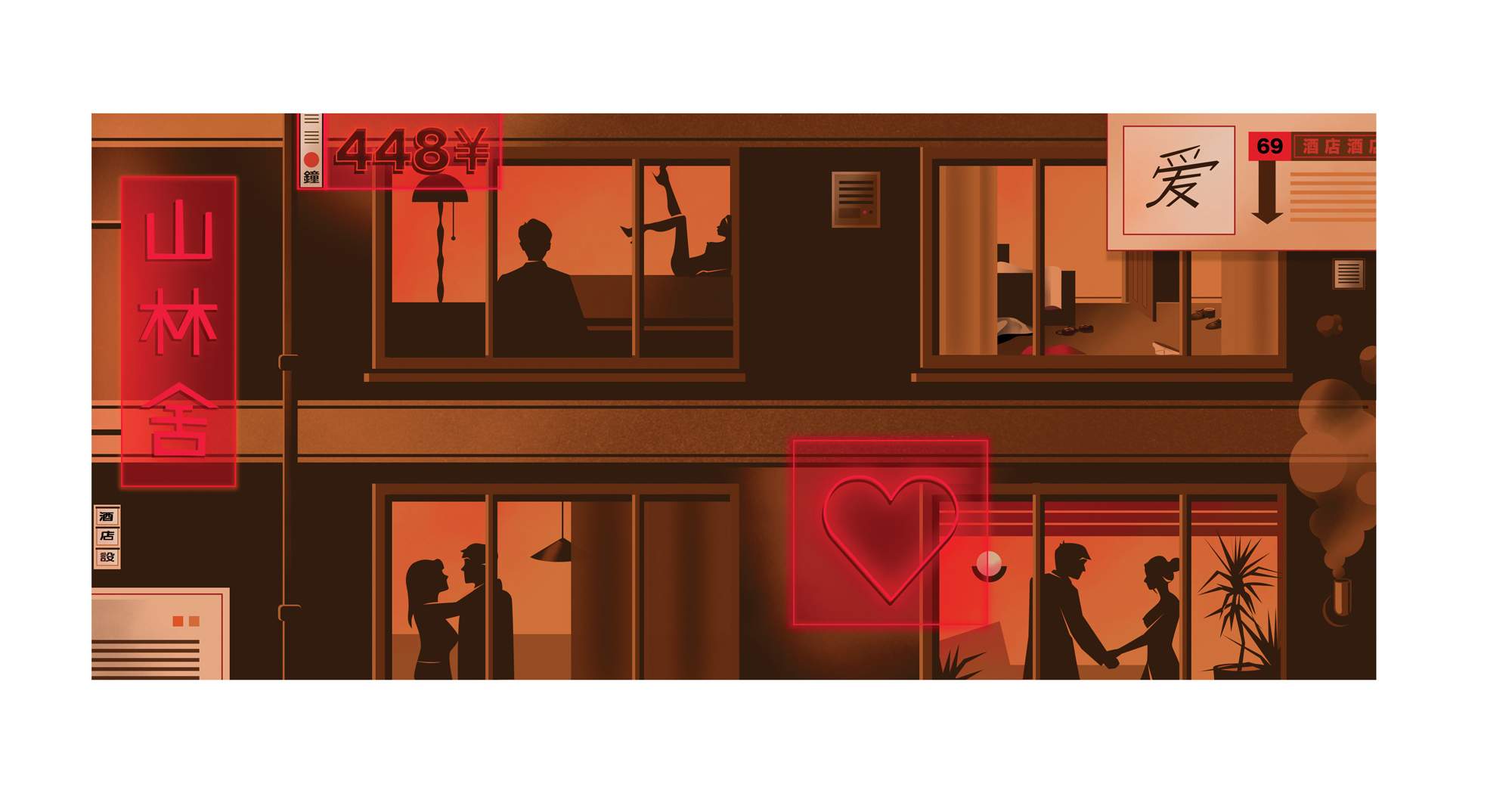 New hotels offer all types of stay and refuse to be labelled. Hillwood House, which launched in the summer, offers hourly packages on its own website and full-night stays on booking sites such as Agoda. Guests using discreet self-service check-in machines in the lobby get a QR code to unlock their rooms, which were designed by a local architect's studio. The only giveaway (and sole amenity) is a vending machine stocked with snacks and prophylactics. 
Waddy and Moomoo is a baau fong review-site. It was set up by the founder of a sex shop and is closely watched by young couples across the city. Reviews from this year range from a new-look themed room at Holy Holies, a traditional love hotel where guests can go for a, ahem, ride in a room decked out as impressively detailed as, say, an mtr subway carriage, to full night, five-star stays at the Conrad, the W and the Upper House – a quick way of blowing the hk$5,000 (€560) vouchers that the government recently handed out to most residents to stimulate the city's economy. There are many other things too, it seems. 
Despite billing themselves as "baau fong specialists", Waddy and Moomoo's reviews often read like regular hotel write-ups, with a practical checklist and some handy tips that are relevant no matter how long guests plan to stay. Apparently the mattresses in the mtr room are bouncy but not big enough for two people to sleep on (hello, had anyone mentioned sleeping?), while service at the Upper House is said to be exquisite – it's just a shame about the scratchy toilet paper in the bathroom and lack of a Japanese-style seat warmer. With Hong Kong's strict quarantine rules for international travel likely to endure for another year, it would be fair to say that every hotel is currently a love hotel.
---
PLASTICS – FRANCE
Cleaning up
The issue of ocean plastics has received plenty of public attention lately, not least due to the flurry of clothing brands recycling waste into everything from sunglasses to swimming trunks. In France, one green-technology company has been looking to tackle the issue further up the chain by stopping microplastics getting into the water system – and investors are now all ears.
Paris-based Calyxia, founded in 2015, has been developing the idea of biodegradable microcapsules for use in primarily domestic and agricultural settings. The company is also developing technology that will make materials more durable, targeting both the electronics and automotive industries. 
Patents have been registered and, with the EU set to further clamp down on microplastics from 2022, the timing is auspicious. Calyxia has raised €15m in its first funding round, bringing the total to €23m. "Our products are valued by world leaders," says co-founder and ceo Jamie Walters. "With these funds we can build up capacity in the US, Europe and Asia." Walters stresses that the microplastics fight is a "collective effort" but believes that the company can reduce their usage tenfold. "This is just the beginning."
calyxia.com
---
INVESTMENT – ASIA
Fund race
Japan is increasing investment across southeast Asia, in an attempt to ward off China. 
Beijing is competing with Tokyo for business clout in the region. Japan is ahead, with $259bn (€226bn) invested, according to analytics firm Fitch Solutions. During the pandemic this gap widened, a development that will irk Beijing.
Photographer: Evgeniy Rein. Illustrator: Jack Hudson