The Agenda / Global
Culture: Global
Finds from the worlds of museums, publishing and K-pop, plus a popular podcast festival.
MUSEUMS – ROTTERDAM
Treasure trove
Many invaluable objects never leave the controlled chambers of museum storage spaces but Rotterdam's Museum Boijmans Van Beuningen is going against the grain: the institution has decided to open its storage facility, becoming the first in the world to do so. Given that the museum itself is closed for renovation until 2028, this seems like a good piece of compensation: visitors can now peruse the lesser-known back-catalogue of the collection in a new building designed by Dutch architecture firm mvrdv (My Cabinet, issue 145).
Inside the new structure, 151,000 objects have been displayed based on their size and climatic requirements, rather than by art movement. This is a revolutionary way to reveal a museum's inner workings, as most institutions can only show about 10 per cent of their collection at a time.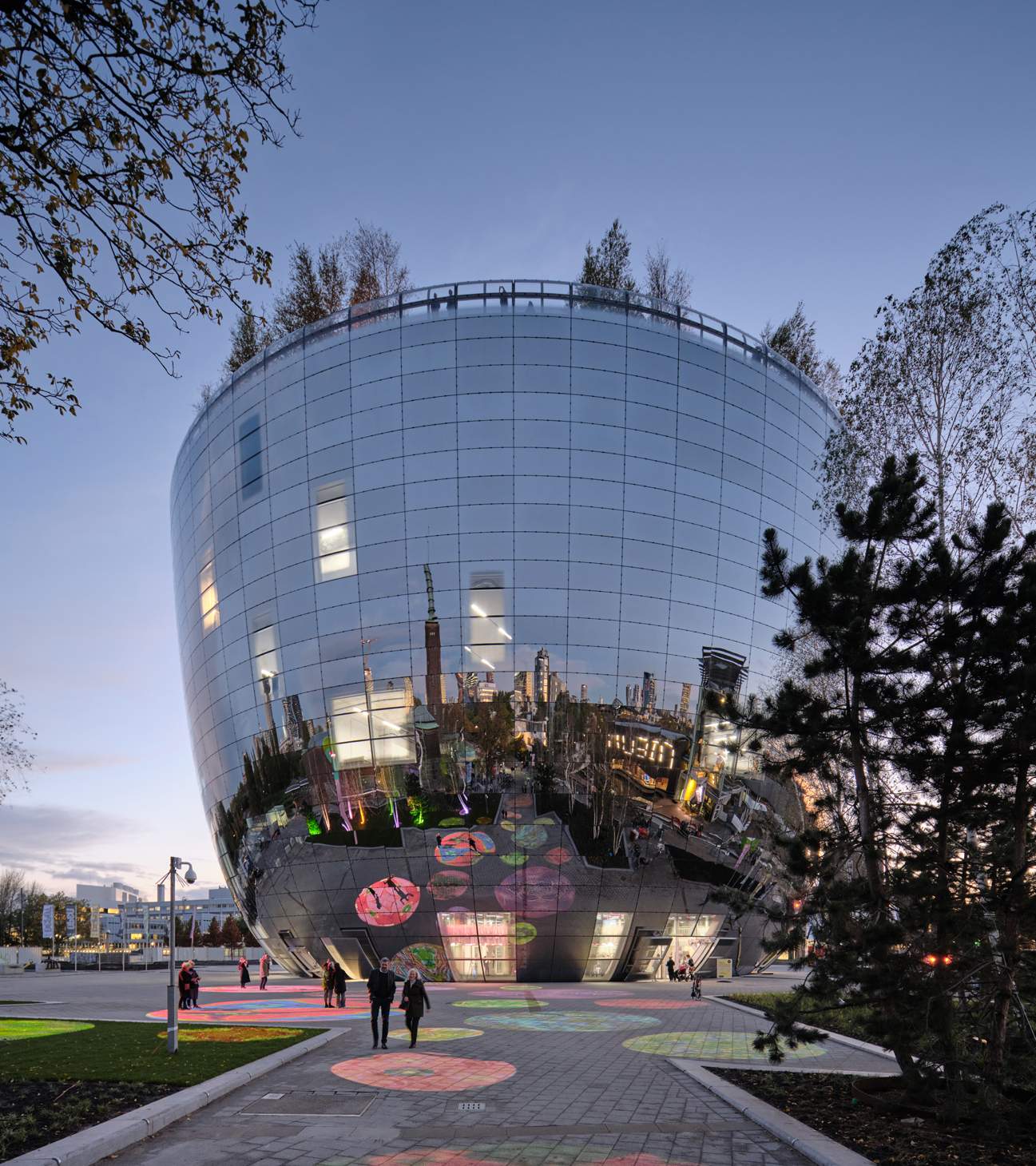 "As an architecture firm, it was our mission to allow a special art experience to go hand-in-hand with a building that takes an equally special form," says Winy Maas, founding partner of mvrdv. "The depot, with its reflective façade, blends into its surroundings in a fantastic way."
The sculptural building has also refreshed Rotterdam's attitude towards its cultural riches. "The depot is both a place to wander, in an accessible way, among a lot of great art, and a place to enjoy special architecture, whether you are outside or inside," adds Said Kasmi, the city's alderman for culture, tourism and education. Step in to discover what used to hide behind the scenes.
boijmans.nl
---
K-pop – Seoul
Going for a song
The long-touted CJ LiveCity Arena, the world's first venue dedicated exclusively to K-pop, has broken ground in Seoul. Slated to open in 2024, the stadium will hold 60,000 fans and allow up to 190 performances a year. Outside the venue, a new neighbourhood is being built to include K-pop-themed restaurants, shops and hotels. It's a new level of investment in the genre's business potential – and it is having consequences on urban planning. "When the South Korean government surveyed tourists coming into South Korea before coronavirus, bts were responsible for one in 13 tourists," says Bernie Cho, president of Seoul-based creative agency dfsb Kollective. "So it makes a lot of sense that a huge arena dedicated to K-pop will not only cater to a very dynamic local market but the tourist market too."
---
Long-haul trips are slowly becoming more of a possibility, so what better gift for a child dreaming of boundless travel than this passport-shaped activity book? London-based design studio Cicada Books has filled the endearing Passport with guides to aeroplane models, an overview of different cloud shapes and some colourful postage-stamp stickers. It promises its owner the right to "Roam Free" and is possibly the best passport to hold now.
cicadabooks.co.uk
---
documentaries
Q&A
Alan Black
Co-managing director, Hot Docs
Founded in Toronto in 1993, Hot Docs is one of the world's largest documentary film festivals. It also has an annual sister event focused on podcasts. As the event returns this January, with an audience of about 400, c0-managing director Alan Black discusses big changes in the audio- production industry – and why listening to a podcast can be a communal experience.
How do you think the podcast sector is changing? 
The gatekeepers of non-fiction storytelling are changing, so the types of stories that are being told are changing too. People are telling their own stories and that's particularly resonant in podcasts because it's a very accessible medium. You're seeing singular stories told from unique and specific perspectives – and that's much richer. 
Why do you think a medium that is so inherently solitary has been successful in a festival setting?
The festival audiences enjoy being in a room, laughing and cheering, and feeling emotions that they've only felt by themselves. People are going to be very excited to celebrate a lot of these shows – together.
Images: Ossip van Duivenbode