Baker Ciro Scognamillo has created a new classic Neapolitan cake, the 'fiocco di neve'. We take a bite.
"Every 300 years a cake is born," says Ciro Scognamillo, chef-proprietor of Neapolitan bakery Pasticceria Poppella and inventor of the fiocco di neve (snowflake), a delicious confection taking the city by (snow)storm. Since arriving here at 10.00, and despite his suggestion to the contrary, a cake has been born at least every minute – I've seen to the demise of three of them myself. 
It's nearly lunchtime on a sunny Friday in Rione Sanità, a lively neighbourhood even by Naples' standards. As I sway, cake-filled, in my chair, Scognamillo tells me his story. He's the son and grandson of bakers, and grew up on the same streets on which his grandfather Raffaele (nickname: Papele) and grandmother Giuseppina (aka Puppnella) once pushed their bread cart. People would cry, "Puppnella… Papele…" These names eventually became one: "Poppella". When, decades later, their grandson started out on his own, this is what he called his bakery.
Neapolitans have a healthy respect for tradition, especially in culinary matters. There is a right way of doing something and a million wrong ways. This absolutist approach is rarely questioned, not least because it is born from such rich gastronomic heritage. But it sometimes makes Italian cuisine, however revered, feel like a closed book. 
In Naples, bakers stand on the sugary shoulders of giants. This city was home to the creators of sfogliatella, a flaky shell-shaped pastry, and babà, a local "correction", as Scognamillo puts it, of the rum-soaked French cake. Both have been sating sweet teeth for centuries. With such stalwarts, Neapolitan bakers can be forgiven for being conservative. 
Nevertheless, Scognamillo began experimenting in his small, white-tiled kitchen on Via Arena della Sanità. Eventually his research gave birth to a light-as-air brioche filled with marmoreal sweet ricotta. It was christened il fiocco di neve. 
He had his cake but no one to eat it. After traipsing around Naples like a rusty plough, failing to shift snowflakes, Scognamillo gave some to a friend organising an event for children. A few weeks later, the same friend asked if he had any more. Just months after that, when he opened his bakery one Sunday morning, there was a queue around the block.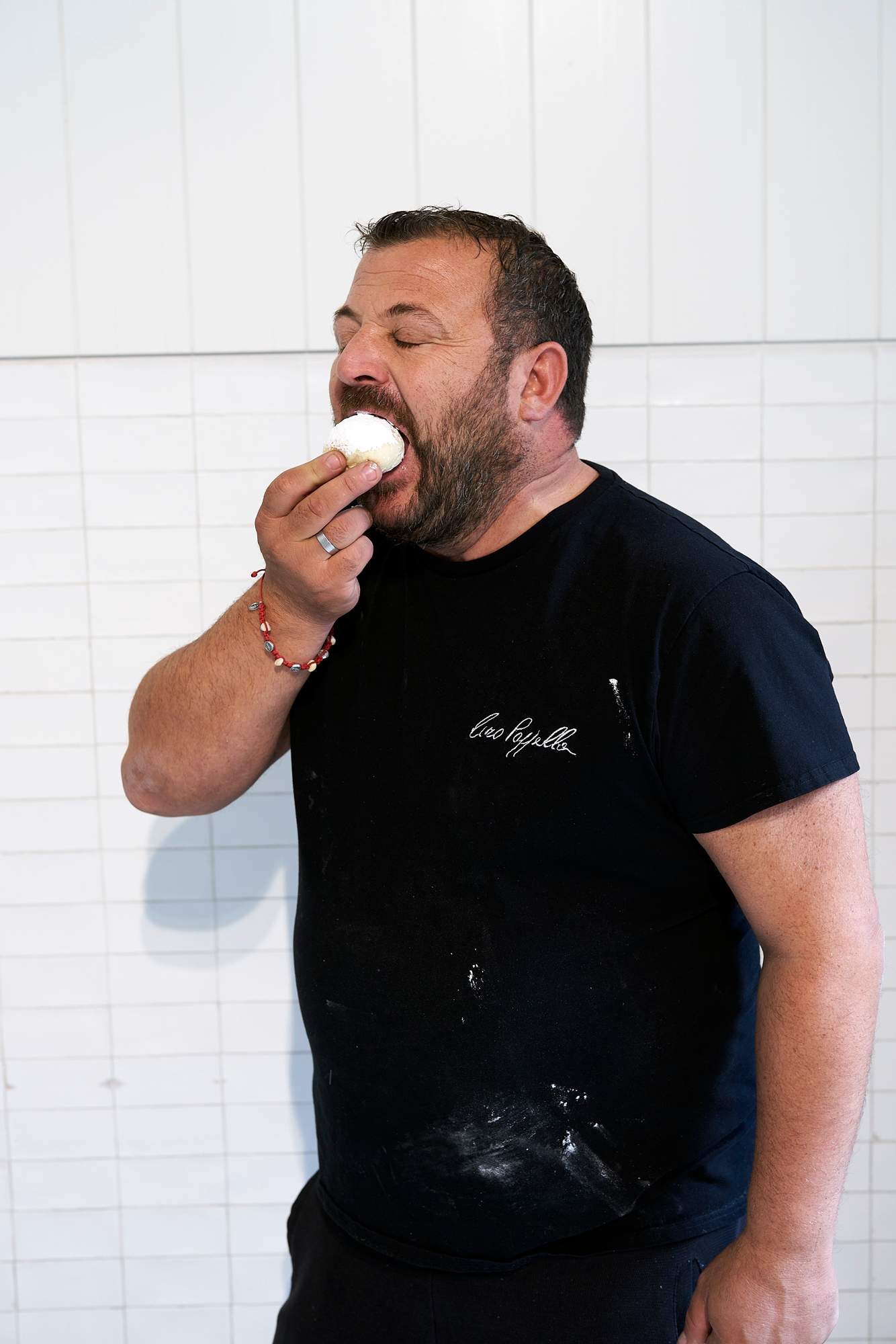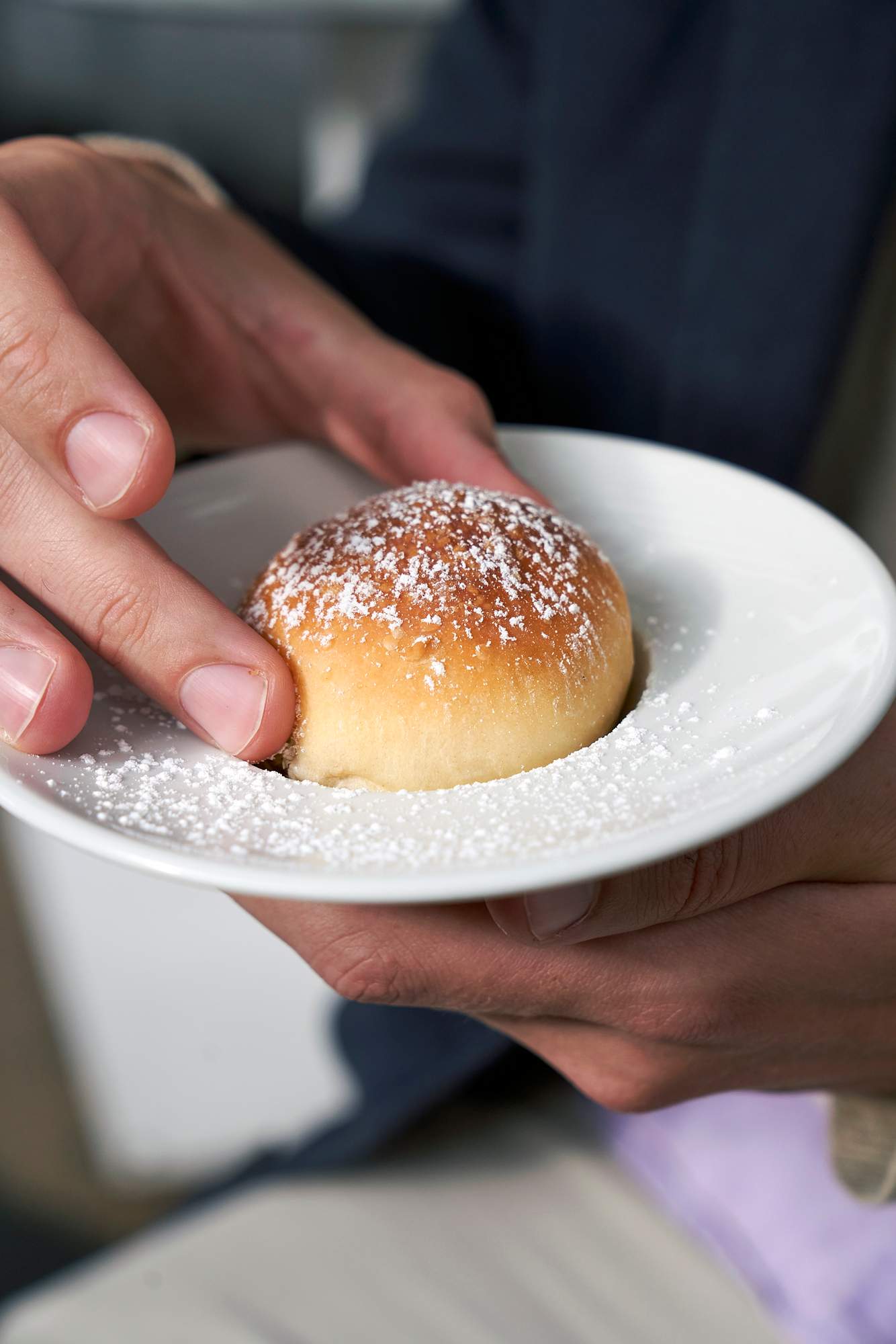 Today his confectionery empire stretches down a street whose pavement is guarded by striped Poppella stanchions. Every two minutes people stop the baker to smile, embrace, seek assurances. But it's not all hugs and kisses: with great success comes great envy. Those early queues contained not just punters but scheming rivals. Soon, knockoff fiocchi began appearing all over town. His jaw clenches. What did he do? I ask, with trepidation. "I did what any respectable businessman would… trademarked the name." And did they stop? "They started calling them 'clouds'." Imitation is the highest form of flattery, I whimper back.
Still, originality has cachet: on his phone, Scognamillo has pictures of himself with former Roma football captain Francesco Totti and the patron saint of Naples, Diego Maradona. Inside, on the wall, there is one of Italy's president Sergio Mattarella visiting Poppella: "When he ate a fiocco, he grasped my arm."
After the presidential squeeze of approval, what other heights can one baker scale? "I want to invent more," says Scognamillo. "I have an idea; people might like it, it might sell – but it'll never be the same as the fiocco." Wiping the remains of a fourth from my face, I beg for more information. What is it, the new cake? "Don't make me tell," he says, the fire of a million melted snowflakes in his eyes.